If you are planning a vacation, you might be wondering what the cheapest month to book a cruise is. 
Because cruise ship prices are so dynamic, it's difficult to come up with a simple rule when to book.
The price of a cruise fluctuates based on the itinerary, time of year, ship's age, and how soon it is scheduled to set sail. In other words, the same itinerary on the same ship might be cheaper in October than it is in July. 
Plus, as availability on any given sailing deceases, cruise lines will begin to increase the prices on the remaining cabins. 
The best months are early in the year
Image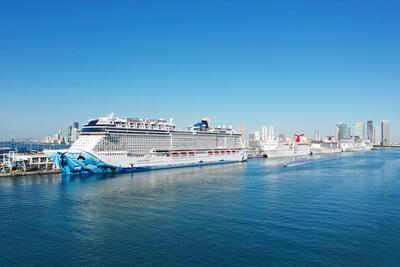 The cheapest month to book a cruise is either going to be when future itineraries are first released or during the wave season months of January, February, and March. 
While that doesn't mean that you can find a great cruise deal at any time, just be aware that the demand for cruises right now is high-- so much so that some cruise lines have actually had to raise their prices during this year's wave season to combat demand. 
Part of the reason booking during wave season is advantageous is because the lines will offer extras, like free upgrades, prepaid gratuities, or onboard credit. Sometimes, the rates are similar to the ones available throughout the rest of the year, but the additional benefits stretch your money a little bit further. Who doesn't want an extra $50 (or more) to spend onboard on things like spa treatments, excursions, drinks, or even gratuities. 
Unfortunately, due to increased demand, some cruise lines have not offered deals like they have in the past. 
Image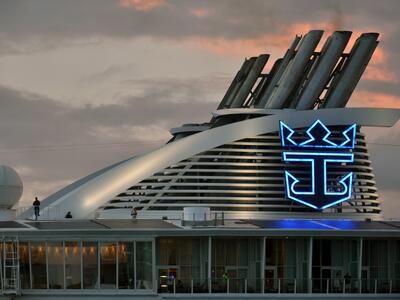 Vicki Freed, Royal Caribbean's Senior Vice President of Sales, Trade Support, and Service, told a group of travel agents during a webinar that demand was so high for new bookings that they saw higher prices than usual during their wave season.
"In the past, when the cruise industry has had a strong wave like we're experiencing now...pricing goes up and we don't see all the dilution in current pricing, and we're not seeing that now...If anything, we're seeing pricing going up," Freed said. 
Cruise lines have yet to release their wave season promotions for 2024, so it's anyone's guess who lucrative the deals will be. If you know that you want to book a cruise for sometime in 2024, now is the best time to do it!
If you're holding off on booking your cruise vacation, we advise you to go ahead and place the deposit as soon as possible while wave season is still ongoing and ensure that your rate includes price protection. 
Should you wait and book a last-minute cruise?
Image
Proceed with caution if you're hoping to find a great last minute cruise deal, as they're becoming a thing of the past. Many cruise lines, including Celebrity Cruises, Royal Caribbean, and Carnival Cruise Line, reported recording-breaking sales over Black Friday and Cyber Monday. 
In other words, cruise lines don't have much of an incentive to drop prices as much anymore. The demand is there, and many sailings are at full capacity. 
If, for whatever reason, there is a cruise with a few spare staterooms close to the departure date, it is very possible that the cruise line will decrease the price to try and sell the cabin. You'll have to be flexible, though. A last minute cruise deal could mean that you'll end up paying double (or triple) in airfare, sail on a smaller ship with less frills, or visit ports of call you aren't overly enthused about. 
Plus, you might be stuck in a cabin that you didn't want, as the last available staterooms are often those that other guests didn't want. If you're hoping to score a cheap rate on a suite or balcony cabin, don't be surprised if they only rooms left are interior. 
I did a quick search on Royal Caribbean's website for cruises departing in February 2023, and the cheapest result was a 3-night cruise onboard Navigator of the Seas departing on the 21st and sailing from Los Angeles, California to Ensenada, Mexico. An interior cabin currently begins at $399 per person based on double occupancy. 
Image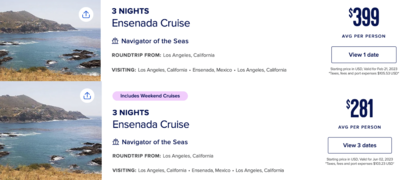 The same cruise starts at $281 per person for a sailing departing on June 2, 2023. In fact, all three cruises with the same itinerary departing in June are cheaper than the one in February. 
Another downfall to reserving a last minute cruise is that the fares are often locked in, meaning you won't be able to reprice as you have to pay the entire vacation in full at the time of booking. Depending on your cruise line and type of fare booked, you may be eligible for price protection. 
If you, or your travel agent, notices that the price of the cruise has dropped after placing your deposit and before final payment, you may be entitled to the lower rate. 
So, again, while it is possible to find a great last minute cruise deal, you are probably better off just booking the sailing in advance and allowing yourself more time to plan. There are no guarantees when it comes to waiting for a last minute cruise, and you may end up settling for a cruise rather than setting sail on your dream trip. 
Read more: Unsold cruise cabins: How to find a deal when ships aren't full
Be warned: high-demand cruises
Image
When it comes to high demand sailings, like maiden voyages or sailings over holidays, the cheapest time to book is when the itineraries are released. For these cruises, it's not just about pricing, it's also about ensuring you get the cabin that you want, as they're likely to sell out quickly. 
This includes a cruise that goes over these holidays:
New Years
President's Week
Spring Break
Summer (July & August primarily)
Thanksgiving
Christmas
A maiden voyage is when a new cruise ship first begins sailing, and there is a lot of hoopla surrounding these cruises, as well as demand to book it.
As an example, the inaugural cruise for Royal Caribbean's Icon of the Seas initially sold out in 24 hours.
Similarly, if you're hoping to sail over New Years, you are likely to get the cheapest rate by booking as far as in advance as possible. 
If we compare two sailings onboard Carnival Celebration from December 31, 2023 - January 7, 2024 and December 29, 2024 - January 5, 2025, we'll find that the latter departure is cheaper, even though the itineraries are exactly the same and visit Amber Cove, San Juan, and St. Thomas. 
Image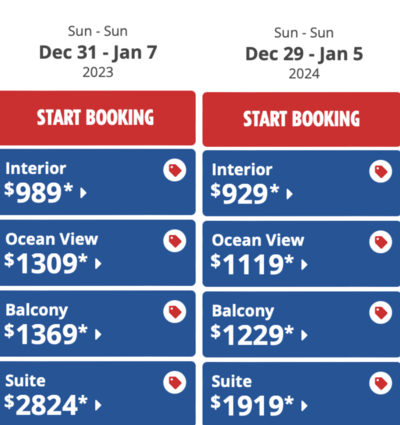 An interior cabin for this year's New Year's cruise begins at $989 per person based on double occupancy, while the cruise that rings in 2025 starts at $929 per person. At almost $1,000 per person, the most notable difference in pricing is the suites. As these are popular cruises, the rates will only continue to increase as more staterooms begin to sell and the holiday season draws nearer. 
The bottom line is that if you are planning on sailing during a popular vacation week (or even weekend, like Labor Day), book as early as possible to maximize your savings and to guarantee your spot.
Bottom line
Image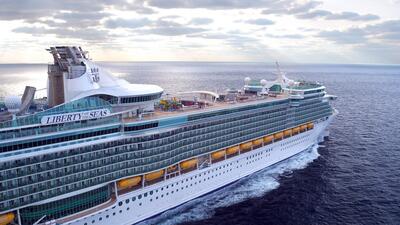 If you had to pick a time of the year to book a cruise, the first few months of the year are best for some of the extra offers cruise lines have in their wave season deals.
However, don't wait months for January to come around. Your best bet is to still book a cruise as soon as possible because prices tend to go up over time.
With the cruise industry on a major rebound since 2021, demand is so high that bottom barrel rates are not really offered much.
If at all possible, try to book a cruise when the line releases new bookings in order to get advanced rates before cabins are booked up.