You've heard the stories of cruisers getting amazing last-minute travel deals on unsold cruise cabins. How do they do it? You don't know how to tell how many cabins are left on a cruise, let alone determine where to look for deals and discounts.
If you care more about price than picking the perfect cabin or sailing, we'll share some travel agent insight about how to nab a low price or extra perks if a ship isn't likely to sail full.
Don't cruise ships always sail full?
Image
To get the deals, you have to understand how cruise lines operate. Cruise lines have incentives to fill as many beds on their cruise ships as their capacity allows. Greater numbers of guests leads to more money spent onboard on drinks and extra-fee dining, spa treatments, the casino, shore excursions, and souvenirs. 
Therefore, cruise lines will try as hard they can to fill all possible berths. Many ships sail full or close to it. But some itineraries are harder to fill than others – perhaps because it's an older ship competing against newer vessel at the same port or a shoulder-season week that isn't popular for travel. These ships won't sail full, unless the cruise line puts in extra effort to attract bookings.
What do cruise lines do with unsold cabins to get them filled? They offer extra-value deals and discounts to select groups of travelers and occasionally the public at large.
Image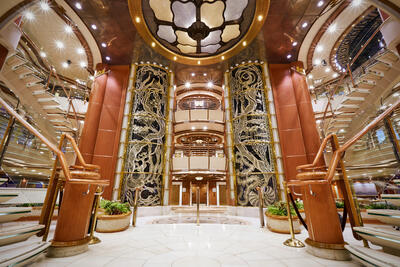 A note on what it means to sail full: Cruise ship capacity is usually based on double occupancy, the number of passengers a ship can carry if two people occupy every standard cabin and one person every solo cabin. However, a cruise ship's total capacity is greater because of sofa beds, bunk beds, and cribs that can sleep additional guests. The total capacity is limited by ship size and lifeboat capacity. 
For example, Oasis of the Seas has a capacity of 5,606 passengers at double occupancy, but has a maximum guest capacity of 6,699 passengers. When cruise lines talk about sailing full, they are generally referencing the double-occupancy number, which refers to the number of cabins that are booked.
Related: Top 6 cabins you shouldn't book on a cruise ship
How to tell if a cruise ship has unsold cabins
You've got a flexible schedule, and you want to figure out which itineraries and ships have unsold cabins so you can get a deal. You might find it's harder than you thought to figure out which sailings to watch.
"Cruise lines do a good job of protecting this information on their consumer booking engines," Beci Mahnken, president and CEO of MEI-Travel, says. "Some will allow you to see available inventory during the booking process while others will only show you a handful of options. Travel advisors sometimes have a clearer view of the inventory available on a particular sailing, but not always."
Starting the online booking process is your best bet at getting a glimpse of how many cabins are available. Sites like Costco Travel and Best Price Cruises do a good job of showing full deck plans with available cabins, though you'll need to manually check all the categories and decks for available rooms.
Related: How to book a cruise online or with a travel agent
When do cruise lines discount unsold cruise cabins?
Image
You can't predict when an awesome deal will crop up, but you can make a decent guess.
"Sales tactics can be implemented at any time before the ship actually sails. We can see them weeks or months prior to the scheduled sailing. It really depends on the cruise line and the occupancy they are trying to achieve," says Mahnken. "Of course, the cruise lines tend to avoid discounting until they have to, so we generally see many tactics pop up after the final payment."
Sixty to 90 days out is often the sweet spot, when final payments have come due and cruise lines can see which cabins remain empty. Start your deal hunt three months before departure, knowing it might be weeks before you start to see deals on unsold cabins.
Deals on unsold cruise cabins
Image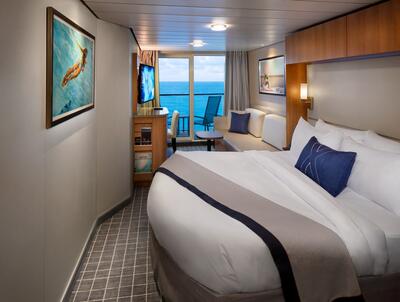 Unless the situation is dire, you are not going to find crazy promotions such as a weeklong cruise for $70 or a suite listed at inside cabin prices. Cruise lines try to protect their pricing, especially on balcony cabins and suites. They don't want cruisers to expect discounts on the top staterooms or get used to booking last-minute to get the lowest fares. 
Therefore, they get a bit sneaky when they want to increase bookings on a ship that's selling slowly. Here are some ways that cruise lines try to fill unsold cruise cabins with deals and discounts:
Extra perks
Image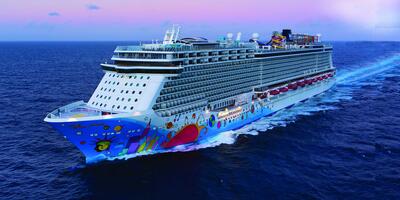 Instead of reducing cruise fares, cruise lines will attempt to fill cabins with the lure of extra-value perks. According to Mahnken, they may "offer targeted sales like Kids Sail Free, reduced deposits, or extra savings promotions, as well as leverage their air department contracts for air promotions."
Cruise lines that don't include many extras in their fares might run a promotion for a free Internet package, drinks package, or specialty restaurant meals. Lines such as Norwegian, which typically offer your choice of inclusions, might offer additional perks in the lower cabin categories and add extra perks for higher-level suites.
In this way, the cruise line does not devalue its cabins, while still offering an incentive to book. 
Related: Best balcony cabins on cruise ships
Upgrades
Image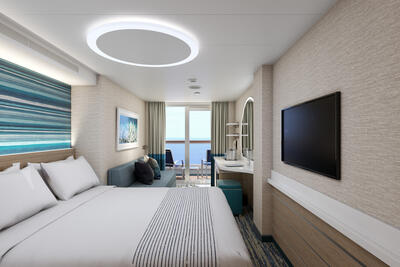 Another tactic cruise lines use to fill unsold cabins is to offer upgrades. Upgrade offers can show up in various ways.
The most obvious incentive is a "free upgrade" promotion, where you can book an outside cabin for the price of an inside or a balcony cabin for the price of an outside. If you've been monitoring cruise fares, you'll know if this is an actual savings or if the cruise line raised the rate of the lower category cabin right before the sale. 
Some upgrade offers are within like categories only – moving from a cheaper inside cabin to a pricier or more desirable inside cabin. These promotions can be misleading if you don't read the fine print.
Image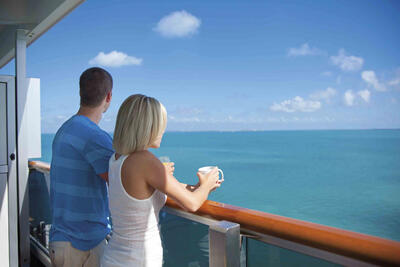 When a mid-level cabin category is selling out, but higher-category cabins have availability, some cruise lines will reach out individually to booked passengers and offer them an upgrade for a reduced price. Cruise fans refer to these offers as calls from the Upgrade Fairy.
Other lines, such as Royal Caribbean and Norwegian, allow booked passengers to bid on potential upgrades. The lines decide, based on cabin availability, to accept or reject the offers as needed to fill unsold cabins.
Price watchers can occasionally arrange their own upgrade. "You might see a rate reduction on the softer selling categories, which can result in a higher category than you booked actually selling at a lower price," says Mahnken. When you see a drop, ask the cruise line to switch your booking to the nicer room. Just watch out because the switch might make you ineligible for your original booking perks. 
Related: What's the best cruise ship cabin location?
Targeted group price reductions
Image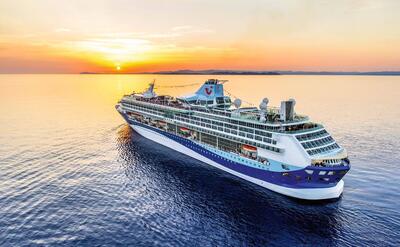 When cruise lines want to offer soft-selling cabins at a lower price without advertising discounts, they might target promotions to select groups of travelers.
For example, Mahnken explains that to fill inventory, "cruise lines will leverage their most loyal clients by offering perks like double loyalty points [or give] reduced or even free cruise fare to casino club members.... Resident discounts are often available when a ship in a particular port has some space to sell." Price drops for senior cruisers or certain professions (such as teachers and first responders) are also popular ways to fill ships. 
Set yourself up to receive these discounts by joining the loyalty program of every cruise line you sail and subscribing to promotional emails. The more you sail on one line, the better chance you have of being offered exclusive discounts.
Image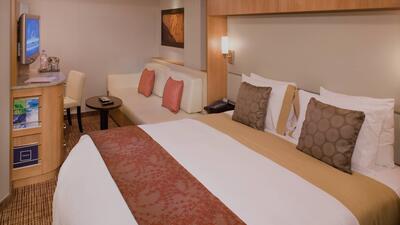 You may also want to cultivate relationships with or sign up for emails from cruise-focused travel agencies. Cruise lines looking to move unsold cabins will offer flash sales or exclusive promotions to their best partners. You'll only find out about these deals if you're on the agency's email list. Sometimes, the discounts are so secret, you can only find out by calling or having an agent reach out to you because they know your travel interests.
Cruise lines will also offer reduced rates to their employees, travel agents, and journalists rather than let cabins sail empty. Having more travel industry people experience the product is worth the loss of revenue because it can lead to an increase in sales down the road.
Related: Why an inside cabin is the best choice for a cruise
Guarantee cabins
Image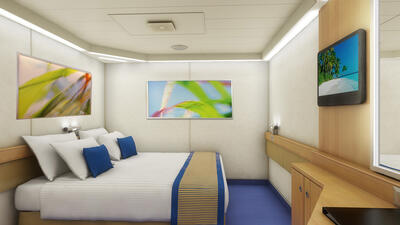 Cruise lines use guarantee cabins in various ways, but the end goal is to fill cabins that aren't being booked. In most cases, a guarantee cabin offers a reduced cruise fare in exchange for the cruise line picking your specific cabin location. 
Instead of booking a deluxe inside room or a basic balcony, a cruiser can only choose guarantee fares for each broad cabin category (inside, outside, balcony). They are guaranteed at a minimum a cabin in the category booked. But the cruise line could also choose to give them a room in a higher category if that's what it needs to fill. 
With a guarantee, you could get the least desirable room on the ship or a cabin worth much more than you paid. It's a gamble for the cruiser, but it helps the cruise line fill the cabins no one else wants.
Related: Top 10 cruise cabins hacks to make your stateroom more livable
Bottom line
Image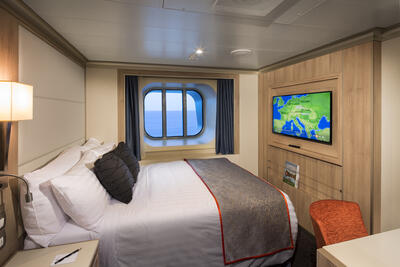 While there's no way to guarantee yourself a deal when a certain ship has unsold cruise cabins close to departure, you can employ these strategies to target sailings and look for promotions. You'll need to be flexible about your travel dates, ships, and cabin locations to have the best chance of success. 
If you're particular about your cruise experience, book your cruise early. Cruise lines try to offer the best rates to those who book months in advance, hoping they won't have to contend with discounting unsold cruise cabins. It's worth paying a little more for the vacation you want rather than nabbing a low price on a less-than-ideal cruise.
Confused about which cruise room to book? Learn more about how to choose a cruise ship cabin.