It's no surprise that balcony cabins are the most popular cruise ship cabin type. People love to have a private veranda where they can read, sip a drink, and gaze out to sea, away from the hubbub of the pool deck. But not all cruise ship balconies are the same – and you might be wondering which is the best room to book.
Whether you're looking for an extra-large balcony or more amenities in the room attached to that balcony, a little research will reveal which veranda cabins stand out as better than average.
To save you time, we've compiled a list of the eight best balcony cabins on cruise ships, in our opinion, as well as some helpful hints for making the most of your balcony room.
1. Aft balcony cabins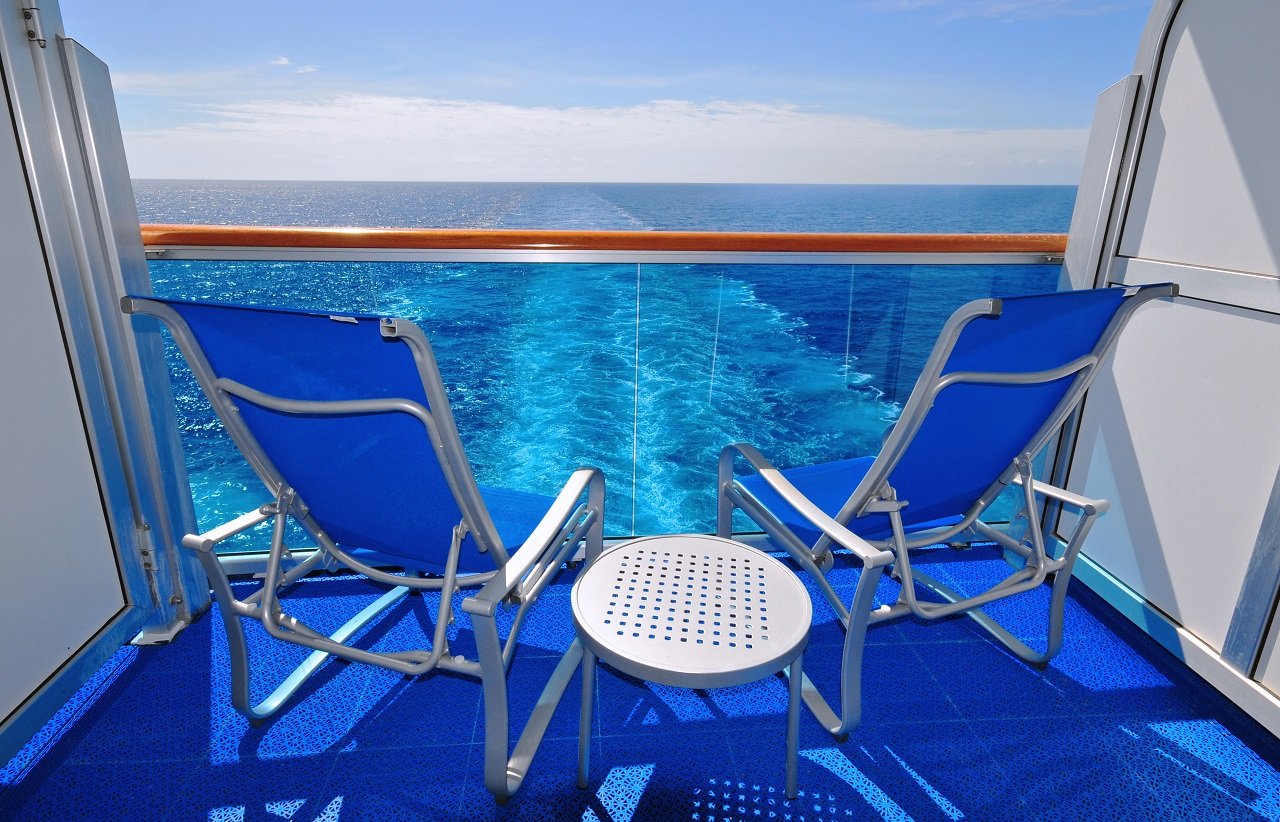 Aft balcony cabins top our list for two reasons: space and views.
Aft is a nautical adjective meaning "toward the back of the ship." Aft balcony staterooms are therefore located at the rear of the ship and must fit the nonstandard shape of the ship's stern. Instead of the cookie-cutter design of most balcony rooms, these cabins are often elongated or oddly shaped, with extra-long balconies. Aft balcony cabins are the best when you want more space inside and out.
Plus, the verandas overlook the ship's wake, the trail of churned waters a boat or ship leaves behind. Many cruisers find wake views relaxing, even though you're technically facing backwards and looking out at where you've just been (not where you're going). If you're one who loves to stand at the railing at the back of the ship and gaze out at that wake, an aft balcony cabin is the best choice for you.
2. Hump balcony cabins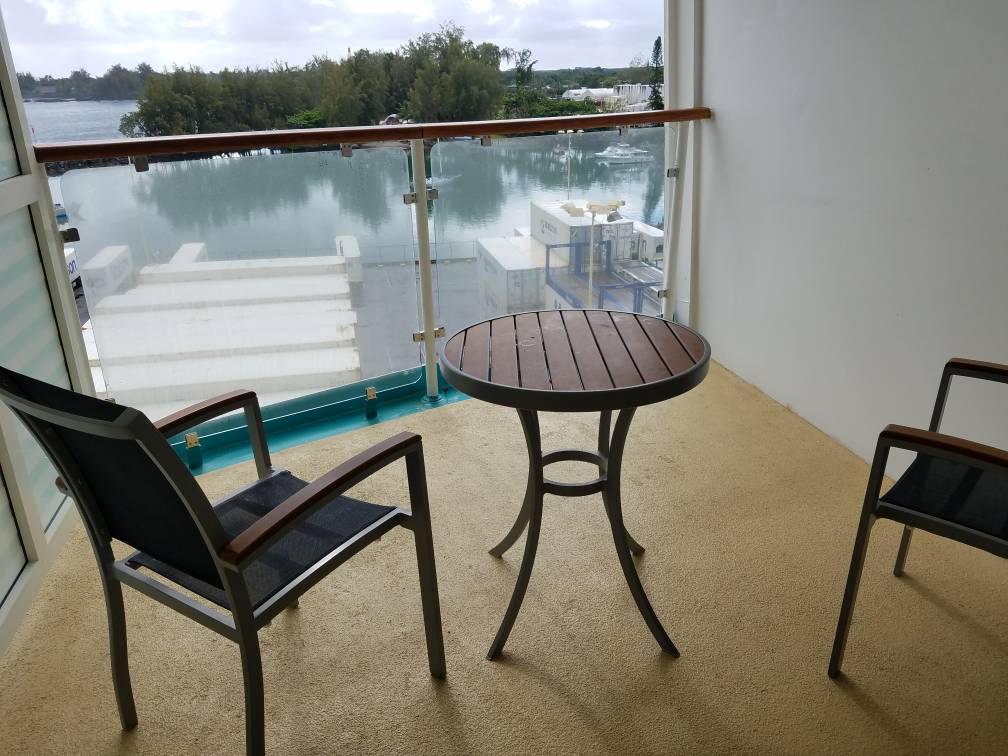 You won't find the funny name "hump balconies" on any cruise line's website, but cruise fans know where to look for these extra-roomy verandas on specific ships in the Royal Caribbean and Celebrity Cruises fleets. 
Some ships, including ones in Royal Caribbean's Radiance class and Celebrity's Solstice class, are not entirely straight along the sides. In certain areas, the ship's design bulges outward – in other words, a hump. Cabins located where the ship begins to jut out often have extra-large balconies to accommodate the curve or angle of the ship's superstructure. 
To find these balcony rooms, look at the deck plans and you'll see where these special balcony cabins are located. Check on message boards or social media if you want other cruisers to confirm that the specific cabin number you want to book definitely has a large balcony.
3. Corner wrap balcony cabins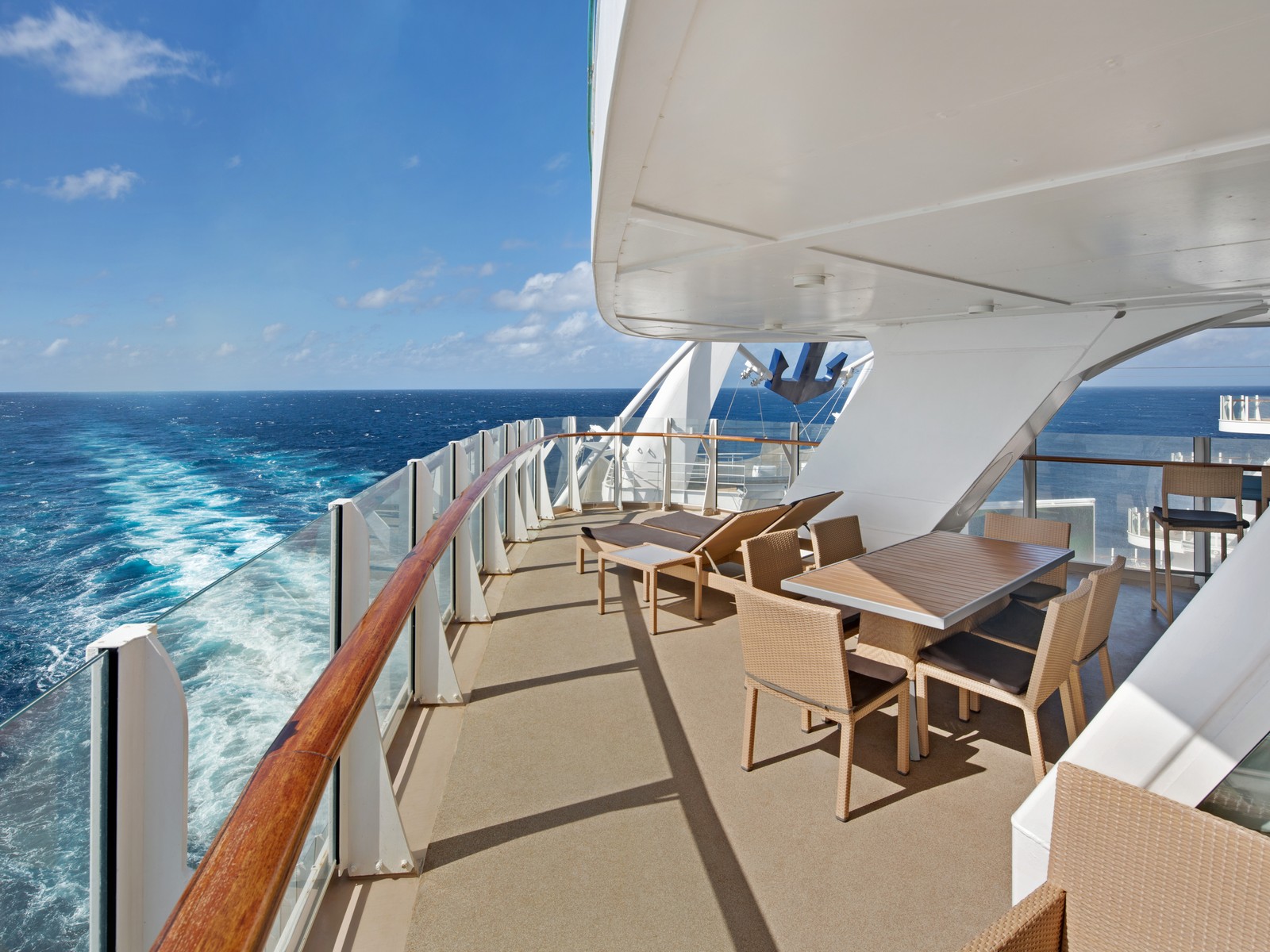 Where can you find some of the biggest and best cruise ship balcony cabins? At the corners of the ship.
Corner cabins are like the coveted corner office, with windows facing either forward or backward, as well as to one side. This location leads to cabins with lots of light and balconies that wrap around the corners of the ship. For example, Carnival has premium vista balcony cabins located on the aft corners of certain ships. These extra-long balconies are a boon for veranda fans. 
The extra space can often accommodate a full lounger in addition to regular balcony chairs and table. That makes these corner wrap balconies ideal for cruisers who want to stretch out and nap in the sun.
Note that many cruise ships now place their swanky suites at the corners of the ship, so the wrap balconies may only be available to travelers booking the highest tiers of accommodations.
Forward or aft, port or starboard, high or low? Figure out the best cruise ship cabin location for your vacation preferences. 
4. Cove balcony cabins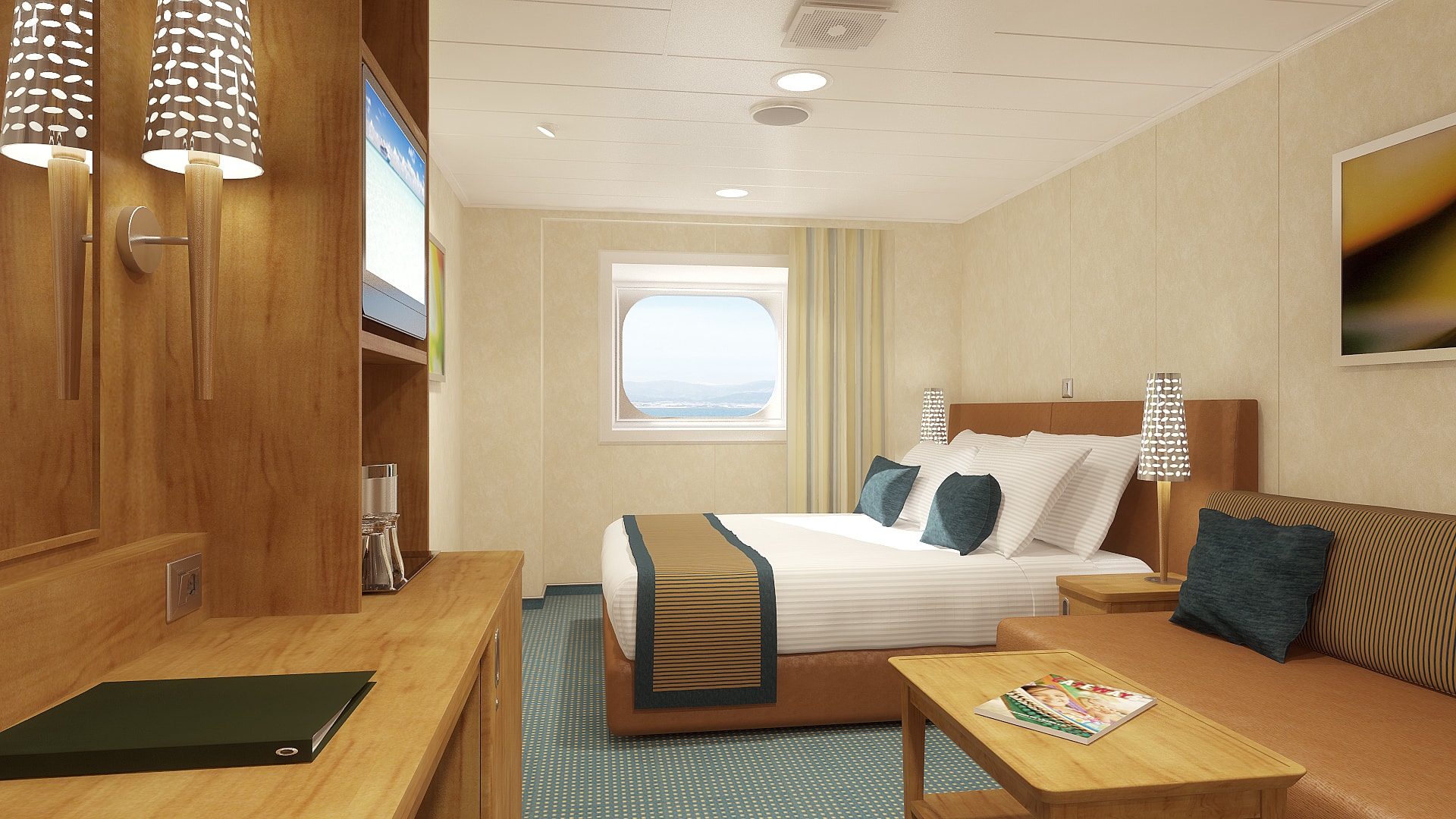 Cove balconies are a Carnival specialty that are best for cruisers who are looking for privacy and the closest verandas to the water line.
Because these rooms are located on low decks – as low as Deck 2 on some ships – the balconies are fully enclosed by the ship's steel structure, with a large cut-out open to the sea breeze. Your neighbors can't peek around and spy on you from their balconies, so your private alfresco space really is private!
These balconies are larger than the standard verandas on the decks above, so you get more space to enjoy all that fresh air. They're also closer to the water, so if you want a chance to feel that sea splash on your face or scan the waves for dolphins, the cove balconies are the ones to book.
5. Infinite veranda cabins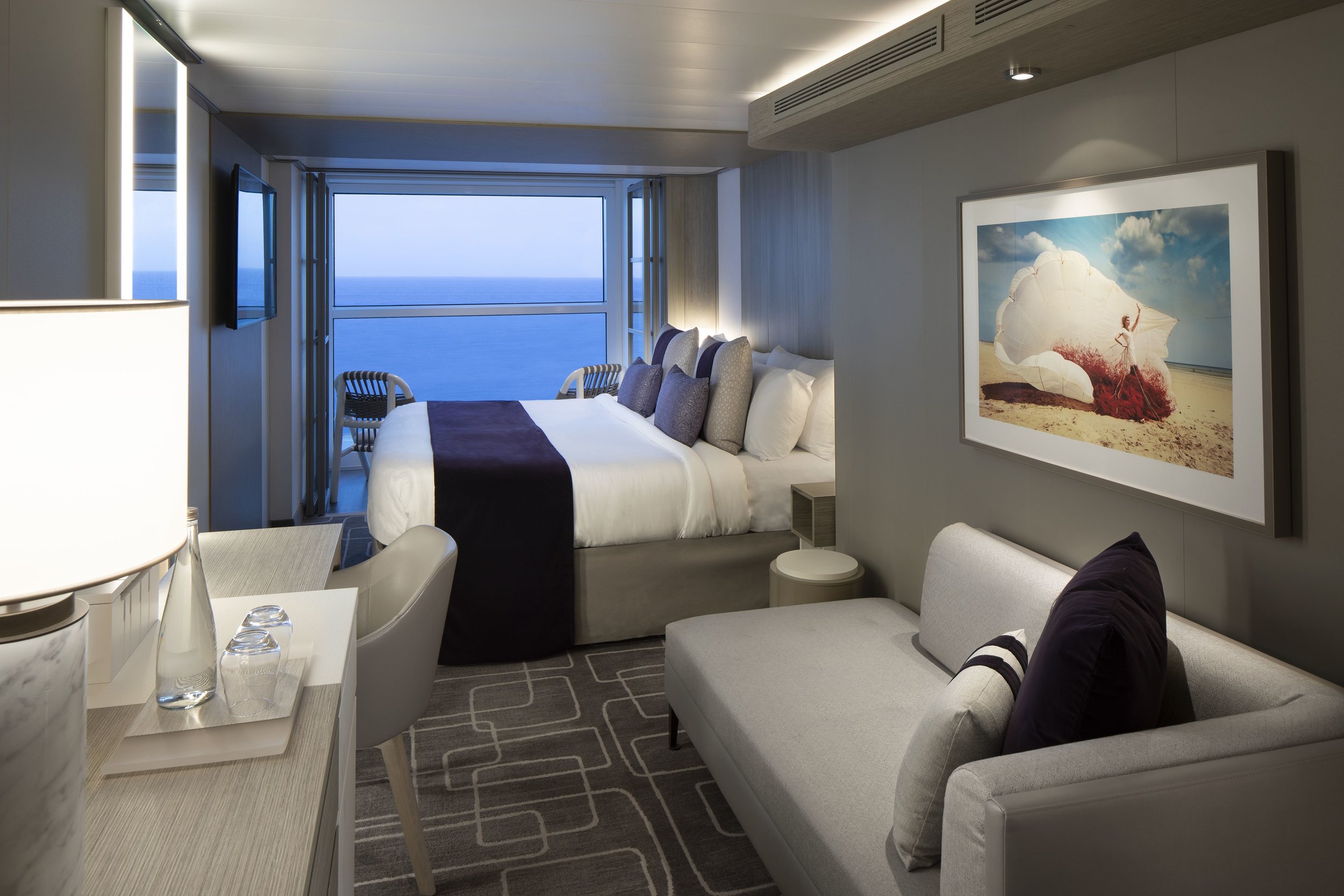 Celebrity is the only big-ship cruise line to sport infinite veranda cabins, though some river cruise ships offer them as well. They're found exclusively on Celebrity Edge and Apex and represent the next generation of cruise ship balcony design.
Balconies are great when the sun is out, but on rainy or cold itineraries, they're wasted space. Celebrity's design team sought to solve that problem by creating a versatile area that could transform from a balcony into a sun room fully enclosed within your cabin. These cabins are excellent for cruisers on colder-weather itineraries, or who want the option of fresh air but don't tend to spend much time kicking it on their balcony.
With an infinite veranda, there is no permanent wall between the cabin and the balcony. Instead, the balcony area is enclosed on its outer edges with glass windows; the one facing the sea can roll down just like a car window at the touch of a button. Accordion-fold doors can be closed to separate the open-to-the-air "veranda" from the cabin interior. When not in use, roll up the windows, open the doors, and you have a roomier cabin with a sunny seating area at one end.
6. Spa balcony cabins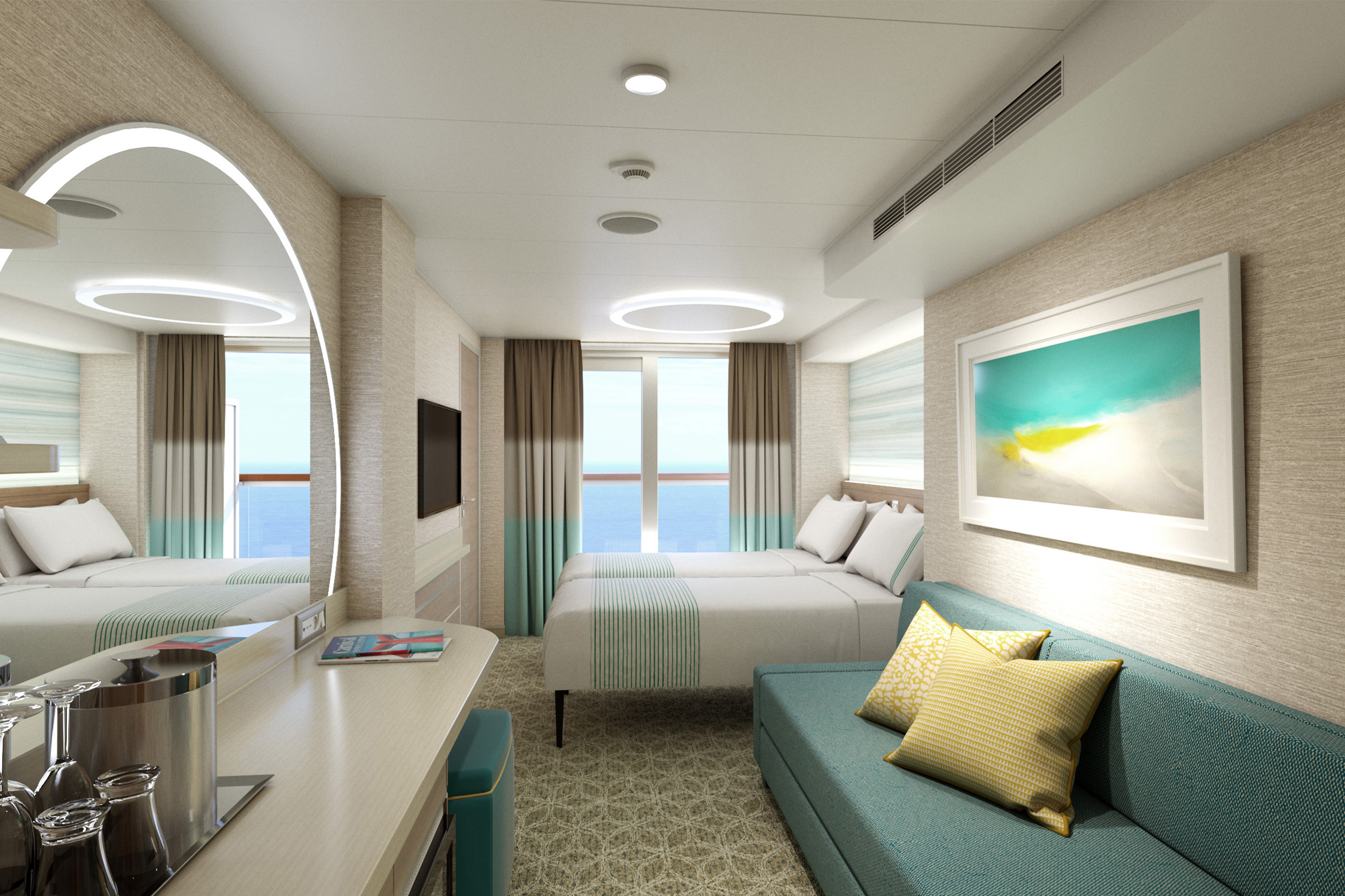 When you need a Zen-like retreat at sea, a spa balcony cabin is the way to go. Unlike our previous choices, the balconies on these rooms – found on most major lines – are typically the standard variety. It's the interior portion of the cabin that rates them among the best.
Spa cabins are located close to the spa, which on most ships is on the upper decks. (Remember: The higher the deck, the better the balcony view.) The décor in spa balcony cabins is often Asian inspired, with a color palette of earth tones to create a calming ambiance. Bathrooms may feature rain showers or massaging jets and spa brand in-cabin toiletries.
Plus, spa balcony cabins come with all kinds of perks, depending on the cruise line. These may include fancier robes and slippers, a pillow menu, complimentary thermal suite or exercise class passes, and yoga mats.
7. Family balcony cabins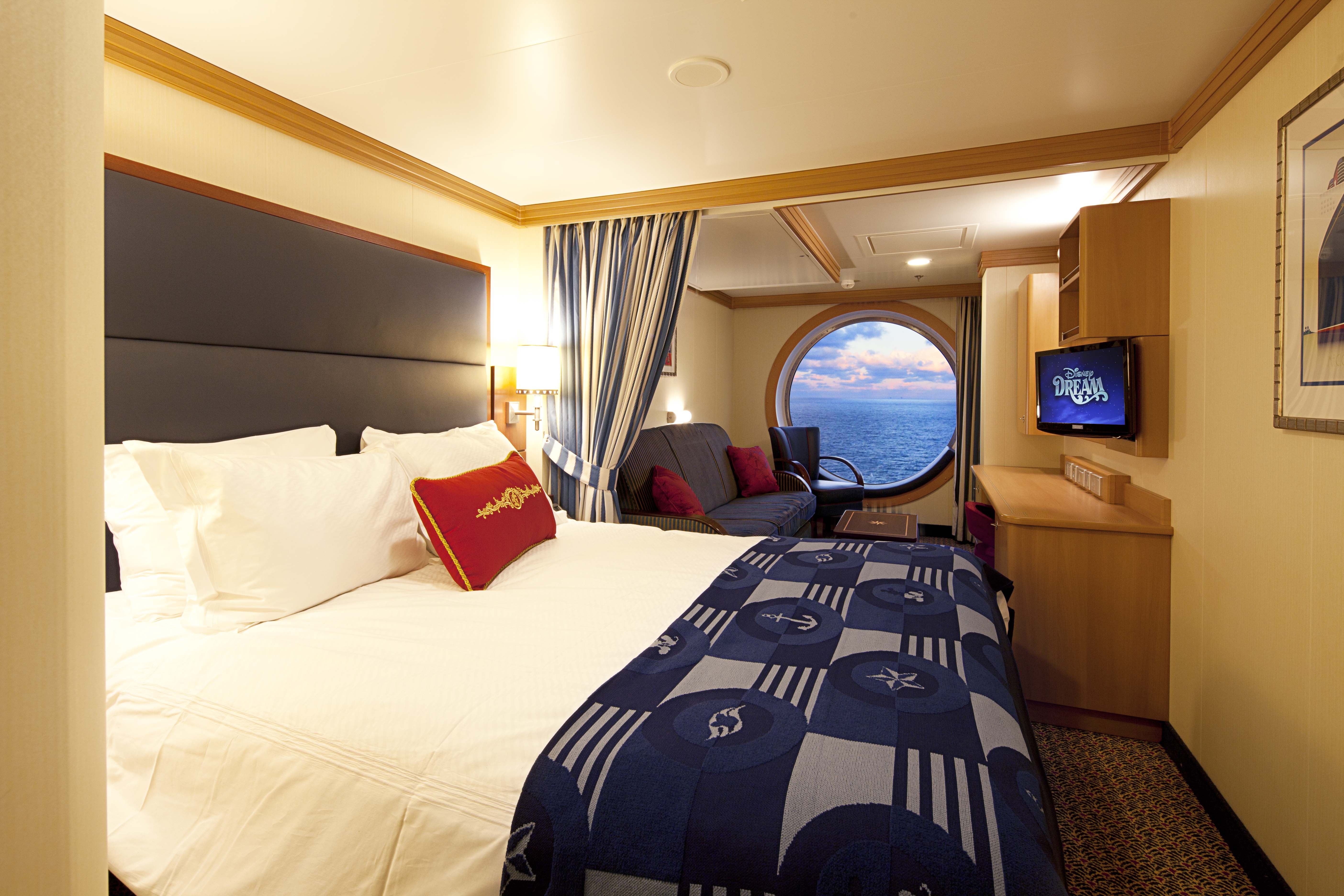 If you're traveling with the kids, the best balcony cabin for you is one designed with families in mind. Many ships have fancy family suites, but you can also find more affordable balcony cabins that can sleep up to five.
Disney's Deluxe Family Oceanview Stateroom with Veranda can sleep five; the pull-down bunk beds  have a Peter Pan mural on the ceiling above. These rooms cater to families with split baths (sink and shower-tub combo in one room, toilet and sink in another), childproof balcony locks, and a privacy curtain to separate kid and parent sleeping areas.
Carnival's Family Harbor balcony cabins are typically cove balconies or aft balconies, so they combine  family-friendly perks with excellent locations. These cabins are tops because they give families access to the Family Harbor lounge, with snacks, games, a concierge, and one free night of Carnival's late-night group babysitting.
Celebrity's Family Veranda Staterooms can sleep five on Solstice-class ships and feature a separate inside kids' room with bunk beds plus a pullout sofa in the living area. (Configurations vary on the line's other ships.) Look for these and other family-designated balcony cabins when you want the best digs for the kids.
8. Suites with balconies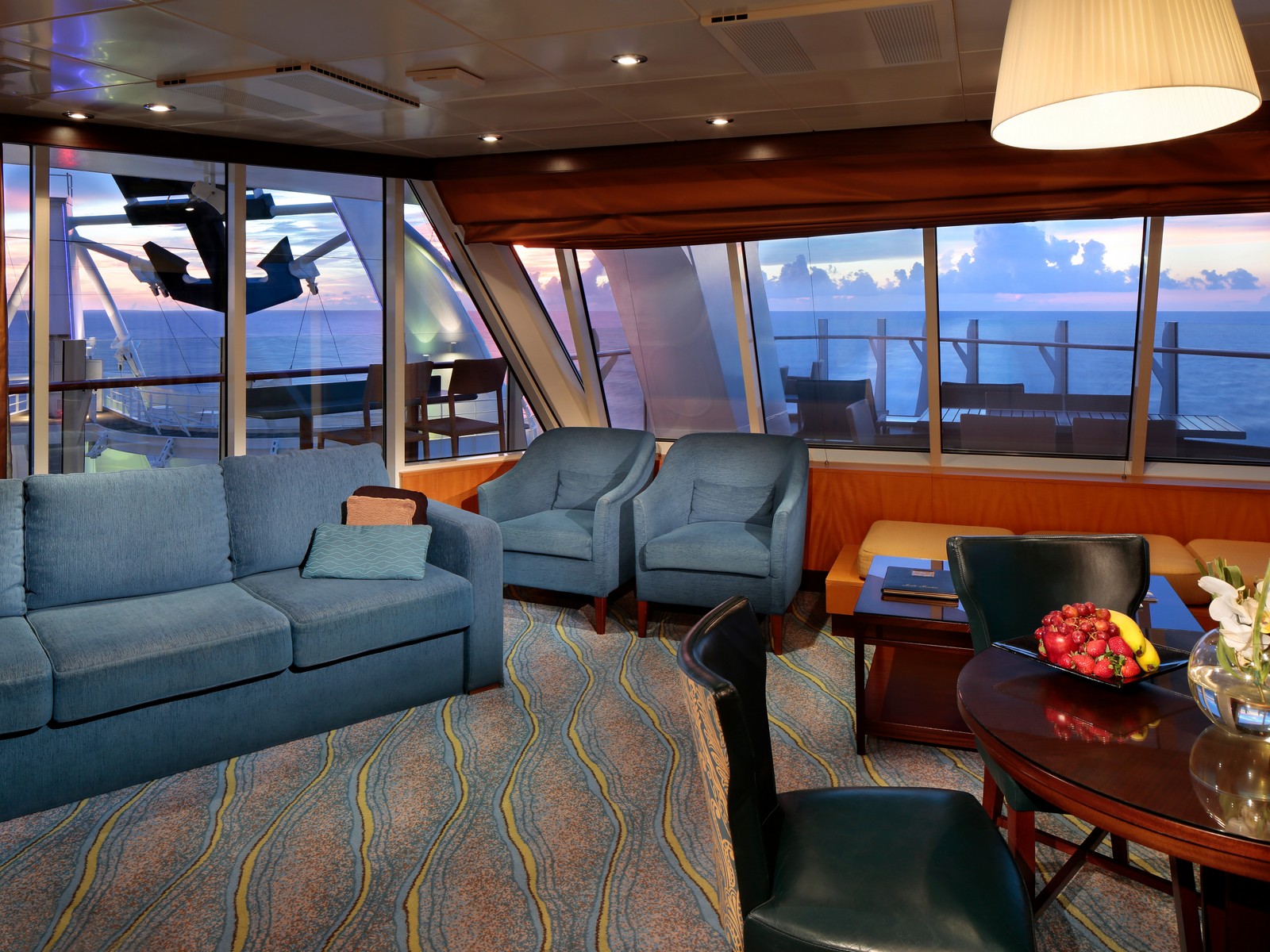 For the most over-the-top balconies, you do need to book a suite. It makes sense that the nicest cabins onboard should have the best balconies, and you'd be amazed at some of these tricked-out verandas.
The best suite balconies feature full loungers or padded patio furniture, dining areas, bars, and hot tubs. Some suites, such as Royal Caribbean's two-story lofts, have access to two or even three private balconies.  
But it gets crazier than that! Enchanted Princess' Sky Suite has a dining table, daybed, telescope, bar, and TV on its veranda. Royal Caribbean's Ultimate Family Suite has a Jacuzzi, ping-pong table, and kiddie climbing wall on its balcony. The line's AquaTheater Suites have large balconies with primo views of all the AquaTheater shows – no tickets or queuing required.
Your balcony cabin questions answered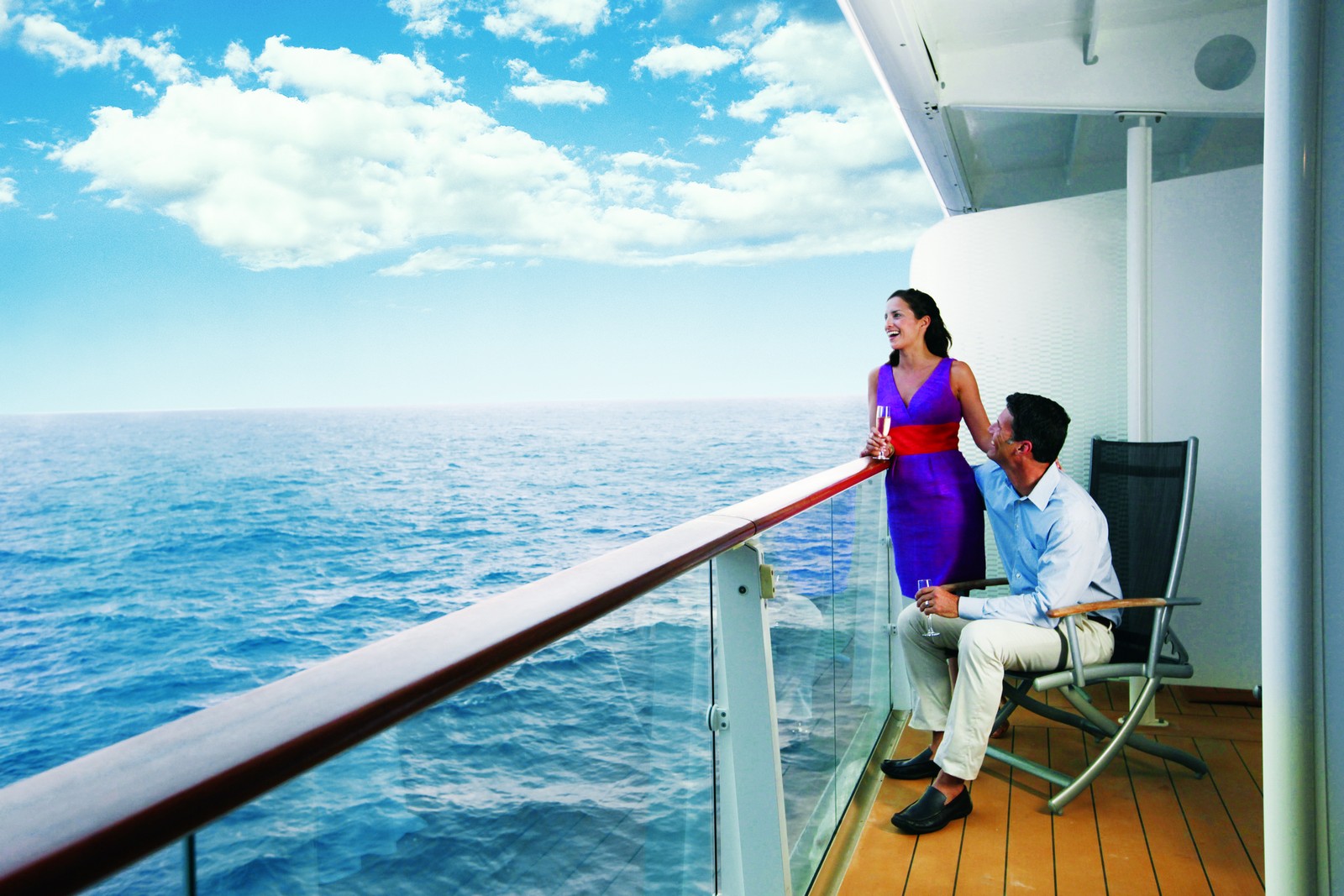 While we're on the subject of balcony cabins, we thought we'd address some of the most commonly asked questions about our favorite cruise room category.
What is the difference between a balcony and a veranda on a cruise ship?
Nothing. Cruise lines (and Cruise.blog) use the terms interchangeably. However, Carnival's Havana Cabana cabins and Holland America's lanai cabins feature patio-style outside space that is along a public walkway and different from a private balcony – even if the patio area or patio furnishings are for your use only.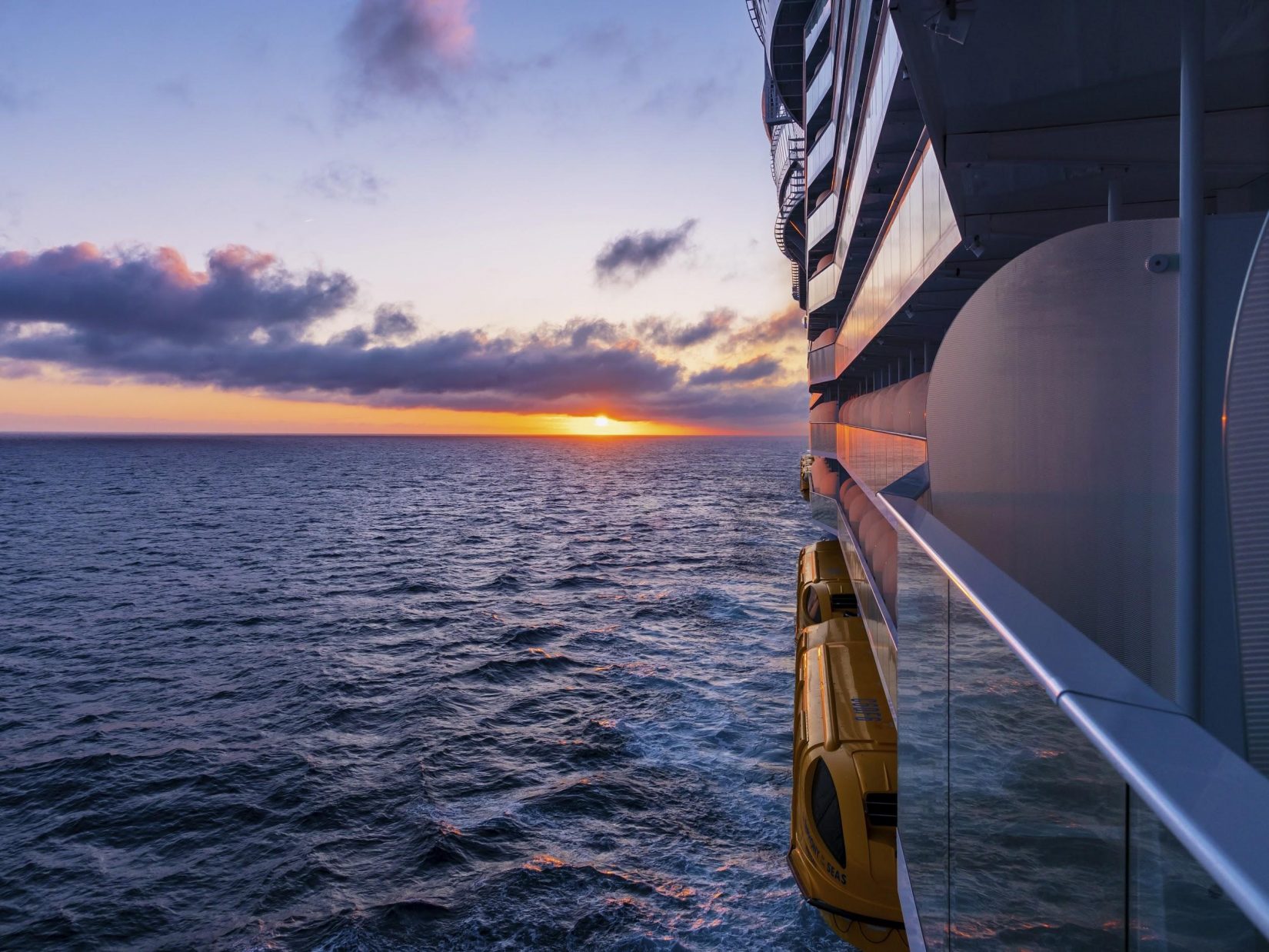 Is a balcony on a cruise ship worth it?
Definitely! Unless you're the type who's never in their stateroom, a balcony cabin is the ideal cruise room because it offers extra lounging space and easy access to fresh air. We love how relaxing it is to sit in peace, gazing out at the sea views.
Compare that to the pool deck experience, where you may have to fight the crowds for a lounge chair and be forced to listen to loud music, poolside movies, and your neighbor's conversation when you long for quiet time. You can see why it's nice to have a private getaway.
If you're not sure, read more about inside vs. outside cabins to see if either of these cruise rooms is more your speed.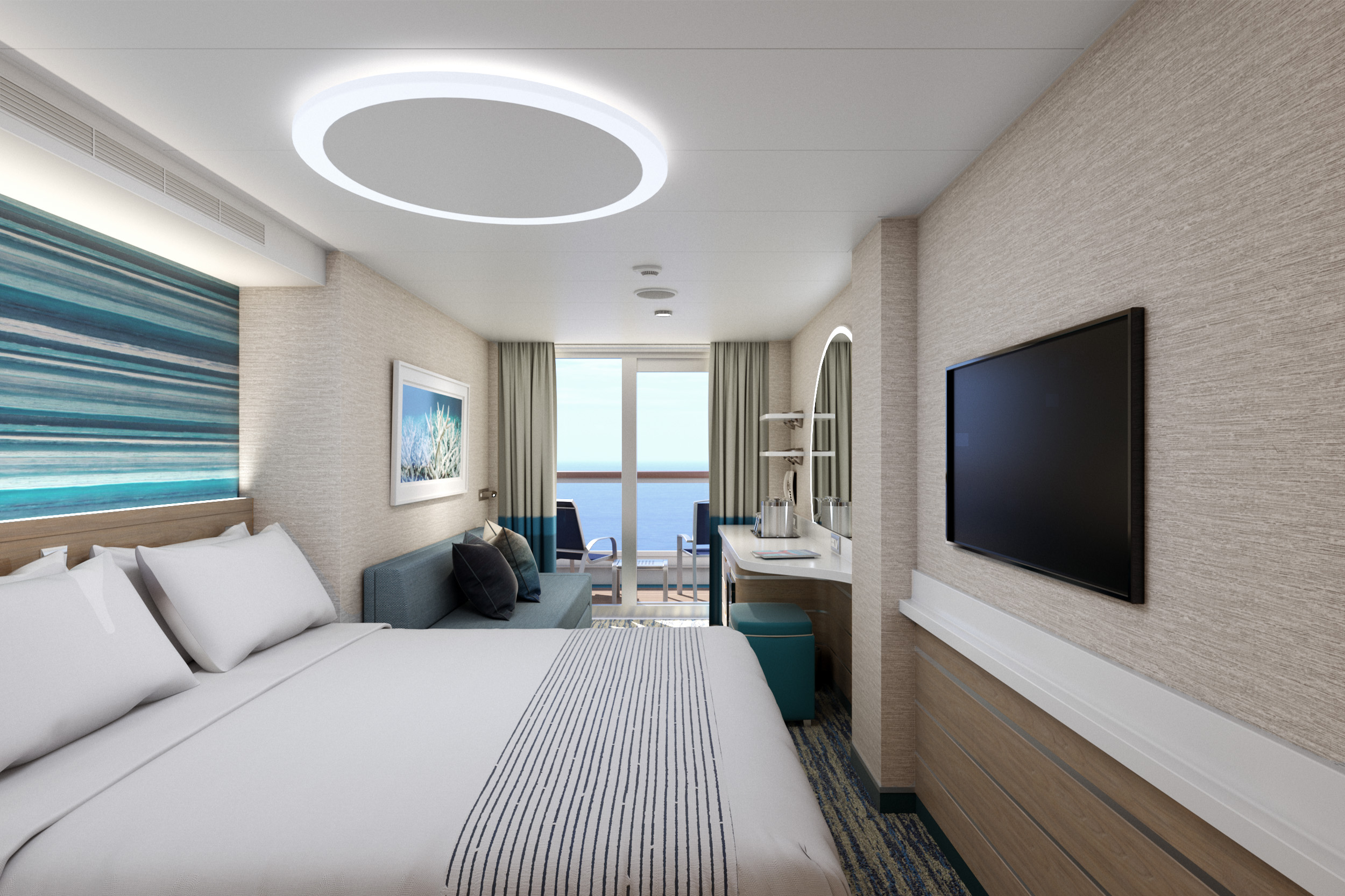 Can you sleep on the balcony of a cruise ship? 
It's not recommended to spend the night sleeping on your balcony, but no one will stop you. Cat naps in the sun, however, are highly encouraged. 
If your balcony has a fully reclining lounge chair, you could conceivably stretch out and go to sleep. However, you might get wet from sea spray or early-morning ship cleaning, and it can be chilly outside at night.
Don't risk bringing the comforter outside; if it gets dirty or ruined, you might have to pay a fine. On a standard balcony, we can't even imagine finding a comfortable spot to snooze.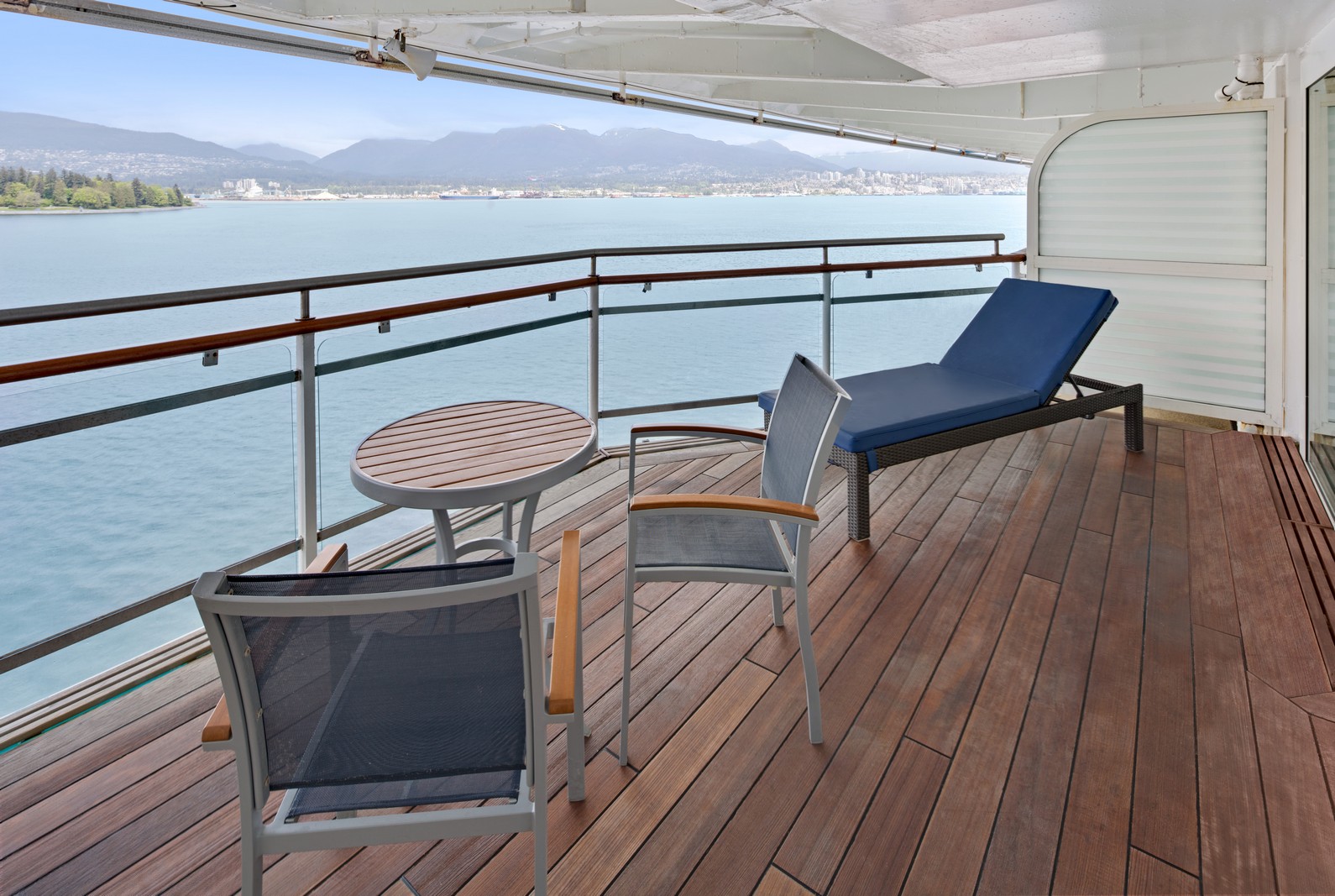 Can you smoke on a cruise ship balcony?
Please don't light cigarettes or cigars on cruise ship balconies. It's a fire hazard, and if caught, you will be fined.
Still confused about cruise rooms? Learn more about how to choose a cruise ship cabin.