When preparing for your next cruise, you should make sure that purchasing a cruise layard is on your list of things to do. 
Cruise 101 is knowing that your plastic cruise card will be your lifeline once you board the ship; there will not be any need to carry around cash, other forms of identification, or credit cards. 
For that reason, you want to treat this card like a house keys, a passport, or credit card. You will use the card to make any onboard purchases, open your stateroom door (and in some cases, it'll be required turn on the lights), and disembark/embark the ship in ports of call. 
Here are some reasons why cruise lanyards are the best travel accessories. 
Please note that we have linked Amazon items, which contains an affiliate link. The affiliate link costs you nothing extra, but Cruise.Blog will make a small commission if you purchase the item through the link. 
Convenience 
Image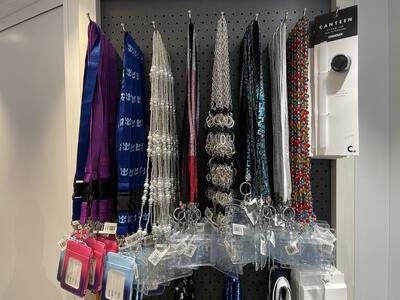 People love to cruise because, for the most part, they are a convenient vacation. Rather than spend the week rummaging through your bag for your cruise card when making an onboard purchase or trying to enter your stateroom, a lanyard keeps it handy and easy to access. 
Cruise cards have many functions and are necessary for day-to-day activities onboard, including opening your stateroom door (and on newer ships, turning on the lights), providing proof of age to gamble in the casino or enter the nightclub, making onboard purchases, ordering drinks at the bar, playing games at the arcade, and getting on and off the ship in ports of call. 
You will probably need swipe your card at least 15 times per day! 
You are on vacation, and you do not want to waste time searching for your card during all of these instances. Taking the lanyard off your neck, out of your pocket, or pulling it directly out of your bag will make accessing your cruise card a breeze! You do not want to be that person who holds up the line at the bar!
Plus, you can hang the lanyard up in the room and easily grab it whenever you want to head out for the day. It is an awful feeling to be halfway to your destination and realize that you left your cruise card in your stateroom. If you hang the lanyard in a noticeable spot, you are less likely to forget it!
Read more: Top 10 cruise cabin hacks to make your stateroom more livable 
Key card's safety
Image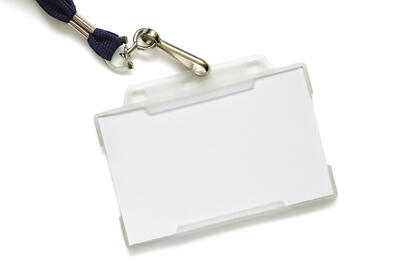 A lanyard will help keep your cruise card safe and minimize the chances of you losing it while on your vacation. 
The last thing anyone wants to do on vacation is stand in line at guest services. If you have ever been on a cruise, you will know that this line can be gruesomely long!
If you lose your card, however, you will not have another choice! Since your card is necessary for so many onboard activities, you'll need to get a replacement as soon as possible, even if that means waiting in a 30 minute line when you could be hanging out on the pool deck instead. 
Think about what would happen if you realized you lost your card as you were trying to disembark for a shore excursion. By the time you made it to guest services and off the ship, you probably would have missed the group's departure!
Image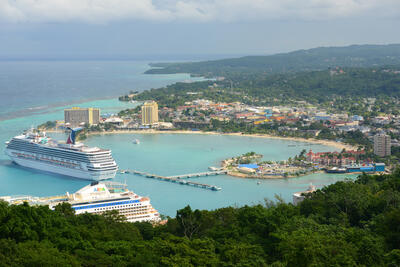 If you have a kid who is prone to losing things, they might benefit from a lanyard the most-- I know a family that had to visit Guest Services twice in one week because their youngest son lost his card twice. 
Additionally, a lanyard with a plastic sleeve is useful when traveling on a ship that uses RFID cards, as they cannot have holes punched in them. 
The sleeves will also protect your card from other elements that could rub off the information on it (I have had this happen with too much sunscreen before) and acts as a safe area to keep cash and other forms of identification when getting off the ship at ports of call. This is nice because you do not have to carry around a wallet. 
A fun souvenir
Image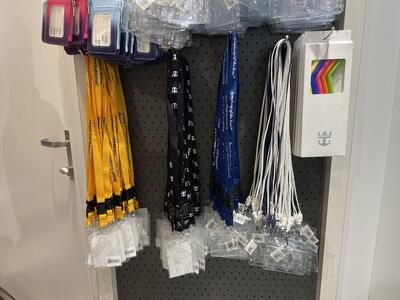 You can opt to reuse the same lanyard on each cruise, or you can purchase a new one and create a lanyard collection. They make cool, and relatively cheap, souvenirs. 
If you are going on a group cruise, for instance, you could get all members of your travel party matching lanyards. Everyone will have an automatic souvenir to remember their time together!
Once the cruise is over, you'll have a safe place to keep your cruise card to remember the great vacation you had! Plus, you never know when a lanyard might come in handy during your everyday life. 
Personalized accessory
Image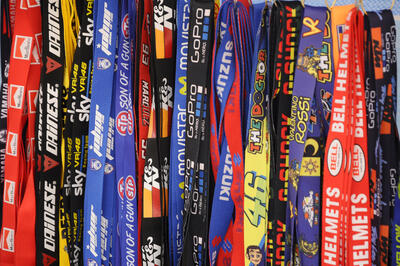 If you wait to buy your lanyard onboard the cruise ship, you will probably pay more than if you were to purchase it in advance, and you'll have fewer options.
If you get your lanyard in advance, you have the entire internet at your disposal to search for one that better suits your personality. Do you have a favorite sports team or clothing brand? Would you like it to be bedazzled? Does it make sense to get a lanyard with a plastic pouch that can also hold and protect your phone?
Additionally, you will be able to choose what style of lanyard you would like. Some are more like keychains or bracelets, while others come with detachable clasps. 
What cruise lanyard should you buy?
With so many types of cruise lanyards, you might be wondering which one is the best for you. Here are some options based on style and functionality for under $15! If you plan on ordering something, give yourself enough time to ensure that it arrives prior to your cruise. 
Cruise Lanyard for Ship Cards | 2 Pack Cruise Lanyards with ID Holder, Key Card Retractable Badge & Waterproof Ship Card Holders ($10.99)
Image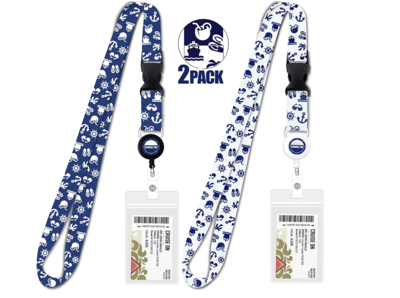 With over 5,500 four and five star reviews, this two-pack of cruise lanyards is a popular choice; it has all the bells and whistles! For only $5.50 each, you will get a lanyard that comes with a waterproof ID holder, retractable reel, and detachable clasp. 
The waterproof pouch is big enough to hold your cruise card, a credit card or two, as well as little bit of cash when going to explore the ports of call. 
If you have a drink package, a detachable clasp will make ordering drinks easy, as you will not have to fumble to try and get your cruise card out. You can simply unclasp the pouch and hand it to the bartender.
Plus, they come in seven different prints, and you are able to choose a mix & match option if you do not want two of the same. 
Cruise line specific lanyard (price varies onboard ships)
Image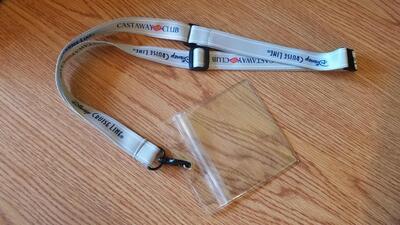 You can wait until you board your ship to purchase a lanyard and get one that is branded with the cruise line's logo or name. They will be available the entire cruise in the gift shop, so you have time to decide on style and whether or not a lanyard is right for you. 
While the functionality of each will vary, most of them are pretty simple; some may have a waterproof ID pouch or detachable clasp. The price of a lanyard onboard is usually between $5 and $15. 
Fun fact: if you are sailing on Disney Cruise Line for the 2+ time, you will receive a complimentary lanyard when you check in as a Castaway Club perk. 
BIHRTC Key Ring Bracelet Car Keychain Holder Wristlet Silicone Women Beaded Bangle Chains ($11.10)
Image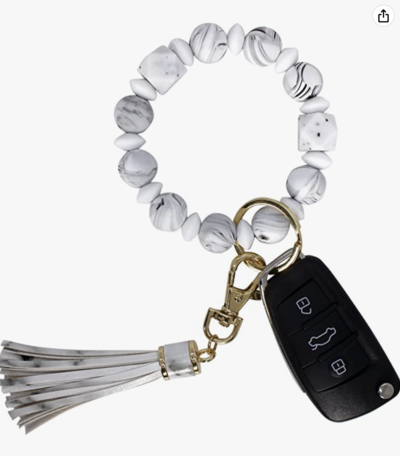 Traditionally, lanyards are not the most fashionable accessory, which is why a cute key ring bracelet is a great alternative. Even though this is not technically a lanyard, you are still able to attach your cruise card to the clasp.
This specific key ring bracelet has over thirty different designs to choose from, as well as over 4,800 five star reviews! You can choose something more neutral or get a colorful blue, pink, or purple bracelet.
You may even be able to get some use out of it at home for your car and/or house keys! Think of it as a long term investment, rather than something you are purchasing just for one week. 
FRIEQ Waterproof Phone Pouch Bag - 2 Pack, Waterproof Phone Case Dry Bag with Lanyard for iPhone 14/13/ 12/11 Pro Max Samsung Galaxy S22 S20 and More ($8.99)
Image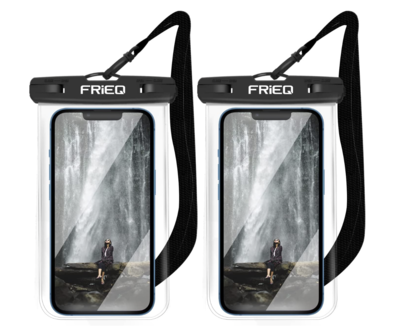 For those who always have their cell phones on them, a lanyard with a waterproof case large enough to protect your phone might be ideal. 
While getting your cruise card in and out may take a little bit more work, all of the contents inside will be kept secure and dry. This lanyard will help ensure you don't miss out on any photo-worthy moments on your excursions or while you are hanging out on the lido deck. You also will not have to worry about carrying it, as it can hang from your neck. 
For only $8.99, or about $4.50 each, you can get a two-pack of the FREIQ Waterproof Phone Pouch Bags! 86% of the 8,127 Amazon reviews give this product four or five stars.
Bottom line
Image
Lanyards are great for convenience and safety, plus they make a unique souvenir (that you may end up reusing one day)! 
But they are not for everyone. Some people, for instance, may prefer to keep it behind their phone case. If you choose not to use one during your cruise, make sure that you have a secure place to keep your cruise card. If you keep it loose in your pocket, do not be surprised if you go to open your stateroom just to realize that it fell out somewhere!