Celebrity Cruises' Edge Class of ships has been known to introduce cruise industry firsts. The Magic Carpet, for instance, was the world's first cantilevered floating platform that reaches 13 stories above sea level. By day, it is used as a gangway to help passengers board tender boats, and at night, it is transformed into a dining venue and trendy bar. 
On March 28, Royal Caribbean Group announced that the fifth Edge Class ship was going to introduce a new flex fuel. In recent years, the cruising industry has become focused on LNG, or liquefied natural gas. This, however, is different.
"As we innovate our ship design and offerings, we're also focused on equally evolving the fuel and technology landscape that powers them," said Jason Liberty, president and CEO, Royal Caribbean Group. 
"By incorporating tri-fueled engines, we are ensuring that as alternative, low-carbon-based solutions become more viable, our ships will be ready to adapt and drive the industry forward to a more sustainable and net zero emissions future."
New Flex Fuel Engine
Image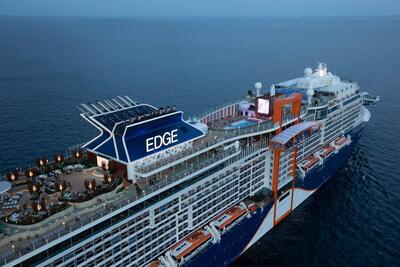 The fifth Edge Class ship will be the first ship to feature this brand-new flex fuel engine, as well as additional storage and delivery systems, that will enable the ship to run off of three different types of fuel, including methanol. 
In order to accomplish this, technology group Wärtsilä will deliver two converted 8-cylinder Wärtsilä 46F engines. This will not only help promote carbon-free cruising, as local emissions such as sulphur oxides (SOx), nitrogen oxides (NOx), and particulate matter will be significantly reduced.
According to Håkan Agnevall, President and CEO of Wärtsilä, "Wärtsilä has invested heavily into researching viable future carbon-neutral fuels for the marine industry, and methanol has emerged as one of the most promising candidates...This will be the second methanol-fueled engine conversion that we have undertaken, and the first with the Wärtsilä 46F engine."
Once completed, this new flex fuel engine will be added to Royal Caribbean Group's, Celebrity Cruises' parent company's, portfolio of their progress toward achieving net zero emissions by 2050: Destinations Net Zero.
While the for the engines was included in Wärtsilä's January 2023 order book, the launch date for the ship has yet to be revealed. In fact, it has yet to be named!
How is this different from LNG?
Image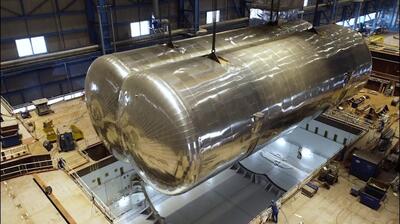 LNG-powered cruise ships use LNG (or liquefied natural gas) fuel to generate the energy needed for powering the propellers. Engines that are built to use LNG fuel helps reduce a cruise ship's carbon emissions by approximately 30%, making it one of the cleanest-burning marine fuels. 
As of today, LNG fuel is one of the best options available for cruise ships to reduce the industry's carbon footprint. Plus, less maintenance is required to due less wear and tear on the engine, reducing the cruise line's overall operational costs. 
In 2018, AIDAnova made history as the world's first cruise ship to be powered both at sea and in port by LNG fuel. 
As of March 2023, no Celebrity cruise ship runs on LNG fuel. When Icon of the Seas sets sail in January 2024, she will be the first ship launched by Royal Caribbean Group to use LNG fuel. 
First engine of Icon of the Seas engine started up
Image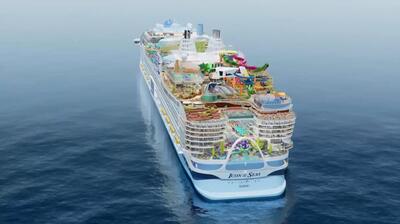 On March 15, the Meyer Turku shipyard, where Icon of the Seas is being built, confirmed that the first multi-fuel engine was turned on for the first time! This was huge news for Royal Caribbean and Royal Caribbean Group alike. 
Per a social media post that was published to the shipyard's Facebook, "Chef engineer Tuomas Auvien says: 'Icon of the Seas has six Wärtsilä main engines. The first of them (number 2) was started today, Wednesday 3/15 at 11:00 a.m."
"Both diesel and natural gas can be used as fuel in the main engines, Wednesday's start was made with diesel. The first main engine start on a ship largely tells a lot about the ship's readiness. It is a sign that the various departments throughout the yard have achieved something significant. To achieve this milestone, all professional groups are needed, and for that, big thanks to everyone!" 
While it won't be for awhile, we are looking forward to when the fifth Edge Class ship's flex fuel engine is started up for the first time. 
Celebrity Cruises' Edge Class
Image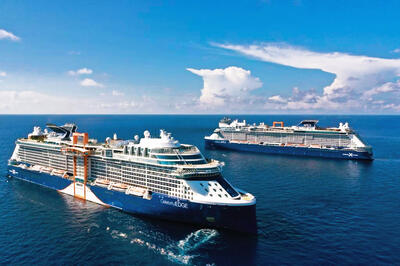 Celebrity Cruises' Edge Class of ships debuted in 2018 with Celebrity Edge. As of March 2023, there are currently two other Edge ships in service: Celebrity Apex and Celebrity Beyond. They will be joined by a fourth sister ship, Celebrity Ascent, in November 2023 and a fifth unnamed sister ship at an unknown date. 
They are unlike other Celebrity ships in numerous ways; however, one primary difference is the main dining experience. Rather than offer one main dining room option, guests may chose from four different complimentary dining venues: Cyprus, Normandie, Cosmopolitan, and Tuscan. Each specializes in a different cuisine, while also offering some classic dishes. 
Edge Class were also the first to feature Eden,  a three-story multipurpose nature-inspired venue that is home to a café offering light options for breakfast and lunch, bar, sit-down restaurant for dinner, dance floor, and evening entertainment. Here, you will find 7,000 square feet of glass windows, making it a prime location to enjoy your morning cup of coffee. 
Additionally, Celebrity Edge was the first to include infinite veranda staterooms. These staterooms mesh together the balcony space with living space. It is a concept that Royal Caribbean Group is extending onto Icon of the Seas. 
Read more: Solstice Class vs. Edge Class on Celebrity Cruises