Last winter, my sister and I sailed on Carnival Celebration, the newest ship in Carnival's fleet, and we fell in love! When we found this 7-night sailing to Amber Cove and Grand Turk, we couldn't resist.
Image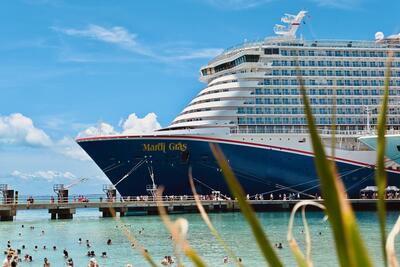 Carnival Mardi Gras represents a new era of cruising for the company and truly revolutionized its fleet. This snazzy, trendy cruise ship is nearly 40% bigger than anything Carnival had built before.
Image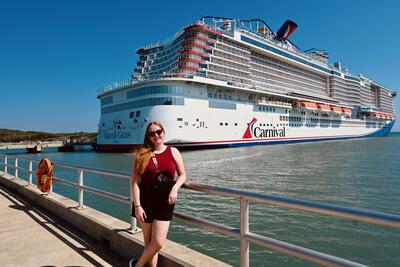 We were eager to try the cruise line's original Excel-class ship. Carnival Mardi Gras was built in 2020 (although she didn't set sail until 2021), making her barely two years old. 
Image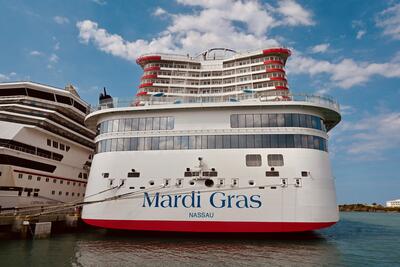 Before Carnival Mardi Gras, the cruise line had resisted the cruise industry's shift towards building mega-ships and floating resorts. But, the new Excel class of ships has truly been a game changer for the cruise line with its modern, innovative design. 
Image
I never imagined Carnival could build a cruise ship that was so trendy. All of my prior Carnival experiences had been on older ships that felt cramped, dingy and outdated. 
Image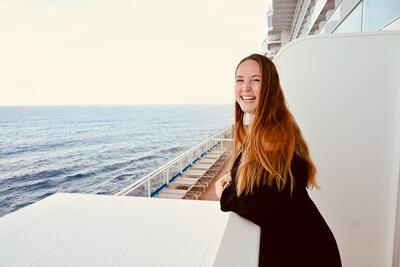 On this 7-night Caribbean sailing, I decided to splurge on a spacious Ocean Suite for $3,000. As someone who normally sails in the cheapest interior cabins available, being in a suite was a huge upgrade.
Image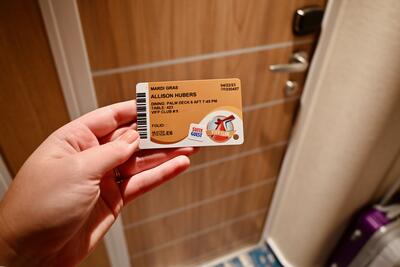 We stayed in stateroom #9456 onboard this cruise. Upon arrival, we found our cruise cards were each marked with a "Suite Guest" sticker. I also achieved Gold status on my last cruise, which is the third highest tier of loyalty for Carnival!
Image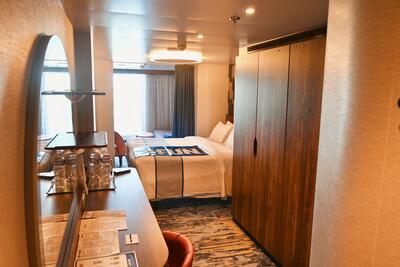 Our beautiful Ocean Suite was approximately 290 square feet. This is nearly double the size of the inside cabin that we sailed in last winter on Carnival Celebration! We were shocked by how spacious the cabin felt.
Image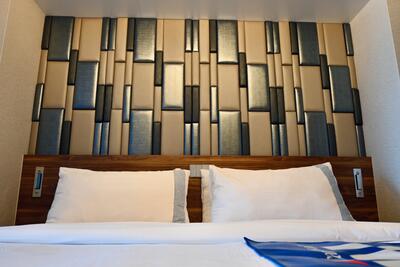 Since I was sailing with my sister, we opted to keep the beds joined together as a king bed rather than splitting into two twin beds. We've never done this before, but I really loved feeling like I had more space at night.
Image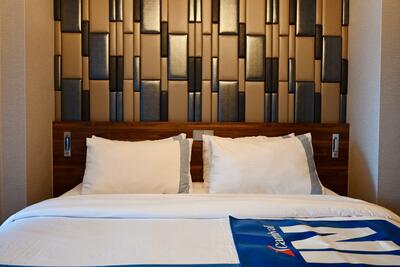 All suites onboard Carnival Mardi Gras received a pillow-top mattress, making the bed extra comfortable and perfectly plush. Also, Carnival always provides a luggage mat to keep the comforter from getting dirty - and we love this little touch.
Image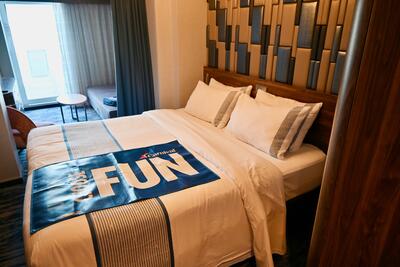 My sister and I both agreed that the pillows were a little softer than we probably preferred, but we still slept great each evening in our Ocean Suite. The linens and comforter were very comfortable as well. 
Image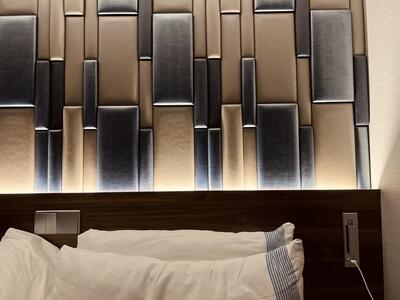 Each evening as we got ready for bed, we turned on these dim backlights above the bed. These made the room feel so cozy, warm and inviting.
Image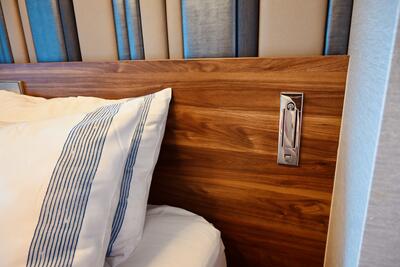 Similar to our inside cabin on Carnival Celebration, we each had a small reading light and USB port at our bedside. This was great for keeping our phones charged each night. But, I would have liked an elevated lamp fixture here to amplify the space. 
Image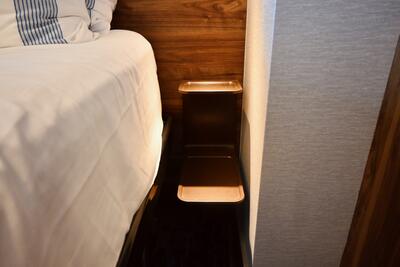 Next to the bed, we found the exact same nightstands that we had in our tiny inside cabin on Carnival Celebration. Although minimal and functional, I would have loved a real nightstand to use in our Ocean Suite to also elevate the suite.
Image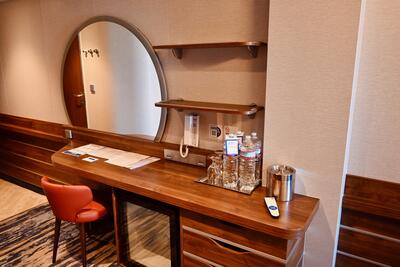 The spacious Ocean Suite also featured an extra large vanity. We appreciated the large mirror, which could illuminate with a ring light, for getting ready each morning and evening.
Image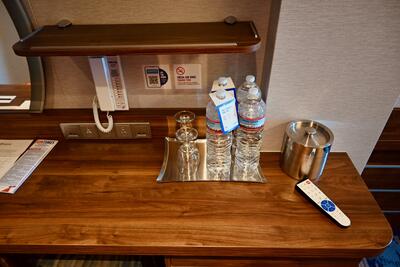 Additionally, the exposed shelves were great for storing our belongings without cluttering the counter. We also found two complimentary, large bottles of water in our Ocean Suite on the vanity upon arrival. Gotta stay hydrated while cruising! 
Image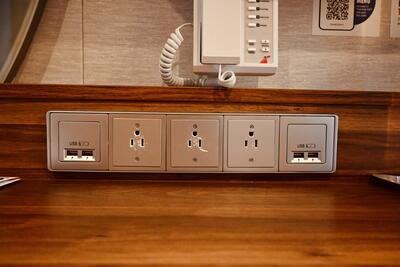 As with most modern cruise ships, we found plenty of outlets and USB plugs to charge our devices. I was a little surprised to already see the wear and tear on these outlets with some scratches.
Image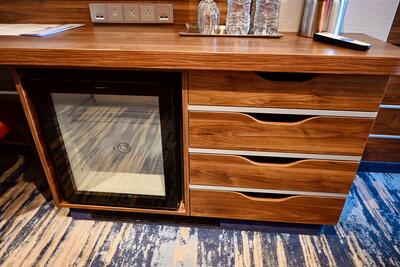 Under the large vanity, we had a miniature cooling fridge and four large drawers for storage. My sister and I unpacked for the week and appreciated having these drawers to use for pajamas, swimsuits and undergarments. 
Image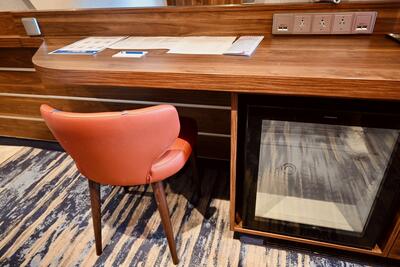 Although we had a larger bathroom in our Ocean Suite, we liked having this chair and vanity as we got ready for the day. I also used this desk area to get some work done with the nearby outlets.
Image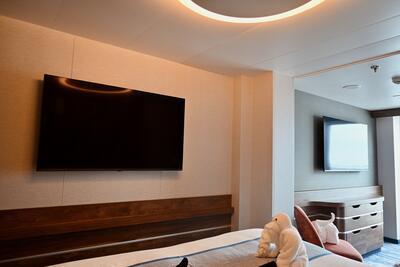 One surprise to us in the Ocean Suite was having two TVs to use in the stateroom. I don't think I've stayed in a cabin with more than one TV. These were massive flatscreens! 
Image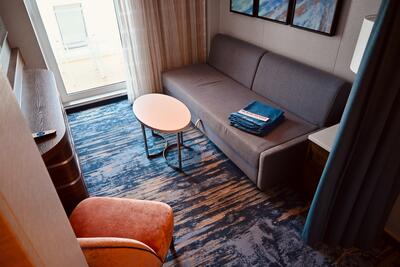 Our Ocean Suite had a separate area that we dubbed "the living room." Our little living room featured a full couch, coffee table, chair, shelving vanity and end table. 
Image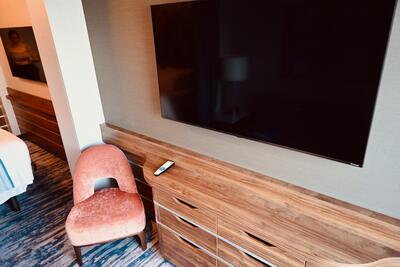 We had more space and storage than we knew what to do with! There were so many drawers in the living room, we felt like we could have moved in for a while in this Ocean Suite. 
Image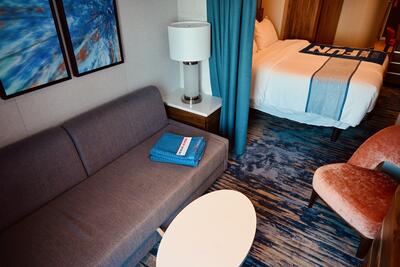 The living room was one of the best parts of the cabin. With the separation of the heavy curtain, I could get up early and enjoy my morning room service while my sister slept in a little later. 
Image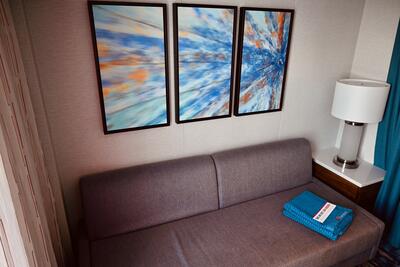 Sometimes, we would sit in the separate rooms simply because we could! It appeared that this couch could roll out into a sofa bed if you had more guests. For just two of us, it was extremely spacious and comfortable.
Image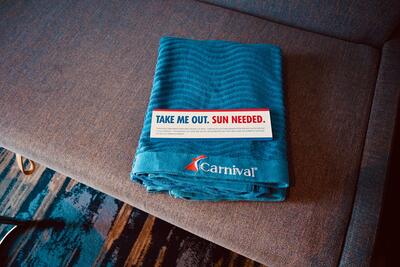 I love that Carnival automatically provides towels in your stateroom when you get onboard - I wish all cruise lines (cough, Royal Caribbean) would do this! It's nice to take these straight to the pool deck on the first day.
Image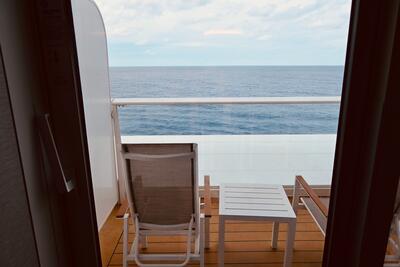 Having a private balcony always feels like the ultimate luxury on a cruise ship. Lucky for us, our Ocean Suite featured an extra large balcony for us to enjoy! It was so incredible to have this space to ourselves. 
Image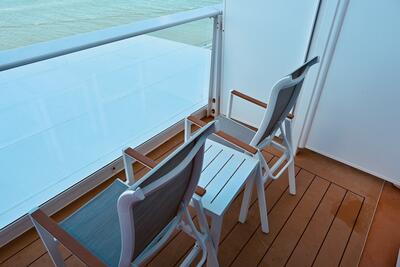 Our balcony included two chairs and a small table. We spent many afternoons out here enjoying the views and the fresh, salty ocean air - especially as we sailed off into the sunset from each port.
Image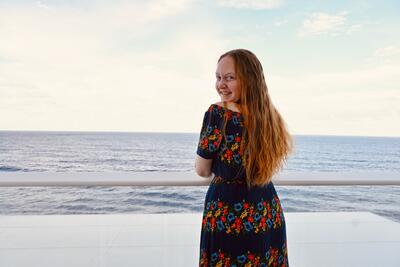 The only downside of our balcony was the covered patio that partially blocked the view on the deck below us.
Image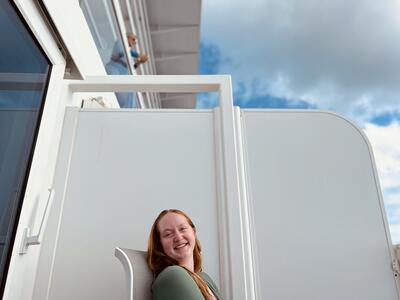 Also, the balcony staterooms right above us could look directly onto our balcony if we were outside at the same time.  There were even a few times where people yelled things to us.
Image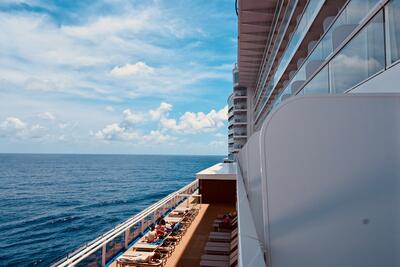 Off in the distance, we could see some loungers on the deck below us in the same way that others could see onto our balcony. This wasn't an issue, but it was notable. 
Image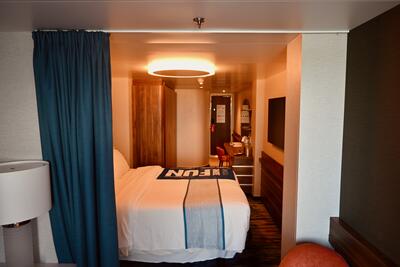 We spent more time in our Ocean Suite than we normally do while cruising. With more space and the large private balcony, we found the spacious stateroom to be the perfect place to relax and rejuvenate. 
Image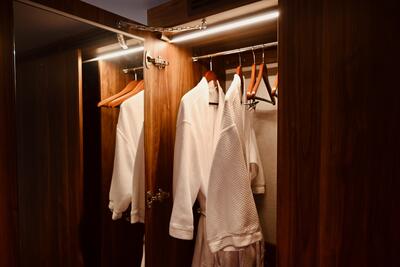 Back inside the suite, we were given two lusciously soft bath robes to use throughout the cruise. My sister's robe had a slight stain on the sleeve, but we absolutely loved wearing them all week. 
Image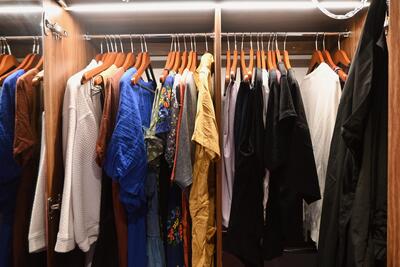 Our Ocean Suite also had two large closets with plenty of hangers and space to hang dresses. My sister and I were able to comfortably unpack all of our clothes. 
Image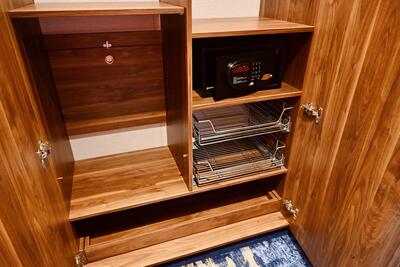 In the second adjacent closet, we had more shelving and drawers to use, along with a safe for valuables. Again, we had more space than we knew what to do with!
Image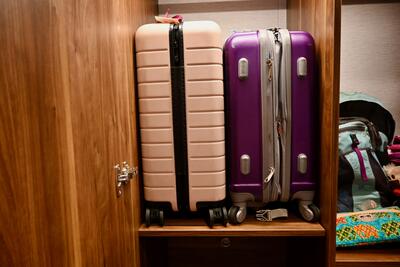 We ended up putting our suitcases in here since we had more storage than we needed. It also helped that we traveled with just carry-ons for this week, keeping our luggage to a minimum. 
Image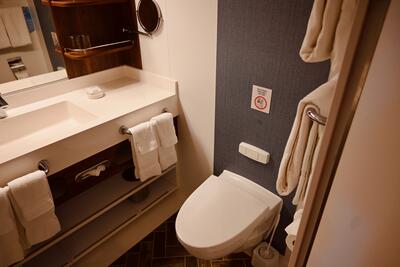 Ocean Suites on Carnival Mardi Gras, along with other Excel-class ships, feature very spacious bathrooms. The extra room was very apparent compared to our inside stateroom on Carnival Celebration. 
Image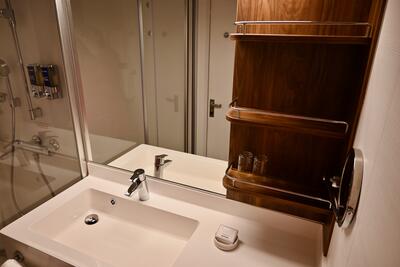 The bathroom counter featured a huge counter and sink, along with exposed shelves for our cosmetics. We only ended up using one shelf because we had so much space.
Image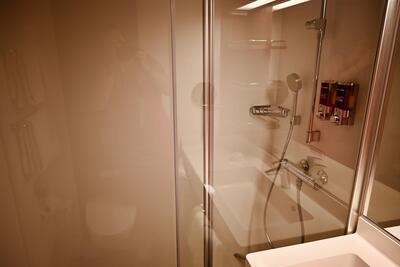 I hate nothing more than a tiny cruise shower with a clingy shower curtain. This shower had a sliding glass door, which felt like a huge upgrade from other stateroom bathroom.
Image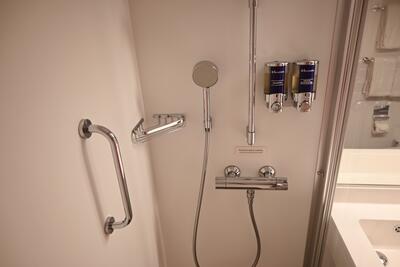 Inside the shower, we also received elevated shower and bath products to use. This was also luxurious opposed to the standard 3-in-1 mystery bath product. The shower was possibly the biggest one in any cruise stateroom I've experienced. 
Image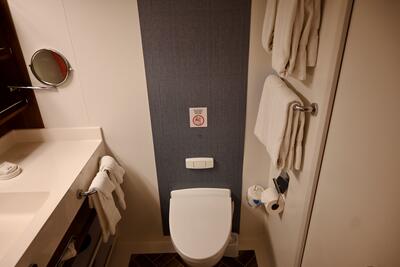 Having a more spacious bathroom really made a difference in our accommodation experience. It would be especially useful if you were traveling with more than two people to have this extra bathroom space. 
Image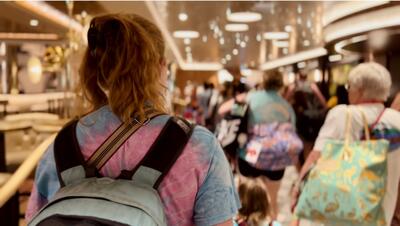 Ocean Suites also receive priority embarkation and disembarkation when sailing onboard Carnival Mardi Gras, along with main dining room priority assignments. These were super nice perks that elevated our cruise experience!
Image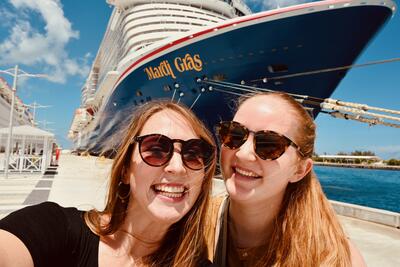 Our Ocean Suite was worth every penny onboard Carnival Mardi Gras! We loved having all of the extra space, including the bathroom, balcony and living room.