Carnival Cruise Line is known for having some of the best food in the industry. While you might not enjoy gourmet meals during your Carnival sailing, you can find some incredibly delicious dining options from freshly-made pizza to juicy burgers, zesty tacos and crispy chicken sandwiches.
Within the last year, I've cruised three times with Carnival Cruise Line. Last summer, I set sail on a quick cruise to Cozumel on Carnival Ecstasy, which was the oldest Carnival cruise ship at the time. I had a fantastic time onboard with my sister, and the dining options really blew us away.
Even though the ship was 31-years-old, we were impressed to find multiple dining options that were entirely complimentary. Many of these were Carnival's signature dining options, such as Guy's Burger Joint and BlueIguana Cantina. Plus, there were no specialty restaurants onboard.
Image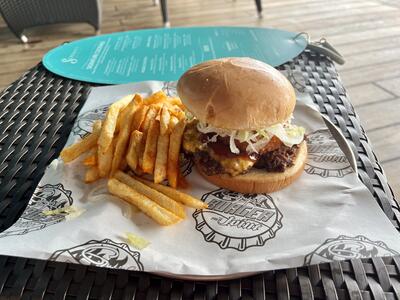 Although I'm typically loyal to Royal Caribbean, this experience opened my eyes to Carnival's cruising experience; we both had a lot of fun on our Carnival Ecstasy sailing. I decided to book more sailings with Carnival, as the cruise line's newest Excel-class ships, Mardi Gras and Carnival Celebration, looked modern and exciting.
These ships are the two newest and biggest cruise ships sailing for Carnival. With more than 20 dining options to choose from, we nearly ran out of time to try everything onboard these two sailings. Again, the quick, casual dining options left us very impressed.
However, there is one place that has consistently left me disappointed during my Carnival cruises: the buffet. 
After my recent sailing on Carnival Mardi Gras in April, I've decided that I won't be eating again at Carnival's Lido Marketplace buffet. 
To start, Carnival's buffets are always packed with other cruisers, leading to long lines and congestion.
Image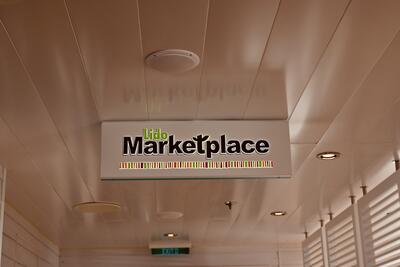 I've done a lot of cruising in my life, so I know that cruise ship buffets can get busy during peak hours. This is can be especially true on embarkation day once everyone gets onboard, as most people head right for the buffet after boarding. Also, the mornings can get busy when everyone is trying to grab breakfast before meeting for their shore excursions.
Regardless, I've found that Carnival's buffets seem to always have long lines. This was one of the biggest gripes I had about Carniva,l even back when I first sailed with the cruise line in high school. I remember thinking that it took nearly 15 minutes just to get inside the buffet area! This was so frustrating, especially in the mornings when we needed to meet for our excursions.
Image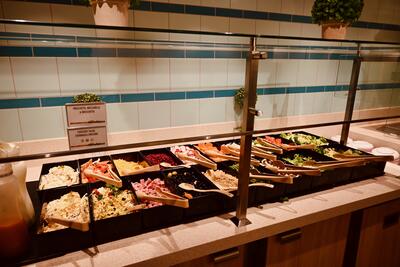 When we sailed on Carnival Ecstasy last summer, the buffet was packed on the first day we boarded. It seems that Carnival's older and smaller vessels have more bottlenecks in the buffet than the newer ships.
However, we also found this to be true onboard Carnival's newest ships, although the buffet is not quite as popular since Excel-class ships have so many more casual dining options to choose from. Instead of cafeteria-style, the buffet featured small food stations, which created some congestion on the newest ships, and the space was much smaller than expected.
Regardless, the long lines are such a deterrent for me when I am sailing on Carnival. In fact, I've started to do breakfast room service because of Carnival's long lines at the buffet!
Carnival's buffet feels like it always lacks variety, even on their newest cruise ships.
Image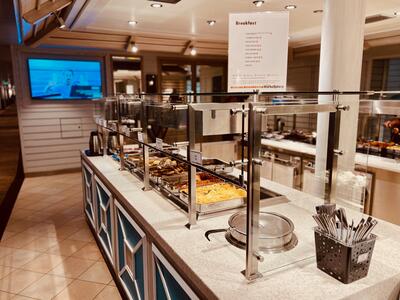 Before sailing on Carnival Celebration, I had only sailed on Carnival's oldest ships from the Fantasy and Sunshine Class (formerly known as the Destiny Class, which is what it was named when I sailed in 2010).
When my sister and I sailed on Carnival Ecstasy, we were left disappointed by the buffet's variety of options offered. Although we visited the buffet a few times, we always ended up leaving to dine elsewhere. The lack of variety was disappointing.
We figured that because Excel-class ships had to accommodate many more guests-- nearly double the number of passengers who sailed on Carnival Ecstasy-- that the buffet would inherently need to have more variety.
Alas, we found the same issue to be true on Carnival Celebration and Mardi Gras. Although the buffet area was spread out, every station that we approached had the exact menu options! On both sides of the buffet, we found the Lido Marketplace had the same lackluster options to choose from.
With more people to feed, we assumed that Carnival would surely up their buffet game with slightly more variety. However, this proved to not be the case, as even the newest ships had lack of variety to choose from. 
I would even argue that the Lido Marketplace on Carnival Celebration and Mardi Gras had less variety to choose from in comparison to other Carnival ships I've sailed on!
Image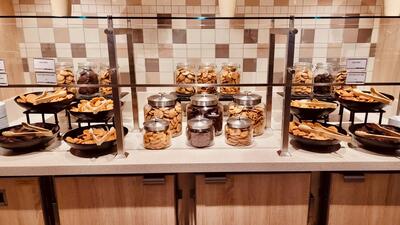 The options also seemed to rotate less frequently. We started to see the same items at the buffet every other day. This further emphasized my growing hatred for Carnival's buffet.
Of course, this is not to say that I couldn't find something to eat. I am not a picky eater by any means, but I did expect there to be a bit more variety since the newest ships are so much bigger, and food is such an important part of Carnival's cruising experience. I've sailed on other mega ships and the variety cannot be compared between Carnival and other cruise lines in the buffet.
In addition, Carnival's newest ships in the Excel Class have the Lido Marketplace buffet poorly placed on the top deck.
Image
I was absolutely shocked on Carnival Celebration and Mardi Gras to see that you had to walk through the buffet area to get to the pool deck, particularly if you use the aft elevators or stairs. Those funneling from the Ultimate Playground will also be walking through the buffet area as well. 
While I appreciate the open floor plan concept, the placement of the buffet seemed unnecessary from a design perspective. It creates a flow of traffic for people who are not dining in the Lido Marketplace, leading to more congestion. The buffet is long and spread-out. I remember asking to my sister, "This can't be the buffet, right?"
Image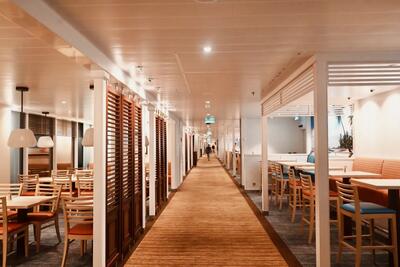 The few times we attempted to eat at the buffet, we found kids in their swimsuits to be constantly running through the buffet area on their way to or from the pool. This made for a chaotic dining experience with people navigating both the buffet and the pool deck, which are arguably two of the most popular places onboard.
The buffet area also had areas with carpet instead of tile flooring, which seems like a strange choice for me. With people running around in wet swimsuits and others spilling food, I can't imagine the carpet will last long.
Above all, the food in Carnival's buffet was mediocre at best and generally unappealing to us.
Image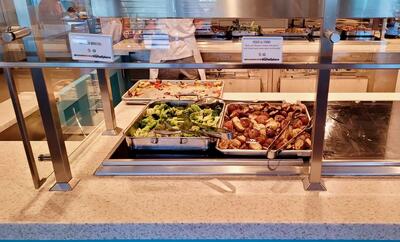 During my cruise last summer on Carnival Ecstasy, we were unexpectedly disappointed in the buffet food.
Generally speaking, the food was mediocre, and many of the items did not appeal to us. Most of the items were picked over and some even looked a little unsafe and dirty to eat. Luckily, we enjoyed the dining elsewhere onboard, so we were not too bothered by all of this.
We thought maybe the buffet was geared towards those who live in the South and perhaps this does not align with our palette preferences. 
However, we also did not find many things in the Lido Marketplace buffet appealing on Carnival Celebration or Mardi Gras. The menu items just felt dull compared to the delicious dining we could experience elsewhere, such as Shaq's Big Chicken, Guy's Burger Joint, and BlueIguana Cantina.
Is this the beginning of the end for a classic cruise ship buffet?
Image
For many years, a cruise ship's buffet was the main spot to grab daily breakfast and lunch. Within the last decade, it seems that cruise lines are adding more eateries onboard to provide variety and alleviate some of the congestion on the buffet. With more spaces to grab complimentary food onboard, this creates less demand for the buffet in general.
This is important, as the mega cruise ships need to accommodate 6,000+ passengers eating multiple meals each day. If everyone is constantly heading to the buffet, this is a horrible experience for everyone involved.
Image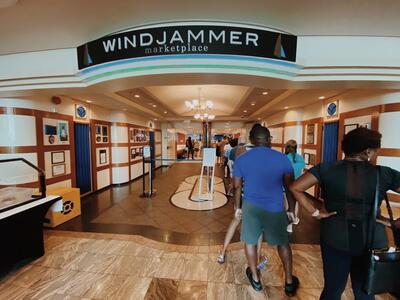 (Buffet line to enter the restaurant onboard one of Royal Caribbean's ships)
There seems to be a trend of adding many complimentary dining options onboard while reducing the dedicated space and resources of the ship's buffet. This was very apparent on Carnival's newest ships. I felt like the cruise line was not putting much effort into the buffet space, instead encouraging guests to eat at many of the other complimentary options onboard.
Maybe Carnival Cruise Line was notes from newcomer cruise line Virgin Voyages, which has claimed to eliminate the buffet entirely. Virgin Voyages states that its new ships do not have any buffets onboard; instead, the cruise line has created food stations throughout their ships with complimentary dining available everywhere.
So, will we see cruise lines continue to downplay the importance of the buffet? It will be interesting, that's for sure. If Carnival's newest ships are indicative of anything, it appears this trend will continue.
Regardless, Carnival's buffet is one place that I will likely never eat at again.
Image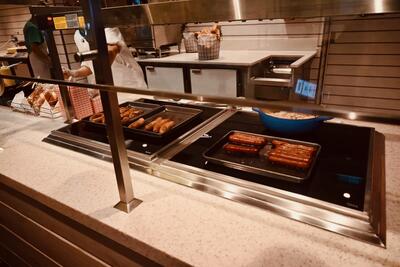 After five Carnival cruises, I've decided that I am done with Carnival's buffet. Consider this my official break-up with the Lido Marketplace buffet!
I've given Carnival's buffet probably more grace than it deserves. After the first three cruises, I should have declared at that point how I would no longer eat at Carnival's buffet. But I wanted to give that new Excel-class ships the benefit of the doubt.
As you know by now, I was let down once again on Carnival Celebration...and then again on Carnival Mardi Gras. Fool me once, shame on you; fool me twice, shame on me. 
Between the lack of variety, the poor design and the long lines, Carnival's Lido Marketplace buffet is not for me.
Thankfully, Carnival has more dining options than you'll have time for during your cruise, and these are excellent eateries to try. My personal favorite is Shaq's Big Chicken, where the crispy chicken sandwiches and tenders rival name-brand competitors. 
Image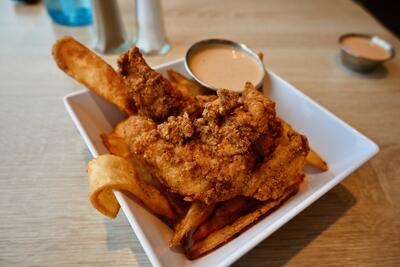 You'll undoubtedly love Guy's Burger Joint, where celebrity chef Guy Fieri has teamed up with the cruise line to serve freshly made, juicy burgers. Also, I can't forget mentions for Carnival's pizza (some of the best in the industry) and BlueIguana Cantina for tacos.
Either way, I'd encourage you to avoid Carnival's buffet too if you can. You can thank me later!