Compare: Royal Caribbean vs. Norwegian Cruises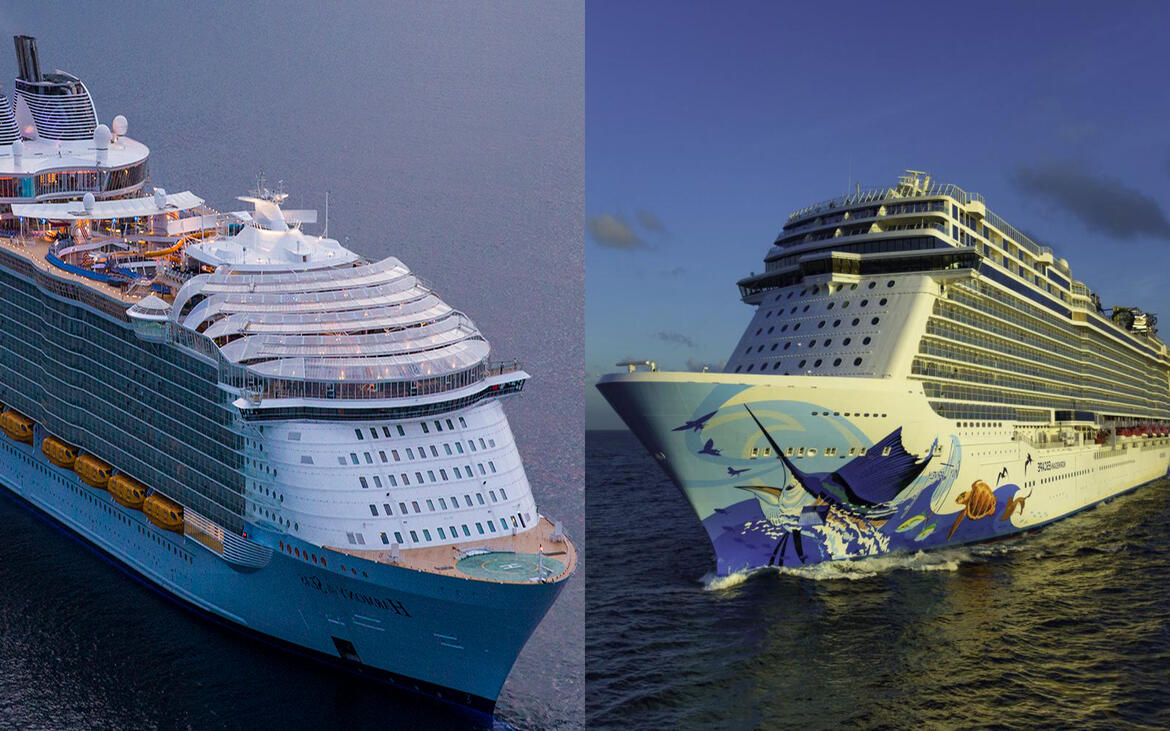 Planning a cruise can be daunting, and if you're not careful, you can pick a line that's not well suited to your needs.
Whether you're a seasoned sea dog or new to the world of cruising, we'll help you compare Norwegian vs. Royal Caribbean in the most important areas -- dining, cabins, onboard activities and price -- to help you make a better decision about which of these two top cruise lines is right for you.
Overall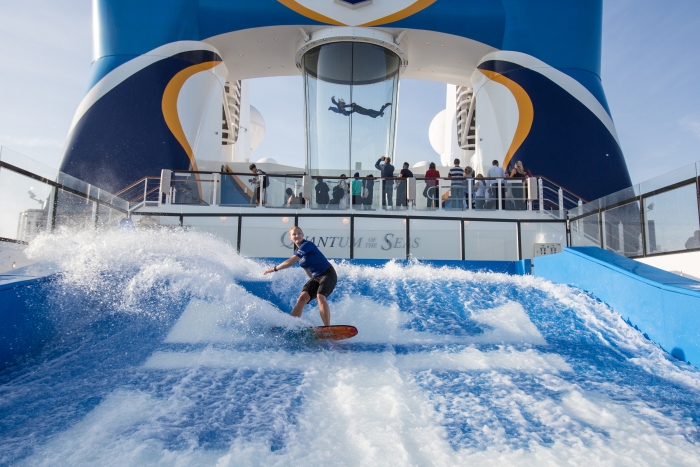 Norwegian Cruise Line and Royal Caribbean International both exude an air of fun, lively and exuberant energy that's welcoming to just about everyone. Both are also technological standouts that thrive on innovation.
Royal Caribbean is ideal for active cruisers who will be thrilled by surf simulators, skydiving and rock walls. The line's fleet houses carousels, designer shops, bumper cars, high-dive performances and a host of other features that you won't believe exist on ships.
Particularly on its newest vessels, Norwegian has created a social hub with three-deck 678 Ocean Place, which aggregates dining and entertainment venues, as well as the onboard casino. At times, it can feel a bit like Las Vegas at sea.
Food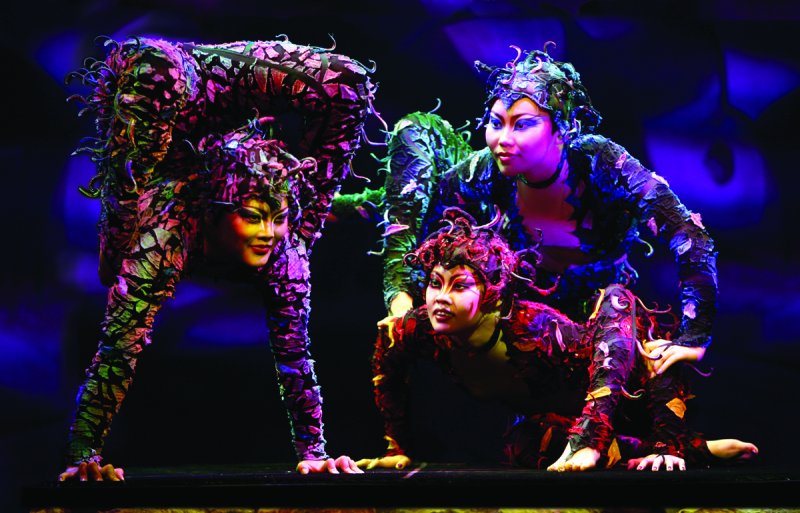 In terms of food, both lines' fares include complimentary meals for breakfast lunch and dinner in the onboard self-service buffets and waiter-served main dining rooms.
For dining room dinners on Royal Caribbean ships, cruisers can choose from set-seating (fixed dining time at the same table every night) or flexible (eat any time between set hours at any table that's available) options. With Norwegian, all eateries allow you to dine whenever you'd like, but reservations are recommended.
If you're looking for a more relaxed meal but aren't in the mood for the buffet, don't worry. You'll find plenty of alternative restaurants on the ships in both lines' fleets, including dinner theater options from both lines.
Where the lines differ is in how many options are available and how much extra it'll cost you. In general, Norwegian has fewer alternative dining options than Royal Caribbean; most of them are not included in the price of your cruise fare. Royal Caribbean has a wider array of choices; while you'll still have to shell out extra money for many of them, the line includes a bit more in its fares than Norwegian does.
Cabins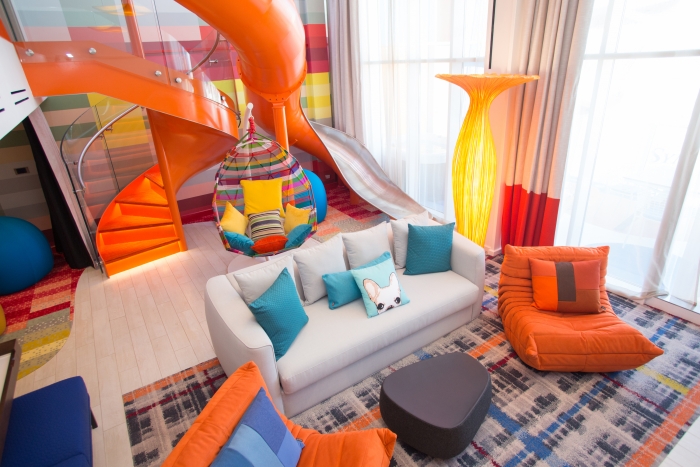 Whether you choose Royal Caribbean or Norwegian, you'll find no shortage of stateroom options; each offers a formidable array of categories comprising insides, outsides, balconies, mini-suites and suites.
True to its affinity for the latest technology, Royal Caribbean makes even the most confined inside cabins feel more spacious and special on some of its ships, with floor-to-ceiling TV screens that mimic balcony windows.
Also within its large number of category choices, Royal Caribbean shines with its suites, which include some of the largest accommodations of any mainstream cruise line. The most sought-after (and expensive) of these rise two decks and offer as much square footage as a small apartment on land.
Not to be outdone, Norwegian is known for its spacious staterooms in The Haven, the line's most exclusive enclave, which boasts its own restaurant, pool and sun deck, as well as butler and concierge services for passengers booked there.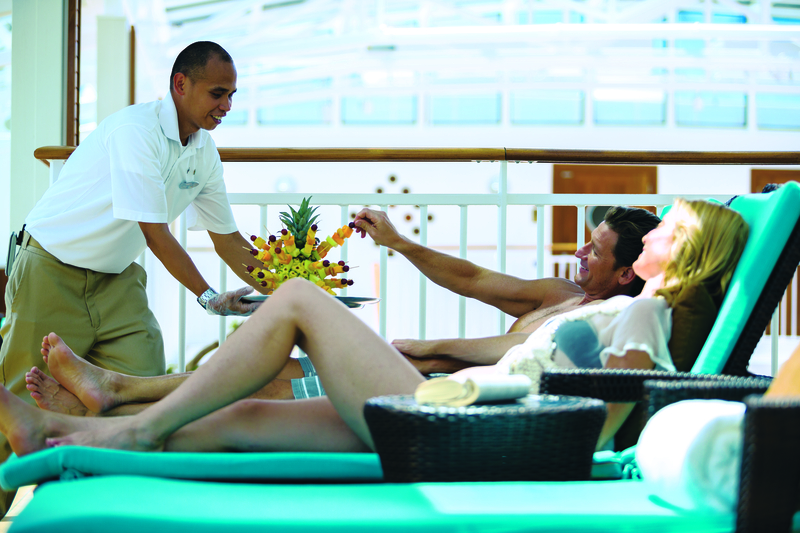 Suite perks are extended to those who book qualifying staterooms with either line, but Norwegian's are slightly more inclusive, featuring priority embarkation, disembarkation and tendering; daily in-room snacks; and a welcome bottle of Champagne, among other privileges.
In terms of group accommodations, both lines have them, but Royal Caribbean offers Ultimate Family Suites (on select ships), which are specifically designed for families. The two-story accommodations feature bunk beds, a play area with games and toys, a balcony with an outdoor climbing structure and even an indoor slide that takes the kids from their bedroom to the living room below in a matter of seconds.
For its part, NCL does have some connecting cabins that are ideal for families or other groups traveling together, but they aren't outfitted with splashy amenities.
Both lines also have studio cabins available on some of their latest vessels. These rooms are built and priced for one person, allowing solo travelers to avoid paying a single supplement. Passengers booked in Norwegian's studio cabins also have access to a dedicated lounge, where they can make friends with other cruisers sailing by themselves.
Things to Do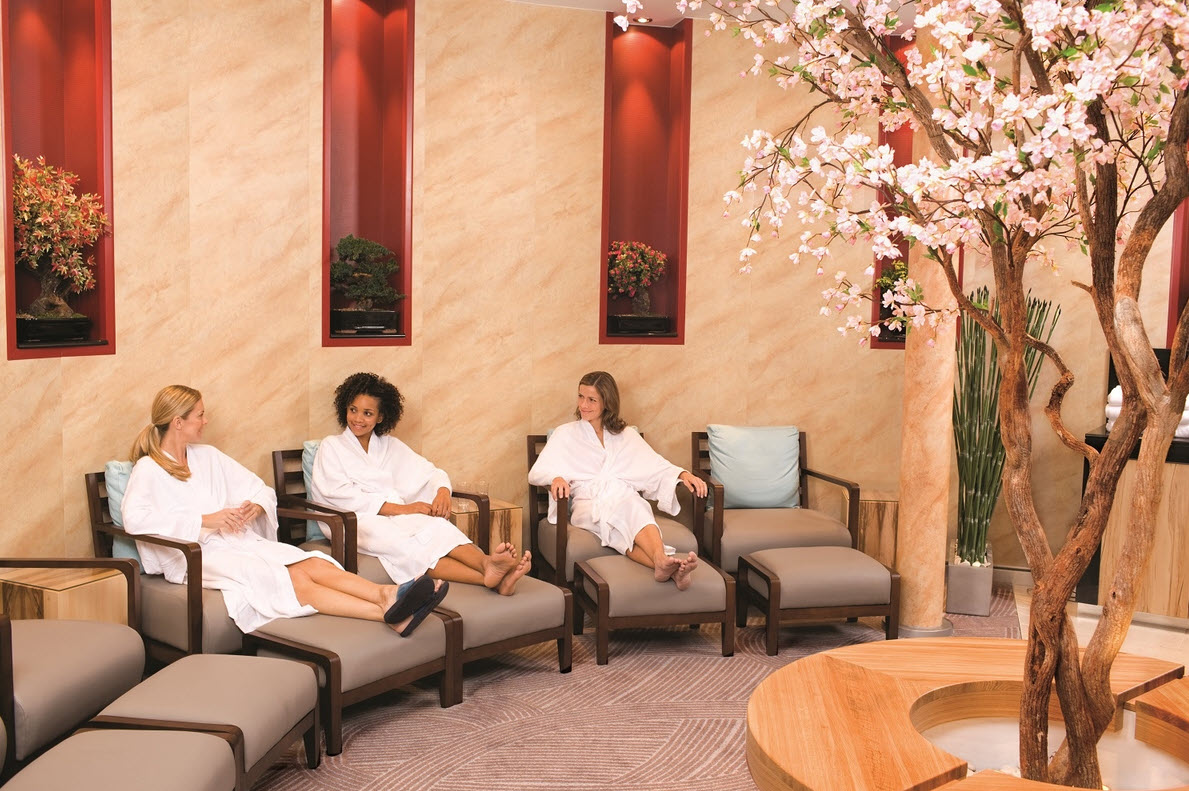 Whether you want your cruise to be relaxing or adventurous, you won't be disappointed with Royal Caribbean or Norwegian Cruise Line. Both offer plenty of semi-private areas for reading, outdoor loungers for soaking up the sun and adults-only spaces if your goal is simply to escape the kids and soak in the pool or hot tub. Plus all ships in both fleets also have spas if a pedicure or massage is more up your alley.
In terms of diversions, both cruise lines have packed daily schedules filled with trivia, bingo, movie screenings, port talks, shopping opportunities and live music. Further amenities -- like fitness centers, for-fee arcades and nightclubs with DJ-spun music -- allow cruisers to make their own fun without a schedule.
You'll also find plenty to keep yourself busy outdoors during the day, with both lines providing at least one pool on every ship (but usually two or more), as well as water slides, children's splash areas, mini-golf courses and basketball courts on most vessels.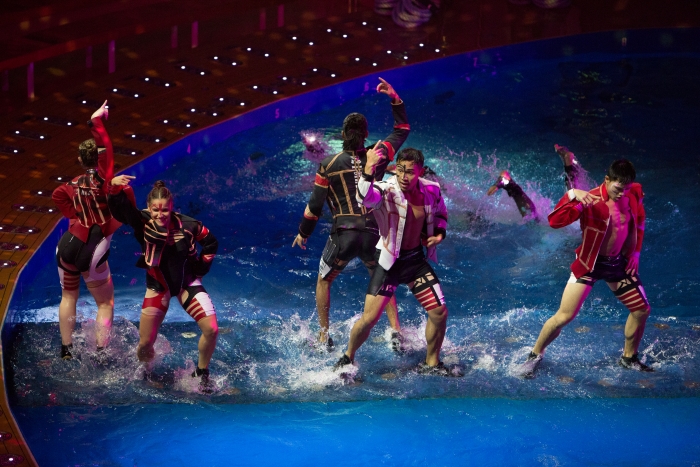 Both lines present a variety of game shows, including "Battle of the Sexes," the "Love and Marriage"/"Not So Newlywed" game and adult scavenger hunt "Quest." Laser tag and escape rooms are also commonalities on certain vessels.
After dinner, passengers on both lines can experience a slew of production shows that involve singing and dancing, magic, comedy and more.
Over the years, Norwegian has showcased several Broadway productions -- including "Legally Blonde," "Rock of Ages," "Priscilla, Queen of the Desert" and "Six" -- on select ships. However, Royal Caribbean was the first to bring Broadway to the high seas and offers a bigger collection of titles like "Cats," "Grease," "Mamma Mia!" "Saturday Night Fever" and "Hairspray" on a number of its vessels.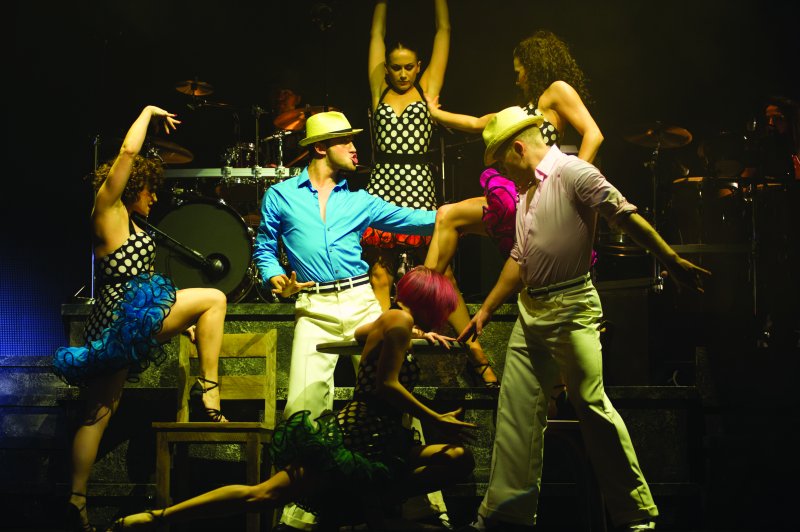 Additionally, Royal Caribbean incorporates acrobats, AquaTheater high-divers and drone-backed ice skaters into its daily theatrics, while Norwegian draws large numbers with its Latin-meets-ballroom dance show "Burn the Floor."
Another area where Royal Caribbean does exceptionally well is with its active pursuits. They include innovative -- and often first-at-sea -- activities like Sky Pad bungee trampolining, carousel rides, FlowRider surfing, Ripcord by iFly simulated skydiving, rock climbing and ziplining. Indoors, you'll even find bumper cars and ice skating on select ships.
Meanwhile, Norwegian has given its newest ships a heavy focus on gaming by introducing Galaxy Pavilion, an extra-fee complex that encompasses a large arcade and a series of virtual-reality rides that make you feel like you're evading dinosaurs, walking a tightrope high above city streets or hang gliding through the mountains. It has also outfitted a couple of its new ships with free top-deck ropes courses and go-karts that carry a surcharge.
Price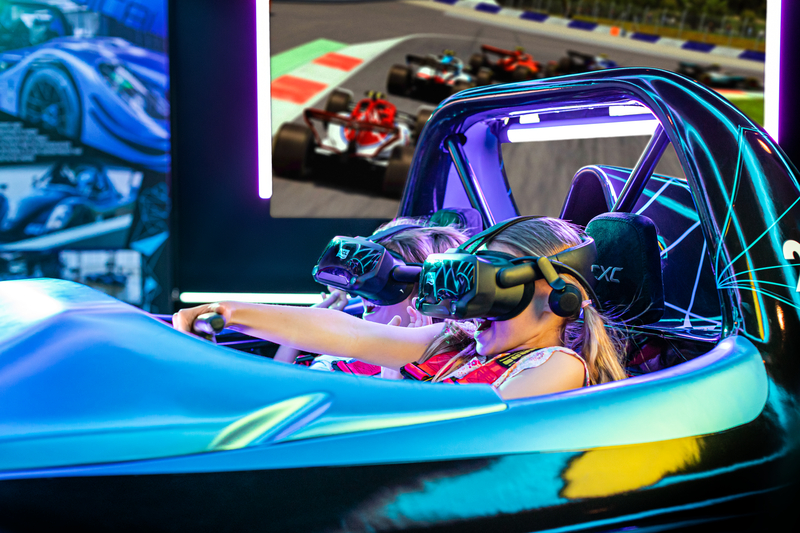 Prices for these lines vary based on several factors, including ship, destination, cruise length, cabin type and add-ons. NCL's fares tend to be on the higher side for mainstream cruise lines, and although it's possible to have a great time onboard without spending an extra cent, the line's most enticing experiences -- from dining to entertainment -- cost extra.
In general, Royal Caribbean's prices are reasonable, but there is a marked difference between the price of sailings on the line's newest ships and the cost to sail on its older ones. You can also expect to pay extra for many of the onboard alternative dining options, regardless of ship age.
Passengers booking the highest-tier suites with either line should expect to pay several thousand dollars for a weeklong sailing.