State of the Industry: Cruise Lines 'Highly Optimistic' About Return to Cruising in 2020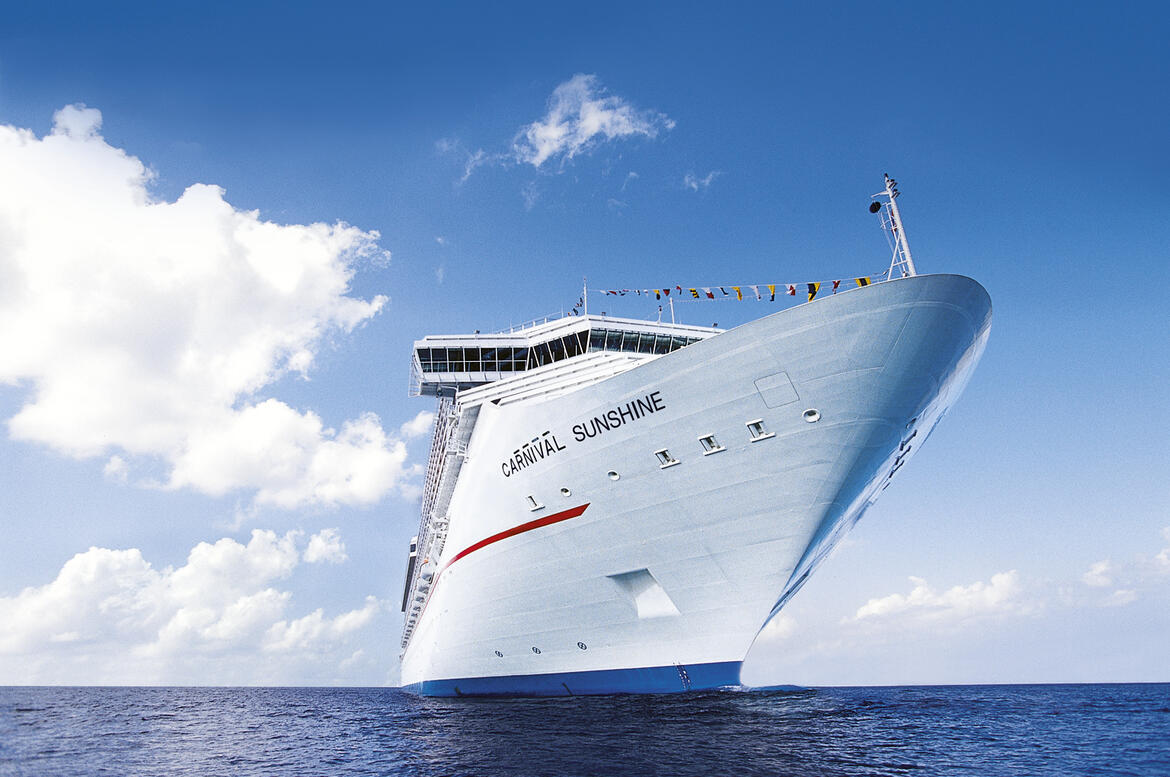 The heads of most of the world's major cruise lines said they're both highly and cautiously optimistic that sailings to and from U.S. can still resume before the end of the year, despite the U.S. Centers for Disease Control and Prevention's further extension of the no-sail order through October 31.
Executive Confidence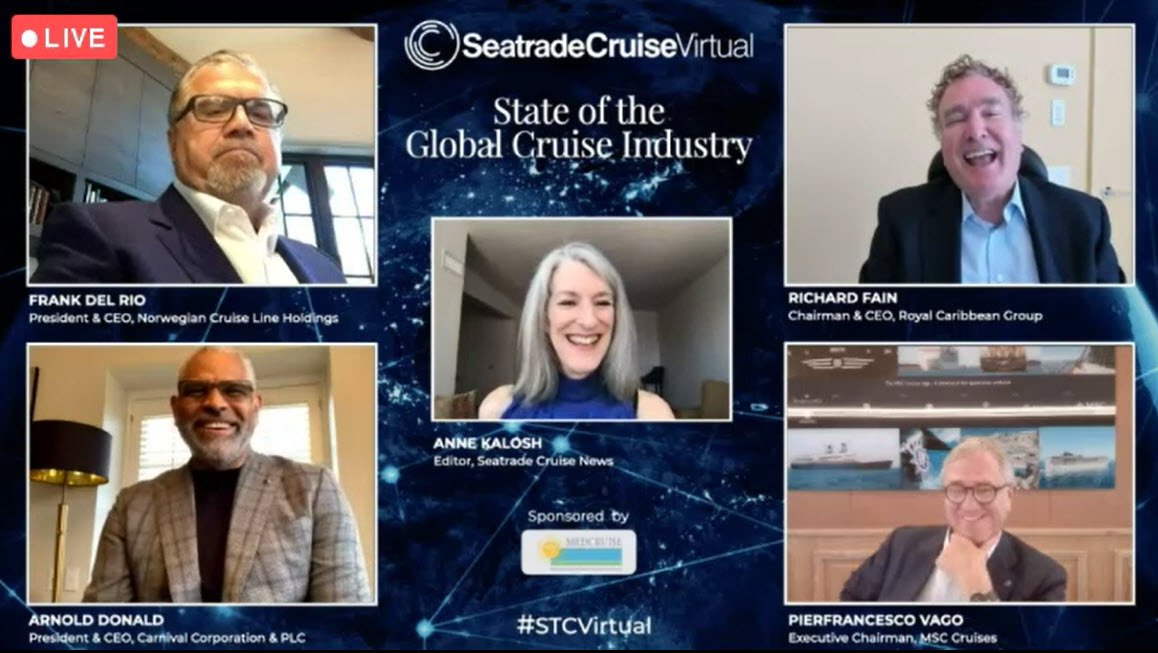 "Yes, we will be sailing sometime this year," said Carnival Corp. & plc President and CEO Arnold Donald during the State of the Global Cruise Industry address at Seatrade, the cruise industry's annual conference, which is taking place virtually this week.
When asked to rate his level of optimism with regard to that statement, Donald said he'd put it at between a 4.5 and 4.9 out of 5.
Other executives said they were optimistic but declined to provide numbers.
"I'm not very good at putting probabilities on things, but my confidence level ... is high," said Richard Fain, chairman and CEO of Royal Caribbean Group. "I'm highly, highly optimistic.... I don't like putting numbers on things like this, but I am smiling."
But, with Norwegian Cruise Line Holdings voluntarily pausing sailings through November 30, not everyone agreed on the timeline.
"It is not turning on a light switch," said Frank Del Rio, president and CEO of Norwegian Cruise Line Holdings. "We have to repatriate crew. We have to install the [Healthy Sail Panel-recommended] technologies ... so there are lots of steps.
"We believe, in the case of the Norwegian Cruise Line Holdings brands, that it will take at least 60 days to stand up a vessel," Del Rio said. "So if you just count with your fingers and where the calendar is, it's literally impossible for us to operate in the month of November. Perhaps others can and will, but we're looking at post-November as a potential start date if everything else comes along."
High-Level Collaboration
Along with other industry heads, Pierfranceso Vago, executive chairman of MSC Cruises, which has already resumed sailings with one ship in Europe, agreed but said the industry needs to phase its operations in gradually and collaboratively, working closely with government authorities.
Cruise industry representatives were slated to meet with the White House task force last week on the resumption of cruises, but the meeting was canceled after President Donald Trump tested positive for the SARS-CoV-2 virus.
Although he deflected when asked if the meeting had been rescheduled, Donald said the meeting's purpose would be "collaboratively coming up with what makes sense to make certain we're all operating in the best interest of public health and, at the same time, giving people the opportunity for livelihood."
Fain agreed, emphasizing the importance of working together and keeping science at the forefront. "This is all about the science," he said. "All the forces are coming together -- the knowledge of the disease, the technology and the willingness to work together. I'm also optimistic that we're at an important tipping point."
100 Percent Testing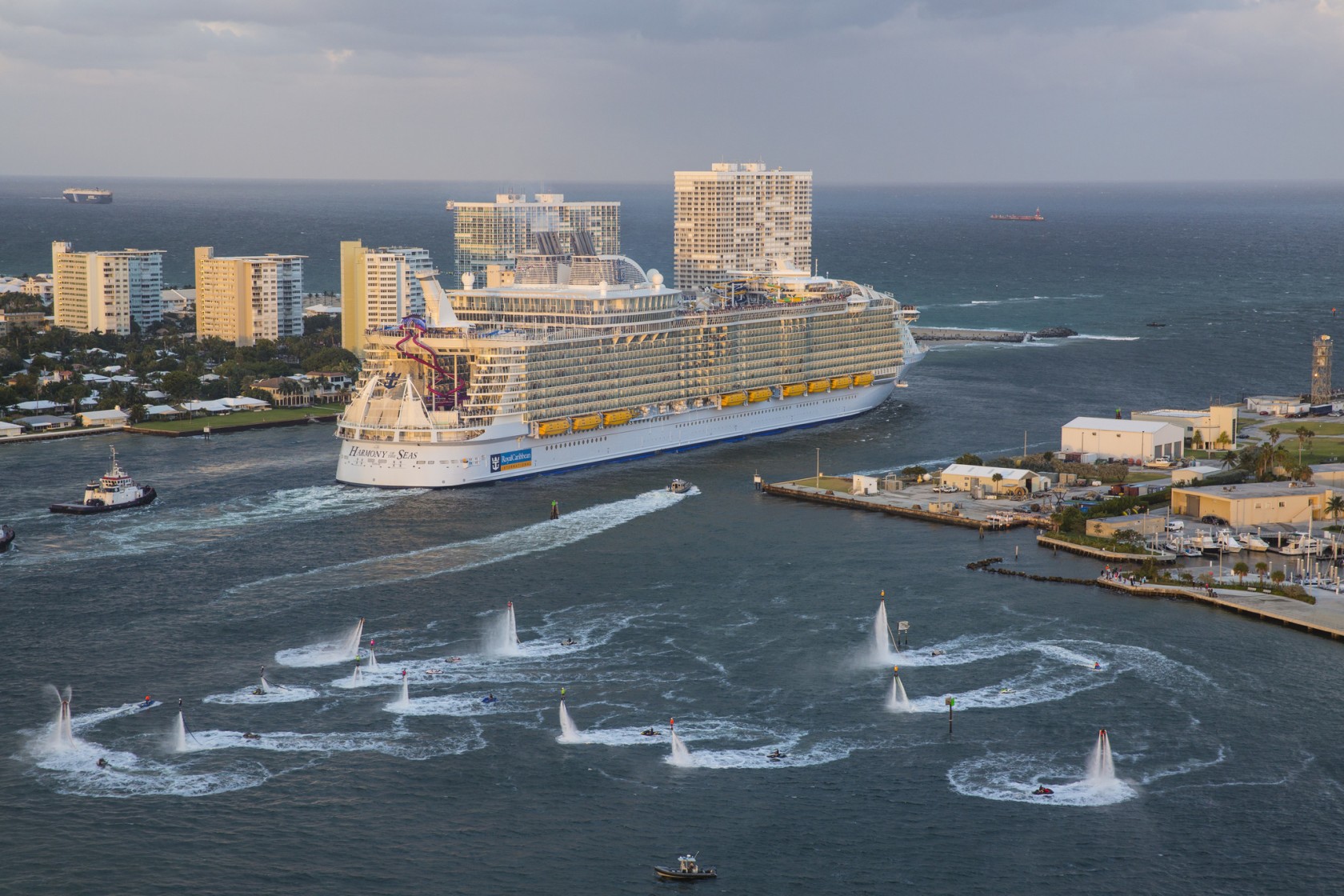 All lines that are members of the Cruise Lines International Association have committed to 100 percent testing of all passengers and crew prior to embarkation on ships that carry more than 250 passengers. The executives agreed that's the first line of defense in a multi-pronged approach to keeping illness off of their vessels.
"Everybody's talking about vaccines; vaccines won't be the magic wand," Vago said. "Vaccines will be part of the solution, but testing ... will be the solution."
There's not one silver bullet," Del Rio echoed. "The one most important [recommendation] is the testing."
"We are going to stand out relative to the rest of the travel sector ... with protocols ... that go well beyond what anyone else is doing," Donald said. "We're a city at sea .... What [other] city is testing all of their citizens? ... Just with the simple concept of 100 percent testing, we're truly standing out."
Fain agreed, emphasizing that he doesn't know of any other industry in the world that's committed to doing 100 percent testing. He also said one of the goals of the Healthy Sail Panel is to make being on a ship as safe as or safer than being in your own home town.
Other Health and Safety Protocols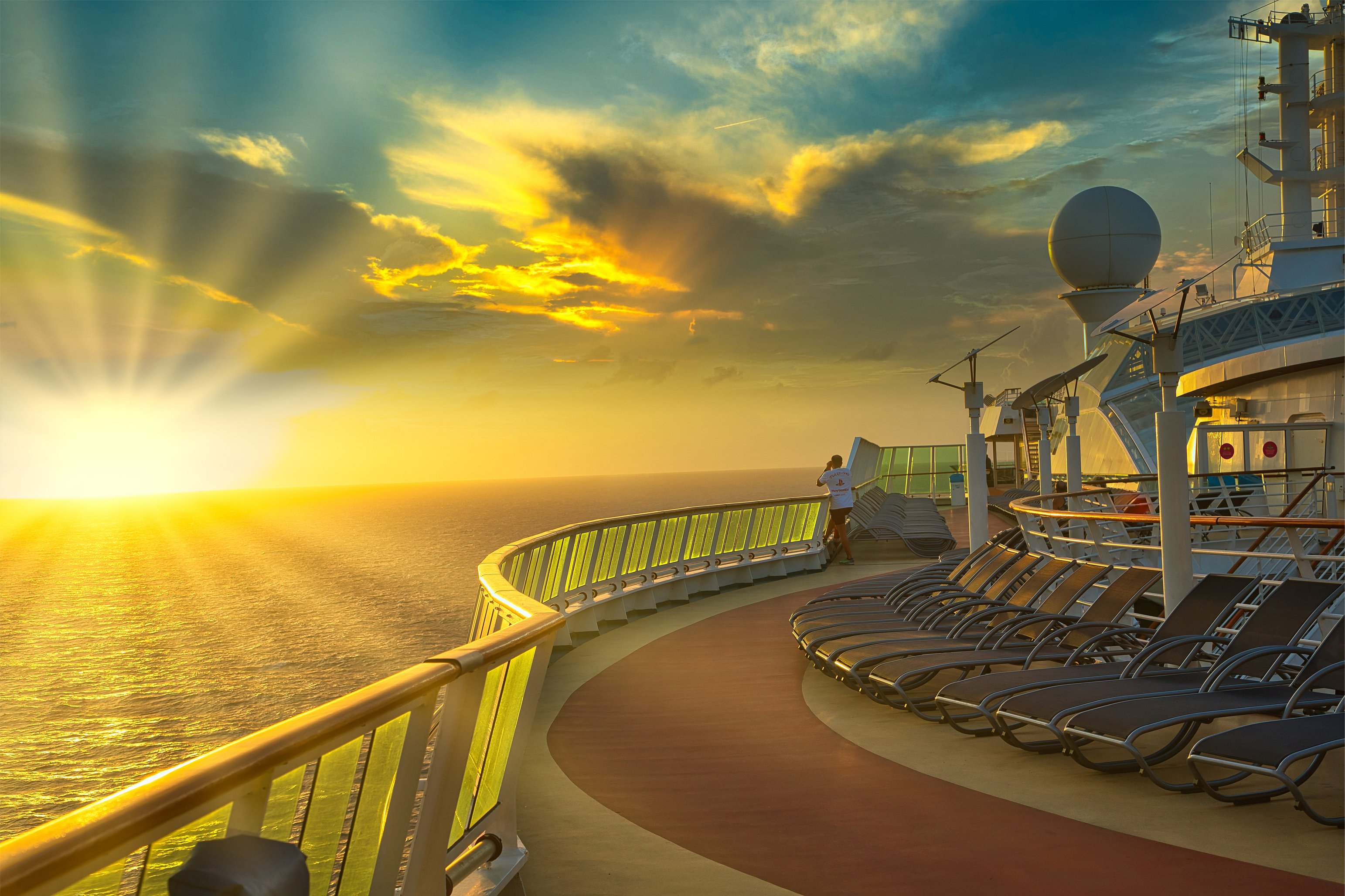 Proposed steps for making it that safe are included in the Healthy Sail Panel's list of 74 recommendations, which, if implemented, would see passengers submitting to mandatory testing and temperature checks, social distancing, wearing masks in public areas and booking ship-sponsored shore excursions in order to leave the ship in ports of call, among other requirements.
MSC Cruises, which already has similar rules in place, has received excellent feedback from cruisers, Vago told the audience.
"Satisfaction is extremely high," Vago said. "This pandemic has had an incredible psychological impact on society.... As they discover that they can go back to nature in the middle of the sea -- they can actually see a sunset, and they can actually mingle, and they actually enjoy themselves, and they can have a drink and talk to other people in a safe ... cocoon -- people are so enthusiastic."
Vago went on to explain that in order to support social distancing and sanitation efforts, the line has increased the number of nightly shows from two to three and has eliminated its self-service buffet system in favor of one where crew serve food on the buffet line.
"Yes, crowds are a problem," Fain expressed, when asked about why cruisers' perception of safety is important. "... but the larger ships simply spread them out more.... The big plus that ships have ... is the ability to control the environment. The most important thing, of course, is to reduce the chances of COVID getting into the environment ... but also the ability to control the environment once onboard -- to have all the ways of making sure that the transmission is less."
Fain said he believes the key to maintaining customer satisfaction throughout the new process is information -- setting passenger expectations by letting them know what has changed and the ways in which cruise lines are striving to keep them safe and healthy.
"People aren't so concerned about getting the disease," Fain said. "They're concerned about someone else getting the disease and their holiday [being] ruined because of it."
Donald went on to explain that cruise lines have gone to great lengths to consider ways in which they can be better prepared to handle situations where passengers test positive while onboard. They include special isolation and quarantine areas, beefed-up medical facilities and staff, and contingency plans for evacuating ill passengers if necessary.
"With all the protocols we have, there's still likely, eventually, to be a case onboard," Donald said. "If it's in the community ... there's no perfect system to prevent it, so we, as an industry, have spent an enormous amount of time on what happens if there's a case onboard....
"What do we do to ensure that that person is well taken care of ... but also that everyone else can go about their business, just as if they were in the city and somebody had COVID and they could continue with their life? That's the other psychological comfort."
New Ships and Industry Growth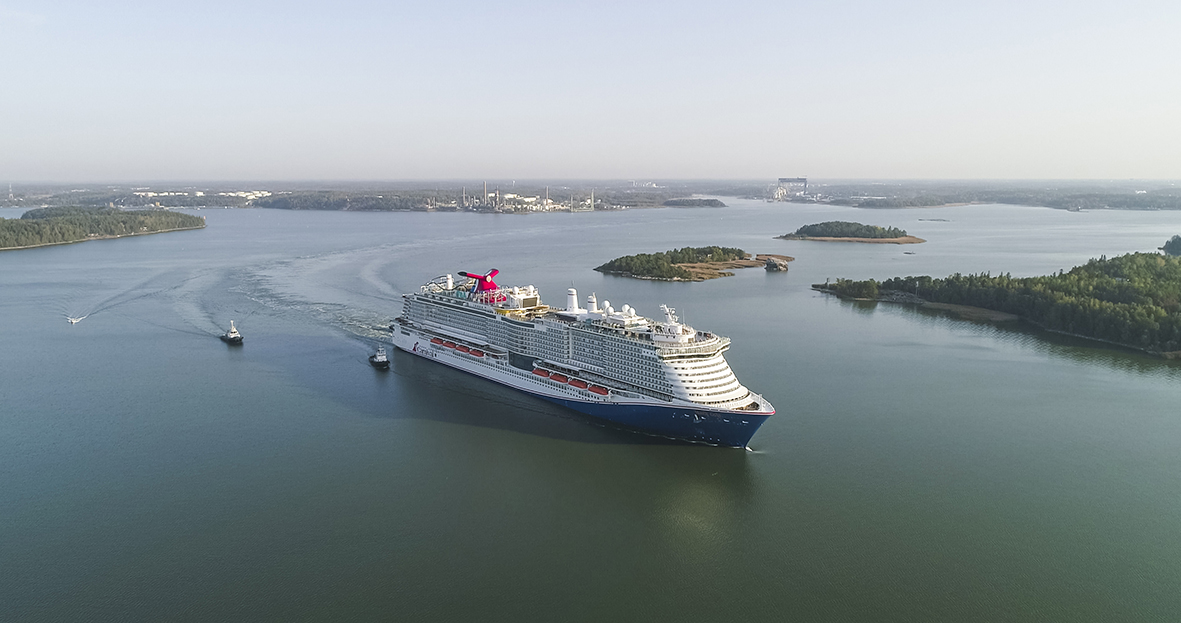 Del Rio said he doesn't believe that the spring's high-profile outbreaks and resulting quarantines will do permanent damage to the cruise industry's reputation, noting that outbreaks have happened everywhere, including Washington D.C.
He also pointed out the resiliency of cruising. "We're the only industry that has to report situations of disease onboard," he said. "Hotels don't have to do it. Resorts don't have to do it. Airlines don't have to do it.... No industry has taken it on the chin more than the cruise industry."
As a testament to that, all four executives briefly discussed the fact that bookings are up and that the lines' forthcoming new-builds are a sign that cruising is one travel vertical poised to rebound.
Norwegian Cruise Line Holdings currently has nine ships on order, with six earmarked for Norwegian Cruise Line. Del Rio said when the time comes to order more, Regent Seven Seas Cruises will likely be the next in line to receive a new ship.
"None of us have canceled [orders for] ships, but COVID-19 has disrupted supply chains and disrupted the situations at shipyards, so one of the things -- which, from my perspective, is unfortunate -- it means [is that] we're delaying a number of ships," Fain said of Royal Caribbean Group's ship orders. "So I think it's a little early for us to start speculating on what happens, given that the ships we have on order are already going to take longer to deliver than the very long lead times we had before."
"I think what you're going to see is the industry is going to continue to grow," Fain added. "I think people want their vacations. I think they want them more than ever.... I think the protocols will taper off as the science gets better.... I think the industry has a very bright future that will call for growth."
MSC currently has 11 new ships on the books to be built. Vago backed Fain's stance that it's too soon to look at submitting more orders right now, but he also seconded the notion that the industry looks strong and solid.
For Carnival Corp.'s part, Donald says its nine cruise brands have "quite a book of orders" through 2025. "To be honest with you, they are going to be needed," Donald said. "The industry was on a good growth path. Obviously this has been a disruption, but as everyone has pointed out, over time we'll be back to where we were.... There will be demand; there will be need for capacity."
Just last week, Princess Cruises took delivery of new vessel Enchanted Princess, and Carnival's Mardi Gras underwent sea trials. Earlier this week, Holland America's Rotterdam had its coin ceremony; the ship is also scheduled to float out on Wednesday.