8 Cruise Drinks to Try on Your Next Sailing (or Make at Home)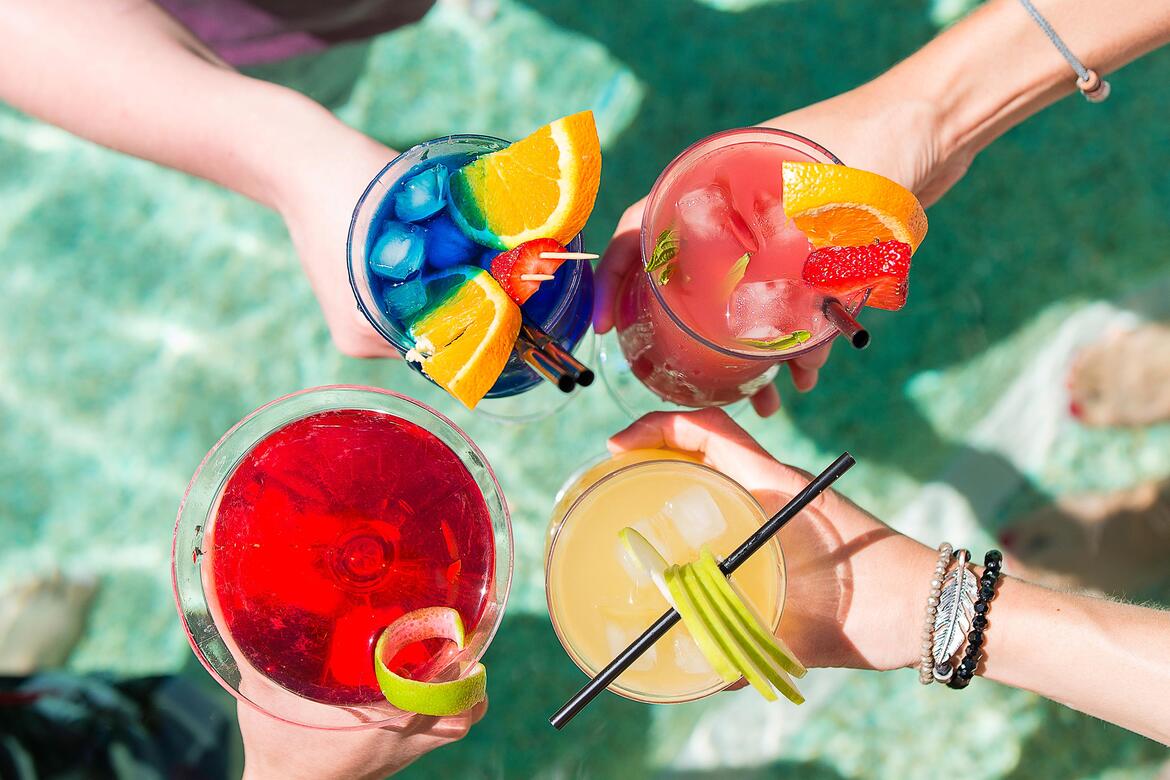 From fruity to smoky, alcoholic beverages are an integral part of cruising for many passengers.
We understand that drink preferences are highly subjective, but below, we've shared some of our favorites, including a couple of nonalcoholic options we love. Bottoms up!
1. Lava Flow (Royal Caribbean)
Found at just about any bar on Royal Caribbean ships, this pina colada with a strawberry twist is sweet -- the perfect drink if you're craving something with rum. As an added bonus, you'll score fruity flavor that's perfect for sipping by the pool with a tiny umbrella, often in a signature glass you can take home with you as a souvenir.
Ingredients:
1.5 oz. light rum

1 oz. Kraken rum

2 oz. coconut cream

2 oz. pineapple juice

2 oz. fresh or frozen strawberries

1 banana
Directions:
Put strawberries and rum in blender until well mixed.

Place contents at bottom of tall glass.

Mix remaining ingredients with crushed ice in blender until smooth.

Pour mixture into glass.

Serve with straw.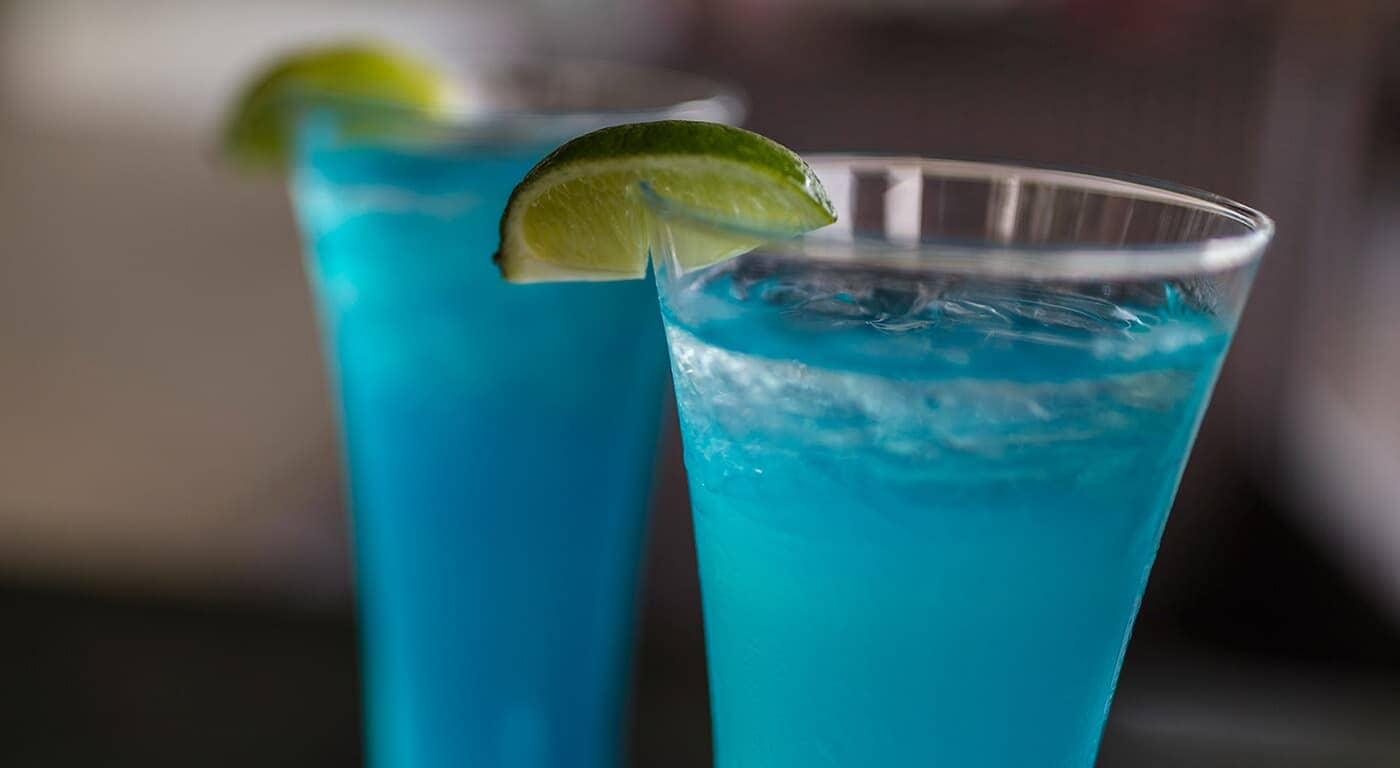 2. Cucumber Sunrise (Carnival)
This refreshing fan favorite, found at the Alchemy Bar on most Carnival vessels, is a combination of vodka, watermelon syrup, muddled cucumber, and lime and orange juices. Because it's so light, it makes for a perfect pre-dinner drink. We dare you to drink just one; we're sure you'll be back for more later.
Ingredients:
2 oz. Belvedere vodka

1 oz. fresh lime juice

1 oz. Monin watermelon syrup

2 cucumber wheels

3/4 oz. orange juice
Directions:
Muddle cucumber wheels in pint glass or cocktail shaker.

Add all remaining ingredients.

Add ice, and cover.

Shake for five seconds, and strain into chilled glass. (Double-strain if possible — first strain through the regular strainer, then a fine strainer.)

Garnish glass with cucumber wheel.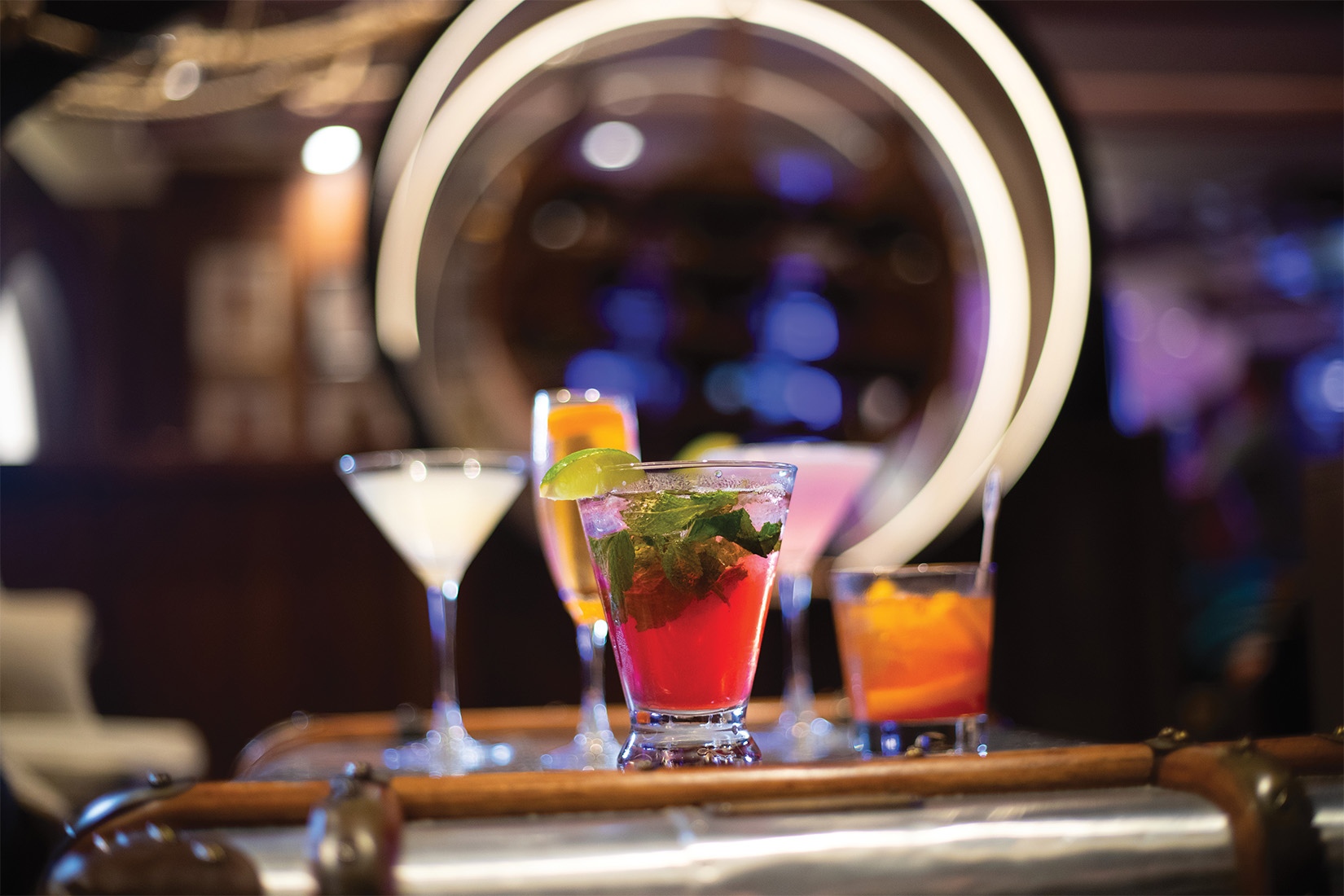 3. Veldt (Celebrity)
Whether you're partial to smoky drinks that aren't super sweet or just want to impress the folks back home with a video, this tipple will do the trick. You can order it at Eden on Celebrity Edge, where its mix of mezcal and verdita is presented with a flourish in a mini-cauldron hidden inside a tiny treasure chest. Have your phone ready when you open it; you won't want to miss the literal smoke show, compliments of dry ice.
No recipe available.
4. Black Mountain (Norwegian)
Whiskey drinkers, rejoice. This concoction of rye whiskey, vermouth, amaro and Campari liqueurs, and bitters is a perfect after-dinner libation, particularly if you're into cigars. If you're a true die-hard, you can always ask your bartender to go easy (or nonexistent) on everything but the whiskey. Rocks or no rocks, it's your call.
Ingredients:
1.25 oz. Jack Daniel's Rye
0.5 oz. Campari liqueur
0.5 oz. Averna liqueur
0.5 oz. Cinzano sweet vermouth
2 dashes Angostura bitters
Directions:
Pour whiskey into glass.
Add Campari, Averna, vermouth and bitters.
Top with ice, and stir.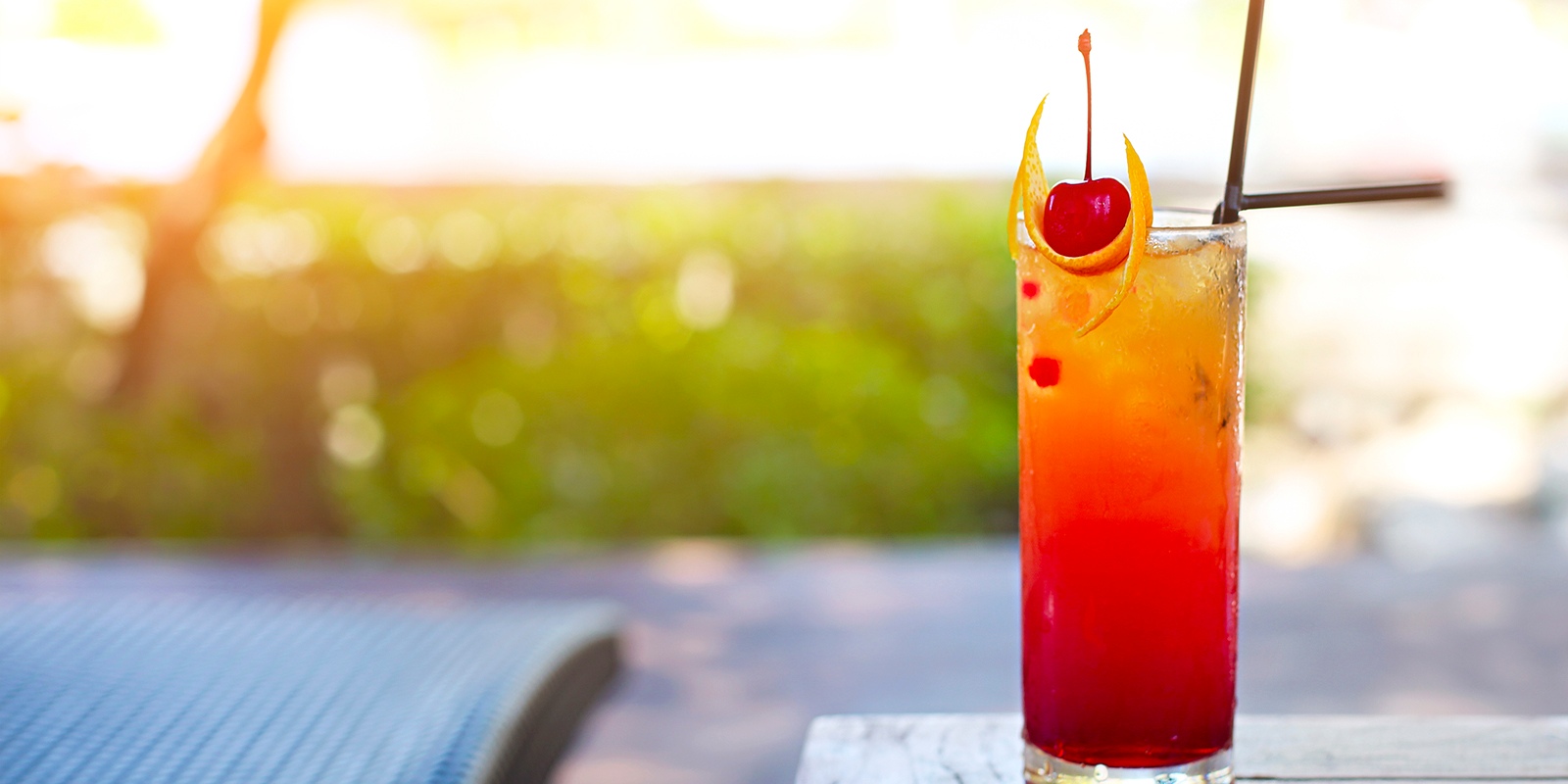 5. Icy Pop (Disney)
Found at Disney Cruise Line's Champagne bar, Pink, the Icy Pop cocktail infuses Champagne with an ice pop (raspberry, lime or strawberry), making it both fashionable and fun. This drink is suitable for wine drinkers who prefer their bubbly with a sweeter finish. With just two ingredients, it's also one of the easiest drinks to make at home.
Ingredients:
4 oz. Moet & Chandon Ice Imperial Champagne
1 Outshine frozen fruit bars
Directions:
Pour Champagne into flute.
Add popsicle flavor of your choice.
6. Coffee Martini (MSC)
Visit Venchi Cioccogelateria & Coffee Bar on MSC's Seaside-class vessels to order a coffee martini, which is a dream for lovers of chocolate or coffee. This delicious and classy but fun beverage comprises vodka, coffee liqueur, cherry liqueur and real Venchi chocolate for a divine flavor with an elegant presentation. Follow it up with some gelato or a cup of real Italian hot chocolate.
No recipe available.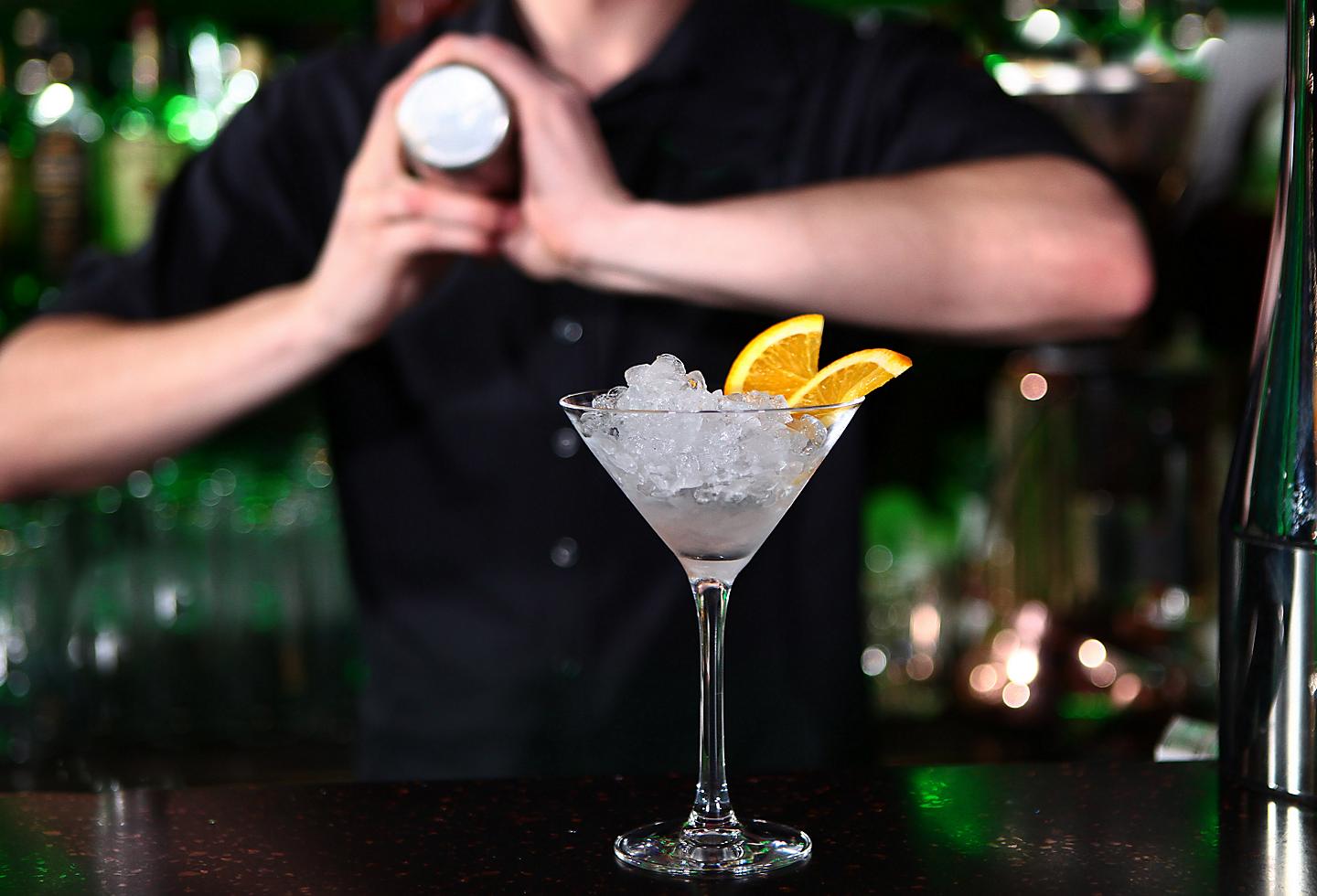 7. Frozen Peach Margarita (Holland America)
This zero-proof option, found at most of Holland America's onboard bars, is a treat for all passengers, regardless of age or stance on alcohol consumption. In it, you'll find a base of Sprite that's blended with peach syrup and homemade sour mix for a taste that's just right. Sip slowly, though; this icy treat has been known to cause brain freeze.
Ingredients:
4 oz. Sprite
4 oz. frozen peaches
1.5 oz. Fresh lemon juice
1.5 oz. Fresh lime juice
1 oz. Simple syrup
Directions:
Add all ingredients to blender, and blend until smooth.
Serve in a margarita glass.
8. Nojito (Princess)
As its name suggests, this mojito mocktail contains no alcohol. Upon request, bartenders at most Princess watering holes combine grapefruit juice, club soda and simple syrup with fresh mint to offer an invigorating taste that's surprisingly similar to what you'd find in a regular mojito. Bonus: Those mint leaves will help to freshen your breath, and they count as greens. (Who says fun drinks can't be healthy?)
Ingredients:
10 mint leaves
4 oz. fresh lime juice
1/4 oz. fresh lemon juice
1/4 oz. fresh grapefruit juice
1.5 oz. simple syrup
Club soda
Ice
Lemon, lime or grapefruit wedges (optional, for garnish)
Directions:
Put mind leaves at the bottom of a glass.
Add lemon, lime and grapefruit juices.
Crush mint using muddler.
Add simple syrup and ice.
Top with club soda.