One of the most frequent questions we receive is "What are the best cruises for kids?"
Family cruises can be a great way for you to get away with your children, but if your goal is for them to enjoy the sailing as much as you, it's important to choose a cruise line and ship with plenty to offer younger passengers.
Here are our recommendations for the best cruise lines for families, featuring everything from child-centric activities and kids clubs to family-friendly cruise cabins.
Note: Not all restaurants, activities and amenities are available on all ships, and some may incur an extra cost.
1. Disney Cruise Line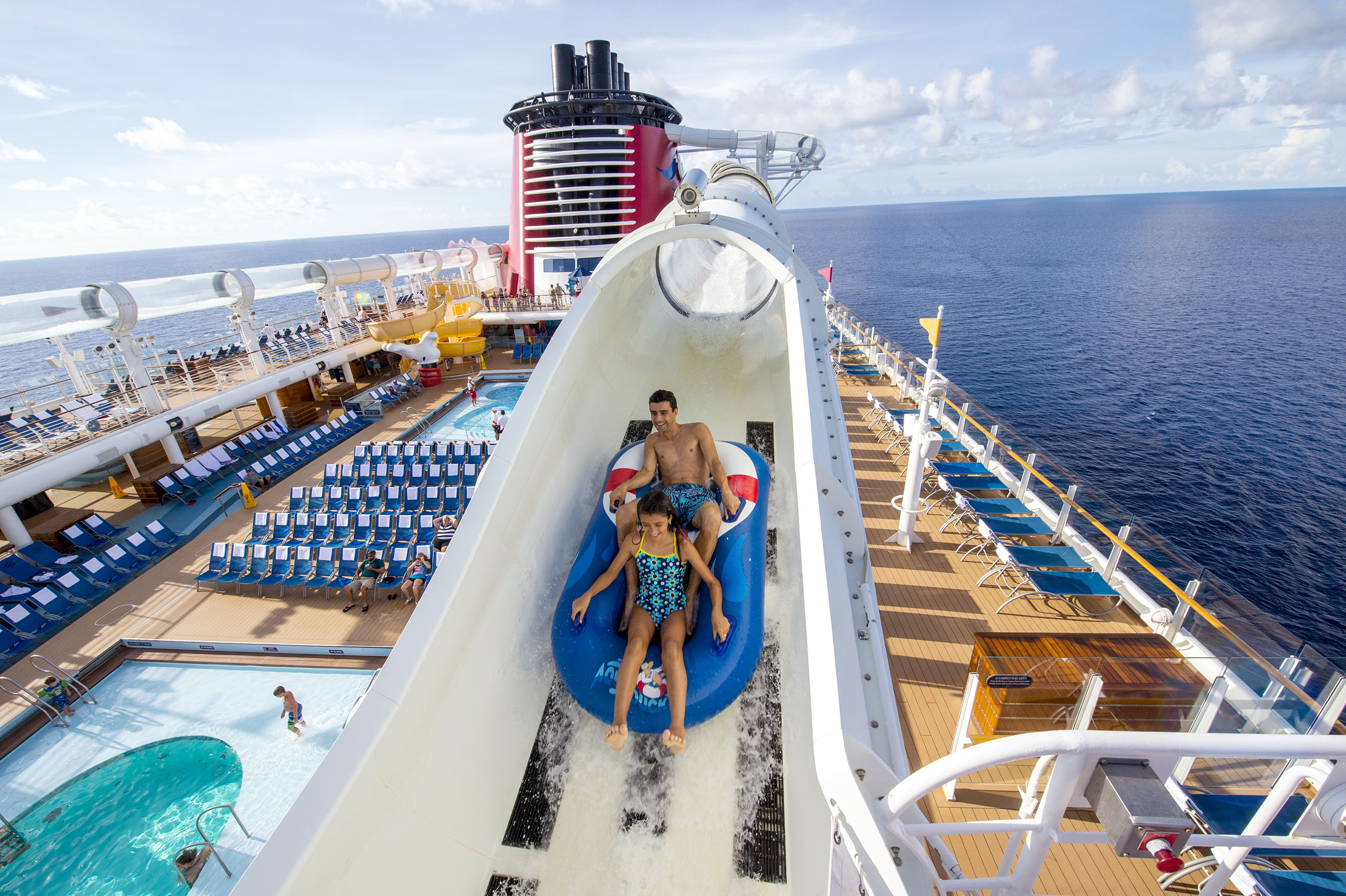 Few, if any, other cruise lines can hold a candle to the likes of DCL. Mix all the magic of The Mouse with superb service and whimsical touches, and Disney's ships will leave you and the kiddos in awe.
From the moment you set foot onboard on embarkation day -- when the crew will greet your family by name during your grand atrium entrance -- little touches will make you and your kids feel special.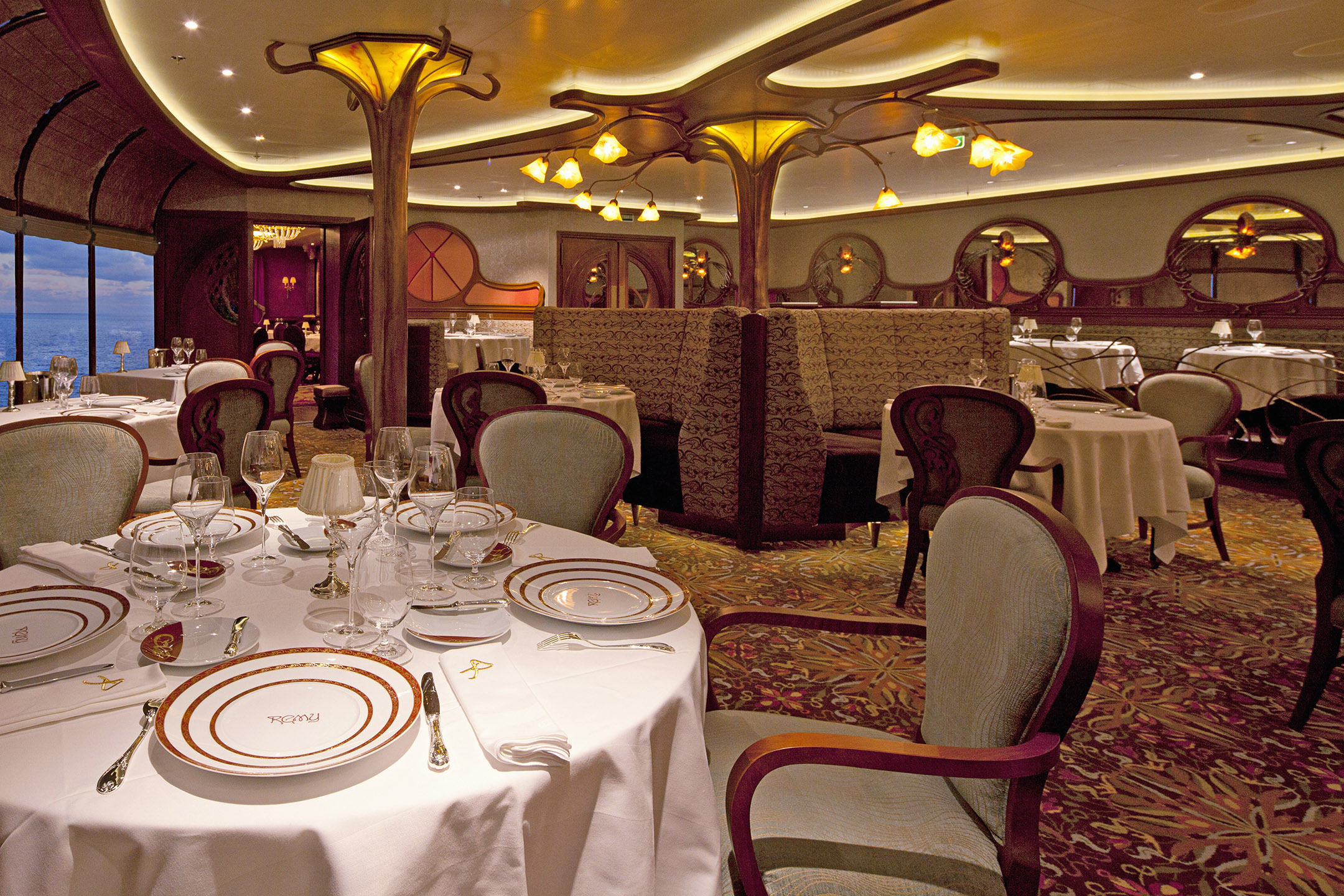 Dining
Although dinner in the main dining room is limited to set seating, you'll be rotated to a different themed, and sometimes interactive, restaurant (at a set time, with the same waiters) each night to keep boredom at bay. Children's menus cater to picky eaters, and if you ask for ketchup, expect it to be doled out in the shape of Mickey's head.
Parents wishing to dine at a leisurely pace should sign up for the 8 p.m. dining time to take advantage of the line's Dine & Play program. It allows children to eat quickly before they're escorted to the kids club by a member of the youth staff, leaving parents to enjoy a more romantic meal.
If your family likes a bit less structure at mealtimes, there are alternative dining options (for a fee), as well as each vessel's complimentary buffet, which lets you self-serve when it's convenient for you.
Plus, soda is free throughout your sailing -- a perk that none of the other mainstream cruise lines include in the price. Sweet treats include free soft-serve ice cream and for-fee candy.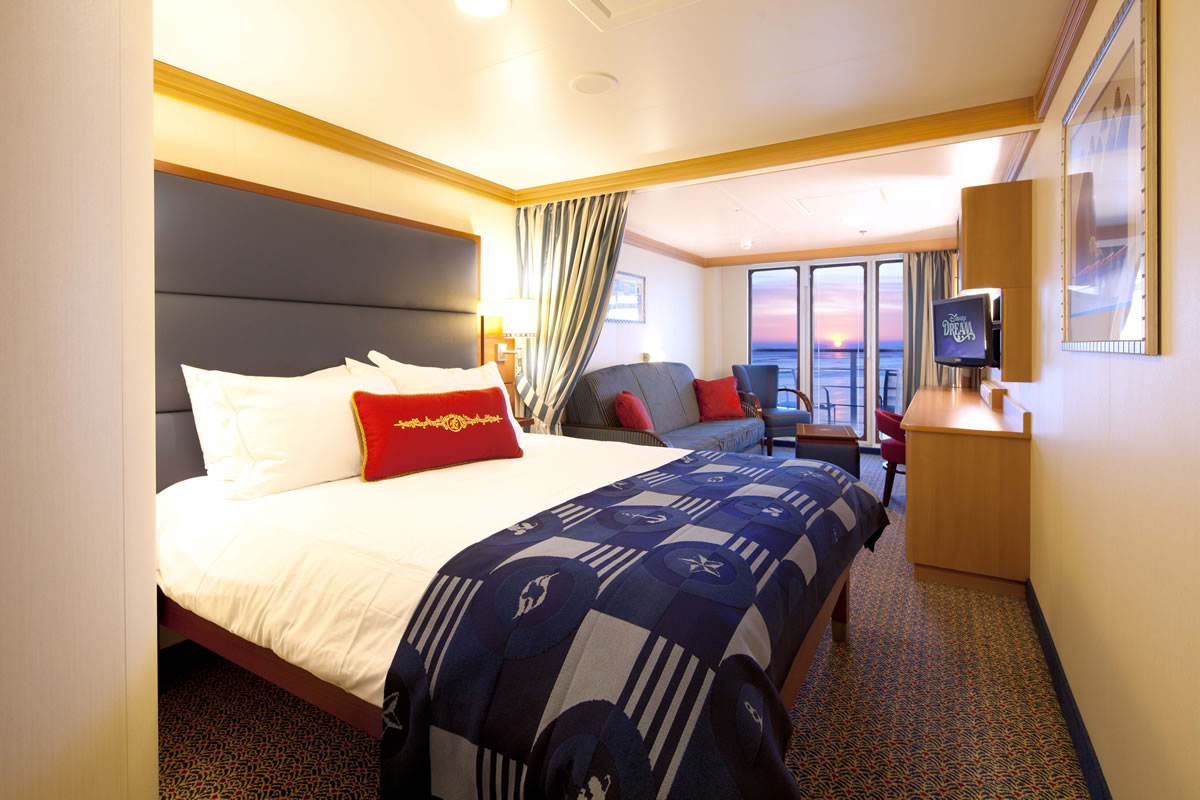 Cabins
In terms of cabins, there are plenty of types available, including rooms that sleep up to five people via pull-out sofas and pull-down bunks. If you're bringing a baby onboard, you can even pre-order supplies like diapers and wipes to be delivered to your digs, meaning you won't have to drag them onboard with you.
Plus, most cabins are outfitted with thoughtful touches, such as glow-in-the-dark stars and Peter Pan scenes on the ceiling above kids' pull-down bunks, a split bathroom setup with a tub/shower combo and sink in one room and a toilet and sink in another, and a curtain that divides the room in half so adults can stay up late after the kids go to bed.
Disney cruises are pricey, so if you can't afford a balcony but still want a view, consider a Magic Porthole inside stateroom on Disney Dream or Disney Fantasy. A faux porthole will offer ocean scenes, as well as visits from popular Disney characters, via a round LED screen.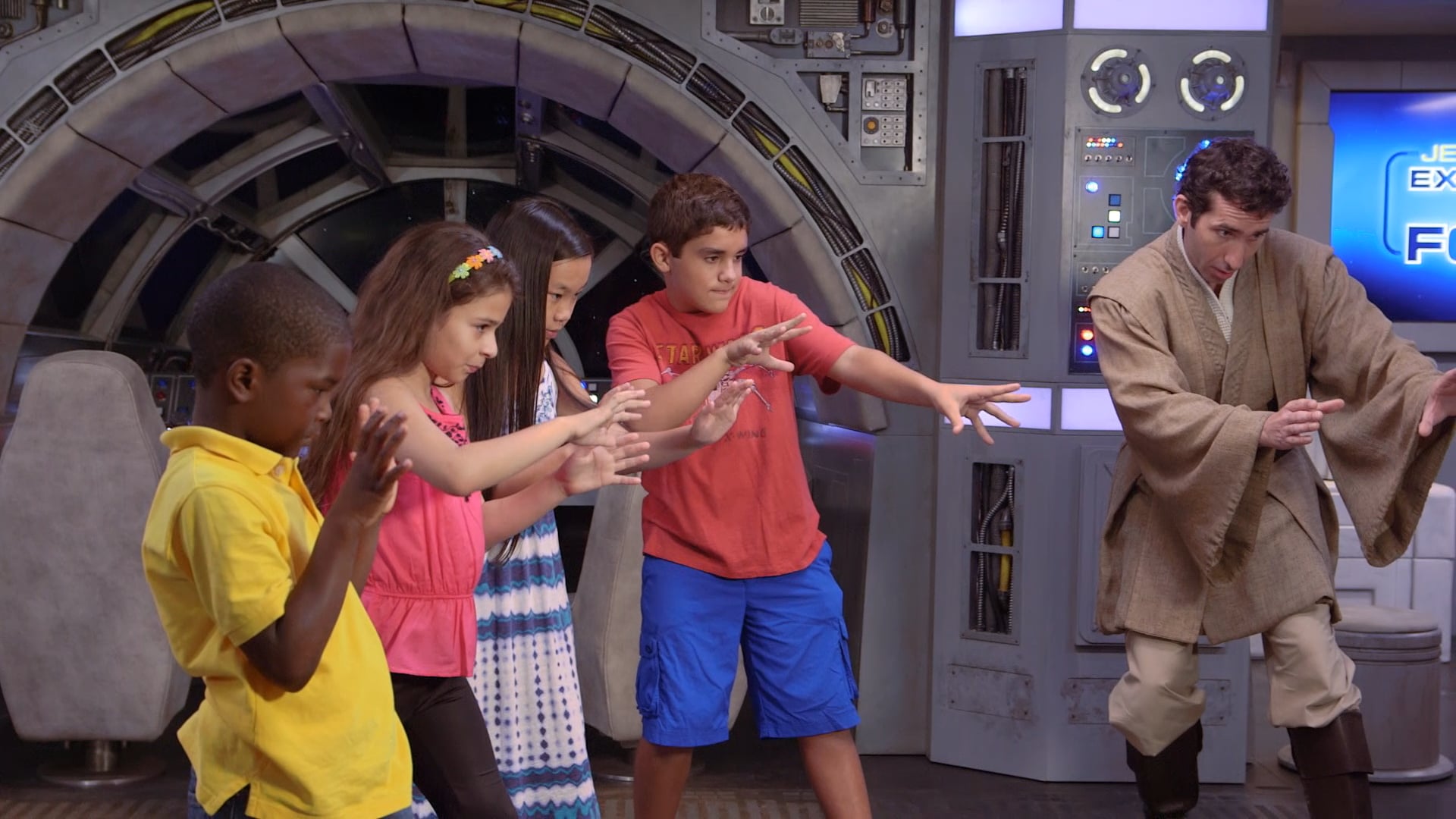 Kids Club
Disney's free onboard kids clubs are, quite simply, unparalleled. The line has leveraged the extensive creative knowledge of its Imagineers -- the brains behind all of the magic you find at Disney's land-based parks and resorts -- to bring children exclusive (and supervised) play areas.
These spaces, reserved for ages 3 - 12, include Marvel's Avengers Academy, Andy's Room from "Toy Story," and a replica of the Millennium Falcon's cockpit (of "Star Wars" fame), to name a few.
Dedicated spaces for tweens (11 - 13) and teens (14 - 17) feature hang-out areas, video games and more, and youth staff also offer for-fee nursery services for kids younger than 3.
Apart from the nursery, Disney does not offer onboard babysitting, but children tend to love the kids club so much that you might not need it.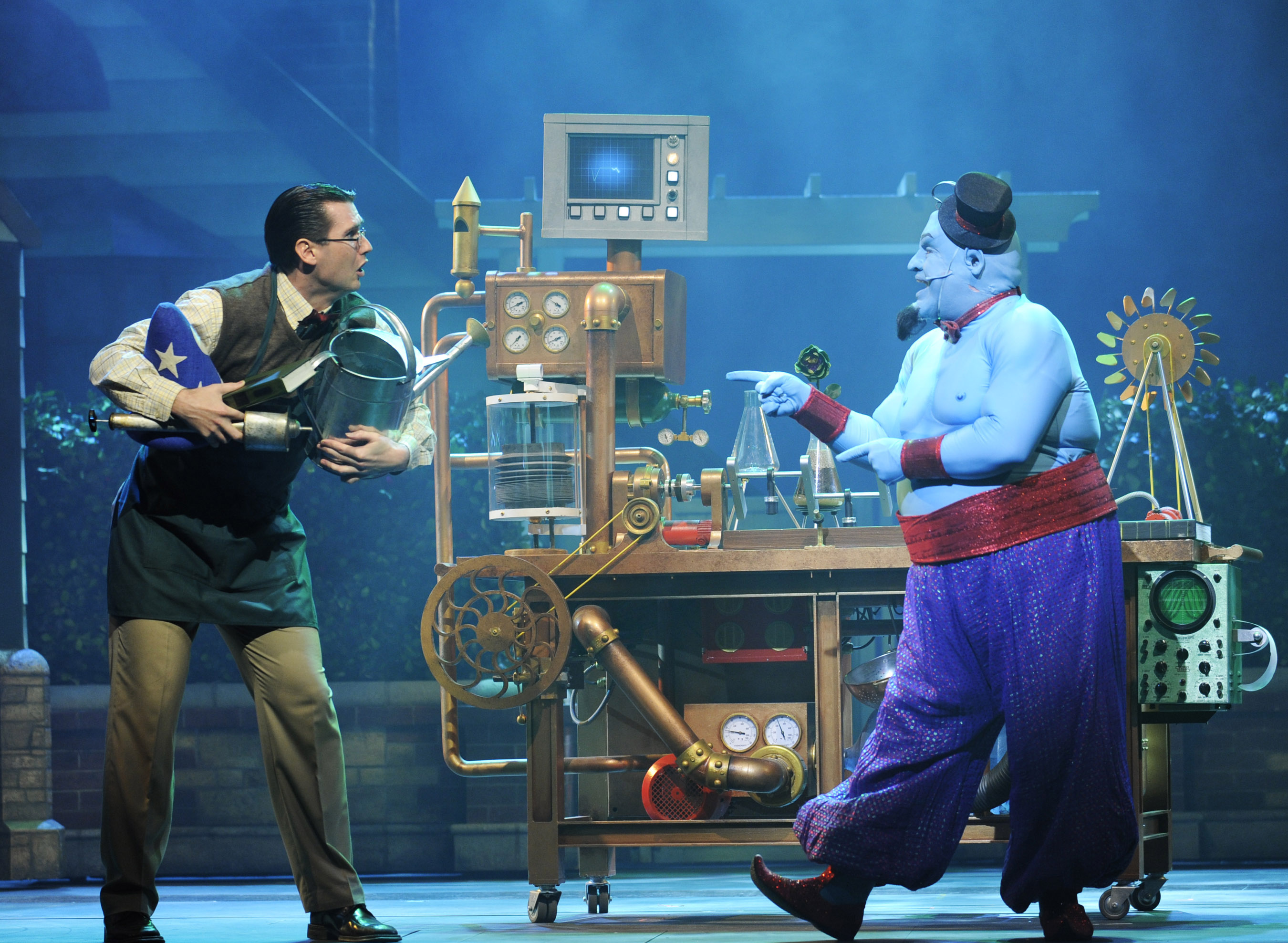 Activities
Kid-focused activities are where Disney truly shines. For fun outside of the youth center, try the Midship Detective Agency, which will take you and your brood on a fun shipboard hunt for clues to solve a mystery; the AquaDuck and AquaDunk water slides on select ships; a trip to the Bibbidi Bobbidi Boutique for a makeover; or a special (but expensive) princess tea.
Frequent character meet 'n' greets occur throughout each sailing, making it easy for kids to meet their favorite creatures and princesses from their favorite animated films.
All ships also feature free movies, both in cabin and on the big screen in each vessel's Buena Vista Theater, where both classic and first-run Disney flicks are shown. Theater entertainment is equally jaw-dropping, featuring Broadway-caliber performances, superb costumes and sets, and special effects only Disney could pull off.
Also be sure to pack your best swashbuckling garb for Pirate Night, which happens once on each sailing. Passengers dress up and enjoy pirate-themed parties on the pool deck, followed by an appearance from Captain Jack Sparrow who (weather permitting) will rappel down the ship's funnel to a backdrop of fireworks.
While offerings vary by ship, all four of the vessels in the fleet -- Disney Wonder, Disney Magic, Disney Fantasy and Disney Dream -- are excellent choices.
2. Royal Caribbean International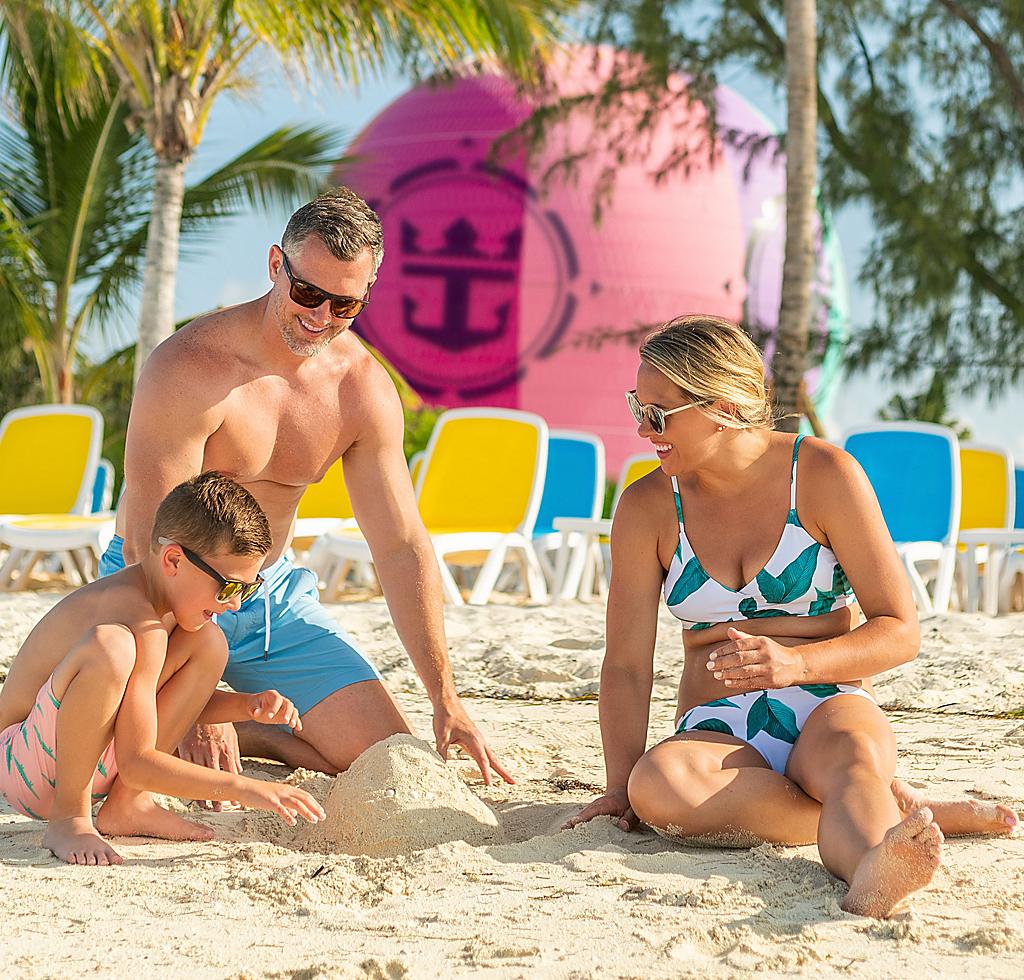 Royal Caribbean features lots to do for kids and parents alike. Although the line is generally great across the board, our highest recommendations are for the line's newer, larger ships, which offer the largest variety of programming and activities and the most expansive kids clubs. 
Dining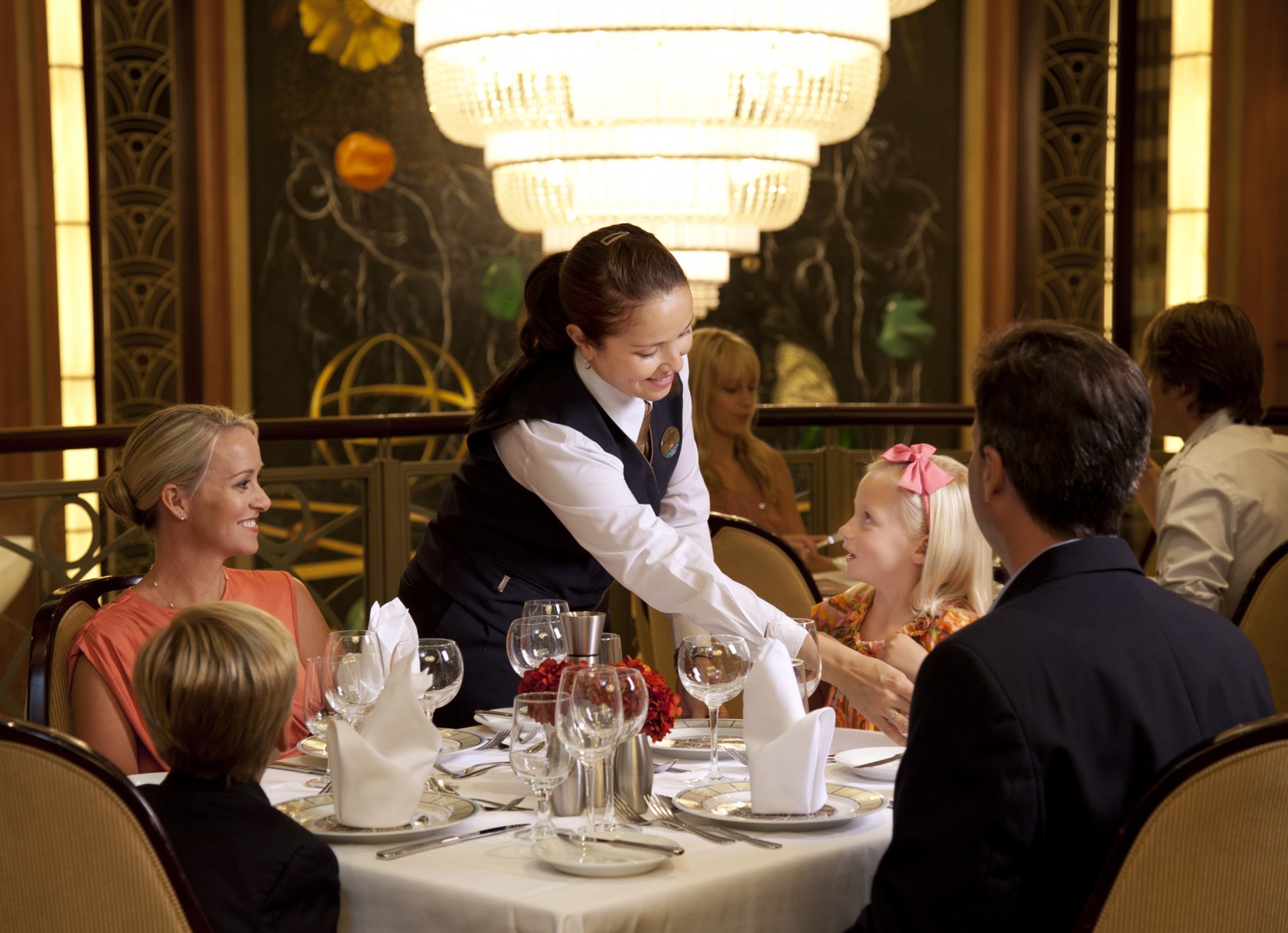 On any of Royal's vessels, you can expect a choice of either set seating or flexible dining for dinner. The latter, which allows you to show up at any time between set hours and dine at the first available table, is ideal for groups traveling with children.
The line is fantastic at accommodating picky palates, too, with special kids menus available.
As part of Adventure Ocean's programming (see below), parents can choose to sign their youngsters up for My Family Time Dining, where a member of the kids club staff picks up children from the dining room halfway through dinner. Or, if kids would rather eat with their friends, they can choose Adventure Dining, where youth staff take them directly to the dining room to eat with other kids club members, sans parents.
Beyond the main dining room, even the most discerning young taste buds will be in heaven with Johnny Rockets fare (extra cost) and free pizza, found nearly 'round the clock at Sorrento's.
If you'd like even more flexibility or feel like being totally casual at dinnertime, the complimentary buffet is one of the line's most "come as you are" options.
For dessert, grab an extra-fee scoop of hard ice cream with toppings, candy by the pound or a cone of free soft-serve.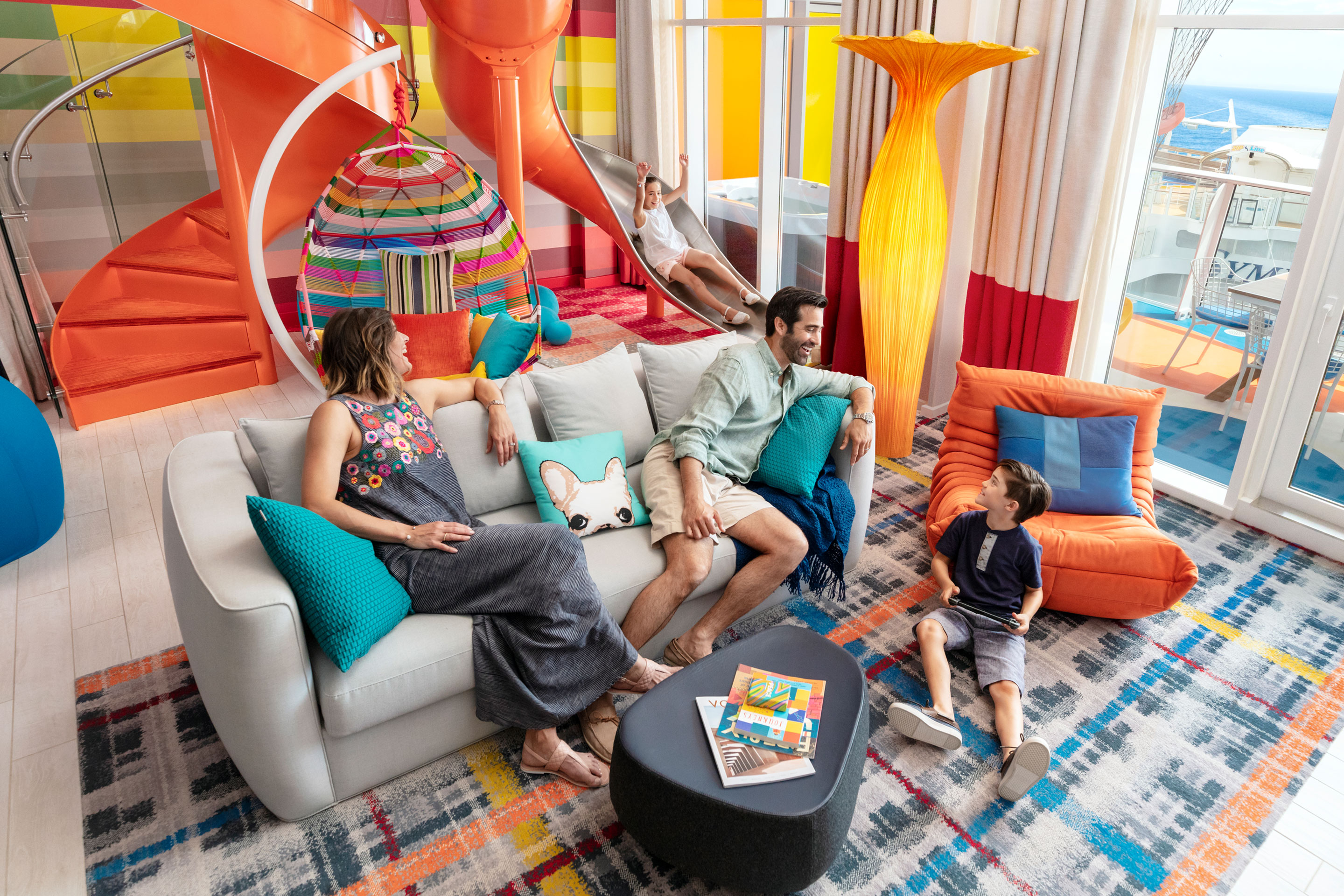 Cabins
Most ships in the Royal Caribbean fleet feature connecting cabins or basic accommodations that sleep up to four people via pull-down beds or fold-out couches. Roughly one-third of the vessels (mostly the line's newest ships) feature inside cabins with Virtual Balconies -- faux floor to ceiling windows with LED ocean views.
For the most luxurious (read: staggeringly expensive) family accommodations in the fleet, book the Ultimate Family Suite on Symphony of the Seas or Spectrum of the Seas. Sleeping up to eight people across two decks, the space offers separate bedrooms and bathrooms for parents and kids, as well as a gaming area, a living room with a chair swing and a slide that rises two floors.
If you're traveling on a budget, it's worth noting that Royal frequently runs promotions that discount fares for the third and fourth passengers in each cabin. They can offer a significant savings for families traveling with kids.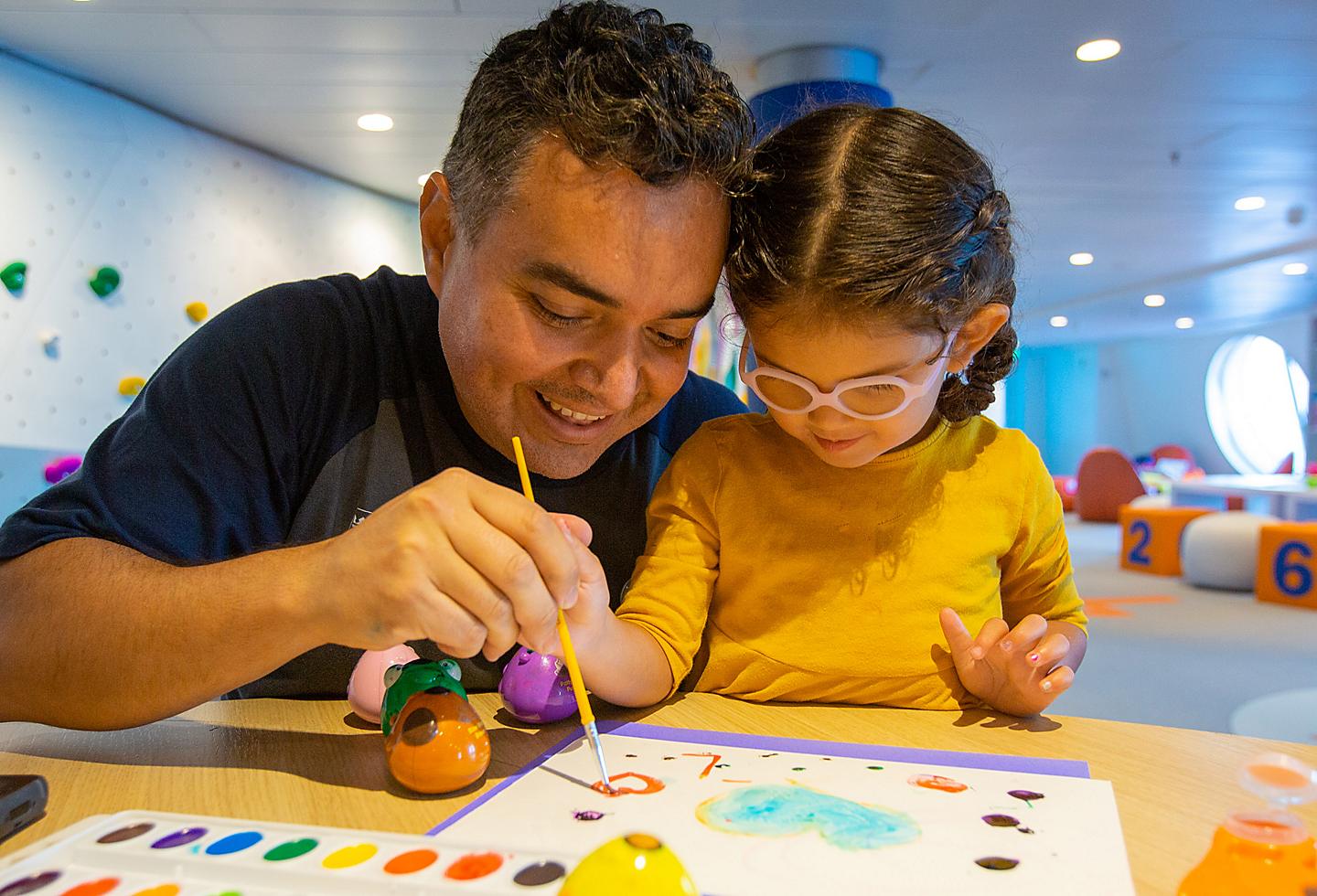 Kids Club
Adventure Ocean is Royal Caribbean's free kids club. Although it's not quite up to Disney's level, it's light years ahead of other mainstream cruise lines, particularly on Royal's newest vessels.
Kids are broken into several age groups, each with its own dedicated space and schedule of supervised activities: Aquanauts (3 - 5), Explorers (6 - 8) and Voyagers (9 - 11).
Depending on age, diversions might include scavenger hunts, science experiments, dance parties, story time, video game competitions, arts and crafts, or talent shows.
The line also offers dedicated spaces for tweens (12 - 14) and teens (15 - 17) on all ships, and parents can take advantage of Royal Babies (6 - 18 months) and Royal Tots (18 - 36 months) amenities like babysitting and dedicated play areas.
Late-night babysitting services are available in the kids club (Late Night Party Zone) and Royal Babies and Tots nursery for a per-child hourly fee.
Royal Caribbean also offers autism-friendly sailings on several of its ships. Prior to those sailings, youth staff receive autism awareness training developed by Autism on the Seas, an organization dedicated to providing onboard programming to passengers with developmental disabilities.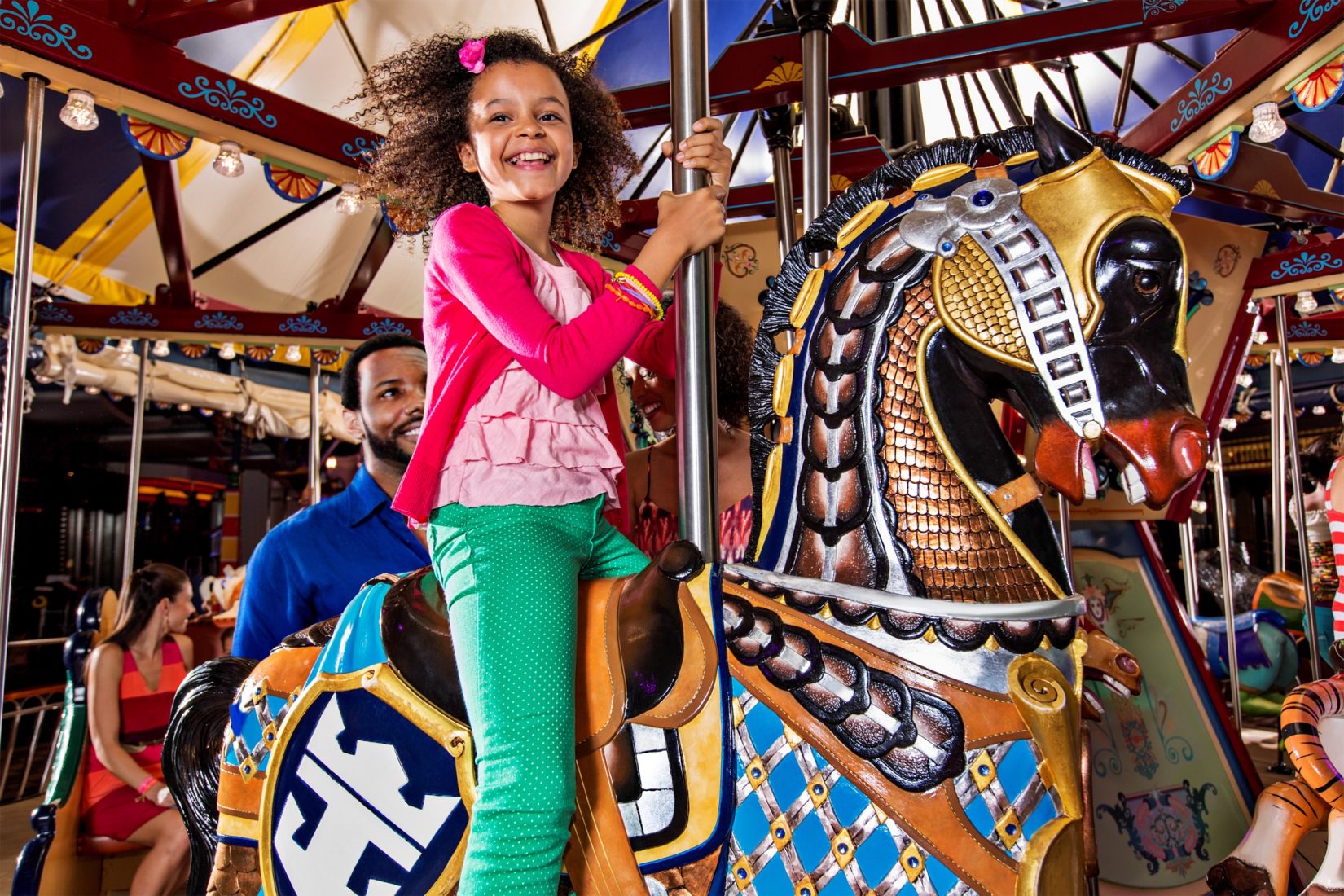 Activities
Vessels in the Oasis and Quantum Classes are massive. The former feature seven neighborhoods, which, in part, comprise the Youth Zone, where Adventure Ocean is located; the Boardwalk, which houses a carousel, 10-deck-tall dry slide, a sports bar and arcade, and high-diving acrobatics shows with wake views; and the Pool and Sports Zone, with a zipline that overlooks the Boardwalk.
Quantum-class ships, meanwhile, are where you'll find RipCord by iFly skydiving simulators, trapeze classes and bumper cars that will keep active kiddos occupied.
On several ships in both classes, escape rooms are part of the offerings, as well.
Most Royal Caribbean ships also boast FlowRider surf simulators, as well as rock climbing walls, water slides, sports courts and miniature golf to keep cruisers of all ages busy. Plus, many ships offer ice skating, and some even have spaces in which to play laser tag or take part in virtual-reality bungee trampolining.
Theater shows often include aerial acrobatics, magic, ice shows with choreographed drones, and song-and-dance performances that leave audiences of all ages in wonder.
Most ships are outfitted with large arcades, which charge per game, as well as outdoor movie screens that show films on the pool deck.
3. Norwegian Cruise Line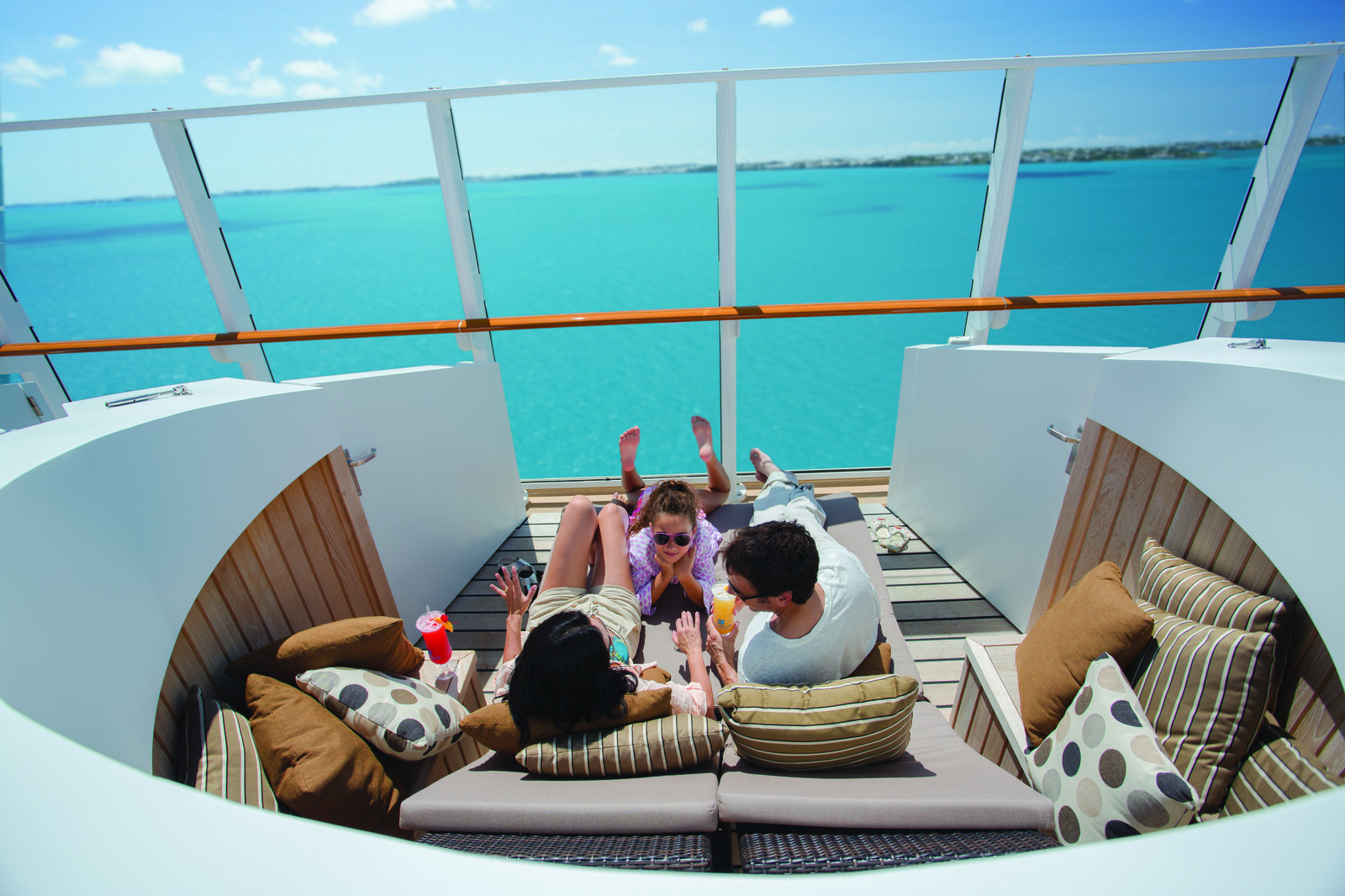 Arguably the most relaxed of all cruise lines, NCL naturally lends itself to family fun, featuring a plethora of active indoor and outdoor pursuits, plenty of choices for casual dining and kids clubs that keep the little ones happily entertained.
Dining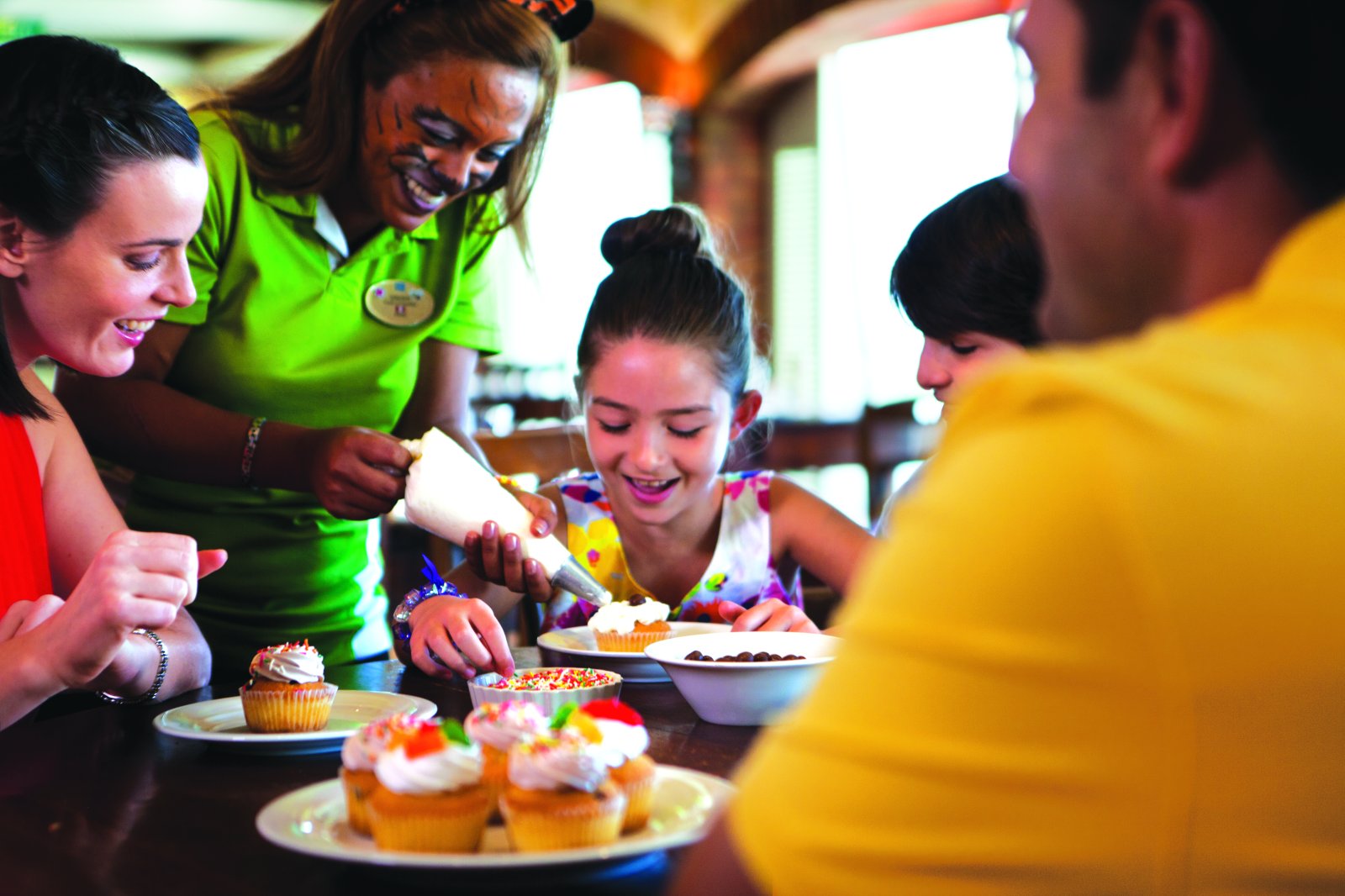 Unlike other major cruise lines, Norwegian offers only flexible dining for dinner in its ships' main dining rooms. That means you can show up any time you'd like during a set time frame.
In addition to allowing passengers to choose when they eat and with whom, the dress code is also notoriously informal, with "Dress Up or Not" nights replacing traditional formal nights and allowing everything from jeans to ball gowns and tuxedos.
If parents want to enjoy a romantic dinner alone or if kids want to enjoy a meal with their new onboard friends, Splash Academy, the line's kids club (see below), offers escorted dining, where a member of the youth staff will take all registered children to breakfast, lunch or dinner. (There is a per-meal fee for the service.)
While there are several alternative restaurant options onboard, most come with a fee for adults. However, children younger than 12 eat free if they order from the kids menu, which is used shipwide, including in the MDR.
Some of the newest vessels present dinner theater, which can be a fun way to spend an evening with the family. (The food isn't the best, but the shows are worth the cost.)
For free kid-approved options, you can't beat the buffet on all vessels and pub grub found on select ships. For dessert, everyone can enjoy free soft-serve ice cream or extra-fee items from The Bake Shop, including cupcakes, macarons and more.
Cabins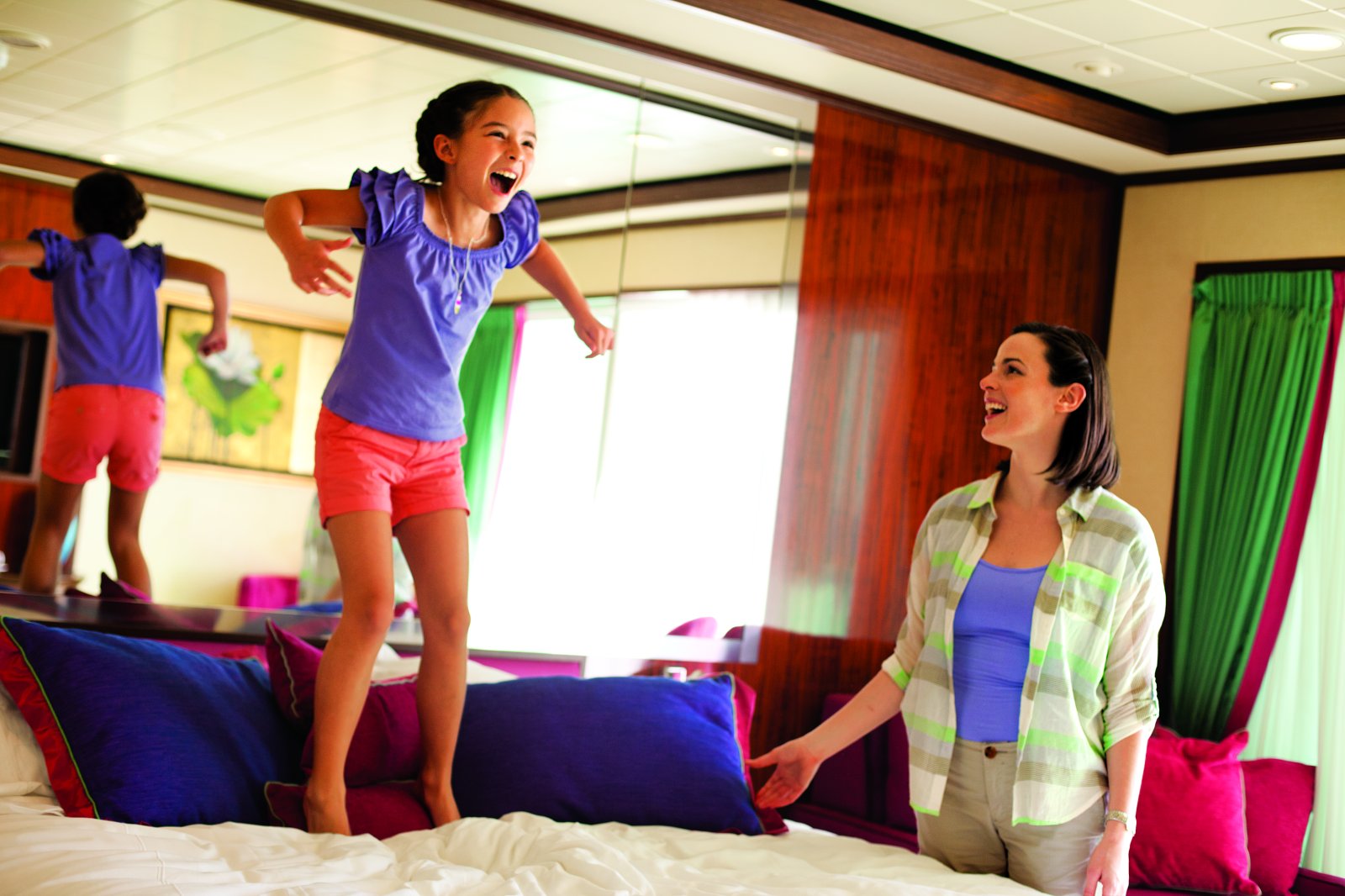 In addition to the regular battery of cabins, including connecting staterooms and those that sleep up to four people with the help of sofa beds and pull-down bunks, Norwegian's most modern vessels include two-bedroom villa-style cabins that sleep up to six passengers.
If you're hoping to snag a deal, NCL frequently runs promotions where kids can sail free when they share accommodations with two paying adults.
Kids Club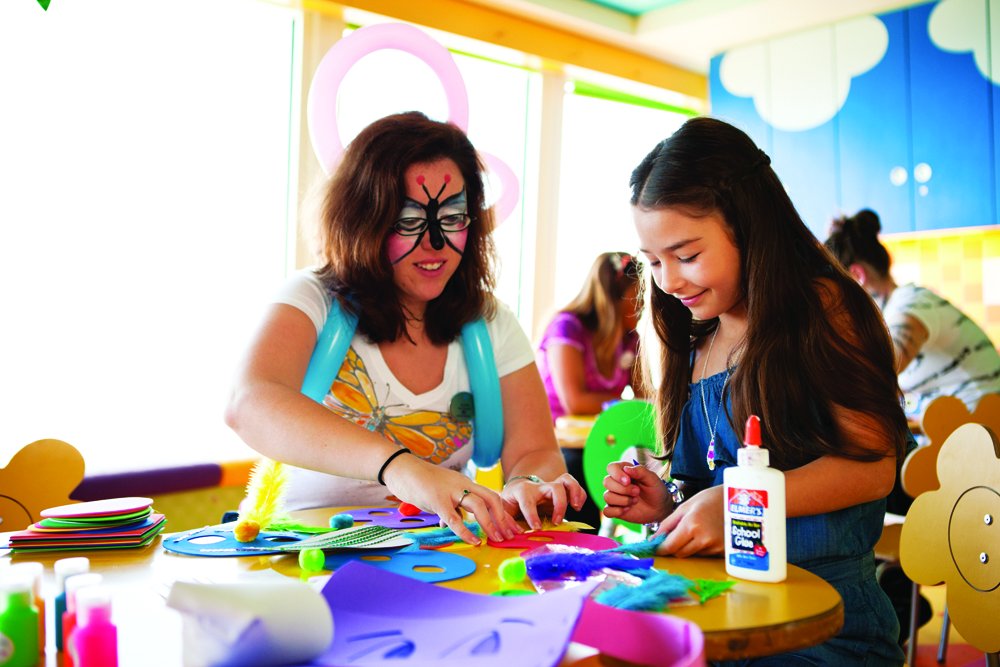 Norwegian Cruise Line's complimentary kids club, known as Splash Academy, encompasses five groups, based on age: Guppies (6 - 36 months), Turtles (3 - 5), Seals (6 - 9), Dolphins (10 - 12) and Teens (13 - 17).
The three middle groups take part in organized, age-appropriate activities that might include arts and crafts, story time, circus skills, board and video games, sporting activities and parties.
Teens will find a less-structured atmosphere in their designated facilities, where they can play air hockey, attend late-night dance parties or simply chill out with friends over video games.
On all ships, dedicated Guppies areas are available for free for parents to play with their babies and toddlers. This is not a drop-off service, and parents must be present at all times for their children to utilize the spaces, which are outfitted with a selection of safe toys.
The only exception is on ships that offer the Guppies Nursery, where babysitting is offered for a fee. Babysitting for older children, through age 12, is also available for an added cost as part of the line's Late Night Fun Zone.
Activities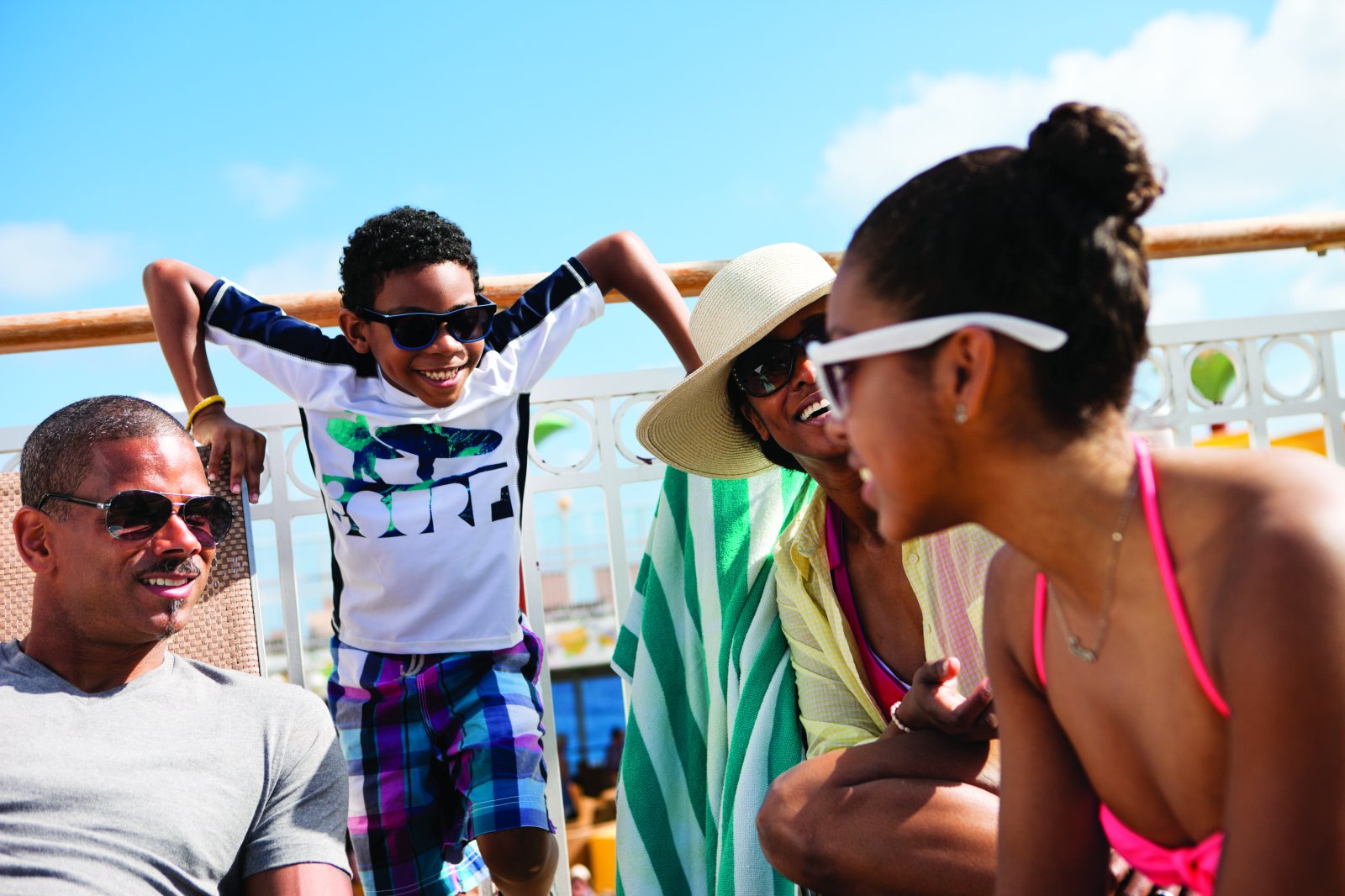 Generally, the lines' newest hardware -- Norwegian Epic and ships in the Breakaway and Breakaway Plus Classes -- has the most impressive variety of things to do, and their kids clubs are a bit more robust, with some even spanning two decks.
While all NCL ships have arcades, only a couple have the new and highly touted Galaxy Pavilion, which features virtual-reality rides and simulations, as well as standard arcade games that provide a digital (for-fee) playground for the youngest set.
Throughout the fleet, there are also plenty of other ways to pass the time, including escape rooms, laser tag, top-deck go-karts, miniature golf, rock climbing walls and bowling.
Meanwhile, sports courts, pools, thrilling water slides and ropes courses with planks that jut out over the side of the ship offer alfresco fun.
At night, a collection of entertainment awaits, including song-and-dance revues, comedy (including improv), dueling pianos, "Choir of Man" performances, Latin dance show "Burn the Floor" and, most impressively, stunning Broadway productions that run the gamut from "Kinky Boots" to "Six."
4. Carnival Cruise Line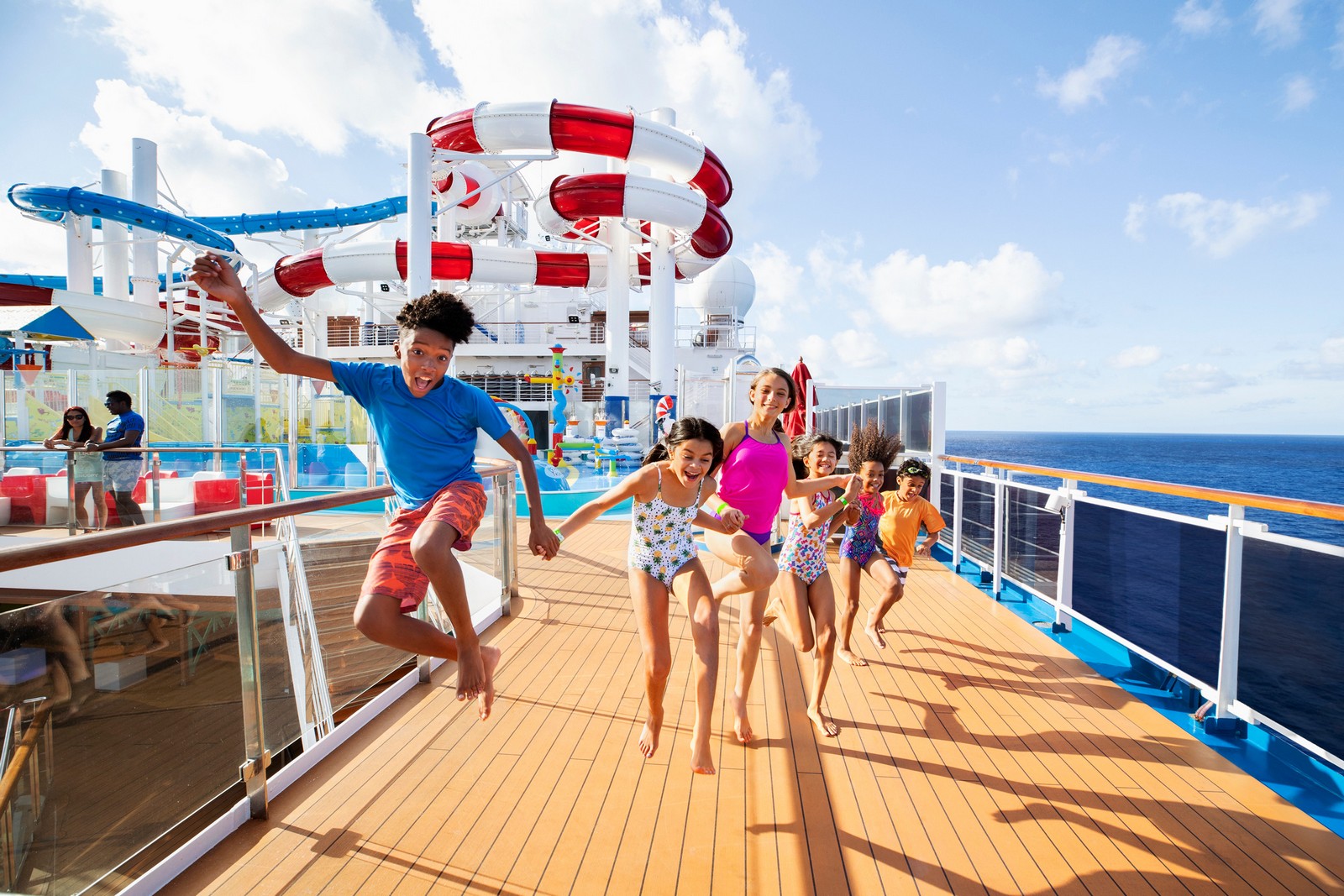 Billed as the Fun Ships, the vessels in Carnival's fleet are definitely family-friendly. Plus, with a reputation as one of the most affordable cruise lines at sea, CCL will allow you to be a huge hit with your kids without taking a huge hit to your wallet.
Dining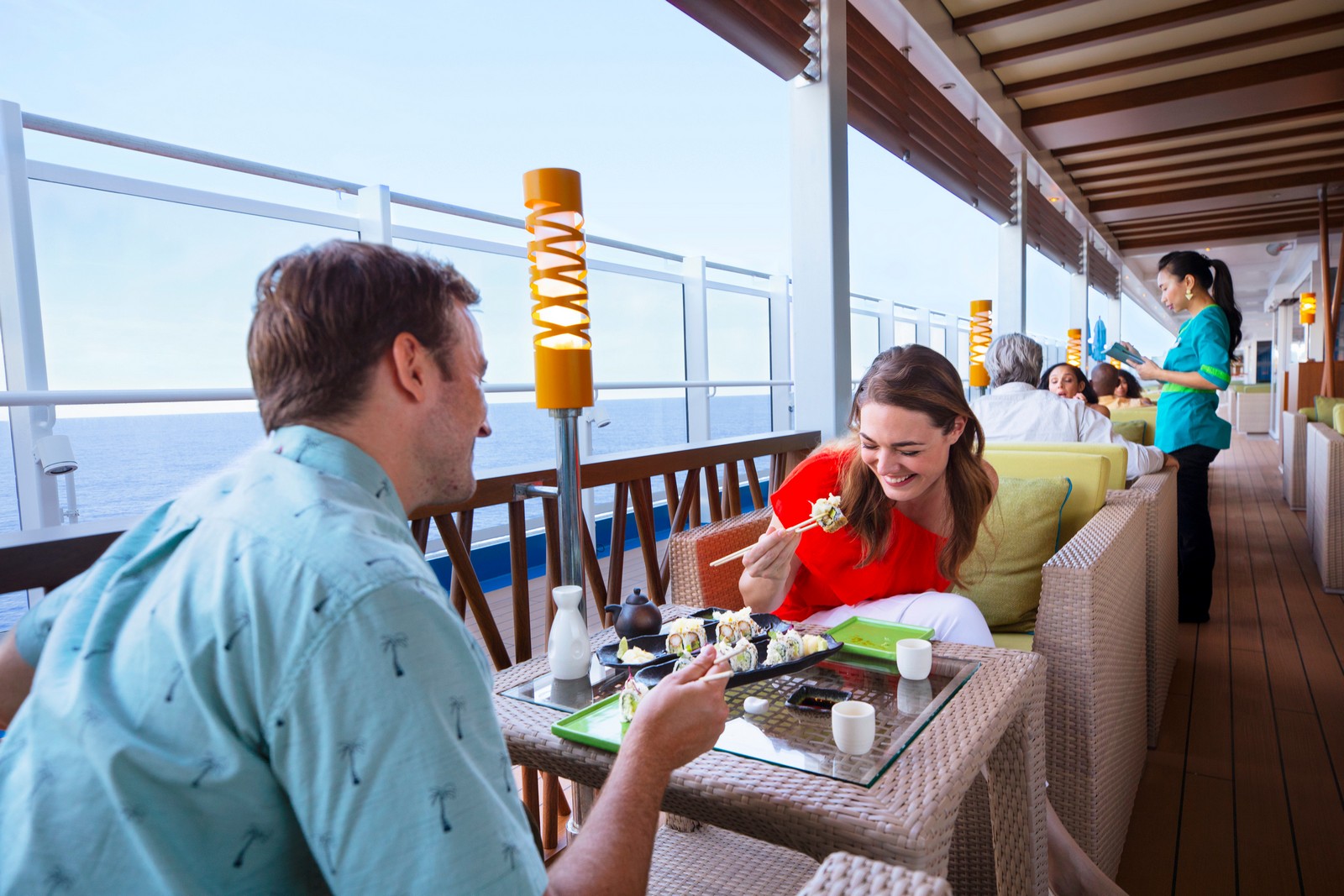 In our opinion, the food included in Carnival's fares stands out nearly as much as the food for which the line levies a surcharge -- a rarity at sea. That means you won't have to pay extra to have a truly amazing culinary experience.
The main dining room offers cruisers a choice between set seating and flexible dining for dinner in the MDR, and the dress code is one of the more casual and accommodating ones you'll find. Bonus: Your waiters will often burst into song and dance routines, which only adds to the enjoyment.
For the most discerning young 'uns, Carnival does feature children's menus in most restaurants.
Like other cruise lines, each vessel has a free buffet that caters to travelers for three meals a day, as well as between-meal snacks. Free soft-service ice cream, anyone?
Although special dining arrangements aren't offered for young foodies through the kids club, Carnival makes it easy for parents to find quick ways for the family to enjoy dinner together without having to pay an extra cent.
Even though there are some added-fee dining venues, free options -- delectable pizza, specialty burritos and Guy Fieri burgers -- abound.
What's not free, however, are cakes and candy by the pound, which you your kids are likely to sniff out at the Cherry on Top candy shop, found on most ships.
Cabins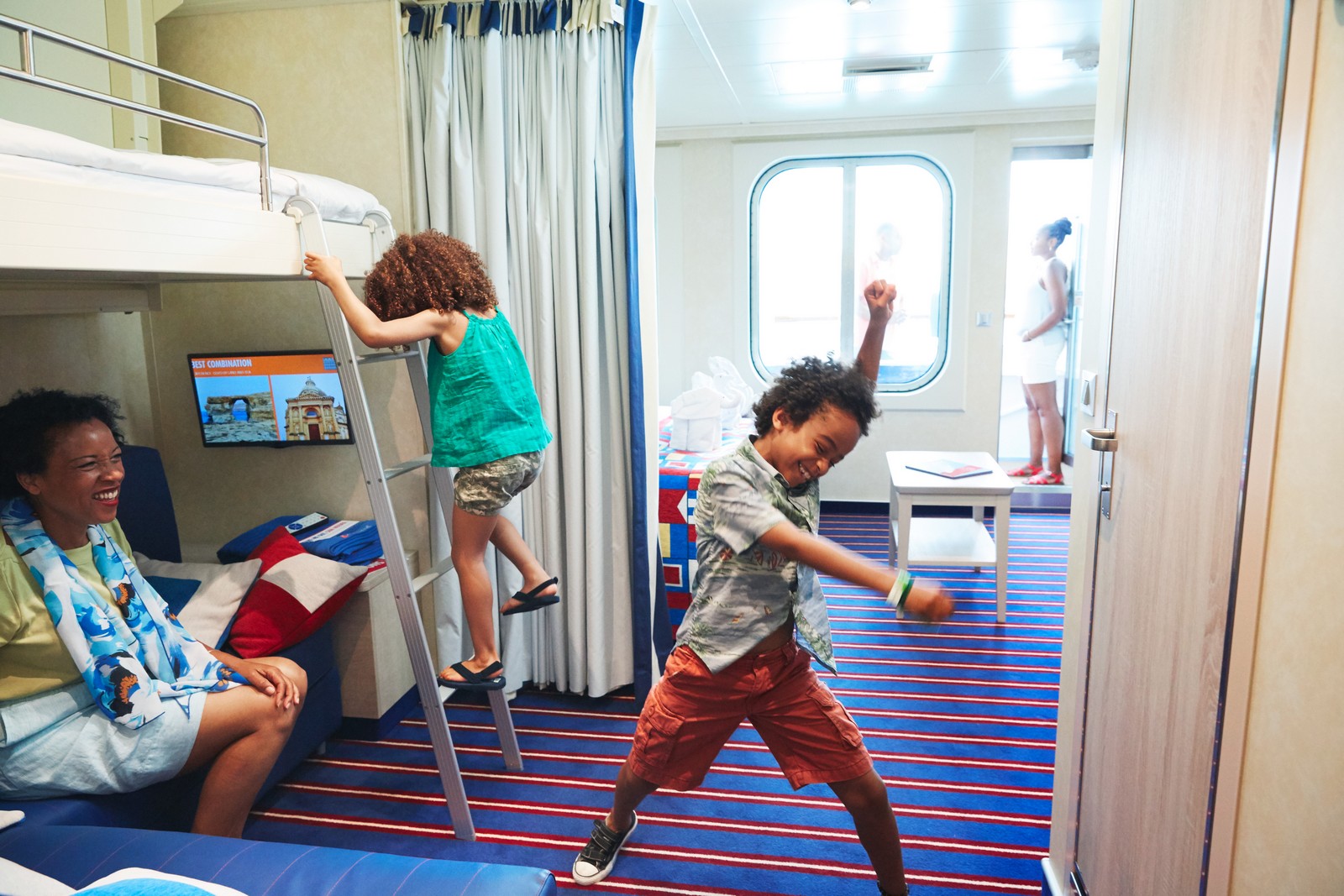 In addition to cabins that sleep five and connecting staterooms, Carnival's newest vessels have added Family Harbor rooms to the line's list of accommodations for families.
Cruisers booked in Family Harbor cabins are entitled to "kids eat free" promotions at certain alternative restaurants, exclusive access to a dedicated family lounge and one night of complimentary babysitting in the kids club, among other perks.
Kids Club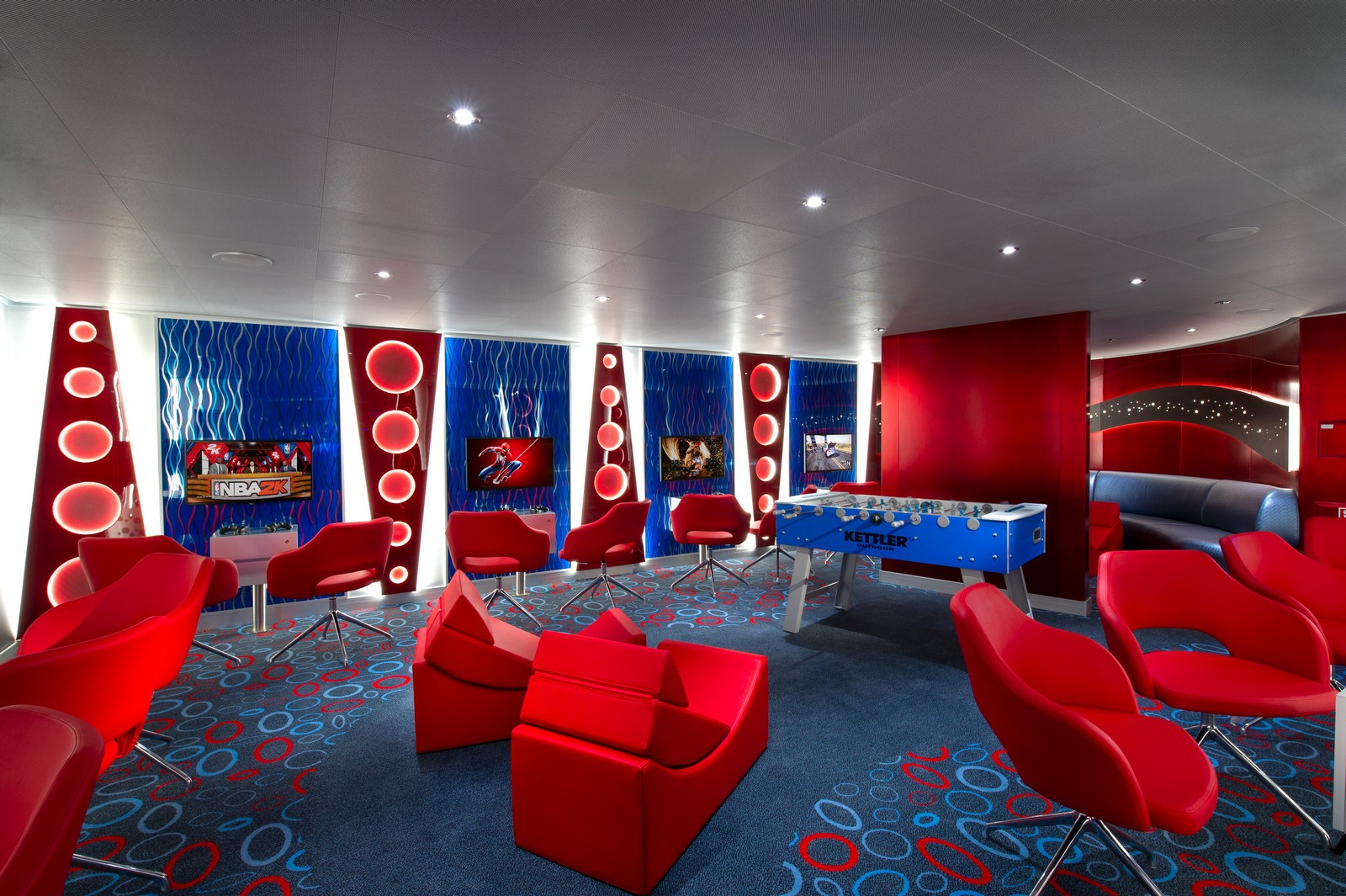 Camp Ocean, the line's complimentary youth club and accompanying programming, is split by age: Penguins (2 - 5), Stingrays (6 - 8) and Sharks (9 - 11).
Scheduled activities might include story time, dance parties, arts and crafts, scavenger hunts, movies and cooking classes.
Tweens and teens have their own spaces, too, in the form of Circle C and Club O2, respectively. As with most tween and teen clubs on cruise ships, participants can come and go as they like. They can keep themselves busy with stuff like video and board games, sports and karaoke.
Children up to age 2 and their parents can visit a special area reserved for them at certain times throughout each voyage. Although there is no free drop-off programming during the day for this youngest age group, babysitting is available at night for an hourly fee.
Babysitting for older children (through age 11) is also offered as part of Camp Ocean's Night Owls program, for which parents will incur an hourly per-child charge.
Activities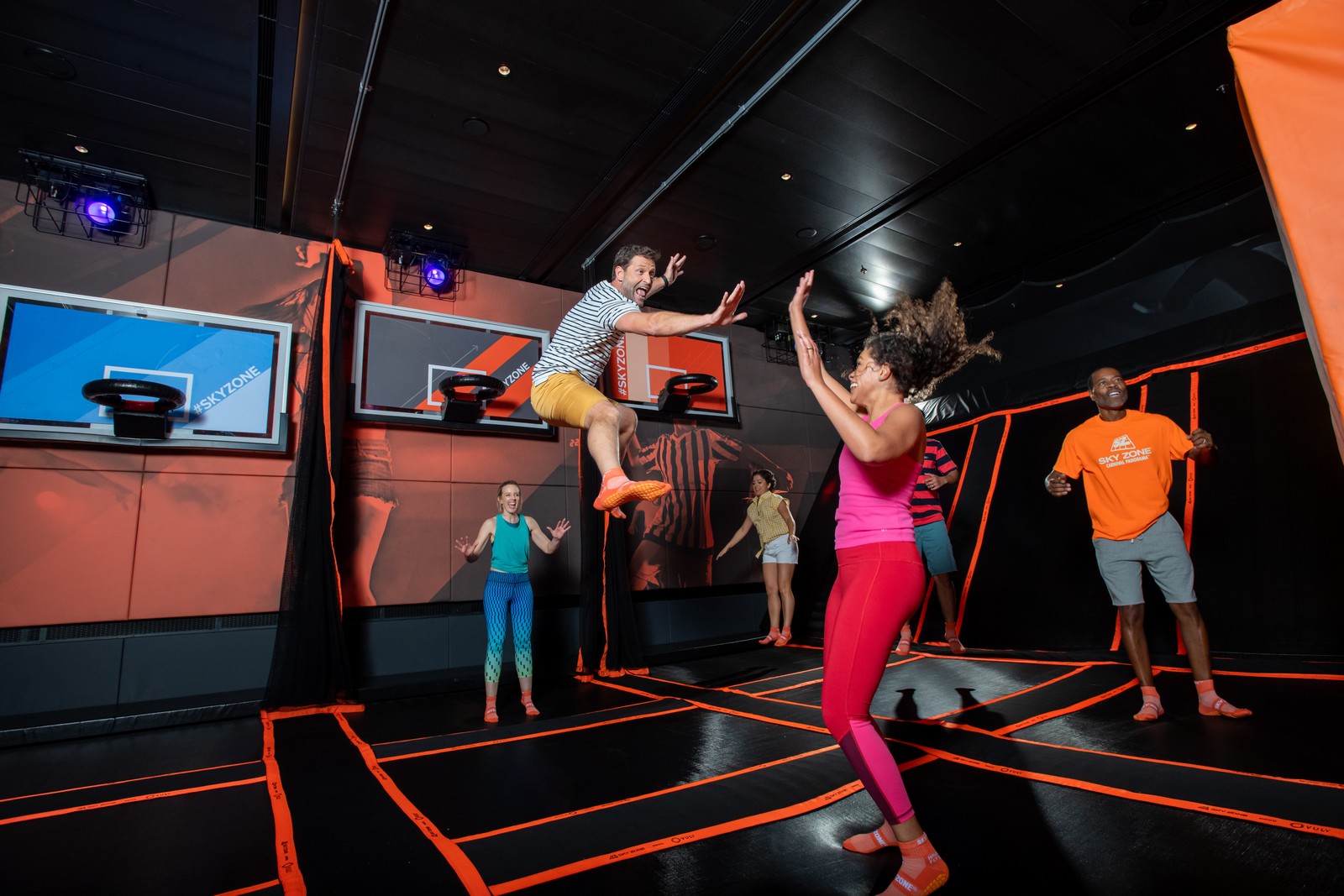 Carnival is big on movies. Families can catch open-air flicks at the outdoor theaters on most ships. Other vessels are home to IMAX theaters or the line's 3D Thrill Theater, which provides additional sensory effects, such as wind.
For an opportunity to snag some extra vitamin D (weather permitting), kiddos can venture outside to play basketball at SportSquare; take a spin on the suspended SkyRide recumbent bike, which offers a bird's-eye view of the outer decks; scream their way through a ride on Bolt, the first roller coaster at sea; or test out one of several water slides as part of the WaterWorks water park.
If your sons and daughters are feeling crafty, they can create new stuffed-toy pals to take home at the onboard Build-A-Bear locations on some vessels, and to burn off energy, they have try their hands (or legs) at Sky Zone, the first trampoline park at sea.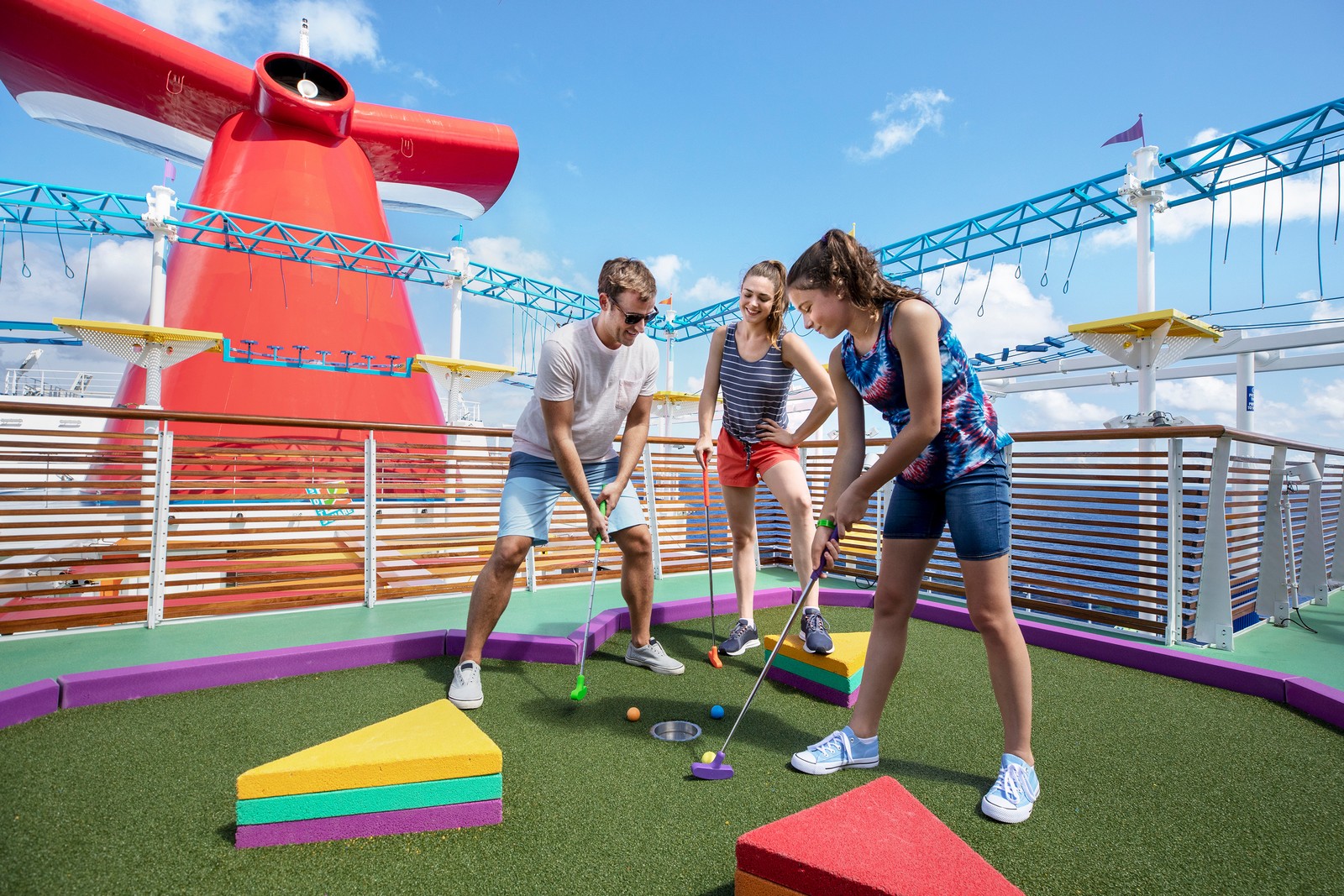 If they're looking for ways to burn a hole in your proverbial pocket, they can game the day away at the arcade, where each play will cost a keycard swipe (and generally a couple bucks).
At night, spend some quality time with your family by taking in one of Carnival's Playlist Productions shows in the theater. Created especially for the cruise line -- and often featuring loose story lines, bright costumes and tributes to contemporary music -- they can't be found anywhere else at sea.
For more theater-based ways to while away some time, also consider "Hasbro, the Game Show," which calls volunteers up onto the stage to compete in large-scale versions of classic Hasbro games, such as Operation, Connect Four and Yahtzee.
5. MSC Cruises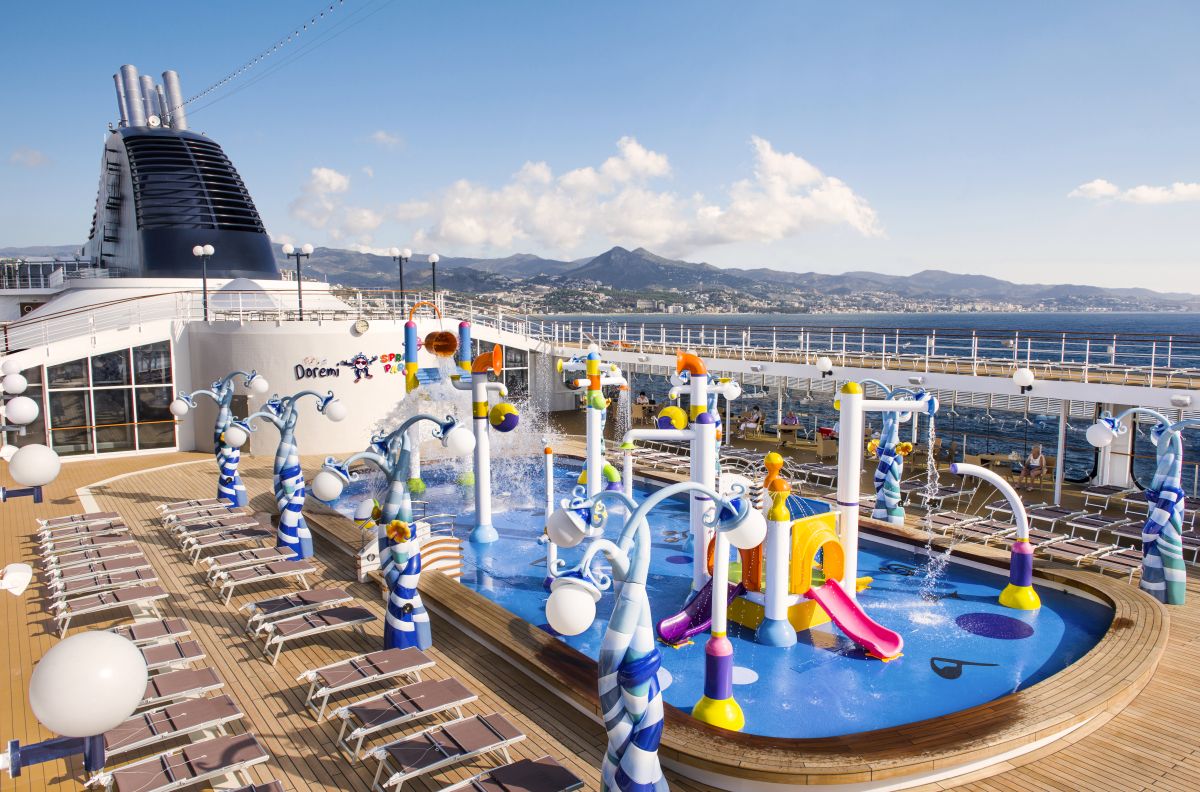 MSC might not be the first cruise line that comes to mind when you're planning your cruise travels, but did you know that its newest ships are some of the largest afloat? As with the other brands we've mentioned, the larger the ship, the more opportunities exist for kids to have a great time.
Although many of the line's vessels have a Mediterranean feel, a couple of ships -- MSC Seaside and MSC Divina -- have been designed specifically with Americans in mind. The former, in particular, has an astounding number of things for kids to see and do.
Dining
MSC's ships allow for both set-seating meals and flexible dining in the main dining rooms. The line tends to be a bit on the dressier side, particularly during sailings that don't leave from the U.S. Depending on your family's preferences, that could be a drawback.
Finicky eaters won't be a problem, as all ships provide kids menus on request. However, dinner in the dining room tends to be on the longer side -- sometimes taking between two and three hours -- so keep that in mind if your children have trouble sitting still for extended periods of time.
Buffet fare is included in the cost of your sailing, and each ship has at least one of them onboard. The line's newest vessels -- those in the Seaside Class -- have two, one of which is specially designed to accommodate families.
MSC does not offer dining through its kids club.
A bonus for children with a sweet tooth: On select cruises, they'll find everything from gelato and crepes to delicious Venchi chocolate (for an added cost).
Cabins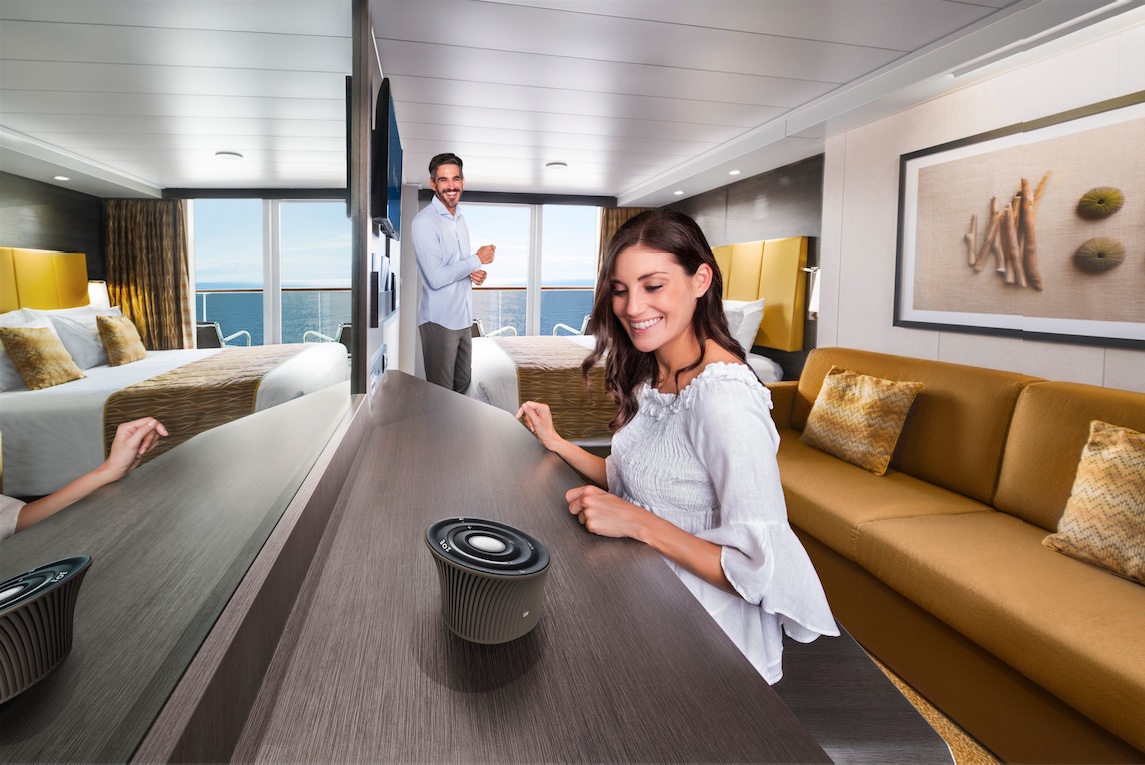 Ships throughout the fleet feature connecting cabins, as well as rooms that can sleep up to four. However, on the latest vessels, two or more connecting cabins can sleep up to 10 passengers -- a perfect setup for large families.
Another recent touch that helps to save space and provide a bit more flexibility with sleeping arrangements is a sofa bed that folds up (instead of out), transforming into two bunks that provide additional accommodations.
MSC is known throughout the industry for its "kids sail free" promotions, which waive fares for up to two children sharing a stateroom with two paying adults.
Kids Club
MSC's kids club, which doesn't have a name, is impressive and free, with the spaces on the newest vessels in the fleet drawing the most praise.
Five age categories comprise the club: Baby Club (0 - 3), Mini Club (3 - 6), Junior Club (7 - 11), Young Club (12 -14) and Teen Club (15 - 17).
The youngest group has access to a soft, safe play area outfitted with Chicco toys. Parents can either leave their little ones with trained youth staff or stick around to enjoy playtime together.
The middle groups will enjoy access to LEGO products, arts and crafts and a disco featuring Doremi (the line's mascot, pronounced "doh-ray-mee") and friends, as well as cooking classes, sports competitions, and singing and dancing in front of a green screen.
Tweens and teens can partake in foosball, video game play, dance competitions, karaoke, flash mobs and drone instruction, after which participants test their skills by flying the miniature aircrafts through an obstacle course.
For-fee babysitting is available nightly for kids ages 3 and older. Late-night babysitting isn't available for children younger than 3, but daytime babysitting is available for this age group, and it's free under the MSC Babycare program.
Activities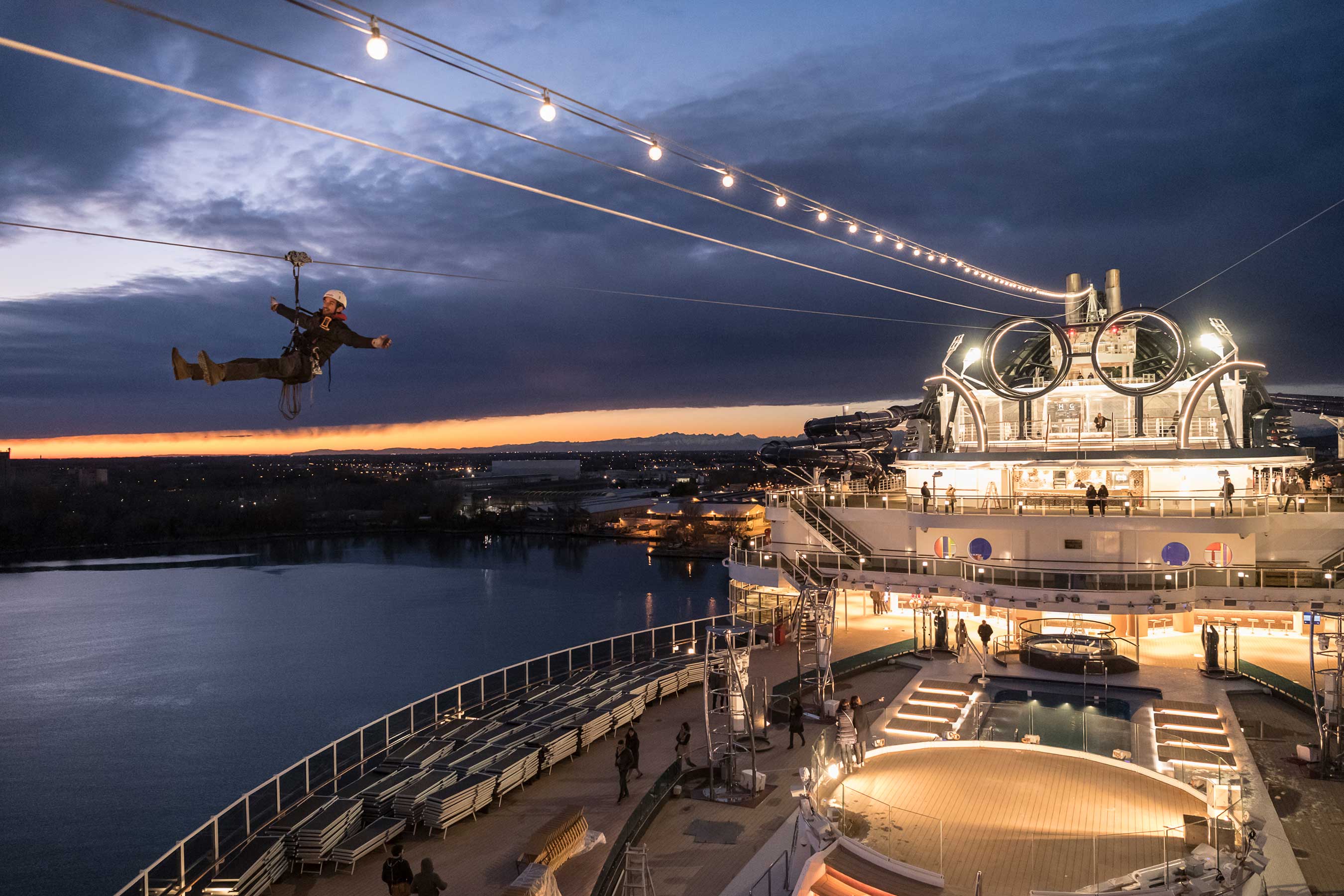 Outdoors, water babies will absolutely love the water park areas and crazy slides on the largest ships. On Seaside-class vessels, these include sprayers and climbing structures, as well as "slideboarding," which combines a tube slide with flashing lights and video games. Or, for more adrenaline-pumping thrills, they can try dual racing ziplines -- the longest at sea (for a fee).
Speaking of games, MSC is all about them for indoor fun. Kids can nerd out with added-cost bowling, arcade play, Formula One simulations and a 4D cinema that features extra sensory experiences, such as scented air that's piped in.
MSC's nighttime entertainment is the stuff of legend. Because many of the line's ships carry a large number of international passengers, shows are often extremely visual to avoid language barriers -- think phenomenal acrobatics and feats of strength, which are honored by a partnership with Cirque de Soleil.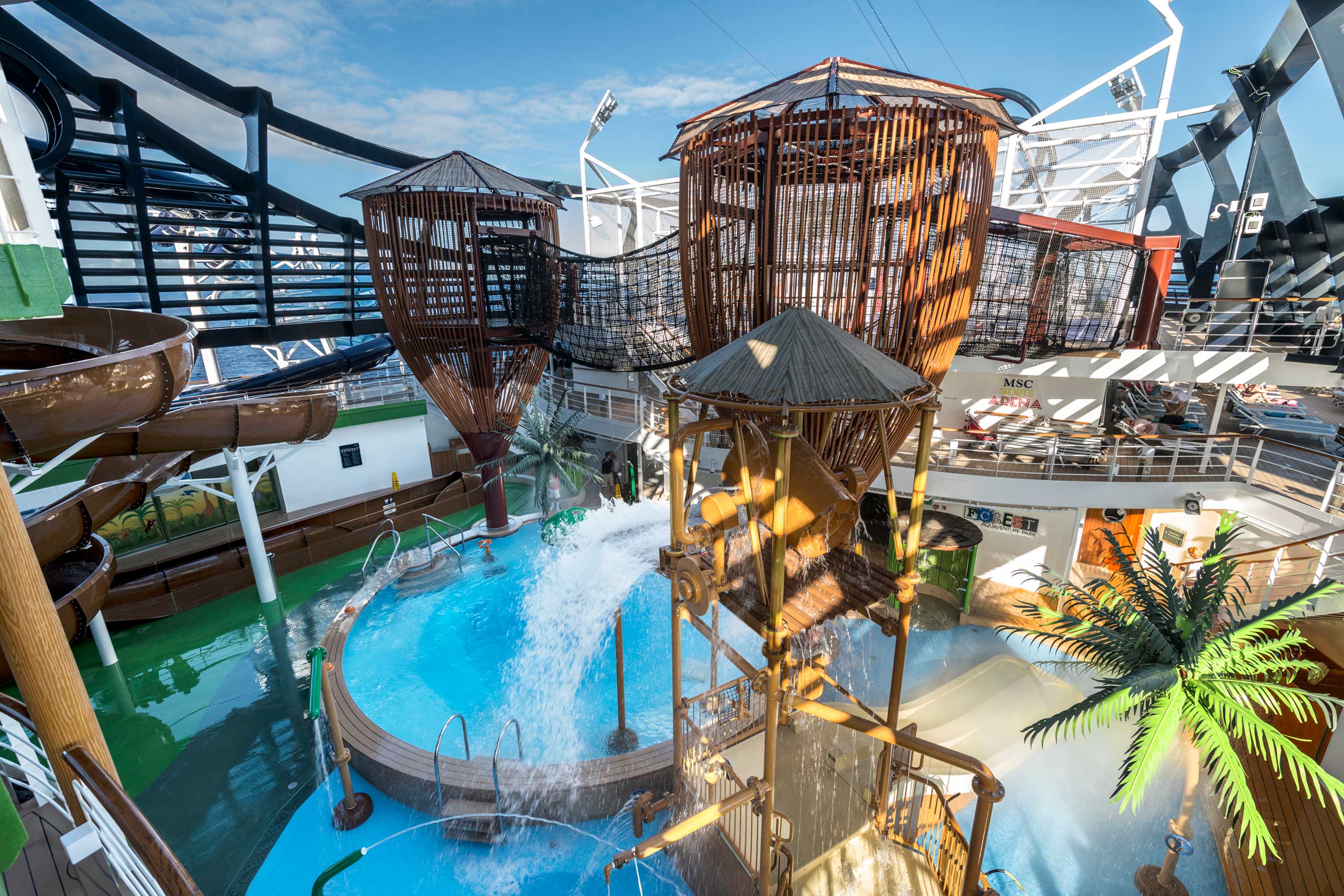 Magicians, opera singers and dancers round out the theater-based offerings, leaving the audience wanting more.
For information on how old your children have to be in order to sail, enter the nightclub or go ashore alone, check out our piece on cruise line age restrictions.