Land, ho! After two days floating around the Big Blue, I woke up this morning to Atlantis rising up from the horizon – and room service knocking on my door. Today is our first port stop in Nassau, Bahamas, and my friend and I booked a morning snorkel tour through Carnival. 
It was not fun to set an alarm for 7 a.m. (room service arrived at 6:55 a.m. – ouch!), but our day ashore was worth the wakeup call.
Image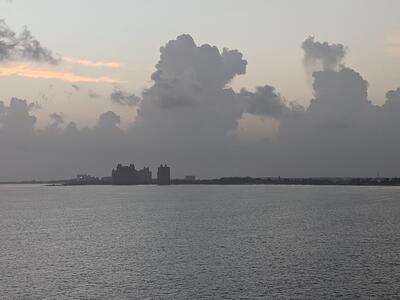 Snorkeling in Nassau
I've been to Nassau several times, but I don't recall ever taking a shore excursion in the popular Bahamian port. My friend and I signed up for Carnival's Sea Turtle and 4 Island Adventure with Beach tour. The tour would feature two snorkeling stops and time at the beach. We booked the last two spots available about a week before our sailing. Anyone who waited to book until they were onboard was out of luck.
Our tour tickets said to meet at the pier at 8:15 a.m., which was the same time the gangway opened for guests to disembark. All Bahamas visitors must bring a government-issued photo I.D., as well as a vaccine card if they want to enter any shops or restaurants. (I brought mine, but absolutely no one asked to see it.) Masks are requested in indoor spaces, as well. 
Image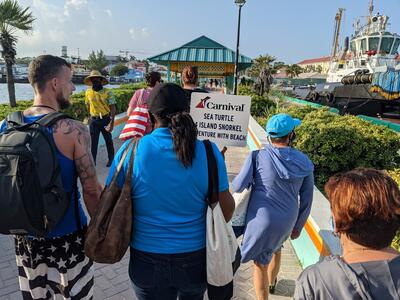 As we walked to meet the snorkel boat, the rep told us that vaccination rates in the Bahamas are around 50 percent. Many cruiser favorites, like the Straw Market and Senor Frog's, are still closed, as is the artisan market that pops up in Pompey Square.
Much of the Nassau port area is under construction because the government is dredging the channel to create even more cruise ship berths and using the excavated sand to create landfill for a new commercial area. The old cruise terminal has been demolished, and many of the buildings along the waterfront have been rebuilt, as well.
Currently, Nassau can berth six to eight ships at once. When construction is complete, supposedly next year, it will welcome to 10 to 12. Holy cruise ship crowds, Batman! Today, we were in port only with Royal Caribbean's Freedom of the Seas. Mariner of the Seas pulled in mid-afternoon. Nassau was not crowded.
Image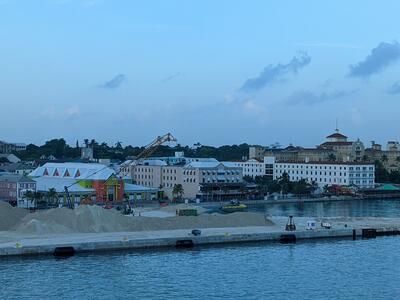 Because of the construction, the snorkel boat couldn't dock near the ship, so we met it outside the closed Senor Frog's. Although it's in the tour description, I hadn't realized that we'd be taking a speed boat and not the typical tour-style snorkel boat. The rep said that the tour normally takes 16 participants, but due to Covid, it's only 10 people per boat. Let me tell you that fitting 16 guests and two guides on that boat would be a squish.
Ten, however, was a perfect number. Six of us sat up front where the ride is bumpy, and four sat in the more stable back. As we sailed out of Nassau, our guide pointed out all the highlights from the lavish vacation homes of celebrities like Michael Jordan, Oprah, and Nicholas Cage to the filming locations for Gilligan's Island and a James Bond movie.
Image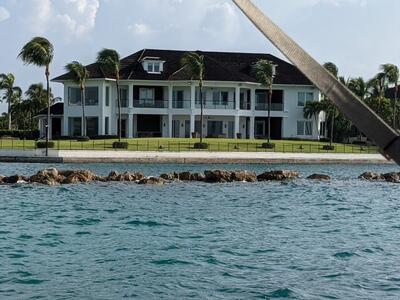 Image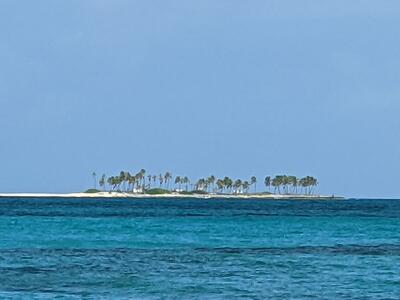 Don't ask me which four islands were the ones from the tour description because we saw more than four islands, swam by two, and set foot on one.
Once the narration was done, our driver-guide stepped on the gas and we zoomed over to Green Cay, a natural sea turtle habitat.  The folks in front got bounced around a lot, and you needed to literally hold onto your hat so they wouldn't blow away. (One woman made this mistake on the way back, and the guides gamely turned the boat around to fetch her hat from the water.) I was surprised that no one sitting in the bow got tossed out of the boat, given the lack of handholds.
I was nervous about snorkeling in the age of Covid, so I took matters into my own hands and bought an affordable but highly rated Cressi snorkel and mask on Amazon before my trip. That way, I didn't have to put my mouth on previously used snorkel equipment. Several people on the trip had the same idea, but the guide had plenty of snorkels on hand for those who needed them.
Image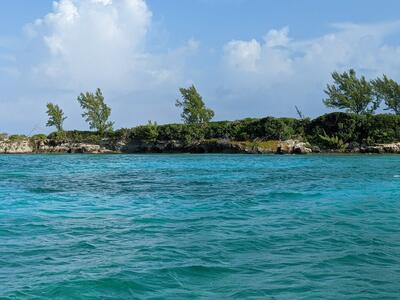 The sea turtle habitat was mainly sand and sea grass, rather than a beautiful reef. Other than the occasional sea turtle, the view wasn't impressive. I swam around aimlessly for several minutes, staring at the boring sea floor, before I changed directions and finally spotted a turtle in the murky water. It was bigger than I imagined, and at first, I thought it was a rock. I followed it until it swam away; sea turtles swim faster than I can! The guides directed me to another turtle hotspot, where I found two more turtles to follow. 
Fun fact: All of the sea turtles had fishy friends who hovered by their sides or sucker fish who were hanging on the turtle's backs like kids getting a ride. I regretted that I was so busy buying snorkel gear that I forgot to buy an underwater camera or waterproof cellphone case, so I could take pictures.
The current was strong at Green Cay, and it took some swimming effort to get back to the boat. A few people had to get pulled in. I was happy that the guide made us all wear life vests.
Our next stop was a reef off Rose Island, which the guide referred to as "the aquarium." He baited the fish by throwing food in the water, so our group of 10 was swarmed by all types of fish. Here, the current wasn't as strong and you didn't have to search for sea life, so we simply floated by the boat and enjoyed the aquarium show. The sea turtles were cool once you spotted one, but this stop was better snorkeling.
Image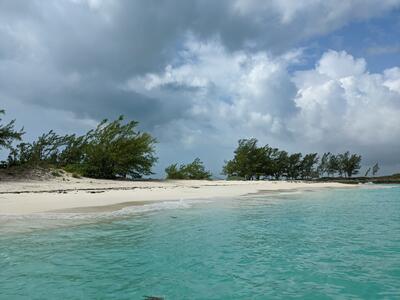 After we had our fill of fish gazing, the guide drove us over to the beach at uninhabited Rose Island. It was a picture-perfect tropical beach with soft, white sand; clear, aquamarine water; and scenic palm trees. We all agreed we would stay on that beach all day if the guides would let us. Instead, we had to make do with 20 minutes.
In the end, the tour felt safe since it was small and always in the open air. I'd recommend the tour – and the peace of mind that comes from bringing your own snorkel and mask.
Nassau
After the tour, we strolled over to Junkanoo Beach. It's the closest public beach to the cruise port. From Senor Frog's, follow the sidewalk around the Hilton and Margaritaville hotels to the beach. Be prepared for an onslaught of offers: lounge chairs, food, drinks, hair braiding, water sports, and weed. We got lots of attention as we walked past the various vendors to a quieter part of the beach with more shade.
Image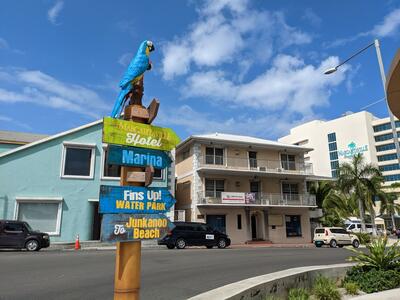 Image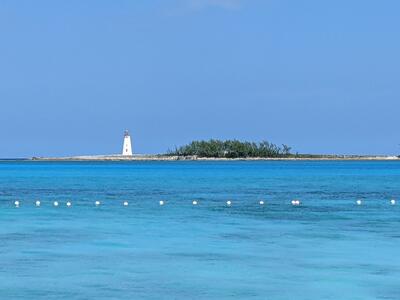 Image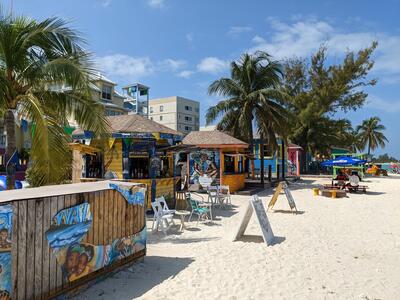 If you're in the mood, shop around for the best drink or lounge chair deals and enjoy your afternoon. (Just say no to the drugs.) Once you accept you'll be paying inflated tourist prices, you can decide whether a $20 umbrella is worth it. We thought about eating lunch at one restaurant on the beach, but $28 for a jerk chicken entree scared us away.
Instead, we munched on granola bars as we souvenir shopped our way back to the ship. Bay Street is a mix of T-shirt shops, diamond emporiums and luxury brand retailers, and independent business-people setting up their wares in the side streets.
Back onboard
It was 3:30 by the time I got back on the ship, and I needed food. As I had not yet eaten at Blue Iguana Cantina, I made a beeline for the pool deck. I ordered a burrito with two kinds of beans (all you meat lovers can choose shrimp, chicken, or beef). You can also order tacos and load them up with fixins from the salsa bar.
Image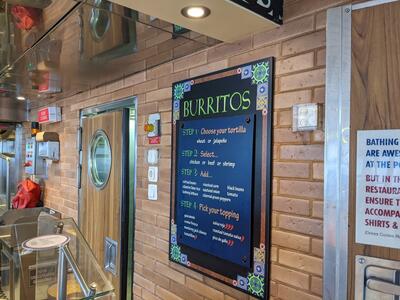 Image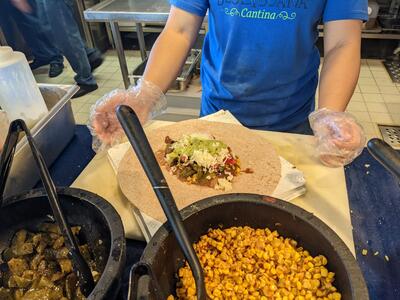 The soft-service ice cream machines were calling my name, so I filled up a dish before heading back to my cabin. I did not indulge, but I'll share a favorite Carnival dessert hack. Go to the deli, which is open late, and ask for two of its sea salt chocolate cookies. Take them to the soft-serve machine and top one cookie with vanilla soft serve then cover it was the second cookie to make an ice cream sandwich. Yum!
After working a bit in my cabin, I stepped out onto my balcony in the hopes of watching us sail away. Despite it being time to depart, the ship was still tied up at the dock. We hadn't heard multiple announcements looking for lost guests, so we weren't going to be treated to Carnival's favorite sport: pier running. 
Turns out a guest onboard had a medical emergency, which delayed our departure for two hours while the medical team waited for an ambulance to arrive. I hope the guest gets treated well and makes a speedy recovery.
My friend, who had skipped lunch, was begging for an early dinner, so we headed to the main dining room at 6 p.m. I wanted to drink another glass of the wine we had started at David's Steakhouse but hadn't finished. (Yes, the wait staff will save your half-full bottle and serve it to you in any restaurant onboard.)
I usually try to pace myself at dinner, but neither of us could decide, so we each ordered two appetizers. We both tried the mango cream, a chilled soup that tasted like melted mango sorbet and really should have been on the dessert menu. I indulged in the guilty pleasure of mozzarella sticks, while my friend braved the braised ox tongue. She said it tasted like brisket.
Image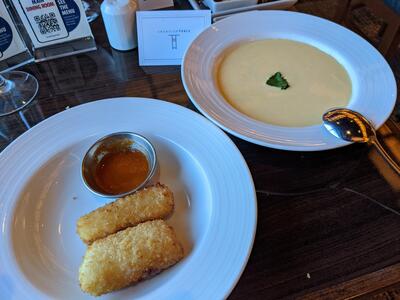 Image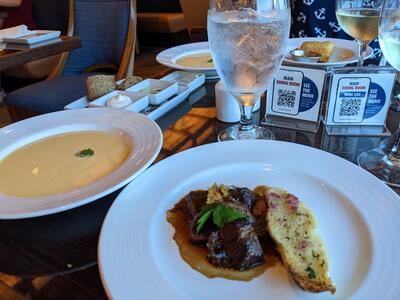 Carnival's regular menu, called American Table, always has a Rare Finds section that it describes as "food you always wanted to try but haven't yet dared." The ox tongue fell into that category; previously, we've seen dishes such as alligator fritters and escargot.
The mango cream reminded me of mango lassis, so I went with the vegetarian Indian dish tonight, while my friend chose the fried chicken. We both received enormous amounts of food. My plate had three different Indian dishes, plus rice, bread, salad, and a fritter of some kind. Hers had two pieces of chicken on it plus mashed potatoes. We also ordered sides of roasted broccoli in a vain attempt to be healthy.
Image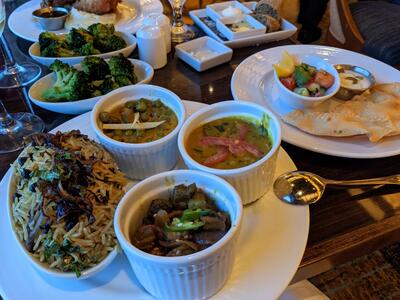 The Indian food got high marks for spice and flavor when cruise ship food is known for being under-seasoned and rarely spicy. The fried chicken got a more middling grade. We could not possibly eat dessert after that feast, and we're planning a 9 p.m. visit to the buffet's dessert station.
I feel I have been remiss in not sharing our towel animal collection with you. Due to the pandemic, room stewards are only cleaning rooms once a day, and we've chosen a morning freshen-up rather than evening turn-down service. Our towel animals arrive daily while we're out in the morning. Can you guess which animals they're supposed to be because we've had some debates (bear or hippo?).
Image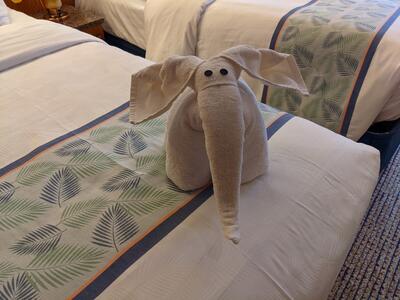 Image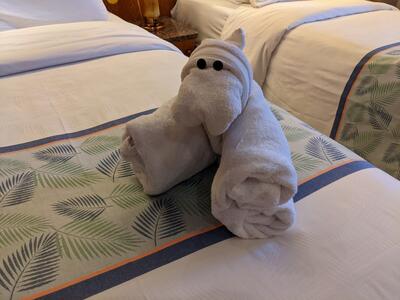 Even with our late departure from Nassau, the captain assures us we're still on schedule for an on-time arrival in Half Moon Cay, Carnival's private island, tomorrow.
Missed a day of live blogging? Catch up on previous days' trip reports:
Carnival Pride Live Blog 2021 – Day 3 – At Sea
Carnival Pride Live Blog 2021 - Day 2 - At Sea
Carnival Pride Live Blog 2021 - Day 1 - Embarkation