Carnival Pride Live Blog 2021 – Day 2 – At Sea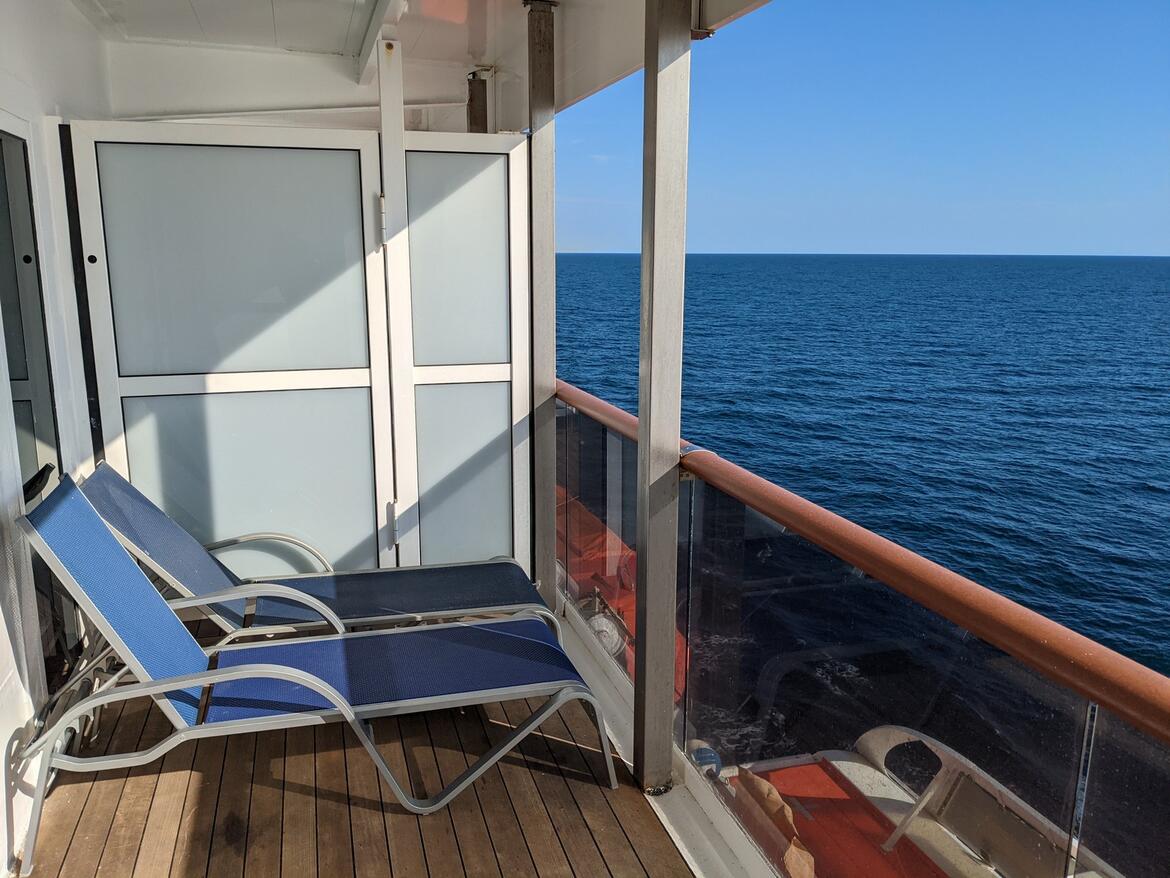 The Carnival Comfort Beds still live up to their name, and I awoke to sea views out my cabin window. After getting a bit of work done in the cabin, I was ready to explore more of the ship.
Carnival Pride decor
Carnival ships, especially the older ones, are known for their over-the-top, eyeball-burning decor. Love it or hate it, you can't be indifferent to the loud interior design in the various assorted spaces. Carnival Pride has an Italian Renaissance theme going on in many – but not all – of its public areas.
Parents of tween boys, beware: Giant Boticelli-esque nudes and cherubs loom above the atrium on this ship. They're best seen from the glass elevators midship. You can't miss the elaborately frescoed doors, found in the atrium and leading to public restrooms.
Image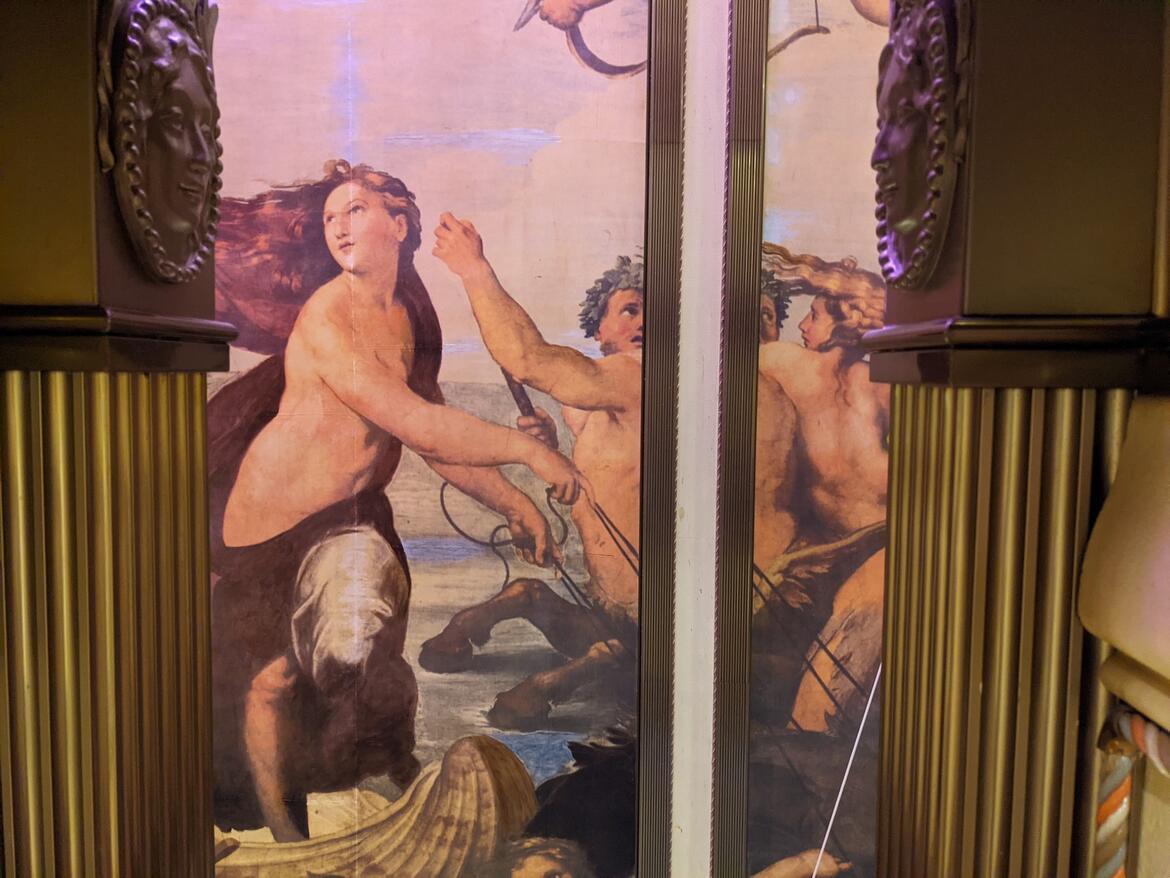 Image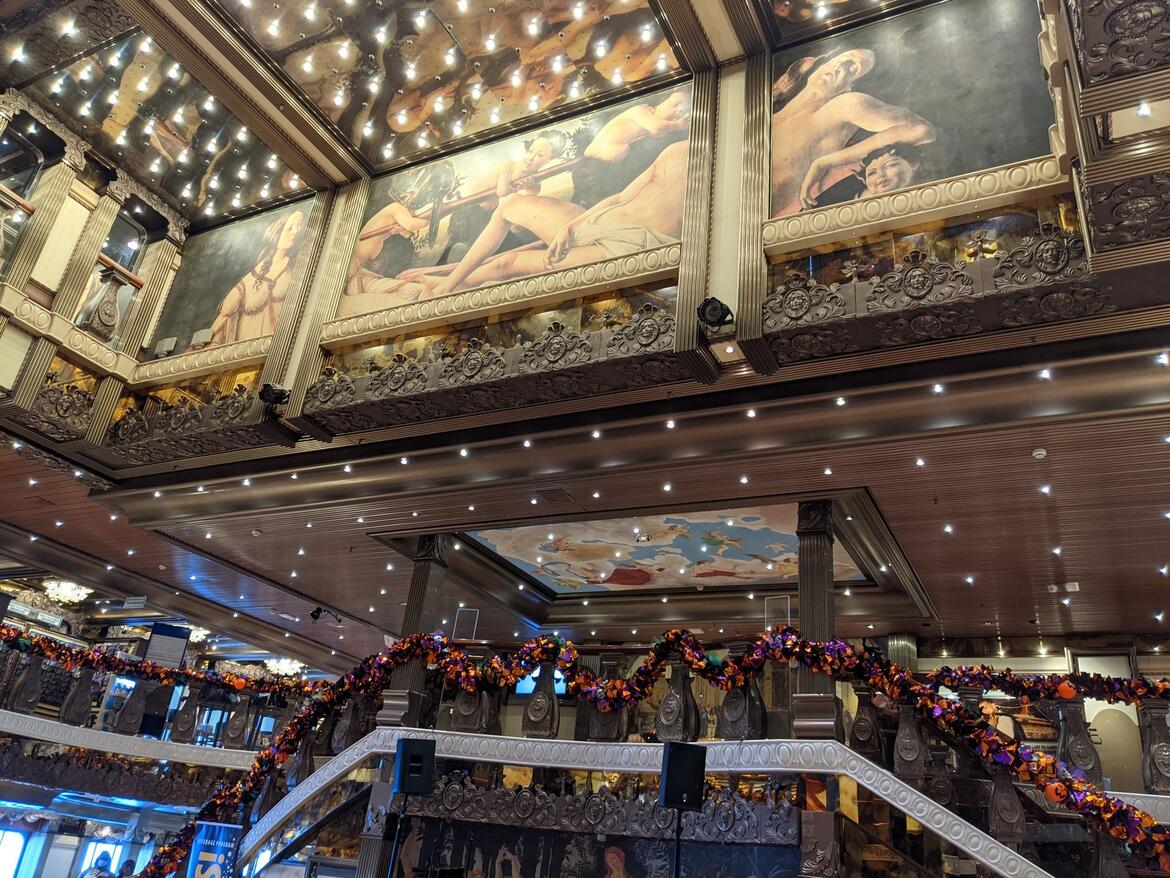 Image
Michelangelo's David gazes out above the hubbub from his Steakhouse vantage point, but his headless Roman statue buddies have taken over Beauties Nightclub. The multi-colored torsos congregate in groups around the lounge seating, as if they lost their limbs mid-vogue.
Image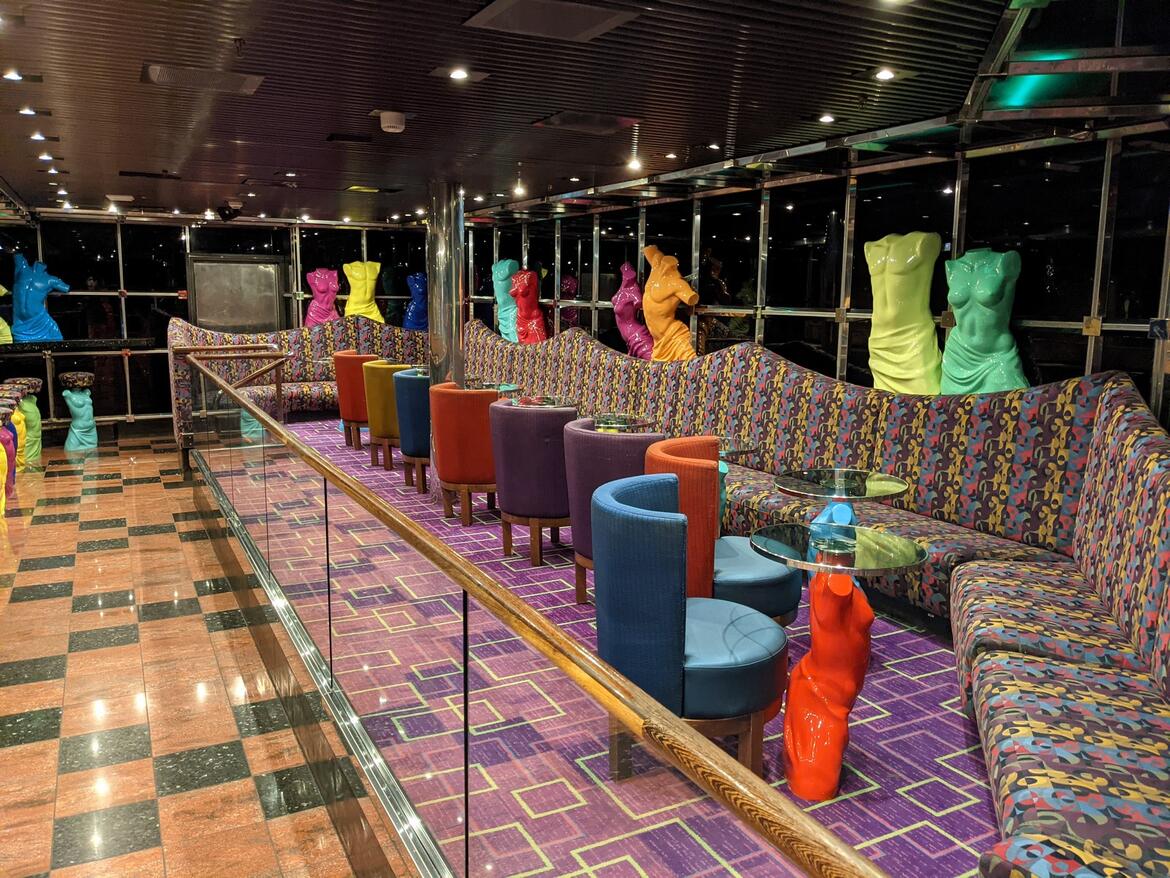 The spa is decorated like the exterior of a Greek vase. Perhaps if I work out daily on this cruise, I too will achieve the athletic body form idealized by the ancient Greeks.
Image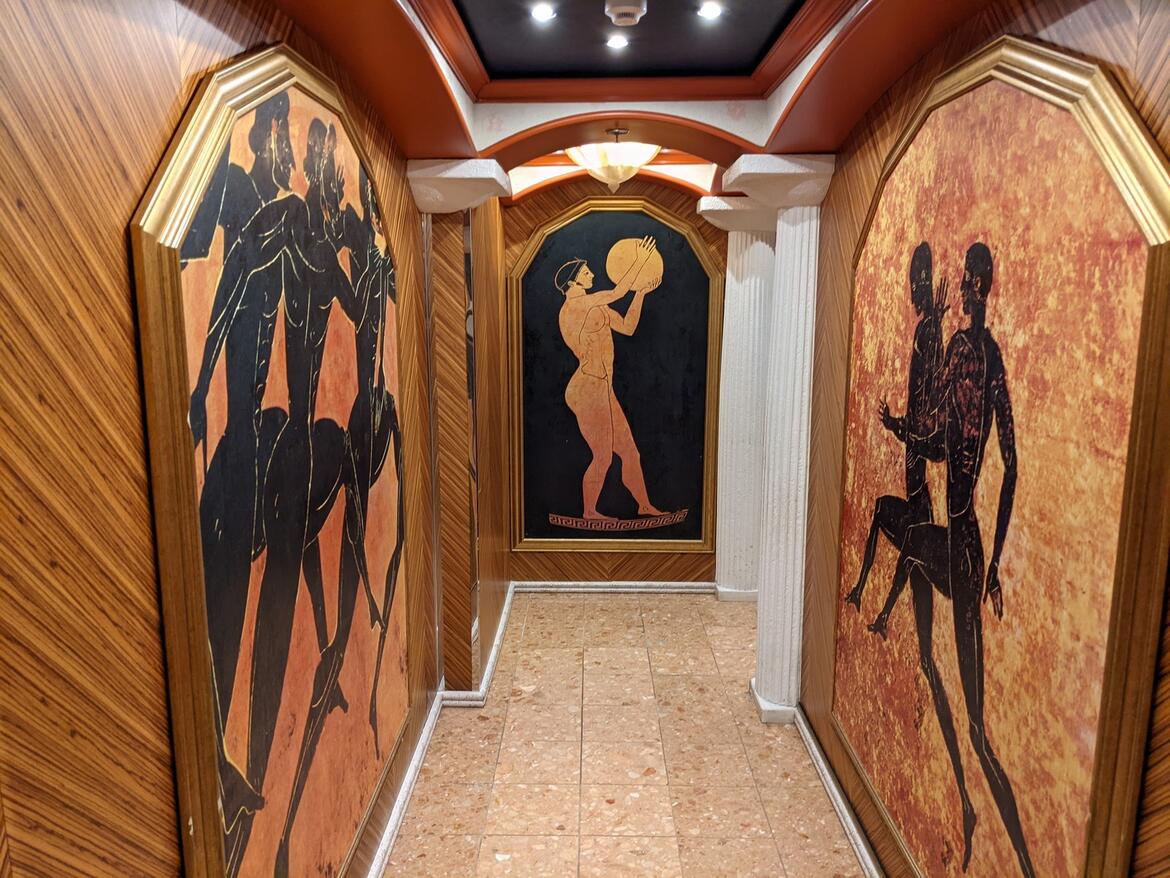 The Taj Mahal theater is done in a style that I call colorful bling meets Indian elephants. Carnival Pride's designers were definitely not afraid to mix patterns.
I love the entrance the Butterflies Lounge, with its hanging butterfly geometric sculpture. I just hope no real butterflies were harmed in the making of that wall.
Image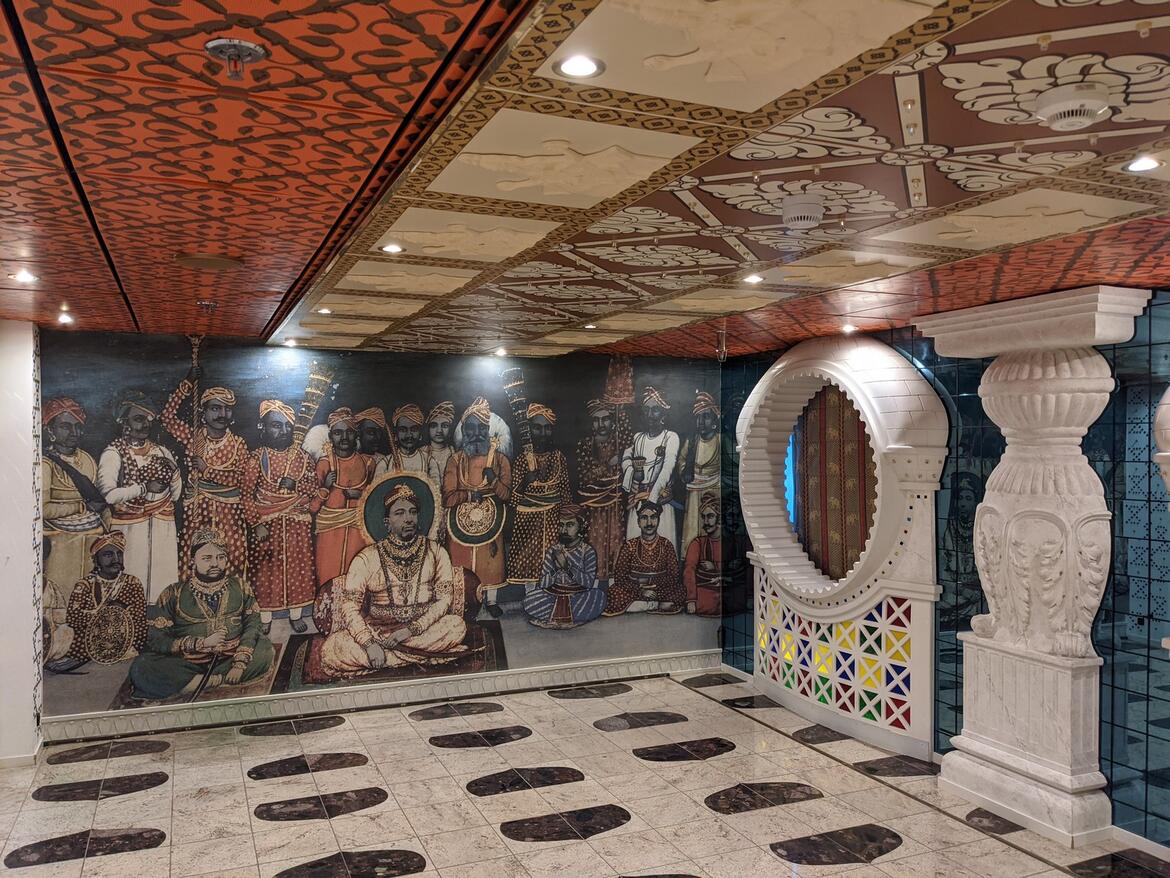 Image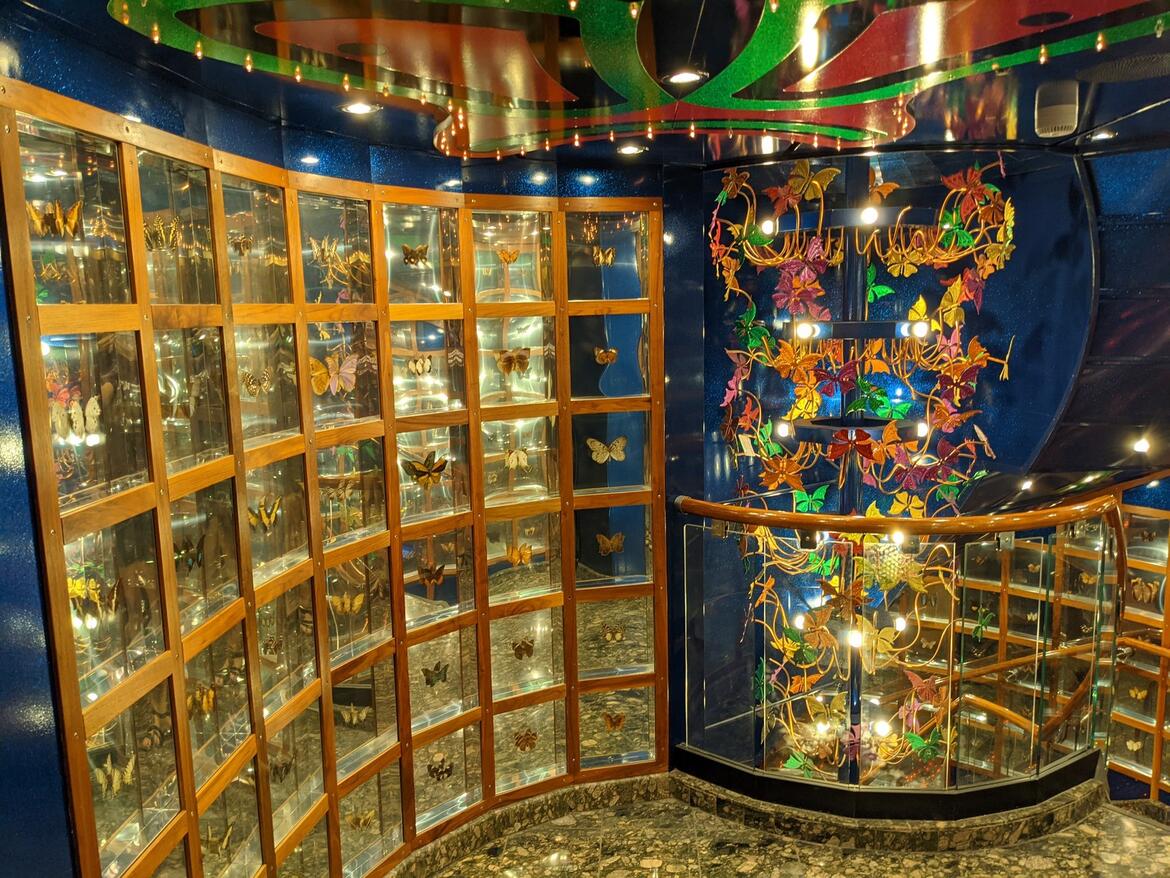 A somewhat-secret corridor called the Sunset Garden leads to the kids clubs at the front of the ship. It's clever of the shipbuilders to hide the kids away. On a sailing with more kids, we bet this secret garden is taken over by texting teens and romping rugrats, but I might sneak away to social distance and write later in the cruise or watch the sun set through the large round porthole windows.
Image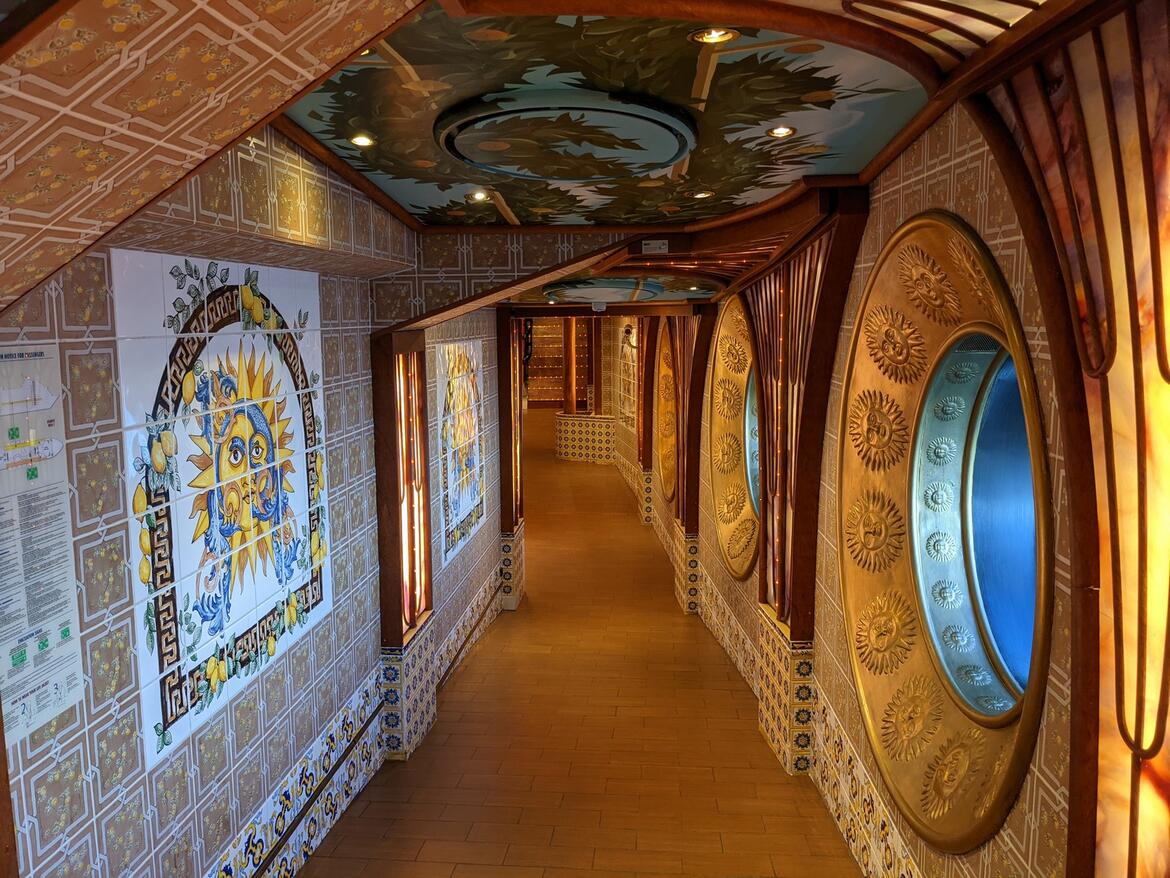 Image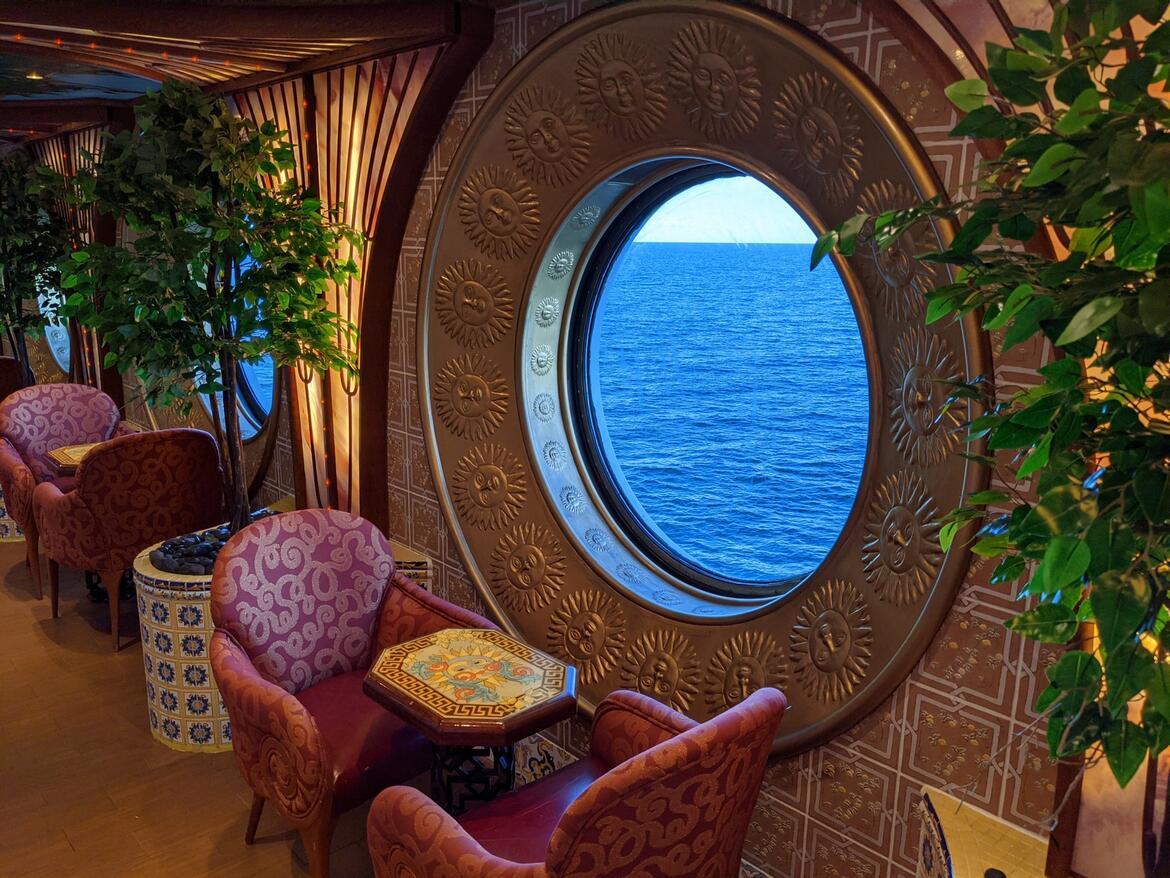 Carnival Pride is getting ready for Halloween, with holiday-themed garlands along the atrium's railings and stairway. A giant pumpkin-headed pirate named Patch takes place of pride across from the atrium bar. I'm curious what his role will be in the onboard activities this week.
Image
Sea day brunch
After my photo tour, I went to make myself a cup of tea at the buffet. There's an outpost of the ship's extra-fee coffee shop here, which is smart, but I had brought my own tea bag because I'm both cheap and dislike Lipton. 
I wanted my hot drink to go, so I asked the barista for a paper cup. He informed me that to-go cups are only for people buying hot beverages. Note to self: Pack an insulated coffee mug for the next cruise.
Tea in hand, I went to meet my friend at Carnival's adults-only Serenity sun deck, located aft of the buffet. There are so few children onboard that you don't need a hideaway from screaming kids, but the sun deck, with its padded clamshell loungers and hot tub is always a popular destination.
Image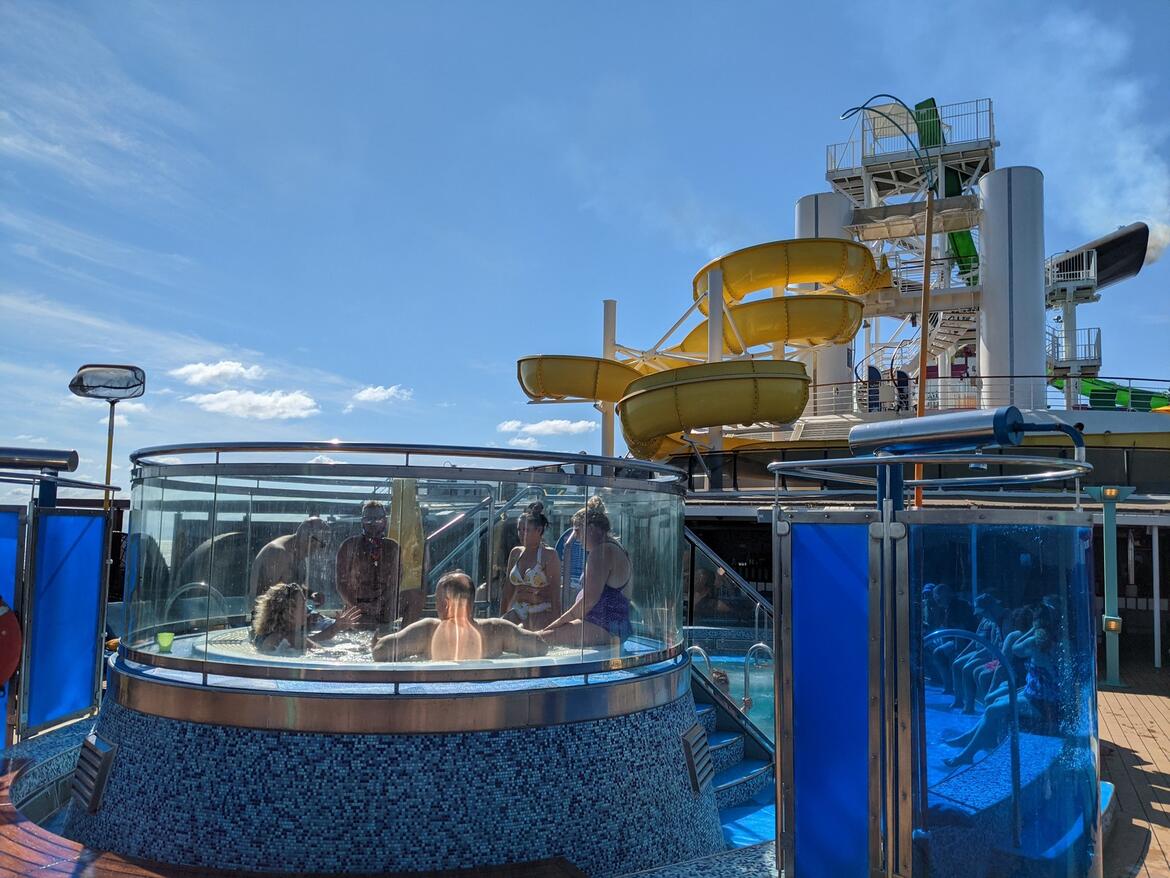 Image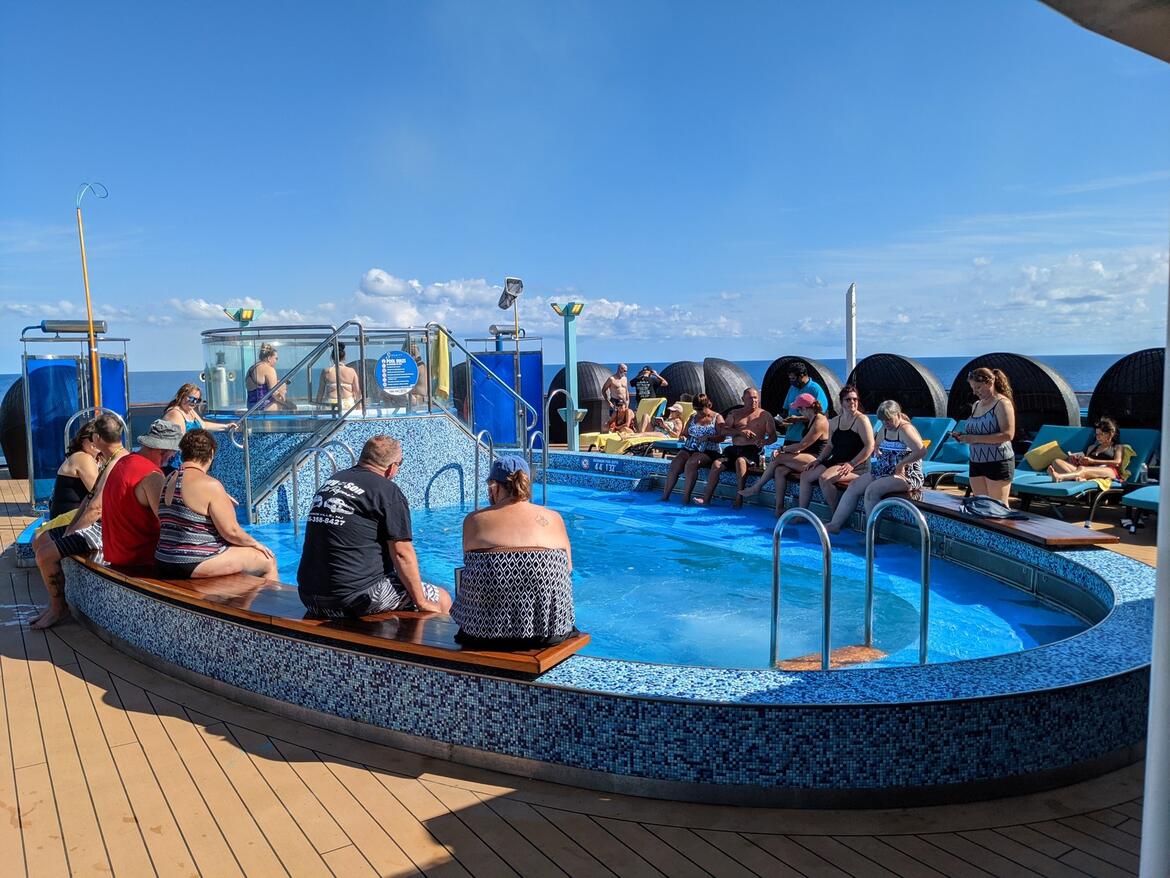 By this time, my tummy was rumbling. The buffet is adjacent to Serenity, but we wanted to check out the Normandie dining room, which we had not visited yet. Carnival brilliantly offers brunch from 8 a.m. to 1 p.m. on sea days, so you can mosey over to breakfast anytime you like. We decided to check it out.
While we waited for our food, Mate, the ship's roving magician, came over to entertain us with magic tricks. We still don't know how he guesses what image guests secretly draw on a piece of paper.
The brunch menu ranges from egg dishes to burgers, and we ordered an assortment to try. The Super Food Salmon Salad had some fun veggies, but was smaller than we envisioned and the salmon was a bit dry.
Image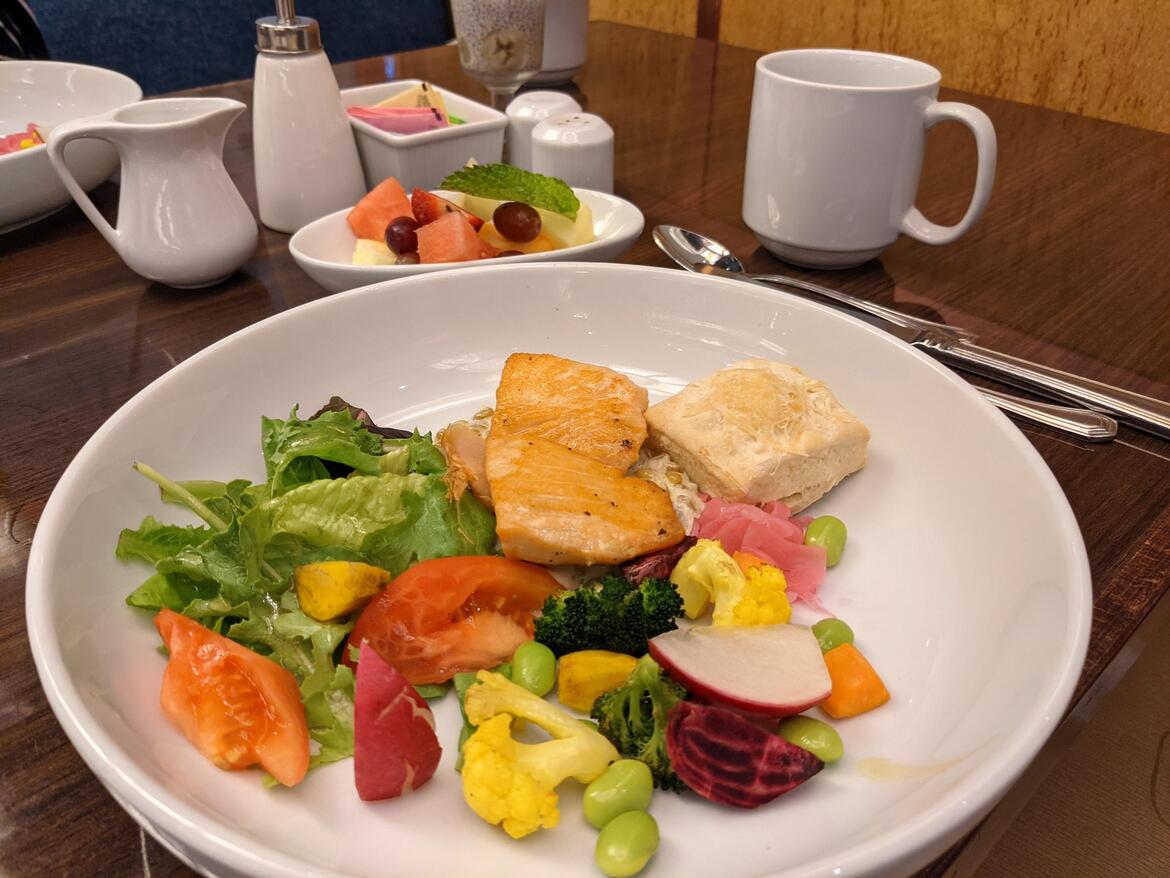 I was excited about the signature breakfast tower, which I thought was a tower of your choice of bagel toppings, ranging from lox to egg salad to ahi tuna salad. Our waiter delivered my two salads, but with no bagels or tower. When I expressed my dismay, he whisked the dishes away and came back after an appropriate toasting time with my three tiers of goodies. The egg salad was the clear winner.
Image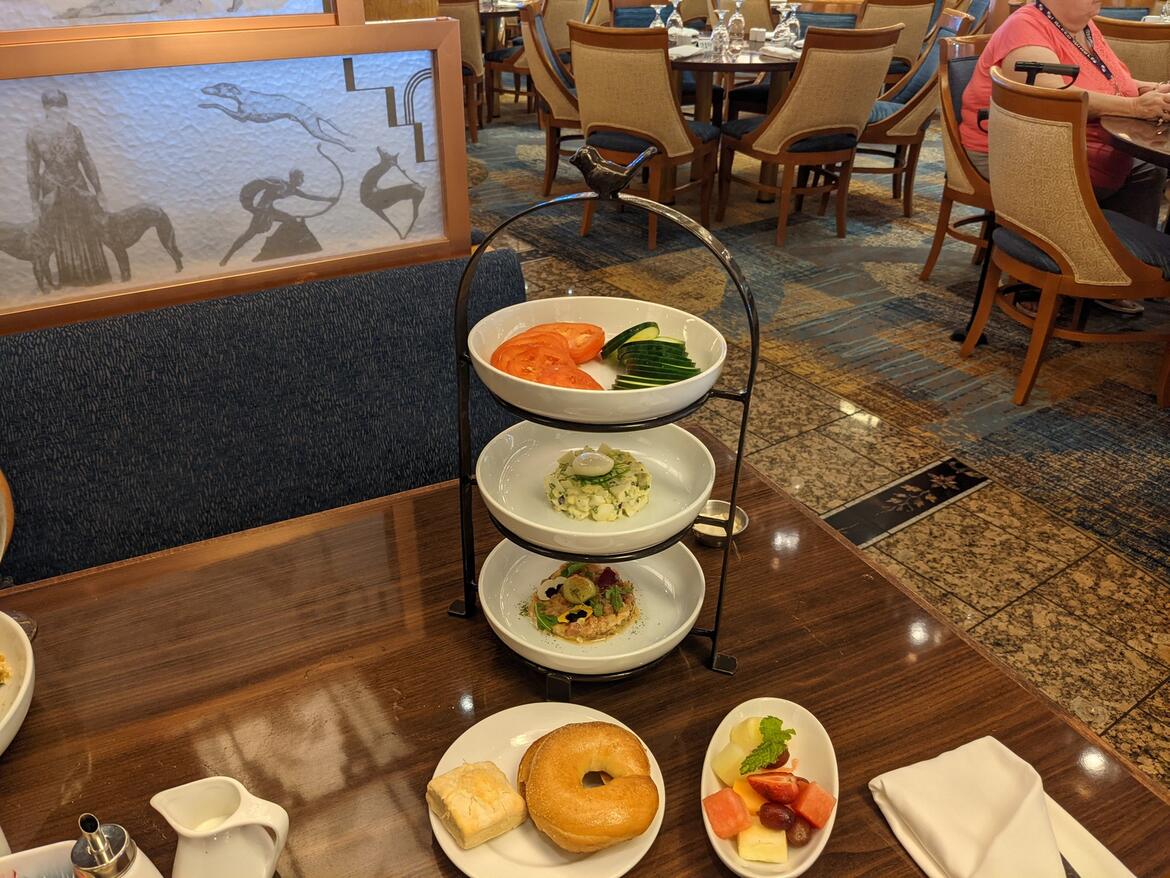 We also tried the chia pudding, which was so sweet we dubbed it breakfast dessert. We also sampled the fruit salad, which bizarrely is an off-menu request. How can you have brunch without fruit?
Music trivia
Carnival cruisers and entertainment staff are big on trivia. On Carnival Pride, you can find a different trivia game nearly every hour: Game of Thrones trivia, scary movies trivia, '90s music trivia, etc. The music-themed trivia is the best because it always turns into a dance party or singalong at the end.
After brunch, we headed up to the pool deck for some sun and stumbled upon '70s music trivia by the main pool. These cruisers not only knew the names of the songs and the bands who performed them, they knew the years the songs debuted as well. With hits by the BeeGees and Queen among the answers, we witnessed some impressive Speedo booty shaking and blue hair head-banging as a packed pool deck belted out the lyrics during the answer reveal.
Image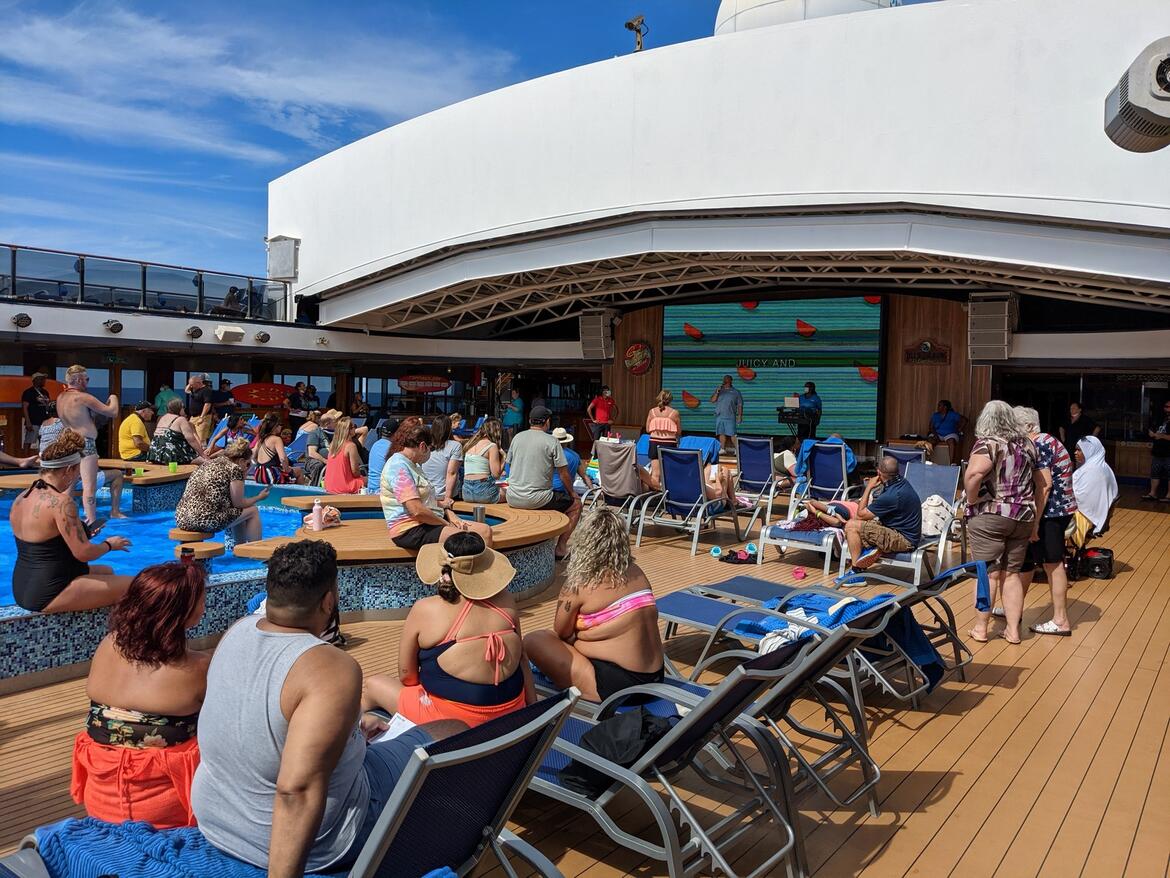 Image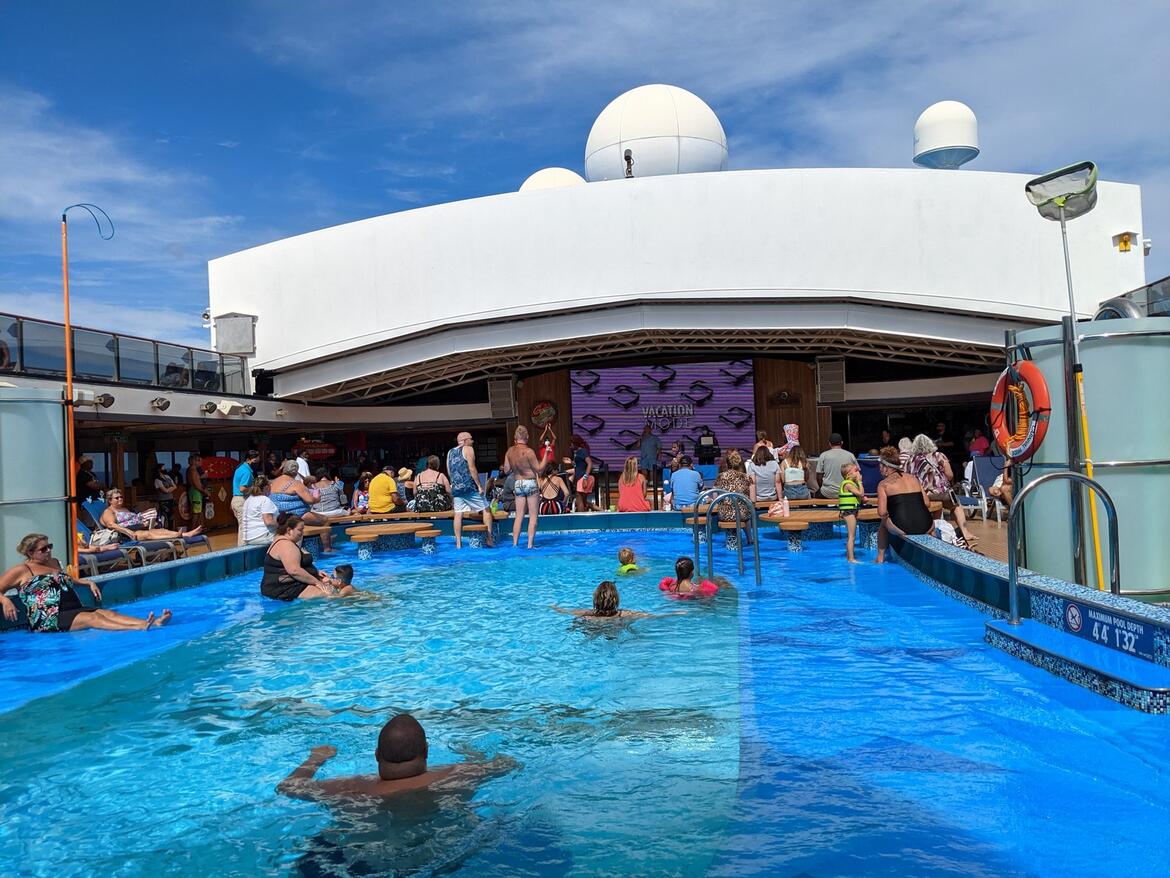 With the ship not sailing at capacity, the pool deck hasn't been as crowded as on pre-pandemic cruises. We've never had trouble finding an empty lounge chair or seat by the pools or at the Serenity sun deck. 
Still, you're not going to social distance at a marquee event like this one (or in the always popular hot tubs) so know your comfort levels. I admit I was a little wary of all the unmasked people singing at the top of their lungs, but reminded myself we were outside and everyone had to be vaccinated and Covid-negative to board the ship.
Formal night
Tonight is the first formal night. (We hear the second formal night on Saturday is also going to be the Halloween celebration. No one told us to bring costumes!) Carnival might be laid back when it comes to dress, but cruisers also love to dress up and pose for photos. I even bought a sparkly mask for the occasion.
Image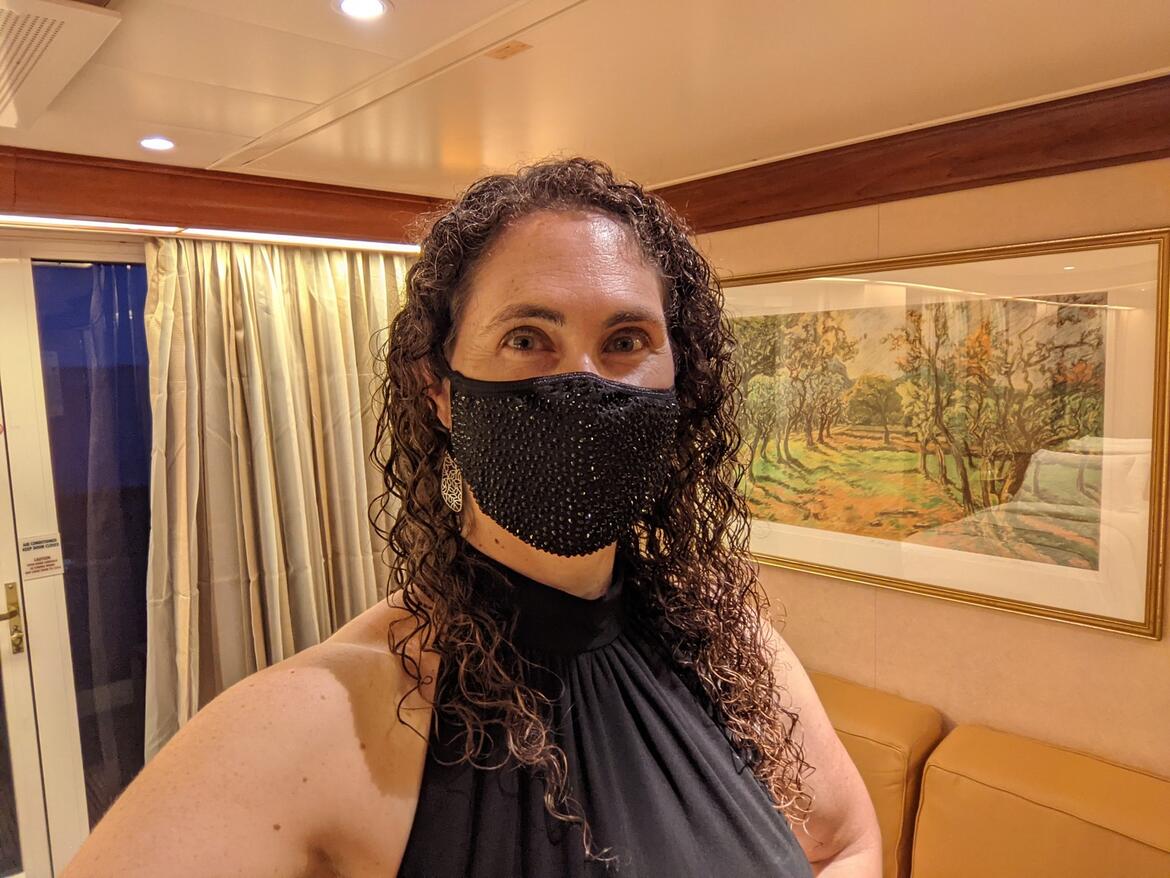 We decided to go to the show before dinner. Carnival's Playlist Production shows are typically short (30 to 45 minutes), use lots of hi-tech special effects, and occasionally end in a dance party. (You see the theme here?) Tonight's show, 88 Keys, focused on popular piano hits.
The cast of eight, with two main singers, sang and danced their way through hits by Elton John and Billy Joel with high-energy choreography, lots of costume changes, and a mix of real and pretend piano playing. Our favorite number had the male lead singer belting out a song from atop a fake piano listing at a 30-degree angle, wearing chest-revealing pirate formalwear while the other male cast members pulled and pushed his piano ride around the stage. This is the kind of spectacle we missed from months of no cruising.
After the show, we headed to the main dining room for dinner. We have Anytime Dining, so no assigned table or tablemates, and we have to check in for dinner on the Carnival Hub app. Normally, I'd imagine there'd be a post-show rush for food and we'd end up waiting for a two-top for a long time. But by the time we walked across the ship to the restaurant, we had a windowside table for two ready for us.
Looking around our section of the restaurant, I saw several diners in jeans or less-than-formal attire in the restaurant. Cruisers who refuse to don ties or heels on vacation do not need to choose between a nice dinner in the main dining room and comfortable clothing on Carnival. Look presentable, and they'll happily serve you steak.
After fighting with my phone and QR codes at previous meals, I discovered that restaurant menus can be accessed through the Carnival Hub app. I wish someone had clued me in to that trick earlier. You can also ask for a regular paper menu. 
In the spirit of customization and formal night fun, I ordered one dish from the vegetarian Indian sampler entree as my starter, while my friend got a spinach salad. The kofta curry tasted delicious and authentic, but was not photogenic. 
For entrees, I got the pan-fried sea bass with potato gnocchi, and my friend ordered the root vegetable pie, which our waiter, Love, insisted on referring to as apple pie. I ordered roasted broccoli off-menu, and got two orders, one for each of us. The vegetable pie was both picturesque and delicious; I liked it better than my fish.
Image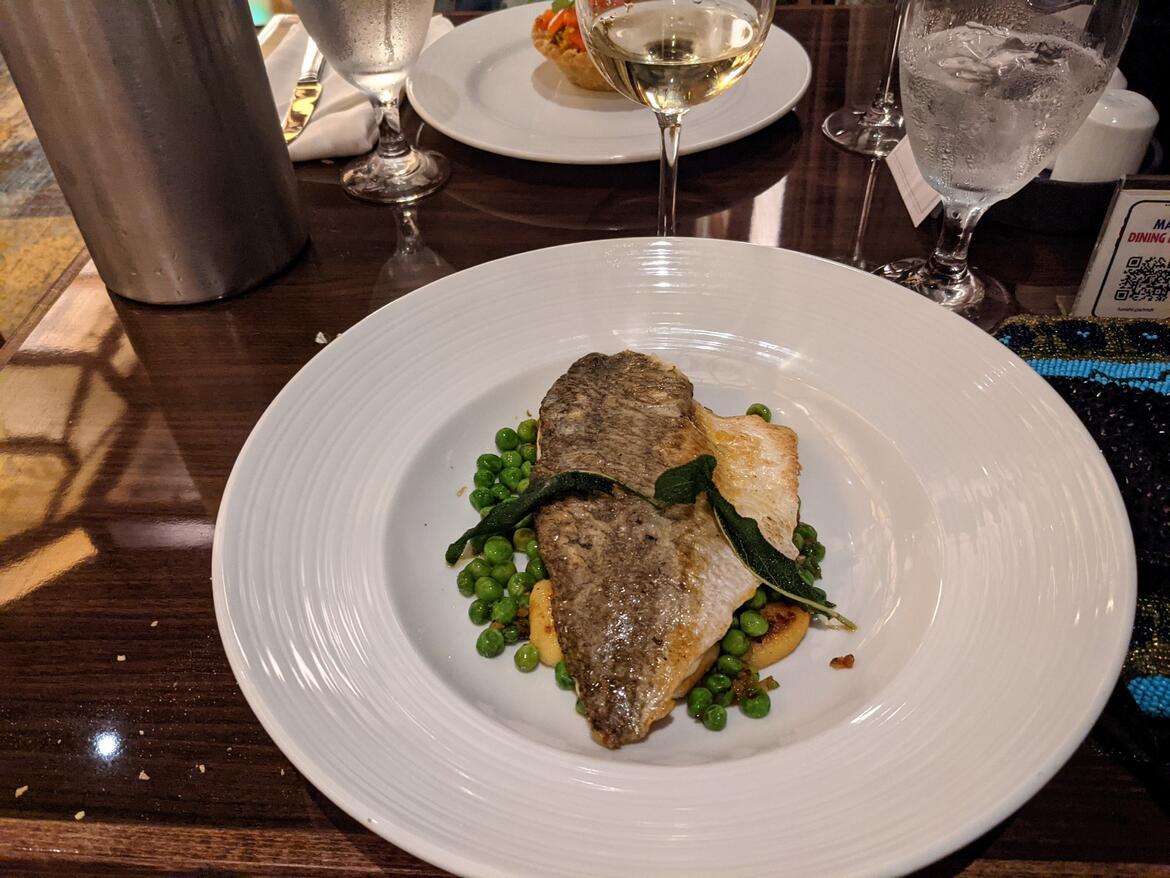 Image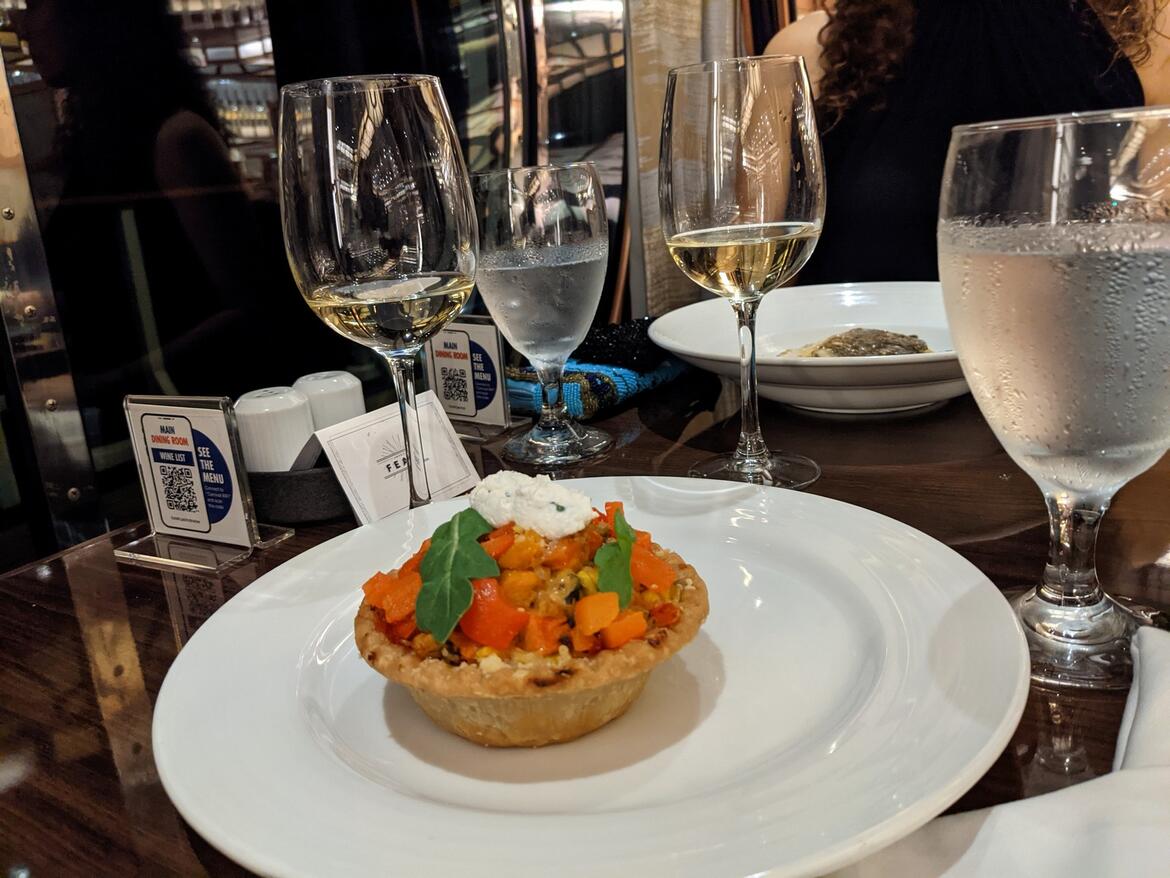 For dessert, we could not resist the chocolate melting cake, Carnival's signature dessert, which is available every night. I was so excited to dig in that I forgot to take a photo! I'm sure I can dig deep and find a way to order it on another night. For photo purposes, I swear.
Tomorrow is another sea day, and my mission is to test out the pools, hot tubs, and water slides on the top deck and seek out the decadent and elusive Guy Fieri veggie burger.
Missed a day of live blogging? Catch up on the days you missed: