Rotterdam's first port of call was Bimini, Bahamas, a relatively new cruise ship destination. At first, the port was going to be the exclusive beach club domain of Virgin Voyages, but now several cruise lines are calling at the island. This would be my first visit.
Bimini
I wasn't sure how early I wanted to get off the ship in Bimini so I ordered room service, so I could eat breakfast while getting ready. Holland America has a lovely complimentary breakfast menu, which includes continental and hot items. Only a few dishes cost extra, mainly lobster benedict and steak and eggs. There's also an extra-fee smoothie, which seems odd given that fruit and yogurt are both included.
I ordered the free passion fruit yogurt  parfait (by Culinary Council member Kristen Kish) and a vegetable frittata with Humboldt Fog goat cheese, spinach, and red chili flakes. Both were delicious, and a step above the room service breakfasts I'm used to ordering on cruise ships.
Image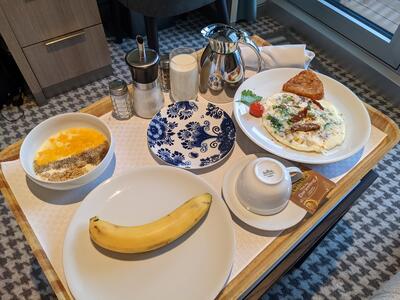 However, while I ate, the cruise director began making dire announcements about a delay in disembarkation and all shore excursions getting canceled. The wind was whipping and the waves surging, and it was not clear at all whether the ship would dock.
I went up to the pool deck to check out the situation, and was pleased to see the ship was moored. Minutes later, the announcement came that we were free to disembark. I met up with a friend and we headed outside, uncertain how our beach day plans were about to play out.
Image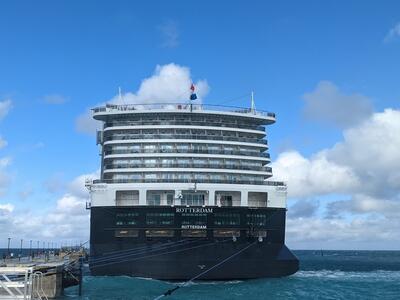 Oh my word, it was windy outside. Immediately, my hat and sunglasses blew off. Sea water was spraying through the grates in the pier and coming up over the sides, drenching the shoes of unsuspecting cruisers. The palm trees onshore were blowing sideways. The ship had its engine thrusters on, presumably to keep the ship from smashing into the dock with every wave. No, it was not a beach day, after all.
Image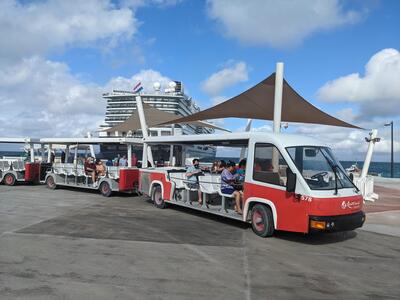 Undaunted, we hopped the free tram that stops at the end of the pier and takes visitors around the resort area to see what there normally is to do on Bimini. The first two stops are beach clubs, Beach Club 360 and Resort World Bimini. 
What's the difference? A day pass to Beach Club 360 is less expensive, but it only includes beach and facilities access. A day pass to Resorts World Bimini is $40 per person, and includes access to two resort pools, as well as the beach and facilities. On a day with nicer weather, this is clearly the place to be.
Image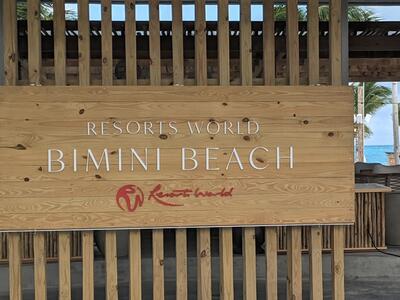 Image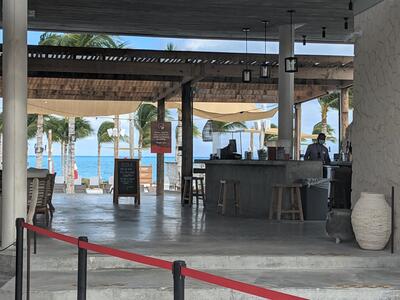 The third tram stop is Paradise Beach, the no-fee public beach with no facilities, where you can get lunch at a food truck or rent lounge chairs and water toys. It's the same beach as the beach club, so if you don't need pools or facilities, you'll have the same swimming experience at the public beach. We walked along the beach to snap photos, and did not see many brave souls occupying the lounge chairs or braving the rough waters.
Image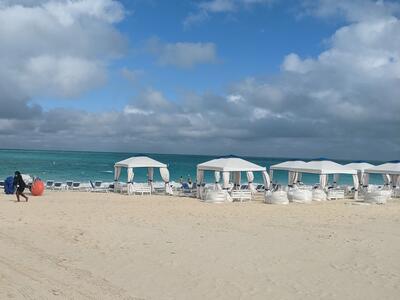 Image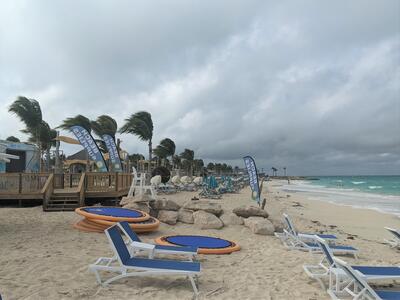 Image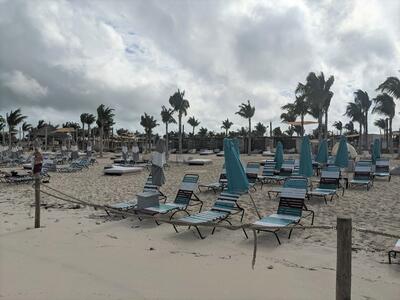 The fourth stop is Fisherman's Village, where you can rent golf carts to drive around the island. The second the tram stops, you will be swarmed by people asking if you want to rent a golf cart. The price is generally $60 a day, but feel free to negotiate as there are many vendors eager for your business. If you drive around the island, you can find local eateries to grab a conch salad or seek out less crowded beaches. If you go, be aware that some of the local restaurants only take cash.
I was bummed that a beach day on a new island was not in the cards, but that's one of the risks you accept when booking a cruise. Your cruise contract does not guarantee perfect weather and sometimes you have to be flexible and change your plans on the fly.
Dining around the ship
What would I do with my unexpectedly free afternoon? I decided to play it by ear, but agreed to meet a friend for lunch.
We decided to try Dive-In, the hot dog and burger grill by the indoor/outdoor pool. It serves 1/3 pound beef patties, Nathan's hot dogs, Beyond burgers, and Beyond brats, as well as fries (plain, cheesy, buffalo-style, or topped with Dive-In Sauce). 
Image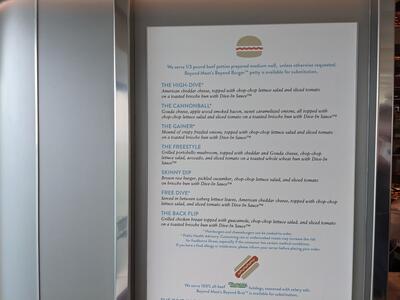 I was so excited to see Beyond Meat on a cruise ship – humor the vegetarian, please! – that I ordered both The Freestyle (a grilled portobella mushroom topped with two types of cheese and avocado) and the veggie version of the Jack Knife (Beyond Brat with curry ketchup on a crusty roll).
Image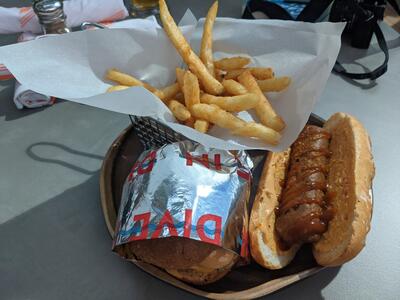 The portobella mushroom was a bit thin and the sandwich a bit messy, but it was delicious, as was the sauce on the faux sausage. The fries have a delightful batter that make them irresistible. I really didn't mean to eat so many!
My friend wanted to try out the Dutch pea soup at the Grand Dutch Cafe, so we headed downstairs for lunch part two. I ordered the Dutch poffertjes. Imagine teeny pancakes that are puffed-up almost into balls, topped with butter and sugar, and that was my dessert. It would be good for breakfast, too.
By the time we finished, we realized it was afternoon tea time in the dining room, so of course we had to grab a cuppa. To be honest, afternoon tea was a bit disappointing. The PG Tips tea was authentically British, and we were presented with a three-tiered tray of finger sandwiches and petits fours. But no one presented us with a box of different teas to choose, and the classic scones with jam and clotted cream were conspicuously absent.
Image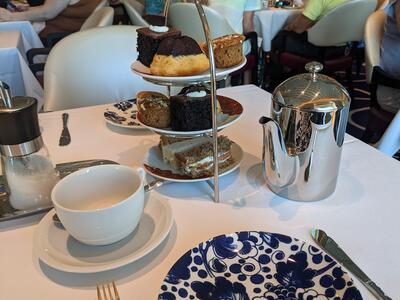 I'd say Rotterdam's tea is a fun dessert experience to try once, but don't expect a traditional afternoon tea service.
By this time, I was committed to my afternoon of chatting and trying out different food venues onboard, so I returned to the pool deck for gelato.
The Lido Market has complimentary ice cream, but I adore creamy Italian gelato. For $2, you can order two scoops in a cup or cone with two toppings. I ordered mint chip and chocolate with chocolate shavings and caramel sauce. Other flavors included passionfruit, espresso chip, and pistachio. 
Image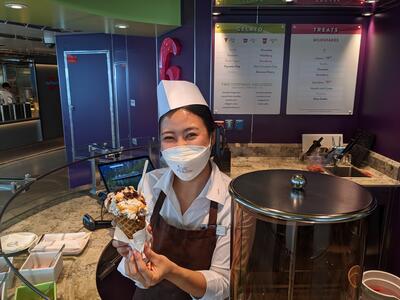 You can also order milkshakes and a variety of juices in the morning.
My obvious next stop was the gym. I like to go late, around 5 or 6 p.m., when many people are getting ready for or eating dinner, and the fitness center is practically empty. I watched the sun set from the treadmill.
Rotterdam has several lovely bars for pre-dinner (or anytime, really) drinks, and each has a cocktail menu unique to that bar. I met a friend up at the Deck 12 Crow's Nest, where there's a menu of cocktails from well-known mixologists, including Master Mixologist Dale DeGroff. 
I ordered a drink called the Alliance, a mix of pisco, prosecco, strawberry, ginger, and lychee. It came in an enormous wine glass, was fruity but not overly sweet, and I had to take it down to dinner because I couldn't finish it in half an hour!
Image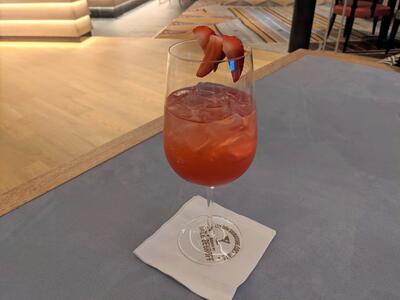 I capped my day of dining with a group dinner at Pinnacle Grill, the ship's date-night seafood and  steakhouse. I practically inhaled the mushroom soup, a particular favorite of mine, but my tablemates enjoyed the unusually presented clothesline candied bacon (a Chef David Burke invention).
Image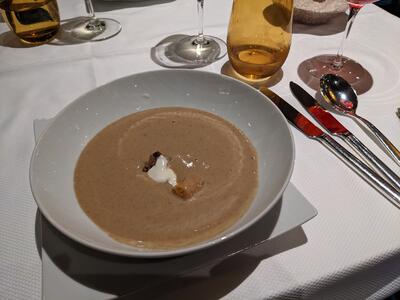 Image
The Alaskan king salmon was fine but not mind-blowing, and I went for seconds on the ultra-creamy mashed potatoes. My tablemates ordered everything from the petit filet mignon topped with onion rings to a Flinstones-sized Tomahawk bone-in rib eye with a lobster tail on the side to a tomato and eggplant tarte tatin.
Image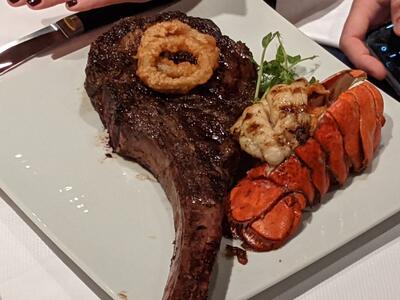 Image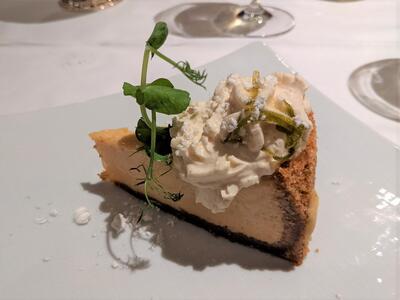 For dessert, I took our waiter's suggestion to order the key lime pie and was not disappointed. My friend's chocolate souffle also looked good. You don't have to order dessert at the Pinnacle Grill because they bring around a tray of truffles for the table, which is a lovely way to cap the evening.
Tonight's towel animal was a dog...I think.
Image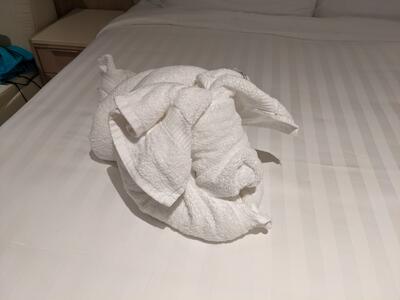 Tomorrow, we have the only full sea day of the trip.
If you missed my previous live blogs, you can catch up here: