Norwegian Cruise Line will offer several sailings to Alaska in 2022. From April to October, five ships will sail on itineraries spanning 5 to 16 days departing from popular west coast ports.
2022 brings some unique Alaskan itineraries that include Japan, Russia, and Hawaii.
No matter which ship you pick, each offers onboard activities, signature attractions, and specialty dining options that will compliment a vacation to the Last Frontier quite well.
Since there are a few different options for an Alaska cruise, here is a breakdown of what to expect.
Overview of Norwegian Ships
Image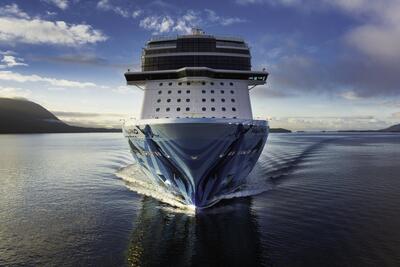 Norwegian prides itself on having one of the newest fleets sailing in North America, and its ships offer plenty of amenities and activities for all ages, including families. What to expect:   
Inclusive and Specialty Dining

A variety of bars and lounges

Kids and Youth Programs

Activity Zones

Spas, Casinos, Shows

NCL's Freestyle

Cruising- no fixed dining times or pre-assigned seating

Numerous excursion options
Important to note that Norwegian is currently offering a major promotion that includes free specialty dining, wi-fi, excursions, open bar, in addition to 35% off cruise fares.
Ships Sailing to Alaska in 2022
Norwegian Bliss
Image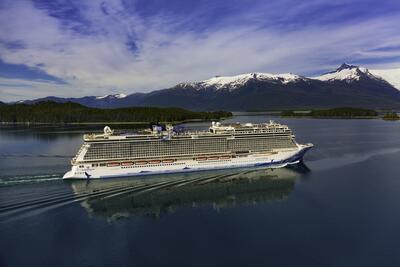 Homeport: Seattle, Washington
Ports: Sitka, Juneau, Icy Strait Point, Skagway, Ketchikan, Alaska, and Victoria, BC
Scenic Cruising: Endicott Arm and Dawes Glacier
Built in 2018, the Norwegian Bliss has a capacity of 4004 guests and 1716 crew. It will be doing 7 day sailings in 2022.
The ship was custom built with Alaskan cruises in mind and has a number of great features:
20,000 sq foot revolutionary Observation Lounge

12 specialty dining venues  

20 bars and lounges

Happy Hour Prohibition Musical

Jersey Boys Show

Thrilling Racetrack Speedway

Aqua park, laser tag and mini golf
Why pick Norwegian Bliss?
Image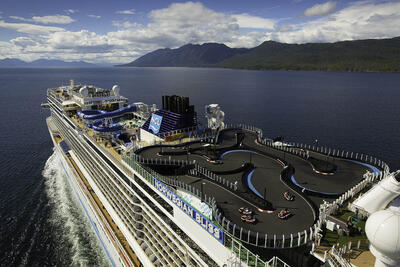 This ship was designed for Alaskan cruises, with great observation points.
Big ship amenities and activities, lots to keep guests happy while on board.
Sailing from Seattle gives cruisers more convenient and less expensive flight options as compared to other departure ports.
Norwegian Encore
Image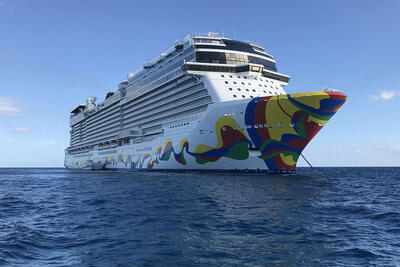 Homeports: Seattle, Washington
Ports: Juneau and Ketchikan, Skagway, Alaska and Victoria, BC
Scenic Cruising: Glacier Bay National Park
Built in 2019, the Norwegian Encore is scheduled for a 13 day sailing in  2022. The Encore has 3998 passengers and 1735 crew, and it is well known for providing great activities for adults and kids.
Highlights include:
12 specialty dining venues

11 bars and lounges, including 70 beer options at the District Brew House

Shows such as Kinky Boots, a six-time Tony Award® winner and Happy Hour Prohibition: The Musical

The largest racetrack at sea

Laser tag with augmented reality  

Adult only Vibe Beach Club

Great views from the 180-degree observation lounge
Why pick Norwegian Encore?
Image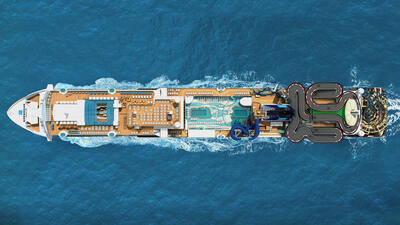 Winner of Best New Ship, Porthole Cruise Magazine 2020 Editor-in-Chief Awards.
It has a lot to do for every guest, 20+ restaurants, lots of lounges, and activities. along with plenty of excursions on port days, easy to keep busy.
Seattle sailings provide one of the least expensive options for departing deports.
Norwegian Jewel
Image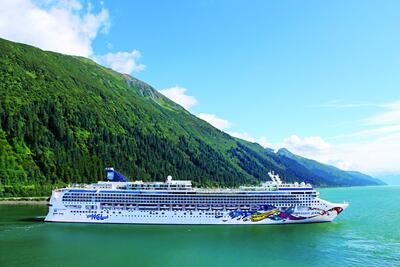 Homeport: Vancouver, BC and Seward, Alaska, and San Diego, California.
Ports: Juneau, Ketchikan, Skagway, Seward, Icy Strait Point, and Sitka, Alaska, Prince Rupert, Victoria, and Vancouver, BC, and Los Angeles, San Francisco, California
Scenic Cruising: Glacier Bay, Hubbard Glacier, Endicott Arm, and Dawes Glacier
The ship set sail in 2005 but was refurbished in 2018 and has a capacity of 2376 Guests and 1069 crew.
It has numerous sailing options including 7, 10, 11,12,13, and 14 day itineraries, plus land tours
It features:
Extensive refurbishments that modernized the ship

7 Specialty dining including a Brazilian steakhouse

13 bars and lounges, each with its own unique vibe

Rock You Tonight! Show

1970s and disco style "Velvet" show

Sports Court
Why pick Norwegian Jewel?
Image
For those really wanting to truly experience Alaska, its offers up to 14 day sailings with plenty of port visits and scenic cruising.
A number of great land tour options are provided post-cruise.
Differing west coast departure ports provide more options for those outside the Seattle region.
Norwegian Spirit
Image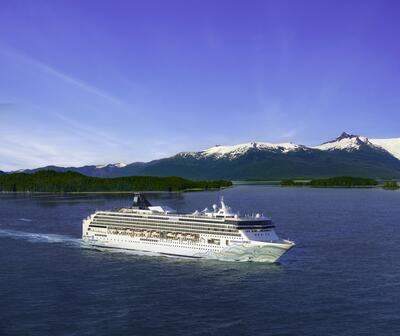 Homeport: Seattle, Washington Honolulu, Oahu, and Vancouver BC
Ports:  Sitka, Icy Strait Point, Skagway, Juneau, Ketchikan, Victoria and Vancouver, BC, Nāwiliwili, Kaua`I, Hilo, Hawaii, and Kahului, Maui
Scenic Cruising: Hubbard Glacier, Glacier Bay Endicott Arm, and Dawes Glacier  
The ship first sailed in 1998, was refurbished in 2020 and has 2018 passengers and 912 crew. It offers 5, 7, 9, 11, and 16 day sailings with varied itineraries.
It features:
6 Specialty dining venues

10 bars and lounges including a German Bier Garten

Blazing Boots, a pop country showcase

Palace of Lights, a Cuban inspired musical

Adult focused
Why pick Norwegian Spirit?
Image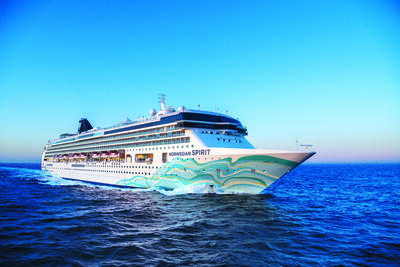 Unique itinerary which includes Hawaii and an overnight stay in Kaua`I, providing guests with plenty of time to explore the island.
Extensive refurbishments to modernize the ship, giving it fresh appeal.
The cruise ship is known for its great good, atmosphere, and helpful staff.
Norwegian Sun
Image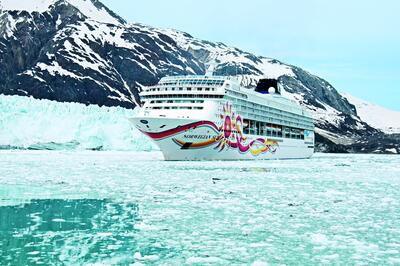 Homeport: Seattle, Washington, and Tokyo (Yokohama) Japan
Ports: Icy Strait Point, Juneau, Ketchikan, Sitka and Skagway, Alaska,  Victoria, BC, Tokyo and Hakodate Japan, Petropavlovsk, Russia
Scenic Cruising: Glacier Bay National Park, Hubbard Glacier
The Norwegian Sun set sail in 2001 but was refurbished in 2018. It has 1936 Guests and 906 crew. It offers a wide variety of cruising options 5, 7, 9, and 16 day sailings cruises
The 16 sailing Extraordinary Journeys takes guests to Japan, Russia, and Alaska on their voyage.
Highlights
Refreshed staterooms

8 Specialty dining options, including the new Los Lobos Cantina

9 loungers and bars including the new Bliss Ultra Lounge and Spinnaker Lounge

Updated decor at guest favorites Cagney's Steakhouse, La Cucina, and Le Bistro and Sports Bar

Rock You Tonight Show
Why pick Norwegian Sun?
Image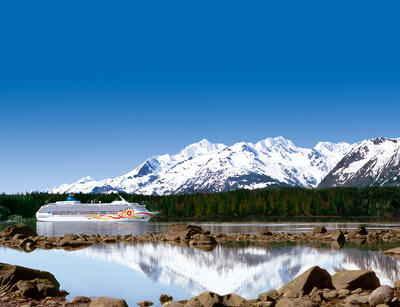 Great for those who like a smaller ship experience, with modern enhancements. 
A 5 day itinerary is a great way to sample an Alaska cruise.
Variety of sailings including a once and a lifetime US, Japan, and Russia itinerary over 16 days and 8 ports of calls.