A new year is approaching and for many cruise fans, that means looking forward to new ships launching! Although the Covid-19 pandemic halted cruises for over a year, that didn't mean that cruise lines cancelled orders for future cruise ships.
Most of the ships debuting in 2022 are behind their original scheduled launch date due to pandemic-related production issues. Some ships that were set to launch in 2022 have subsequently been pushed back to 2023.
Nevertheless, there are plenty of new cruise ships launching in 2022! If you're someone who loves to sail on a brand new ship, you'll want to try booking a cabin on the following new ships when they make their much-anticipated debuts.
1. Royal Caribbean - Wonder of the Seas
Image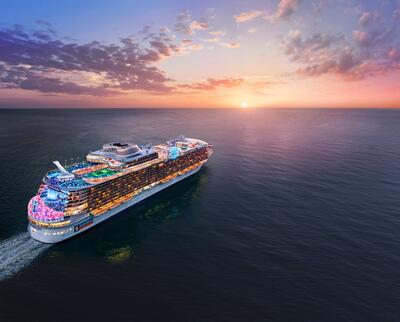 Royal Caribbean fans have been eagerly awaiting the launch of the fleet's newest ship, Wonder of the Seas. The new ship is the fifth of Royal Caribbean's Oasis Class ships and will be the biggest cruise ship in the world when it sets sail in March 2022. Originally slated to launch in the Asian market for full-time sailings from China, Wonder of the Seas will redeploy to the Caribbean and sail instead from Fort Lauderdale. 
The ship has 18 decks, which is enough capacity for nearly 7,000 passengers. The massive ship will feature 8 unique neighborhoods onboard. The line is also debuting an all new neighborhood that's dedicated entirely to suite guests called Suite Neighborhood. 
It will be the first ship in Royal Caribbean's fleet to offer The Mason Jar Southern Restaurant and Bar, a speciality restaurant that will offer "unique takes on American Low Country classics, Bayou staples,...[and] BBQ." 
The ship's pool has been totally redesigned to offer more space for swimming and chilling in the shade. The pool deck also features a redesigned AquaTheatre and Boardwalk. Wonder of the Seas will feature the all-new Wonder Playscape, which is an underwater world with slides, climbing walls, puzzles and games on the ship's top deck.
2. Disney Cruise Line - Disney Wish
Image
Disney will welcome the Disney Wish to its fleet in the Summer of 2022. Disney has not released a new ship in nearly 10 years, making this a highly anticipated launch for the cruise line. Disney Wish is the first of 3 ships that will comprise the line's new Triton Class. The next two ships will be delivered in 2024 and 2025, with the Disney Treasure being welcomed first. With a currently small footprint in the cruising market, the expansion will nearly double Disney's sailing capacity. 
The ship will focus on bringing wondrous dining and classic Disney themes to every second of guests' cruising experience. Disney Wish, which is slightly larger than its previous 2 ships in the Dream Class, will feature 3 new restaurants onboard. These will be specialty restaurants for families to enjoy, where dining and storytelling come together to create an unforgettable experience. 
Image
Disney Wish will feature an all-new theatrical experience in a Frozen-themed restaurant, complete with musical performances from Anna and Elsa. Cruisers will also love the worldly menu that's inspired by the Marvel Cinematic Universe during the Avengers Quantum Encounter. This immersive, technological experience will take guests on an action-packed mission while taking also taking their taste buds on an adventure of their own. The ship is in the first in the fleet not to feature Animator's Palate. 
The Disney Wish will be the first cruise ship in Disney's fleet to offer a multilevel Concierge Tower Suite located inside of the famous Disney stacks. 
The new ship will also feature plenty of other wow factors that cannot be found on previous ships. Stars Wars universe allows cruisers to support the Resistance through another highly immersive experience aboard a starship. Disney Wish is the perfect new ship for families that love all-things Disney!
3. MSC - World Europa
Image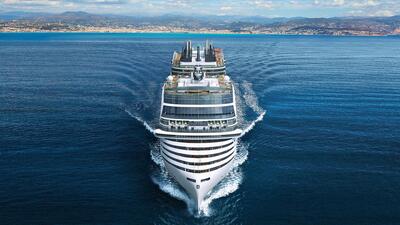 MSC will launch its highly anticipated new cruise ship, World Europa, in November 2022. World Europa is the first ship of the cruise line's new World Class, which will be followed by 3 other ships in the coming years. The cruise ship will be able to hold nearly 7,000 passengers and 21 decks. 
This cruise ship will be one of the biggest and most technically advanced ships in the world! Similar to Royal Caribbean's Oasis Class cruise ships, MSC's World Europa will be divided into different districts/neighborhoods. These will include adult-only zen areas and family-friendly neighborhoods with plenty of activities for kids. 
Image
The World Europa will also feature an aft infinity pool, along with 6 other pools and 14 hot tubs. The pool deck will also feature a family sundeck and Aquapark, which integrates virtual reality technology and plenty of water slides! After a day at the pool deck, cruisers can enjoy an English-style pub that serves beer made in-house on the ship.
Most notably, MSC has confirmed that World Europa will be one of the most eco-friendly cruise ships at sea. World Europa will be installed with a fuel cell pilot plant called Blue Horizon, which is an LNG-powered fuel cell. This is the first time this new technology will be used for a cruise ship, which makes the launch of MSC's World Europa even more exciting. 
4. Norwegian Cruise Line - Prima
Image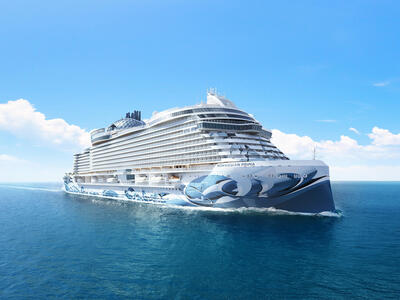 It's been more than 10 years since Norwegian has launched a new class of cruise ships! Prima will be the cruise line's first ship of its Leonardo Class, which is promising to bring multiple new 'firsts' to the cruise industry. Norwegian's Prima is planning to launch during the Summer of 2022. 
Interestingly enough, Prima will be smaller than Norwegian's more previously built ships. This will allow the cruise ship to dock in smaller ports around the world. The cruise ship is also hoping to be 'the most spacious ship at sea' with the most outdoor deck space of any ship at sea. Prima will also have the largest suite variety of any Norwegian ship at sea.  
Image
Prima will also feature The Drop, a 10-story slide that claims to be one of the fastest slides at sea with more G force than an accelerating race car. Even more thrills come from the ship's 3-level race track, a first for any cruise ship at sea!
The Norwegian Prima will feature some firsts in dining for the cruise line, including Mediterranean restaurant Palomar. Most notably, there will be a food hall onboard offering a wide variety cuisine, such as Indian, Mexican, and grilled kebabs. 
Evenings won't be dull onboard Prima when the ship's multilevel theatre transforms into a full-on nightclub. Guests can expect to be wowed by the theater's transformation into a Las Vegas-style venue. The nightclub will feature interactive games like The Price is Right and Supermarket Sweep. 
5. Virgin Voyages - Resilient Lady
Image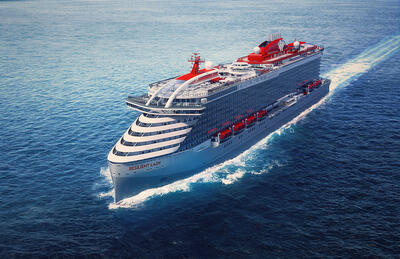 The newest cruise line to hit the sea is Virgin Voyages. The cruise line's newest ship, Resilient Lady, will be launching from Athens, Greece in July 2022 before repositioning to its homeport of San Juan for the winter cruise season. 
Designed by the innovative Richard Branson, Virgin Voyages is breaking barriers when it comes to cruise ships. This class of ships features an adult-only environment with plenty of places to dine and drink. Virgin's ships will continue to forgo the traditional main dining room and instead offer multiple restaurants and specialty dining options for cruisers to enjoy.
Non-standard fun is at the heart of Virgin's ships, including the first ever Tattoo Shop at sea. Entertainment will continue to be unique and diverse, similar to Scarlet Lady and Valiant Lady. Unfortunately, the ship's unusually small pool will most likely not be changed. Resilient Lady will also have plenty of wellness options and nightclubs for cruisers to enjoy. 
6. Princess Cruise Line - Discovery Princess
Image
Joining our list of new vessels launching in 2022 is Princess Cruise Line's newest ship, Discovery Princess. This snazzy new ship will be the sixth and final cruise ship joining Princess's Royal Class of ships. Discovery Princess is also the third ship designed with MedallionClass, which creates a cruise full of personalization and exceptional service.
Discovery Princess will continue to offer plenty of innovative experiences for cruisers, including breathtaking views from the largest balconies at sea. Take some time to relax in the Sanctuary, which is an ultra-relaxing retreat onboard for adults-only. Discovery Princess will also showcase more pool spaces with more hot tubs, an infinity pool and 2 deep-tank pools. 
Cruisers can also enjoy world-class cuisine from Michelin-star chefs throughout their voyage. Discovery Princess will also introduce a new live jazz bar called Take Five, a craft cocktail venue and a comedy club. 
7. Celebrity Cruise Line - Celebrity Beyond
Image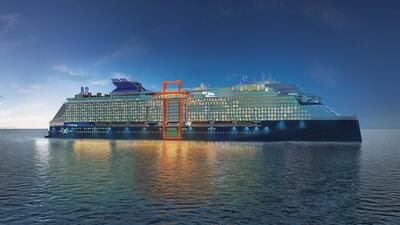 The third of Celebrity's Edge series, Celebrity Beyond will launch in Spring 2022 and sail European itineraries before moving to the Caribbean for winter. Celebrity Beyond is expanding its outdoor space to be 40% larger than the main decks on the other Edge series ships. 
New to Edge-class ships, Celebrity Beyond will introduce a 2-story bar called the Sunset Bar. There will be new dining options onboard with 32 options for dining onboard. The new ship will also have a redesigned Rooftop Garden and Grand Plaza.
Celebrity Beyond will also introduce the Magic Carpet, which is the world's first cantilevered, floating platform that lifts guests 13 stories above sea level. The Magic Carpet will have a full bar and live music, all while offering breathtaking views of the open ocean. 
Image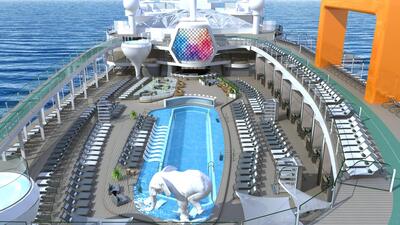 Celebrity Cruise Line has stated that Beyond will have the biggest offering of staterooms and suites of any ship in its fleet, including a 2-story villa! Those who choose to stay in suites will enjoy The Retreat, a multilevel sundeck only for suite guests. 
One of the most exciting features of Celebrity Beyond is the ship's captain, Kate McCue. Captain McCue is America's first female cruise ship captain!