Announced by Royal Caribbean International, construction has officially begun on the newest revolutionary Oasis Class ship.
Royal Caribbean's newest ship will go by the name of Utopia of the Seas and is set to debut in spring 2024. The ship will undergo its construction in Saint-Nazaire France, at the Chantiers de l'Atlantique shipyard.
In the start of what will be a 30-month long process, the first piece of steel was cut for the Utopia of the Seas this week. The vessel will have hundreds of workers, designers, and engineers working towards completing Royal Caribbean's newest ship.
The order for Royal Caribbean's newest ship was placed with the shipyard in France, in February 2019. The name Utopia of the Seas was then trademarked in December 2021.
The Utopia of the Seas will be the first Oasis class vessel by Royal Caribbean to be powered by LNG (liquified natural gas), which will make the Utopia one of Royal Caribbean International's most environmentally friendly ships yet. Currently, LNG is the cleanest form of burning-fossil fuel available. Liquified Natural Gas, which is an alternative form of fuel, virtually reduces harmful gases such as sulfur dioxides and nitrous oxides to zero. This update to Utopia of the Seas, is Royal Caribbean's next step in their commitment and journey to becoming emissions free.
Utopia of the Seas once completed will be the largest cruise ship in Royal Caribbean International's fleet, measuring at 362 m long. The ship will contain 2,800 cabins, which is a slightly smaller amount than some of the other Oasis Class ships in the fleet. This is in order to make room for the LNG tanks that will be onboard.
Image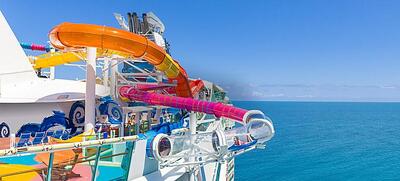 The Utopia of the Seas is set to feature new firsts, and favorites aboard. Further details are to be revealed by Royal Caribbean at a later date, including that of the ship's first itineraries.
In a statement by Royal Caribbean International, "Utopia will be bold beyond the imagination."
Image