The Norwegian Prima is Norwegian Cruise Line's first ship to debut in Norwegian Cruise Line's newest class of ship, the Prima Class.
Image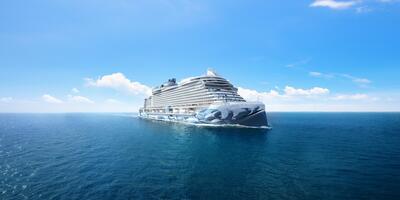 With its latest ship class, Norwegian Cruise Line has reinvented, focusing on new and innovative design, the latest technology, and new and upgraded amenities. The Prima is scheduled to set sail for the first time this summer, 2022.
Accommodations
Onboard, the Prima will feature several types of staterooms, catering to all guests. The Prima will have ocean-view cabins, balcony cabins, studio-class cabins, inside cabins, and several types of suites.
Image
(Prima, balcony stateroom example)
Image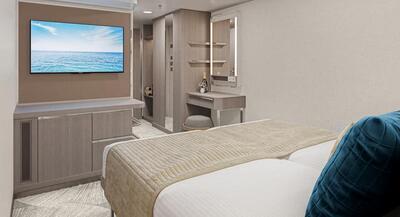 Prima, inside stateroom example)
Image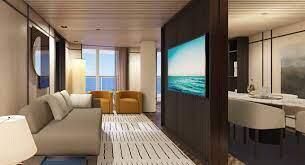 (Prima, suite example)
Image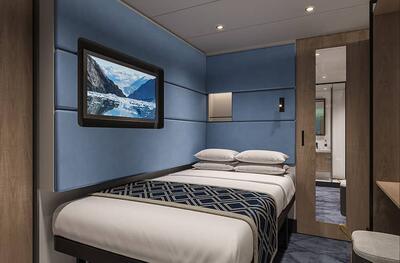 (Prima, studio stateroom example)
Food & Dining
The Prima will contain numerous dining locations, including outdoor lounges, specialty restaurants, complimentary dining, and several bar locations.
Image
"An unwavering dedication to the marriage of food and travel. Please your palate on Norwegian's Prima Class, designed to elevate every expectation," says NCL.
Image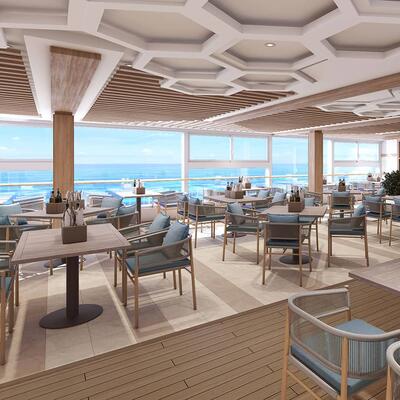 Speedway
The Prima will feature new and standout entertainment for passengers, such as a speedway at sea. The Prima Speedway will span from the hull of the ship, to the top level, stretching across three levels.
Image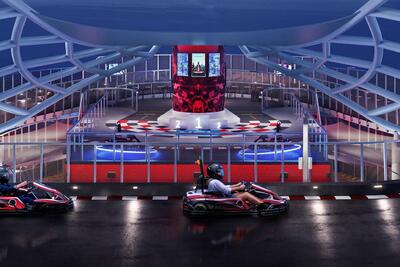 The Prima Speedway will measure 1,378 feet in length, and consist of 14 turns. Drivers will be able to operate the race cars at 30 miles per hour. The Speedway will be capable of accommodating 15 drivers at a time.
Additionally, families and onlookers will be able to view the drivers and Speedway from a viewing platform and relaxation area. 
Image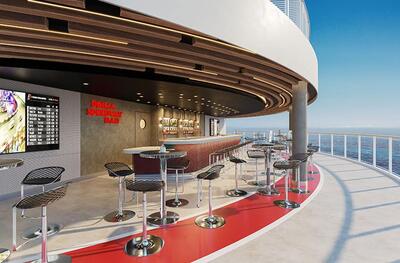 Water-less Slides
The Prima will also feature a thrilling water-less slide, the first of its kind at sea. The slide, by the name of The Drop, will takes guests down a 10 story vertical fall, that will be capable of exhorting a force of 2.5 G-forces.
Image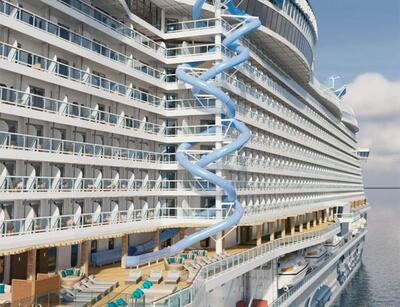 "Race around a quarter-mile of pure adrenaline rush. The fly down the first free-fall dry slide at sea. From exploring virtual worlds, to relaxing in our infinity hot tubs, there's excitement for everyone aboard Norwegian Prima," states Norwegian Cruise Line.
Galaxy Pavilion
The Prima will have a new and high-tech gaming facility onboard, called the Galaxy Pavilion, featuring the latest in gaming technology.
Image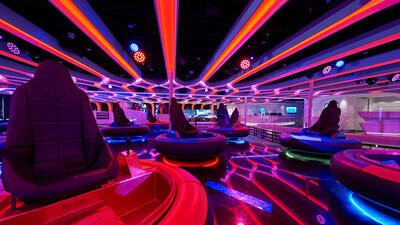 This facility will contain 14 different attractions including, four simulators, mini-golf, and two escape rooms.
Image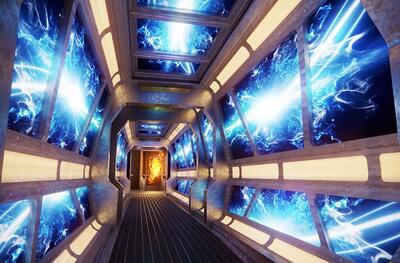 Casino
Onboard Norwegian's Prima, guests will be able to try their luck in the Casinos at Sea, the ships's casino venue.
Image
The ship's casino will feature the latest slot machines, and is designed with comfort in mind.
Ocean Boulevard & Pool Areas
Norwegian Cruise Line first Prima ship will have multiple pool areas, including a new feature, the Ocean Boulevard.
Image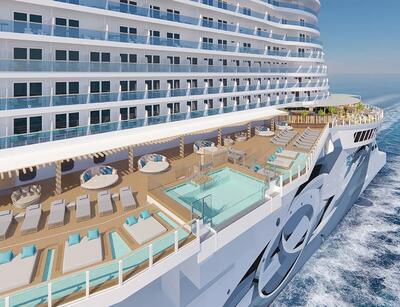 Norwegian Cruise Line (NCL) has stated that the purpose of this new pool area, is to bring passengers closer to the ocean. The Ocean Boulevard will contain extensive open-air deck space, as well as an infinity pool. The infinity pool will ensue guests can enjoy unobstructed views of the ocean while relaxing.
Image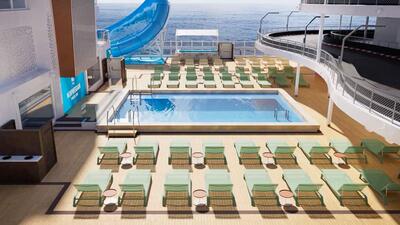 (Prima, main pool)
The Ocean Boulevard will span over 44,000 feet on Deck 8 of the Prima. In addition to many places for guests to enjoy ocean views. The Ocean Boulevard will also feature several food locations, featuring options such as Italian and Mexican flavors.
Image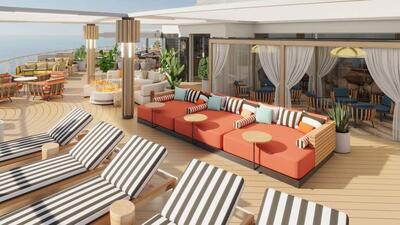 Image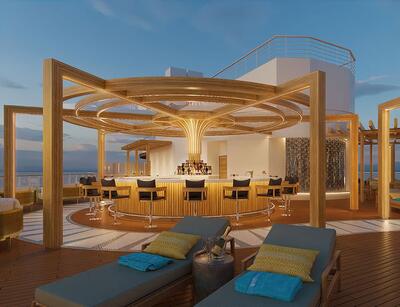 (Vibe Beach Club)
The Prima will feature an adult-only area of the ship, called the Vibe Beach Club. This area is designed for guests 18 years and older.
Image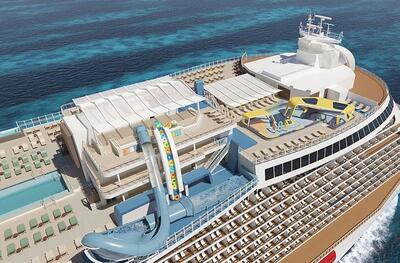 Onboard, guests will be able to experience NCL's first tidal wave waterslide. The Aqua Park and Main Pool areas will also feature specialty areas for kids.
Bars and Indoor Lounges 
There will be several bars and drink locations onboard the Prima, one of the highlights will be the Bull's Eye. This new itinerary is themed after an English pub, where guests will be able to throw darts. Here, guests can have their scores tracked live on a monitor next to the dart board.
Image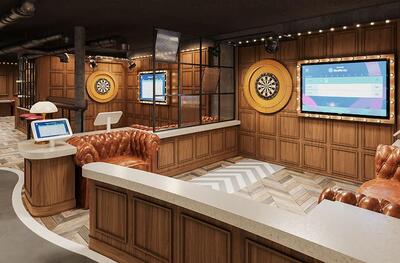 Kids Activities
The Prima will have kids clubs onboard catering to a wide variety of ages, from toddlers to teenagers. The three kids clubs onboard will go by the names of Splash Academy, Entourage, and Guppies.
Image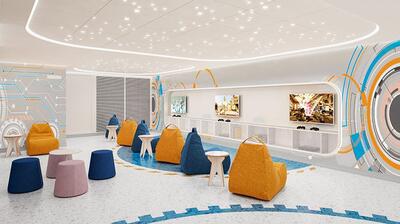 Entertainment
Prima will feature Broadway-style performances, comedians, game shows, and a Vegas-style night club onboard in the Prima Theater & Club.
Image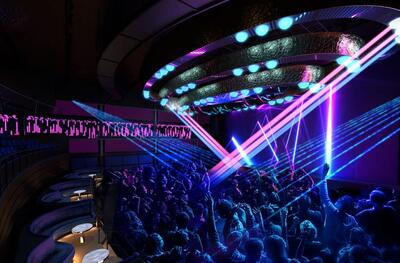 The Haven
Designed exclusively for guests enjoying luxury accommodations onboard, is The Haven. This venue will feature an outdoor bar, lounge, restaurant, sundeck, indoor bar area, pool, and outdoor sauna.
Image