One of the most infamous ocean liners in the cruise industry is the Titanic. It's been 110 years since the Titanic sank, but society's fascination with the voyage has lasted the test of time.
From the award-winning 'Titanic' movie in 1997 to historical museums and traveling exhibits, Titanic's unfortunate story continues to captivate history buffs and sea-lovers alike. 
The Titanic was sailing on its inaugural voyage from Southampton to New York when it unexpectedly struck an iceberg, causing the luxury liner to sink in the frigid Atlantic sea. It's a tragic maritime disaster that has left its mark on history forever. 
Image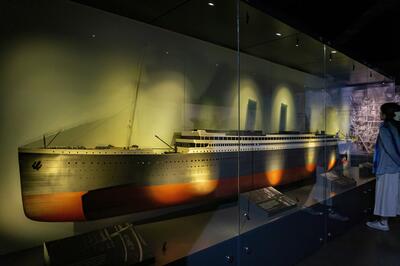 Every detail about life onboard the Titanic is enthralling, from the stateroom decor to the dining rooms available to the vast range of people onboard.
While we know about what happened during the Titanic's ill-fated voyage, have you ever wondered about what people ate on the Titanic?
Those traveling on the Titanic ranged from wealthy businessmen and socialites to working-class passengers. With more than 2,200 passengers and crew onboard, Titanic was sailing with thousands of pounds of food, including fruit, vegetables and meat. 
Like ocean liners today, the Titanic was also sailing with thousands of bottles of alcohol. With a long-stretch of time at sea, passengers spent time eating, drinking and relaxing. 
Image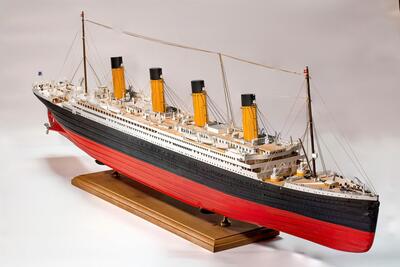 Enjoying fine cuisine has been a long-standing tradition for ocean liners, which continues to be an integral part of cruising. On cruises today, the entire experience revolves around indulging in delicious meals, whether that's in the main dining room or specialty dining options. 
Because of artifacts saved from the sunken ship, we have a pretty clear picture of what Titanic passengers ate during their 4 day voyage. 
Similar to most experiences onboard the Titanic, the dining options ranged greatly depending on whether you were a first, second or third class passenger. Below we will breakdown what passengers ate onboard the Titanic during its ill-fated voyage from England. 
First Class Passengers
Image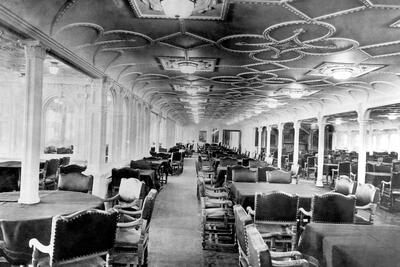 Passengers traveling on a first class ticket dined with fine cuisine throughout the voyage. Given the cost of a first class ticket, in which some of these passengers paid up to 25 times more than third class tickets, this is expected.
These passengers were treated like royalty with up to 10 different courses served for each meal, which could last up to 5 hours.
First class passengers enjoyed sophisticated meals and were fed the best of any passengers onboard. For breakfast, lunch and dinner, first class passengers enjoyed continental-styled food in formal settings. 
Image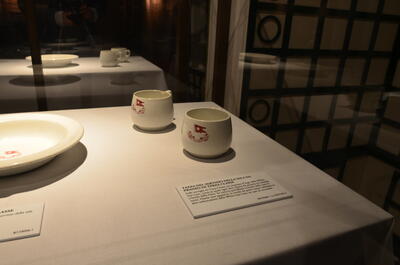 As was common at that time, most of the meals were French inspired with hints of British and American influence. 
As we see today with most cruise ships, the passengers aboard Titanic could pay extra to dine at a restaurant called Ritz. This specialty restaurant had a la carte pricing and provided a candlelight dinner experience. This was a popular choice because guests could dine anytime between 11am and 8pm. 
Breakfast meals included made to order omelets, chops and steaks. For first class passengers, smoked salmon was also available with eggs and potatoes. 
Image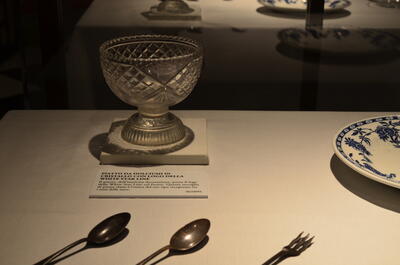 First class lunch on the Titanic's final day included a buffet of smoked sardines, veal & ham pie, spiced beef, corned ox tongue, galantine of chicken, potted shrimps and salmon mayonnaise. Dessert was a wide selection of cheese from both England and France, including Camembert, Cheddar and Stilton.
Sadly, dinner on the night of Titanic's sinking would be the last meal for 40% of the first class passengers. The ship struck an iceberg around 11:30pm, which would be long after dinner was served on the ship.
The final dinner for first class passengers included oysters and salmon for starters, followed by filet mignon, sautéed chicken, rack of lamb with mint sauce, sirloin of beef, roast duckling, punch romaine, cold asparagus vinaigrette and celery. Dessert included a selection of Waldorf pudding, chocolate eclairs and French ice cream. 
Second Class Passengers
Image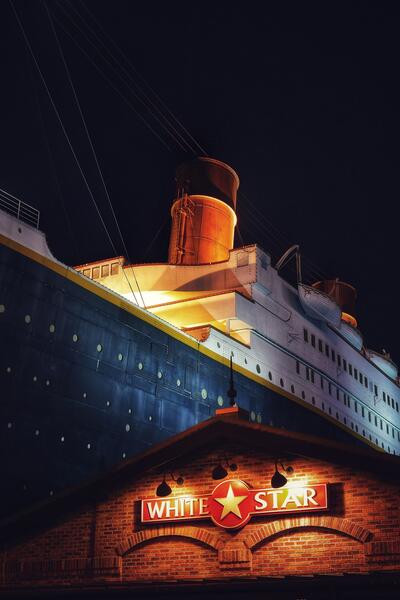 Passengers sailing on second class tickets were served a more classic menu on the Titanic. These passengers were served mostly British food options, unlike first class passengers who were served French options. 
Most second class passengers preferred the British dining options anyway, as it was more aligned with their cuisine back home. The meals were still considered to be of high-quality for these passengers and most were pleased with the food served aboard. 
Breakfast for second class passengers included an assortment of protein, including ham, fried eggs, bacon, sausage and grilled ox. Passengers were also served an assortment of soda scones, Graham rolls, Vienna rolls, grits and oats. 
A second class lunch included pea soup, roast beef, sausage, ox tongue, salads, vegetables, and corned beef. Desserts were American and British inspired with an assortment of tarts, fresh fruit, biscuits, coffee and tapioca pudding. 
The last meal served to second class passengers included an option of lamb with mint sauce, chicken curry and rice, or roasted turkey with cranberry sauce. These were served with roasted potatoes, rice, peas and pureed turnips. Dessert was plum pudding, coconut sandwich, American ice cream, fruit, nuts and biscuits.  
Third Class Passengers
Image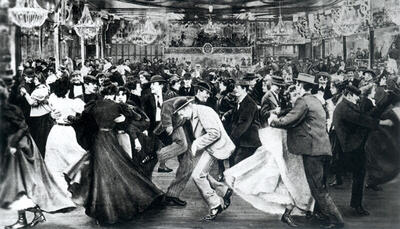 Although passengers sailing on third class tickets were the lowest tier on the Titanic, they were served surprisingly good quality food. For most, the food served in steerage was better than what they were used to at home. 
White Star Line was praised for the experience and food provided to third class passenger, which became an increasingly profitable segment of transatlantic ocean service at the time.  
In fact, steerage passengers normally had to bring their own food on the ship before sailing - this food would need to last for the entire journey. Therefore, it was a welcome improvement for most passengers that food would be served during the ill-fated voyage.
For third class passengers, breakfast included protein, oats and fresh bread made onboard. Options for these passengers included ham, eggs, oatmeal, smoked herrings and potatoes.
Image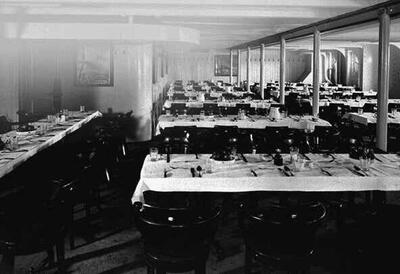 Next, lunch for third class passengers consisted of more fresh bread, cabin biscuits, roast beef and rice soup. Dessert consisted of plum pudding, fruit and sweet sauce. Cabin biscuits were often eaten by third class passengers to ease sea sickness. 
Titanic's steerage passengers were not served dinner on the ship; instead, they were served high tea in the late afternoon. Dinner was only served to first and second class passengers because it was considered an upper-class idea at this time in history. 
The afternoon tea served an assortment of cold meat and cheese with fresh bread and butter. Of course, tea was also served with cabin biscuits, thin porridge, and stewed figs and rice.  
Sadly, afternoon tea on April 14 would be the last meal that most passengers would eat for their life. Around 75% of third class passengers died when the Titanic struck the iceberg because their cabins were located in the lowest part of the ship - this made their cabins particularly vulnerable to sinking.