Norwegian Cruise Line's 'freestyle' approach to cruising means that guests are free to choose the exact cruise experience they desire. So far aboard the Norwegian Getaway, we have seen fellow passengers embracing this mindset as they take their vacations at their own pace. NCL's branding empowers guests to take charge of the vacation they want, and customize their experience as they see fit.
Our morning in the Virgin Islands began at about 10:00am. The Norwegian Getaway did not let guests off at St. Thomas until 12:00pm today, so we knew we would have some time to have a relaxing morning.
Our indoor stateroom provides plenty of space in the mornings to get ready for the day. There is a large closet with at least 10 hangers, that has allowed us to hang our dresses and nicer clothing. There is a sizable desk area with a large mirror, which means that while one person is using the bathroom to get ready for the day, another can use the other mirror. For two friends, we feel that the room is the perfect size, and we have not felt cramped at all during our voyage. Everywhere we look there is more storage in our stateroom, allowing us to fully make the cabin our little home at sea.
Image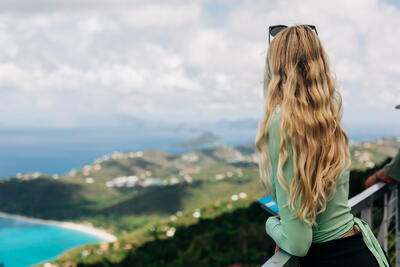 Knowing we had an excursion today that was taking us to Magens Bay, we dressed in our swim suits and over clothes before heading up to breakfast. Our stateroom is located on Deck 9, and the main breakfast location, the Garden Cafe buffet is located on Deck 15.
We arrived to the Garden Cafe just as they were preparing to transition from breakfast to lunch, at 11:00am. Upon entering the Garden Cafe we quickly realized that the right side of the buffet was serving only lunch style food, while the left was still serving breakfast. We both opted for the breakfast food this morning, and choose a selection of omelets, fruit, sausage, and country-style potatoes.
Breakfast onboard is very satisfactory, and has plenty of options for guests, that even the most reserved eaters should be able to find something to enjoy. After filling our plates, we found another window seat (I am happy to report that our trend of dining with a window seat continues!).
Image
We were both left awe-struck at the view before us as we sipped our coffee. Some of the bluest water I have ever seen stretched out in front of us, from the ship to the shores of St. Thomas. Beautifully colorful buildings speckled the hills of the island, while several sail boats sat dwarfed by the Norwegian Getaway in the harbor. I was thrilled to spot a vessel that very closely resembled a pirate ship - we had really made it to the Caribbean!
As breakfast came to an end, it was time for us to meet with our tour group for our shore excursion. For this trip we choose the 'Discover St. Thomas & Magens Bay' shore excursion.
As this was my first visit to St. Thomas, and my first shore excursion with Norwegian Cruise Line, I thought this tour would be a good option in order to get a good feel for the island, and an overview of what this destination has to offer its guests. Norwegian Cruise Line describes this excursion as, "everything you'd want to, and should, experience in St. Thomas all conveniently packed into one complete tour."
Image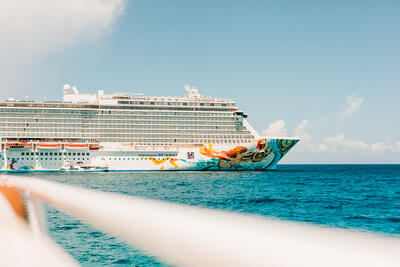 The tickets for our excursion had been left for us on the desk in our stateroom the day we boarded the Norwegian Getaway, and with these tickets in hand, we headed to the Illusionarium. This was the location our tickets designated the excursion participants to meet.
When we arrived at the Illusionarium, we discovered that instead of meeting inside the Illusionarium itself, the Illusionarium is just located near the route that crew members direct passengers to for disembarking at ports of call. Once again, we ran into no lines while getting off the ship. Once on shore, different crew members were holding signs with various excursion names on them, and we quickly located our group. For our excursion we were transported to various locations on the island using an open-air bus-like vehicle.
After disembarking the Getaway, we were asked to wait while the remainder of the open-air busses arrived. Our tickets were scanned, and we were assigned a bus and driver who would also function as our tour guide.
Image
Our tour guide was very friendly and good natured, he greeted each guest, and was happy to engage with passengers and answer questions. I was expecting that our driver would talk more over the loud speaker, and walk us through the history of St. Thomas and give an overview of notable facts while we drove from one location to another. However, while our driver did some of this, it was not as much as I expected.
While we did learn some interesting things, such as; there are approximately 60,000 people who live on St. Thomas, and that the island became a United States territory over 100 years ago (in 1917), I think it would have been fun for the driver to talk a little more about some of the sights we were seeing to give passengers some more background information about the island.
Image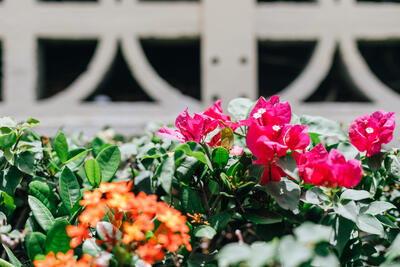 Our tour began with a scenic drive to the highest point of elevation on the island of St. Thomas.
The drive was beautiful, and we commented the whole way up just how tropical the flowers and foliage looked, and how "Caribbean-esque" the views looked with their turquoise blue water and sailing ships in the harbor below. The highest point on the island is named Crown Mountain, and at this location there was a lookout point, with a large shop and bar for guests to explore. We thought the view was breathtaking, and agreed that it was a location that one could spend a lot of time taking pictures of.
We spent a half-hour at this first step, and at 1:30pm were instructed to return to our transport vehicle.
Image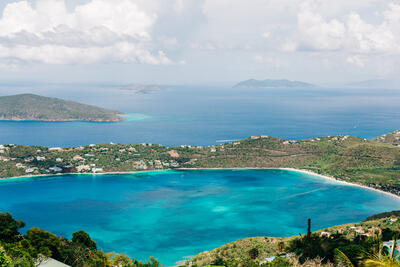 The next stop on the tour was Magens Bay Beach. The tour stopped at this location for two hours, from 2:00pm to 4:00pm.
Our stop at Magens Bay was the highlight of our day! I will continue to mention the water, it was incredibly clear, and warmer than a pool. We spent the majority of our time in the Caribbean Sea, swimming, chatting, and remarking how incredible it is that we were able to spend the day here in St. Thomas. There were many people at this location. However, it did not feel overly crowded. We were easily able to find spots to store our belongings on the beach, and when we were in the water there were not too many people close to us to diminish our experience.
Overall, the beach was busy, and definitely a popular destination, but did not feel overcrowded.
Image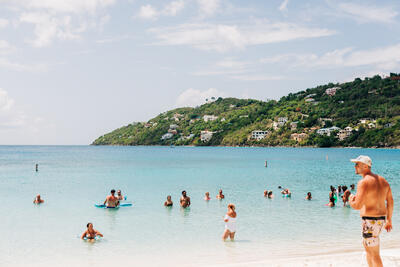 At Magens Bay Beach there was also a beach bar that sold a variety of classic tropical drinks, including pina coladas, daiquiris, and alike. Additionally, the beach has amenities such as a foot washing station, shower stations, and bathrooms, complimentary for guests to use.
We had a lot of fun at Magens Bay Beach enjoying the scenery, and taking it all in. The beach is perfectly framed by hills that accentuate the majesty of this Caribbean island.
Image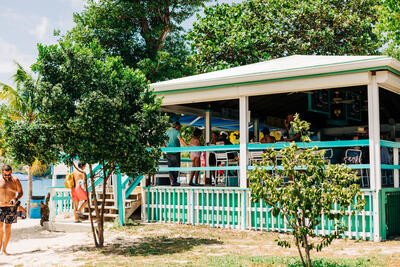 Magens Bay Beach offers the perfect location to spend time with family and friends while visiting St. Thomas. The beach has spots for shade, picnic tables, and even a very unique palm tree that makes for a fun photo opportunity.
Image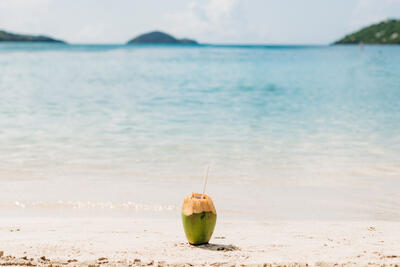 After our two hours at Magens Bay Beach, we boarded our tour bus, and were whisked away to downtown St. Thomas.
At this location we were dropped off to once again, to do some exploring on our own. The streets of downtown are exactly what you would expect from visiting a Caribbean island. Bright colored doors and windows adorn nearly every building.
By this time in our day it was about 5:00pm, and the golden light of the late afternoon sun was streaming through the streets of St. Thomas, giving it an extra magical glow. We were given about an hour to wander this area before we needed to meet back up with our tour. In addition to strolling the streets of the downtown area, we also walked along the harbor, which gave us a great view of all the sailing ships in the area, including our own, the Norwegian Getaway!
Image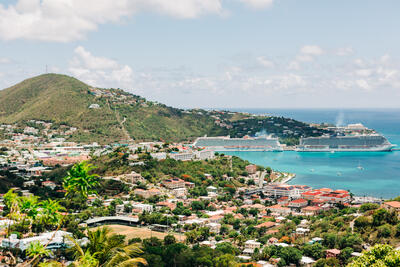 For those interested in shopping, St. Thomas offers an extensive range of shops and opportunities to find the perfect souvenir. While we did not take advantage of the shops too much on this stop, we did pop into one or two, and were able to find a couple little things to bring back for friends and family.
Guests visiting St. Thomas can be assured that they will find something to bring home from this port for loved ones back home.
Image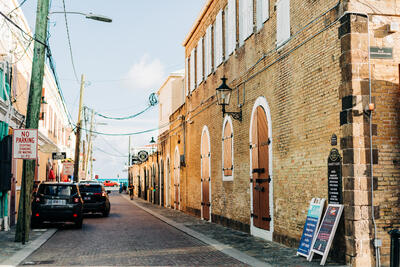 After our time downtown was complete, we hopped back onboard the tour vehicle and were escorted back to the cruise port. Our tour guide said goodbye to us, and thanked us for spending the day with him. We both enjoyed our experience with the shore excursion today!
However, we felt that the tour was more like an organized shuttle service. We were effectively and efficiently transported from one location on the island to the next, but after being dropped off, there was no additional information given, or facts presented about the area or the island of St. Thomas.
With that being said, it was very helpful to have all of our transportation for the day planned out, and therefore our itinerary as well. We didn't have to spend time trying to get from one location to the other, it was all prearranged. For guests looking for easy and well organized transportation to some of St. Thomas's most popular spots, I would recommend the 'Discover St. Thomas and Magens Bay' shore excursion! For guests looking for a more in-depth tour, with information and history about the island, maybe select an alternate shore excursion.
Image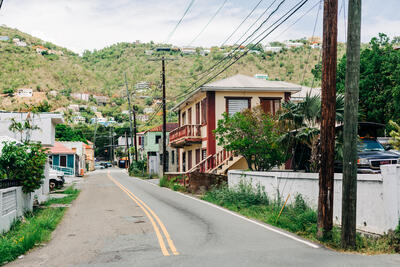 By this time in our day it was almost 6:30pm, the all-aboard time for the day. Norwegian Cruise Line's Freestyle Daily newsletter has the port arrival time and the time when all guests must be back onboard (all-aboard time) published at the top.
Additionally, NCL publishes what the weather is supposed to look like for each day in the Freestyle Daily. Because the newsletter contains so much helpful information, including all the times of events for that day, and what times different venues close and open, it can be helpful to carry a copy of the Freestyle Daily with you throughout the day. Guests can also access much of this information through the NCL app, however, when in port and away from the ship the app is unusable, making a paper copy of the day's onboard schedule important.
Coming back onboard Norwegian Getaway after a port visit has been a very easy and fast process. As we approach the ship we are greeted by a friendly crew member who hands us cool towels to place on our faces and hands. This is quite refreshing, and feels luxurious as we re-board.
Once again, we have not had to wait in any kind line to regain entry to the ship, which has been very nice. As we approach the ship, our stateroom cards and photo IDs are checked, and we proceed to security. Security consists of x-rays for bags and belongings, and medal detectors. The entire process of boarding the ship after a port of call visit takes maybe five minutes, it is very quick.
Image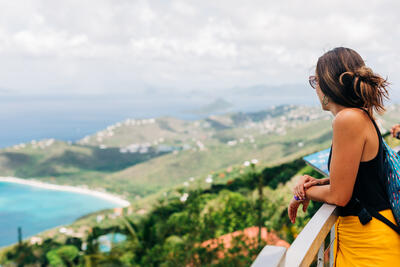 After making it back onboard, it was about 6:35pm, and time for our dinner reservation at Taste, one of the complimentary dining rooms onboard.
Once checked in, we were escorted straight to a table (once again a window seat!). Something of note, the restaurants 'Savor' and 'Taste' onboard Norwegian Getaway are essentially the same restaurant. The menus' daily Featured dishes change throughout the cruise sailing, but the food between the two restaurants is identical, and the only difference between the two is that one is located on the starboard side of the ship, and the other the port side. Because they are so similar, we enjoyed Taste just as much as we did Savor. Tonight for dinner we tried out the lemon shrimp entree and the Asian-style red snapper entree.
For dessert we both tried the espresso chocolate cake. All the dishes we tried tonight were tasty, and once again we were impressed that this meal was complimentary. Both Taste and Savor feel upscale, and would make for a great date night for couples, or even a special family meal, all while offered as complimentary dining experiences.
If you are a prospective guest visiting St. Thomas, Virgin Islands, I highly recommend making a reservation through the NCL app for Savor the night of your port stop in St. Thomas. The restaurant Savor offers beautiful views of the port of St. Thomas when it is docked in the harbor.
Image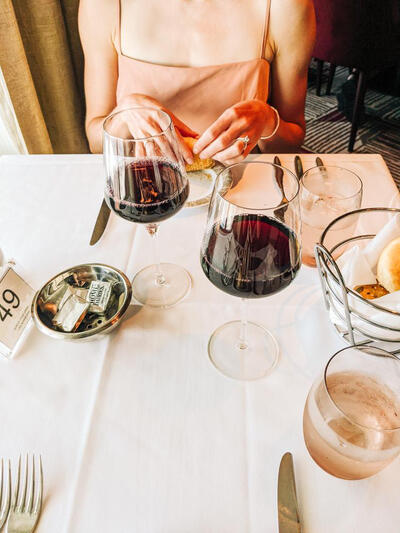 At this time it was 8:30pm, and one of the stand-up comedy shows was beginning in Headliners. We walked in just as it was starting and were able to find a spot in the back to watch the show. This particular comedy performance was rated PG-13 (the 18+ comedy shows are usually during the later hours of the evening, around 10:30pm). We both laughed and enjoyed ourselves, and agreed we would like to stop in on the comedy show at least one more time on our cruise.
After the comedy show we decided to check out the nighttime views from the back of the ship, and made our way to Deck 8, where The Waterfront is located.
If you are looking for the best place to take in the views from the Norwegian Getaway, I highly recommend stopping by The Waterfront. This is an area that wraps nearly all the way around the ship, and allows guests to stroll along the deck of the ship while taking in all of the ocean views. There are even large binoculars that guests can use to take in the view at ports of call, at closer inspection, should they choose. 
Guests can also access the very back of the ship from this area, and can look out as the ship sails away from port.
Image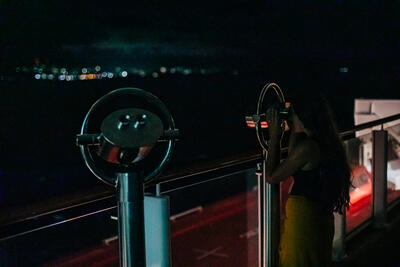 After taking in all the gorgeous nighttime views of the islands and other cruise ships passing by, we decided to head back to our stateroom to begin work. While working on today's blog post, we decided to test out the room service onboard Norwegian Getaway, and ordered some drinks to our cabin.
The whole process was very easy, and within 10 minutes our order was delivered to our room. Something of note, all purchases made onboard Norwegian Getaway, including specialty food and drink, are paid for using your stateroom key, and are charged to your stateroom.
Prior to online check-in, guests are asked to supply a credit card to authorize for any onboard purchases, this credit card is attached to guests' staterooms, and whenever an onboard purchase are made, the credit card on file will be charged. The room service process seemed easy and efficient, maybe another night we will test it out further with another food order.
Image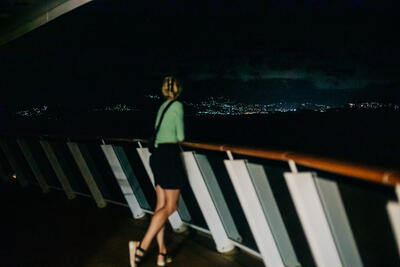 Tomorrow we will be visiting another beautiful port of call, San Juan, Puerto Rico. I am very excited for our day at this destination! I have done some research, and I am interested in visiting the old fort, and several other historical and notable landmarks in the area.
I am looking forward to sharing with you our experience at this Norwegian Cruise Line port of call, thank you again for following along! Until tomorrow, I wish you smooth sailing!
Image