Cruise travel bookings are seeing a major spike in demand, as cruisers are anxious to return to their favorite vacation activity.
Image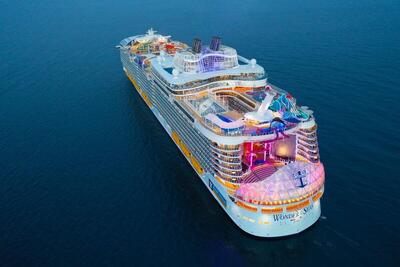 European travel, in particular, has seen a massive increase this summer. Cruising in Europe cruising includes a whole host of historic ports and incredible itineraries with sailings in England in the west all the way to the sunny seas of Greece and beyond.
Many of the top cruise lines in the world, including Royal Caribbean, Norwegian Cruise Line, Celebrity Cruises and MSC Cruises, have some of their new newest ships sailing the Mediterranean this year to capture a share of this growing market.
With many home ports and ports of call, European cruise ports are busy. We take a look at the top cruise port in Europe and what makes it so popular with cruisers.
And the winner is ... Barcelona
Image
An ideal launching point for a European cruise, Barcelona is perfectly located for embarking on a Mediterranean voyage. With so much to do in the Catalan city, along with great infrastructure, it is no surprise that it is at the top of the list, with 2.88 million passengers traveling through it each year.
There are numerous cruise lines using Barcelona as a homeport, including Royal Caribbean, Norwegian Cruise Line, Celebrity Cruises, MSC Cruises, Disney Cruise Line, Virgin Voyages, Regent Seven Seas, and P&0 Cruises, to name a few. There is a bevy of cruise options: short 4-5 day cruises, popular 7-day voyages, and 10+ day sailings, with itineraries that include many bucket list spots also the Mediterranean coast, Greek Islands, the Middle East, and transatlantic voyages. There's an option for everyone!
More recently, Royal Caribbean chose to deploy its newest ship, The Wonder of the Seas, to homeport in Barcelona for the 2022 summer season. This is the largest ship in its fleet and the biggest in the world, underlying the importance of this port and the increasing popularity of this market.
Barcelona, a maritime city
Although it is a bit smaller than the capital city of Madrid, Barcelona is the largest Spanish city on the Mediterranean Sea. The metro area is home to 5.66 million people, whereas Barcelona proper has only 1.6 million inhabitants. It welcomes a staggering 9 million tourists each year, one of the most sought after vacation spots in the world.
Ancient even in terms of European standards, there is evidence of local habitation from 7,000 years ago. Bordered by the mountains, Barcelona is on a plateau on the northeastern coast of Spain facing out to the Mediterranean. Its strategic location is probably why it attracted settlers so long ago. Today, it is easy to spot remnants of the Roman occupation, especially in the popular tourist area of the Gothic Quarter.
There has been a port in Barcelona for the last two thousand years. Despite its prehistoric beginning, the port of today is modern and well connected to transportation systems, a major perk for tourists.
Barcelona cruise port
Image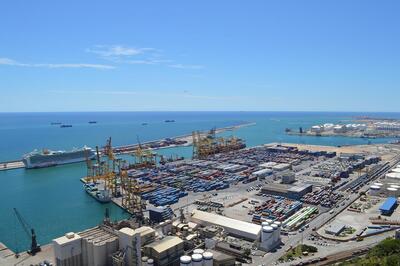 The cruise port is located on the southeast side of this historic city, not far from the beaches and at the bottom of the Las Ramblas Boulevard, one of the city's most famous streets. It is a mere 1.5 miles from the city centre.
The cruise port has 5 terminals spanning two main areas. The World Trade Centre area houses the North and South Terminals. The Adossat dock, has A, B, C D and E terminals. This second area is where most of the major cruise lines dock when in port.
There are a variety of transportation options for traveling to and from the cruise port including a shuttle bus from the airport, taxi, subway and train. There is no long term parking at the port due to European security regulations.  Amenities and services at the port include:
Free wifi 

Air conditioning

Duty free shops

Guest information centra

Luggage transfer

Shuttle services

Car park.

Foreign exchange

ATM

VIP lounge
Barcelona –A transportation hub
Image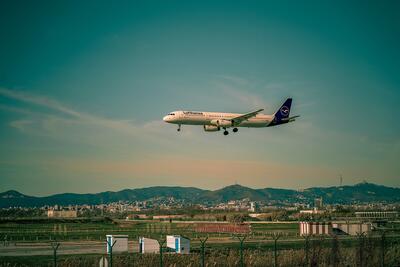 Whether flying in early for your cruise (highly recommended), traveling in by train, or just spending a day in the city, Barcelona is easy to get around. The airport, city centre, and cruise terminal are all relatively close together. This is a major advantage over ports like Civitavecchia (Rome) and Southampton (London), which are 1 and half + hours away.
The city has a wide range of transportation options, including car, train, subway, bus, and rider sharing services like Uber. While some cruisers are keen to walk to the port, that can be tough with luggage in tow on a hot summer day, something I would not personally recommend. 
The Josep Tarradellas Barcelona, also known as El Prat airport served just under 19 million passengers in 2021 and pre-pandemic, as many as 50 million passengers a year. With flights to 190 destinations worldwide and over 70 airline carriers, it is convenient. It has won a number of awards for best airport in Europe and offers guests a variety of good food options and shops.
Major tourist destination
Image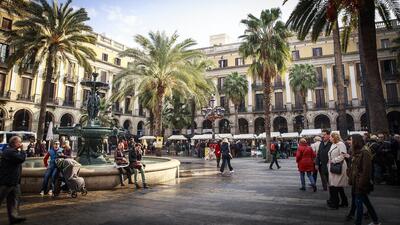 Another factor that makes Barcelona such as busy port, is that the city is one of the top tourist destinations in the world, with plenty of hotels, incredible activities and attractions. The Basilica de La Sagrada Familia is one of the top tourist attractions in the world. Cruisers can easily spend a few days taking in the many sites, visit the beach, or take a day trip to a wine vineyard on the outskirts of the city.
Barcelona is a great pedestrian city, with major boulevards and lots of parks. Las Ramblas is a tree lined, pedestrian street known for its lively atmosphere, shopping and food.
Speaking of food, Spanish food is legendary, and the city embraces the al fresco culture, where people of all ages, take a moment to have a glass of wine or share a meal outside. Blessed with a Mediterranean climate, the city enjoys mild winters and hot summers, with plenty of sunshine.
The runners up
Image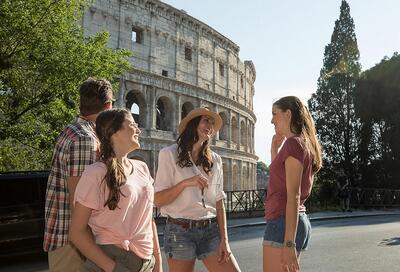 Silver medal - Rome / Civitavecchia
Rome is another major cruise destination in Europe and places second on the busiest port list with 2.6 million passengers per year. Of course, Rome is not on the Mediterranean Sea, and cruisers access the city through Civitavecchia, a small city northwest of Rome.
Civitavecchia is a beautiful seaside town that connects to Rome by train, shuttle, and private transfers. It is highly advised that cruisers plan ahead as there is a limited number of taxis servicing the port. As an aside, Civitavecchia wins an honourable mention for the hardest to say port name, which is said to be pronounced as tʃivitaˈvɛkkja; good luck with that. 
Known as the eternal city, Rome was once the epicentre of Europe for thousands of years, under the Roman Empire. Today, it remains an incredibly popular tourist destination acting as a homeport and port of call on my Mediterranean cruises. The Vatican, Colosseum, and the Pantheon are all top attractions.
Getting to Rome
Image
It is worth a special note to outline some of the complexities of flying into Rome to catch a cruise. It is potentially another reason why Barcelona wins as the most popular port. Based on the geography and transportation options, departing from Rome requires more logistical considerations and patience.
Rome is served by two airports, the largest being Fiumicino Airport, also known as the Leonardo Da Vinci Airport. It is 40 minutes to the city centre. For those spending some time in Rome as part of their pre- cruise vacation, they need to prepared for the 90 minute journey to and from the port, subject to ever-present traffic delays.
Traveling to Civitavecchia via train from Roma Termini takes roughly 50 minutes but requires transferring to a bus or walking to the port upon arrival. However, it is much more economical than a shuttle or private transfer. One ticket is usually $10-$15 USD per person. 
Rome's other airport is Ciampino Airport, which is about 30 minutes to the city center and about 1 hour to the port. It is served by local airlines, primarily Ryanair, with no overseas flights.
Bronze medal - Palma de Mallorca
Image
Perhaps surprising to some who may have wagered on Marseille or Southampton, but Palma de Mallorca is the third busiest cruise port in Europe, seeing a 1.88 million passengers each year.
One of the Balearic Islands in Spain, Palma is the capital, located on the southwest coast of the island. Palma is another major tourist destination with rich history, stunning beaches, and sailing. It is famous for its agricultural products like lemons, oranges and olives, thanks to its sunny and relatively warm weather most of the year.
It has 6 terminals, with shuttles running into the heart of the old city. It also serves as a departure point for some Western Mediterranean cruises and those going to the Canary Islands. It is a quick 20 minute drive to the airport with lots of taxis. 
It is often European cruise lines with itineraries that begin in Palma de Mallorca, such as Costa Cruises, AIDA Cruises, or MSC Cruises-- perhaps another way to be immersed into a more European vacation style.