Balcony staterooms and suites are popular cabin categories. The appeal of an ocean breeze and private outdoor space is a draw for many when booking a cruise, and Carnival provides its guests with lots of great options to choose from.
Making the choice even harder is a wide range of suites with even more indoor and outdoor space as well as a range of amenities and benefits that many cruises love.
So how do you pick between them? What is best for you and your family, and maybe most importantly - your wallet?
Image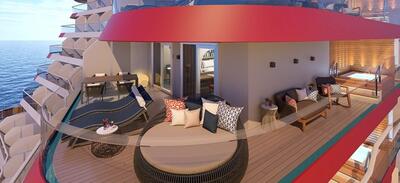 We have taken a deep dive into Carnival balconies and suites to explore the differences and what you need to know when trying to pick between them.  
What to consider
Image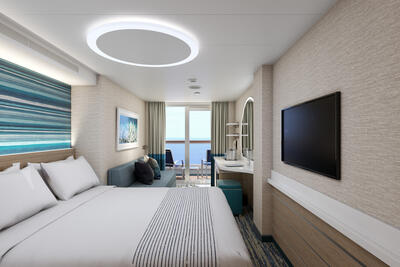 Many consider a balcony a must-have, but how much more you need in terms of space and benefits depends largely upon personal preference and budget.
With 22 ships in service and more on the way, Carnival has a large fleet with a wide array of balcony and suite options. Some are a little extra space; others are the size of luxury apartments.
Some things to think about when comparing balcony cabins and suites include price, size of cabin and balcony, inclusive benefits, the number of bathrooms, separate living space, theming and access to exclusive areas onboard.
Balcony cabin overview
Image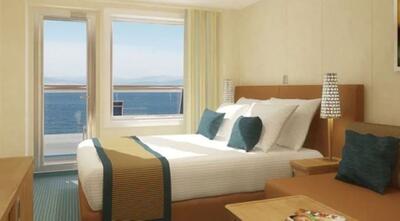 Carnival offers different balcony cabin options among its eight classes of ships, with newer ships in its Excel class providing fantastic new cabin designs for modern cruising.  
Patios for these cabins include a private space along with two chairs and a table. Inside, guests can expect twin beds that can be combined into a king bed. The cabins also feature a dedicated sitting area with a tv and desk/ vanity. There is a closet with drawers/ compartments as well as a safe for valuables. As with all cabins, rooms have a small mini fridge, climate control, and bathrobes upon request.
Passengers can also expect a private bathroom and shower, with basic toiletries such as shampoo and soap and a hair dryer. Newer balcony cabins on the Mardi Gras even have glass enclosed showers which are much roomier than those found on other ships.
Balcony cabins range in size and aren't necessarily larger than an inside or ocean view cabin; however, they do have added patio space. With the prevalence of this cabin type, it is easier to find the location you want, in comparison to less common categories such as ocean view staterooms.
Balcony cabin categories 
Image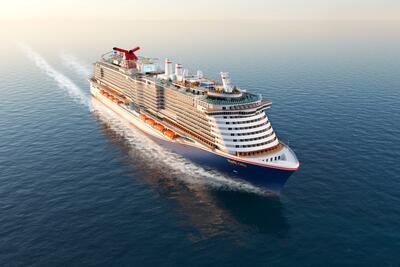 There are some variations in balcony cabins across Carnival's 22 ship fleet, which will grow even further in size with the introduction of Carnival Celebration and Luminosa next month. With 15+ categories of balcony staterooms, balcony cabins vary in size and price. Some of the most common options include:  
The standard balcony cabin which is around 185 square feet of interior space, along with 40 square feet of patio.
A Junior Balcony has the same size balcony as a standard room but slightly less interior space.
The Cove Balcony is the closest to the waterline allowing guests to feel like they are truly sailing. They do, however, have a more enclosed patio area.
The Extended Balcony, as the name suggests, has a larger balcony. An excellent option for those who love the tranquility of their own private outdoor space.
Premium-View Extended Balcony faces forward or backward. This gives passengers a unique view of what's up ahead or behind the ship. Word of note, some forward-facing rooms have partially obstructed views.
Looking at the prices for a popular seven day eastern Caribbean itinerary in March 2023 on Mardi Gras, the prices vary by a couple of hundred dollars between balcony cabin categories. A Junior Balcony runs $2,316 for two guests, all in with taxes, while a Private-View Extended Balcony costs $2,572.
Suites
Image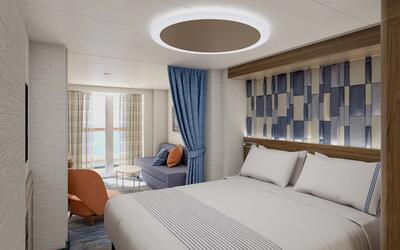 Carnival offers several options in terms of suites, which have additional perks and amenities. Larger cabins, extra bedrooms, bigger patios, as well as a host of other amenities, including:
Priority check-in, embarkation and disembarkation
Priority dinner reservations & main dining room time assignment
Two complimentary large bottles of water
Pillow-top mattresses
Bathrobes
Ocean Suites, among the most common type of suites, feature larger cabins to relax in. Upgraded bathrooms, with  bathtubs and premium toiletries add to the luxe feel. They vary in size but can be an additional 50% increase in indoor living as well as a more spacious balcony, and a larger closet.
Junior suites are a great entry level into this upgraded category with some added space, depending on the ship, along with perks such as priority dining, embarkation and disembarkation.
A step above a standard suite, the Grand Suite can be found on ships like the Carnival Vista and is even larger with a cabin size of around 350 square feet and an extended balcony. Cruisers are treated to a large private bath with a shower, whirlpool tub, double sinks, a walk-in closet/dressing area with vanity, and a sitting area with a sofa and coffee table.
Suites can run thousands of dollars per person, depending upon the sailing/ itinerary, and can sell out quickly due to their limited quantity on ships.
Carnival Excel suites
Image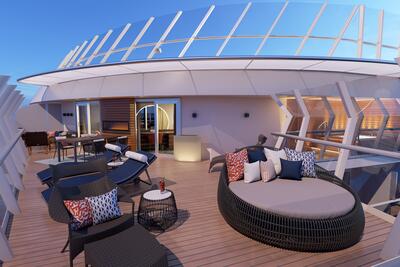 Showcased on the new class of ships such as Mardi Gras, Carnival is offering premium level of suites, with top of the line benefits including:
Complimentary access to Loft 19
Dedicated concierge phone line
Guaranteed Main Dining Room time assignment
Guaranteed reservations at most specialty dining spots when reserved 24 hours prior
Sparkling wine and fruit bowl upon arrival
Bottomless Bubbles soft drink package
Complimentary room service
Upgraded bathroom amenities
Complimentary on-demand movies
Complimentary laundry service
Loft 19 is a private retreat space with loungers and an infinity whirlpool. Suites guests enjoy complimentary access to Loft 19, and get priority cabana reservations.
Image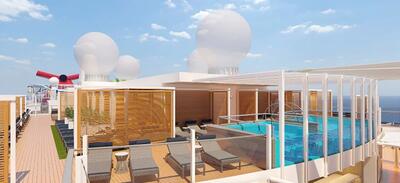 There are a few different cabin offerings in the Excel category, including:
Carnival Excel Suite with amenities such as a large cabin, upgraded bathroom with bigger shower and double sinks, dining area, two tvs, and lounge chairs on the balcony, along with a table.
Carnival Excel Corner Suite, another spacious suite, with a wrap-around balcony and a wet bar in the stateroom.
A Carnival Excel Aft Suite is a fantastic option with a wraparound balcony, a private hot tub, dining area, daybed, plus loungers in addition to spacious interiors with separate bedrooms and living areas.
Carnival Excel Presidential Suite is the ultimate cruise cabin, with a separate living room and bedroom, two TVs, a walk-in closet, a sectional sofa, a dining area, and of course, a wet bar. Guests won't want to leave this suite with its hot tub, an incredible balcony that has everything from lounge chairs to loveseats, rocking chairs, a daybed, and al fresco dining table.
Specialty cabins and suites
In addition to the balcony cabins and suites highlighted, some Carnival ships have specialty staterooms. These stand out with their incredible themes and design, and added perks. A great feature of these themed rooms is that they have both balcony and suite options, catering to a wide range of budgets.
Havana staterooms and suites
Image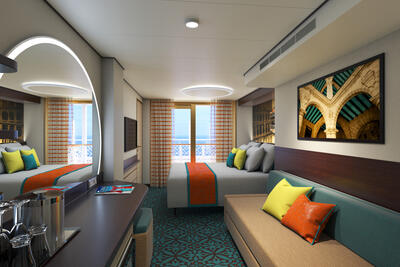 These cabins are Cuban inspired in décor, and colorfully decorated.  All guests in these staterooms must be 12 and over and have exclusive access to the Havana Bar and Pool. Adding to the resort feel are extra-large outdoor spaces and patios with hammocks. shower.
Additional benefits include:
Priority check-in and boarding
Priority Main Dining Room time assignment
Priority debarkation at all ports
Two large bottles of water
Pillow-top mattress
Bathrobes
These specialty staterooms are available on Carnival Celebration, Carnival Horizon, Mardi Gras, Carnival Panorama and Carnival Vista.
Features include:
Havana Cabana staterooms have floor to ceiling windows, and an outdoor patio, complete with lounge deck chairs.
The Havana Cabana Corner Suite is more spacious with a  separate living room and bedroom area, with a TV in each, in addition to a sectional sofa and walk-in closet. Outside, guests can enjoy a private lanai with a swinging chair.
Havana Cabana Suite also has lots of space and a luxurious lounging area with deck chairs and a swinging chair, along with a luxurious rain showerhead. 
Cloud 9 Spa staterooms and suites
Image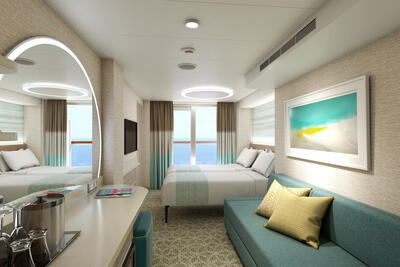 For a more Zen experience, Carnival offers its Cloud 9 Specialty cabins and suites. The staterooms focus on a calm, relaxing environment with soothing décor and in-room amenities like Elemis toiletries and spa-branded bathrobes and slippers. Benefits include:
Priority spa reservations

Free fitness classes

Unlimited access to the thermal suites

Exclusive discounts on treatments during port days.

Unlimited use of hydrotherapy Pool (for those ships that have them)
These staterooms and suites are available on Carnival Breeze, Carnival Celebration, Carnival Dream, Carnival Horizon, Carnival Jubilee, Carnival Luminosa, Carnival Magic, Mardi Gras., Carnival Panorama, Carnival Radiance, Carnival Splendor, Carnival Sunrise, Carnival Sunshine and Carnival Vista.
Cloud 9 stateroom options:  
Cloud 9 Spa Balcony with Cloud 9 benefits.

Cloud 9 Spa Cove Balcony, which sits closer to the waterline than most rooms, for the ultimate chill vibe.  

Cloud 9 Spa Forward-View Extended Balcony, which has a large balcony that faces forward, offering the same view as the captain

Cloud 9 Spa Suite with more room amenities, including two windows and a large balcony, sitting area with sofa and coffee table, walk-in closet, and a larger bathroom with shower, whirlpool tub and double sinks.
Family Harbor stateroom and suites 
Image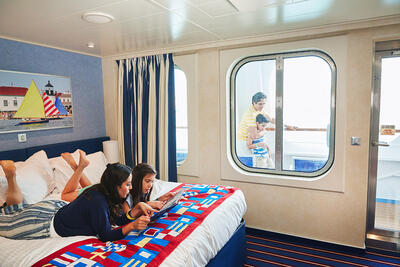 Nautically themed, the cabins are designed specifically for families in mind, with a number of unique benefits. Located centrally to the Family Harbor Lounge, guests of these staterooms enjoy:
Breakfast in the morning,
Snacks throughout the day
Activities like board games, family movies, video games and more. 
Kids eat free at most onboard specialty restaurants
One free evening of Night Owls babysitting service,
These cabins are available on Carnival Celebration, Carnival Horizon, Mardi Gras, Carnival Panorama and Carnival Vista.
Image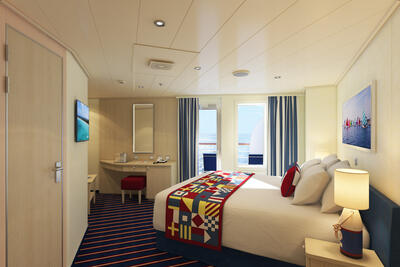 Cabin options include:
Family Harbor Balcony has all of the benefits of a standard balcony cabin, with the added perks of the Family Harbor area.
In addition, there are Cove Balcony and Extended Aft- View Balcony options. 
Family Harbour Ocean View Suite accommodates up to five guests, with a separate bedroom and living room area, with a TV in each. In addition, there is a walk-in closet, plus a convenient full bathroom and a separate washroom.