First Timer's Guide to Carnival Vista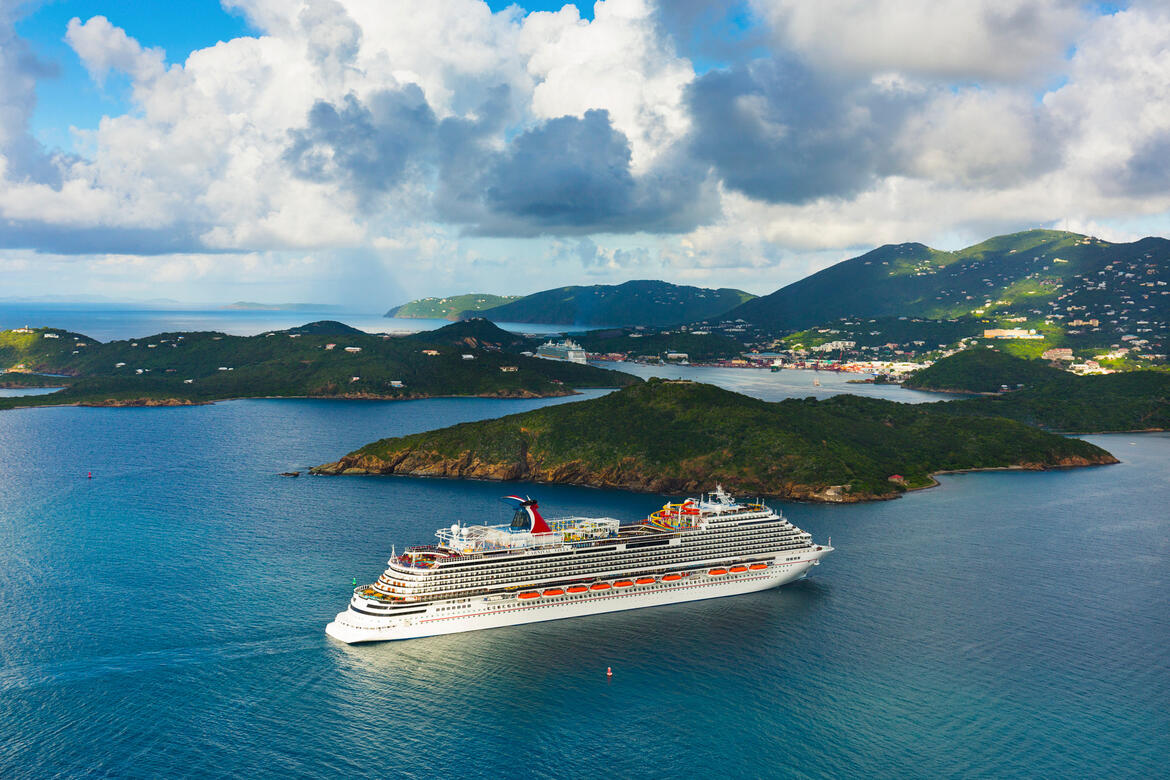 Carnival Vista set sail on July 3 from Galveston, the first Carnival ship to debut U.S.-based cruises since the pandemic shut down cruising in 2020. The popular ship is one of the line's newest, and was the first to debut innovative attractions, such as Havana and Family Harbor cabins, the SkyRide, an IMAX movie, and an onboard brewery.
For travelers on the go, Vista offers plenty of onboard activities to keep boredom at bay. Vacationers in dire need of a relaxing break can ignore all the hubbub and find plenty of hangouts to linger and veg out. As with most Carnival ships, a social atmosphere pervades the ship. You might come home with new friends, in addition to a suntan.
Take a look at all that Carnival Vista has to offer with our guide for first timers.
Top 3 best things to do on Carnival Vista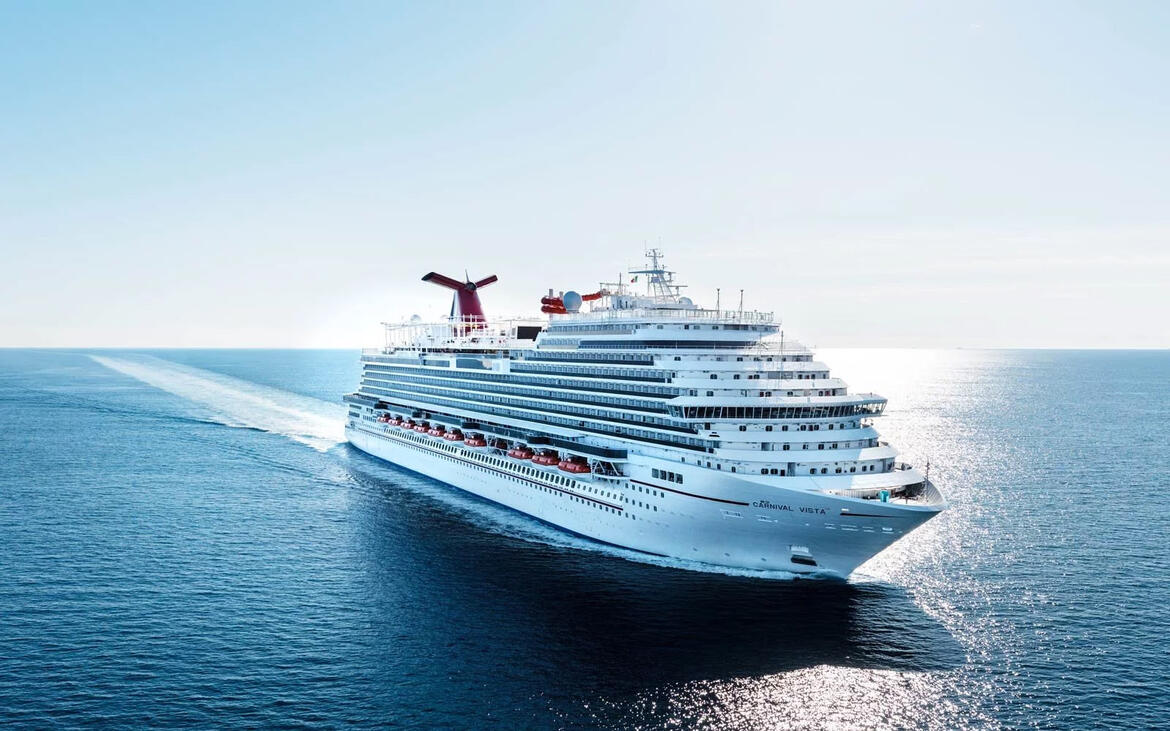 Let's cut to the chase: If you do nothing else on your Carnival Vista vacation, make sure you do these three things.
Ride the SkyRide: Challenge your travel companion to a bike race around an elevated track, dangling high above the open sea. Look down only if you dare!
Drink a beer brewed onboard: Put down that Bud Light and pick up a ThirstyFrog Port Hoppin' IPA, brewed on the ship at the RedFrog Pub & Brewery.
Find Serenity: Escape to the ship's top deck and lounge the day away at the Serenity Adults-Only Retreat on a hammock or in the hot tub, far from splashing children and the cares of the world.
Dining and restaurants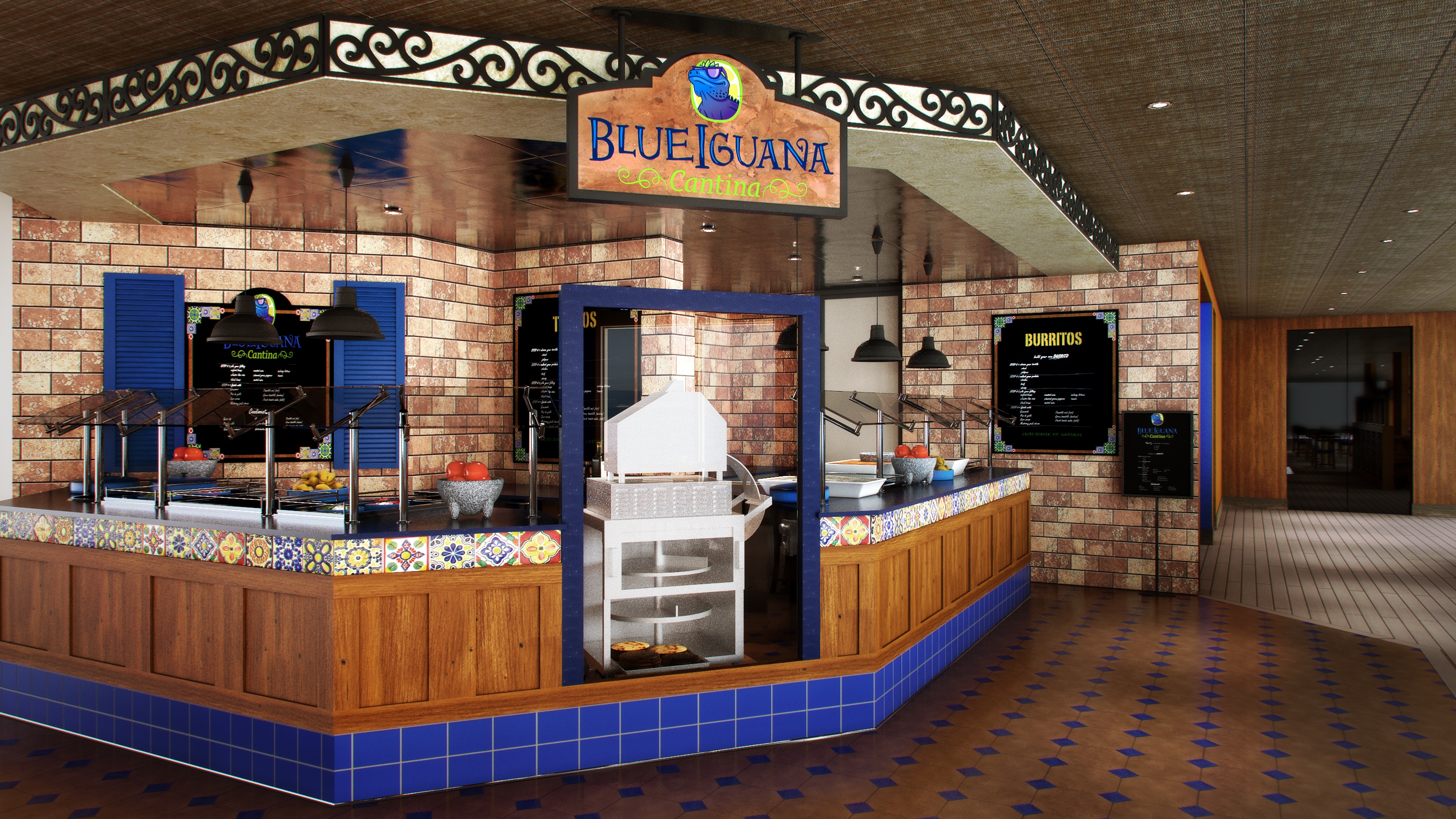 You don't need to bust your budget to enjoy dining variety on Carnival Vista. Many of its casual eateries are included in the cruise fare. Even its date-night venues have lower cover charges than extra-fee restaurants on other cruise lines.
The key to trying it all on Carnival Vista is to read up on the dining options. You might be surprised to discover that the BlueIguana Cantina serves a yummy breakfast burrito or that Cucina del Capitano offers a pasta lunch for free (even though you have to pay extra for dinner). And, yes, you can track down a veggie burger on the pool deck and load it up from the Guy's Burger Joint toppings bar – just like the meat eaters in your travel party.
Main dining rooms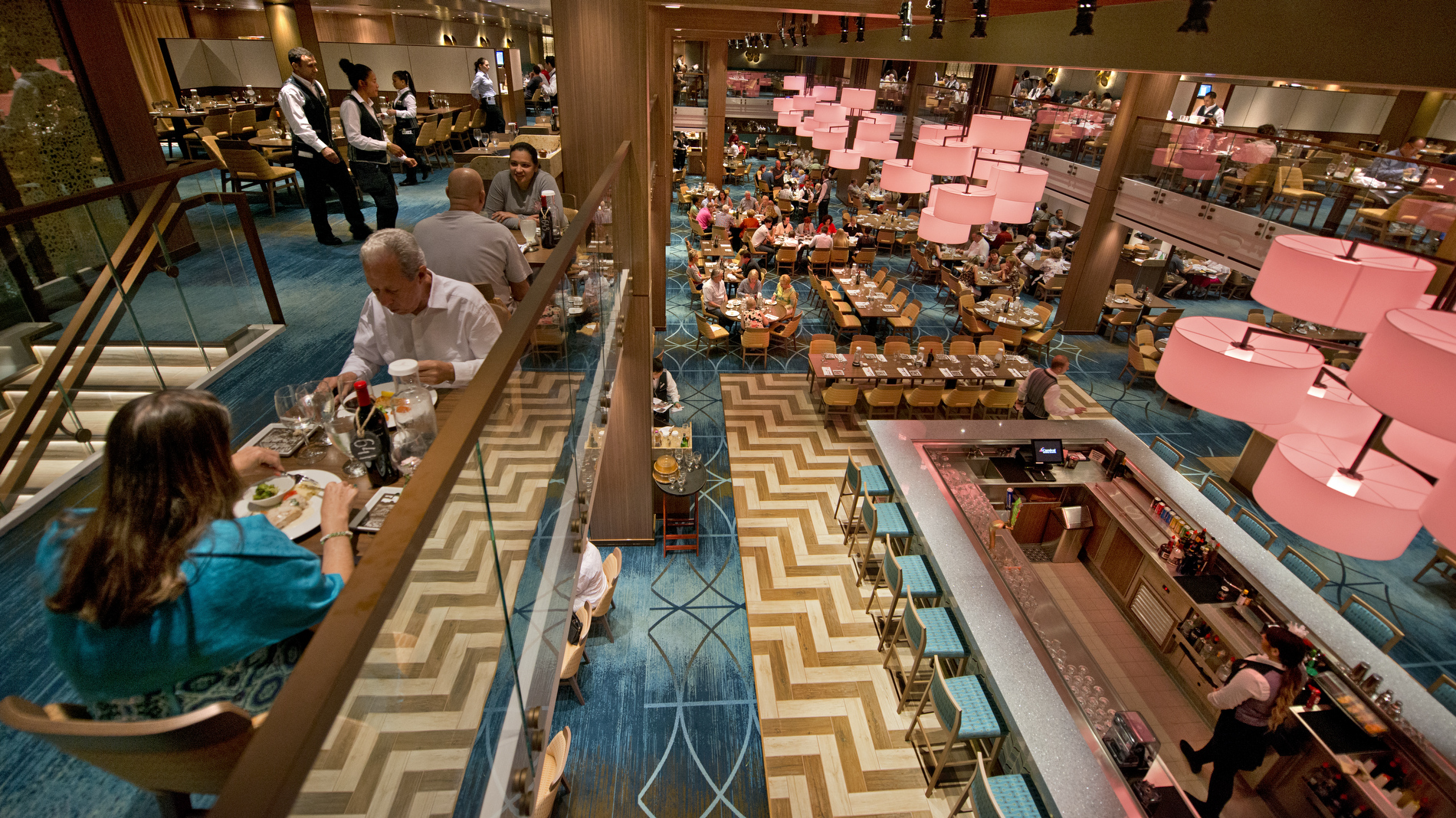 Carnival Vista has two main dining rooms, Horizons and Reflections, large banquet-style venues that look fancy but are never stuffy. You'll be assigned to one of them, depending on whether you choose set-time, assigned-table dining or flexible anytime dining.
The main dining room serves dinner daily, breakfast on port days, and brunch on sea days. Dinner comes in two styles: American Table on casual nights and American Feast on "elegant" nights. The difference is in the décor (tablecloths or not) and the menu (Feast nights will have somewhat fancier dishes). 
Carnival's hallmark dining room dessert is the molten chocolate cake, and shouldn't be missed. Other fun menu options include dishes inspired by the ports of call and a "Rare Finds" section featuring more adventurous options, such as escargot, frog legs, or ox tongue.
Buffet dining
The Lido Marketplace is Carnival Vista's pool deck buffet venue, where stations remain self-serve, even with other Covid-19 precautions in place shipwide. It serves breakfast, lunch, and dinner, and is home to the open-round-the-clock self-serve ice cream machines.
Themed stations make it easier to find what you're in the mood for, and keep lines from getting too long. Stations include a rotating selection of international dishes, comfort food, a deli counter, salad bar, carvery, and desserts. Hot and cold breakfast is served here, as well, including eggs cooked to order.
If you're thirsty, help yourself to water, coffee, or juice at the beverage stations. Or, you can belly up to the bar or flag a waiter to order cocktails, or swipe your key card at the self-pour beer taps.
Casual dining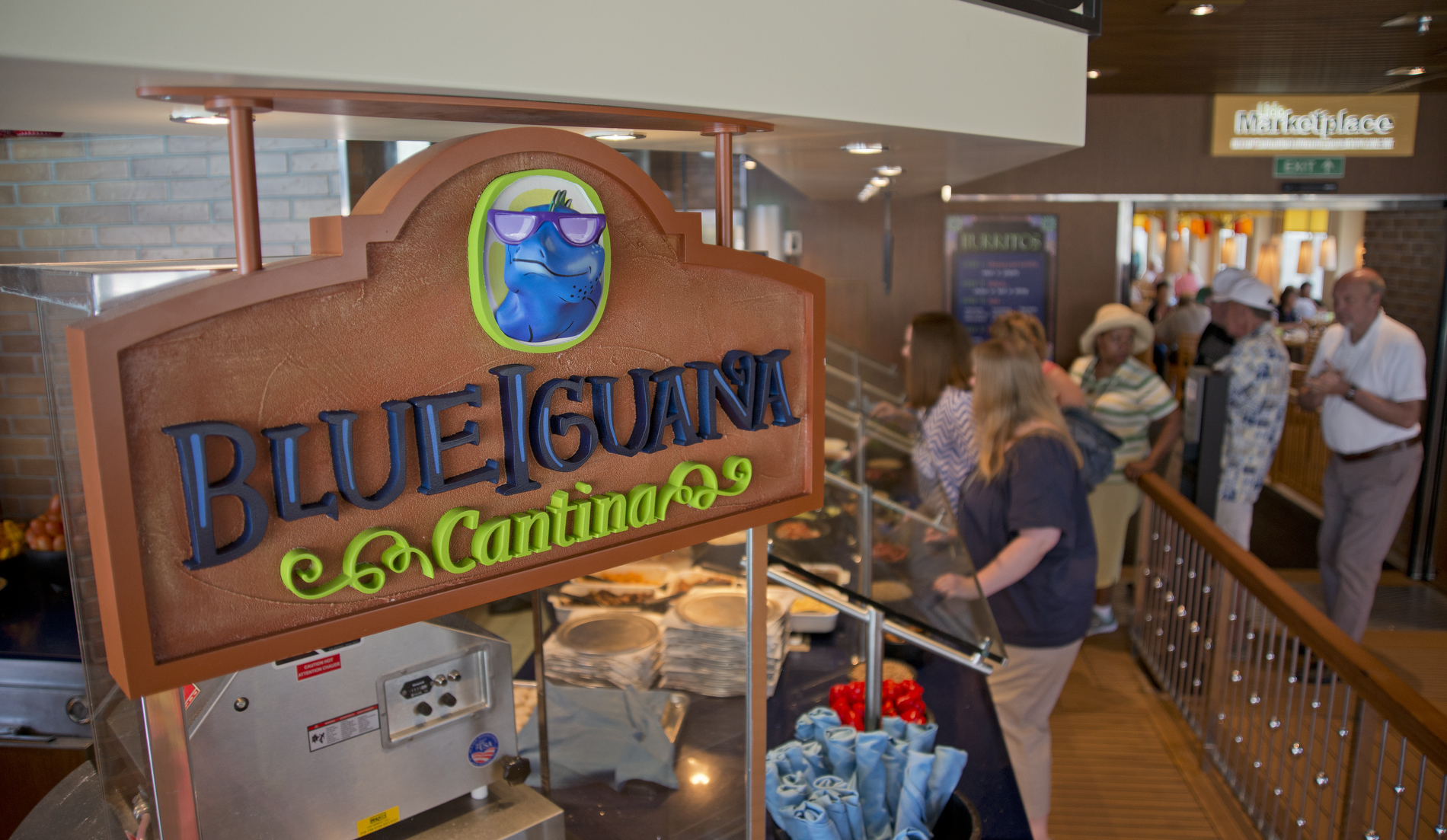 Carnival Vista has plenty of casual, no-fee dining spots, many clustered by the Lido Marketplace on the pool deck. They're essentially food counters that serve made-to-order fare.
BlueIguana Cantina serves up tacos and burritos for breakfast and lunch on the pool deck. Its across-the-deck neighbor is Guy's Burger Joint, a fan favorite dishing out Guy Fieri's famous burgers with their over-the-top toppings.
Aft of the Lido Marketplace is Pizzeria del Capitano, the ship's 24-hour pizzeria. It's flanked by the Seafood Shack, where cruisers pay extra for clam chowder, lobster rolls, and other New England-style seafood dishes. 
On the Deck 5 Ocean Plaza, Guy's Pig & Anchor Bar-B-Que Smokehouse is a meat lover's paradise, with menu items such as sausage, pulled pork butt, and grilled chicken.
Sit-down dining
Carnival's stand-alone restaurants with sit-down dining maintain the ship's family-friendly, casual vibe with a couple of fine dining options thrown in for date night.
Located above the Lido Marketplace, Cucina del Capitano is the ship's neighborhood family-style trattoria, which offers a complimentary pasta lunch and extra-fee dinner of Italian classics. Next door, JiJi Asian Kitchen's pan-Asian menu will take you on a tour of the Far East while you sail through the Caribbean. 
Bonsai Sushi and Fahrenheit 555 Steakhouse offer indoor and outdoor dining along the Ocean Plaza promenade. The steakhouse is the fanciest restaurant onboard for all your night-out needs.
True gourmets might want to splurge on the Chef's Table, a small-group dinner experience prepared and hosted by one of the ship's top chefs.
Snacks and coffee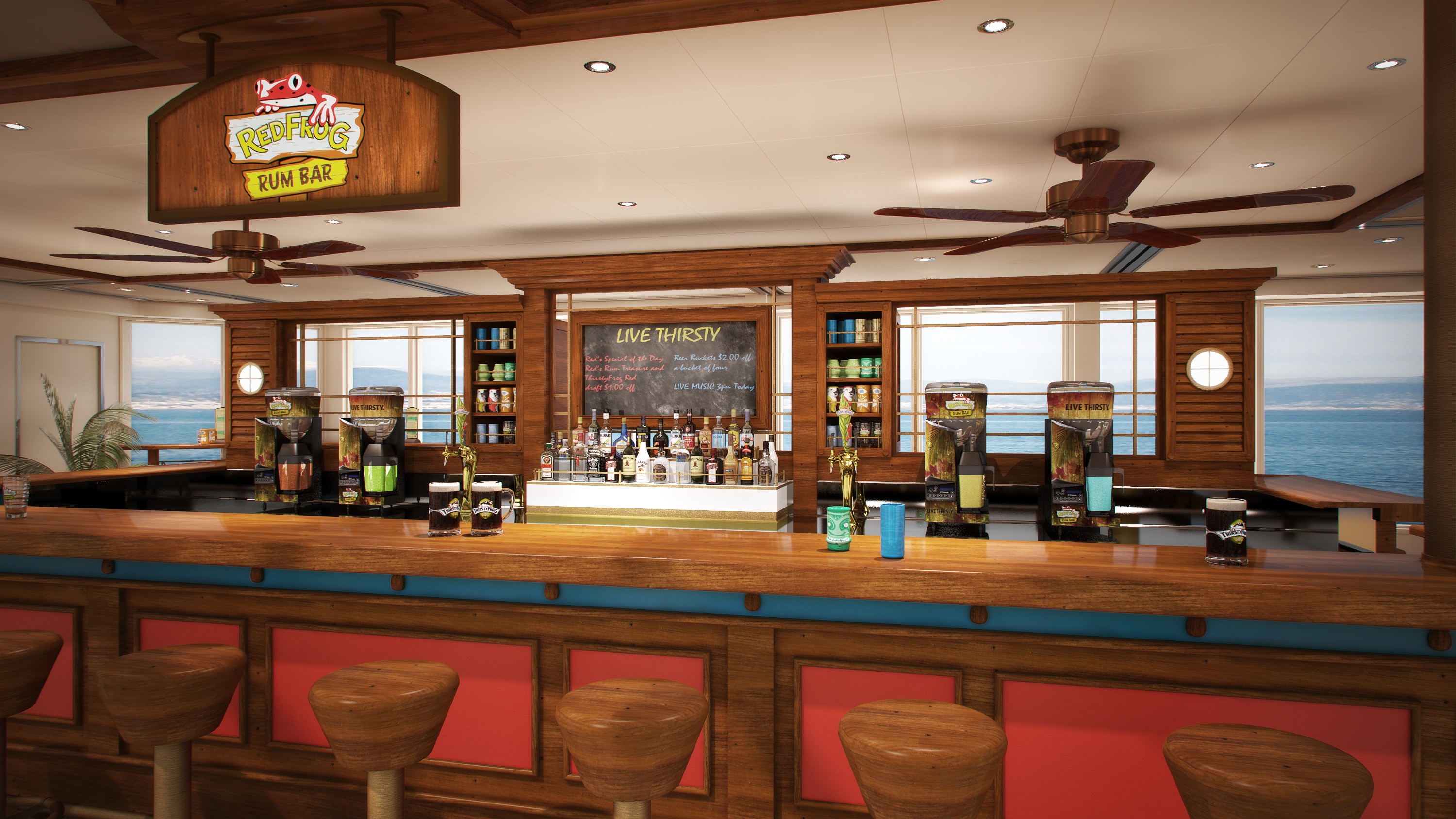 If the coffee and desserts at the buffet don't meet your high standards, head over to JavaBlue for specialty coffees and baked goods. The adjacent Shake Spot cools you down with handcrafted milkshakes and root beer floats (both kid-friendly and spiked).
The RedFrog Pub and Brewery is a go-to spot for beer brewed right onboard, but it also has a small bites menu for those needing fuel for a game of foosball or cornhole. Munch on Caribbean-inspired conch fritters, hot wings, and other bar food favorites.
Cherry on Top sells bulk candy and other goodies if the complimentary desserts onboard can't shake your craving for Sour Patch Kids.
Activities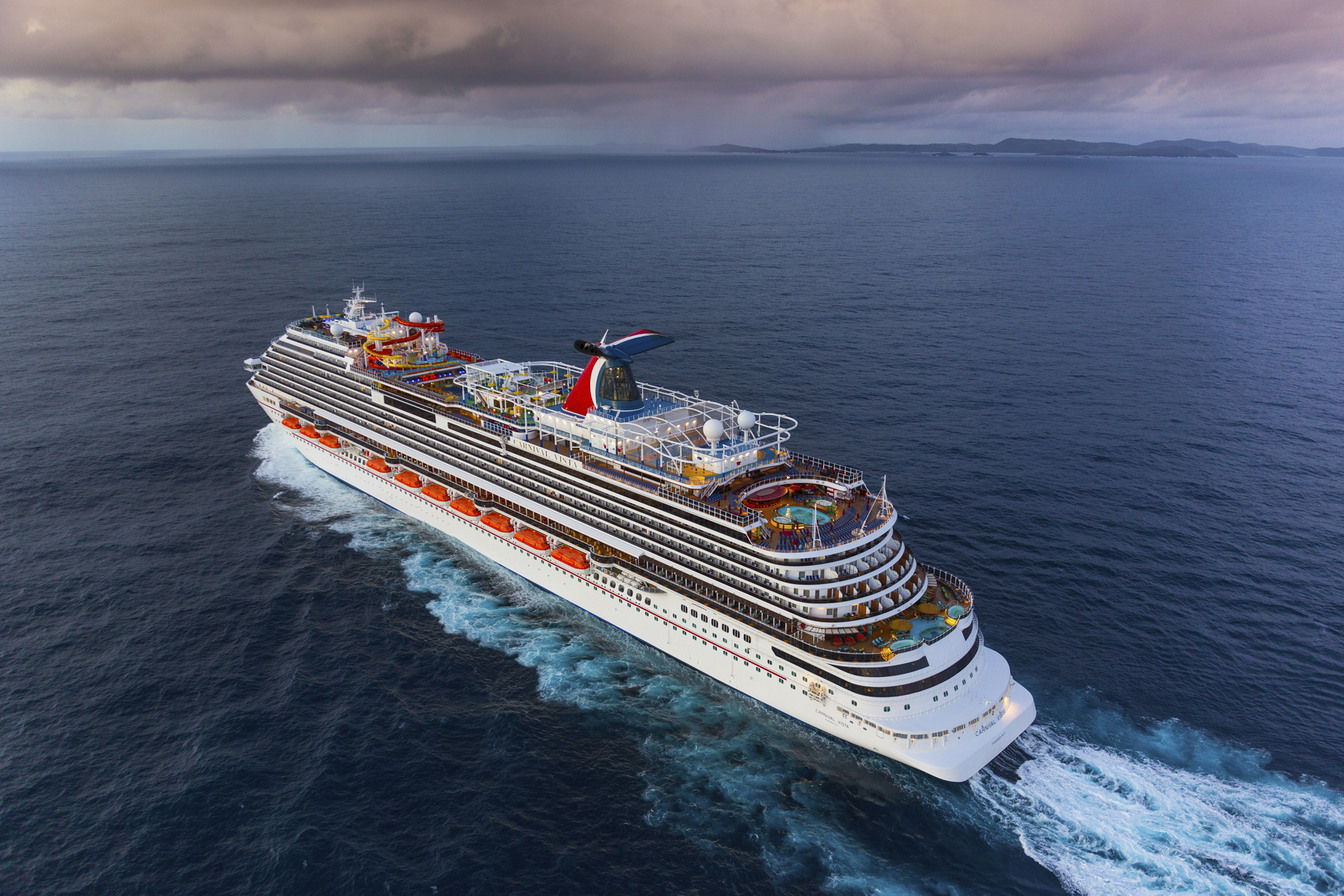 As one of Carnival's newer ships, Vista has a ton of indoor and outdoor activities and attractions to keep you entertained on sea days. The ship's daily newsletter will list all the events hosted by the ship's activity staff, from dance lessons to silly contests.
Shows
Playlist Productions are Carnival's signature song-and-dance shows in the Liquid Lounge (the ship's main theater). They're short, running about half an hour, and often spill out into the lobby for a toe-tapping after-party with ship passengers. The shows also make creative use of LED screens and high-tech special effects.
If you're looking for some laughs, the Punchliner Comedy Club at the Limelight Lounge brings aboard several guest comedians per sailing for family-friendly and adult-themed standup shows every night. The comics will poke fun at everyone, so skip the late-night shows if you offend easily.
Cruisers who prefer to put on their own show, or watch the talents (or lack thereof) of their shipmates, should seek out the Lip Sync Battle competitions throughout the cruise or the always-popular karaoke nights onboard.
Pools and sun decks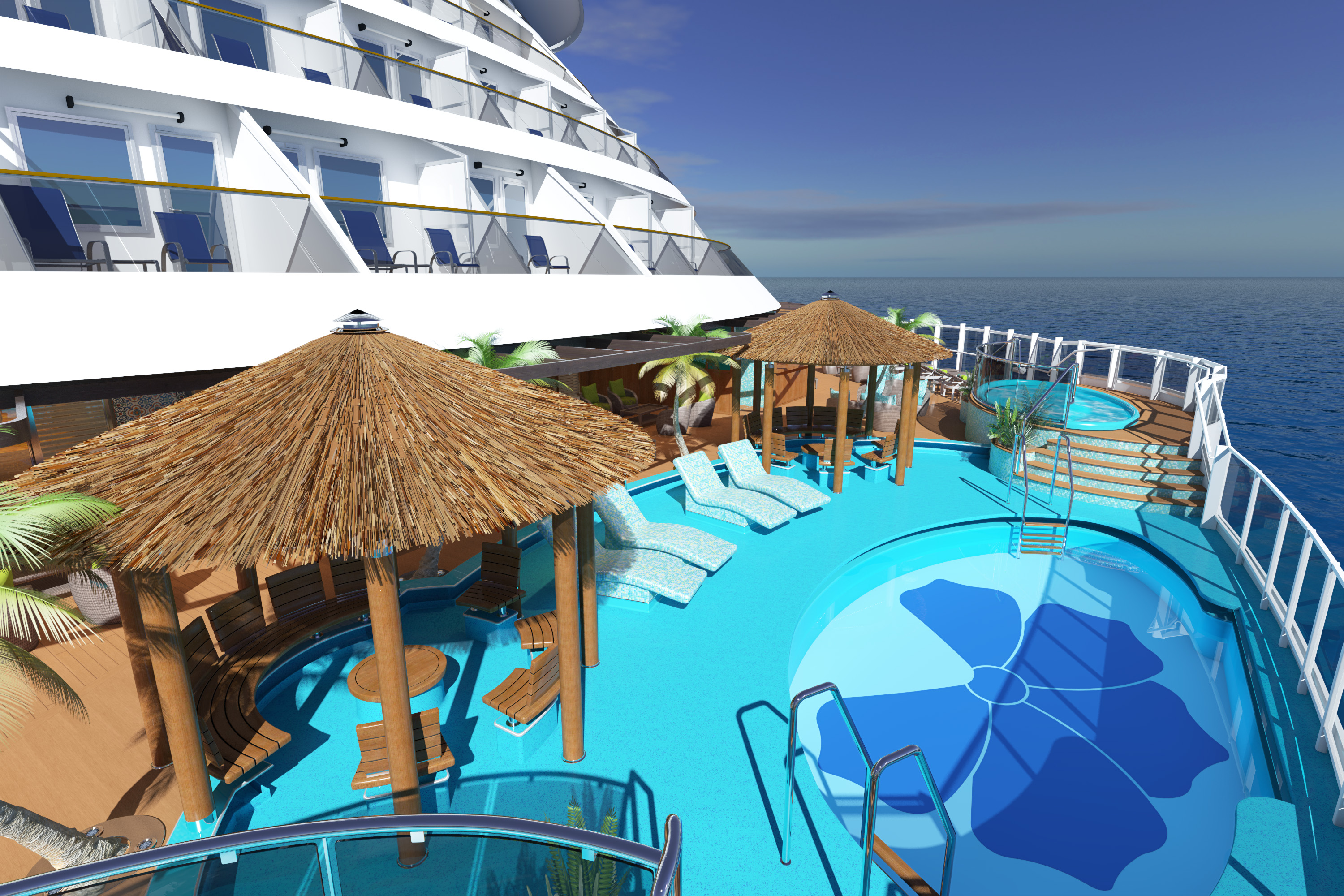 Bathing beauties – and anyone else looking to cool off – can find Carnival's main pools on the Deck 10 Lido. The Beach Pool is surrounded by bars and food counters and rows upon rows of lounge chairs. Aft of the Lido Marketplace, the Tides Pool and its two hot tubs are close to drinks, pizza, and ice cream.
The Serenity Adult-Only Retreat claims the highest real estate on the ship (Deck 15). This sun deck is free to anyone over the age of 18. Its padded loungers, clam shells, and hammocks, not to mention its two hot tubs, are incredibly inviting – and someone's always nearby to make you a refreshing cocktail. 
Passengers booked into Havana cabins (aft on Decks 5 and 6) have exclusive access to the Havana pool and hot tubs overlooking the ship's wake.
Signature attractions
Carnival Vista has all the usual cruise ship attractions – casino, spa and fitness center, shops – but its top-deck attractions are next-level.
Here, cruisers will find SportSquare and the Clubhouse, which offer games like Ping-Pong, mini-golf, and outdoor billiards, as well as wacky outdoor fitness equipment. The most innovative option is the SkyRide, a recumbent bike ride around an elevated track.
Kids and adults who like to get wet can splash away at Carnival Waterworks, with its twister waterslides and a spray park.
Movie buffs will have a great time on Carnival Vista, with multiple options for screenings. Take in a hit flick by the pool at the Carnival Seaside Theater (complete with popcorn and blankets when it's chilly), larger-than-life shows at the IMAX theater, or special-effects laden movies at the Thrill Theater that draw you into the action and leave you shrieking.
Staterooms and suites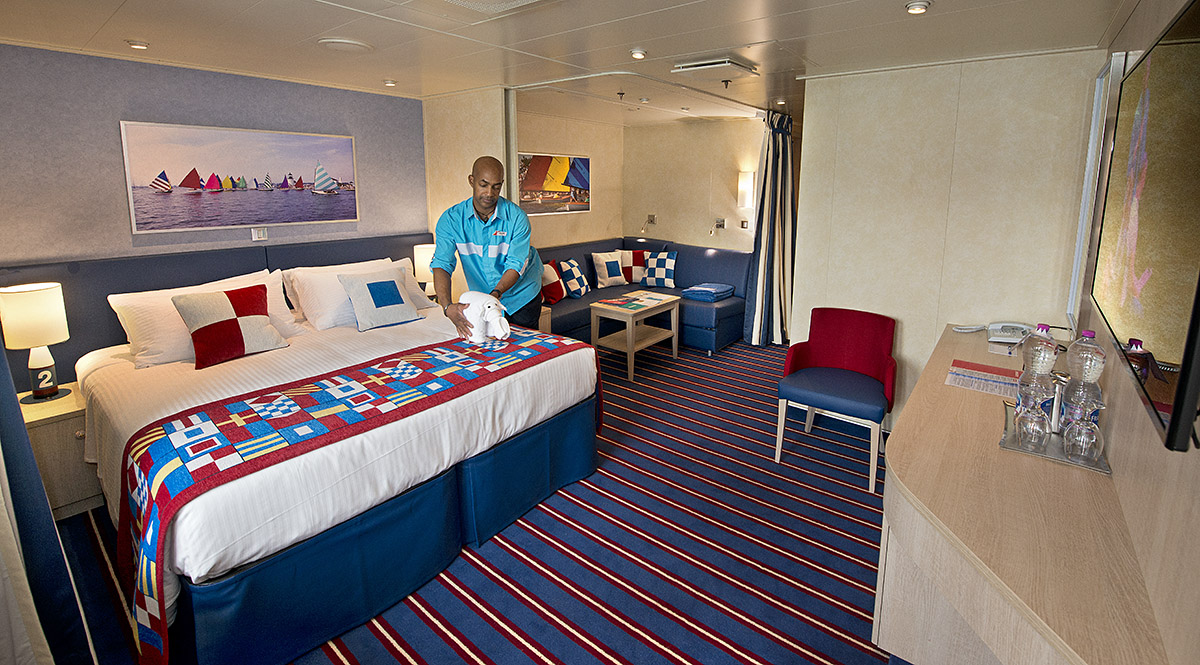 Cabins come in all shapes and sizes, mainly divided into inside (no window), outside (porthole or picture window), balcony (with a private veranda), and suite (the roomiest staterooms, often with larger bathrooms, balconies, or sitting areas). 
Families and large travel groups can book cabins that connect through interior doors, and passengers with mobility issues can find accessible staterooms to accommodate their needs (such as wider doorways or roll-in showers).
Carnival Vista does have a few out-of-the-ordinary cabin types worth mentioning.
Family Harbor cabins
On Deck 2 aft, the cabins have been designated Family Harbor cabins. These cabins range from inside to suite and can sleep four or five guests. Suites and deluxe oceanview Family Harbor cabins come with two bathrooms – a regular toilet/shower/sink bathroom and a second with a bathtub and sink – to make getting ready in the morning and evening a little easier for a family with kids.
The cabins also have a fun nautical décor that sets them apart from other cabins onboard. 
What makes these cabins most notable is guests here get exclusive access to the Family Harbor Lounge, a hangout with a breakfast buffet, all-day snacks and 24/7 ice cream, board and video games, movies, and a concierge desk. Plus, kids in Family Harbor cabins eat free in many of the onboard extra-fee restaurants, and get one free evening in Camp Ocean's late-night group babysitting party, so Mom and Dad can enjoy a night out to themselves.
Havana cabins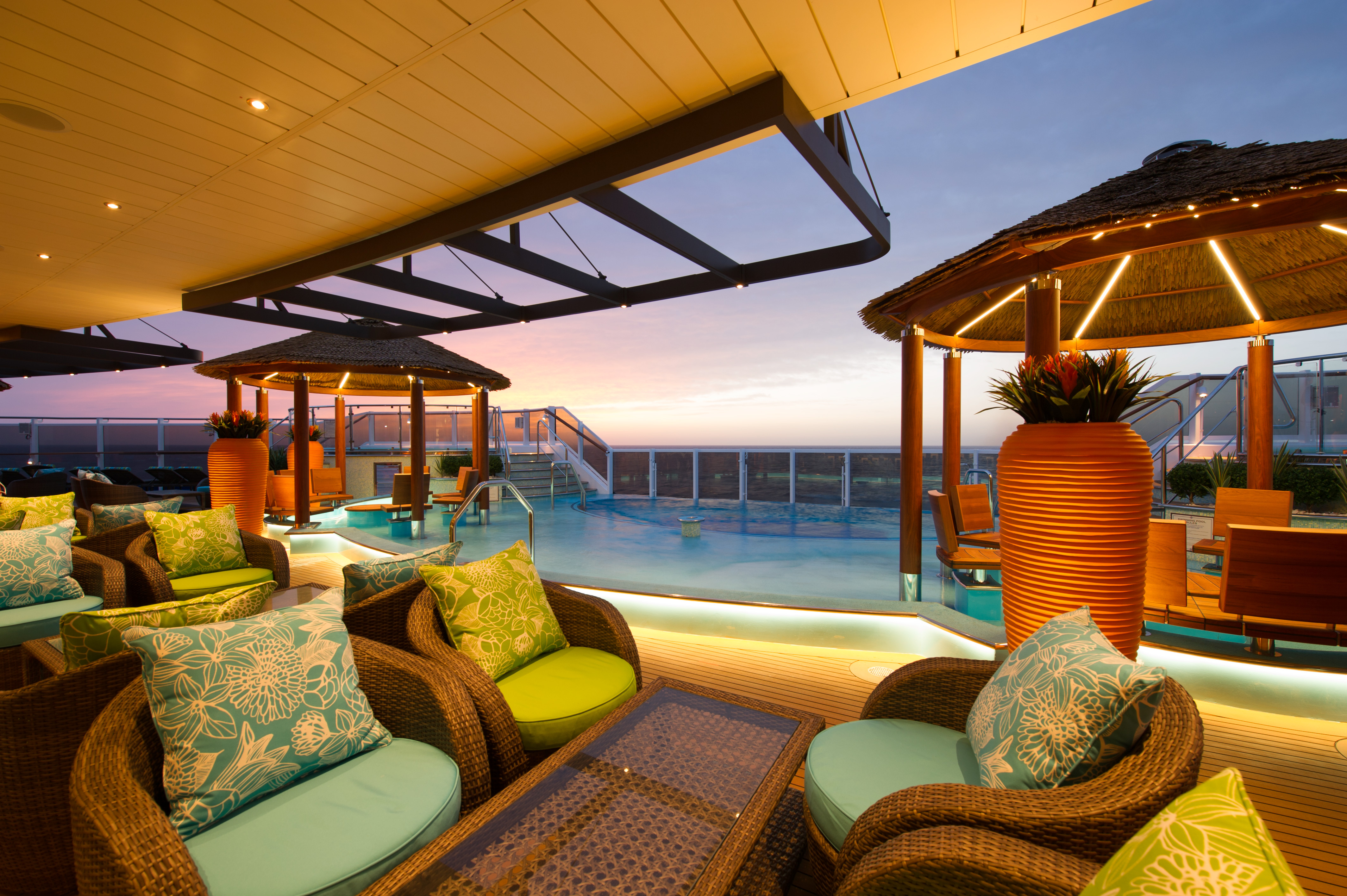 Up a few levels on Decks 5 and 6, the Havana cabins and suites take the opposite approach – they're reserved for passengers ages 12 and up. These accommodations are adjacent to or just above the Havana Bar (open to all) and Havana Outside (a sun deck with pool and hot tubs exclusive to Havana cabin residents).
Havana Cabanas and Havana Cabana Suites on Deck 5 have a unique outdoor layout. Each has a patio for the private use of its guests; however, the patio looks out on a public deck walkway rather than directly out to sea. The Havana balcony cabins on Deck 6 have non-standard shapes or extended true balconies because they're positioned at the curving back end of the ship.
Cloud 9 Spa cabins 
Cloud 9 Spa cabins are found on the decks adjacent to the Cloud 9 Spa (decks 11, 12, and 14). They're laid out like the standard inside, outside, balcony, and suites onboard, but offer a more Zen-like décor. 
The spa aficionados who stay in these cabins have access to an array of perks, including priority spa appointments, complimentary fitness classes, unlimited use of the spa's thermal suite, spa-brand in-cabin toiletries, and spa-grade bathrobes and slippers (for use on the ship).
Kids programming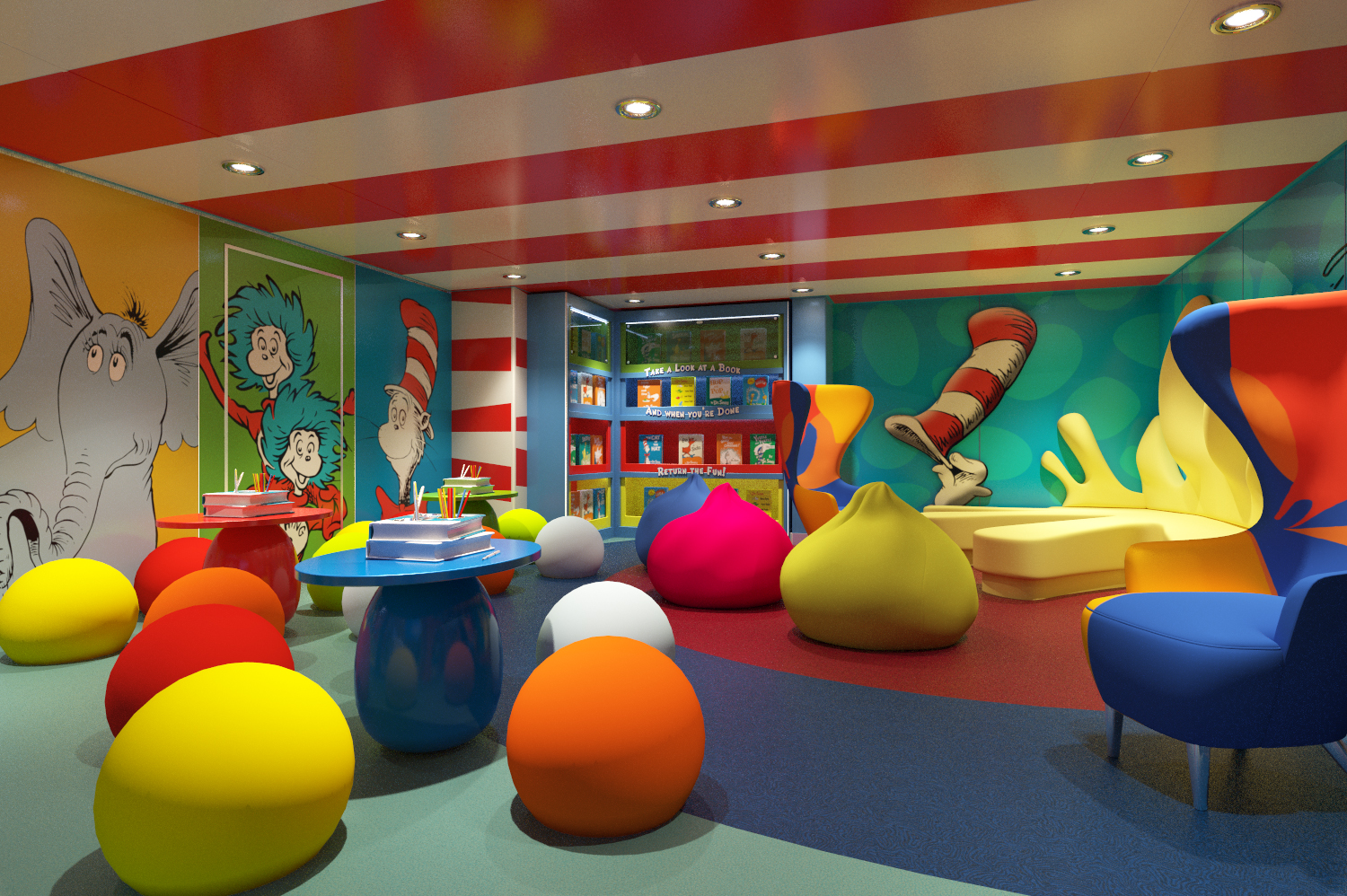 Carnival Vista is an extremely family-friendly ship, and kids and parents will love the top-deck attractions, movie options, fun shows, and casual dining. Carnival partners with Dr. Seuss to offer special activities throughout the cruise, including the whimsical Green Eggs and Ham Breakfast and Seuss-a-palooza parade. 
Camp Ocean is the ship's kids club for when kids want to hang out with their peers, and parents want some adult time in the spa or by the pool. Camp Ocean is divided into three groups for children ages 2 to 11, with age-specific activities (crafts, sports, games, etc.), a Deck 11 indoor-outdoor play space and Dr. Seuss reading room.
The oft-forgotten tweens get their own lounge called Circle C on Deck 6, adjacent to the onboard video arcade. Teens chill in a separate disco hangout, Club O2, on Deck 4. Activities are not as structured for older kids, but counselors are on hand to supervise dance parties and sports competitions.