Jimmy Buffet's new cruise line, Margaritaville At Sea, sails two-night cruises on an older, refurbished ship that is very enticing for the low prices you can find.
The new cruise line has chosen to convert, refurbish, and re-theme an older vessel for its purposes of bringing guests on a quick visit to The Bahamas, and has named its first ship Paradise. 
The cruise line describes its itineraries as follows, "the Margaritaville at Sea Paradise is the only 3-day, 2-night cruise sailing from the Port of Palm Beach to Freeport, Grand Bahama Island. On this floating island vacation, you can relax, unwind, enjoy the endless opportunities of entertainment, soak up the sun and cruise in casual-luxe comfort."
This past week I returned from my first cruise with Margaritaville At Sea, aboard their ship Paradise. This quick and cheap sailing out of West Palm Beach Florida is new to the cruise line industry, and I am excited to review it for our readers! As with any review, this is just one person's opinion. It is important to remember that what one person desires from their vacation will be very different from another.
Margaritaville At Sea is currently the only cruise line in the industry to offer a 'Heroes Sail Free' promotion. This excellent deal allows military service members and their families, along with first responders, the opportunity to take a sailing with Margaritaville At Sea for very little cost. This promotion covers the cost of the cruise sailing which normally would be around $200.00 USD per person. Guests who sail under this promotion are only required to pay the port taxes and fees, along with the fuel surcharge, and gratuities. These costs after the promotion come out to be about $142.00 USD. I was able to sail under this promotion, and I am looking forward to sharing what I thought about this new cruise line!
Summary
Planning & Pre-Cruise
Image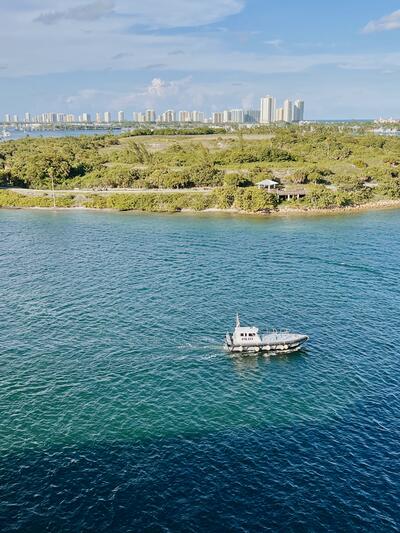 Immediately after booking my sailing through the Margaritaville At Sea website, I received a confirmation email with a reservation number. I booked my cruise about three weeks before the sailing. This initial email contained minimum information about the cruise. I did not hear from the cruise line again until about 24 hours before embarkation. This second email informed me that due to the impending hurricane (this is what happens sometimes when you choose to sail in Florida during hurricane season), there was a possibility that our sailing would be extended, and that we would potentially be spending an extra day at sea in order to avoid the storm. Luckily this scenario did not end up happening. (unfortunately I can not review "hurricane at sea with Margaritaville")!
The cruise line assured guests on my sailing that they would not be charged extra should the ship need to remain at sea an extra day or two to avoid the Hurricane. Rather, guests would only be required to pay the necessary gratuities for the crew onboard. In order to prepare for this sailing I browsed the cruise line's website. I recommend doing this for any cruise sailing! Sailing with Margaritaville At Sea is relatively simple, and although I was concerned by the lack of communication leading up to the voyage, I discovered that the little information that was included in the few emails I received proved to be sufficient for this cruise voyage.
Because this was such a short trip, I packed minimally. Although I did bring along some extras and essentials if in the event of the tropical storm worsening, and being stuck at sea. Again, luckily this did not happen, and Margaritaville As Sea was able to operate this particular sailing as normal, and at the time of this sailing, was unaffected by Hurricane Ian!
Check-In
Image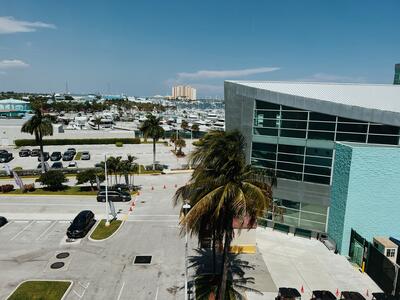 Margaritaville At Sea currently operates only one itinerary. A 2-night sailing departing from West Palm Beach Florida, with a stop at Grand Bahama Island. The embarkation process went incredibly smoothly. For this trip I flew into West Palm Beach the night before the cruise from north Florida. The morning of the cruise I took an Uber from the hotel I stayed at, to the port. Margaritaville At Sea departs from Port of Palm Beach (address: 1 East 11th Street Riviera Beach, FL. 33404).
The Uber was easily able to pull up directly to the cruise line terminal. I arrived to the port at about 12:45pm. I had read ahead of time that check-in begins at about 10:00am, but that guests are not typically allowed to board until around 1:00pm. The entire check-in process took about 15 minutes, and operated smoothly. There were no lines at check-in and guests were permitted to board as soon as they received their stateroom keycard.
For this sailing, guests were required to show either their passport or their birth certificate in order to board. Currently, Margaritaville At Sea's COVID-19 policy consists of guests showing either a vaccination card, or taking and providing a negative COVID-19 test prior to sailing. After showing my passport and vaccination card, the crew member assisting with check-in handed me my stateroom keycard, and I was able to board.
Boarding & Embarkation
Image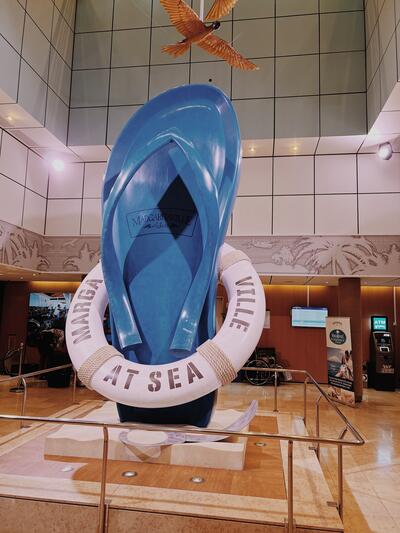 Guests enter the ship on Deck 5, and after walking the short gangplank, are welcomed onboard with a flower lei necklace, which is a nice touch. Guests are immediately greeted by the sight of the giant, larger than life, flip flop that has become one of Margaritaville At Sea's iconic symbols. I noticed many guests throughout the cruise taking pictures with this statue!
Immediately after boarding, I wandered some of the lower decks, and familiarized myself with the ship's layout. The passenger staterooms were ready at about 2:00pm, and I went to check out my room that would be my home for the next two nights.
My initial impression of the ship is that it reflects it's age, but that is has a certain charm that I think guests would enjoy on a quick cruise sailing. While Margaritaville At Sea is a brand new cruise line, the line purchased this older ship that had been previously owned. While Margaritaville At Sea's ship the Paradise does reflect its age, initially I felt the ship had a certain charm to it that highlighted its tropical, fun, and carefree style and aesthetic.
At about 3:00pm on embarkation day, the Cruise Director announced over the ship's intercom system that the crew would be conducting the mandatory muster drill. Guests were directed to ask crew members where to go for the drill. Each guest's stateroom keycard had a letter and number printed on the top righthand corner. This letter and number told guests where to go in case of a ship emergency. My appointed muster station was located in the Stars on the Water Theater on Deck 8. The ship's crew seemed to take the muster drill very seriously, and were intent on helping guests clearly understand what to do in case of emergency. The entire muster drill process took about 20 minutes.
Stateroom
Image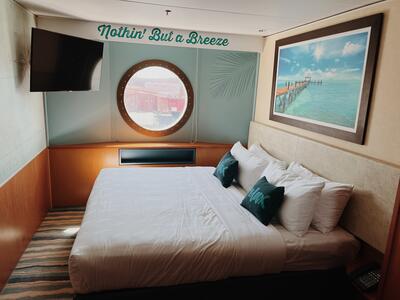 Upon entering my stateroom for the first time, I noticed that the room was rather sizable. There was a lot of space for just one person, or a couple traveling together. There was plenty of storage space, and room for guests to spread out. The room came equipped with a large queen bed, a pull down bed, a desk and mirror area, a large closet, TV, bathroom, and mini fridge.
The room was decorated along with the rest of the ship in a tropical style with lots of bright and cheery colors. My stateroom for this sailing was an ocean view room, which meant my room came equipped with a large porthole window. I enjoyed being able to look out this window both during the day, down at the water, and at night, up at the stars. For this particular sailing, the ocean view room was the same price as the indoor staterooms. For prospective guests, I recommend comparing the prices between an indoor stateroom and an ocean view. 
As stated previously the room, like the rest of the ship, reflected its age. But I felt that Margaritaville At Sea had made an effort to bring a sense of their unique brand to the ship. The bed was comfortable, clean, and cozy. The decor was fun and vibrant. My favorite part of the decor was the vintage style wallpaper map of the Caribbean Sea which covered one whole wall of the stateroom. I thought this was a unique feature, and made for a fun detail in the room. 
My least favorite aspects of the room were the bathroom and the mini fridge. Upon entering my room I noticed that the mini fridge in my stateroom was sticking out from the wall, and that the door to the fridge was open. Upon further inspection I found the fridge to be broken, not operating, covered in rust, and showing signs of potential mold. The bathroom offered plenty of counter space which was nice, and allowed guests plenty of room to unpack. However, the shower was a curtain that did not reach to the floor. I discovered that after taking one shower, the entire floor of the bathroom was effectively covered in water. The presence of the water on the bathroom floor lasted the duration of the sailing. 
Image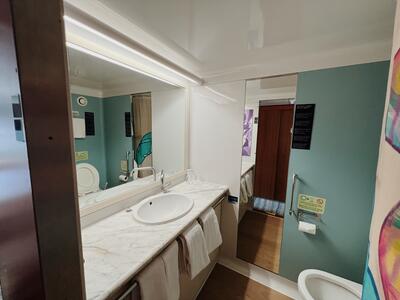 I really enjoyed the large port hole window in my stateroom. It was a very cool experience to be able to lay in bed at night and gaze up at the stars as we sailed! I noticed that the walls of the staterooms appear to be rather thin, for guests who have trouble sleeping due to loud noises, I would recommend packing a pair of ear plugs. Something interesting that I noticed was that this ship seemed to never rock or sway. I almost never felt the ship moving, which was nice, and I think would be helpful for guests who experience motion sickness.
Entertainment
Image
The ship offers several main forms of entertainment onboard. 'Tales from Margaritaville: Jimmy's Ship Show', a comedy act, a dueling piano-type show, and two Sail Away parties.
I was able to experience all of the main entertainment options onboard. I thought the theater show, 'Tales from Margaritaville: Jimmy's Ship Show' was fun and entertaining. The premise behind the show is that guests are getting a backstory to some of Jimmy Buffett's most popular songs, including "Cheeseburger in Paradise". The show incorporated live music, story telling, and dancing. 'Tales from Margaritaville' is offered both nights of the sailing at 8:00pm. For anyone choosing to sail with this cruise line, this show is a much-see! Fans of Jimmy Buffett's music will appreciate this show, and will have fun singing along!
The ship hosted one comedian onboard. For our sailing it was Mr. Ira Lee. The show lasted about 25 minutes, and seemed to have good audience engagement, which guests appeared to enjoy. Mr. Lee was happy to be performing for the audience, and his passion for what he does came across in his show.
The dueling piano show was located in the Stars On The Water Bar on Deck 8, and was performed by Mr. John Massey. Mr. Massey was entertaining and a talented performer. This entertainment is a great addition onboard. Guests are able to request songs to be played, while enjoying a cocktail from the bar inside the Stars On The Water Bar venue. I would recommend checking out this performance after watching the 'Tales from Margaritaville: Jimmy's Ship Show'. The Piano Bar Tunes show begins at 8:45pm each night. 
The Sail Away party on the first day was at about 4:30pm, this was also when the ship began, you guessed it, to sail away from West Palm Beach! The Sail Away party occurred on the main pool deck, and I was pleasantly surprised by just how many people participated and joined in. Nearly the whole deck was dancing and having a great time. The DJ played lively dance tunes that had many guests participating in the guided dances led by the Cruise Director and crew members. If perspective guests choose to sail with Margaritaville At Sea, I highly recommend attending the Sail Away Party on the first day!
Food
Image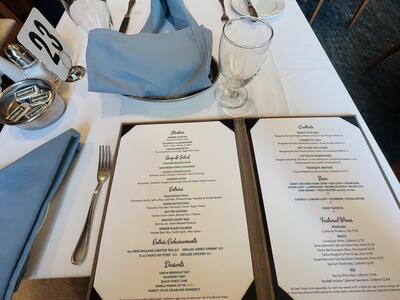 The ship Margaritaville At Sea Paradise has five dining locations: the buffet, called the Port of Indecision, the main dining room called 'Fins'. Along with the three specialty dining locations: 'Frank & Lola's Pizzeria, 5 o'Clock Somewhere Bar & Grill, and JWB Prime Steakhouse.
While on this cruise I ate at the main dining room for dinner both nights, and the buffet for both breakfast and lunch both days of the cruise. I felt that Fins offered a wide variety of menu choices for guests. For dinner at the main dining room, each guest is able to choose a starter, a soup or salad, a main entree, and a dessert. The first night I chose a shrimp cocktail, caprese salad, a pasta dish, and a lemon meringue tart. The second night of the sailing, for dinner I chose the salmon tartare, the butternut squash soup, the prime rib, and the apple tart for dessert.
I thought the main dining room, 'Fins', offered a large variety of choices for all sorts of guests' food presences. Apart from the salmon tartare and butternut squash soup, I felt that much of the food lacked flavor, but was relatively tasty. The buffet food I felt lacked a variety of option, but what was available was alright, and was about the type of food offered at a continental hotel breakfast. For both breakfast and lunch there was a selection of meats, salads, and breads. 
Image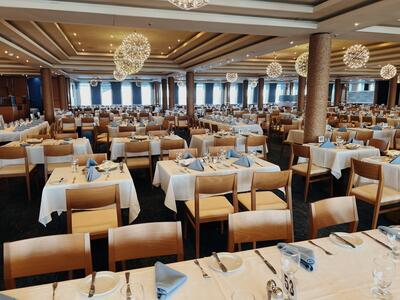 Overall, I felt that the food was relatively average. The desserts on option were tasty, particularly the different cheesecakes. I think guests who choose to sail with this cruise line will be sure to find food they like that fits their preferences. I would not describe the food as outstanding, however, I think overall it was satisfactory. There was not a large amount of choice. However I felt that given reasonable expectations, guests will find something they enjoy from the buffet. Something that was appreciated, was that there was complimentary coffee, tea, and juice available at the buffet every day of the cruise. 
One cannot go on Margaritaville At Sea and not sample a margarita! I tried the ship's rendition of a classic margarita and chose to enjoy it on Deck 12 during the Sail Away party. This was a great experience, and one of my favorites of the whole trip! Guests can order a margarita from any bar onboard. For reference, one margarita onboard costs $14.50 USD.
Port Stop
Image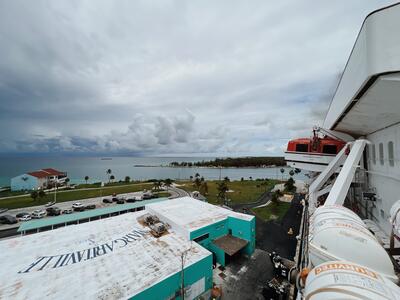 Margaritaville At Sea advertises that their regularly sailed itinerary is a 'day in the Bahamas'. Upon waking up the next morning, I was greeted by a lovely view out my porthole of a nearby palm tree. I immediately made my way up to Deck 11 to checkout the view. Margaritaville At Sea docks at Grand Bahama island, at the Freeport Cruise Port. This port is located about 20 minutes by car away from the main town of Freeport. There is no beach access within walking distance at this port, and passengers had to either book an excursion or take a taxi to reach any main town area or beach.
For prospective guests, I highly recommend doing research for this port stop ahead of sailing. This port is not located near any major attractions, and guests who wish to visit a beach or the town of Freeport will need to do some planning beforehand.
In order to get a good sense of this ship and the Margaritaville At Sea line, I opted to stay onboard for this sailing in order to gather material for cruise.blog. From the other passengers I spoke with onboard, most chose to book a shore excursion directly through Margaritaville At Sea, or to walk around the small port where the ship docked. Guests were given a good amount of time at this port. The ship docked at about 7:00am, and we left to make the return to Florida at about 4:00pm.
Pools
Image
The ship has two pool areas onboard. The main pool located on Deck 11, and an adults-only pool located at the front of the ship also on Deck 11. There are also two hot tubes in the adult-only area. On this sailing I noticed that many people were using the pools and hot tubes. The pool deck had plenty of lounge chairs for guests to enjoy, and there were some large circular lounge couches near the pool deck area that were very comfortable for guests to sit back and enjoy the sunshine. The pool deck, as with most cruise sailings, is where the Sail Away parties were held.
Lounge Spaces
Image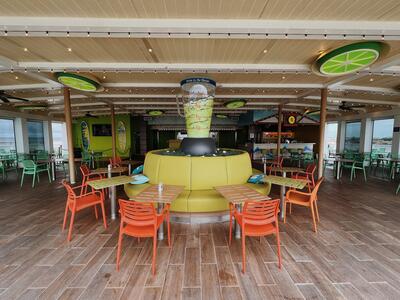 Something I quickly noticed about this ship is that there was an abundance of lounge spaces onboard. This is a ship where guests will not struggle to find an available lounge chair!
Nearly every deck and area onboard had different types of comfortable chairs for guests to sit. One of my favorite and relaxing spots, was inside the spa area onboard. This area was very quiet, and offered a great lounge spot during the rainy afternoon sailing back to Florida.
There is a unique space onboard called The Hangout, this venue located on Deck 14 consists of a lot of arcade games, and seating. On my voyage I noticed that not many guests utilized this space, and that is was often very open and uncrowded. 
Disembarkation
Image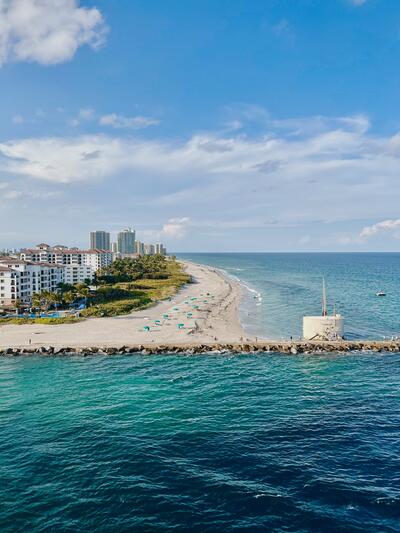 The night before disembarkation, an itemized list of expenses onboard was delivered to each stateroom, along with a detailed list of instructions for disembarkation. This was helpful because it detailed all of the exact times. Something that Margaritaville At Sea does well is their printed schedules. Guests can locate these printed schedules on the wall next to guest services once they board. These schedules detail opening and closing times of the different spaces onboard, as well as when activities onboard start and end throughout the day.
Disembarkation began at promptly 7:30am the third day, when the Cruise Director came over the intercom system announcing that guests were free to disembark at any time, and encouraged to do so as soon as possible.
Review
Image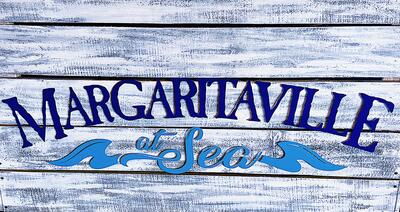 Margaritaville At Sea Paradise reflects a sunny and carefree environment. My personal opinion, is that this cruise line would make a great option for south Florida locals. This cruise is very easy to access in West Palm Beach, and would make for a great two-night getaway.
I would caution guests about flying in for this cruise. Unless a prospective guest is a large fan of Mr. Jimmy Buffett, or simply wants to experience this cruise line, it is in my personal opinion that guests will be able to make their dollar stretch farther on more established cruise lines within the Caribbean and Bahamas, such as Royal Caribbean or Norwegian Cruise Line. This cruise at the start appears to be very cheap, however, once port taxes, fees, gratuities, and the fuel surcharge are added to the final bill, this voyage will cost guests more than what it appears at the onset.
This cruise line sailing could make a great, inexpensive option for a group of friends or a couple looking for a quick getaway out of south Florida. However, this line did not offer much for children or teens in terms of structured activities. There was a designated kids' area and teen room onboard, however both were very basic and mostly consisted of just chairs, tables, board games and sitting areas.
The ship definitely reflects its age. However, given the proper expectations, this ship has a certain charm and appeal. This ship could be a lot of fun with a group of friends. The environment of the vessel seemed to cater to a younger adult crowd and married couples.
Final Thoughts
Image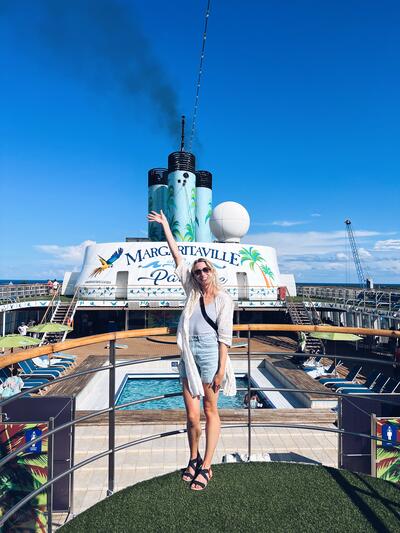 Margaritaville At Sea advertises their sailings as a 2-night, 3-day experience. However, after embarking on this cruise, I can say that is unfortunately a bit of a stretch. Guests are allowed to board at around 1:00pm on the day of embarkation, giving guests about half a day onboard for their first day. On the final day, and day of disembarkation, guests are awoken at about 7:30am by an intercom message encouraging guests to disembark. On the final day guests must be fully out of their staterooms no later than 9:30am. With these time frames factored in, it leaves guests with about 1.5 days onboard, and 2 nights.
This ship although small, has many spaces that could be creatively used. However, with this cruise line being so new, it appears they have not yet decided how best to use the space onboard. Many of the rooms were filled with only chairs or sitting areas. Because of this, it is very easy to see everything on the Paradise during the two-day cruise. 
It is my personal opinion that this cruise line, and the Paradise ship would make a good, quick weekend trip for residents of south Florida. In this day and age of cruise travel, we are lucky that there are so many cruise lines and ships to fit every traveler's style and budget! Margaritaville At Sea may be exactly what some travelers are looking for, while it may not satisfy others. This cruise line is unique in its offerings, including its itinerary. No other cruise line offers a 2-night sailing to and from West Palm Beach Florida to The Bahamas. Fans of Jimmy Buffett are sure to find something they enjoy onboard this floating Paradise.