While any Disney Cruise can definitely be a splurge, Disney Cruise Line's concierge level is an even bigger splurge. Concierge guests get access to upgraded and exclusive amenities that can really make your entire cruise vacation special. To get these concierge benefits, you'll need to book a room in the concierge category. Concierge is not a service that you can add to a standard booking.
When looking at cruise rates, you'll notice that concierge rooms are a significant price increase from verandah rooms, which is the highest, non-concierge category. Is the price increase for a concierge-level room worth it? If you can afford it and will definitely take advantage of the upgraded amenities, staying in a concierge stateroom can really make for a special vacation.
Here are some of the benefits and upgrades you'll get when you stay in concierge class on the Disney Cruise Line.
Stateroom
Image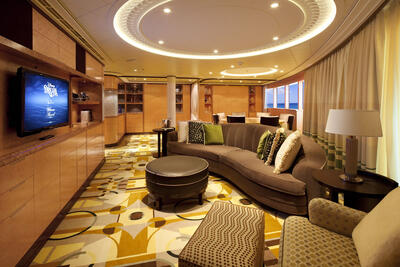 When you book your Disney Cruise, you'll want to look at the available stateroom options within the concierge category. There are various room types, including suites - some of which are very impressive.
The Disney Wish, which debuted in the summer of 2022, introduced the Wish Tower Suite, an almost 2,000-square-foot suite located in the front funnel. It's a one-of-a-kind suite but is definitely a huge splurge.
Despite the additional cost, the concierge rooms are very popular and are often booked up well in advance. So, if you have a specific sailing you want to be on, it's best to reserve your stateroom as soon as you can.
All concierge staterooms offer upgraded room amenities including robes and slippers, limited complimentary Wi-Fi, a choice of pillow options, and down duvets. I have always found the linens in the standard rooms to be extremely comfortable, so this upgraded experience is even more luxurious.
Earlier Access to Book Activities
Image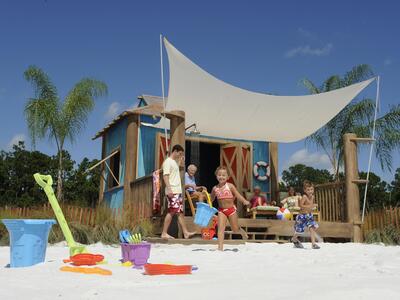 Booking both on and off-ship activities and adult dining are the more stressful parts of planning a Disney Cruise Line vacation, especially if you want a cabana at Castaway Cay. Concierge guests can book their activities in two different ways, depending on their preferences.
They can either choose to book on their own online, up to 120 days prior to the embarkation date. This is the same time frame as platinum Castaway Club guests, even if the concierge guests aren't platinum. While this process may let you book a little earlier than you may otherwise, you'll be competing with other platinum guests for the most coveted bookings.
However, concierge guests can also choose to submit their requests to the concierge team up to 130 days in advance of embarkation. Those reservations will be made on the guest's behalf at the 120-day mark. This is a great option because you won't have to worry about staying up late and trying to make your reservations yourself.
Image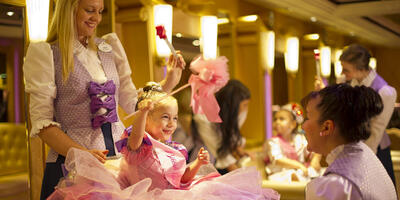 Popular activities do fill up during the platinum booking window, especially on the new Disney Wish where there are more concierge rooms than any of the other ships. So, if you have booked a concierge stateroom, it's definitely worth making these requests to the team in advance.
Typically, the most popular things that are sold out early in the process are brunch at Palo, beverage seminars, and cabanas at Castaway Cay. If you want any of these things and are in concierge, be sure to request those right at the opening of the booking window.
Priority Check In
Image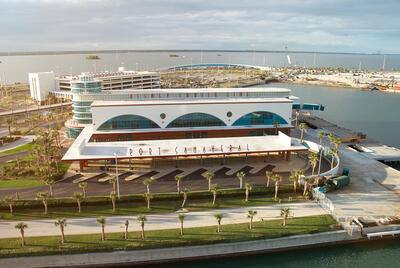 Embarkation day can be an anxious time as you check in to your cruise, bring your luggage onboard, and get yourself oriented. Concierge guests can take advantage of a priority check-in. Not only will you save time, but if you arrive before the ship is boarding, most ports have an exclusive lounge for the concierge guests.
You'll also be able to be one of the first on the ship, as long as you arrive at the port early. Fly in the night before your flight so you can fully take advantage of this benefit.
Concierge Lounge
Image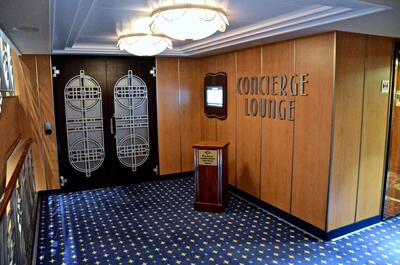 Concierge guests have access to a Concierge Lounge. These beautiful lounges are located on each ship and are a private area specifically for guests staying in a concierge stateroom. In the lounge, you'll be able to access complimentary food and beverages all day (alcohol during specific hours).
In addition, this is where you'll find the dedicated concierge who can help with changes and additions to your cruise activities.
Exclusive Concierge Sundeck
Have you ever walked around the pool deck looking for sun loungers for your family on a busy sea day? The exclusive concierge sundeck is available only to concierge guests and is a private area where you can enjoy some time in the sun without the hectic search for chairs. While these sundecks vary by ship, expect to find loungers and a hot tub.
To learn more about concierge on the Disney Cruise Line, visit their website.