Packing for your cruise can be stressful, especially if you need to fly to your cruise port. 
Within the last few years, I've become more hesitant to check a bag when I cruise or travel. Images of endless lost luggage have flood the internet recently with airlines struggling to keep their airports staffed and operations running smoothly. 
I've recently started traveling and cruising almost exclusively with a carry-on to avoid unnecessary baggage stress - with the exception of two big trips to Europe that I took this last year. Needing three weeks' worth of clothes is difficult to pack in just a carry-on, especially if you are cruising to areas with differing climates.
Image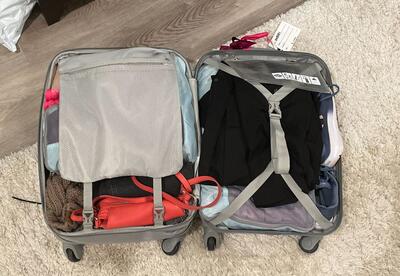 Even with an AirTag snuggled into my checked luggage to monitor its location, I still prefer to cruise and travel with just a carry-on whenever possible. 
However, some people never hesitate to check a bag when they board a cruise ship. For instance, my mom is notorious for overpacking and she could never cruise in just a carry-on (it's tough to fit 5 pairs of shoes in there!). 
As with most things, there are pros and cons to cruising just with a carry-on, just as you can find valid reasons to travel with a checked bag as well. Of course, if your cruise involves air travel to and from a cruise port, that can muddy these waters even more.
Image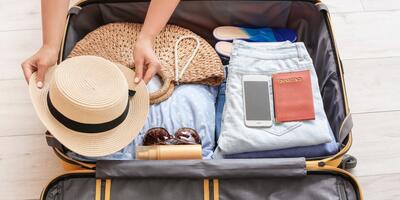 Let's talk about some pros and cons of cruising with checked luggage versus just a carry-on.
Pros of Carry-On
You already know that I am a big fan of cruising with just a carry-on. Perhaps I am a control freak, but I love being in charge of my bags throughout the entire duration of my cruise. 
I have no issue boarding a cruise ship with my carry-on, even if it means I have to lug it around a bit before my stateroom is ready. Knowing that everything I need is with me and not in the hands of someone else is worthwhile to me.
Image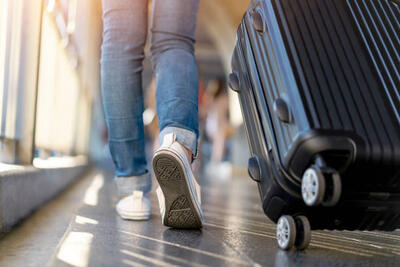 Unpacking in my cruise stateroom is a breeze because I have very little clutter in the stateroom. My carry-on suitcase normally fits nicely under the bed so I don't have to make the tiny space feel more cramped. 
Of course, if you have to fly to a cruise port, having everything you need in a carry-on really simplifies your air travel. You don't need to wait in line at the check-in counter at the airport to check your large bag. Additionally, you won't have to worry about the airlines losing your bags because your carry-on is with you at all times. 
Image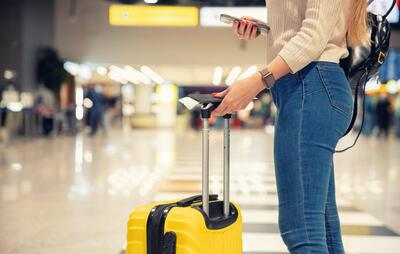 Traveling with just a carry-on also gives you so much more flexibility than traveling with checked luggage. If you need to find a different flight or you run into airline travel woes - something that's becoming more common it seems - you can ditch your plan and pivot to a new option because you aren't tied to your checked bags. 
You'll also save money at the airport and cruise terminal with just a carry-on bag. Most airlines charge you for checking a bag (unless you have status or credit card perks). You are also expected to tip the cruise porters when you hand them your checked bags before boarding your ship. 
With just a carry-on, you won't have to worry about these additional charges.
It's also much easier to navigate airports, taxis and cruise terminals with less luggage. Having multiple bags can quickly become a difficult feat to navigate everything. With just a carry-on, I can confidently transport everything I need with ease. 
Image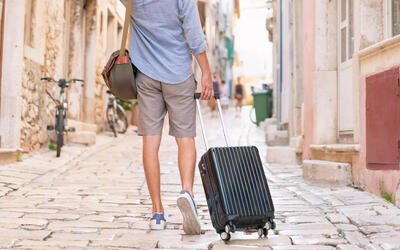 At the end of the day, I am a big fan of traveling with just a carry-on for all of these reasons. The peace of mind knowing I have everything I need packed with me ensures that my cruise get off to a great start. 
Cons of Carry-On
If you choose to travel with just a carry-on, you might still find there are disadvantages to consider.  
Most notably, your packing space is severely limited when you board a cruise with just a carry-on. With space being this limited in a smaller suitcase, you have to be proactive about what you plan to wear. 
Image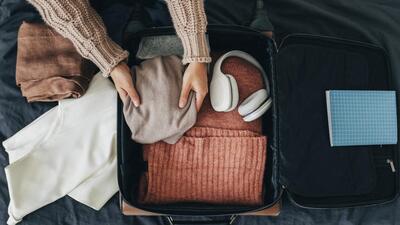 If you're on a shorter sailing, the limited packing space might not be an issue for you.
I can comfortably take a 7-night cruise in a carry-on, but I do struggle with longer sailings that are 12+ nights. It's also more difficult for me to pack light when I am cruising to cooler climates. Packing swimsuits, sandals and sundresses take up less room than coats, boots and scarves. 
For me, I often find I need to sacrifice my evening cruise outfits when I cruise with just a carry-on. I don't see the value in packing fancy dresses and shoes that I will only wear for a few hours onboard. 
Image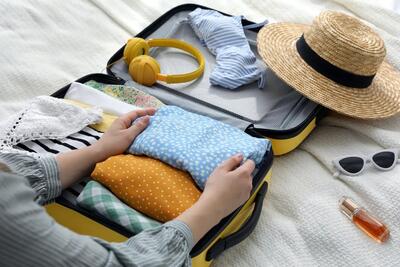 Instead, I prefer to pack versatile pieces that I can wear during the day or during dinners. 
Pro tip: Invest in packing cubes and compression bags to utilize your space better in a carry-on. I've found that hand-rolling my clothes in a compression bag can make carry-on packing so much easier. 
Image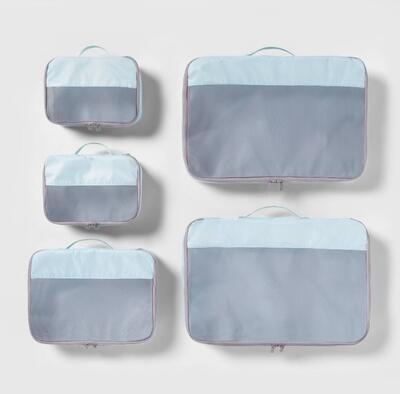 Additionally, it can tough to pack all of the liquids you need in a carry-on if you have to fly to your cruise port. Only cruising with travel-sized cosmetics can be a challenge, especially since cruise ship cabins don't normally provide the best shampoo, conditioner or body wash onboard. 
Those who choose to cruise with just a carry-on might also find it a nuisance to drag their bag around the ship before they can get settled in their cruise stateroom. You can always choose to check your carry-on bag with a porter, but I always prefer to take it with me. 
Image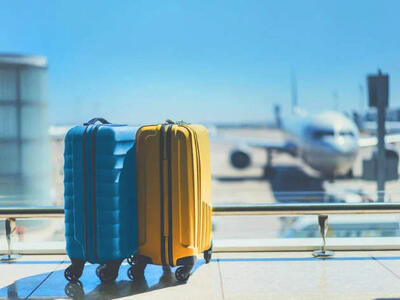 I've also found that my carry-on can get pretty heavy when I pack it full for a cruise. In fact, I wouldn't be surprised if my carry-ons were technically overweight most of the time; luckily, my preferred airline (Delta) has never had an issue with it or asked me to downsize. 
Be sure to check your airline requirements for travel, as budget carriers can more strictly enforce carry-on luggage size. 
Pros of Checked Luggage
While some cruisers will never want to travel with just a carry-on, I do agree there is a time and place for checked luggage. 
First, cruising and traveling with just a carry-on can be a little stressful. I find that I have to spend more time strategically packing exactly what I plan to wear on my cruise. As someone with a huge closet and so many options to choose from, this isn't always easy for me to do. 
Image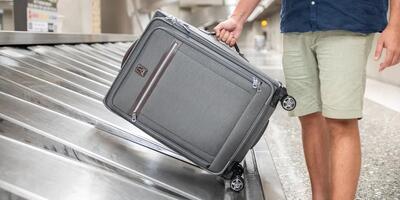 Having the luxury of a checked bag means you have tons of extra space to pack both your needs and wants. Carry-on travel limits you to pretty much only packing your essentials. With a checked bag, I can pack multiple outfits and options for my cruise, which can be very helpful on those long itineraries! 
As I mentioned, checked luggage might be your only option if you are cruising somewhere cold - like Alaska, Norway, or Iceland. Those taking a longer cruise might also find it's necessary to cruise with checked luggage, especially if laundry is not available onboard. 
Also, one of the reasons I love cruising is because it's so convenient to board your cruise ship, unpack and feel settled throughout your sailing. If you don't have many travel logistics or air travel that you're worried about, bringing a checked bag isn't a huge hassle. 
Image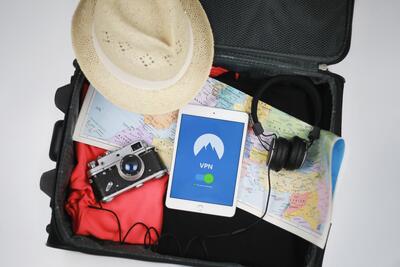 Once onboard, you can utilize the closets, drawers and storage to get comfortable and not need to lug around your checked luggage from place to place. 
Similarly, you can have much more room to bring back souvenirs and cruise purchases with a checked bag. Being proactive by leaving room in your carry-on can be difficult since that space feels like precious real estate. 
Pro tip: If you plan to do a lot of shopping, consider packing a duffle bag that can lay flat in your suitcase. You can use this as a checked bag or additional carry-on for your travels home.
Image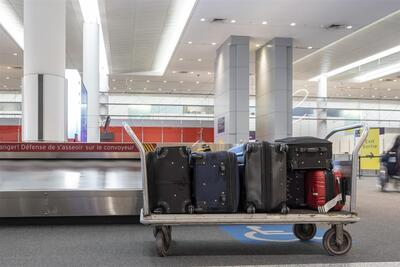 For international flights and cruises, I almost always check a bag because these trips are longer and more complex trips. I want to ensure I have multiple options for clothes; I also pack extra medicine (prescription and over-the-counter) in my carry-on bag, which leaves little room for actual clothes. 
Additionally, if you have an AirTag, you can easily track where your checked bag is located when it's in the hands of an airline or cruise line. Thanks to improved technology, it's pretty rare for a bag to be totally lost; more often, your bag will be delayed by a day or two. 
Image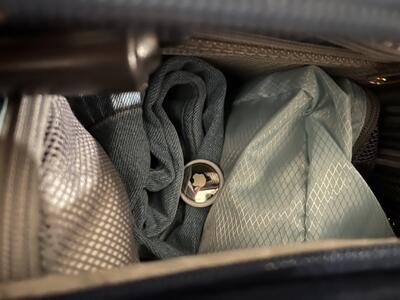 Finally, having travel insurance provides additional peace of mind for me if my bag is lost or delayed. With credit card perks and an annual travel policy, I know I am covered if my bags get lost and I need to purchase necessities to get by. 
Cons of Checked Luggage
It might go without saying that checking luggage for your cruise can certainly have its disadvantages. 
Image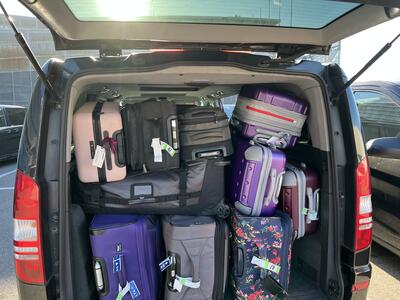 I've heard horror stories of cruisers having their checked luggage left behind at the embarkation port, leaving them with nothing onboard to wear.
Just like an airline, your checked bag can get lost or left behind in the frenzy of boarding a massive cruise ship. While this isn't common, it can happen and you should plan for the worst case scenario. 
Image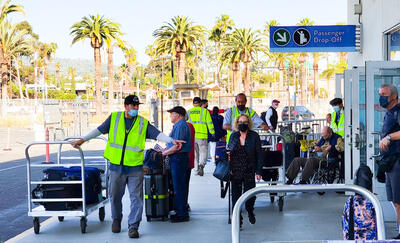 Pro tip: For this reason, I always have some sort of bag with my medication, documentation, change of clothes and cosmetics to bring onboard a cruise ship. I've also found it valuable to use an AirTag so I can track my luggage at the cruise terminal and see when it's onboard the ship. 
Air travel can also be a challenge with a checked bag, especially if you're traveling during chaotic times (like this past holiday season with Southwest's operational meltdown). If your checked bag gets lost or delayed, you might be in a tough spot for your cruise if you don't have much time before embarkation. 
Image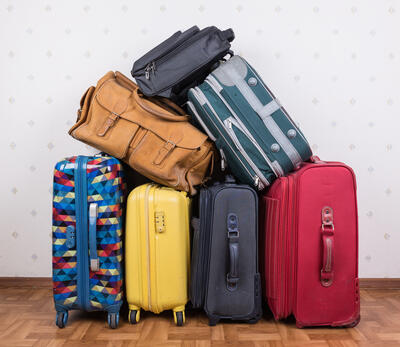 Another pro tip: I always allocate a buffer day between air travel and cruising for many reasons, but one of those includes knowing I have extra time to sort out any lost baggage or shopping that might need to happen in the worst case scenario. 
You also lose flexibility and convenience when you have checked luggage, as you need to wait additional time at the airport. On our European summer cruise, we waited nearly two hours to check our bags at the Heathrow airport, which almost made us miss our transatlantic flight home. 
Image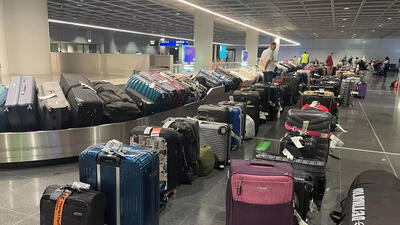 With checked bags, you are also limited to certain timeframes for checking luggage at the airport as well - typically 3-4 hours before your flight departs. If you're taking an international flight, prepare to recheck your checked bags at immigration and customs as well. If you have a tight connection, this can really waste time at the airport. 
Finally, disembarking when you've checked luggage can cost you valuable time.
Those who choose to check luggage will have to ensure their bags are in the hallway on the final night of the cruise. I've had to sacrifice entertainment and fun activities because I didn't plan ahead and pack my checked luggage properly. 
Image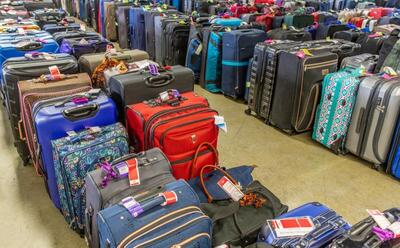 On our last Carnival cruise, we were able to disembark nearly an hour before everyone else because we didn't have checked luggage. According to Carnival, the port was behind schedule, meaning the porters didn't have all of the checked luggage sorted appropriately for customs.  
If you have an earlier flight on disembarkation day, I would caution against checking a bag for this reason. 
Final Thoughts
Those who travel exclusively with carry-ons will tell you time and time again to avoid checking luggage like the plague. 
Image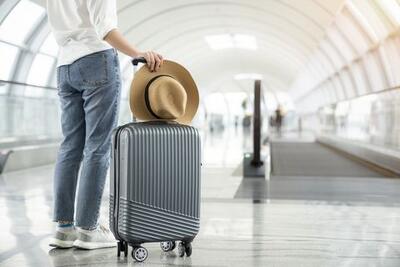 There is certainly added convenience, flexibility and peace of mind when you cruise with just a carry-on.
With airline travel seemingly more chaotic these days, having the option of switching flights at the last minute makes carry-on travel more worthwhile - especially if it means I won't risk missing my cruise. I also appreciate how simplistic the logistics are when you have limited luggage to deal with. 
On the other hand, I am not against checking luggage on cruises when I feel it's necessary. 
Image
For example, international trips are very difficult for me to travel and cruise with just a carry-on. On both of my recent European cruises, I decided to check luggage because I couldn't fit everything I needed for a 3-week journey to multiple climates (from cold Paris in the fall to the scorching heat of the Dead Sea in Israel). 
I find it easier to check luggage for longer cruises or ones that visit cool climates as well. Bulky winter clothes can take up more space than Caribbean weather requires. 
Image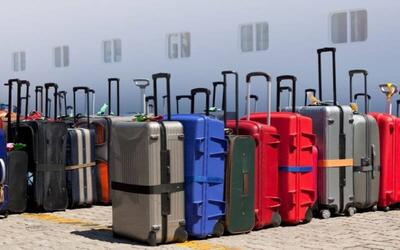 Ultimately, there are pros and cons to cruising with a carry-on just as you can find advantages and disadvantages to cruising with checked luggage. But, I'll continue to cruise with carry-on luggage only unless I am jet setting to a cool, international climate.