Have you ever wondered what the average size of a cruise ship is? The answer is about 1,000 feet in length. But just how many passengers does the average cruise ship accommodate?
Read on to find out more about the average size of cruise ships sailing in the cruise industry today! 
The cruise line industry is large and an ever-expanding industry. There are ships that range from super small, almost yacht-like, to giant vessels that can best be described as floating cities! 
Come along with me as we explore the different sizes of ships within the cruise line industry, and answer the question; what is the average size of a cruise ship?
Small Ships 
Image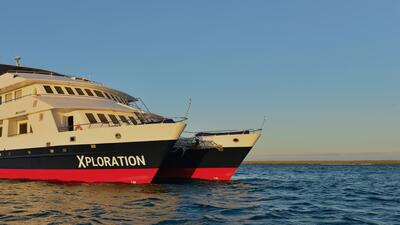 There are some cruise ships that run extremely small, to the point that they could potentially be called large yachts. 
Currently the smallest cruise ship in the world is the Celebrity Xploration. This tiny cruise ship measures in at just 98.3 feet in length, and 3,195 tonnage. The ship can accommodate just 16 guests at full capacity. 
The Celebrity Xploration is operated by its namesake, Celebrity Cruises. Sailing onboard this ship can be described as "a 16-passenger intimate journey that's perfect for family get-togethers, getaways with friends, or small groups who want to explore together," says Celebrity Cruises. 
This ship can be compared to a private, chartered yacht, but operated by a major player in the bigger cruise line industry. The ship features amenities such as lounges, sun decks, suites and private staterooms, complimentary wifi, room service, binoculars for every guest to use, and other luxuries for guests to enjoy while onboard.
Currently, the Celebrity Xploration operates itineraries that visit the Galapagos Islands, as well as land tours that visit destinations such as Ecuador, Peru, or Machu Picchu. "All of Celebrity Xploration's itineraries visit up to 12 islands in the Galapagos, such as Isabella, Santa Cruz, Santiago, and Genovesa," states Celebrity Cruises. 
Additionally, the cheapest sailing aboard Celebrity Xploration, is in November 2024, costing guests about $5,799 per person, for a week-long cruise. While Celebrity Xploration may be the smallest cruise ship in the world, it is certainly not the most affordable! Sailing aboard this cruise ship is definitely considered an ultra luxury experience. 
In the cruise line industry, smaller ships tend to be apart of the luxury category. This means that sailing on smaller ships, while many of the amenities may be included in the initial price, run more expensive than sailing on larger cruise ships.
Some other cruise lines that operate smaller ships are Seabourn, which operates ships that hold just about 450 passengers. This is still considered very small for the overall cruise line industry. 
Getting slightly larger, but still considered small, some lines such as Viking Cruises operate ships capable of hold up to 930 passengers on their ocean faring ships. 
Medium Ships 
Image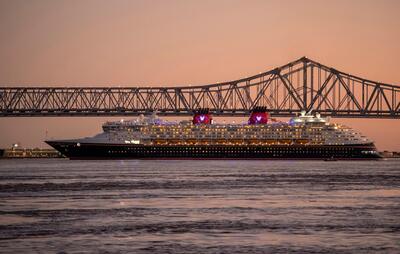 (Disney Cruise Line's Disney Wonder)
The average, or medium size of cruise ship measures in with a passenger capacity of about 3,000 guests. 
For example, most of the major cruise lines in the industry today operate ships that hold anywhere from 2,000 to 4,000 guests and measure in at about 1,000 feet in length. 
Based on these statistics, many of Norwegian Cruise Line's (NCL) ships fall into the medium, or average, ship standard in terms of size. As do other ships part of other major cruise lines, such as Royal Caribbean, Disney Cruise Line, Celebrity Cruises, and Carnival Cruises. 
Large Ships 
Image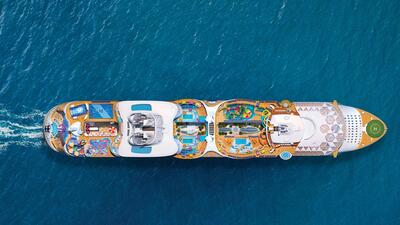 (Royal Caribbean's Wonder of the Seas)
Currently, Royal Caribbean operates the largest cruise fleet in the world, with the most amount of ships. Some of these ships are of average size, some are smaller, while others could be considered giant. 
The five largest cruise ships in the world all belong to Royal Caribbean International (RCL), commonly referred to as Royal Caribbean Cruise Line. 
Currently the largest cruise ship in the world is called Wonder of the Seas*. This ship measures at over 1,180 feet in length, and holds nearly 7,000 passengers at full capacity. 
The Wonder of the Seas is also the newest ship in Royal Caribbean's fleet, featuring beautiful furnishings, and exciting amenities for guests to explore. "The biggest ship in the world is also the first to bring eight unique neighborhoods to the epic Oasis Class - including the luxurious new Suite Neighborhood. So there's more room than ever for adventure, palate-pleasing dining, and awe-inspiring entertainment - only on Royal Caribbean," Royal Caribbean states on their website. 
Currently, the Wonder of the Seas sails on Caribbean itineraries that visit destinations such as St. Thomas, Puerto Plata, Falmouth, Cozumel, and more. Wonder of the Seas visits regions such as The Bahamas, Mexico, Jamaica, and other areas of the Caribbean. 
Wonder of the Seas is not just large in its size, it is also expansive in its dining and bar offerings onboard! Wonder of the Seas features 21 dining venues and 14 bars and lounges. Some of these venues are Royal Caribbean classics, while others are brand new and exclusive to the biggest ship in the world. 
Being the largest ship in the world, this giant floating city has 32+ activities onboard for guests to see and enjoy. Some notable experiences onboard are the zip-line that flys through the middle of the ship, multi-story waterslides, Flowrider surfing, ice skating shows, aqua-theater shows, and so much more.
Currently the most affordable itinerary sailing with Wonder of the Seas would cost guests about  $1,832 for two people, on a 7-night cruise, leaving from Port Canaveral, Florida. 
The Average Size of Cruise Ship
Image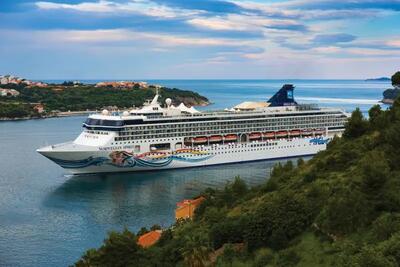 So what is the conclusion? What is the average size of a cruise ship today? The answer, is a ship that holds about 3,000 passengers, and measures at about 1,000 feet in length. 
One of the wonderful things about cruising, is that there is so much variety to choose from when it comes to planning a voyage on the high seas. Some guests may desire smaller, more intimate ships with fewer passengers, while other may be more interested in larger ships, with more passengers, and more features and amenities. 
No matter which cruise line you choose to sail with, guests are sure to make wonderful memories! Cruising is a unique form of travel that allows for even more memories to be made as guests are transported to destinations around the world, while enjoying their fun, relaxing, exciting, and beautiful ship that travels with them. Cruise ships are so much more than just a place to sleep at night, they are a travel destination in of themselves! 
No matter where you cruise to, or who you cruise with, happy sailing!