For some people, cruising is a once-a-year type of vacation that is meticulously planned and highly-anticipated.
However, I am not one of those people.
Within the last year, I've cruised more than I ever imagined was possible. In 2022, I took 10 cruises to 12 different countries, including incredible destinations like Portugal, Alaska, Israel and the Canary Islands.
My husband and I greatly value traveling - it's one of the things we love most to do together. As such, we prioritize our savings to align with our travel goals.
Image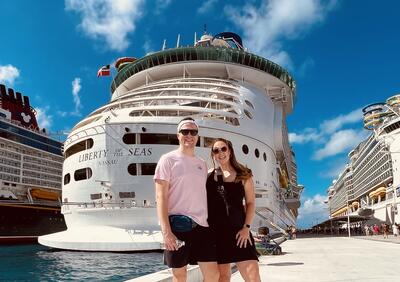 The darkest days of the pandemic had me constantly dreaming of sunsets at sea and exploring new destinations. Our travel savings fund continued to grow each month while we were stuck at home for years. I was deprived of the thing I loved the most and felt stagnant.
Now, I'm a married 28-year-old and we're making up for lost travel time. If the pandemic taught us anything, it's the importance of living in the present and taking chances when opportunities present themselves.
Image
I'm not someone who lives to work, but rather someone who works hard to live her best life. It's truly a motto I live by.
In the last year, I spent $20,000 on cruising, but here's exactly why I don't regret blowing our budget.
I am well aware that spending $20,000 on cruising is an absurd amount of money. 
For most people our age, spending this kind of money on cruising is not normal. Even for us, this is more money than we normally spend in a year cruising.
And no, we don't sail with luxurious cruise lines nor do we commonly book extravagant suites. 
Image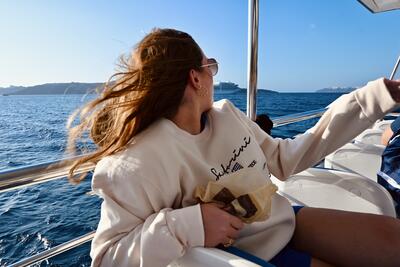 First, my husband and I are fortunate to both be gainfully employed. Each month, we allocate a good chunk of savings towards our traveling fund, most of which is spent on our cruises.
I'm fortunate enough to work jobs that are fully remote. I work four different remote jobs that are very flexible and allow me to travel pretty much whenever I am able.
Image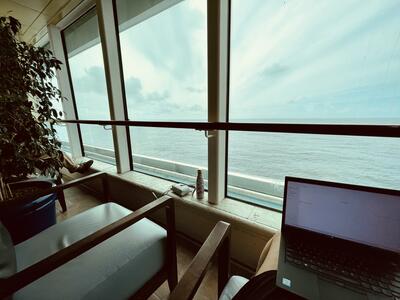 The obvious factor that allows us to cruise as often as we do is that we do not have children yet. The DINK (double-income-no-kids) life for us is all about cruising and traveling as often as our schedule and budget allows.
Without childcare cutting into our monthly spending, we have more disposable income to spend than those with children. We value traveling and experiences over almost everything else, such as name-brand items and brand-new cars.
Image
From the time we met in college, my husband and I started to save up for traveling together.  Even with college budgets, we managed to sock away precious savings to take our bucket-list trips together, cruising to exotic places like Thailand, Malaysia, Singapore and Morocco.
Between my husband's grueling military training for two years and the subsequent pandemic, our traveling fund grew while we were stuck at home.
Like many people, all of our cruising came to a halt in 2020 with the pandemic. In addition, my husband had already sold his soul to the military for pilot training starting in 2019, which allowed absolutely no time for cruising or traveling for two years.
Our travel fund had more than enough money socked away with hard-earned savings just waiting to be spent.
Image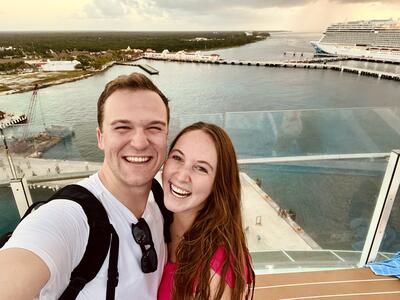 I had to push back multiple cruises throughout the pandemic, including a Holy Land cruise to Israel and a continuously-cancelled cruise to New Zealand and Australia. The cruise credit stock pile grew almost as quickly as our unused travel fund savings.
It wasn't until mid-2021 that we could even start cruising again, in which we enjoyed a much-needed Alaskan cruise after my husband's training finished and the pandemic restrictions started to lift.
Image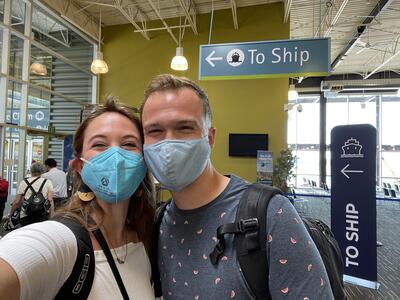 My husband then deployed for most of last year, leaving me with a lot of time on my hands to work and cruise.
Cruising is almost a form of escapism for me.
Waking up in a new place each day while enjoying delicious meals, attentive service, and stellar entertainment is unmatched. Cruising is an escape from reality, as vacation should be! In my opinion, it's the perfect combination of relaxation and exploration.
Image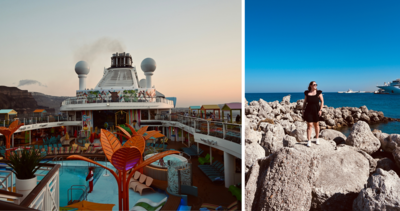 Having my husband deployed for months on end was very difficult. With both of us working more than usual because of our time apart, our travel fund grew even more. Most importantly, being able to spend quality time cruising with friends and family helped me get through the long days of being alone.
The pandemic emphasized for me that time is precious and opportunities should not be wasted. Life can change in an instant. Time spent with loved ones is something I never wanted to take for granted again.
Image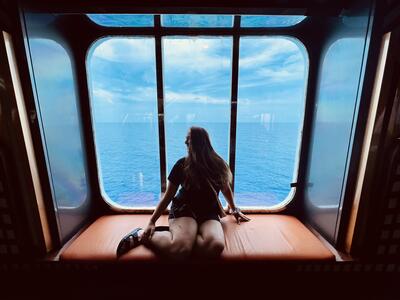 Also, the world was waiting! I couldn't wait to get back out there and start cruising again.
My budget-busting cruise year included travel plans almost every month.
Having a cruise booked every other month was the motivation I needed to get through deployment. Cheap sailings coupled with interior cabins allowed me to plan multiple trips throughout the year, especially with my remote jobs.
It had been 3 years since I had cruised with my parents and sister, so we took advantage of a last-minute cruise deal on Royal Caribbean's Harmony of the Seas sailing through the Caribbean, costing right around $1,000.
Image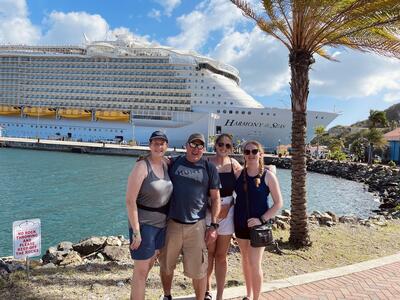 My sister and I also took a quick 4-night spring break cruise for $500 each since we live in Florida and can drive easily to the port. 
Image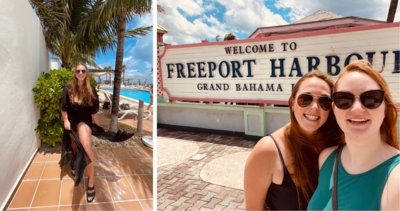 A longtime friend asked if I wanted to join her on an Alaskan cruise; even though I'd sailed Alaska a few times, my deployment mantra was to not turn down any opportunities to escape day-to-day realities. It was well worth the $700 spent on airfare, cruise fare and hotels, which was a great deal since it was an off-peak sailing.
Image
Squeeze in trips to Hawaii, Scotland and England, and escapism proved to be the most successful coping mechanism for me. Having reliable services onboard allowed me to work remotely when needed while still exploring the world.
Not surprisingly, my husband and I planned a post-deployment cruise to the Canary Islands for us to look forward to. 
Image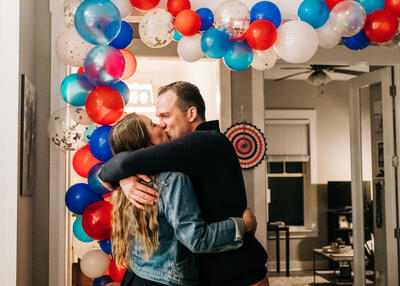 It was the light at the end of the tunnel that we needed. We had dreamed of cruising to the Tenerife Sea since we first heard Ed Sheeran's song, Tenerife Sea, back when we met in college.
Our dreamy, highly-anticipated, 12-night Canary Islands cruise after deployment was the most expensive cruise of the year.
After many grueling months of being apart, my husband and I jet set to London, England for our cruise and even splurged on first-class suites for the flight. This isn't standard for us, but an enticing upgrade offer was too tempting for us to turn down for the special occasion.
Image
Once we landed in London, we stayed at The Edition, a 5-star hotel located in the heart of London. It was the perfect start to our fantastic vacation, along with an unbelievably well-timed concert seeing Ed Sheeran.
Image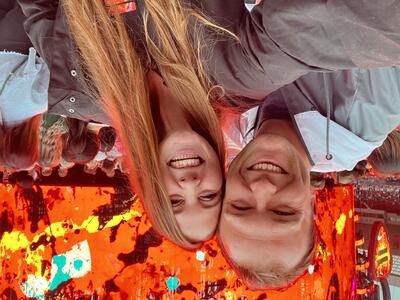 Our cruise on Anthem of the Seas brought us to Spain, Portugal and the Canary Islands - including the Tenerife Sea. We spent our days exploring new countries, having seaside cocktails and reconnecting after so much time apart.
Image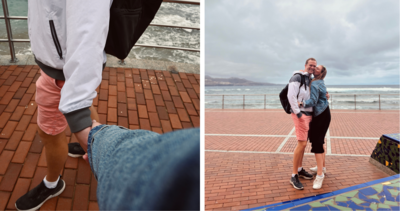 It was everything we dreamed of and more; we had no regrets spending about $13,000 on this cruise vacation. There was no skimping or budgeting on this precious time together!
Later in the year, I traveled back to Europe for another bucket-list itinerary - a rescheduled cruise with to Israel.
Later in the year, I had another highly-anticipated cruise booked with my parents and sister. In typical fashion, my husband was unable to join because of more required training for his job.
Before the cruise, my sister and I opted to spend four nights with our friend exploring the beautiful City of Love - Paris, France! One of the reasons I love cruising from Europe is the ease of tacking on an addition destination because intercontinental travel is so cheap and convenient.
Image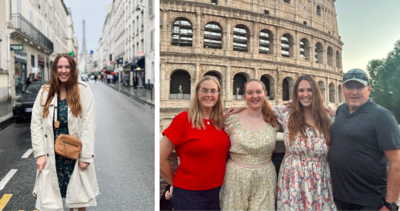 We took a cheap EasyJet flight from Paris to Rome to meet up with our parents for a 12-night Holy Land sailing on Royal Caribbean's Odyssey of the Seas. This was an itinerary we had pushed back for years and one my dad had wanted to do his whole life.
Image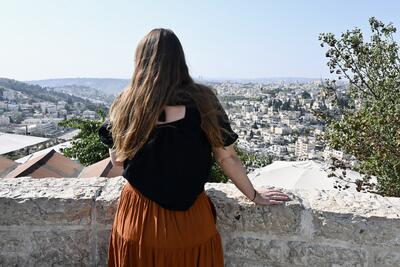 This was the nicest stateroom of all my cruises in the last year; my sister and I bid on a junior suite, which ended up costing around $300 to upgrade.
Our itinerary featured two overnight stays in Israel and we took full advantage of these three full days. We visited the religious and historical cities of Jerusalem, Bethlehem, Galilee and Nazareth, along with a day spent floating in the Dead Sea and visiting Masada.
Image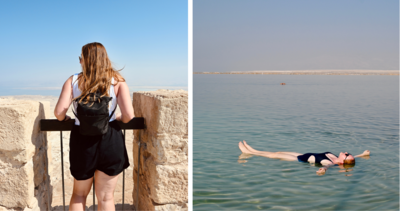 It was an incredible trip with my family where we made lifelong memories. I had never dreamed of seeing such religiously-significant places on a cruise ship, but it was so worth the $3,300 that I spent during my 3-week gallivanting across Europe.
We finished the year with our first-ever friends cruise to ring in the new year and commiserate everyone's end of deployment.
After the holidays, my husband and I embarked on a cruise with our close friends to celebrate the start of a new year and the end of everyone's deployment. It was a quick 4-night sailing from Port Canaveral and we splurged on the drink package to cultivate a very fun few days.
Image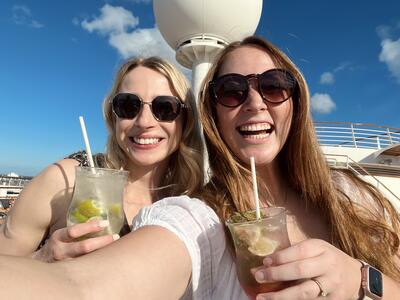 Our days were spent by the pool with drinks flowing pretty much the entire cruise! We tried our best to get our money's worth of the drink package, which was the first time we had ever made this splurge.
Image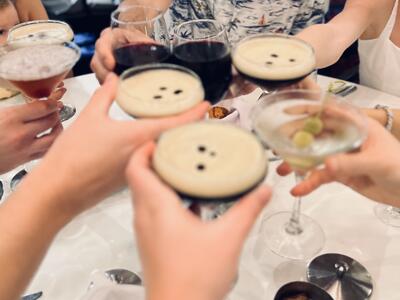 But, holiday sailings are inherently more expensive than others. Even though we booked an inside guarantee cabin, the drink package and cruise fare came to a total of $2,000.
After spending $20,000 in the last year on cruises, we have no regrets blowing our budget.
At the end of the day, we all choose how we want to spend our money. I am a firm believer that it all comes down to spending money on what you value most.
Image
As married 28-year-olds, we are thriving in our childless season of life. The double-income-no-child lifestyle has us prioritizing our spending towards cruising and traveling. We'd rather drive our old vehicles and continue to allocate a portion of our monthly savings towards travel experiences.
Image
During the last year, we definitely blew our yearly travel budget, but we had been saving for practically three years without any cruising or traveling. Between my remote jobs and both my husband and I working more during our time apart, spending $20,000 on cruising was worth every cent.
Not only did we splurge on our dream vacation post-deployment, but cruising was my escapism during the long months that I was alone without my husband. Having so many opportunities to spend quality time with my friends and family was exactly what I needed. That's money well spent.
Image
Money will come and go, but I won't be a childless 28-year-old again. I haven't been everywhere, but it's on my cruise bucket-list. Money spent on something you love is never wasted.