Living in Florida certainly has its perks, such as the sugary, white sand beaches and unbeatable weather year-round. As a Florida resident myself, it almost feels like a vacation that never ends (except when I have to panic-purchase bottled water and gasoline during hurricane warnings).
But, some of the not-so-obvious perks of living in Florida include living close to major tourist attractions, such as Walt Disney World, Universal Studios and the world's busiest cruise ports. 
For those who love cruising, living in Florida as a resident makes perfect sense. The world's busiest cruise ports are located in Florida with multiple port options throughout the state.
Image
Port Canaveral was the busiest cruise port in the world with 4.21 million passengers transiting in 2022, followed by Port Miami with 4.02 million and Port Everglades with 1.71 million passengers. This doesn't even include the cruise ports of Tampa and Jacksonville, both located in Florida as well.
You'll notice that each cruise line asks for your residency when you go through the booking process. If you qualify for certain residency offers on a particular sailing, this is reflected in the cruise fare price.
So, why would cruise lines want to give Florida residents cruise discounts in the first place?
To start, cruise lines aren't the only companies that provide discounts to Florida residents.
With many tourist attractions throughout the state, Florida residents receive lucrative discounts from many different companies.
Most notably, Disney offers Florida residents annual passes for a steep discount, giving residents the option to visit frequently throughout the year (with some restrictions, such as weekends and holidays). Disney also provides Florida resident discounts on day passes, such as 2-day or 4-day passes to be used throughout the year.
Image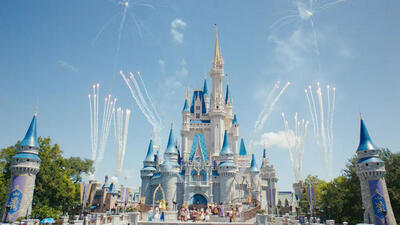 Similarly, Universal Studios provides discounts for Florida residents with special rates for multi-day passes. Other attractions like SeaWorld and Discovery Cove offer Florida resident discounts and packages as well.
Ultimately, the cruise lines aren't alone with targeted promotions and discounts to the local Florida population - and there's a good reason why.
Local Florida residents provide a unique business opportunity for the cruise lines.
At the end of the day, the cruise lines are worried about their bottom line; remember, they aren't operating charities from the goodness of their hearts. Cruise lines are in the business of making money and these companies need to ensure their operations are profitable.
Image
Therefore, the cruise lines wouldn't provide Florida residents with special discounts without a business strategy behind it.
Florida is home to more cruise ships than anywhere else in the world, making the state a massive business opportunity for tourism. And if you haven't noticed, the newest and grandest cruise ships typically spend their inaugural season sailing from Florida.
Image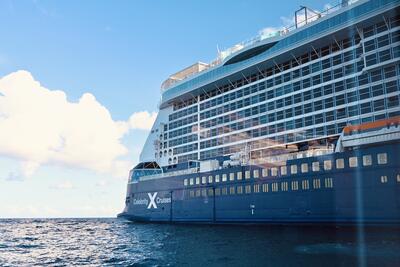 Because Florida residents live close to the cruise ports, the local population can cruise more frequently than guests from other states. Florida residents can simply drive to ports without worrying about the cost or logistics of flying. Most are able to drive to cruise ports on the same day as their cruise departs.
Cruise ships make the most money when their ships are sailing at full-capacity, so they are constantly looking for ways to entice potential guests to get onboard.
Unsurprisingly, locals living in Florida are incentivized through resident discounts to cruise more frequently. With less logistics to worry about and less time spent traveling to ports, incentivizing Florida residents is an understandably effective strategy.
Image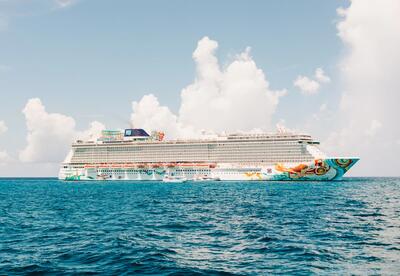 Florida residents can easily make a weekend cruise work in their schedule by departing on a Friday after work and arriving back home by the next Monday. Also, Florida residents are more likely to take last-minute sailings because of the added convenience of living close to ports.
For example, Virgin Voyages announced a 10% discount for Florida residents while all major cruise lines, including Royal Caribbean, Carnival Cruise Line, Celebrity Cruises, Norwegian Cruise Line, Disney Cruise Line and Holland America, all offer Florida resident discounts on certain sailings.
Onboard purchases are very profitable for cruise lines and post-pandemic onboard spending is increasing.
When cruise lines provide Florida residents with discounts, they are enticing you to come onboard and spend money. The more often they can get you on a cruise ship, the more money you will spend on drinks, internet, spa services, specialty dining, excursions and onboard experiences.
Image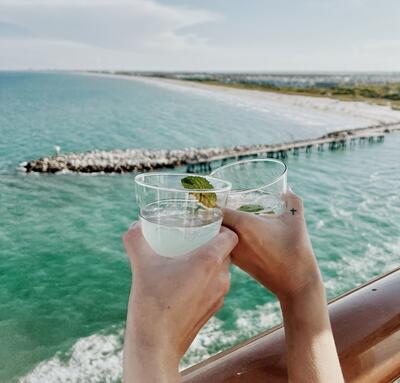 In fact, guests onboard cruise ships are spending more than ever before. Onboard spending was identified as a path to profitability for many cruise lines in a post-pandemic world.
The same logic applies to casino spenders who get special offers from the cruise lines to come onboard for free.
Image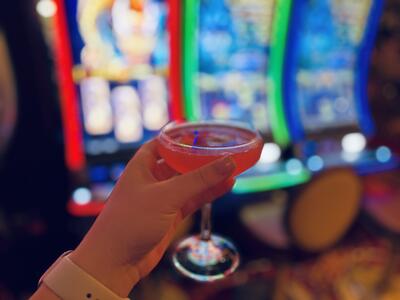 These guests are identified as high-spenders in the casino and the cruise lines want to keep these customers coming back for more. Once a high-spender gets onboard with a free casino offer, this often leads to more gambling onboard, including money spent on drinks in the casino too.
Florida residents keep cruise ships sailing during the tourism off-season and shoulder season.
Most people who cruise tend to sail during holidays, along with spring break and summer vacation. These are considered to be peak cruising times within the industry, with most cruise ships sailing at full-capacity with higher prices due to increased demand.
Image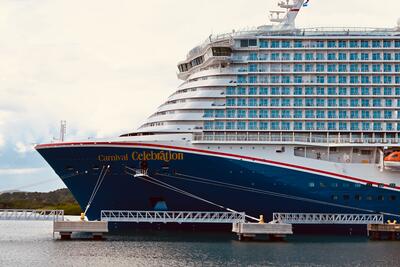 However, cruise ships sail throughout the year from Florida and the cruise lines still need to remain profitable, even in the off-season.
As such, cruise lines look to Florida residents to keep their ships filled during the less busy times of the year. Because of this, most cruise lines tend to offer the best Florida resident discounts during the off-season when cruise demand dips.
Image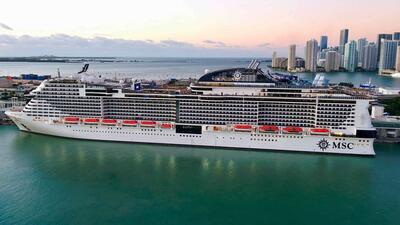 Not all sailings even offer a Florida resident discount, particularly if a sailing is in high demand. There would be no reason for cruise lines to offer discounts to Florida residents when cabins are booking like hot cakes for a specific sailing.
Enticing Florida residents to board a cruise ship with special resident discounts can lead to loyal, longtime customers.
With Florida resident discounts, cruise lines are looking to entice potential guests to come onboard their cruise ships time and time again.
Research shows that 90% of cruisers say they would probably or definitely cruise again. Of those who travel, cruisers are 40% more likely to travel with friends, family or spouses compared to land-based trips. Finally, Florida encompasses the biggest portion of cruises from the United States.
Image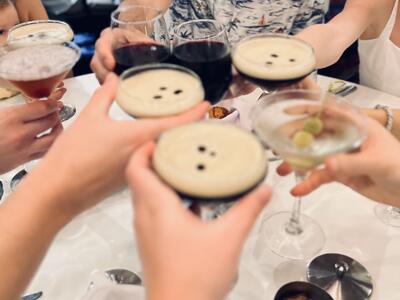 Simply put, once the cruise lines entice you onboard, you are almost guaranteed to take another cruise AND more likely to bring others onboard with you, like your friends or family. This is a major win from a business standpoint and creates a lucrative opportunity to gain a valued customer.
Image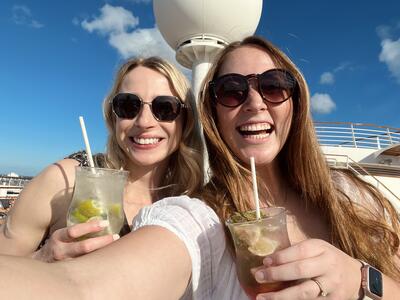 With this in mind, cruise lines will continue to offer Florida resident discounts with the long-term goal of gaining a loyal customer for their brand. This is also one of the reasons that cruise lines offer loyalty programs and perks for repeat cruisers.
Interestingly enough, Florida resident discounts do not only apply to sailings that depart from Florida.
Now that we've explained thoroughly why cruise lines want to provide Florida residents with discounts, you'd probably expect these promotions to apply only to sailings that actually depart from Florida.
But, Florida resident discounts can apply to sailings that depart from anywhere. It all comes down to supply and demand.
Image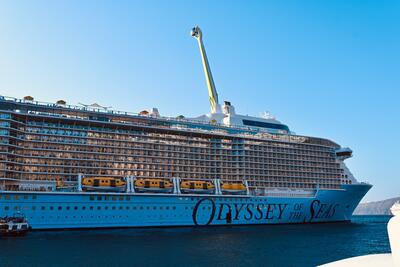 I've received Florida resident discounts for sailings that departed from Canada, England and Alaska. In fact, the resident discount that I received on a recent cruise with Royal Caribbean from Southampton, England provided $560 off our cruise fare! I also received $100 off a sailing from Vancouver as a Florida resident.
Even though these sailings didn't depart from Florida, the cruise lines are assuming that I will return home to my residence in Florida and look to book another cruise. With so many ports close in proximity to my home, I am more likely to book a cruise in Florida that's within driving distance due to the cost savings and reduced logistics.
Image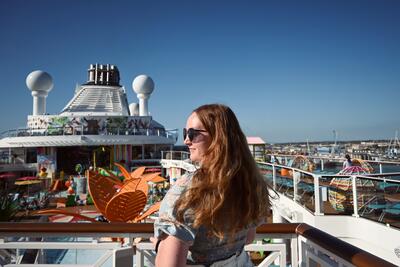 The cruise lines are hoping that I will continue to book with the same company, especially if I start receiving loyalty perks and freebies.
Providing Floridians with special discounts is very strategic by the cruise lines, as it continues to be an important demographic for profitability. If you're someone who cruises often, you definitely might want to consider moving to the Sunshine State!