Everyone pictures their cruise vacation with blue skies, calm seas and a drink in hand. You're planning to relax and rejuvenate while sailing on a cruise. No one wants to think about some of the unpleasant things they might encounter while on a cruise.
Cruising is the best way to take a much-needed vacation, but you might encounter some surprisingly nasty problems. Those new to cruising might be surprised by a few of the gross things that you can experience on your cruise. If you cruise often, you likely already know about these problems.
Image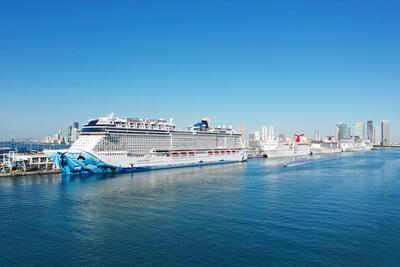 Either way, it's best to be prepared for some of these unexpected problems when you start to pack for your cruise vacation. Here's our list of unpleasant cruise problems that you aren't prepare for, especially if you're a first-time cruiser.
Constipation
Cruising is all about indulging in delicious food throughout the day, but your eating schedule will be totally messed up from your normal routine. Couple this with being dehydrated from traveling in general - and you've got a recipe for constipation.
Image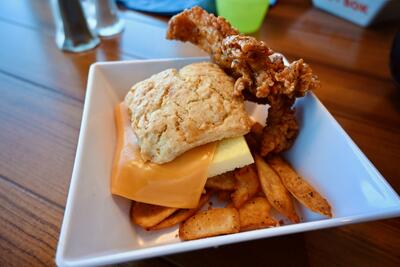 Quite frankly, it's not an uncommon problem to find yourself a little backed-up on a cruise. Constipation is the worst; not only do you feel uncomfortably bloated, but you have the impending doom of when your body finally decides to get things moving.
To prevent constipation, pack some laxatives in your suitcase to help ease the discomfort. Sea days can be the perfect time to pop some laxatives, as you'll always have access to bathrooms onboard. Try to stay hydrated throughout your cruise and caffeine can help keep your digestion system moving.
Sweating - and lots of it
More than likely, you'll be sailing in warm climates during your cruise. Unless you're sailing to cooler destinations like Alaska or Norway, you can expect a lot of sweating during your cruise.
Cruises departing from Florida are almost guaranteed to be HOT. As a Florida resident myself, you can find me with a chronic sweatstache in the summer - especially with high humidity. If you're not from Florida, the heat intensity can be jarring.
Image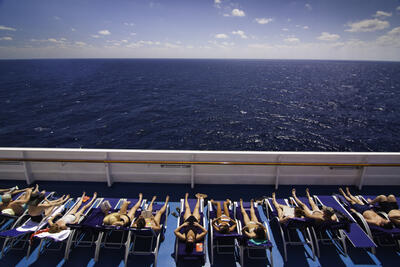 With lots of heat comes lots of sweat! Not only will you be spending your days onboard the cruise ship in the heat, but also while exploring the ports. Pack lightweight clothes with breathable fabric, along with plenty of antiperspirant.
I prefer to cruise with multiple athleisure outfits, including exercise skirts and dresses, along with linen fabric clothes. Stay hydrated with LiquidIV packets and enjoy the air conditioning when you need breaks from the sun.
Feeling Bloated
One of the most unpleasant cruise problems you might not be prepared for is feeling constantly bloated. With all of the eating and drinking that you're enjoying, you are intaking a lot more sodium than normal. Not to mention, you are going to be spending your time in the sun (likely sweating, remember?) and you won't be drinking enough water to stay hydrated.
Unfortunately, I am someone who gets bloated very easily. I find my fingers and hands also swell when I cruise from the uptake in sodium, making it difficult for me to take off my wedding rings.
Image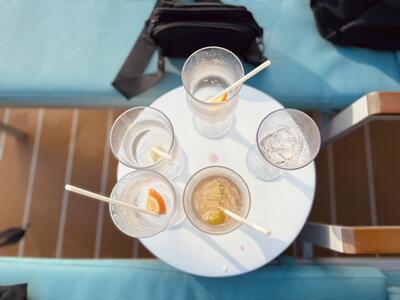 If you're someone who bloats easily, try to pack silicon rings for travel that allow for bloated fingers. In general, I don't like to pack clothes that are too tight in general for cruise. I also like to wear my tighter outfits on the first few nights in anticipation of being bloated by the end of the cruise.
Early-morning announcements
Unlike a hotel or resort, you might be surprised when you hear early morning announcements on a cruise ship. On most mainstream cruise lines, you'll be hearing frequent announcements from the captain and cruise director. These can range from announcements for bingo to dance class and the 70s party that evening.
The worst announcements are the ones that come too early in the morning when you're trying to sleep in. The captain will announce at each port when the ship has docked and when the gangway is open.
Image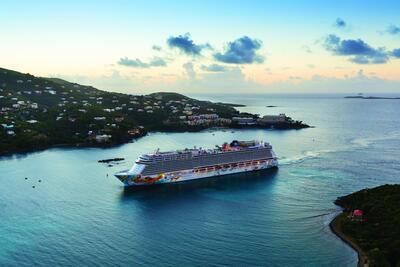 Packing earplugs might help with drowning out the announcements. I prefer to download a noise-machine app for my cruising (or you can bring a portable sound machine), in which I play white noise loudly to help me sleep soundly.
Horrible toilet paper
The first time you use your bathroom onboard your cruise ship, you might be unpleasantly surprised by the poor quality of toilet paper. The toilet paper on a cruise ship is quite possibly worse than any generic single-ply toilet paper you've used before.
To help keep onboard plumbing working properly, cruise ships only have this sandpaper-like toilet paper for you to use. The toilet paper dissolves quickly to help with processing waste.
Image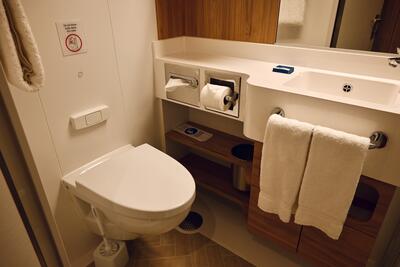 Prepare for a less-than-desirable experience while taking care of business. My grandpa said on his recent cruise that he was able to hold up the toilet paper in front of his watch and still read the time through the thinness of the toilet paper!
Chair Hogs
Unfortunately, you might find it hard to snag a chair by the pool if your cruise ship has a lot of chair hogs onboard. This is a chronic cruising problem - and one that gets many people fired up.
If you aren't up on the pool deck by 7am or earlier, you will probably struggle to find a good chair by the pool. Instead, you'll find rows of already-claimed chairs with towels. Most of these people leave their stuff unattended for hours and expect to return whenever they decide to get some sun.
Image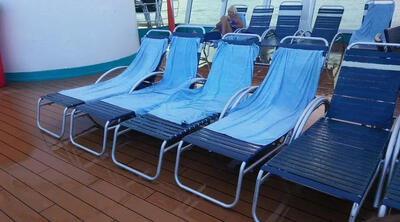 Most cruise lines do have rules and policies in place that say a cruisers can only leave their chair unattended for 30 minutes. However, these are rarely enforced (although, apparently some cruise lines are cracking down recently to combat the chair hogging problem).
Diarrhea
If you're not constipated during your cruise, then you're probably dealing with the other end of the spectrum: diarrhea.
It's the least glamorous part of cruising - and the horrible toilet paper only makes it worse. If you're drinking a lot of alcohol on your cruise, you might be finding yourself in the bathroom more than you'd like. This can be particularly inconvenient if you're spending your time ashore and struggling to find bathrooms in a timely manner.
Image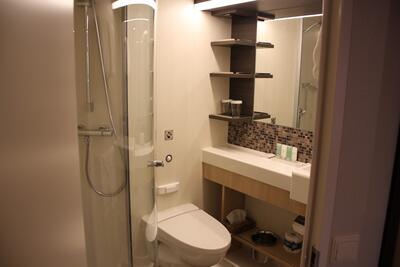 Sometimes, food simply doesn't set right with your stomach. This isn't uncommon on a cruise, but it might not be something you're prepared for. I absolutely always cruise with anti-diarrhea medication, along with Tums or Pepto Bismol tablets. These can really save the day!
Sunburn
All that time in the sun means you might find yourself dealing with nasty sunburns. Cruising is all about spending time in the sun, whether that's on the cruise ship itself or in port. Having enough sunscreen packed is crucial for any cruise packing list!
Image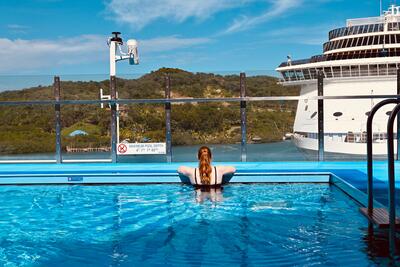 If you aren't careful, you might end up like a burned lobster. If you're planning to pack plenty of sunscreen, also throw in some aloe gel to soothe any potential burns you get.
Chaffing
Along with sweating, you should also prepare for unwanted chaffing during your cruise. It's my worst enemy. Nothing can kill the cruise vibe quite like chaffing can.
To combat chaffing, the best thing you can do is prevent it entirely. As a woman, I often travel with biker shorts or spandex to wear under my dresses. It sucks having to pack these, but it's much better to prevent chaffing altogether than it is dealing with the aftermath.
Image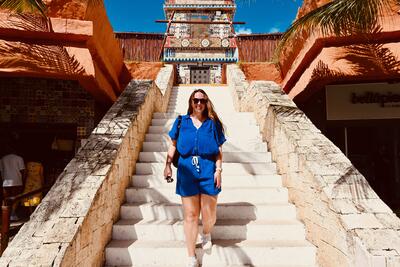 Pack clothes that fit well and can handle a lot of walking. I also travel with anti-chaffing sticks in case I run out of shorts to wear underneath. It works wonders!
Lots of Germs
If you're sailing on a mainstream cruise line, odds are that you'll be sailing with lots of kids onboard. This is especially true if you're sailing in the summer or during holiday breaks when kids are off school.
Kids are notorious for being germ-infested individuals; but, you might also be grossed out by some of the adult behavior you see onboard too. It's not uncommon to see adults totally skip the hand washing station at the buffet entrance. I can't tell you how many times I've seen people leave the bathroom stall without washing their hands.
Image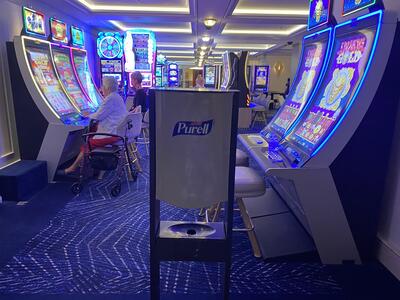 Sadly, there are germs everywhere on a cruise ship and people can be downright gross. I always cruise with hand sanitizer and bring it everywhere on a cruise ship; in fact, it's attached to my key-card lanyard so it's easy to access. Always wash your hands as much as possible. I'll even re-sanitize after touching the tongs at the buffet just to be safe.
Hangovers
You've gotten the gist at this point that you'll be eating and drinking more than normal on a cruise, often leading to dehydration for many. When you're spending your days drinking on the beach or all-night onboard the ship, you can expect to be hungover.
Hangovers are the worst and they're certainly an unpleasant cruise problem you might not be expecting. Even if you understand your normal alcohol tolerance, your body is on a different schedule than it's used to.
Image
To prevent feeling hungover, it's best to try and stay as hydrated as possible. Try to chug water after a long night of drinking and thank me in the morning. Of course, I pack travel-sized ibuprofen to ease the hangover headache. Additionally, I love LiquidIV packets, which are hydration multipliers, to stay as hydrated as possible.
Crowdedness
Cruise ships are massive these days, often feeling like floating resorts. Even still, you might find certain areas are more crowded than you expected. This is often the case if you're sailing on an older cruise ship, which wasn't designed to today's standards of passenger flow.
Image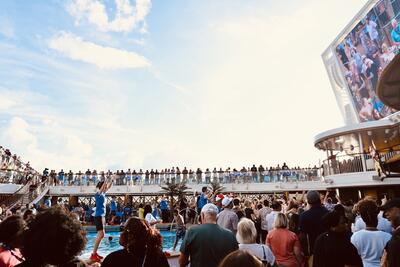 Crowded areas are often bottleneck spaces onboard, such as the buffet in the morning before excursions and the gangway while everyone is trying to depart. Boarding day can also feel more crowded, as everyone is trying to explore the ship and people aren't able to access their staterooms until later.
If you're someone who wants more privacy and less crowds, consider booking a suite that has designated spaces for suite guests. 
Image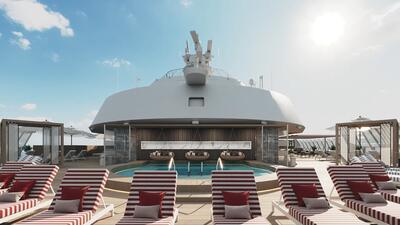 These exclusive areas will inherently be less crowded and many new ships are designed to have the feel of a 'resort within a resort' for suite guests. This includes dedicated restaurants, pools and lounges.
Norovirus
Even though COVID-19 is currently everyone's biggest worry on a cruise ship, norovirus continues to be a threat for cruise ships. Although the threat is quite minimal, you have probably seen stories of cruise ships with norovirus outbreaks because the CDC requires that cruise ships track illness spread onboard.
This type of illness spreads quickly in small spaces, although norovirus is found in many places other than cruise ships. Norovirus is an extremely common and highly contagious virus that causes stomach issues, such as nausea, vomiting, stomach cramps and diarrhea.
Norovirus typically only lasts 24-48 hours and it resolves quickly; however, it is very uncomfortable. Wash your hands frequently and avoid touching your face as often as possible while cruising. 
Onboard Dryness
When I lived on a cruise ship for 100 days, I discovered just how dry the air can be on a cruise ship. To prevent mold and reduce humidity, cruise ships are often overly air conditioned, which can leave you feeling dry in your cabin. This is similar to how an airplane feels if you've ever taken a long international flight.
Oddly enough, you'll be experiencing the hot humidity outside while returning to a dry and very air conditioned cruise ship.
Image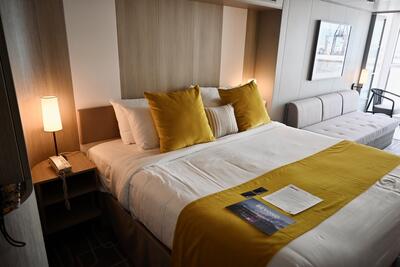 Prepare for your lips to feel chapped if you spend a lot of time in your cabin. Also, you might experience that your skin dries out. Your nose is also more dry, which can make you more susceptible to viruses and bacteria.
Some suggest bringing a saline nasal spray or travel-sized humidifiers to use in your cabin if you find the cruise ship to be too dry.