Packing and planning for a cruise can be the most stressful part of your vacation. As someone who has cruised and traveled extensively, I'm slowly becoming a (self-proclaimed) packing pro - and my latest cruise put those skills to the test.
I've taken weeklong cruises with just a carry-on and it's honestly something I've never regretted. In fact, it's pretty rare for me to travel with checked luggage for a cruise. Less luggage to haul around simplifies my cruising experience immensely.
A few weeks ago, I jetted off to Europe for a 2-night getaway cruise on Norwegian Sun with Cruise Blog writer, Hayley. The cruise was extremely cheap, costing just $99 per person. To keep costs down, Hayley and I decided to use our standby benefits to fly to Europe for our cruise.
Image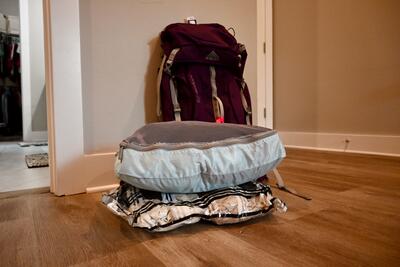 Our plan was pretty simple - we would fly standy anywhere in Europe with open seats and then take a cheap flight or train to our cruise port. We set our sights on London as the best option for us to get to Europe, as it had plenty of availability.
If you've ever played the standby game, you know it can be complicated. Your Plan A can easily turn into Plan D with one delayed flight or cancelation. As such, it's best practice to never check baggage because your plans can change at a moment's notice. No one wants an abandoned or lost suitcase!
Image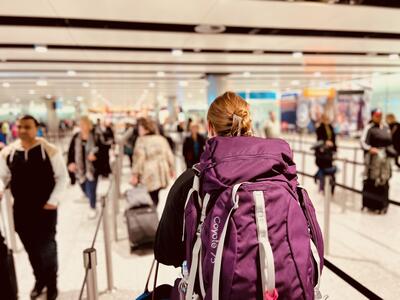 Europe can also be difficult to lug around rolling suitcases while navigating cobblestone streets, winding stairs and underground train stations. To be as flexible as possible, Hayley and I opted to travel with large backpacks - Amazing Race Style! This ended up being so convenient, especially for all of the shuffling between hotels and airports we ended up doing. 
Finally, traveling lightly would help us keep costs down with budget airlines. Some airlines in Europe charge extra for rolling luggage, so we really wanted to have minimal luggage. 
Here's how I packed for a European cruise in just a backpack.
When I studied abroad in college, I lived on a cruise ship for 100 days while sailing around the world with Semester at Sea. During that semester, I traveled extensively across Europe, Africa and South America using a big, purple backpack. The 75 liter backpack is perfect for me as a nearly 6'0 tall woman because it has solid back support while not being too heavy.
Image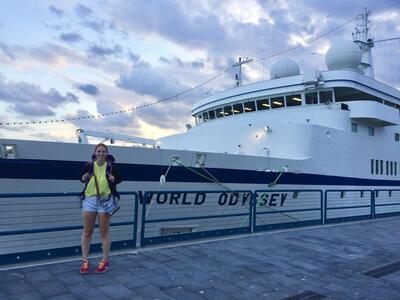 I opted to bring this backpack was for our standby cruise trip, as it was very comfortable to wear and could hold a decent amount of clothes for the week.
If our trip went as planned, we would be traveling from chilly London to the sunny coast of Spain and Portugal.
Image
Therefore, I had to pack a variety of clothes to cover everything from cold, rainy days in England to 80 degree weather on the cruise.
I brushed the dust off my trusty 'ol  backpack and started strategizing.
Hayley and I spent more than a week determining what to pack for this cruise. Our goal was to pack a variety of outfits that could be layered with different climates. We aimed to leave a little room for bringing back souvenirs too, as I know that I inevitably will do some shopping while cruising!
Image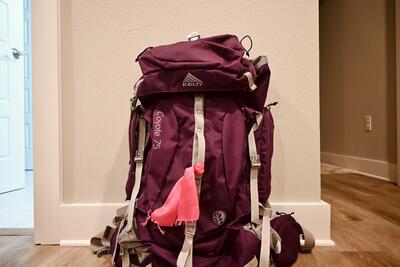 I started to carefully lay out clothes, starting with warmer clothes for London. I packed a pair of leggings and a full-length black bodysuit. Both of these could be worn under sweaters or layered with a jacket or linen top.
Image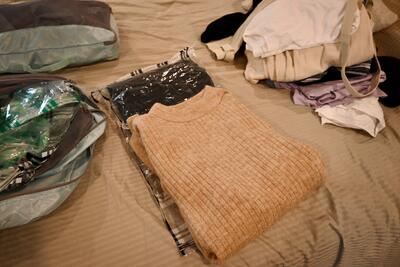 Knowing we would be onboard the Norwegian Sun for two nights of this trip, I opted to pack two dresses: one with long sleeves and one with short sleeves. I figured the long sleeve could be worn in London under a jacket or onboard the cruise, while the short sleeve would work for sunny days exploring Spain or Portugal.
Image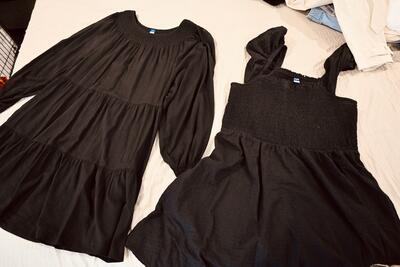 I also packed a sweater for London, along with a pair of shorts, button down shirt, denim jumpsuit, pajamas and swimsuit. Of course, I'd need a coat for the cooler weather in England, so I packed a trench coat. The key was to pack outfits that could be extremely versatile. Neutral colors ensured that everything could be mixed and matched. 
I relied on packing cubes and compression bags to save space in my backpack.
Last year, I started using packing cubes after hearing other cruisers hype them up. I will never go back to packing without them! I also purchased some travel compression bags, which can be rolled to remove excess air.
Image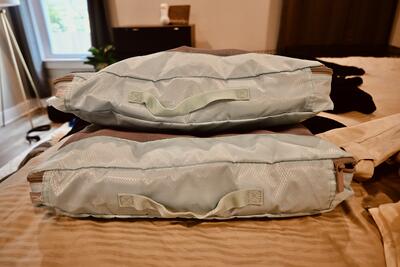 Packing cubes help me stay organized and also save space in my luggage. Smaller cubes are used for undergarments. Once traveling, I designate one cube for dirty clothes.
Image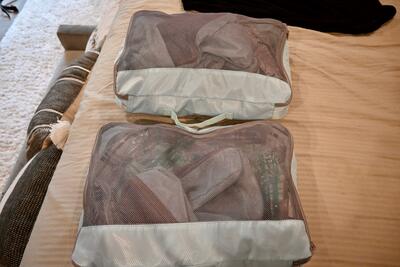 I decided to pack my clothes for London in a compression bag because the warmer clothes are bulkier. These bags can easily be zipped and rolled to remove the excess air. I was able to save ample space in my backpack by utilizing this compression bag.
Image
Also, I knew my future self would appreciate having warmer clothes all in one spot. The other packing cubes would be used for my cruising clothes. The weather was forecasted to be in the 80s during our time in Spain and Portugal, so we needed summery outfits. 
Image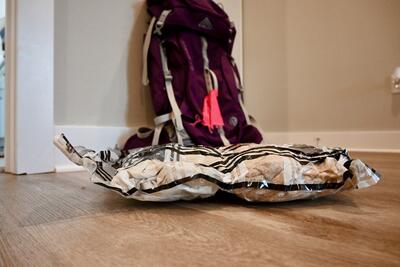 Having a cube specifically for the cruise would mean help keep my backpack organized as well.
Clothes took up the majority of my backpack space, so I had to keep cosmetics to a minimum.
Because I travel often, I have pretty much everything I need in travel-sized containers. I also knew that the UK had strict requirements for how many liquids you could bring onboard flights; everything has to fit in a small baggie.
Image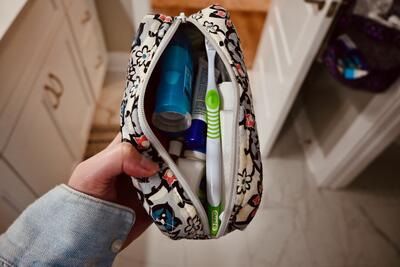 I pumped my cleanser into a small travel-sized bottle and used a travel-sized moisturizer. Additionally, I packed a tiny toothpaste tube, a mini hairbrush and a mini deodorant. All of this fit into a small cosmetic bag.
Image
Makeup also had to be kept at a minimum. I love cruising with a tinted moisturizer with SPF, which I'd use as a basic foundation each day. I packed a tiny mascara tube, concealer, eyeliner, blush and eyebrow liner.
Image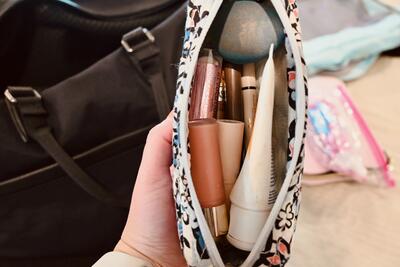 Finally, I always travel with my 'mini pharmacy' when I go abroad or take a cruise. This entails a variety of medicine that I have with me at all times.
Image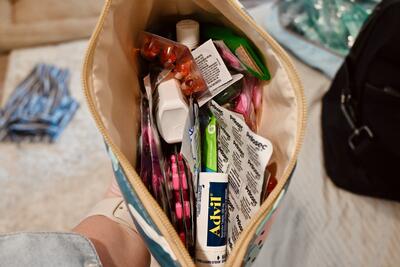 My mini pharmacy is a small pouch with over-the-counter medication, including Advil, Pepsi tablets, daytime and nighttime cold/flu, motion sickness medication and more. It doesn't take up much space, but it comes in handy when symptoms start to surface. I also cruise with hydration packets that I can add to my water to help prevent dehydration.
Shoes often take up the most space when trying to travel lightly.
With just a big backpack, I really didn't have many choices for packing multiple pairs of shoes. I decided to wear a pair of black running shoes, which I would plan to wear for the majority of the trip. If you want to cruise with just a backpack, you have to sacrifice shoe options because these can be super bulky. 
Image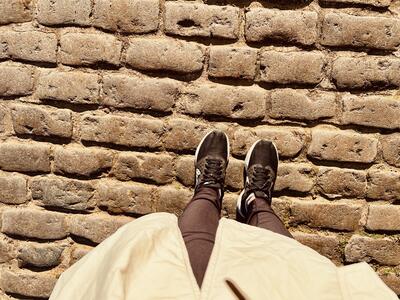 For the cruise, I packed a pair of flat sandals, which took up very minimal space in my backpack. The top of my backpack had a perfect space for these sandals - and it would keep the shoes separate from the rest of my clothes.
I packed a small packet of laundry detergent, which would allow me to clean clothes in a sink or shower.
It might not be glamorous, but I think it's worthwhile to pack some laundry detergent when cruising or traveling. I don't like to pay for laundry onboard a cruise - and I also don't trust the laundry service onboard.
Image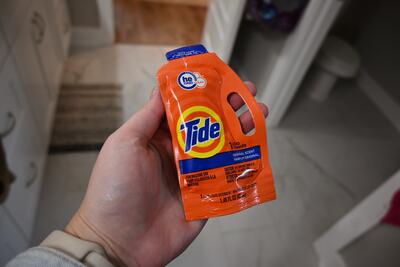 Backpack traveling (or cruising in this case) can lead to very stinky clothes. We had many long days of travel ahead of us. Without having many options for different outfits, it would probably be necessary to clean a few things in the sink or shower once we got on our cruise.
And with that, the backpack was ready to go for whatever and wherever our standby flights would take us!
Our standby journey to London was seamless and the backpacks proved to be a good choice as we navigated the trains, taxis and planes.
Hayley and I lugged our big backpack all the way to London - and we didn't regret it. My backpack had more support than Hayley's, although hers was more compact and smaller than mine. Overall, it was so convenient having just a backpack as we made our way through the airports and train stations. 
Image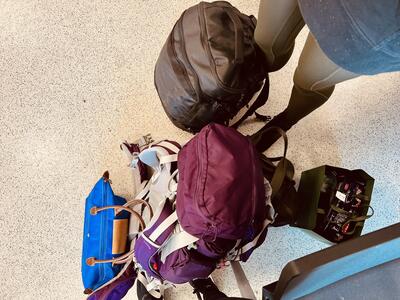 London was much cooler than I expected, and I wished I had packed maybe one more sweater. I realized we had almost two full days in London, along with the day when we returned, and I really only had one sweater for the chilly weather. 
Image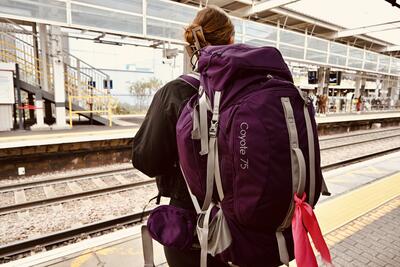 We were also grateful not to have checked luggage when we were running late (by almost going to the wrong airport) for our flight to Lisbon. 
Checking bags at the airport would have required more time that we didn't have to spare - not to mention how cumbersome it would have been to navigate our suitcases at the train station while we were franticly running around to get to the correct airport.
Image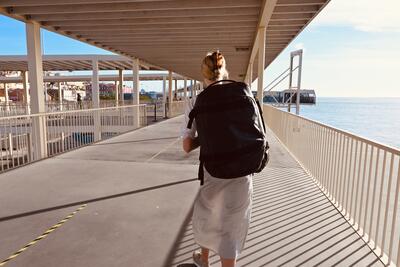 Onboard our 2-night cruise, we were excited to take a break from hauling around the backpacks.
By the time we boarded our cruise in Malaga, we had already traveled from London and spent the night in two different hotels. Our shoulders were sore at this point! On the cruise, we were able to get comfortably situated for two nights in our cabin.
Image
The jacket that I had worn on my flights was overdue for a wash, as it was smelling ripe. I decided to do some sink-style laundry in our cabin. Again, this is not the glamorous side of cruising with just a backpack!
Image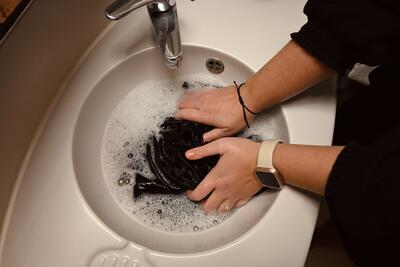 This involved running some warm water into the sink and adding the small packet of detergent. I scrubbed and soaked the jacket for a little bit before wringing out the jacket and hanging it on the clothes line in the cruise shower.
Image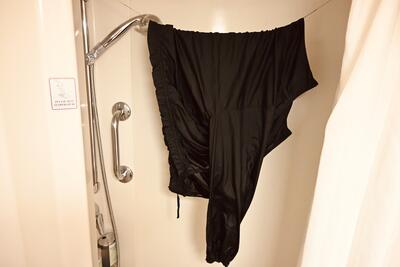 I should have done this during the first night of the cruise, but I remembered to do it on the second night. I used the blow dryer to speed up the process and hoped it would be dry in the morning. Since it was athletic material, this makes for easy travel and quick drying.
Image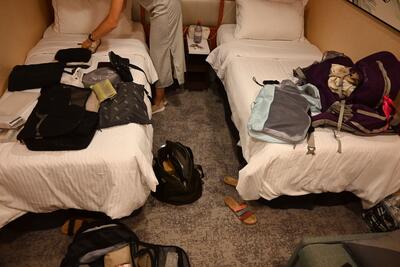 By the time we had to disembark, the jacket was dried and ready for the long journey back to London - and eventually back home!
Packing and unpacking the backpacks became a routine for us and it simplified our travels.
With so much chaos surrounding our travels, having these backpacks kept one element of the trip simple. We needed simplification, as everything else was very complex.
Image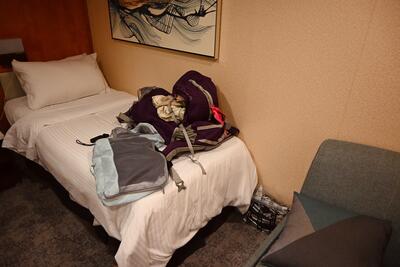 It never took too long for us to reorganize our backpacks, even as we had a new place to stay almost each night of the trip. Without baggage weighing us down, we didn't have too much to keep track of. We were very flexible and mobile with our limited bags. 
Image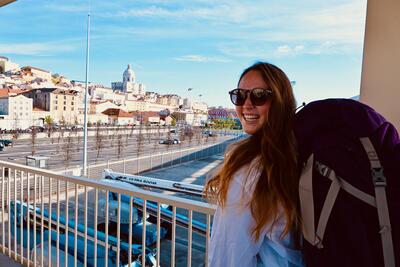 I was worried that we would lose or forget something because we were constantly on the go - from London to Malaga to Lisbon and back to London. But, everything in the backpacks had a place so we ended up getting into a packing and unpacking routine. 
I wouldn't hesitate to use my backpack in the future for a European cruise - although I wouldn't do it every time.
Because this cruise was so short and we were flying standby, it made the most sense to travel with our backpacks. We wanted to be as flexible as possible and checked luggage would slow us down.
Image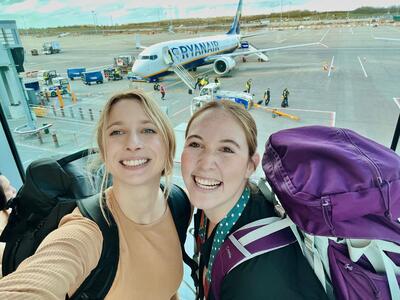 At one point, we were running through the train station once we realized we were going to the wrong airport - which was for our RyanAir flight to the cruise port. We didn't have time to spare once we arrived at the airport. Rolling luggage would have been a major nuisance - especially going up and down the stairs at the train station.
Image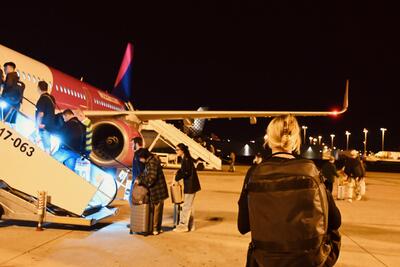 Of course, the drawback of having just a backpack means you are super limited with what you can wear. Pretty much whatever you pack has to be worn. Differing climates also made this more difficult, as we anticipated warmer weather in Spain and Portugal compared to the cooler weather in London. I packed a dress and a pair of shorts that I never wore because it was slightly cooler that expected.
Image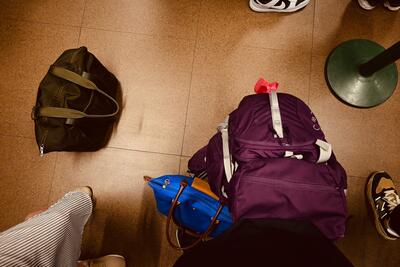 Less luggage, in general, creates simplification in your travels. As someone who used to be a chronic over-packer, I truly believe that cruising with just a backpack is possible with the right mindset and appropriate planning.
Image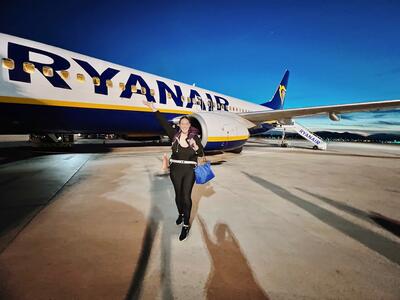 For us, this wild adventure included everything from planes, trains and cars to a cruise ship! One week in Europe with just a backpack was perfect for us, but I probably wouldn't do it for a longer cruise. Longer cruises require more outfit choices, especially for evenings onboard. 
Additionally, if you're cruising somewhere with cooler temperatures - like Alaska, Norway or Iceland - then it's very difficult to cruise with limited luggage. Warmer clothes are bulkier and it could inadvertently become a hassle. 
If you have a larger traveling backpack and your cruise involves many logistics, then I would absolutely recommend cruising with just a backpack. In the end, anything is possible with the right mindset and expectations - just don't forget your laundry detergent!