When it comes to cruise travel, most prospective guests tend to gravitate towards the newer ships full of new and exciting amenities and the promise of an epic vacation. But what is it like to sail on an older cruise ship? Specifically, what is it like to sail on an over 20 year old Norwegian Cruise Line ship?
Last week I returned from a quick 2-night sailing onboard the Norwegian Sun with fellow Cruise Blog writer Allie, and we have some thoughts about the experience. Come along with me as I delve into why I think sailing on this older ship is a great idea and why it might not be. 
Specifically we'll explore just what this ship has to offer its passengers, and look into if prospective guests of Norwegian Cruise Line should consider booking a sailing onboard the Norwegian Sun ship. 
Embarkation and Boarding
Image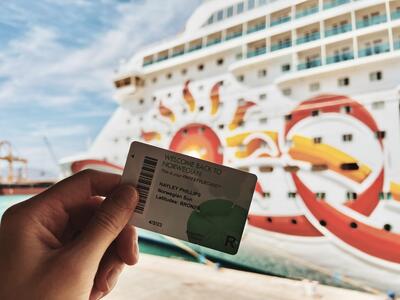 The boarding and embarkation process of the Norwegian Sun was easy, efficient and seamless. All-in-all the process took about 10 minutes and once we picked up our stateroom keycards we were quickly on our way to boarding the ship. 
We were greeted by friendly crew members who immediately noticed we were new onboard. We were directed to our stateroom, and because we boarded at about 1pm, we were happy to discover that our stateroom was ready and we could drop off our bags in our room right away. 
Norwegian Cruise Line does a great job of personalizing the experience at any embarkation port they have. With their signature branding and attentive crew members, guests are sure to have a pleasant embarkation process no matter where their ship is docked. We found this to be the same with our experience boarding the Norwegian Sun for our cruise. 
First Impressions
Image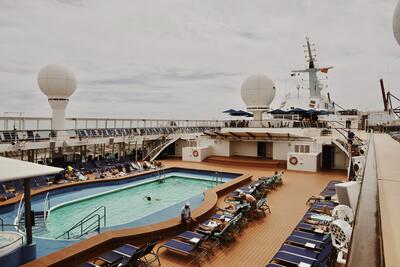 Our first impressions of this older Norwegian Cruise Line vessel was that it definitely reflects its age when compared to the designs of some of the newer Norwegian Cruise Line ships in the fleet. 
This ship was constructed over 20 years ago in 2001. Because of its age, the design of the ship may feel not quite as modern to some guests. However, I was pleased to discover that despite the ship's age, it was well maintained and very clean. 
On this voyage I traveled with fellow Cruise Blog writer Allie, and we both commented that we thought the outside of the ship looked newly painted. The ship did recently receive a refurbishment in 2021 helping to keep it in ship shape (pun intended). 
We also quickly discovered that even though we only had two nights onboard, the Norwegian Sun was easy to explore fully in our limited time. This was due to the fact that there isn't much onboard when it comes to activities. There was plenty of nice seating and lounge space for guests to relax and unwind however. 
Stateroom
Image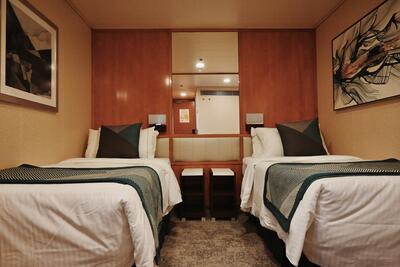 For this sailing we had a standard Interior Stateroom. Because we were two friends traveling together, the stateroom attendant had split our beds into two, creating two twin sized beds. I enjoy this type of room configuration because I feel like it can make the room feel rather spacious. Even with our interior room, I felt we had plenty of space to spread out. 
Our room came complete with standard interior cabin amenities such as a large closet, a desk or vanity area with large mirror, several outlet plugs, a safe, nightstands, a small couch, and of course a bathroom. 
The bathroom was our least favorite aspect of our room. Upon stepping foot into our room for the first time and exploring what it had to offer, we were surprised to discover that the bathroom was a rather vibrant lime green color. This color was made even more prominent by the dated light fixture that seemed to enhance the aging appearance of the bathroom. Additionally, we were not big fans of the shower, which beckons back to an older age of cruising with its cloth shower curtain. 
Image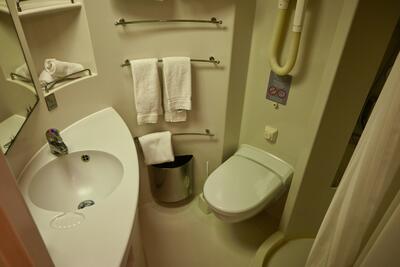 I am pleased however to report that our beds were very comfortable, clean, and provided a great night sleep! 
Overall, I felt that our room was clean and well maintained despite its age. I would like to see some updates to the shower in the room's bathroom, but overall I was happy with our stateroom especially considering this was a very cheap cruise sailing onboard a ship over 20 years old. Other than the bathroom I felt the room was relatively modern in design and I appreciate that Norwegian Cruise Line has made obvious efforts to maintain this older ship. 
Image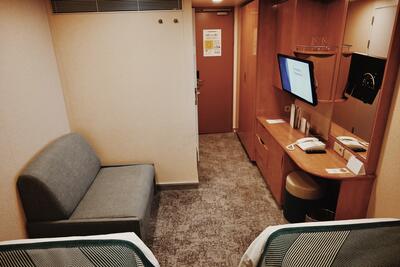 While a cruise ship stateroom is important, most guests do not tend to spend too much time here when on their cruise vacation. Despite this ship being nearly as old as I am, I felt that our stateroom was a great home at sea for our short two night sailing! 
Activities and Entertainment 
Image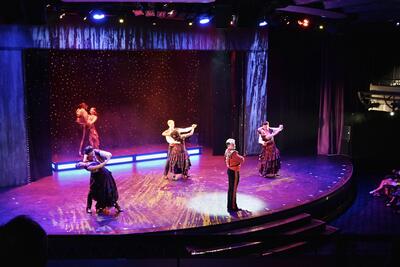 Even though the Norwegian Sun is an older ship, it is still part of the Norwegian Cruise Line fleet. This means that the Norwegian Sun does feature many of the onboard activities and entertainment that is standard to the Norwegian Cruise Line brand. 
Some of the onboard activities that passengers of the Norwegian Sun can find are cruise classics such as bingo, live music, playing games at the casino, and of course lounging by the pool with a tasty drink in hand. 
Image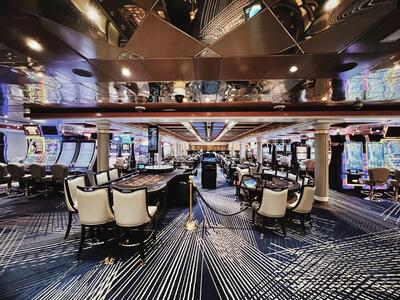 Due to this ship being both older and relatively small when compared to some of the other Norwegian Cruise Line ships, the Norwegian Sun appeared to have less to do when it came to onboard activities than what I have seen on other Norwegian ships. Because of this, the Norwegian Sun exudes a more relaxing atmosphere and environment. 
When it comes to entertainment, the Norwegian Sun has two shows put on for guests to enjoy. These two shows are called "Rock You Tonight" and "World Beat". Because our particular sailing onboard the Norwegian Sun was only two nights, the opportunities to see these two shows was relatively limited considering that the "Rock You Tonight" show was not performed on our first night of the cruise. 
We were able to see the "World Beat" show on our second and final night of our sailing. This show was a smaller-scale performance but still exemplarily displayed the talent and dedication of the performers and crew members. "A musical voyage around the world! Feel the percussive beats of Irish tap dancing, the soulful cadences of New York City streets, the haunting drums of Africa, the dramatic Kodo rhythms of Asia and more," states Norwegian Cruise Line about this engaging and musical show. 
While the entertainment onboard the Norwegian Sun was rather limited when compared to other larger-scale Norwegian Cruise Line ships, I believe with an open mindset any passenger can find something onboard they like and appreciate! 
Destination Focused
Image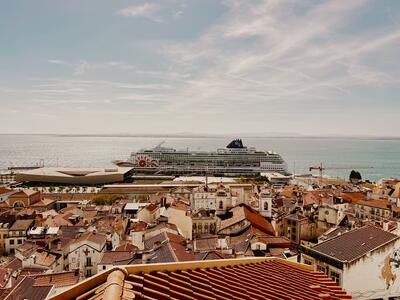 Allie and I often commented on the fact that this ship has limited "frills". Meaning that this ship is relatively basic in what it offers its guests. 
Norwegian Cruise Line has chosen to make this ship more destination focused by placing it on heavily destination focused itineraries. The Norwegian Sun visits locations such as Asia, Africa, the Greek Isles, the Mediterranean, Northern Europe, and South America. Due to the nature of these itinerary types, it means that cruises aboard the Norwegian Sun are very destination focused. 
There will not be a whole lot of relaxing leisurely on the beach or lounging in the afternoon sun as Caribbean steel drum music plays in the distance when traveling on the Norwegian Sun. The destinations this ship visits inherently means that guests will spend much of their cruise off the ship, out and about exploring the destinations this vessel takes them too. 
In some ways, the Norwegian Sun being so destination focused negates the need for lots of onboard activities and entertainment. This is because passengers nearly everyday of their cruise will be off the ship exploring the itinerary's ports of call and destinations. 
This all to say, there is plenty of lounge space on the ship's pool deck to enjoy a relaxing afternoon after coming back from a long day of exploring fascinating ports of call! 
Food and Dining
Image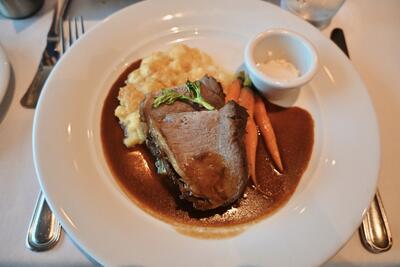 The food onboard Norwegian Cruise Line ships is often one of my favorite parts of cruising! Norwegian does a great job of providing diverse options of food to its guests, ranging from simple and easy choices to extravagant, as well as complimentary and specialty. 
I will have to say, when compared to my previous sailings with Norwegian Cruise Line, I was a little disappointed with the food onboard the Norwegian Sun. This is not to say the food wasn't good, but rather it seemed to fall short when compared to the food served onboard its sister Norwegian ships that I have previously sailed on. 
One of my disappointments when it came to food onboard the Norwegian Sun, was the size and offerings of the buffet onboard. The buffet was rather small for the size of the ship and had much more limited options than what I have seen on other Norwegian Cruise Line sailings. Allie and I were able to always find something we wanted to eat onboard however. But I would have liked to see some more options, such as the delicious Indian Cuisine offered on the Norwegian Bliss buffet that I tried in February! 
Image
I also felt that some of the Norwegian Cruise Line classics in the complimentary dining rooms, that I have become familiar with, such as the chocolate lava cake dessert, were different onboard the Norwegian Sun. This all to say, for the very cheap cost of our particular 2-night sailing, I did feel we absolutely got our money's worth when it came to food. 
On this particular sailing, we ourselves did not sample any of the specialty dining. However, we did walk around the ship to see what these specialty dining locations looked like. Passengers of the Norwegian Sun can find the following specialty dining venues onboard - Los Lobos Cantina, Moderno Churrascaria, La Cucina, Atrium Cafe, Cagney's Steakhouse, Le Bistro, Sushi Bar, and Teppanyaki. 
Some of these specialty dining locations will be familiar to those who are fans of Norwegian Cruise Line. However, they are operated on a much smaller scale. I noticed that several of these specialty dining locations seemed to be much smaller that what I have seen on other Norwegian Cruise Line ships. This makes sense however, because the Norwegian Sun is much smaller than Norwegian's newer ships. 
Image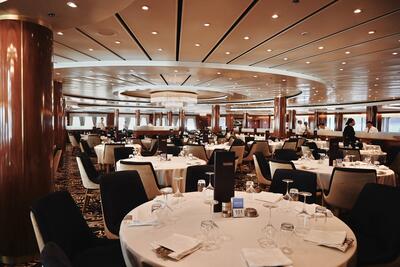 (Norwegian Sun complimentary dining room 'Four Seasons')
The main complimentary dining offered onboard the Norwegian Sun is served in two dining rooms, 'The Four Seasons' and 'Seven Seas'. When preparing for this cruise I was interested to see that these two main dining venues are two that I have not yet experienced, and differ from the Norwegian Cruise Line classics I have come to know and love such as the complimentary 'Savor' and 'Taste' restaurants. 
The Four Seasons and Seven Seas are very similar in design to each other and offer a classic large-scale main dining experience to Norwegian Sun passengers. Guests who have traveled with Norwegian Cruise Line before are sure to see menu options the recognize in these venues as well. I did appreciate the large windows present in both these locations. It meant that during dinner time Allie and I often had a beautiful ocean view to enjoy alongside our dinner! 
Bars and Lounges
Image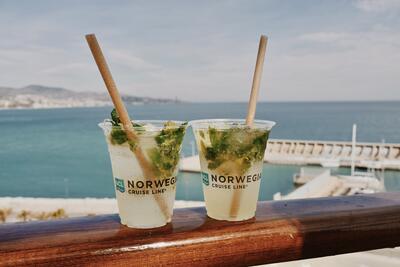 As is a theme onboard the Norwegian Sun, the bars and lounges onboard may be smaller than what some guests are used to. Even on a smaller scale and with less frills, these bars can still provide a great drink and a fun evening! 
Guests will be able to find ten bars and lounges onboard the Norwegian Sun - Atrium Cafe & Bar, Bliss Ultra Lounge, Champs Bar, Los Lobos Cantina, Spinnaker Lounge, Sports Bar, Sun Casino Bar, The Champagne Bar, Topsiders Bar, and Windjammer Bar. 
As is standard on many Norwegian Cruise Line ships, there is live music often performed in many of these lounges throughout the course of the cruise. 
Kids Areas 
Image
Norwegian Cruise Line's kids areas are called the Splash Academy. I am pleased to report that even though the Norwegian Sun is one of the cruise line's oldest ships, it still has a relatively spacious area reserved just for kids and young cruisers. 
"With interactive games, an arts and crafts area and creative theme nights kids can do what they do best - be a kid! The Splash Academy drop off age is 3-12 years old," states Norwegian Cruise Line about the kids area onboard the Norwegian Sun. 
When exploring the ship, Allie and I did wander down to the Splash Academy to enquire just what is offered to parents looking to drop off their children for a fun afternoon onboard the Norwegian Sun. The helpful crew member informed us that childcare at the Splash Academy is complimentary during opening hours. Children can participate in games and structured, age appropriate activities. Kids are also monitored, supervised, and cared for by well-trained crew members in order to ensure their safety while at the Splash Academy. 
Image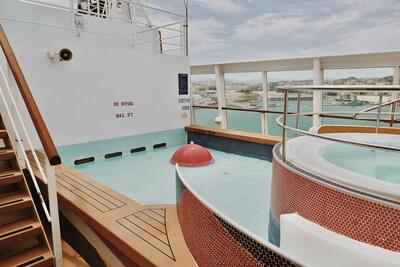 In addition to the Splash Academy, there is a very small, kids only splash pool area. This area is very limited and more is just a small kiddie pool reserved for children. While this ship is limited in what it has on offer for children, there are still some basic amenities. 
Unique Areas
Image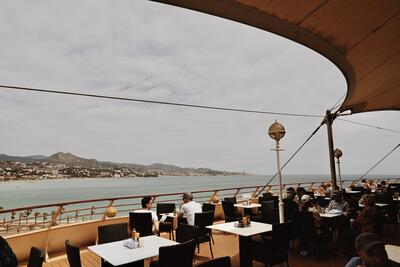 One of my favorite unique areas onboard the Norwegian Sun, that I have not seen onboard any other Norwegian ship so far, is 'The Great Outdoors'. This area is located at the back of the ship and offers plenty of seating areas for guests to take in the panoramic sea views. This area is also called 'The Great Outdoors Cafe' as it features an extension of the buffet, but outside. 
I thought this space was a great place to watch a sunset or take pictures of the beautiful ports the Norwegian Sun docks in!
Spa
Image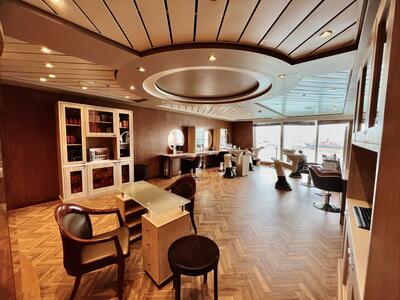 Another Norwegian Cruise Line classic that can be found onboard is the 'Mandara Spa & Salon'. 
On our first day onboard, while we were exploring the ship, we were able to take a tour of the spa. For this relatively small ship with limited offerings, I thought the spa was well appointed and offered a relaxing atmosphere. Especially the manicure, pedicure, and salon area of the spa. 
Passengers can enjoy services such as - massages, aroma stone therapy, couples treatments, salt scrubs, pedicures, manicures, and more while onboard for an added fee. 
Overall Atmosphere
Image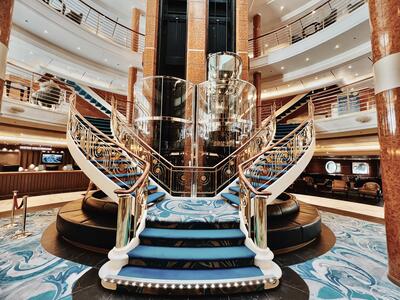 As stated previously, Allie and I commented that this ship felt relatively basic when compared to other Norwegian Cruise Line ships as well as large-scale ships from other major cruise lines. 
The overall atmosphere of the ship seemed relatively subdued. This was probably one of the most quiet ships I have sailed with yet. And while this was rather relaxing, at times it also felt almost too quiet for Norwegian Cruise Line's typical fun-loving and vibrant branding. 
While the decor of the ship is somewhat dated, it is also well maintained. The ship was clean and well taken care of. This is largely due to the fact that the Norwegian Sun just recently underwent a refurbishment in 2021, helping the ship last for years to come. 
In some ways I appreciated the relaxed atmosphere of this ship. It meant that we were always able to find lounge chairs by the pool, and we never had to wait for a table at dinner. It also provided a causal and relaxing atmosphere to come back to after a long day of exploring. 
This ship is limited in what it offers, but is still very capable of providing a fun and memorable cruise vacation to its passengers!
Disembarkation
Image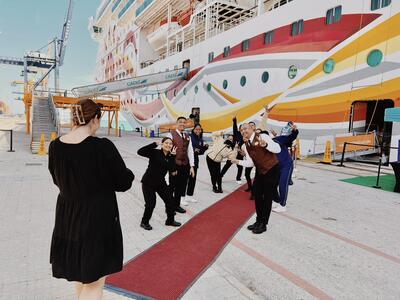 Due to the fact that this ship was not at full capacity, it was very easy to disembark. From the time that we left our stateroom, to when we stepped off the ship only took about ten minutes! 
We were not required to show our passports when disembarking due to the facial recognition technology that Norwegian Cruise Line has implemented on many of its ships. 
I appreciated that the Norwegian Sun was able to dock right in the heart of Lisbon, Portugal on our cruise sailing. This meant that we were able to dock, and then immediately step foot into a beautiful city waiting to be explored! 
Conclusion and Final Thoughts
Image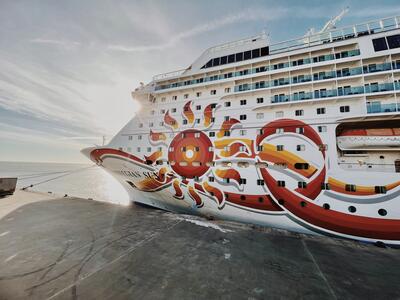 We had a lot of fun exploring the Norwegian Sun! This ship although maybe more relaxed then some of Norwegian Cruise line's newest ships, still has every capability to provide an excellent and memorable cruise vacation to its guests. 
If you are someone who is new to cruising, I personally would recommend considering one of Norwegian Cruise Line's newest ships. Sailing onboard a new ship can give passengers a more accurate look into everything the cruise line currently has to offer. Vessels that Norwegian Cruise Line has debuted in the last few years have many fun and exciting amenities for passengers to enjoy. Check out everything we know so far about Norwegian Cruise Line's newest ship here!
If you are someone who is looking for a fun and convenient way to travel around Europe, Africa, Asia, and more, than the Norwegian Sun might just be a good fit! This ship can provide an excellent home at sea for those passengers looking to spend their vacation exploring unique and exciting ports of call, with the added convenience and fun of cruise travel!  
Read more about our thrilling adventure on the way to this 2-night cruise here! Keep a lookout for more articles to come about our experience sailing with the Norwegian Sun!