Norwegian Cruise Line is one of the most popular mainstream cruise lines in the industry. This cruise line has a large fleet with 18 vessels sailing around the world.
While I've mostly sailed with Royal Caribbean in my life, I've been intrigued more recently by Norwegian Cruise Line. The cruise line's focus on accessible luxury and exotic itineraries is very appealing to me. For example, Norwegian Cruise Line is the only mainstream cruise line to offer frequent sailings around Africa - and I'd love to try one of these soon!
Image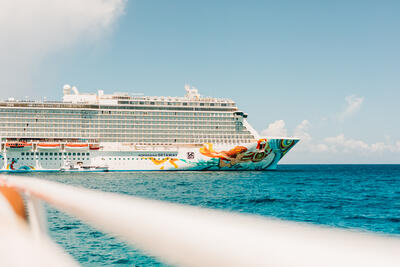 In addition, Norwegian Cruise Line is the only mainstream cruise line to have round-trip sailings from Hawaii. Back in 2012, I sailed on Pride of America with my family when I was in high school exploring the Hawaiian Islands. This was my first and only experience with the cruise line, but it left a lasting, positive impression.
Image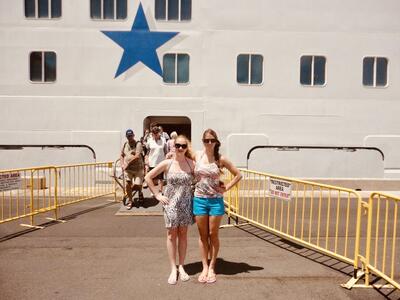 While searching for spring break cruises, I stumbled upon a very cheap, two night sailing onboard Norwegian Sun. The cruise was only $99 per person! Even better, the cruise sailed from Malaga, Spain to Lisbon, Portugal with a stop in Cadiz, Spain. I love cruising around Europe, so I couldn't resist the opportunity to book this cheap cruise.
Image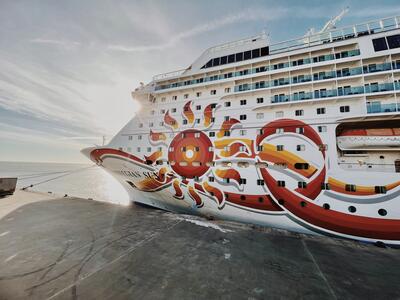 More importantly, I was really excited to have another chance to experience a Norwegian cruise. It's been over a decade since my Pride of America sailing, so my cruising perceptive is much different now. I was anxious to see what Norwegian Cruise Line had to offer compared to my other experiences I've had this year with Royal Caribbean, Carnival Cruise Line and Celebrity Cruises.
Here're my honest thoughts about Norwegian Cruise Line after more than a decade, including a few things I really liked and others that left me expecting more.
Upon boarding in Spain, we were greeted with cooling towels and fruit-infused water by friendly crew members.
My best friend (and fellow CruiseBlog writer) Hayley joined me for this two night sailing onboard Norwegian Sun. We had quite the adventure flying standby to Europe for this cheap cruise, so we were excited to board Norwegian Sun in Malaga, Spain for some much needed relaxation.
Image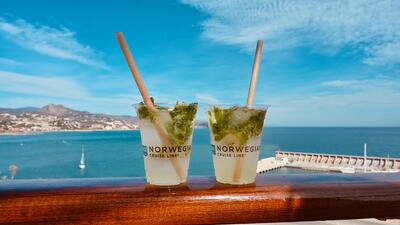 Boarding was quick and seamless. Within 10 minutes, we were walking up the gangway to Norwegian Sun. We were immediately impressed with the exterior appearance of the cruise ship, as the paint looked fresh and the ship was in very good condition.
Image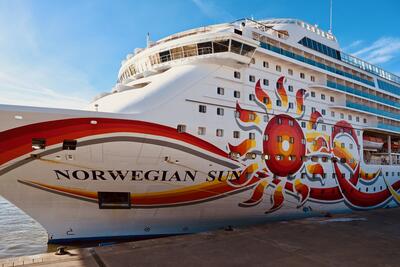 Norwegian Sun is the second oldest ship in Norwegian's fleet, so we weren't entirely sure what to expect.
As we made our way onboard, we were greeted by very friendly crew members who offered us cooling towels. It was hot in Malaga on this day and we were wearing our large backpacks, so the cooling towel was just what we needed. They also offered some fruit-infused water for us.
Image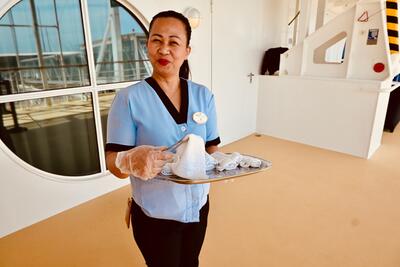 This wasn't something that I remembered from my Pride of America sailing, but it was a great first impression! The crew members were very welcoming. 
Image
I also enjoyed how the ship had a welcome back party during our day in Cadiz, which featured a DJ, popsicles and some of crew members dancing for guests returning to the ship. This was something fun that I'd never experienced before!
Norwegian Sun is considerably smaller and older than most cruise ships sailing today.
Norwegian Sun was built in 2001 while Pride of America construction was complete in 2005. At this time, most cruise ships being built were nowhere near the giant mega ships that cruise lines are building today.
Image
As Hayley and I made our way around Norwegian Sun, we both agreed that it was a 'no-frills' type of cruise ship. Hayley had only sailed on newer and bigger Norwegian cruise ships, like Norwegian Bliss and Norwegian Getaway, so the size and age were very apparent to her.
Image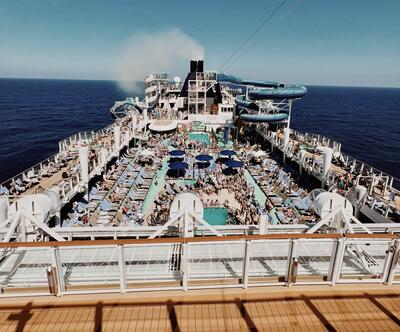 However, I had only sailed on Pride of America, which is only four years newer than Norwegian Sun. The two ships are nearly identical in size, weighing right around 80,000 gross tons. Norwegian Sun had a lot of similarities to what I remember from Pride of America onboard the ship.
Regardless, it's tough not to compare Norwegian Sun to newer cruise ships that have more amenities and onboard offerings. For example, the theatre was quite small onboard; in fact, the first night onboard did not even feature any shows.
Image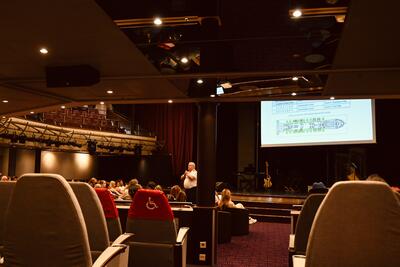 Most of the top deck is filled with sunbathing loungers with only one main pool. Both of these smaller cruise ships have a more relaxed atmosphere onboard; they make great vessels for port-intensive itineraries where your destination is the focus of the cruise.
The buffet on Norwegian Sun was the smallest buffet I've ever seen on a cruise ship.
While newer ships are being designed with tons of dining options onboard for guests, older cruise ships mainly feature a buffet and main dining room for complimentary options. As such, the buffet in usually a large venue to accommodate most passengers for multiple meals each day.
Image
I was shocked by how small the Garden Cafe was onboard Norwegian Sun. Hayley and I looked around to ensure we weren't missing the other side of the venue somewhere. There was only one location of food in the Garden Cafe with very limited indoor seating.
Hayley and I both felt the buffet was poorly designed and created a lot of congestion. She said newer Norwegian ships normally have a large buffet with multiple stations for getting food and plenty of seating.
My last cruise on Pride of America featured a large buffet as well in the Aloha Cafe, so I was surprised by this tiny Garden Cafe.
Image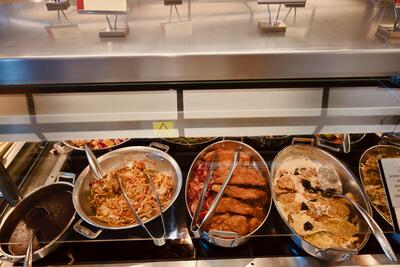 All this to say that I was really impressed with the buffet food that was offered. Since we didn't have many options onboard for complimentary dining, we ate here for breakfast and lunch both days of our cruise. Although the Garden Cafe might have been small, I thought the food variety and quality was excellent. I enjoyed everything that I sampled during our short cruise.
Image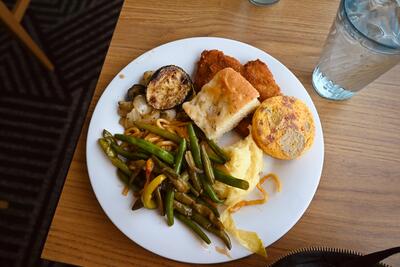 We also discovered an outdoor buffet that was located not too far from the Garden Cafe that featured classic pool deck food like hamburgers and hot dogs; however, we didn't have enough time to try this one out.
Our stateroom on Norwegian Sun was an inside cabin guarantee, which was spacious and comfortable.
To take advantage of the cheap cruise fare, we opted to book an inside cabin guarantee onboard Norwegian Sun. I often choose to sail in an inside cabin because the price is always right and I never spend too much time in my cabin anyway.
Image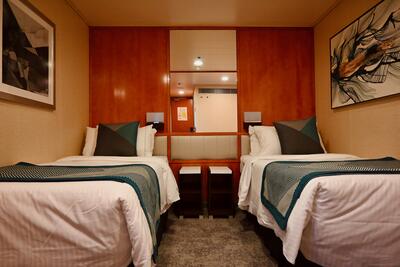 We were excited to get onboard Norwegian Sun and make our stateroom into a home-away-from-home. After a lot of travel and hectic logistics, it felt great to stay in this comfortable cabin for two nights. The room was equipped with everything we needed, although the bathroom was the least impressive part of the stateroom.
Image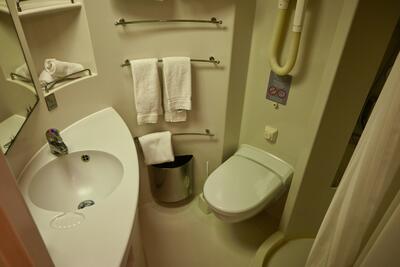 We were shocked to find the bathroom was lime green! Also, we hated the clingy shower curtain, which left a lot of water on the bathroom floor when we showered.
However, this one is tough for comparison with my prior Norwegian experience. Onboard Pride of America, we received a last-minute offer to upgrade our room to a two bedroom suite during our Hawaiian cruise. My sister and I had our own bedroom and bathroom, as did our parents. This was the biggest suite I've ever stayed in on a cruise!
On both of my Norwegian cruises, entertainment was overshadowed by the destinations we visited.
Thinking back to my Pride of America cruise, most of my memories of that vacation happened off the ship, like our open-doored helicopter ride around Kauai, visiting the Dole pineapple farm, biking down a volcano in Maui and snorkeling in the most stunning waters.
As such, I really don't have any memories of the entertainment that was offered on Pride of America. Most of our time was spent exploring the ports and returning onboard to sleep and eat before the next port.
Image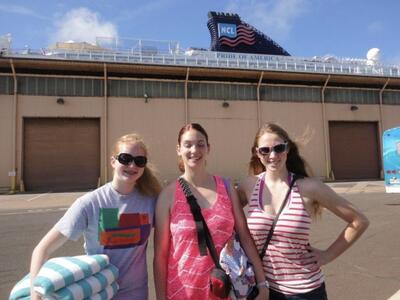 Similarly, we didn't have much time onboard Norwegian Sun to experience the entertainment. We listened to one live musician on the pool deck the first day and then attended one of the headliner shows, Cosmopolitan, on the second night. Because we wanted to enjoy our day in Cadiz, we spent our only full day ashore in the city.
Image
I'd love to sail on a newer Norwegian ship so I could experience one of their full-length Broadway musicals and larger scale production shows. The smaller and older ships tend to be used for port-intensive itineraries that are more destination focused.
The main dining room experience on Norwegian Sun fell short of expectations for me compared to my previous experience.
Hayley and I dined both nights in Norwegian Sun's main dining room - and it honestly left me a little disappointed. 
Image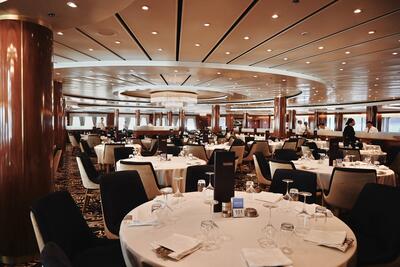 While the menu was expansive, nothing really left me wowed at the end of the day. I even tried multiple dishes from the menu because our time was limited, as I wanted to be sure I had a variety of entrees, appetizers and desserts before disembarking.
Image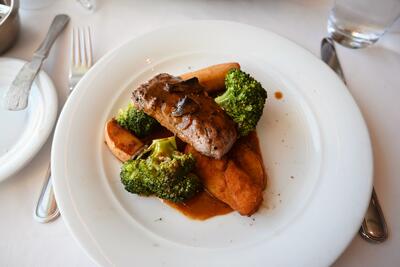 While the food was decent, even Hayley noted that even some of Norwegian's classic entrees and desserts didn't seem to be the same quality that she'd experienced on other ships. I remember being really impressed with the main dining room on Pride of America, so this was a bit of a bummer. 
Oddly enough, we learned quickly that not everyone embarked on Norwegian Sun the same day we did - and this created a unique experience.
Perhaps one of the most unique aspects of this two night cruise on Norwegian Sun was that Hayley and I embarked at a different time than most of the guests onboard.
Image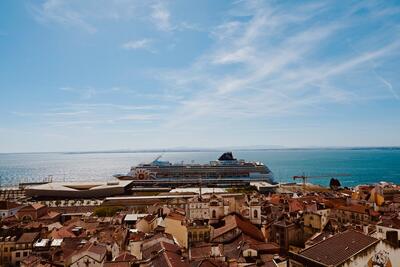 We learned quickly that most people on the ship had been sailing on a 14-night Canary Islands itinerary that set sail from Lisbon. Norwegian advertised and sold an itinerary for just the final two nights of this cruise - effectively allowing people to join for nights 13 and 14.
This explains why boarding was very fast, as most guests were visiting Malaga as a port of call and were not embarking on a two night journey like we were. At the muster drill, we were in a group of maybe 200 other passengers who had joined the ship the same day as us.
Image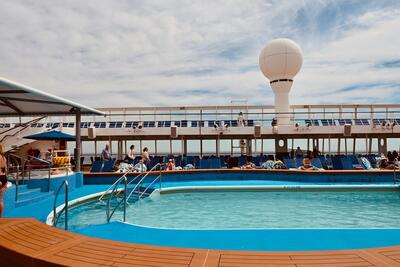 The daily schedule in our stateroom didn't say Day 1 and 2; instead, these indicated Day 13 and 14. When trying to purchase internet for the two nights, the only option was to purchase an unlimited usage package for the duration of the voyage, which was showing as 14 nights for over $300!
Image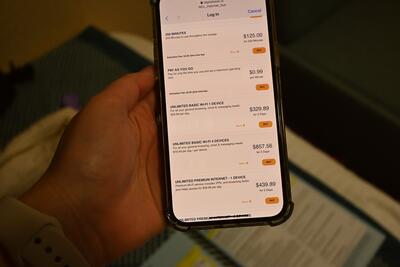 Guest services indicated that those of us joining for just two nights didn't have any options for purchasing drink or Internet packages, much to our surprise.
There was no set sail party on the first night and there was no main headliner show either. During our first night at dinner, we overheard the lady next to us saying she couldn't wait to get off the ship and get back home. Hayley and I laughed, especially considering we had literally just gotten onboard a few hours earlier and we were so excited.
Image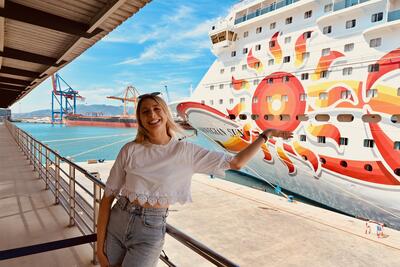 It almost felt like we were late to the party because everyone already knew each other after sailing for nearly two weeks together. Their vacation was almost over while ours was just beginning. It was an unusual experience that I've never had more, and makes me wonder if this is something Norwegian does more than other cruise lines.
I'd love to try another cruise with Norwegian Cruise Line, perhaps on a more traditional sailing.
My two experiences with Norwegian Cruise Line have been very positive; however, the two itineraries I've sailed on are more unique compared to a standard sailing with the cruise line. Pride of America is the only US-flagged cruise ship and it's the only vessel the operates inner-island itineraries.
Image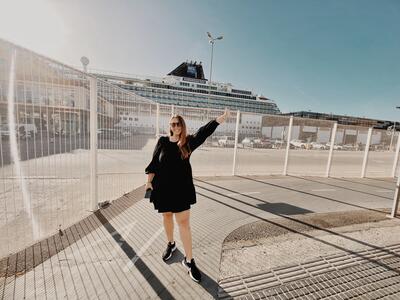 Additionally, this two night sailing on Norwegian Sun didn't totally provide a holistic view of the cruise line. Since we boarded at the tail-end of a long sailing, the vibes onboard were very subdued. This certainly wasn't a traditional cruise and felt more like we came super late to the party, like when a party is almost over and everyone's getting ready to go home.
Image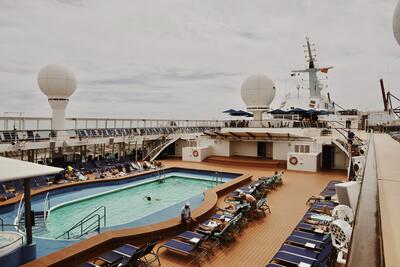 I love some of Norwegian's exotic itineraries, including unique destinations like South Africa, Brazil, India and even Saudi Arabia! I hope to try one of these cruises in the near future to get an even better impression of Norwegian Cruise Line.