Today, the cruising industry is constantly striving to be bigger and bolder. Twenty years ago, who would have thought that there would be roller coasters, go-karts, and skydiving simulators at sea? Modern cruise ships are the epitome of a fun family vacation that offers something for everyone. 
What about the ships on the other end? You know, the ones that may lack some of the thrills that make the newest and biggest cruise ships so enticing? 
There is a lot to love and appreciate about the smallest cruise ships in the world, especially if you are seeking a more intimate experience that is destination-focused. Because of their level of service and opportunity to visit unique ports, cruises on smaller ships tend to be more expensive than those on mainstream cruise lines. 
Here are 10 of the smallest operational ocean cruise ships in the world! 
1. Celebrity Xploration 
Image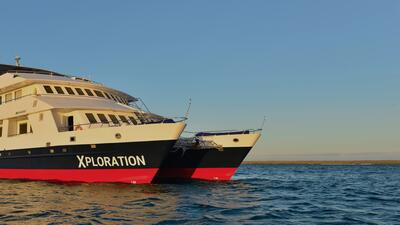 Measuring only 319.5 gross registered tons and 98 feet long, Celebrity Xploration is nowhere near the size of today's mega ships. In fact, she weighs about 98% less than the world's largest cruise ship: Wonder of the Seas. With only 8 staterooms onboard and a maximum passenger capacity of 16, you may feel like you are sailing on a semi-private yacht!
While Celebrity's fleet is not the largest in the mainstream cruise line, they are one of the only cruise lines to offer regular voyages to the Galapagos Islands. You will, however, pay a premium for such a voyage. To sail on this small cruise ship, expect to shell out at least $4,700 per person. 
Unlike base fares for other Celebrity sailings, cruises onboard Celebrity Xploration and any other Xpedition vessel are all-inclusive. 
2. Safari Quest
Image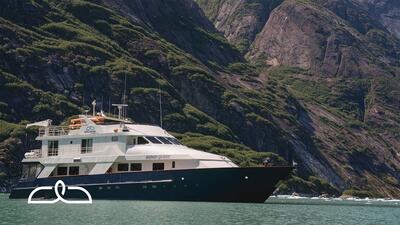 At 345 gross tons and 120 feet long, Safari Quest is UnCruise Adventures' smallest ship that has 11 cabins to accommodate 22 guests. UnCruise Adventures boasts about the 2:1 guest-to-crew ratio. 
Despite being such a small ship, there's enough onboard to keep you occupied while sailing through Alaska's landscape, such as an on-deck hot tub, fitness equipment, and book library. When you are ready to explore, you can utilize the ship's full-beam swim step, kayaks, paddle boards, inflatable skiffs, and hiking poles. 
In 2023, Safari Quest will be sailing to Alaska, with the cheapest cabin starting at $9,800 per person, based on double occupancy. If you are sailing alone, the cost is around $14,700. Note, though, that unlimited alcoholic and non-alcoholic beverages are included in the price. 
3. MS Panorama II
Image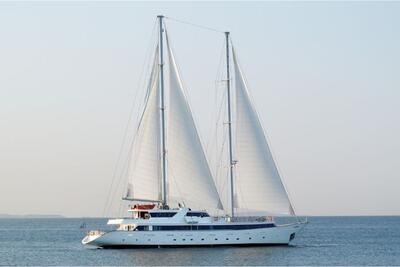 MS Panorama II, who measures 498 gross tons and is about 164 feet long, looks more like a sailboat than a modern day cruise ship. Technically, she is classified as a small yacht due to her passenger capacity of only 49 guests. That being said, anyone is capable of booking a stateroom and sailing on a small boat adventure with Variety Cruises. 
Variety Cruises is not a mainstream cruise line. They operate a fleet of eight cruise ships and four private yachts, none of which carry more than 71 passengers. If you want to visit destinations that are off the beaten path, you will enjoy a cruise with Variety Voyages! 
4. Admiralty Dream
Image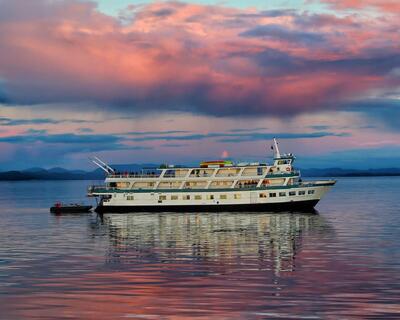 Admiralty Dream is a ship operated by Alaska Dream Cruises, a family-owned company with owners who grew up in Sitka, Alaska and operated boat tours from the Jamestown Bay shipyard. The 514 gross ton and 143 foot ship makes it easy to navigate Alaska's Inside Passage, showing you more of the channels, bays, and wilderness than other mainstream cruise lines. 
Admiralty Dream, which was originally built in 1979, can accommodate a maximum of 49 passengers in 27 staterooms. A 5-night, 6-day cruise starts around $2,900 per person. 
5. Aqua Mare
Image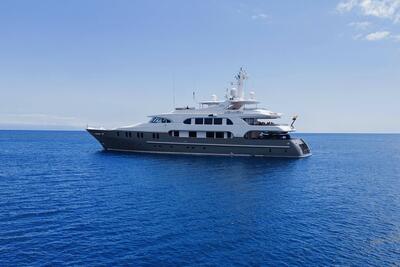 Luxury meets Galapagos on Aqua Mare, a 163.1 foot and 620 gross ton ship that was built in 1998 and refurbished in 2021. According to Aqua Expeditions' website, "...she boasts 30 percent more indoor volume than most yachts her size...[and had] two naturalists guides for 16 guests, on top of the islands' most exclusive one-to-one crew to guest ratio."
Aqua Expeditions was founded 13 years ago by Francesco Galli Zugaro, whose goal was to provide guests the opportunity to sail to distant parts of the world on small ships that have an intimate environment. 
You can expect a 7-night sailing on Aqua Mare to run you at least $10,500 per person; 14-night cruises begin closer to $20,000 per person!
6. & 7. National Geographic Sea Lion and Sea Bird
Image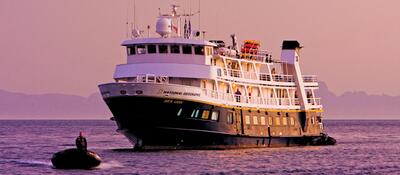 National Geographic Sea Lion and Sea Bird entered service in 1982 as Great Rivers Explorer and Majestic Alaska Explorer, respectively. The nearly identical ships sailed for Exploration Cruise Line until they were sold in 1991 to Lindblad Society Expeditions, a subsidiary of Lindblad Travel. When the ships were designed, they were done so in a way that they would be able to navigate narrow inlets and other passageways that larger ships could not access. 
In 2004, the company began a collaboration with National Geographic. Three years later, it turned into an exclusive partnership. Every ship in the Lindblad fleet feature "National Geographic" in the name, and onboard each trip, there are a variety of expedition leaders from Lindblad, as well as National Geographic scientists, oceanographers, etc. 
Both National Geographic Sea Lion and Sea Bird are 630 gross tons, 152 feet long, and can carry a maximum of 62 passengers. 
8. Le Ponant
Image
Le Ponant was the first ship for Compagnie du Ponant, or "Ponant Company," a French cruise line that has eleven ships. At 1,189 gross tons and 291 feet, she measures nearly double of National Geographic Sea Lion and Sea Bird! That being said, Le Ponant has a smaller passenger capacity; she is able to host up to 32 passengers in 16 double occupancy staterooms.  
A voyage on this vessel will cost you a pretty penny. A 7-night Caribbean cruise starts around $7,000 per person; however, some itineraries are as expensive as $14,700 for 7 nights, with some suites costing over $36,000. 
Fun fact: the ship was attacked in 2008 by Somali pirates! Thankfully, no guests were onboard. 
9. MS Monet 
Image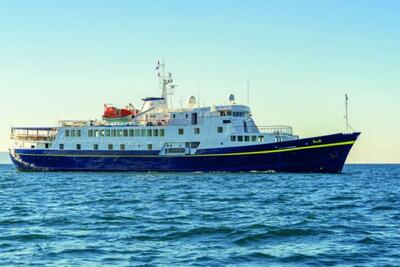 Currently operating for small ship cruise line Noble Caledonia, the 220 foot and 1,453 gross ton MS Monet was originally built in the 1970s; it was not until 1998 that the ship was converted to a passenger ship with the ability to carry 50 passengers. Today, she primarily sails around the Adriatic & Aegean Seas, often visiting multiple cities in a single day! 
Compared to other mainstream cruise lines that have been around since the 1960s and 70s, Noble Caledonia is a relatively new, as it was established in 1991. Their fleet of small ocean and river ships allows them to create itineraries and foster an onboard environment that fosters a sense of exploration and wonder, in addition to providing a more personalized service. 
10. Chichagof Dream
Image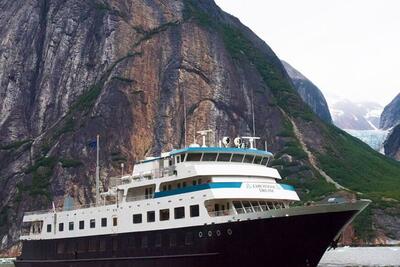 Built in 1984, Chichagof Dream, another ship operated by Alaska Dream Cruises, is an older ship that offers "authentic and personal" sailings to Alaska. If the age of the ship worries you, she was renovated and received new carpets and furnishings in public spaces and staterooms! 
Those who are looking for a large cruise ship experience in Alaska will want to bypass Chichagof Dream, as the 1,471 gross ton and 207 foot long ship can only carry 76 passengers on any given sailing. You will not have the same experiences and amenities as you would on an Alaska cruise on Royal Caribbean's Quantum Class or Norwegian's Breakaway Class ships.