In recent years there has been a major increase in the amount of cruising happening to and around the Alaskan and Canadian regions. This is exciting and with the increase in travel it can be important to know more about the destinations where you will be visiting and cruising too. 
I recently returned from a solo trip to Vancouver British Columbia, Canada. On this trip I was sailing with Norwegian Cruise Line onboard the Norwegian Encore. This itinerary cruised from Los Angeles California to Vancouver British Columbia. The ship was docked overnight in Vancouver which gave me the opportunity to explore this beautiful city and thoroughly understand this cruise port and terminal. 
Image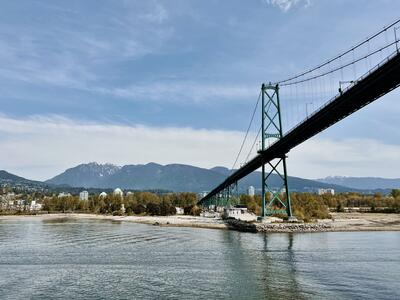 Come along with me as I go over everything this cruise terminal consists of, as well as some recommendations of things to check out when visiting the city of Vancouver! To keep things easy and simple, many of these recommendations are within walking distance of the cruise port! 
Cruise Port Views
Image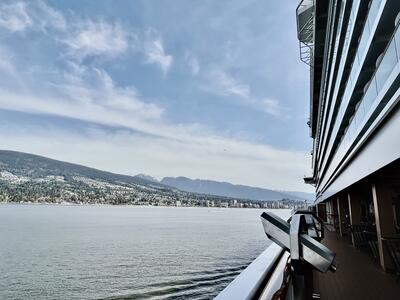 Before this trip I had never been to Canada before! I was excited to see a small portion of this beautiful country, even if only for a day. When I first told fellow Cruise Blog writer (and best friend) Allie that I would be visiting Vancouver she told me I needed to make sure I was up on one of the top decks of the ship to take in the stunning views as the ship pulled into port. She was so right! 
I can say that the Vancouver cruise port is now one of my favorite cruise ports I've been to so far. There is an impressive bridge that all cruise ships pass underneath as they enter the port and I think these views make for great photos. Not to mention the beautiful mountains in the distance that glisten with snowy peaks even in the spring time. Views coming into the city are stunning, and as the ship docked I became excited to explore the city! I highly recommend taking the time to snap a few pictures and appreciate the views coming into port at Vancouver during your cruise. 
Cruise Terminal Details
Image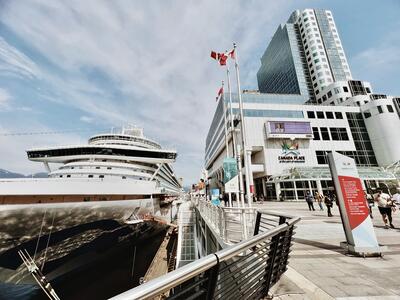 Upon pulling into the Vancouver cruise port I was immediately impressed by the layout and beauty of this port and terminal. The Vancouver cruise terminal is located right in the city, literally one step away from the very center of the city. 
In addition to the prime location of this port, there is so many fun details for cruise passengers to explore in and around the port and terminal alone. The city has placed fun fact plaques throughout the port where guests can learn more about Vancouver, there is a small park of sorts for guests to relax in, and so much more for guests to see at the Vancouver cruise terminal. 
Guests do not need to bring their passports with them when getting off the ship to explore the city for the day (guests however do need to bring their passports with them in general when traveling on a cruise that will visit Canada). All that guests will need to get back onto their ship is their stateroom keycard and a photo ID such as a driver license. 
Image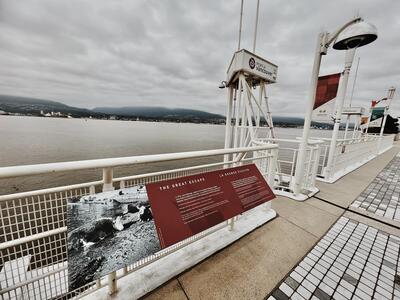 (Fun fact plaques throughout the Vancouver cruise terminal)
Exiting off my cruise ship and getting out into the city on this trip was very easy and took about 10 minutes! Once guests exit the ship they will be directed through an indoor area resembling security check points and a terminal. Once past security, guests should make their way to the right where they will see a set of escalators. From there take the escalator up and guests will be able to exit out into the city. 
Image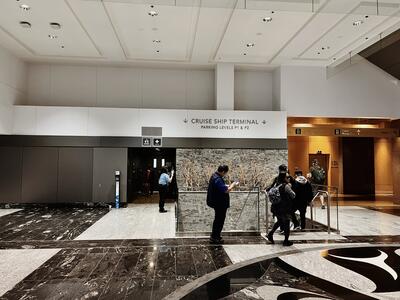 (Look for this signage to board your cruise ship after a day exploring Vancouver)
When it comes to coming back to your cruise ship after a day of exploration, the process to get back onto your ship is a little bit different than disembarking. To get back onto your ship guests must enter the main doors of the convention center (which is attached to the cruise terminal), once inside the main building, walk a little ways inside and guests should see a staircase and an elevator with the words "Cruise Ship Terminal". Follow this sign and it will direct you exactly to where you need to go in order to get back onboard your cruise ship. 
Why I love this Cruise Terminal
Image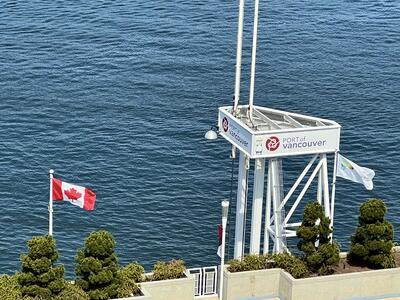 After spending a full 24 hours at this cruise port I can say this might be my favorite cruise terminal yet. I appreciated the thought and details that the city of Vancouver put into their cruise terminal. 
This cruise terminal has so many extra details for guests to explore. Such as fun fact plaques staggered throughout the cruise terminal, a beautiful little park, and even a small and free-access history museum! Aside from the city of Vancouver, the cruise terminal itself has so much to explore! 
Image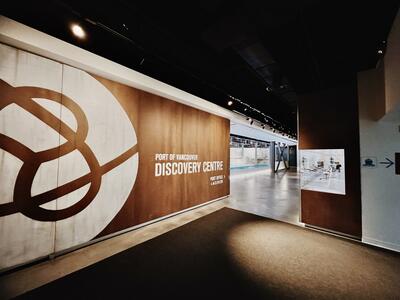 (Entrance to the free-access small museum at the Vancouver cruise terminal)
I recommend taking the time to explore the cruise terminal on you way back to your cruise ship after a fun day of wandering the city. 
Disembarking from this Port
Image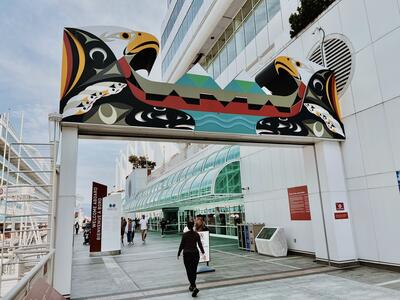 On this particular journey the cruise ship I was traveling with had an overnight stay in Vancouver, and the next morning was the last morning of the cruise and when guests were required to disembark. 
I discovered that it was very easy to navigate from the cruise terminal to the Vancouver International Airport. Upon leaving the ship guests exited the terminal and were directed outside. For this trip I had planned to take an Uber from the cruise terminal to the airport. For guests who plan on doing something similar, I would say that there is a specific spot where Ubers are designated to park. This sport is about a 5 minute easy walk from the end of the cruise terminal. Therefore I recommend budgeting some time for this. Guests can easily find the Uber pickup and drop-off location using the Uber and Lyft apps' map once they have reserved their rides in the app. 
Image
(Inside of Convention Center and Cruise Terminal)
The Vancouver airport was about a 20 minute car ride away from the cruise port. The ride was quite enjoyable, and I was pleased to see so many beautiful buildings and houses along the journey to the airport. 
Something that I would recommend specifically to guests traveling with the Norwegian Bliss and Norwegian Encore cruise ships, is that disembarkation can take a long time with these two ships specifically. If passengers have an early flight I recommend getting up early and starting the disembarkation process as soon as the ships allow. 
Vancouver Details
Image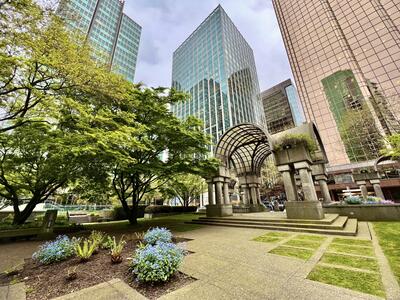 The city of Vancouver is located on the west coast of Canada in the province of British Columbia. The population of the city consists of 675,218 people (as of the year 2017). Vancouver is a port city but is also close to forests, mountains, and lots of natural beauty. 
There are many unique things to explore in this city. I recommend doing a little research before visiting this Canadian city (which you are probably doing if you are reading this article)! 
The city of Vancouver started out as the city of Gastown. Gastown is now one of just several neighborhoods and regions of Vancouver, and is the oldest portion of the city. The Vancouver cruise port is just a 10 minute walk from the center of the Gastown neighborhood. 
An interesting historical note about the city of Vancouver is that the city is actually rather old and has deep historical roots. The city was founded in the year 1886 and is the largest city in the province of British Columbia. Much of the buildings in the city however are relatively modern due to the Great Vancouver Fire that occurred the same year the town officially became a city, burning down all but two buildings in the city. Since the rebuilding of the city Vancouver has thrived and is a bustling modern city. 
Entering the City
Image
Entering the city from the cruise port is extremely easy. The Vancouver cruise terminal is connected to the city's convention center, and at the end of the port is the city. Guests can walk to many of the prime locations in the city. 
In order to explore this great city thoroughly I recommend disembarking your cruise ship at the earliest opportunity to have the most amount of time in Vancouver as possible. 
I recommend walking around this city to fully take in all of the sights, however it is also very easy to take an Uber or Lyft to many of the nearby attractions. As stated above, the ride share pickup location is just a 5 minute walk from the cruise terminal. 
Recommended Sights
Image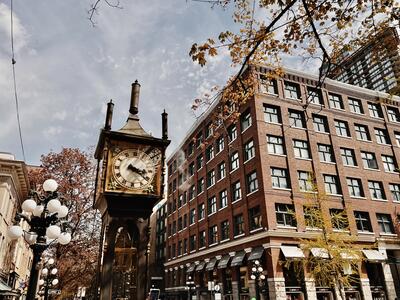 I had the privilege of visiting Vancouver on a sunny spring day and one of the things I loved most about my visit was the ability to enjoy the beautiful cool weather, while taking in views of the great architecture and pretty parks throughout the city.
One of the must-see sights in the city of Vancouver that is truly unique is the Gastown Steam Clock. This beautiful and whimsical clock was built in 1977. This clock was built due to an effort by Vancouver's citizens who were concerned with preserving Gastown's distinctive and historic architecture. Visitors to the city can find the clock on the corner of Cambie and Water Street. Make sure to stick around and wait for the quarter hour, because every quarter hour the steam clock lets out a magical whistle noise out of its five brass steam whistles. When I sent a video of this unique clock making its music to my father he said "it looks like something out of Harry Potter!" And I have to agree with him! 
Make sure to do a quick google search before visiting Vancouver, and you will be able to discover that this city also has many cute little parks scattered throughout. Some of my favorite green areas of the city to wander on my visit were Portal Park which is very close to the cruise port and Seawall Water Walk which is also within a short walking distance of the docked cruise ships. 
Image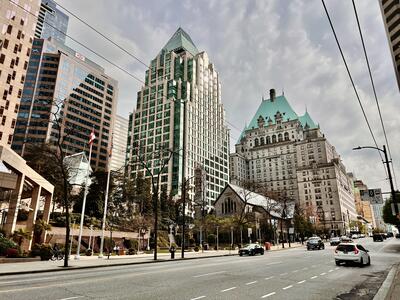 I particularly enjoyed exploring around the area of the Seawall Water Walk. This area was really pretty and offered the unique chance to watch sea planes take off and land. I would recommend stopping by this area at some point during your visit! Also make sure to check out the impressive large orca statue which overlooks the harbor. 
There are many other great sites to take in around the area, some within walking distance, others that would require a short taxi or uber ride. One of the areas I did not get to see personally on this trip, but would love to see next time, was the Totem Poles and Gardens at Stanley Park! This place looks like the perfect area to visit during a longer stay in Vancouver. 
 

Recommended Shopping

 

Image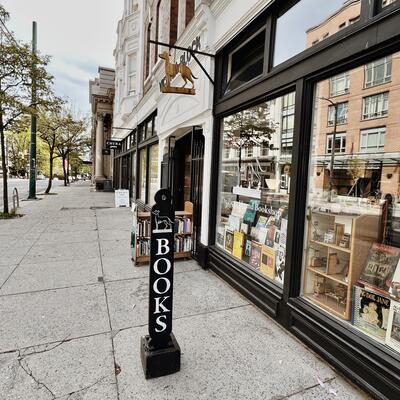 Vancouver is full of great shopping! Cruise ship visitors to the city are sure to find some treasures to bring back with them to commemorate their time spent in this great Canadian city. As well as gifts for loved ones back home. 
Some of my favorite local shops that I had the privilege of stopping into are:  
Make Vancouver in Gastown (for unique Vancouver gifts)
Shop Makers Gastown (for unique Vancouver and Canadian gifts)
The Paper Hound Bookshop (beautiful used book shop)

 

Old Faithful Shop (pretty home goods shop)

 

Hudson House Trading Company (for classic souvenirs such as Maple Syrup)

 
Recommended Eats
Image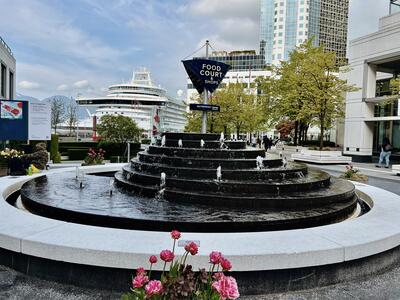 The city of Vancouver is full of cozy coffee shops, tasty eats, and authentic sushi! I myself did not stop for lunch while I was on this trip as I was traveling alone, however, these are some food establishments that would make for a great stop during your travels to Vancouver: 
Mike Vancouver (sushi)
O Sushi Downtown Vancouver (sushi)
JJ Bean Coffee Roasters (cafe)
Rocanini Coffee Roasters (cafe)
Cactus Club Cafe Coal Harbour (casual eatery with great water views, near the place where sea planes take off and land.)
Conclusion
Image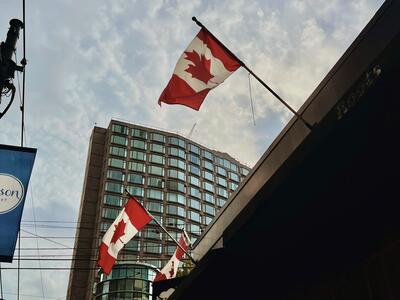 The city of Vancouver is a great cruise destination and I had a wonderful day exploring this port! I highly recommend doing a little research beforehand into some activities and sights you would like to see during your visit as there is much to do, and it will be impossible to see everything in just one day! 
This was my first time traveling completely alone by myself on a Norwegian Cruise Line sailing.  I had a great time, and I am looking forward to sharing more with you regarding this experience! Make sure to checkout some of our other articles regarding Alaska sailings here. Until next time, here's to many more smooth sailings!