When you take a cruise vacation, you will be subject to pay gratuities, or crew member tips, that are rarely included in the base fare. 
They are divided amongst the crew members that help make your vacation memorable, including cabin attendants, dining and culinary services staff, the guest services team, and others who work behind-the-scenes. Without the hard work of the crew members, there is no way that your cruise would be possible. 
Since a good chunk of your tips are covered through this automatic gratuity, you might be wondering when additional tips are not required. 
Keep reading to find out when not to tip on a cruise ship. 
Read more: Tipping on a cruise ship: Guide and what to do
Luxury lines that include gratuities
Image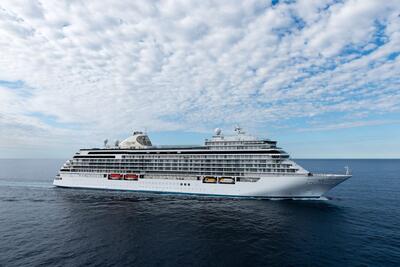 Luxury cruise lines offer a more inclusive rate than mainstream cruise lines, such as Royal Caribbean and Carnival Cruise Line. If you are sailing on Regent Seven Seas, SilverSea Cruises, Explora Journeys, etc., there is a good chance that your gratuities are included in the overall fare, and once onboard, you may even discover that they have a "no tipping" rule. 
Note that the base fare for luxury cruise lines is much more expensive than what you would pay to sail on a mainstream one.
Certain mainstream cruise lines 
Image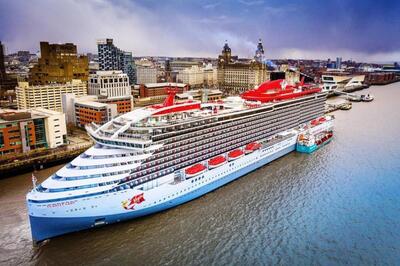 Select cruise lines have begun offering guests different fares to book to make their cruising experience more inclusive. Rather than pay for gratuities, internet, and drink packages individually, they are bundled together. 
If you are cruising with Celebrity, for instance, they call this rate "All Included." They advertise that by booking this fare, you will save up to 45% than if you were to purchase everything separately. 
Likewise, Princess Cruises offers three fares for guests to choose from: standard, Princess Plus, and Princess Premier. Both of the latter cruise fares include gratuities; however, Princess Premier is more inclusive and includes their top-tier drink package, as well as two specialty dining meals per guest, unlimited premium desserts, and more. 
Finally, all rates on Virgin Voyages include crew tips, meaning that you will never be surprised with a bill at the end of your cruise. 
At the bar
Image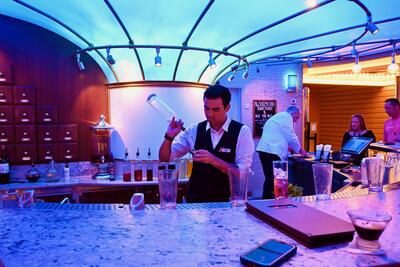 If you get a drink package, you will pay your tips ahead of time when you purchase the package, meaning that whenever you order something, you will not be required to leave an additional tip. 
Even if you do not have a package and pay for all of your drinks á la carte, your total will include an automatic gratuity. The amount varies from cruise line to cruise line; however, it is usually 15% to 20% of the cost of the drink. When you get your bill, there will be a line for an additional tip, but you do not have to leave one!
Either way, you can leave a tip if you feel like the service warrants it. Some people like to leave their favorite bartender a larger tip at the end of the cruise, rather than leaving small tips throughout the sailing. 
When you visit the spa
Image
Like with beverages, when you receive the bill for your spa or salon treatment, it will include an automatic service charge. It does not matter if you got a facial, massage, or hair treatment-- everything is subject to the charge! This means that you do not have to leave an additional tip if you do not want to. 
Dining at a specialty restaurant
Image
Just as you do not have to purchase drinks or visit the spa to have a great cruise vacation, you do not have to dine at specialty restaurants. The majority of these venues charge a flat cover charge that will include an appetizer, entree, and dessert. The fee can range anywhere from $50 for Hibachi to close to $100 per person for a Chef's Table experience. 
If you prepay for your specialty dining meal, you will not have to worry about anything. If you want to pay until after you finish your meal, you will see that an additional service charge was automatically added to your bill. Again, you are not required to leave a tip if you do not want to!
Staff at the youth clubs
Image
Cruises make great family vacations thanks to the complimentary youth programming that is offered. It is easy for parents to get much needed alone time while they can rest assured knowing that their children are in good hands. Since this service is included in the cost of your fare, you are not required to tip any of the youth staff members. 
If, however, you pay extra for infant and toddler care and/or late night programming, you may want to leave a small cash tip at the end of the cruise. 
Maintenance staff members
Image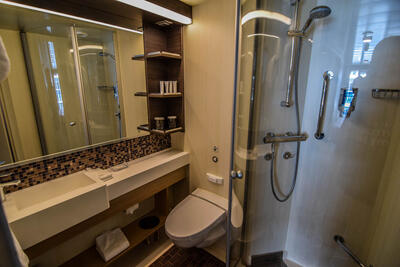 If you notice something wrong with your cabin -- like a leaky shower head or jammed closet door -- and you put in a request for someone to come fix it, you do not have to tip them. Handling these issues is part of their job, and they receive compensation from the cruise line. 
In fact, there is a chance that you will not even see them! They might come into your cabin while you are out on the pool deck or grabbing something to eat. There is no need to hang around when there are other things that you can be doing on the ship. 
The guests services team after speaking with them about an issue
Image
Likewise, you may find yourself in a position that requires you to visit guest services. Whether you lost your cruise card or need to dispute a charge on your onboard account, do not feel obligated to tip the team member after they assist you. Like with maintenance staff, this is their job and what your automatic gratuity goes towards. 
During shows
Image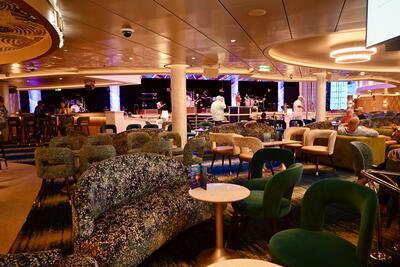 Cruise lines strive to provide all kinds of entertainment for their guests, from comedy shows, to one-of-a-kind stage productions, and various headliner acts. You are not required to tip anyone who is involved in the onboard entertainment, as they are paid directly by the cruise line. 
Sometimes, however, you may find a musician with a tip jar playing in some of the smaller venues. If you would like to request a song, it is customary to give the performer a few dollars. 
When should you tip on a cruise ship?
Image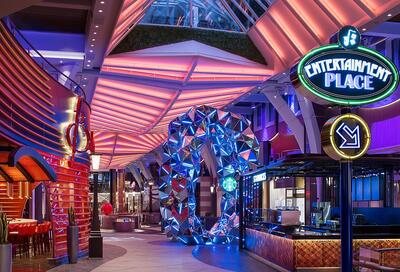 You will want to bring some cash for extra tips to deliver to individual crew members, as this cannot be charged to your onboard account. 
Perhaps you found a bartender who made your drinks a little more special or had a stateroom attendant who went above and beyond to ensure that you and your travel party had all of your needs met. At the end of the cruise you decide that the service you have received warrants additional tips, the staff will appreciate it! 
Leaving a tip for stateroom attendants is pretty customary, and some cruise passengers will even tip them throughout the week! The amount varies; however, $10-$20 per day seem to be common answers on online cruise forums.
You will also want to tip the porters who assist you with your luggage when you get to the port, which usually amounts to $1 or $2 per bag. 
Note that bringing extra cash to tip crew members is completely optional. You will still have a great time even if you do not carry around a small wad of cash. 
Read more: 10 do's and don'ts of cruise ship tipping
How much is the daily rate?
Image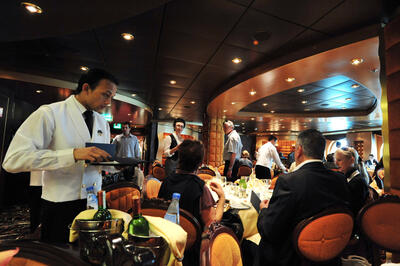 The daily gratuity rate varies based on cruise line and cabin category. Suites, for instance, are subject to higher rates than those staying in standard cabins. In fact, you can see as much as a $5.00 difference per person, per day!  
On average, you should expect to pay anywhere from $14.50 per person, per day for those on an MSC cruise to the Caribbean or Bahamas, to $25.00 per person, per day for those staying in Norwegian Cruise Line's Haven suites. 
It is important to factor this into your cruise budget, as a family of four on a weeklong cruise could be subject to another couple hundred dollars in fees before even stepping onboard! 
Can I adjust my automatic gratuity rate?
Image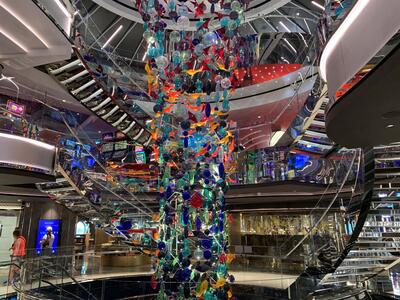 While on the cruise you find that you are dissatisfied with the service provided by crew members, you can go speak to the guest services team and have the daily gratuity rate adjusted or completely removed. 
Note, however, this is not customary and is frowned upon, as the crew members on any cruise ship work hard to help you creating lasting memories that you look back on fondly!
Before jumping to remove them, speak with guest services to see if they can help with any issues that you may be having, whether that is with your stateroom attendant or main dining room staff.