A British cruise line has made Port Canaveral, Florida their new home base; however, booking a cruise on this ship is nearly impossible for American citizens!
In May 2023, Marella Discovery set sail from Port Canaveral, the world's busiest cruise port, for the first time. The ship, which was built for Royal Caribbean and sailed as Splendour of the Seas from 1996 to 2016, was sold to TUI Cruises in March 2015, who then leased the ship to Thompson Cruises. Initially, she sailed as TUI Discovery and was renamed Marella Discovery in October 2017. 
The ship is one of the smallest in Marella Cruises', a British cruise line that is operated by TUI UK, fleet. At a little over 77,000 gross registered tons, their largest, and newest, ship is Marella Voyager, which formerly operated for Celebrity Cruises as Celebrity Mercury. 
When announced that Marella Discovery would be sailing from Port Canaveral, I was interested in booking a cruise on this former Royal Caribbean ship to Amber Cove, Grand Turk, Key West, and Miami; however, I was disappointed to find that unless you are a British citizen, it is just about impossible to book. 
Background information on Marella Discovery
Image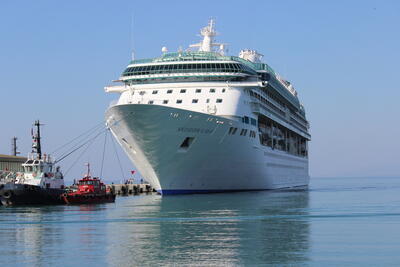 Marella Discovery entered service in 1996 and the second Vision Class ship for Royal Caribbean. In terms of statistics, she measures 69,100 gross registered tons, 866 feet long, and 105 feet wide. Sister ships sailing for Royal Caribbean include Vision of the Seas, Grandeur of the Seas, Rhapsody of the Sea, and Enchantment of the Seas. 
Legend of the Seas was told to TUI Cruises in 2017 and currently sails as Marella Discovery 2. 
When the ship was sold to TUI Cruises in 2015, Michael Bayley, President and CEO of Royal Caribbean International, said, ""Splendour of the Seas has been a treasured member of the Royal Caribbean International family since she entered service."
"She has offered countless guests memorable vacation experiences and we look forward to continuing to provide the same Gold Anchor Service our brand is known for right up to the last sailing."
Image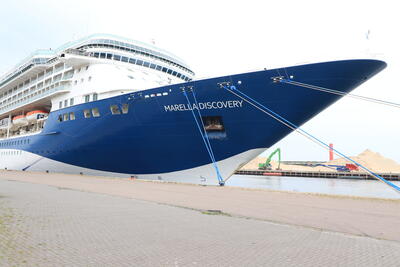 While operating for Royal Caribbean, Splendour of the Seas sailed to various destinations across the world, including the Middle East, South America, and Europe. 
Upon being sold to TUI Cruises, the ship underwent a multi-million dollar dry dock in preparation to sail for the new cruise line and market.
Booking Marella Discovery
Image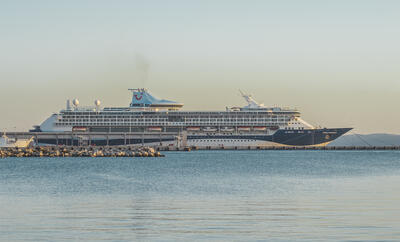 I knew I was in for a whirlwind to try and book this cruise line. I had previously read that TUI's buisness model is to provide travel packages that include the cruise fare and flight from the United Kingdom, so I had a plan. My first attempt was to try and go through my travel agent, as she has handled all of my cruise bookings in 2023. 
If that proved to be unsuccessful, I was going to move directly to TUI's website and try to either book with one of their agents or on my own. 
Finally, I had two more agencies that I was keeping in my back pocket: Vacations To Go and Travel with Brigitte. 
I was hopeful that at least one of these options would work! In the end, though, I was unable to book with Marella Cruises.
First attempt: travel agent
Image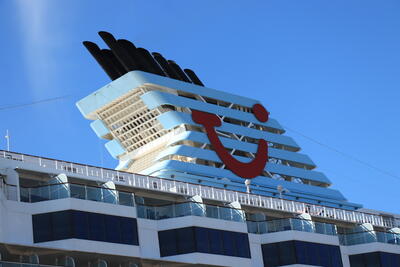 Whenever I go to book a cruise, I reach out to my travel agent, who makes the booking process as seamless as it can be! 
In this case, however, she responded just one day after my initial request and said, "After research, this is what we found, this is a UK based cruise company. From what we can tell, it cannot be booked by US travel agencies. And appears to be available only with flights from the UK? So I don't think you will qualify for this cruise line."
Read more: Why you should book a cruise through a travel agent
Second attempt booking Marella Discovery: directly through tui.co.uk
Image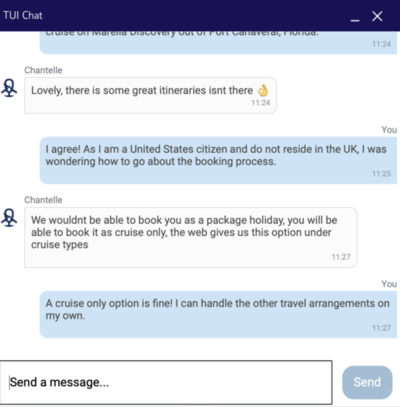 Disappointed that I was unable to book with my travel agent, I moved to TUI's website. At first, this seemed as though it was going to be successful, as the first agent I spoke with provided me with her email and confirmed that, even though I could not get the package option, I was eligible for the cruise-only fare. 
In regard to payment, I was told that they would be able to make the booking for me, then I would have to log into the online portal to make the payment. 
The agent gave me her email, so she could further assist me. After a couple email exchanges, however, her response time between messages increased. Finally, I received a message saying, "I have sent over the query to our Cruise team but still waiting on a reply, i dont want to give you the wrong info" four days after initiating the request. That was the last email that I got from the first agent. 
I went back on the website to see if there would be another agent who could help. I figured that if the first one seemed relatively confident that I would be able to be booked, another would be able to follow through with the request. 
Image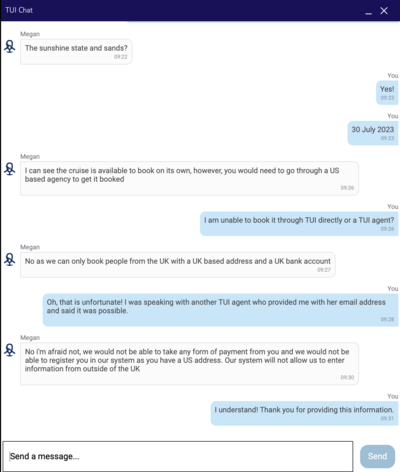 This time, I received conflicting information. The first agent told me that it would be possible to submit payment via their online portal; however, the second agent said that Marella Cruises was only able to book passengers with a UK bank account and address. They would not be able to take any kind of payment from me!
She did, however, state that another US agency might be able to assist, so I decided to move to my third option: Vacations to Go. 
Third attempt: Vacations to Go
Image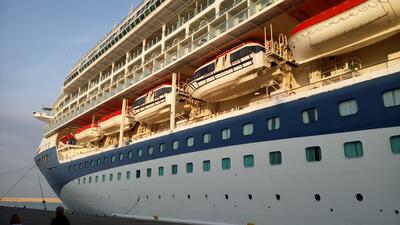 In March, I had reached out to Vacations to Go, as I was interested in booking a cruise onboard P&O. That sailing ended up not working out, but I felt confident in that the agent I was working with would be able to help. 
"Thank you for reaching out and considering booking a cruise with us. While we appreciate your interest in TUI's Marella Discovery, we currently do not book this particular cruise line due to concerns regarding their overall service and reputation. We always prioritize providing our clients with the best possible cruise experience" was the response that I got. 
This proved to be the most discouraging! Was it that American travel agencies could not or were just unwilling to book passengers on Marella? And what was the basis for the agent making this claim? This just made me want to sail on the cruise line even more!
The agent was helpful in that he provided me some alternative sailings on other cruise lines; however, I was truly only interested in testing out Marella. 
Fourth attempt: Travel with Brigitte
Image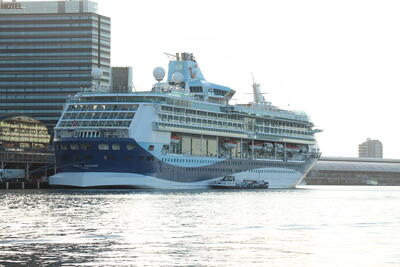 Finally, I reached out to the travel agent Travel with Brigitte, who confirmed that it was just Marella/TUI that made booking impossible! 
I sent the first email on May 22 and received a prompt response: "I reached out to one of our US partners, as well as an agency partner in Canada and the UK to see how we can get this done for you." 
With three agencies in the United States, Canada, and the UK on the mission, I figured I was finally going to be confirmed! 
Two days later, I got another email that said, "Wanted to let you know I'm still working on this. Our UK partner states they believe they can do it and is checking the requirements on what they need to book a US passenger, and what Marella's requirements are for the passenger to travel." 
Image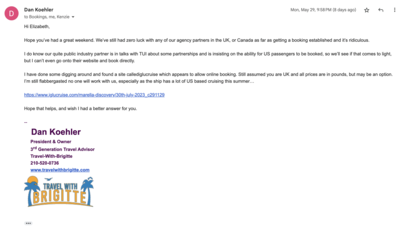 Despite the first two messages seeming to indicate progress was moving in a positive direction, the agency in the United Kingdom fell through. Even Dan Koehler, the President & Owner of Travel with Brigitte, claimed that the booking process with Marella Cruises was ridiculous! 
While he did provide me with another third party website, I considered it a loss at this point. With no knowledge of Iglu Cruise, I did not feel comfortable booking with this website, especially since I would not be able to confirm Marella's requirements for American travelers. 
Moreover, when I initially began my search on the website, it seemed to indicate that it wanted me to book a package deal, which is right back where I began with TUI's agents. 
Overall thoughts
Image
Even if Iglu Cruise has proven to be successful, the amount of hurdles I faced when trying to book a cruise with Marella Cruises is not something the average traveler would want to deal with. In North America, there are numerous other mainstream cruise lines to choose from that you can easily book with direct via their website or through a trusted travel agent. 
If you are interested in booking a cruise on a similar ship, consider cruising on one of Royal Caribbean's Vision Class ships. Currently, they sail worldwide, meaning that you will have a range of incredible itineraries to choose from. 
From now through April 2025, the four Vision Class ships sail to the Bahamas and Caribbean, Bermuda, Canada and New England, and Europe.