When beginning the search for your first cruise vacation, you will notice that there are different itinerary lengths. 
While the majority of cruises offered are usually 8-nights or fewer, longer cruises are offered to meet the needs of those with different travel needs and preferences. For the most part, longer voyages are more destination-focused or are offered as a means to get the ship from one port to another, such a ship repositioning from Miami to Barcelona for the summer, meaning that they often come with more days at sea. 
Those looking to cruise on a budget might be considering a shorter cruise. Even though they often have a high nightly rate, the overall cost is less than what one would spend on a weeklong cruise. 
That being said, 7-night cruises are a favorite among many veteran cruisers, as they give you enough time to explore everything onboard the ship and visit more ports of call. 
While shorter cruises do have their advantages, with the most obvious being that the overall cost will be less, the sweet spot for most first-time cruisers tends to be one week.
Here is a breakdown of a good amount of days for a first cruise. 
Do not be afraid of motion sickness 
Image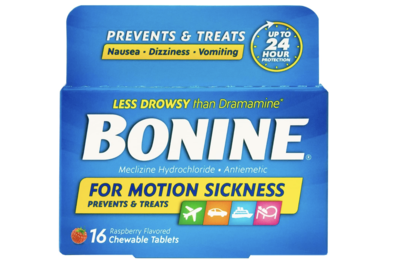 If you are letting your fear of getting seasick hold you back, do not worry-- there are tons of remedies to help. 
Those who like to come prepared with medication might find themselves weighting between Bonine and Dramamine. Both have formulas that include meclizine hydrochloride, a synthetic antihistamine that was developed in the early 1950s with the intention of causing less drowsiness than dimenhydrinate. They also have medications whose base is ginger, whether it be ginger root or extract, making them a more natural option. 
In terms of truly natural remedies, green apples are great to snack on, as they contain pectin, which a type of fiber found in the cell walls and helps with digestive issues. And while it may seem counterintuitive, walking outside and getting some fresh air really does help-- you will want to look out and fixate on the horizon. 
Read more: How to avoid cruise motion sickness
3- and 4-night cruises
Image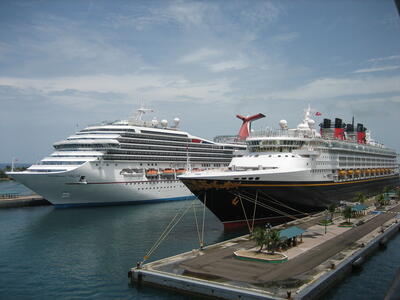 One of the major drawbacks of shorter cruises is that their itineraries will be limited. Per the Passenger Vessel Services Act, AKA the Jones Act, all foreign-flagged vessels departing from the United States must include a stop in a foreign country. 
A cruise from Port Canaveral, for instance, will not have enough time in 3-nights to visit somewhere in the Caribbean before returning, so if you are wanting to visit more unique destinations, like ports of call in Alaska, Mexico, or the Caribbean, you will need to look into a cruise that is a little longer. 
3- and 4-night cruises are also port intensive. This means that they are optimal choices for people who do not care as much about what is onboard and want to spend as much time in port as possible. 
If, however, you want to spend money on extra experiences without breaking the bank, you will find that optional add-on packages -- think drink and dining packages -- are cheaper than on longer sailings because you are paying for fewer days. Paying $64.95 per night for a Carnival's CHEERS! Package on a 3- or 4-night sailing is going to be less than paying the same amount on a 7-night cruise. 
That, however, tends to mean that shorter cruises have more of a party atmosphere. 
Should I take a 3- or 4-night cruise?
Image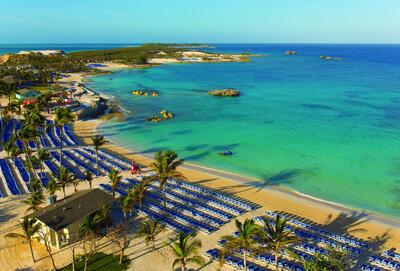 3-night cruises often take place over the weekend, departing on Friday and returning on Monday, while 4-night cruises sail during the week, or Monday through Friday. 
If you have limited vacation time, you will most likely opt for a 3-night cruise, as you would only have to take two days off. More often than not, 4-night cruises require you to take an entire week of work off! At that point, many would prefer to take a longer cruise.
While both 3- and 4-night cruises are often more port intensive than not, 4-night cruises usually include a sea day, allowing you to hang out onboard and experience the amenities during the day.
5- and 6-nights cruises
Image
Choosing a 5- or 6-nights will give you more options when it comes to selecting an itinerary that balances port days and sea days. 
While a 4-night cruise from Miami might only visit or Cozumel, Mexico before returning to the embarkation port, a similar itinerary on a 5- or 6-night cruise will usually visit at least two ports of call. This will give you more time to explore new places and also relax on the ship. 
Along with offering better itineraries, you will also have more flexibility in choosing a departure port. Royal Caribbean's Liberty of the Seas, for instance, is sailing out of Cape Liberty (Bayonne), New Jersey on 5-night cruises to Bermuda. This is the shorter cruise offered to this destination from New York! 
7-, 8, and 9-night cruises
Image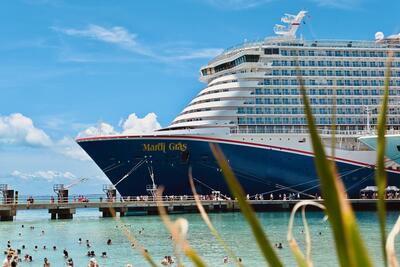 The longer the cruise, the more time you will have to adjust to your sea legs! Plus, you can unpack and get settled into your cabin without having to worry about repacking soon after-- you might not find it worth the time and effort to unpack your suitcase on a 3-night cruise.
Moreover, 7- to 9-night cruises visit some awesome ports of call that you would not be able to experience on shorter cruises due to their location. 7-night cruises are often the minimum when sailing to many destinations. If, for instance, you are trying to find a 5-night cruise to Alaska, you might end up disappointed. 
Even if you are cruising in Europe where many ports are close to one another, you will be able to visit more of them on a longer cruise. 
You will not have to sacrifice time onboard, either! Even if you have a port intensive cruise, 7-nights will give you a chance to experience more dining, entertainment, and activities! 
Image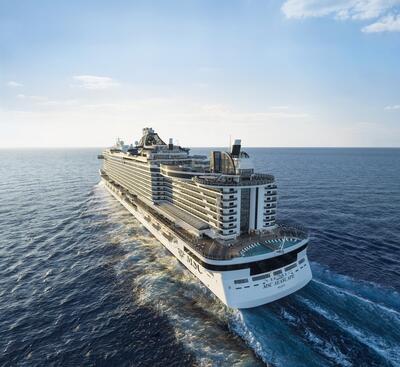 Finally, cruises this length are often on some of today's newest and most innovative ships, such as Carnival Celebration, Wonder of the Seas, Norwegian Prima, and MSC Seascape. 
While you can sometimes find shorter voyages on these ships, you will have more options when it comes to selecting a date if you do not limit yourself. And with how large these ships are, you will want at least a full week onboard! 
10-night cruises and longer
Image
Cruises that are 10+ nights are great for those who are more destination-focused. These itineraries will often visit ports of call that are more unique and cannot accommodate today's mega ships. For that reason, do not be surprised if longer cruises are on older, smaller ships!
These port intensive cruises are different than than 7-night Caribbean cruises. You, for instance, might not be interested in late-night entertainment after spending three or four days in a row exploring different ports! If it is a more exotic itinerary, a longer cruise might be able to help you justify the cost of travel to get to the embarkation port. 
Moreover, the average age on these sailings is often older than weeklong ones. Plus, they usually foster a greater sense of community because you will have longer to get to know your shipmates in a more intimate environment.
One thing to consider as a first time cruiser, however, is whether or not you want a longer cruise with many days at sea. A 10+ night cruise with the majority of days in port is different than a transatlantic cruise that has multiple days at sea in a row!
What's a good amount of days for a first cruise?
Image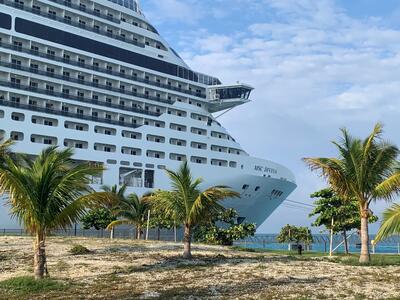 For most people, a 7-night cruise is a great place to start. You get to experience everything that die-hard cruise fans love, such as the dining, entertainment, ports of call, and more. 
This is much harder to do on a weekend cruise! You will not be able to enjoy everything that the ship has to offer if you are constantly exhausting from your days ashore. Plus, you will not fully be able to acclimate to ship life.
Likewise, longer cruises can be taxiing, too. If this is your first choice, you are probably more interested in the itinerary than the ship.