Last fall, I set sail onboard Carnival Celebration for one of the ship's first inaugural cruises. Carnival Celebration is the newest cruise ship for the cruise line, and she represents a new, modern era of cruising for the company.
Image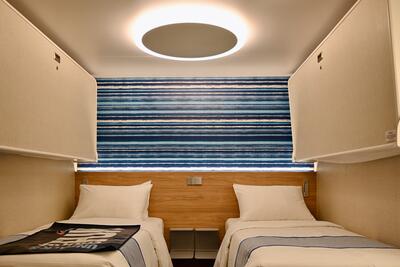 Carnival Celebration is the second ship in Carnival's new Excel-class. This newest class of ships is the most anticipated of any ship class in the cruise line's history. 
Image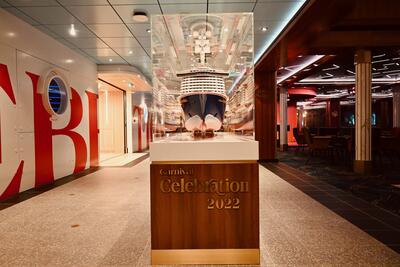 After many years of repeated ship design, Carnival debuted a ship class with vessels that are 40% larger than anything the cruise line had built before.
Image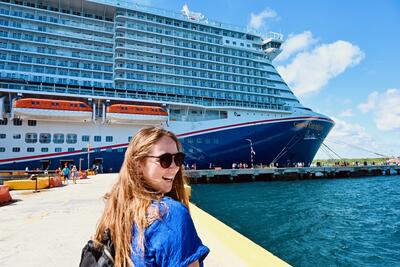 With more to do than ever, Carnival Celebration and sister-ship Mardi Gras have made quite the splash in the cruise industry. Now, Carnival finally has some cruise ships that compete with the mega-ships of other cruise lines. 
Image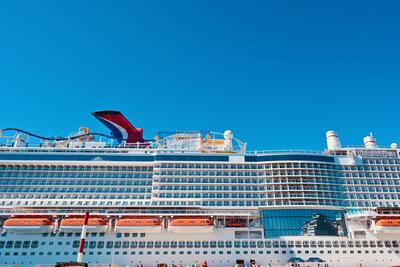 Carnival Celebration is the most modern ship to date for the cruise line; but, this title will be transferred to sister-ship Carnival Jubilee when she debuts in early 2024.
Image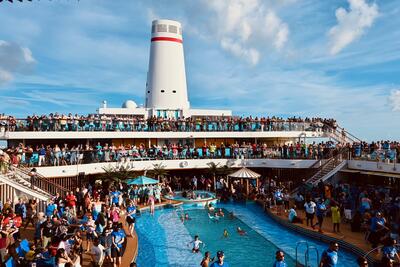 As with most new ships, the first few sailings onboard a debut vessel can be expensive. To save some money, I decided to book the cheapest cabin onboard Carnival Celebration last fall.
Image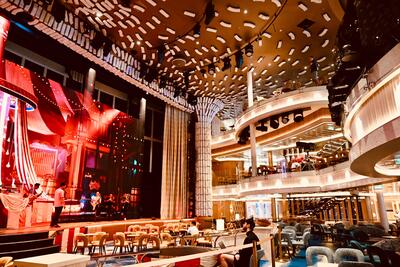 For just $1,300, my sister and I sailed in an inside cabin guarantee for the 7-night Caribbean sailing. This price even included prepaid gratuities. Overall, I was pleased with this price.
Image
An inside guarantee means that you do not get to select your cabin location. Instead, the cruise lines will assign you a cabin as the sailing date nears. Much of the time, these guaranteed cabins are located in less desirable locations, as the more sought-after locations are already booked by other guests.
Image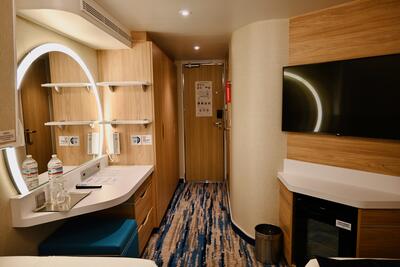 I prefer to stay in an inside cabin when I cruise because these staterooms are both affordable and functional. You might not have a ton of extra space, but you will have everything you need for a comfortable (and cozy) stay.
Image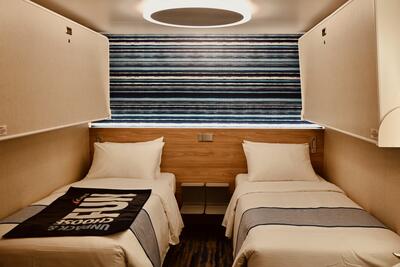 This inside cabin was located on Deck 4 of Carnival Celebration. The new cruise ship had over 19 decks, so we were not centrally located onboard. However, we did get substantial exercise walking around and doing the stairs.
Image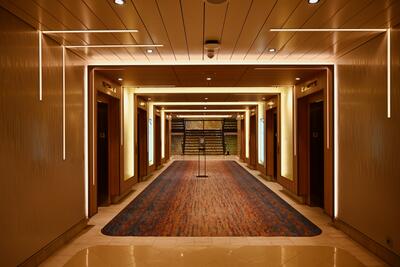 The hallways were brightly lit with Caribbean-themed decor, including portraits of palm trees and beaches. This felt like the perfect design choice for our 7-night Caribbean sailing on Carnival Celebration.
Image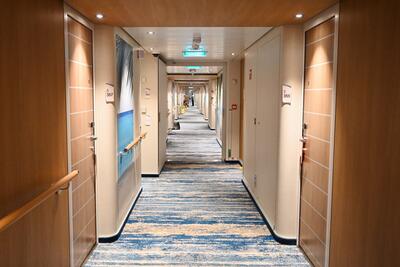 Although our cabin was not centrally located, we were close to the elevators. Since the ship can hold nearly 6,000 passengers at capacity, having plenty of elevators made it easy to navigate the ship when we opted to skip the stairs.
Image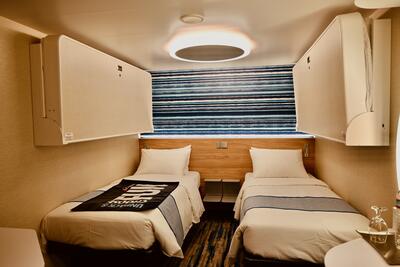 Our inside cabin was just 162 square feet, which is a standard size for an inside stateroom. The stateroom was stylish, but minimalistic. This was a no-frills type of accommodation.
Image
Carnival asked during the check-in process how we prefer to have our beds configured. You can choose to have your beds separated into two twin beds or you can have the beds together as a king bed.
Image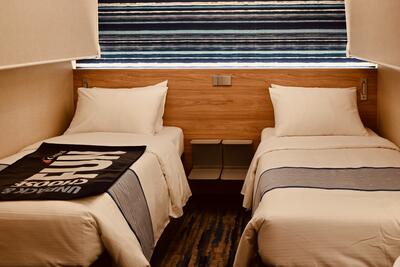 Typically, I prefer to have the beds separated in an inside cabin because it makes the small stateroom feel more spacious. You are able to walk in-between the beds when they are separated, and this gives you a little more room to navigate.
Image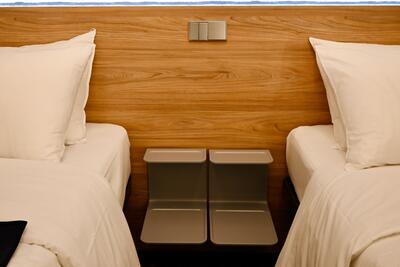 Next to each bed was a small nightstand (if you can even call it that). These small magnetic fixtures were very minimalistic and served as a nightstand next to the beds, although we would have preferred a real nightstand.
Image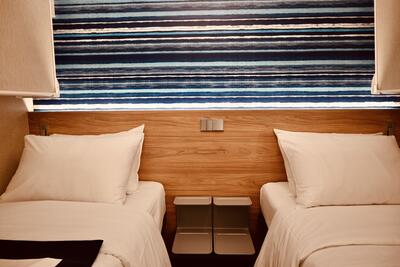 Each bed also had a small reading light and USB outlet for charging. We were impressed to see even the bunk beds had reading lights and outlets. Having enough outlets in a cruise cabin is a first-world problem, but it seems we all have more devices each year that need charging.
Image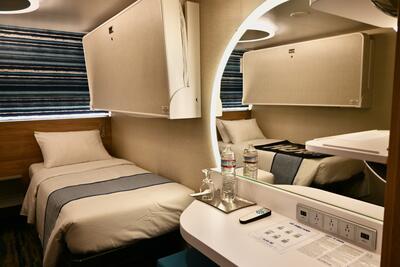 My sister and I slept well each evening on our comfortable twin beds. However, we found the unused, exposed bunk beds to make the space feel more cramped. Since we were not using the bunk beds, it would have been preferred if these were stored in the ceiling when not in use, as is typical with cruise cabins.
Image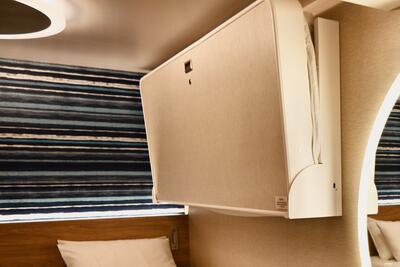 We did not have anywhere to sit in this tiny cabin, which was our biggest gripe about the stateroom. The only place we could sit was on our beds or using the small ottoman under the vanity. The unused bunk beds made it more difficult to actually sit on the bed, leaving us to lay down most of the time when relaxing.
Image
While this stateroom was comfortable for just two of us, it would definitely feel cramped if you have four people staying in this cabin. I would look to have a larger space if you have more than two people sailing together in the same cabin. 
Image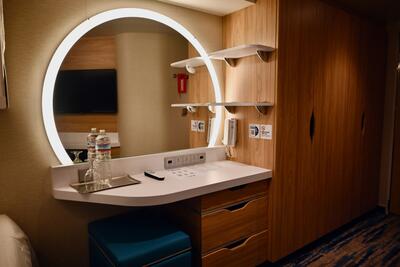 The room was well-lit thanks to a bright LED fixture on the ceiling and a ring light around the vanity mirror. The woodwork was lightly colored with accents of the signature Carnival blue color on the carpet and walls.
Image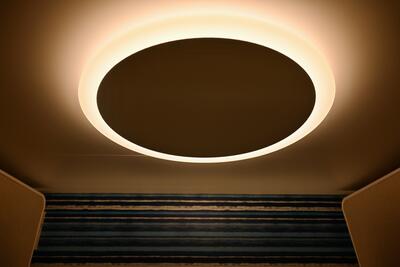 Our vanity was very well designed as well with a large mirror, shelving, drawers and an ottoman. We also found an entire power strip with outlets and USB chargers to use throughout the cruise. It was a relief not having to switch around our devices to share the outlets.
Image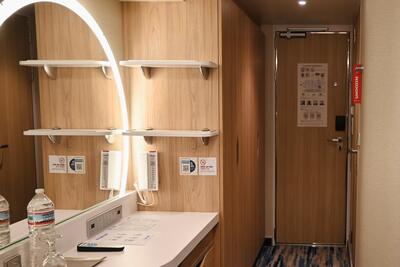 We had four different USB ports and three outlets to use on this power strip. This was all in addition to the USB ports available on each person's bedside reading lamp. Now, when USB-C takes over our lives, I will be interested to see what cruise ships will do with all of the original USB plugs.
Image
The vanity became the central hub for all of our storage throughout the cruise. Everything from makeup to laptops, purses and charging cords were left on the vanity. Having the extra shelving on the side of the vanity was a huge help to keeping the space somewhat organized.
Image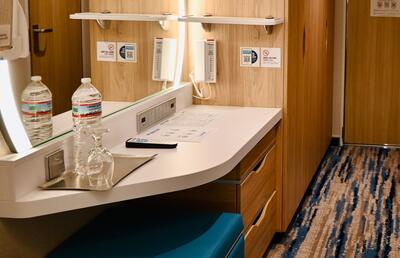 The large mirror featured a ring light, which illuminated the space nicely. I used this mirror to get ready each morning and I appreciated having this lighting for doing my makeup. We also felt that the lighting helped make the space feel brighter, which is a necessity for inside cabins, which lack windows.
Image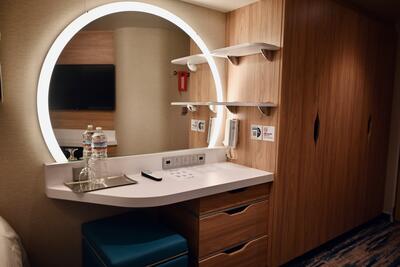 Under the vanity, my sister and I split the drawers so we could unpack our suitcases. This was the perfect space to store swimsuits, undergarments and pajamas. We also discovered that the ottoman could be used for storage, which was a functional choice by Carnival. We did not use the ottoman since we only traveled with carry-ons.
Image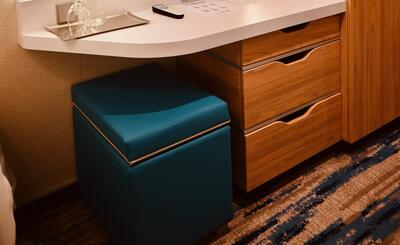 The stateroom also featured a large closet for my sister and I to unpack the rest of our clothes. We had more than enough space to comfortably unpack thanks to the closet's shelving and hangers. Since we had only traveled with a carry-on, we had more hangers than needed.
Image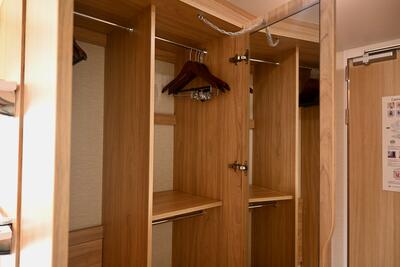 Carnival always places luggage mats on the beds during embarkation day, which allows you to neatly place your luggage on the bed while you unpack. This is a nice touch and it makes for a great place to unpack while still protecting the new bedding.
Image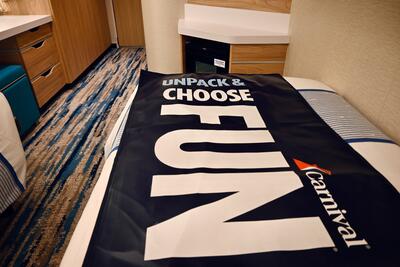 Our inside cabin also featured a large flatscreen TV and a miniature cooling fridge. There was a small countertop over the cooling fridge, which was another example of the thoughtful design touches that Carnival prioritized on this new cruise ship.
Image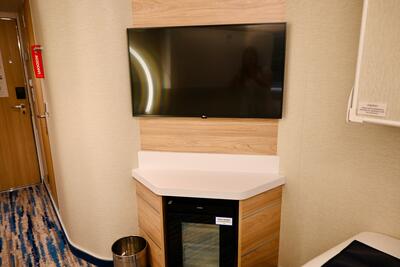 One notable feature of the cabin was a key slot that was required to run the cabin's air conditioning and light switches. Presumably, this is part of Carnival's effort to be more sustainable and conserve energy when guests are not in their cruise cabin.
Image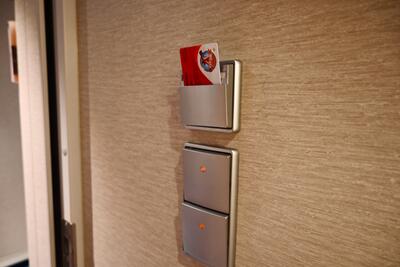 Finally, the most surprising element of the cruise cabin was the bathroom design. Most inside cabins, especially on older ships, feature tiny bathrooms with even tinier showers. You'll either be showering in a space capsule or you'll have a clingy shower curtain stuck to you.
Image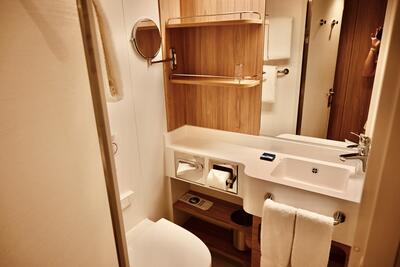 However, our bathroom on Carnival Celebration was very well designed. The shower was massive in comparison to other cruise ship showers we've experienced. We were surprised to see our inside cabin shower was the same size as those who had balconies and higher-end cabins.
Image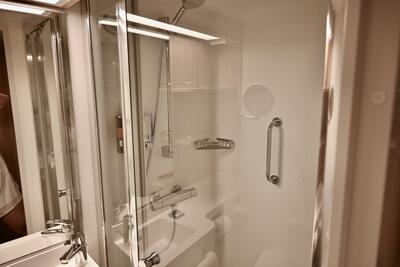 There was plenty of space in the shower so we did not find ourselves bumping into the soap dispensers or handle bars. The shower door, made of durable-feeling plastic, also maneuvered inward. This ensured the small bathroom did not need to sacrifice additional space and allowed another guest to use the sink at the same time.
Image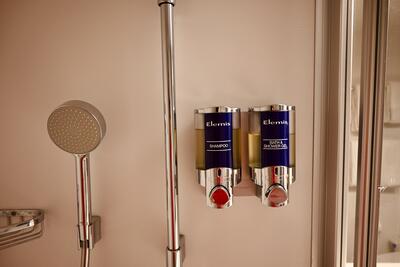 The bathroom also had multiple spaces to store our cosmetics and bathroom products. We found shelving above and below the sink, along with space next to the sink for even more storage.
Image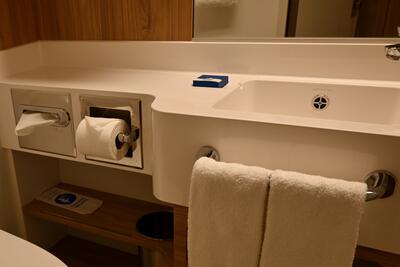 Our toilet had some flushing issues halfway through the cruise. Although this could have been disastrous, we found the issue to be promptly fixed and did not cause nay further disruptions. A running toilet should never be taken for granted!
Image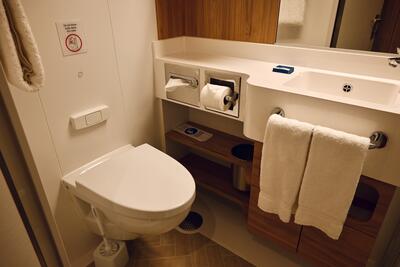 At the end of the day, we really enjoyed our inside cabin accommodations on Carnival Celebration. For the price we paid, it was comfortable, clean and well designed. 
Image
With so much to do onboard anyway, we truly did not spend much time in our cabin. I would not hesitate to book another guaranteed cabin onboard one of Carnival's newer ships.