Royal Caribbean and Carnival Cruise Line are the two biggest mainstream cruise lines in the industry with millions of passengers setting sail onboard these competing lines each year.
Each cruise line adds their own special flair to the cruising experience. This is how they differentiate from one another in the competitive travel market. Royal Caribbean is known for building mega-ships with onboard thrills and dazzling entertainment, while Carnival places a heavy focus on fun, casual dining, and creating a lively atmosphere onboard.
Last summer, I set sail with Carnival Cruise Line for the first time in over a decade. While I am a loyal guest to Royal Caribbean, I could not resist a short 4-night sailing to Mexico onboard Carnival Ecstasy that was sailing from Mobile, Alabama. Since I live in the Florida Panhandle, this port is conveniently located just over an hour from my house!
Image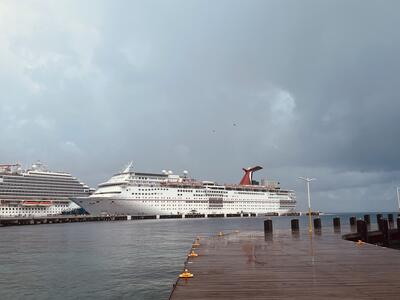 Even better, the cruise was dirt cheap, at just $250 per person. We booked an inside guarantee cabin for the sailing, which was the cheapest option onboard. This meant that we could not choose our cabin location; instead, the cruise line assigned us a cabin within a few days of the sailing.
When I sailed on her, Carnival Ecstasy was the oldest ship in Carnival's fleet at the time. In fact, it was one of the oldest cruise ships that was still sailing in North America for any major cruise line! Within a month of our sailing, Carnival Ecstasy was retired and sent to the graveyard for scraping.
With all of this in mind, I'll admit that I was hesitant about sailing on a very old cruise ship on a cruise line that's known to be a little more party-heavy than others. I had heard recent horror stories of fights breaking out on Carnival ships, which did not seem to be an issue for other cruise lines.
Regardless, my sister and I were excited to see what Carnival had to offer. It had been so long since either of had sailed with Carnival, so it almost felt like we trying the cruise line for the first time!
Image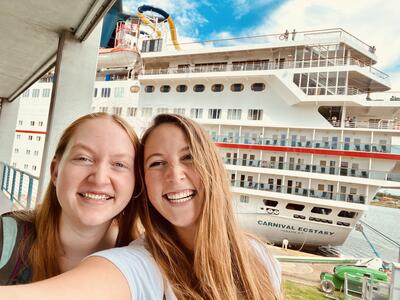 We did not know what to expect, so my sister and I went in with an open mind. We kept expectations low because we did not want to leave disappointed.
Let's be honest, you can't board a budget sailing to Mexico on a 31-year-old cruise ship and expect a luxurious experience. We also expected the sailing to be more wild since it was a weekend itinerary. While these days I prefer to have a more destination-focused cruise, we were eager to see what Carnival cruisers love about the cruise line.
From the moment we boarded in Alabama, I could tell that the Carnival experience was going to be unlike anything we had experienced before. The music was playing louder, the drinks were flowing more, and everyone was dancing at the sail away party-- including a rowdy granny who took to the stage to show her moves with the cruise director!
Image
After the first two days onboard, my sister and I found ourselves really enjoying the cruise. Of course, it was different than we had expected, but we also had low expectations. I found myself staying up later than I normally do on a cruise and having much more fun than anticipated!
After this Carnival Ecstasy experience, my sister and I had such a great time that we chose to sail on Carnival's newest ships: Mardi Gras and Carnival Celebration. We even have a sailing booked on the new Carnival Jubilee for early next year, which will debut as the cruise line's biggest and newest ship . 
Needless to say, there were things we actually liked better on Carnival in comparison to Royal Caribbean. Here are the top 5 things that we noticeably liked more than when sailing with Royal Caribbean.
Our favorite thing about Carnival is all of the delicious and quick-casual dining options onboard their cruise ships.
Image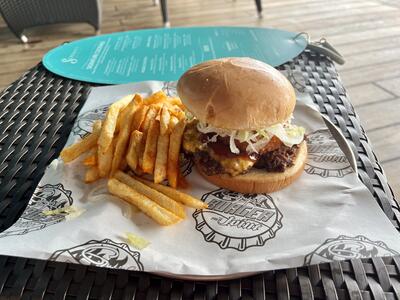 When we boarded Carnival Ecstasy, I was shocked to see that this very old cruise ship featured many of Carnival's dining staples found on their newest ships.
To start, Guy's Burger Joint was available poolside for anyone looking to grab a juicy burger and fresh fries. Adjacent was Carnival's BlueIguana Cantina, which serves up tacos and burritos throughout the day. Having these eateries right on the pool deck was very convenient, and it's something Royal Caribbean has yet to fully integrate into their ship design.
We also enjoyed the freshly-made pizza and panini options onboard, which were located in the buffet area. Both of these were great options for a bite to eat. 
All of the casual food options onboard were delicious and convenient. In comparison, Royal Caribbean's oldest ships rarely feature any poolside dining options and lack quick-service eateries all together. You'll be trekking over to the buffet most of the time if you need a snack during your pool day.
Image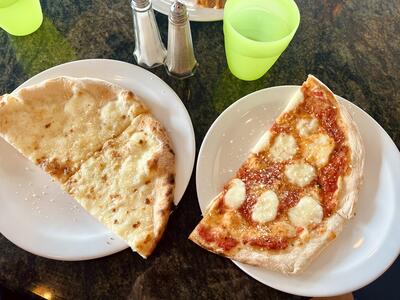 Once we sailed on the newer Excel Class ships, we were blown away by all of the additional dining options onboard. From juicy chicken sandwiches to BBQ, burgers, tacos, and more, the casual dining options were endless.
I'd love to see Royal Caribbean expand their casual dining options onboard, especially during refurbishment of older ships. I appreciated that Carnival had put in the effort to keep Ecstasy feeling more fresh with up-to-date dining options.
We also loved the option of having a late-morning Seaday brunch in the dining room, which is one of Carnival's signature dining features.
Image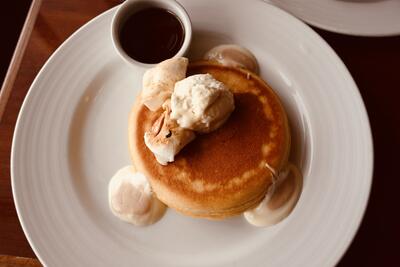 While researching things to do onboard Carnival's cruise ships, I found many people boasting about the famed Seaday brunch. I did not remember this being an option when I sailed on Carnival in the decade before, so I was anxious to see what this was all about.
On sea days (as the name suggests), Carnival offers a sit-down brunch in the dining room called Seaday brunch. This felt pretty trendy for the cruise line, even on an older ship, which impressed me. The menu featured some very appetizing entrees like 12-hour caramelized peach French toast and fluffy skillet pancakes.
Seaday brunch was available into the early afternoon, so there was no rush to get up for breakfast. In my experience on Royal Caribbean's cruises, especially in the Caribbean, the breakfast options close around 11:30am. If you are someone staying up into the late hours of the night enjoying your cruise, that 11:00am alarm comes too early!
Since we were staying up later than normal on a cruise, we appreciated that Carnival had this brunch option for those of us looking to sleep in. Everything we tried was delicious, and we were thankful to have two sea days on Carnival Ecstasy during our sailing to Cozumel, so we could have another Seaday brunch!
Image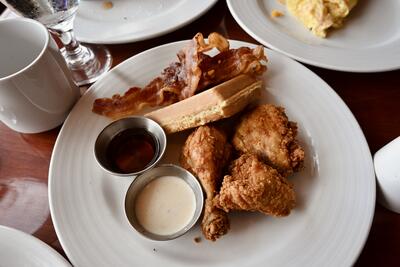 When sailing on the newer Excel Class ships, we found the Seaday brunch to be equally as delicious and convenient in the dining room. Although we had to use Carnival's app to make reservations due to more passengers onboard, we did not have any issues getting seated in a timely manner.
I would like it if Royal Caribbean upped their brunch game, especially on shorter sailings that tend to have a more party-like atmosphere.
We preferred how Carnival geared their activities towards a younger demographic.
Image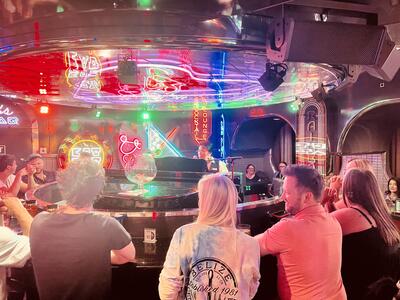 Carnival's cruising motto is centered around building the most fun ships at sea, which tends to draw a younger crowd. Carnival cruisers love being able to let loose onboard with plenty of activities and amenities geared towards younger demographics.
Almost immediately after we boarded Carnival Ecstasy, my sister and I were impressed with all of the activities that appealed to us. Royal Caribbean aims to be a family-friendly cruise line for all generations. As such, the company likes to have a little something for everyone. We are both in our 20s, so sometimes we find that Royal Caribbean's activities and trivias are less appealing. 
Image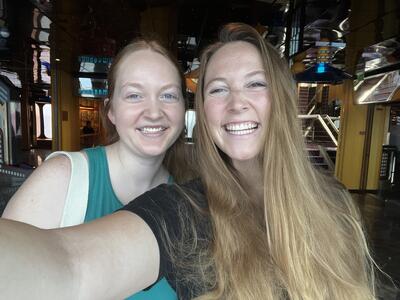 We found that Carnival's activities were more suited to our interests than Royal Caribbean. Trivia topics included Harry Potter, The Office, and SpongeBob and Friends. These are topics that I don't usually find on Royal Caribbean.
My sister and I even attended Pop Trivia and dominated the game! We really loved these actives onboard and had a lot of fun playing along.
As we cruised twice more with Carnival throughout the year, this was something that continued to be true between the two cruise lines. Overall, Carnival's activities are definitely geared towards a younger audience. This makes sense because the cruise line's main demographics is generally younger in comparison to Royal Caribbean's guests.
We also appreciated how the atmosphere onboard Carnival was very casual. We did not feel the need to dress up even slightly!
Image
When we first boarded Carnival Ecstasy, we were really surprised to see how casually everyone was dressed. We felt a little overdressed in our typical cruise attire. The first night in the dining room, some people showed up wearing bikinis and swimsuits even!
We've found that people on Royal Caribbean usually tend to dress up in the evenings onboard. Normally, I pack outfits specifically for dinner, and I always put on a little makeup before heading out for the night.
We found that most people were not dressing up at all for dinner on Carnival. Shorts, T-shirts, swimsuits-- anything and everything casual was being worn! By the third night, I didn't bother getting dressed up for the evening and wore my athleisure dress to dinner. While I had packed 4 dresses specifically for dinner, I did not even bother wearing half of them, and I did not make an effort to wear makeup either.
Image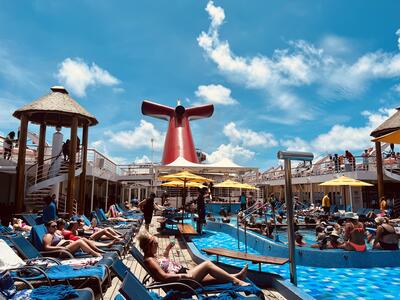 Since we were sailing in August, it was very hot and humid, so I actually enjoyed being able to wear my comfortable clothes to brave the heat.
On my next two Carnival cruises, I packed maybe two dresses for the entire 7-day itineraries. Based on our Carnival Ecstasy experience, I anticipated that the onboard vibe would be equally as casual, and I was right. We did not even eat in the dining room most nights because there were so many casual options onboard that enticed us more.
Image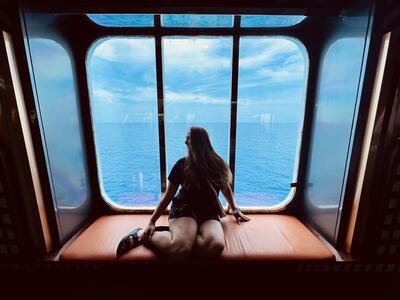 Read more: I packed for a 7-day cruise with just a carry-on. This item was a total waste of space
Regardless, Carnival's vibe was much more casual and less refined than Royal Caribbean's. For example, you cannot enter Royal Caribbean's loyalty lounges if you're wearing shorts, and there is a dress code onboard (although not strictly enforced). 
I appreciated that it was a judgement-free zone onboard Carnival. No one was snooty or unwelcoming based on what others were wearing. While some dressed up, most people were very casual throughout.
Carnival's activities and entertainment options were also shorter than Royal Caribbean's, giving us more time to try different events throughout the evenings onboard.
Image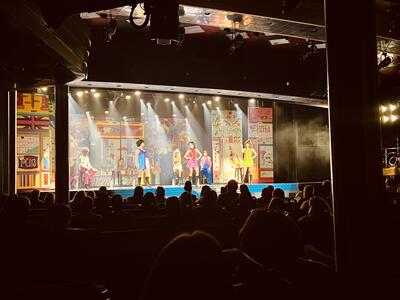 Cruises tend to be packed with nonstop activities and entertainment options throughout the sailing. This is just one of the reasons we love cruising so much; there is always something to do! Of course, you can relax and do absolutely nothing if you want as well.
On our Carnival Ecstasy cruise, we enjoyed that activities were promptly kept to a 30 minute timeframe. This meant we could do multiple activities throughout the evening because each was shorter.
When sailing with Royal Caribbean, it's standard for most events to be about 45 minutes to an hour long. Some ships even feature full-length Broadway musicals. While I do love these spectacular shows, this often means that I only choose to do one or two activities each night onboard. It's tough to squeeze in multiple events when they are longer.
Image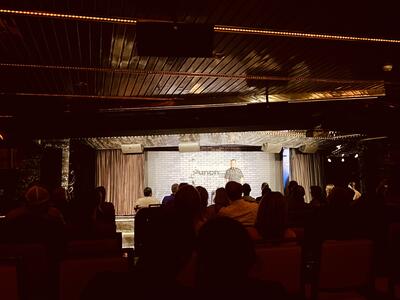 With shorter activities on Carnival, we could bop around from one event to the next. We would stop at karaoke and then head over to trivia before seeing the nightly comedian. There was so much to do onboard, even though the ship was old and did not have the same amenities of a newer ship. 
Because of how the events were structured on Carnival, we found that we could do more in the evenings. It felt as though we could do more with less time. This cultivates a more fast-paced environment on Carnival's ships in comparison to Royal Caribbean, at least in my experiences.
Finally, one small offering that pleasantly surprised us was the opportunity to have Afternoon Tea onboard.
Image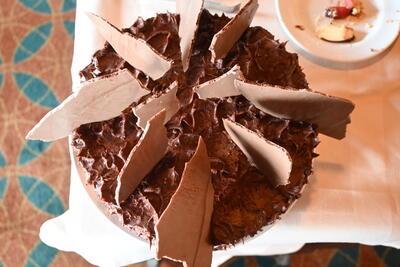 During our first sea day onboard Carnival Ecstasy, we found that Afternoon Tea was on the agenda. This surprised us both, as I did not expect this to be something that Carnival offered! I have heard of other cruise lines offering afternoon tea, such as upscale Viking Cruise Line and Princess Cruises. 
Carnival is all about having that party-like tempo onboard, and Afternoon Tea just didn't strike me as something that would be part of the Carnival experience.
My sister and I made room in our busy day of relaxing to go to the dining room to see what Afternoon Tea was all about. We were served an assortment of desserts, including a lusciously-layered chocolate cake, lemon sponge cake, fruit tarts, scones with clotted cream, macrons, and peach crisp. This was a dessert-lovers paradise!
Image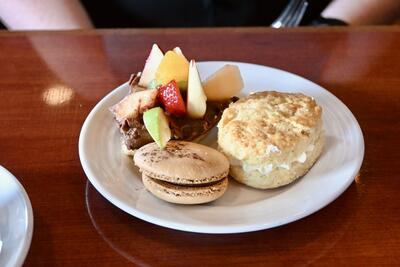 I've never seen Afternoon Tea as an option on Royal Caribbean cruises. In fact, I've done multiple UK cruises, and this has never been on option with Royal Caribbean, which is where I would expect something like this to be offered.
Regardless, it was a nice change of pace onboard to sit down and have a relaxing hour with tea and delicious goodies. It provided us an opportunity to relax and indulge, and that's what cruising is all about!
After sailing with Carnival last year, I have a new appreciation for the cruise line and the unique experience offered onboard.
Image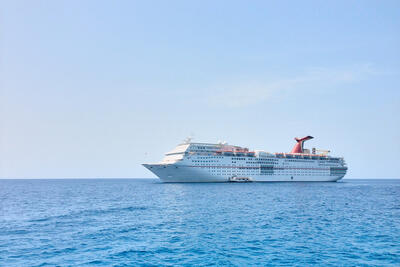 Like I mentioned earlier, each cruise line has their own unique twist on the cruising experience. There are so many cruise lines out there that surely everyone can find one that best fits their travel style, budget, and preferences.
Unless you are someone who prefers cruising with Carnival, most people love to hate on the cruise line. Many consider Carnival to be the "Walmart of the Seas" or the "Spirit Airlines of the cruise world." These stereotypes left me a little hesitant about sailing with the cruise line, especially as someone who has been loyal to Royal Caribbean for decades.
Image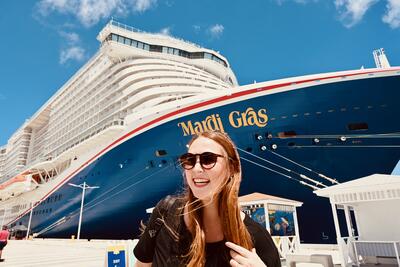 However, Carnival has continued to impress me. I was shocked to find things onboard that I actually preferred over Royal Caribbean. I've appreciated having these diverse cruise experiences because it has opened my eyes to more than just what Royal Caribbean offers onboard.
I wouldn't hesitate to book another Carnival cruise now that I've taken three more within the last year. I've continued to have great experiences onboard, particularly onboard the cruise line's newest ships