Packing for a cruise can be stressful for some. Maybe you've combed through every packing list you can find but are still worried about packing the wrong attire of forgetting something important. This can be especially true for first-time cruisers, or even if you are trying a new-to-you cruise line.
To keep things simple, I almost exclusively travel with just a carry-on, even for 7-night cruises. I find that this simplifies my travel immensely.
Having just a carry-on allows me to easily navigate the airports and cruise terminals. I don't have to worry about the airlines or cruise lines losing my luggage either, which gives me peace of mind. I always have my luggage with me, so it is never out of my sight. Last minute flight changes are also easier since I am not tied to checked luggage.
Image
Of course, cruising with just a carry-on has its limitations. The most obvious is that you don't have a lot of space in a carry-on to pack all the outfits you might want to bring. You'll be stuck with less options than you might be used to when traveling. To make the most of my carry-on space, I find that I have to be strategic with choosing what to pack for my cruise. I also utilize packing cubes to keep everything compressed and organized. 
I've packed in just a carry-on for cruises headed to Alaska, Europe, and the Caribbean. In my opinion, Caribbean cruises are much easier to pack with just a carry-on since summer clothes (i.e., dresses, shorts and swimsuits) take up less space than bulky winter clothes. Sailing with just a carry-on for an Alaskan cruise was difficult for me, but I made it work! 
Read more: I packed for a 7-day cruise with just a carry-on suitcase and backpack
Image
Regardless, I believe there's great value traveling with just a carry-on. It simplifies your travels extensively. There's nothing worse than hauling around too much luggage, only to find that you did not even wear half of what you packed.
On my recent Carnival Celebration cruise, I packed with just a carry-on for the 7-night Caribbean sailing. Although Carnival is the most casual cruise line that I've ever sailed with, I still decided to pack a few evening dresses to wear onboard. I typically enjoy getting dressed in the evenings, and almost all cruises have some sort of elegant or formal night.
As such, I packed a dress specifically for formal night, and I totally regretted it. Here's why it was a total waste of space in my carry-on.
Carnival Cruise Line refers to formal night now as "Cruise Elegant Nights," and they're far from formal.
With a little research, I found information on Carnival's website that said the cruise line classifies formal night as Cruise Elegant Nights. This is defined as "Dress to Impress. Get formal photo-ready at our Cruise Elegant evenings. Dress up or suit up in your finest attire and enjoy a night of high class on the high seas."
Image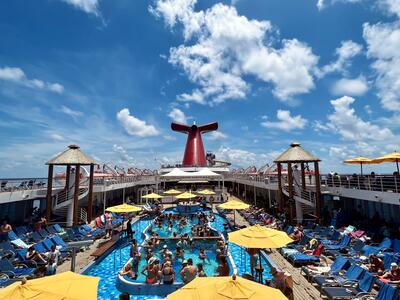 On their website, Carnival provides ideas for what to wear during the elegant evenings, suggesting that men wear "dress slacks, dress shirts, and we also suggest a sport coat; men may also wish to wear a suit and tie or tuxedo" 
In addition, the cruise line states that women could wear "cocktail dresses, pantsuits, elegant skirts and blouses; ladies may also wish to wear an evening gown."
Finally, the cruise line states that "cut-off jeans, men's sleeveless shirts, shorts, t-shirts, sportswear, baseball hats, thongs (flip-flops) and bathing suit attire" are not permitted in the dining room.
Image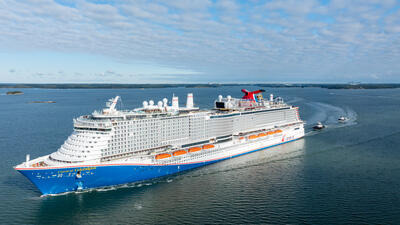 Almost all cruise lines provide dress code suggestions online for what guests are expected to wear onboard; however, I've found that most cruise lines do not enforce their dress codes, especially Royal Caribbean and Carnival Cruise Line. 
I've seen countless people on Carnival cruises wearing hats, shorts, t-shirts and flip flops in the main dining room. I've even seen people wearing swimsuits!
After sailing with Carnival for the first time in over a decade last summer, I was really surprised to see how casually everyone dressed.
Image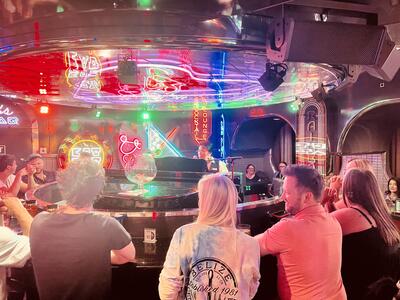 I had packed multiple dresses for each evening during my 4-night sailing on Carnival Ecstasy, but I ended up ditching half of my wardrobe midway through the cruise.
Everyone onboard was sporting very casual attire, so I decided to stop getting dressed up in the evenings. I cannot even recall if there was a "Cruise Elegant Night" on this sailing. If there was, it certainly did not look like it based on what everyone else was wearing.
When packing for my next Carnival cruise onboard the brand-new Carnival Celebration, I was hesitant to pack my formal attire. After my last Carnival experience, I figured that everything onboard would be laidback.
During my weekend sailing, I found that most people were not dressing up in the evenings; however, I did not want to feel underdressed while sailing on this snazzy new cruise ship. Perhaps the longer sailings with Carnival, especially on their newest ships, would have a more upscale ambiance than a 4-night weekend sailing to Mexico.
Image
I opted to pack my go-to black formal dress for the "Cruise Elegant Night" in my suitcase. Although it does not take up a ton of space, it certainly takes up more space than shorts, tank tops, and swimsuits. I also packed some fancier shoes to go with the dress, and I was hoping these items would not be a waste of space.
It was quickly apparent that even on Carnival's newest and fanciest ships, very few guests onboard were dressing up in the evenings.
Image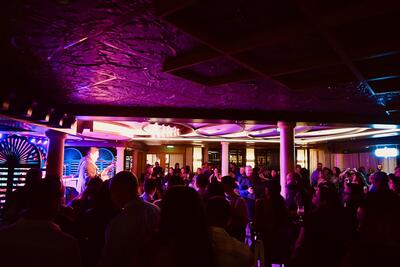 Similar to our experience on Carnival Ecstasy, we found that not many people were dressing up in the evenings. Again, it was very casual and laidback onboard.
By the time the elegant night rolled around, I wore my black formal dress for dinner and the evening show. While we went to the Latitude Bar for a travel-inspired cocktail before dinner, I noticed again that very few guests were partaking in the elegant night onboard.
Image
Once the second elegant night rolled around, I did not bother putting on my formal dress again. I was worried about being underdress when, in fact, I was feeling quite overdressed onboard in comparison to everyone else! 
This is not to say that I felt out of place. More so, everyone was simply dressed more casually than I was. I did not want to spend the time or energy to get dressed up when it was pretty apparent that I really did not need to.
Looking at the cruise industry as a whole, formal nights have generally becoming less common on cruises.
Image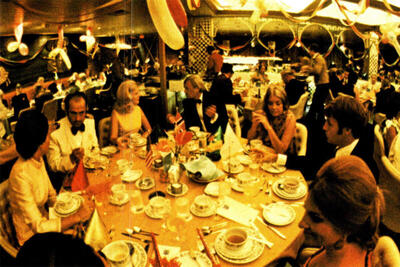 Traditional cruising placed great importance on formal night; it used to be quite the spectacle onboard. Everyone would dress to the nines with ballgowns for the ladies and tuxedos for the men.
Now, cruise lines have started to phase out the traditional formal nights onboard. Dress codes have become more lenient as well, as cruise lines discovered that most people did not love feeling forced to dress up - and pack - for formal nights onboard. Instead of using the term formal night, you can now find evenings onboard called 'dress to impress' or 'elegant night' usually.
Formal nights have been retired in the same way cruise lines have phased out the midnight buffets, ice carvings, cigar bars, internet cafes and more. As cruising continues to evolve, so does the onboard experience.
Image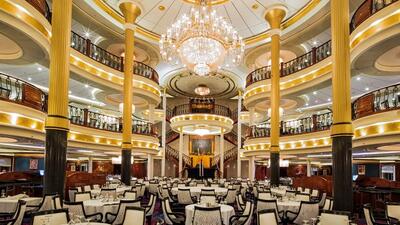 I remember as a little girl when we would cruise in the early 2000s how I would pack my pink ballgown for formal night. It made me feel like Cinderella! I loved getting all dolled up for formal nights because it really felt like a special occasion.
Over the last decade, the highly-anticipated formal nights became less popular. Women started wearing cocktail dresses instead of ballgowns, while men swapped tuxedos for simple button downs. Some continued to get dressed to the nines with formal attire, but it certainly was not what it used to be.
Now, the elegant/formal/chic nights onboard is a free for all. You will see the occasional ballgown, but most people are dressed as if they are heading to church or a wedding. You can also see some very casual outfits being adorned-- ones that would have cruisers from the 80s and 90s shocked to see for an upscale evening onboard.
Some cruise lines have phased out formal nights and dress codes entirely, such as Virgin Voyages and Norwegian Cruise Line.
Image
Norwegian Cruise Line was one of the first cruise lines in the industry to get rid of the formal nights onboard. Instead, the cruise line wanted to market itself as having a freestyle approach to cruising. 
On Norwegian's website, the cruise line states, "When it comes to what to wear, you can go resort casual or get decked-out and look your best - it's your call. That's the freedom of Freestyle Cruising".
Additionally, Virgin Voyages, the newest cruise line to hit the seas, has taken this freestyle approach even further. The cruise line has no dress code and does not even provide suggested attire on its website.
The cruise line states that prescribing formal attire requirements isn't Virgin's style. They want guests to feel free to express who they are, noting that personal style is a huge part of that: "We always want all of our Sailors to feel comfortable. We encourage you to wear more than a bathing suit if you go to a restaurant and kindly consider shoes, but your style is your style. Who are we to judge? Dress Up. Dress Down. Just Dress"
I will not be packing formal attire for my future Carnival cruises, as it was a total waste of space in my carry-on.
Image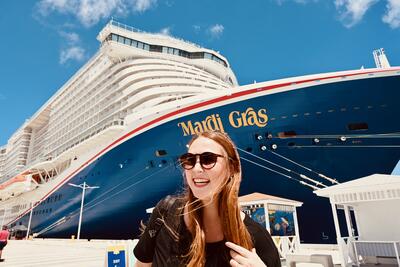 While Carnival states that sailings will feature an elegant night onboard, I will not be packing special dresses anymore specifically for these evenings. After three Carnival sailings last year, dressing up for elegant night made me feel overdressed. Packing specifically for the elegant nights onboard was simply wasting precious space in my carry-on luggage.
This is not to say I won't pack a few dresses to wear in the evenings; I will still pack some casual, summery dresses to wear throughout my Carnival sailings. These dresses, however, will be comfortable and casual. I do not plan to pack anything that feels too stuffy or overly dressy.
Wasting space when you are only traveling with a carry-on is frustrating. I am always satisfied when I wear everything that I packed for my travels, especially when I've only brought select attire in my carry-on.