Packing for a 7-day cruise with just a carry-on suitcase and a backpack might seem impossible. In fact, that's exactly how I felt before I tried it myself. 
I travel frequently, both for work and for leisure. Until recently, I had no issue checking luggage with the airline when I would travel. However, with the current chaos ensuing at the airports and people losing their bags left and right, it seemed that traveling with just a carry-on suitcase might be my best bet to having a positive travel experience. 
On a recent cruise to Alaska, I challenged myself to bring just a carry-on suitcase and a backpack. With some careful planning and purposeful packing, I was able to successfully cruise without needing to have any checked baggage. 
Image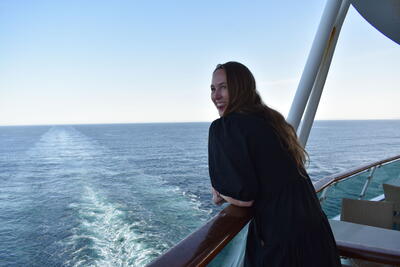 Here's how I packed for my 7-day cruise with only a backpack and carry-on suitcase. 
Benefits of minimal baggage
Image
Even without the current airline chaos, ditching checked baggage has some major perks. To start, when you only have a carry-on bag, you can go straight through security when you get to the airport. 
After spending 2 hours waiting to check a bag on a recent trip home from Europe, I won't go back to checked baggage for a while. Ditching your checked bag can save you tons of time in the airport. Some airlines only have a few agents working the counters, so you can easily miss your flight if you don't allocate plenty of time. 
Additionally, when you aren't tied to a checked bag, you have so much flexibility at the airport. To get to my Alaskan cruise, I had to fly from Florida to Vancouver with connections in Atlanta and Seattle. I had a 4 hour layover in Seattle, which I wasn't looking forward to.
Image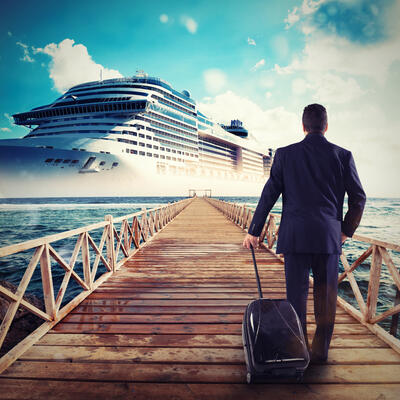 When my first flight to Atlanta was slightly delayed, the Delta mobile app gave me an option to book an alternative itinerary. I was able to switch to an earlier flight from Seattle to Vancouver, which had me landing 3 hours earlier than I originally planned. This gave me more time to spend in the city rather than wasting time at the airport.
If I had checked a bag, I wouldn't have been able to do this because my bag would have been on my original itinerary. With the way flights are getting delayed and canceled lately, having all of your baggage with you can save you a major headache. 
Finally, having just a carry-on suitcase and backpack gave me peace of mind that everything I needed was with me. I didn't have to worry about the airlines losing my bag, which would leave me with nothing to wear for 7-days on my cruise. When you fly to a cruise port with checked luggage, you are at the mercy of the airline. If your luggage is lost and not promptly found within a day or two, you'll be leaving the embarkation port with no luggage. 
Packing Preparation
Image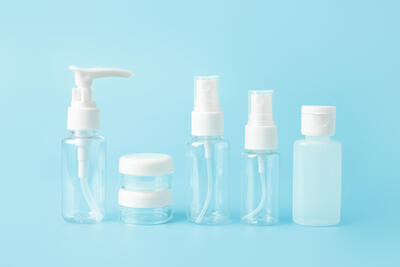 When you travel with just a carry-on suitcase and backpack, all of your liquids need to be travel sized. This was one of the biggest challenges. I needed to make a quick trip to Target to pick up travel sized toiletries, including shampoo, conditioner, dry shampoo, face wash and moisturizer. 
I also decided to grab a set of 5 packing cubes because I heard these were game changers for traveling. I wanted to see if it truly made a difference. 
I recently purchased a new carry-on suitcase that had a hardshell case and the much-needed ability to expand. I knew I'd need to have as much room as possible, so the expansion was necessary. 
Finally, I knew I would need to pack a Covid home test so I could re-enter the United States (as this was the policy back in April). I needed to allocate space for a test kit and a backup kit in case I had an issue with the first one since I was relying on this to get me back to the US. 
Outfit Planning
Image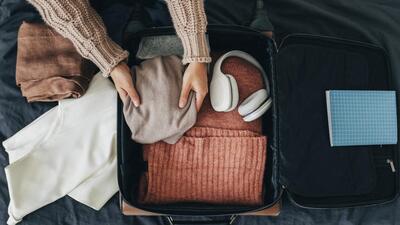 Normally when I cruise, I pack a different outfit for every dinner night. I used to take formal nights very seriously by packing a gorgeous gown and pair of heels. Having multiple dinner outfits and formal attire can take up a lot of space in your suitcase, so I knew this was an area where I could gain some packing real estate.
At the end of the day, I also had to accept that I'd be wearing some repeat outfits throughout my trip. Luckily, I knew I would probably be the only person to know whether an outfit was a repeat or not. 
My mindset also had to shift from 'Oh I'll have plenty of outfits to choose from' to 'this is what I will be stuck with because I have nothing else to wear'. I had to accept that I was sacrificing outfit options for flexibility.
Image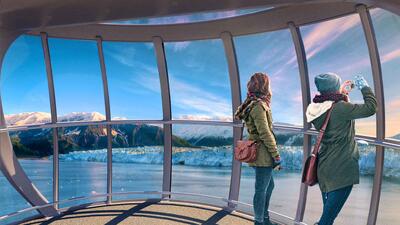 I opted to ditch any formal wear and instead pack dresses that were versatile and could be dressed up or down. I learned quickly that versatility was key and finding pieces that could be layered together would help me have a little bit of variety. 
Unfortunately, cruising to Alaska meant I would need to pack cold weather clothes like jeans, jackets and hats. With chilly and rainy weather in the forecast, I had to be purposeful in my packing.
I knew this would make it more difficult to pack because warm clothes are bulkier and take up more space than Caribbean cruise clothes. If you're cruising somewhere with a warmer climate and planning to spend most days at the beach, you'll probably be able to pack more outfit options than I was able to for Alaska. 
What I packed
Image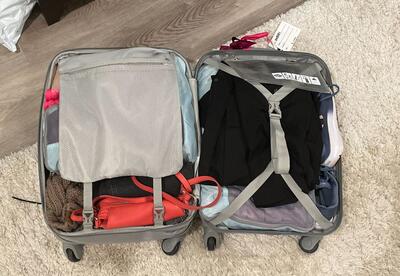 Before stuffing my carry-on suitcase full, I carefully laid out outfits for daily activities, onboard lounging, cold weather layers and evenings on the ship. 
For dinners on the ship, I opted to limit myself to just 3 dresses. Two of these dresses were mid-length, black dresses that I could dress up or down and a third was a light blue, long-sleeve casual dress. 
For pants, I first packed one pair of black jeans to wear during the day for warmth or at night for dinner (paired with a blouse). 
I knew we would be spending time outside in the cold, rainy weather. So I also packed a pair of black leggings, which would be versatile for on the ship or during the day with a long sweater. 
Image
I also packed a pair of jean overalls and 2 turtlenecks, which I could wear multiple times depending on how cold the weather was. Along with these, I packed a few more long-sleeve tops and a tunic crew neck that could be worn with jeans or leggings. 
We had a few days at sea, including one day sailing the fjords, so I also packed one pair of black sweatpants, a tennis skirt and a hoodie. I also packed just one swimsuit, anticipating that we would have a hot tub on the ship. 
Of course, loungewear also included just one set of pajamas to keep things simple. 
My cold weather layers included a black rain jacket and a winter hat. I ended up purchasing a knitted headband and pair of gloves in the first port because it was colder than I expected. 
Finally, I packed 3 pairs of shoes: one pair of comfortable platform shoes for dinners onboard, my waterproof Chelsea rain boots and activewear tennis shoes. 
I forgot to pack shoes for lounging onboard or going to the hot tub, so I ended up purchasing a cheap pair of slippers at Old Navy in Vancouver before we set sail. I wish I had packed my rubber Birkenstocks to wear around the ship; but, the slippers were only $5, so I figured if I didn't have room when I packed to go home, I could always toss them or donate to the cabin steward. 
How I packed my carry-on suitcase
Image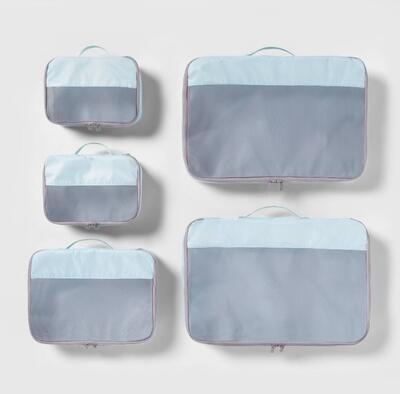 With everything laid out, it was time to start strategically placing everything in my carry-on suitcase. Since I work remotely, I also needed to leave room for my 2 work computers in my backpack; so I wanted to fit as much as possible in my carry-on suitcase. 
After laying out all of my outfits, I started compressing my clothes into packing cubes. I was amazed by how much I could squeeze into the cubes! They truly saved so much space!
In one small cube, I was able to pack all 3 evening dresses and a turtleneck. The other small cubes were used for undergarments, pajamas and casual clothes. One larger cube held my bulkier items, like my jeans and overalls. 
Image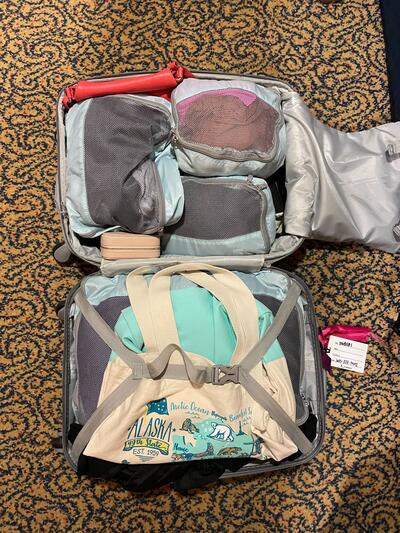 These packing cubes really did save a lot of room and made my suitcase very organized. I was forever converted!  
I tried a few different packing approaches before settling on the bookend method. I saw a packing tip online to put your heaviest items on the edges of your suitcases the tall way and fill in the space with smaller items, creating a fan almost. 
The heaviest items act like bookends at the end, making it easy to stuff plenty in between. Instead of laying my cubes flat and stacking them in the suitcase, I placed them facing upward. This saved me a lot of room, although the suitcase was certainly getting plump. 
No space was left behind in my carry-on suitcase. For example, my shoes were filled with socks for the week. I was able to fit 2 shirts (a blouse and a t-shirt) in my tennis shoes by rolling them tightly. 
I may or may not have had to sit on my suitcase so it could zip, but I was successfully able to fit everything! Having everything neatly organized in my carry-on made unpacking a breeze once we got on the ship. 
Packing my backpack
Image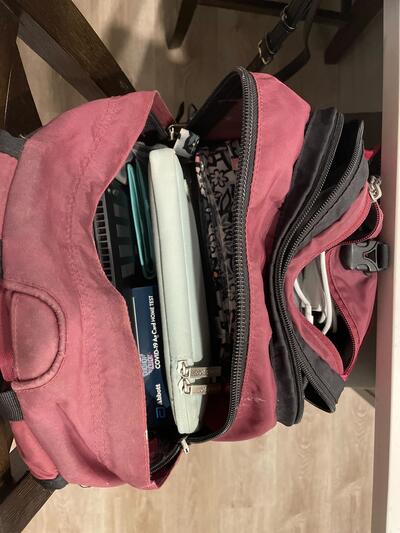 Because my carry-on suitcase was stuffed, I had to utilize my backpack for most of my cosmetics. I used a travel cosmetic bag to hold all of my medication for the week (leaving the full-size bottles at home), makeup, and toiletries. 
I was also able to fit my 2 laptops and 2 eMed COVID tests in my backpack. I carry my wallet, passport and travel documents in my backpack too so they are always with me. 
There was even enough room on the top of my backpack to fit my purse since I was only allowed 2 carry-on items technically.  
Airport Attire
Image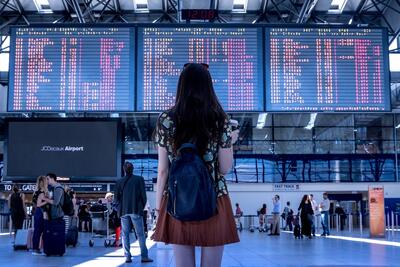 When it comes to airport travel, I would recommend wearing as many bulky clothes as you can. Of course, this is easier to do in the winter when the weather is cold, but you don't forget that the airplane can also be freezing in the summer! 
My airport outfit was crucial to save suitcase space. I wore linen pants, a black shirt and a jean jacket that I could layer with my rain jacket.
I also wore my black rain boots since these were the heaviest shoes that I needed to bring. While I didn't love wearing my rain boots all day, I knew these would be a necessity in Alaska with the forecast. I didn't want to waste space in my carry-on suitcase, so wearing them was the best option. 
Laundry Options
Image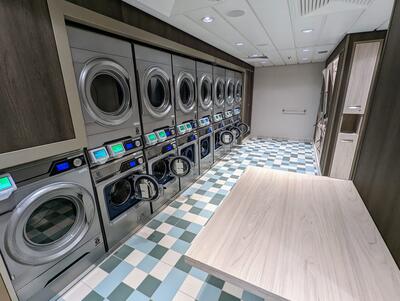 On most cruise ships, you will need to pay to have a bag of laundry washed and folded. This is normally done in hot water with hot drying, so it might damage your clothes. But, it's still an option for those looking to pack minimally.
Read more: Guide to laundry on a cruise ship
As an alternative, you can bring travel-sized laundry detergent and wash items in your stateroom sink or shower. It might not seem appealing, but it can be done. I spent 4 month living on a ship while studying abroad and I did all of my laundry in the sink.
If you're prone to stains, you might also want to consider packing a Tide To Go stick. My husband swears by these and used them throughout his recent military deployment while he was on the go. These can quickly lift a stain so you can re-wear pieces in your wardrobe.
Final Thoughts
Image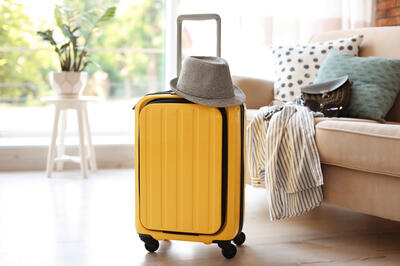 Without needing to check any baggage, I had so much peace of mind. Of course, I missed having some options for my outfits, but it really did simplify my travels. I was able to easily navigate out of the airport, to the hotel and to the port without struggling with multiple bags.
It was easy to pick out my daily outfit because I didn't have much to choose from.
When you travel with just a carry-on suitcase and backpack, you aren't leaving much room for shopping on your trip. This was actually a good budgeting strategy for me too, as I love to shop but knew I didn't have space. 
You'll be surprised to know that I packed 2 shirts that I never even wore. It's amazing how much easier traveling is when you simplify your luggage.