Now that you have decided to go on a Royal Caribbean cruise, how do you pick out the perfect cabin or suite? 
Royal Caribbean has some of the largest cruise ships in the world, meaning that you have a variety of stateroom options. In fact, Icon of the Seas, their newest ship, will have a staggering 28 different cabin categories to choose from. 
You want to make sure that you pick the right one to be your "home away from home" while onboard your cruise. 
Are you looking to save money and want to book the cheapest stateroom onboard? Do you want to splurge on a luxurious two-story loft suite that comes with some pretty sweet perks? There is the perfect cabin for everyone, regardless of budget and party size!
Here's the ultimate guide to Royal Caribbean cabin and suite categories. 
Royal Caribbean cabin overview
Image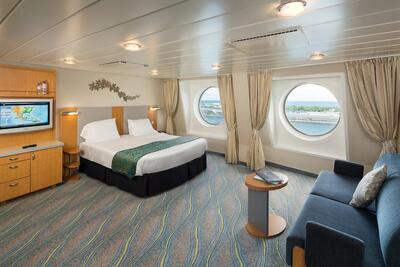 Onboard every Royal Caribbean ship in the fleet, you will have four main categories of staterooms to choose from: inside, ocean view, balcony, and suite. 
Plus, you can expect to find the same basic amenities in all rooms, including an ensuite bathroom, vanity with mirror and chair, safe, mini-fridge, closet, television, and two twin beds that can either be kept apart or pushed together. 
Within each main category, you will find subcategories that divide the rooms up by specific configurations, such as accessible and solo cabins.
On Freedom Class ships, for instance, you will find more than just standard, windowless interior cabins. Want a room with more space? Consider a Spacious Interior Room. These measure a whopping 340 square feet, compared to a regular interior's 162 square feet. There are also Promenade View Interior rooms that feature a window overlooking the Royal Promenade. 
Inside cabins on Royal Caribbean ships
Image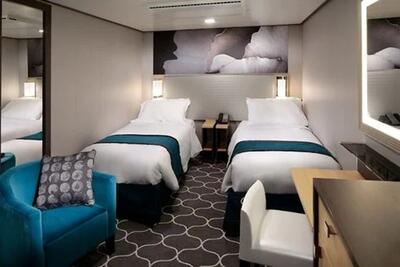 Those cruising on a tighter budget will find inside cabins appealing, as they are usually the least expensive stateroom onboard any Royal Caribbean ship. 
There are a few reasons for this, with the first being that they offer no natural view of the ocean. Plus, they are often the smallest rooms on the ship. Looking at the deck plans for Wonder of the Seas, a standard interior room measures just 172 square feet, while an ocean view balcony room comes in at 182 square feet, plus an extra 50 square feet on the private verandah. 
Note that some interior cabins will not be found directly across from balcony or ocean view staterooms and may require a bit more navigation, as they are sometimes situated along interior corridors in the forward (front) or aft (back) of the ship.
Image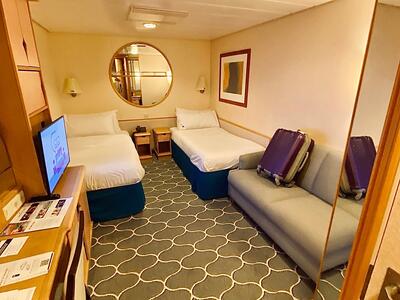 Additionally, not all interior rooms are view-less. Promenade View staterooms, for instance, feature a bay window that overlooks the Royal Promenade. Of course, this means that you still do not have an outside view, but it does provide a window within the cabin! You'll find these cabins onboard Voyager, Freedom, and Oasis Class ships. 
Similarly, exclusive to Oasis and Icon Class ships are rooms with windows that overlook onboard neighborhoods, such as the Boardwalk and Central Park. While they have a window that lets natural light flood in, they are still deemed interior because they face the inside of the ship. 
Virtual balconies debuted in 2014 onboard Quantum of the Seas, and since then, they have been added to numerous ships across the fleet. These cabins are unique in that they feature an 80-inch LED high-definition television that streams live views from around the ship right into your cabin. 
If you're looking to cruise for as little as possible or want to allocate more money for cruise add-ons, an interior room might be your best choice.
Ocean view cabins on Royal Caribbean ships
Image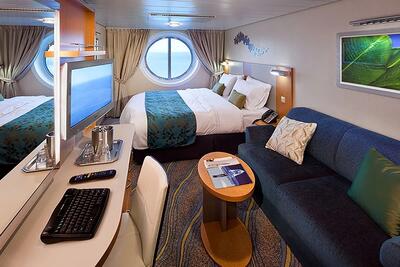 One step above inside cabins are ocean view staterooms. More often than not, these cabins are more spacious than interiors, which alone can be worth the cost to upgrade from an inside room. If you book an ocean view room at the front of the ship, you may be surprised just how large these cabins can get! This is due to the odd shape of the ship's structure. 
Regardless, you will be able to enjoy picture-perfect scenery of the ocean each day through your stateroom window. Note that the window cannot be opened to let fresh air inside. 
If stateroom location is important to you, you should be aware that you will have fewer locations to pick from. Since the majority of exterior-facing cabins are balconies, ocean view staterooms are usually found on the lowest decks, as well as the forward and aft of higher decks. 
Image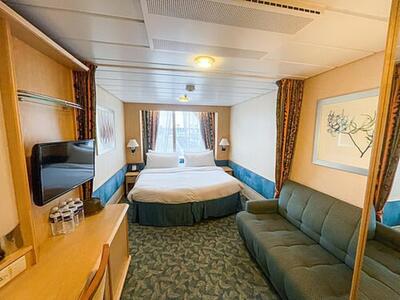 Those seeking even more space will want to ask a travel agent about the "Ultra Spacious Ocean View" cabins available on select ships. These staterooms are great for families, as they offer approximately 300 square feet of space. Due to their size and ability to accommodate up to six passengers, you should be prepared to pay more than a standard ocean view room, though. 
Another type of ocean view cabin is the Panoramic Ocean View Stateroom. This cabin features a floor-to-ceiling panoramic window. The primary reason to book this room is for more expansive views without having to pay for a balcony. 
In general, the reason to consider an ocean view cabin is if having an exterior view is something you cannot compromise on, but you do not want to pay for a balcony. Sometimes, the price difference between an interior and ocean view room is minimal, making the upgrade worth the cost. 
Balcony cabins on Royal Caribbean ships
Image
These days, everyone wants to book a balcony stateroom, and for good reason! With a private verandah attached directly to your cabin, you can breathe in fresh air whenever you'd like. Plus, you can even sip a cup of coffee while enjoying room service breakfast on your balcony in the morning!
To accommodate the increasing demand for balconies, you will find that there's no shortage of balcony staterooms on Royal Caribbean's newest and biggest cruise ships! With nearly 70% more balconies available than older cruise ships, you are sure to find a balcony cabin that fits your needs and budget.
Balcony cabins have more indoor (and outdoor) space, meaning that you'll have more room in your stateroom for everyone in your travel party. 
Image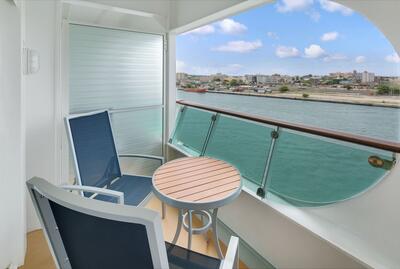 Comparing an ocean view balcony on Voyager of the Seas to an ocean view and interior room, the balcony measures 198 square feet (plus a 42 square foot balcony), while both the ocean view and interior rooms come in at around 160 square feet. That is quite the difference!
When Oasis of the Seas launched in 2009, she was the first cruise ship in the world to feature staterooms with balconies overlooking the inside of the cruise ship, rather than the ocean. These can be found on all Oasis Class ships, as well as Icon Class ships. 
On Oasis Class ships, you can choose from a Central Park or Boardwalk balcony. Central Park facing balconies tend to be cheaper than Boardwalk balconies, simply because many Boardwalk staterooms still have glimpses of an ocean view through the aft of the ship. Both Central Park and Boardwalk balconies are 182 square feet with a 52 square foot balcony. 
Image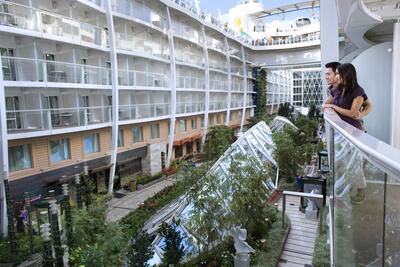 Icon of the Seas is replacing the Boardwalk with Surfside. Don't worry, though-- you can still book a balcony overlooking this family-friendly neighborhood. These rooms are larger than Boardwalk balconies, coming in at 196 square feet, with a balcony that is 50 square feet. 
While Icon of the Seas will also have a Central Park neighborhood, the staterooms will be different than those onboard Oasis Class ships. Rather than have a traditional balcony that you have to step outside onto, they will have an infinite balcony. 
These 250 square foot rooms include 50 square feet that's a convertible balcony. With the push of a single button, the panoramic window opens up, allowing fresh air to flood into your cabin. 
In addition to standard ocean view balconies, Icon Class ships will also have infinite ocean view balconies for those who want to make use of the indoor/outdoor space.  
Suites onboard Royal Caribbean ships
Image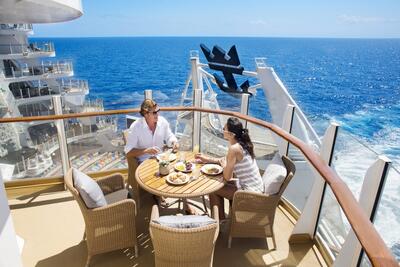 On their newest ships, Royal Caribbean has introduced some incredible, even multi-level, suite options that will truly leave a lasting impression. You're not just paying for more space in a suite, you are paying for an exclusive, luxurious experience.  
Depending on the cruise ship, you might even be provided with a Royal Genie (essentially a butler), who will be at your disposal for the duration of the cruise. Some Royal Caribbean suite guests even have access to a suite-only sundeck, specialty restaurant, and dedicated lounge. 
No matter which suite you book, whether it's a Grand Suite onboard Voyager of the Seas or the Royal Loft Suite onboard Quantum of the Seas, you can expect to access a dedicated suite lounge and reserved seating on the pool deck, benefit from the services of the suite concierge, receive double Crown and Anchor Society points, and get priority embarkation and disembarkation.  
Moreover, it is important to note that suites can only be booked with a non-refundable deposit, meaning that if you change your mind after booking and cancel before the final payment date, you will lose the full deposit that you placed. 
Here's a breakdown of what you can expect when you book a Royal Caribbean suite. 
Royal Suite Class
Image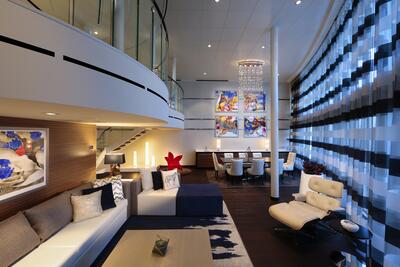 Onboard Oasis, Quantum, and Icon Class ships, you will find Royal Caribbean's Royal Suite Class, which is divided into three different tiers: Sky Class, Star Class, and Sea Class. Each tier offers unparalleled accommodations with top-notch living spaces and uniquely crafted experiences.
You should, however, be prepared to spend a pretty penny for these Royal Suites, as you will be receiving a premiere cruise experience compared to those staying in standard cabins and suites on older ships. 
Star Class
Image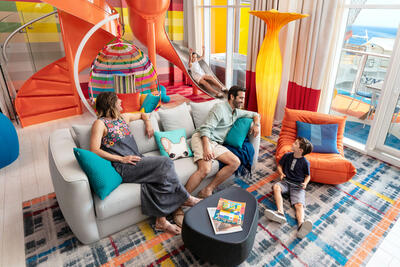 The highest tier of the Royal Suite Class is the Star Class, which is an all-inclusive pass to the most luxurious and spacious staterooms offered by Royal Caribbean.
When you stay in a Star Class suite, you will have access to a Royal Genie, who will serve as your VIP concierge. There is nothing too big or too small to ask of the Royal Genie; they aim to help create the perfectly curated cruise experience! 
Below is a list of all the perks those staying in a Star Class suite will receive: 
Exclusive Access to Royal Genie Service
All-Day Access to Coastal Kitchen
Complimentary Specialty Restaurants
Complimentary Deluxe Beverage Package for guests 21 years or older (or 18 and over where applicable by law)
Complimentary Refreshment Package (for guests under legal drinking age)
Still and Sparkling Water Replenished Daily
Complimentary Gratuities
Complimentary VOOM Internet Package
Image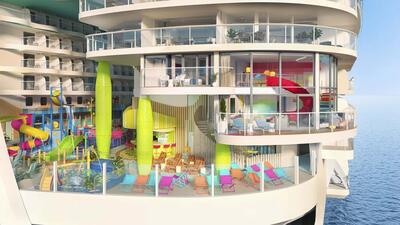 Expedited Boarding and Departure
Best Seats in the House in Select Entertainment Venues
Priority Entrance to Many Onboard Activities
Access to the Suite Lounge and Suite Sun Deck 
Royal Caribbean Plush Bathrobes for Use Onboard
Complimentary Minibar stocked with Coca-Cola® Beverages and Water
Complimentary Laundry and Pressing Services
Luxury Mattress and PillowsFrette® Linens
Luxury Bathroom Amenities
Lavazza Espresso Coffee Maker
Star Class suites include the Ultimate Family Townhouse and Ultimate Family Suite, Royal Loft Suite, Villa Suite, Owner's Loft Suite, Grand Loft Suite, 1 Bedroom Owner and Grand Panoramic Suites, Star Loft Suite, and 2 Bedroom AquaTheater Suites.
Sky Class
Image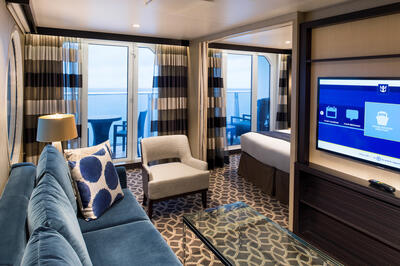 Although a step below the Star Class, guests staying in Sky Class suites will still receive a slew of benefits that will elevate their cruising experience compared to those staying in standard staterooms. 
Suites in the Sky Class are 1- and 2-bedroom Grand Suites, 1-bedroom Owner's and AquaTheatre Suites,  Crown Loft Suites, Sky Loft Suites, and Sky Junior Suite (Icon Class). 
When you book one of the above rooms, you will get the following benefits:
Concierge Service
All-Day Access to Coastal Kitchen
Specialty Bottled Water upon arrival
Complimentary VOOM Internet Package
Flexible Arrival Boarding & Priority Departure
Image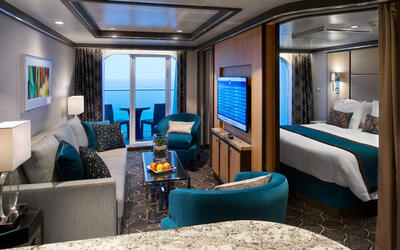 Priority Dining Reservations
Reserved seating section in select entertainment venues (reservations required)
Access to the Suite Lounge and Suite Sun Deck 
Royal Caribbean Plush Bathrobes for Use Onboard
Luxury Pillow Top Mattress
Luxury Bathroom Amenities
Lavazza Espresso Coffee Machine
Sea Class
Image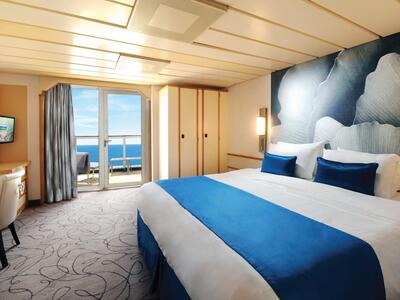 The only suites in the Sea Class are Junior Suites, meaning that these rooms have the least amount of benefits. The primary reason for booking a Junior Suite is to have more living space, rather than trying to gain any substantial perks. 
While you'll still get the same luxury pillow top mattress, bathroom amenities, plush bathrobes, and Lavazza espresso coffee machine as all other Royal Suite Class guests, the only other benefit is that you are able to dine at Coastal Kitchen for dinner based on availability. 
Suites onboard the rest of the fleet
Image
The suite experience onboard Vision, Radiance, Voyager, and Freedom Class ships is more standardized. Like the Royal Suite Class, though, the suite you book will determine what perks you will get. Junior Suites, for instance, only include double loyalty points, priority boarding, bathrobes, luxury bathroom amenities, and a Lavazza espresso machine.
Grand Suites, Ocean View and Panoramic Suites, and Owner's Suites get more benefits that might make them worth the price difference, depending on how you're hoping to spend your time onboard. In addition to all the Junior Suite perks, you will also get:
A pillow-top Mattress
Priority Departure
Concierge Service
Suite Lounge/Concierge Club Access
Priority Dining Reservations, Spa Booking, Shore Excursion Ticketing, and Tendering
Suite Party Invitation (On Itineraries of 5+ Nights)
Bridge, Galley & Backstage Tours
VIP Pool Deck Seating (Voyager Class and Above)
Image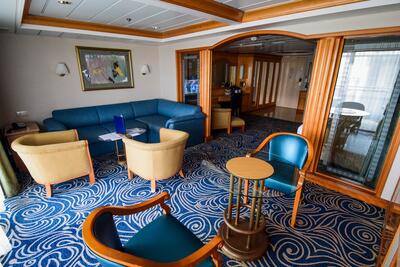 Welcome Evian & Fruit Amenity
Main Dining Menu Available for In-suite Dining (During Operating Hours)
Complimentary 24-Hour Room Service
Private Lunch Seating Available on Ships without Coastal Kitchen
Private Breakfast Seating Available on Ships without Coastal Kitchen
Departure Breakfast
Reserved Section in Theater
Complimentary Pressing on First Formal Night
Sign-up Fee Waived for Luggage Valet Service
Royal and Villa Suites have the most perks. This, however, means they are the most expensive suites that you can book on older ships! 
You will get all the benefits that Grand Suite, Ocean View and Panoramic Suite, and Owner's Suite guests get, plus an officer escort onboard the ship from the terminal during check-in, as well as welcome Moët & Chandon.