What Is a Galley on a Cruise Ship?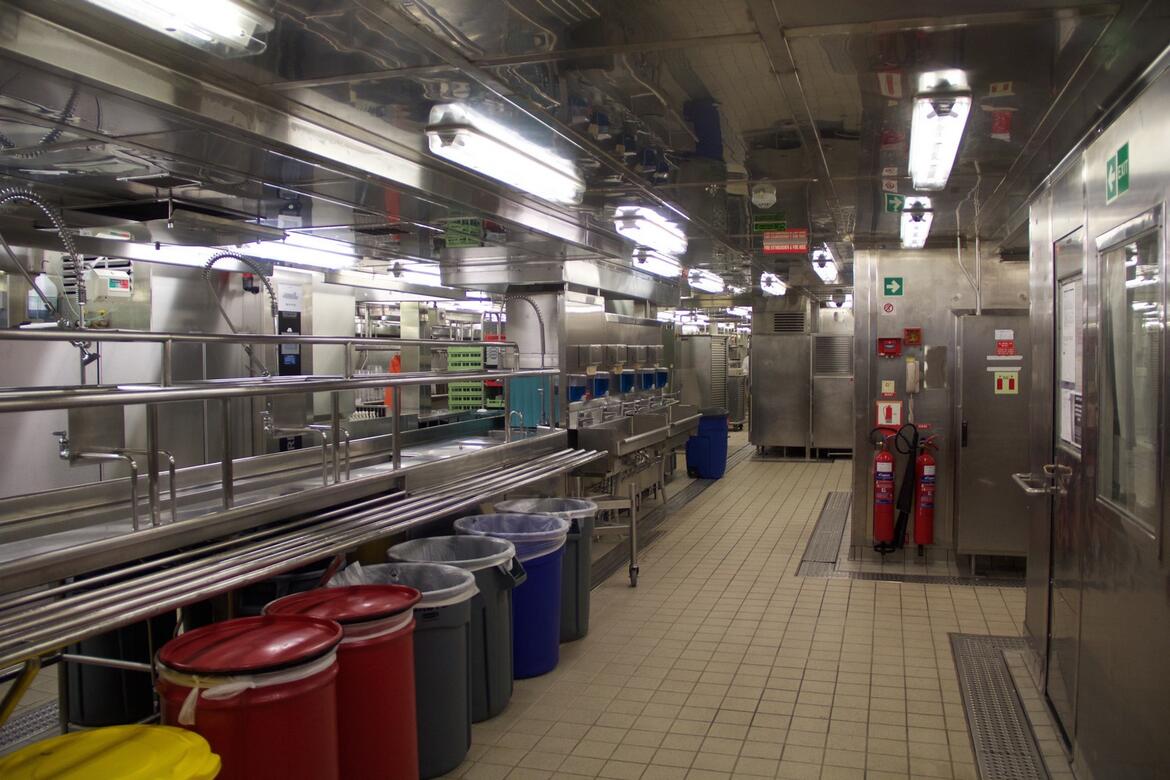 Life at sea is, undoubtedly, different from life on land, lending itself to its own set of rules, protocols, customs and even language. If you truly want to feel like a cruise insider, you'll need to learn the appropriate lingo.
So, what is a galley on a ship?
Quite simply, the galley on a vessel is the kitchen -- the place where food is prepared. On modern cruise ships, there are separate galleys for crew and passengers; some of the largest ships have more than one passenger galley in order to provide the best service to several main dining rooms, alternative eateries and the buffet.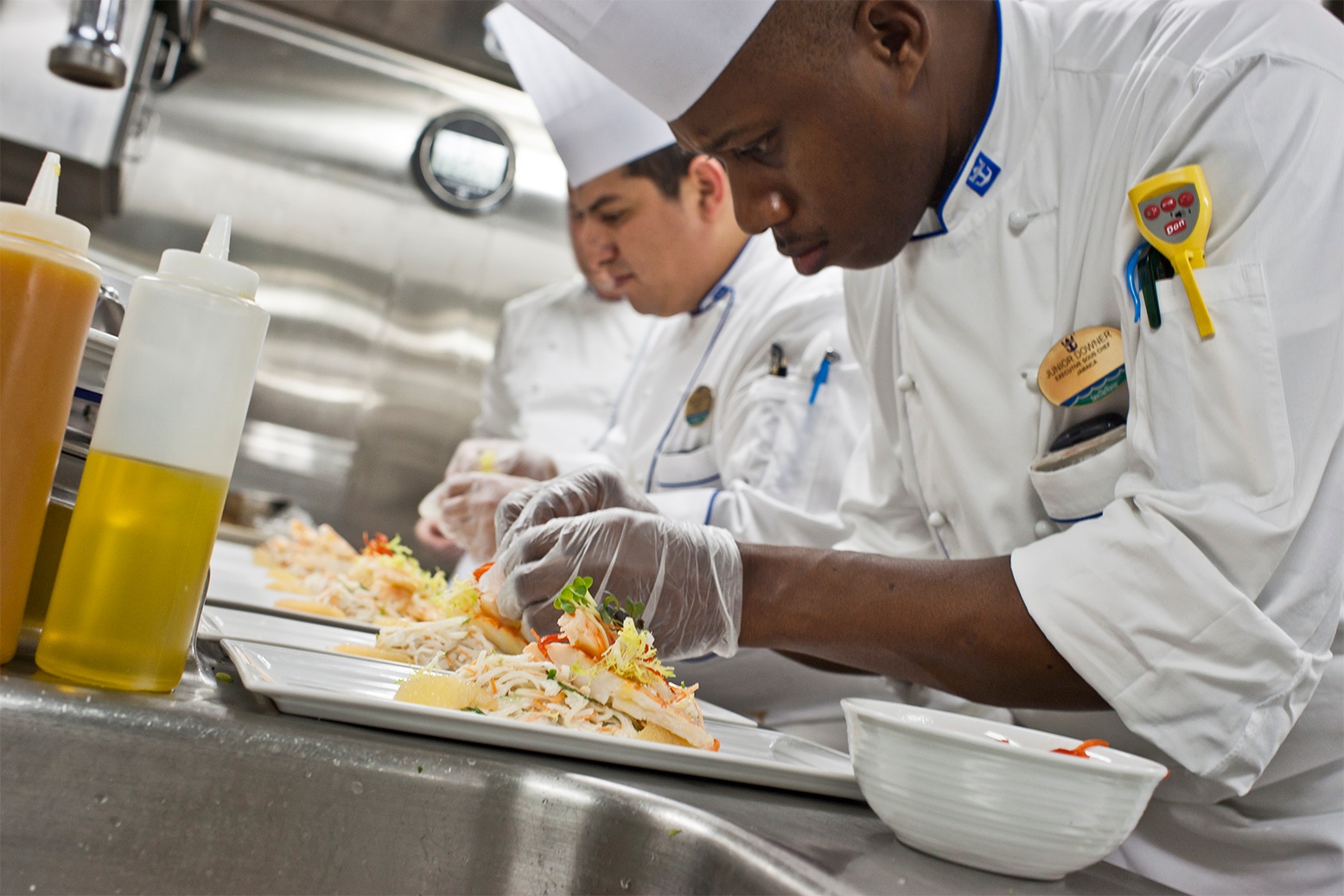 How are galleys set up on a cruise?
Galleys are most often organized as a warren of stainless-steel facilities. Think counters, ovens, stoves, kettles, refrigerators, sinks, carts, food storage racks and handwashing stations. It's also where the culinary team keeps its tools for food preparation: baking sheets, bowls, cooking utensils, mixers, thermometers and smallware for plating, to name just a few.
Additionally, there are often bulletin boards laden with lists of menu items for the duration of the sailing, along with nutritional information and allergens so cooks and waiters can easily answer the questions of passengers with dietary restrictions and find them suitable alternatives.
Generally, there are separate areas for the preparation of each course -- appetizers, mains and desserts. Because most main dining rooms will handle hundreds or thousands of passengers per meal, courses are plated at an alarmingly fast pace to keep up with demand as dishes are ordered.
While some galleys are on the same deck as, and directly connected to, the dining rooms they serve, others are on totally different decks. The latter requires the waitstaff to run down and then back up stairs (or, on some vessels, escalators) while juggling your food or your dirty dishes.
A section of the galley is usually also home to large automatic dishwashers, which a dedicated team uses to clean and sanitize the items your waiter clears from your table after each course.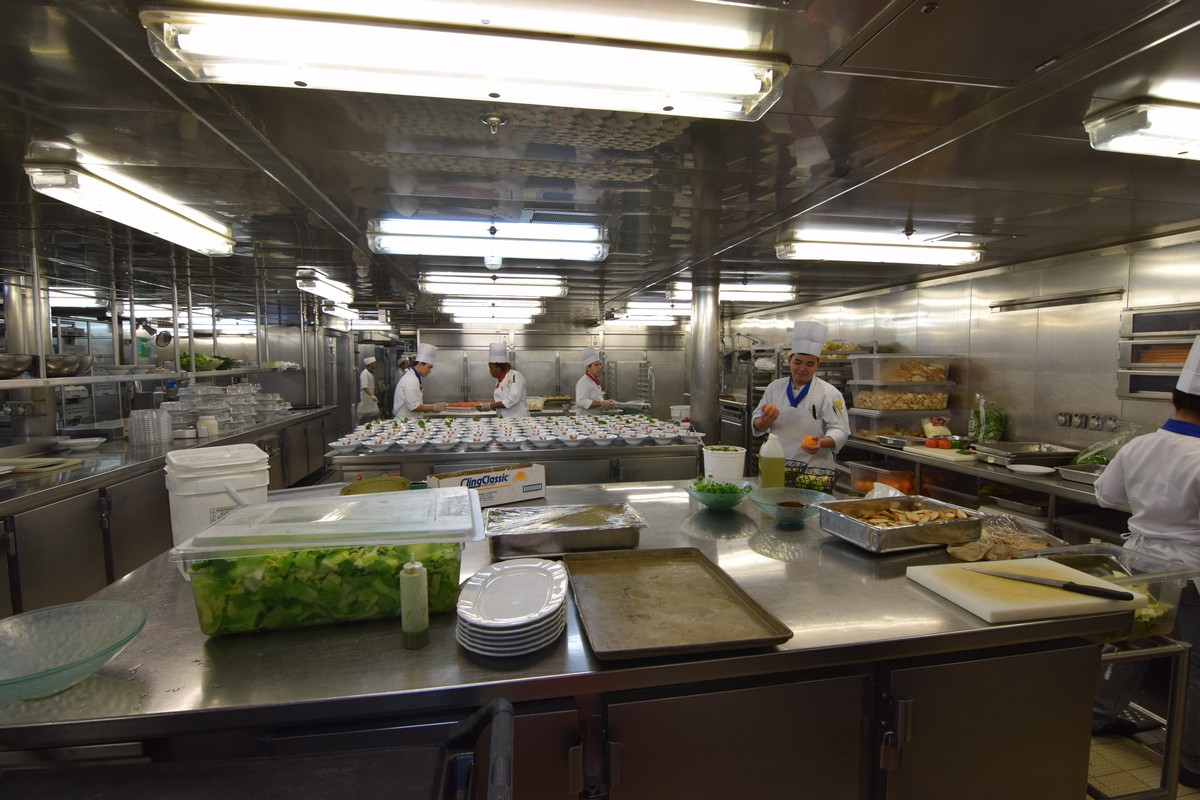 Are cruise ship galleys clean?
Speaking of clean dishes, galleys employ the highest cleanliness standards. Culinary crew wear gloves, frequent handwashing is mandatory, and surfaces are sanitized routinely.
Ships that call on United States ports see these practices monitored via unannounced inspections by the Centers for Disease Control's Vessel Sanitation Program. The program also makes sure proper food storage and preparation rules are being followed by checking the temperatures and manner in which ingredients are stored and cooked.
Additionally, in an effort to avoid contaminating food or spreading germs, culinary crew are told not to report to work if they feel under the weather.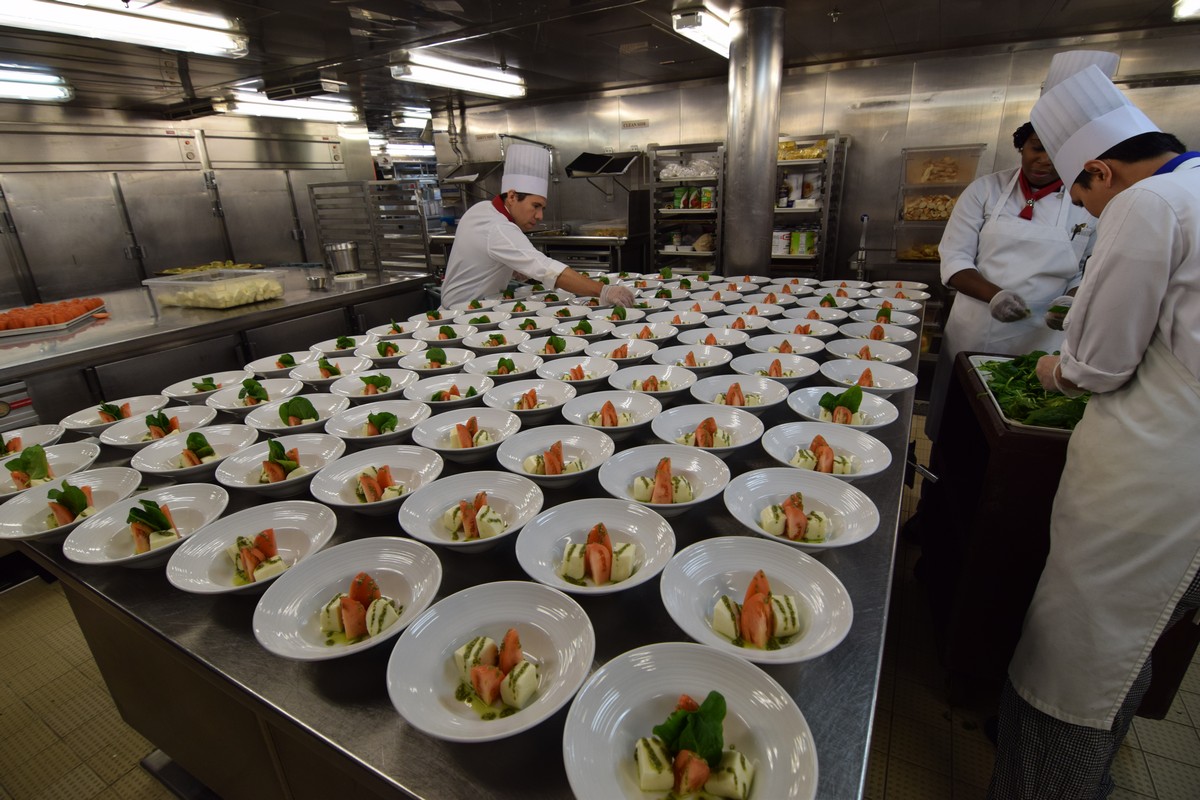 Can I visit the galley on my cruise?
This varies from vessel to vessel, depending on the rules of the cruise line and the executive chef -- the highest-ranking chef onboard, who oversees the rest of the culinary department.
Some ships offer a quick walk-through at a set time for any passenger interested in seeing the galley in action. Other ships take a pay-for-the-privilege approach, where passengers incur a fee to peek behind the scenes.
Whoever gives the tour might touch on tidbits like how early the crew begins prepping for the next day's meals, how and where food items are sourced and stored (spoiler: they're almost always kept on a lower deck until needed, in a clean, secure dry-storage area or freezer), and whether anything is made from scratch onboard, as is often the case with bread, pastries and other baked goods.
In addition to witnessing the well-oiled machine that is a cruise ship galley, what you're likely to hear about on one of these tours is just how many moving parts are involved. Ultimately, feeding everyone on a ship that carries thousands of people is no easy feat, and you're likely to be left in awe of how the culinary and hospitality crews have mastered the logistics.