Norwegian Cruise Line and MSC Cruises are both upping their "mega ship game" with the release of the Norwegian Prima in August 2022 and upcoming MSC World Europa. 
Aside from their newest ships, both cruise lines have a lot to offer potential cruises. If you're looking for a breakdown of MSC vs. Norwegian cruises, you've come to the right place. We've rounded up information on cabins, dining, things to do, and more.
Overall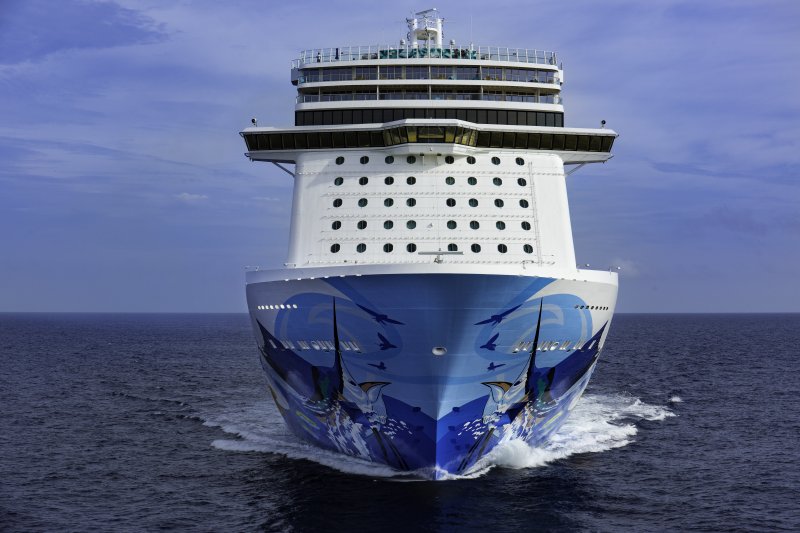 Both cruise lines are energetic and upbeat. They include plenty of onboard activities for all ages, but they're also solid choices for families.
Norwegian features casual, affordable fun, and innovative additions to its newest vessels. A few of these include ropes courses, laser tag, go-karts and virtual-reality gaming. Ships in Norwegian's fleet can feel a bit like Las Vegas at sea, particularly on its newer ships, which house 678 Ocean Place. This three-deck atrium and social hub aggregates entertainment venues, restaurants, and the onboard casino.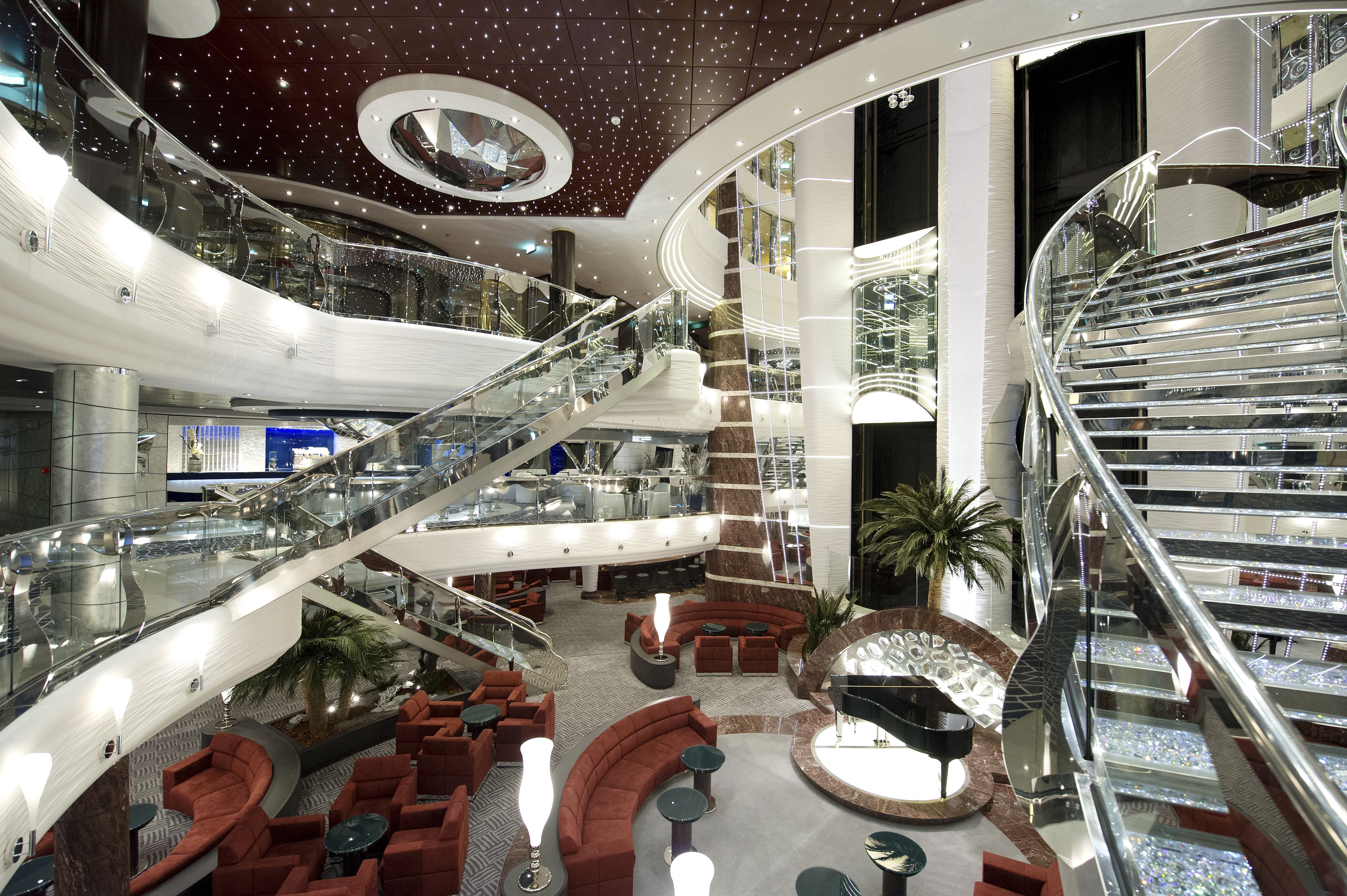 MSC, on the other hand, offers a glitzier atmosphere. Swarovski crystal staircases and fine art touches lend themselves to an elegant -- but still casual -- experience. Although the line has some ships designed specifically with North Americans in mind, it has a largely international cruiser base. That means key announcements are often made in several languages, and meals are leisurely, sometimes lasting hours.
Both lines pride themselves on adopting the latest in onboard technology, from in-cabin virtual assistants that can give you the latest news or weather reports to apps and digital signage that prevent you from getting lost onboard and allow you to make reservations for dinner and shows.
You should expect to pay extra for the flashiest offerings on both lines' ships -- particularly the newest vessels.
Food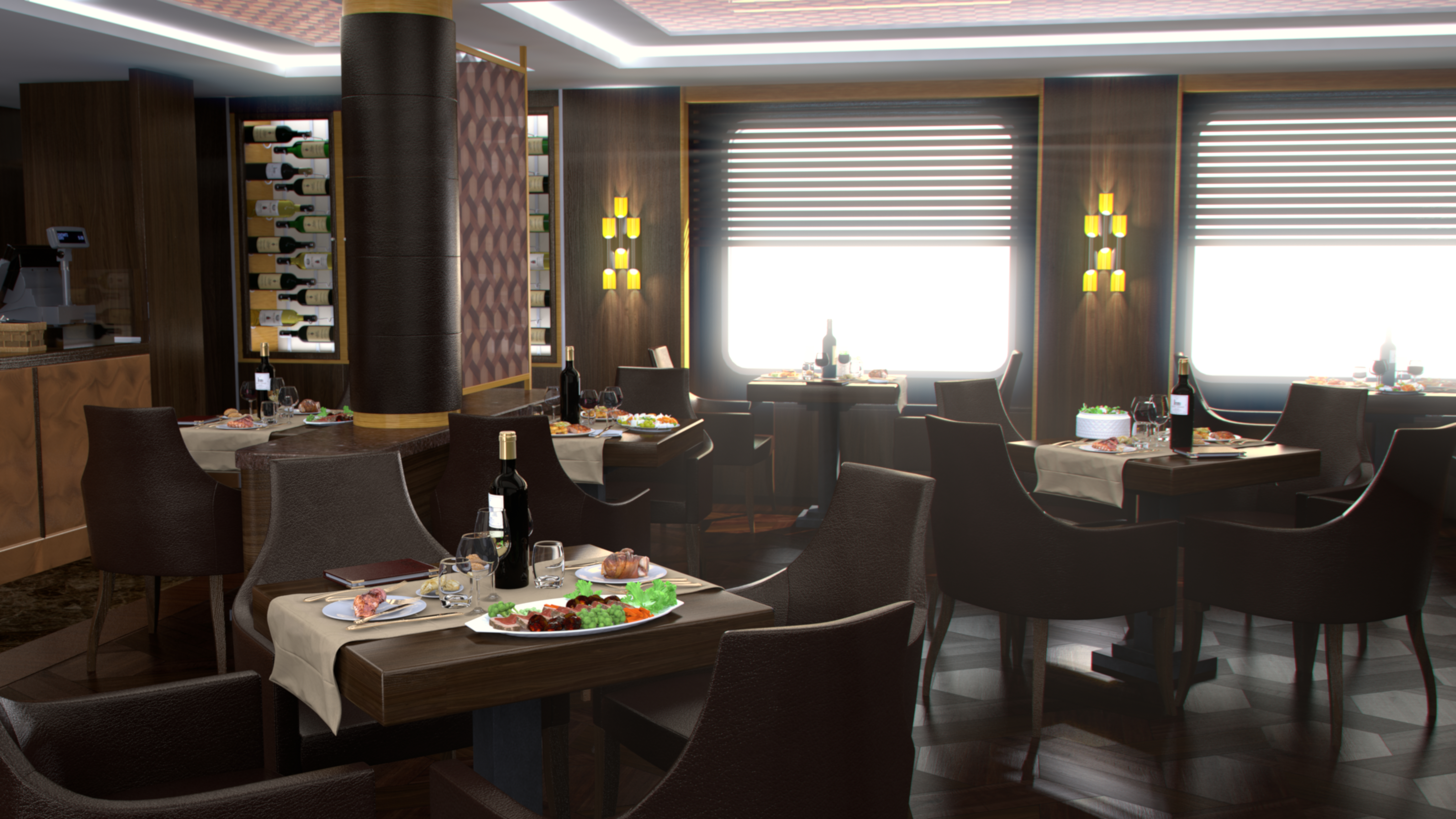 Norwegian and MSC offer free meals for breakfast, lunch and dinner in the onboard self-service buffets and waiter-served main dining rooms.
All Norwegian passengers dine on a flexible schedule, meaning they can eat at any time between set hours. MSC passengers can choose from set-seating (fixed dining time at the same table every night, with the same waiters) or flexible dining for dinner, but the choice between these two options is only available to cruisers who pay for the privilege (See the "Cabins" section below for information about MSC's experience tiers).
Cruisers will also find alternative eateries on the ships in both lines' fleets, meaning passengers aren't limited to just the buffet or main dining room.
The lines offer a similar number of alternative restaurants, and you'll pay extra for most of them. Food is excellent on MSC, particularly on newer ships, which feature a steakhouse; pub fare; seafood and Spanish tapas in a partnership with chef Ramon Freixa; Asian-fusion, hibachi and sushi with a menu designed by chef Roy Yamaguchi; and gelato, crepes, and a variety of fun beverages from a link-up with Italian chocolatier Venchi.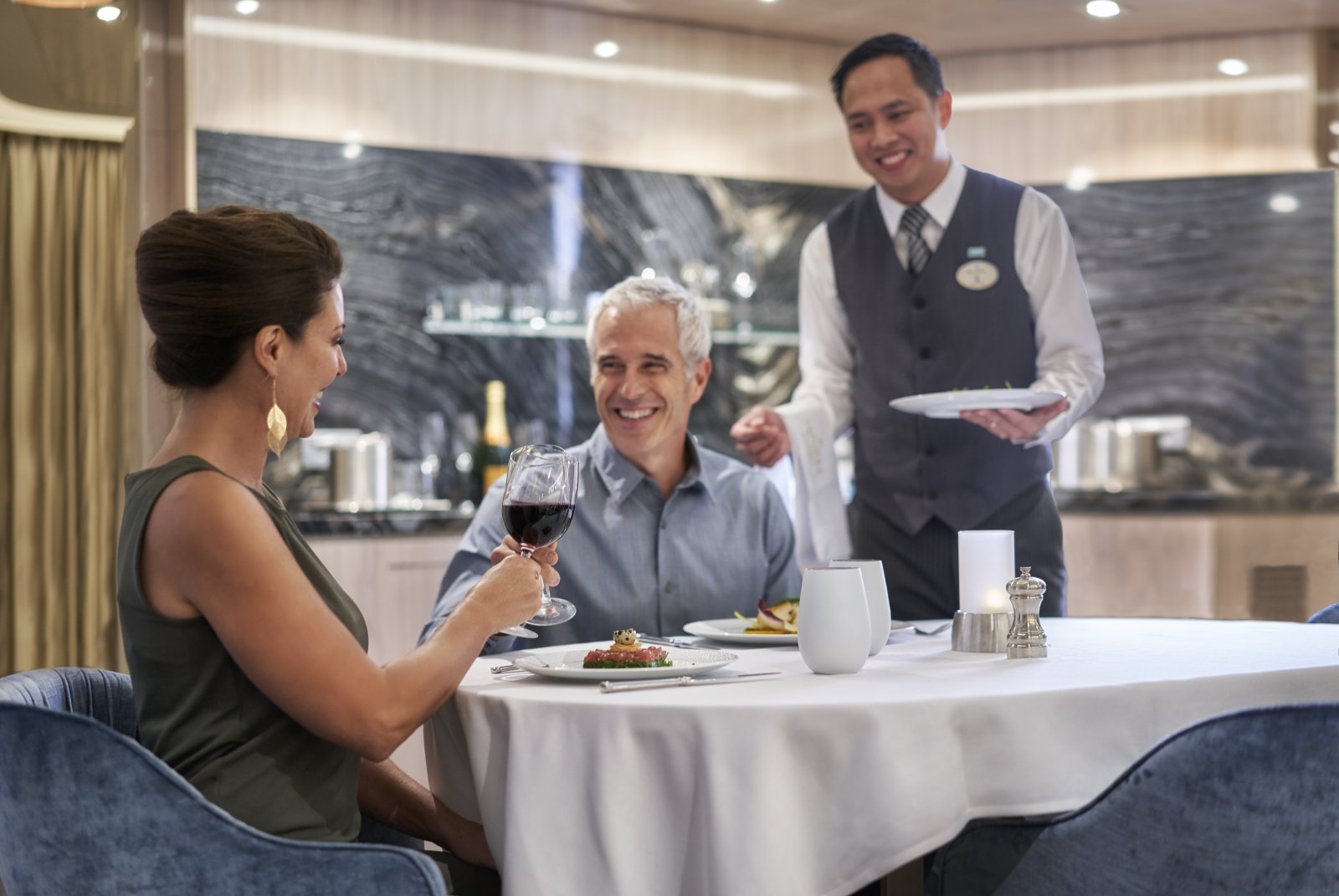 Norwegian Cruise Line is known for their signature steakhouse, Cagney's, French restaurant, Le Bistro, and Italian restaurant, La Cucina. These three options are available on most ships in their fleet.
Depending on ship, cruises will also have the option to dine at a hibachi grill, a Brazilian steakhouse, BBQ, seafood, or Spanish tapas. 
If you're searching for a quick, complimentary bite, try MSC's buffet pizza and Norwegian's pub grub at O'Sheehan's or The Local.
Cabins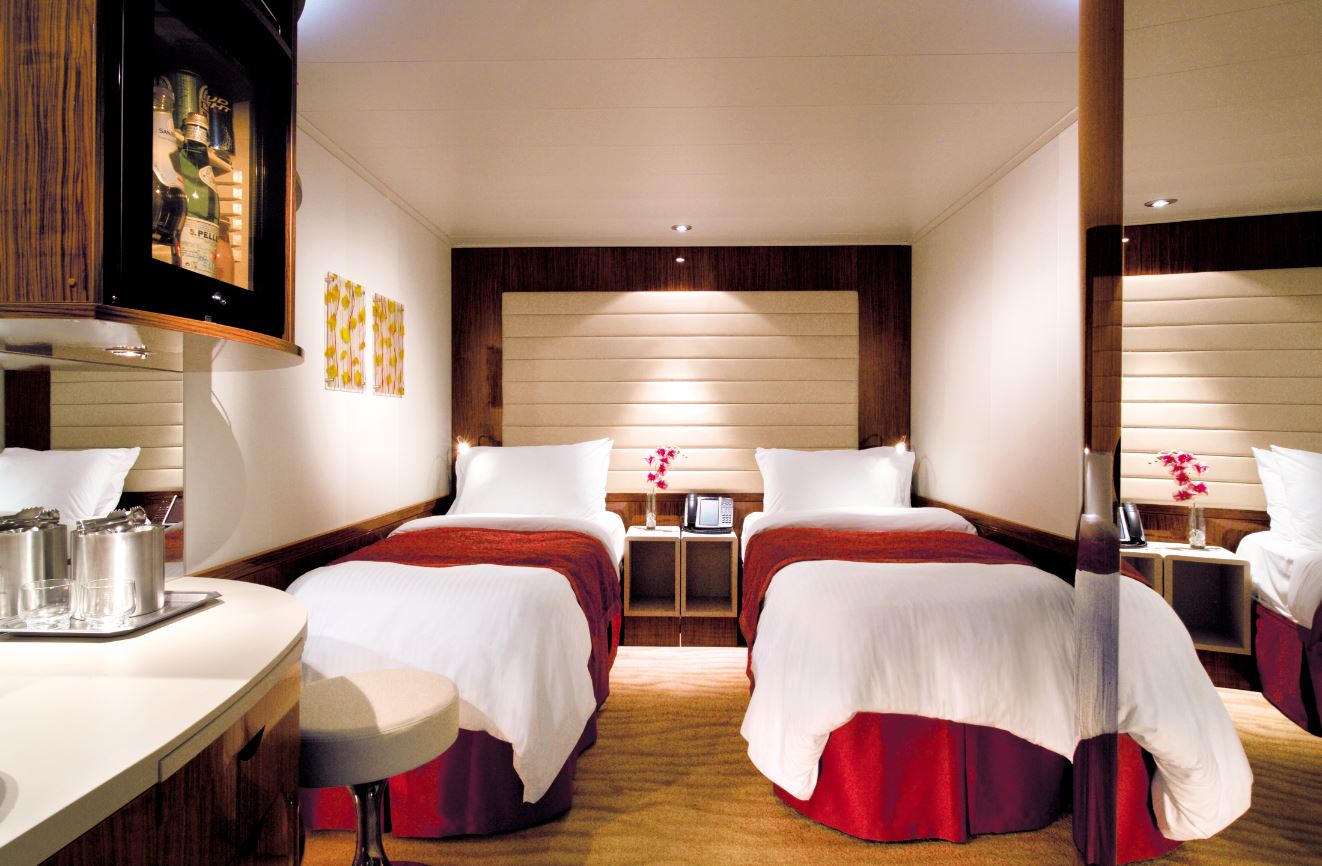 Whether you plan to spend tons of time in your cabin or think you'll only be in there to shower and sleep, stateroom choice is key to your overall cruise.
Both lines provide passengers with well-appointed accommodations. MSC's are furnished with elegant decor across the board, while Norwegian's aesthetic is more split -- contemporary neutrals on its newest ships and slightly more "fun" and colorful designs on its older ones.
Norwegian shines with The Haven, an exclusive enclave of cabins on some ships, which includes butler and concierge service, as well as access to private amenities like a dedicated pool and restaurant.
NCL's most standout suites are its Garden Villas, which each sleep up to eight people -- ideal for large groups traveling together. Most include a living room setup with entertainment system, separate bedrooms and bathrooms, a dining table, bar area, large balconies, a baby grand piano and a private sun deck area.
The line also provides a number of studio cabins for solo cruisers, complete with access to a dedicated lounge for those sailing by themselves. For passengers traveling with kids, Norwegian has an impressive selection of family-friendly staterooms in a variety of inside, outside and balcony categories.
For its part, MSC also has solo cabins (but only on two of its vessels), as well as a selection of cabins for families or other groups traveling together, but in order to choose those staterooms, passengers must book a higher-tiered experience.
What we mean by "higher-tiered experience" is that cruisers must choose from a list of four different levels of inclusion -- Bella, Fantastica, Aurea and Yacht Club -- for their sailings. Those levels determine whether travelers are allowed to choose a cabin type or a dining time (or flexible dining). The tiers also offer additional perks like spa discounts and priority boarding.
Bella, the most basic and least expensive, means passengers are assigned a cabin and a set dining time and receive no additional perks. The most lavish (and, of course, pricey) is Yacht Club, which is tied to an exclusive enclave of private cabins with the same name.
Yacht Club staterooms offer a ship-within-a-ship experience via access to restaurant, pool, and lounge areas that are reserved for Yacht Club passengers only. Yacht Club accommodations are some of the largest and most impressive at sea, offering concierge and butler services, priority embarkation and disembarkation, and free alcoholic beverages within the Yacht Club area.
Things to Do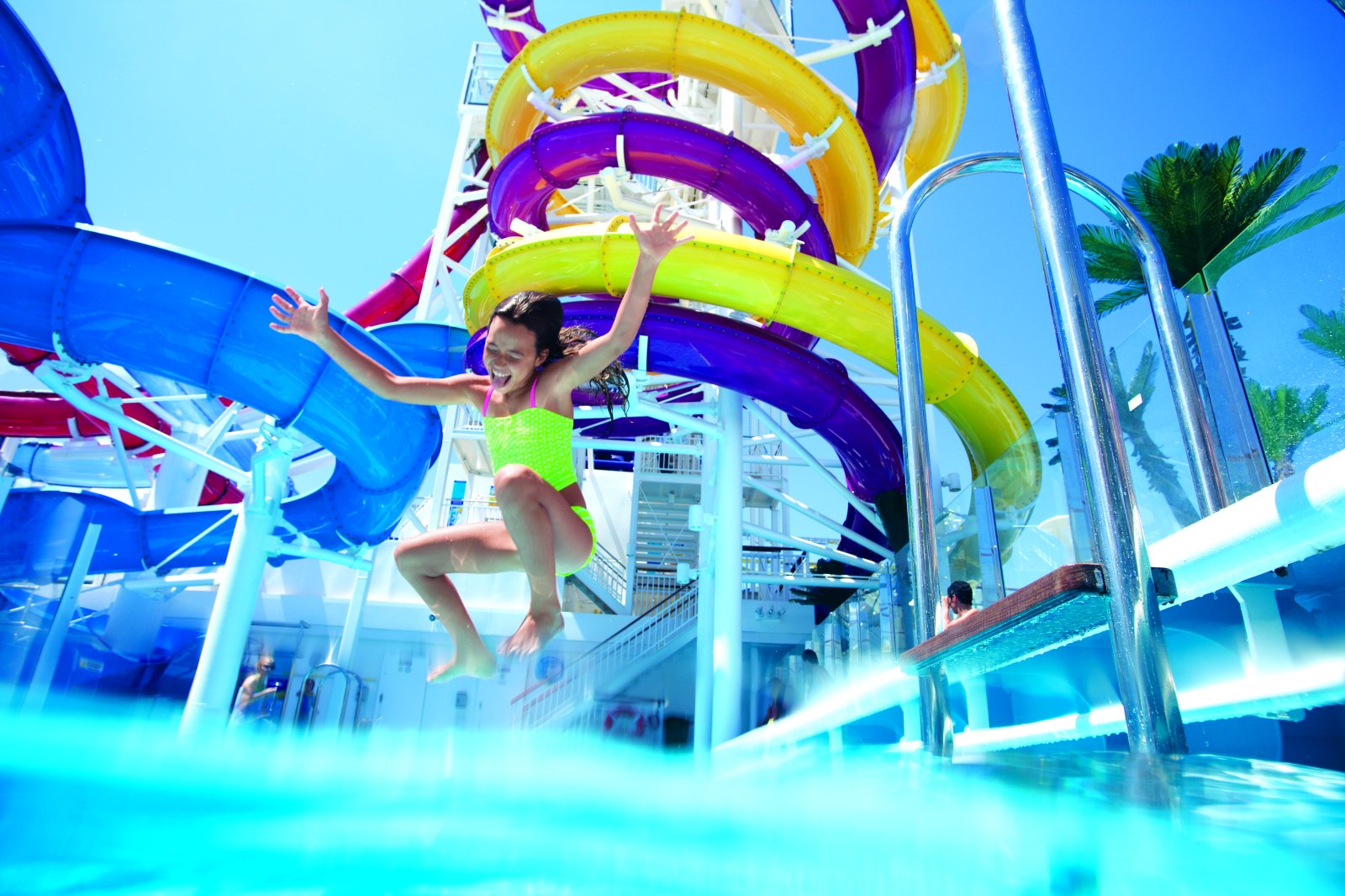 Whether you'd rather relax on vacation or you want to be active onboard, you'll find what you're looking for with MSC Cruises or Norwegian Cruise Line. Both offer plenty of quiet places for reading, sun decks for perfecting your tan, spas for treatments like facials and massages, and areas just for adults if you want some time away from the kids.
There are several differences between activities on Norwegian vs. MSC. In general, MSC drops jaws with its nightly entertainment, from opera and magic to acrobatics, while Norwegian is more about variety -- think belly-flop contests by the pool, casino events, improv comedy and dueling pianos, as well as Broadway show performances.
MSC features dual ziplines on its newest vessels; although they weren't the first ship-based ziplines, they are the industry's longest. Riding them comes with an added fee, however, as do other daytime activities like bowling, 4D cinemas and billiards. Norwegian's gratis adrenaline-pumping activities include outdoor rock climbing walls, ropes courses, and laser tag, in addition to escape rooms on some of its newest ships.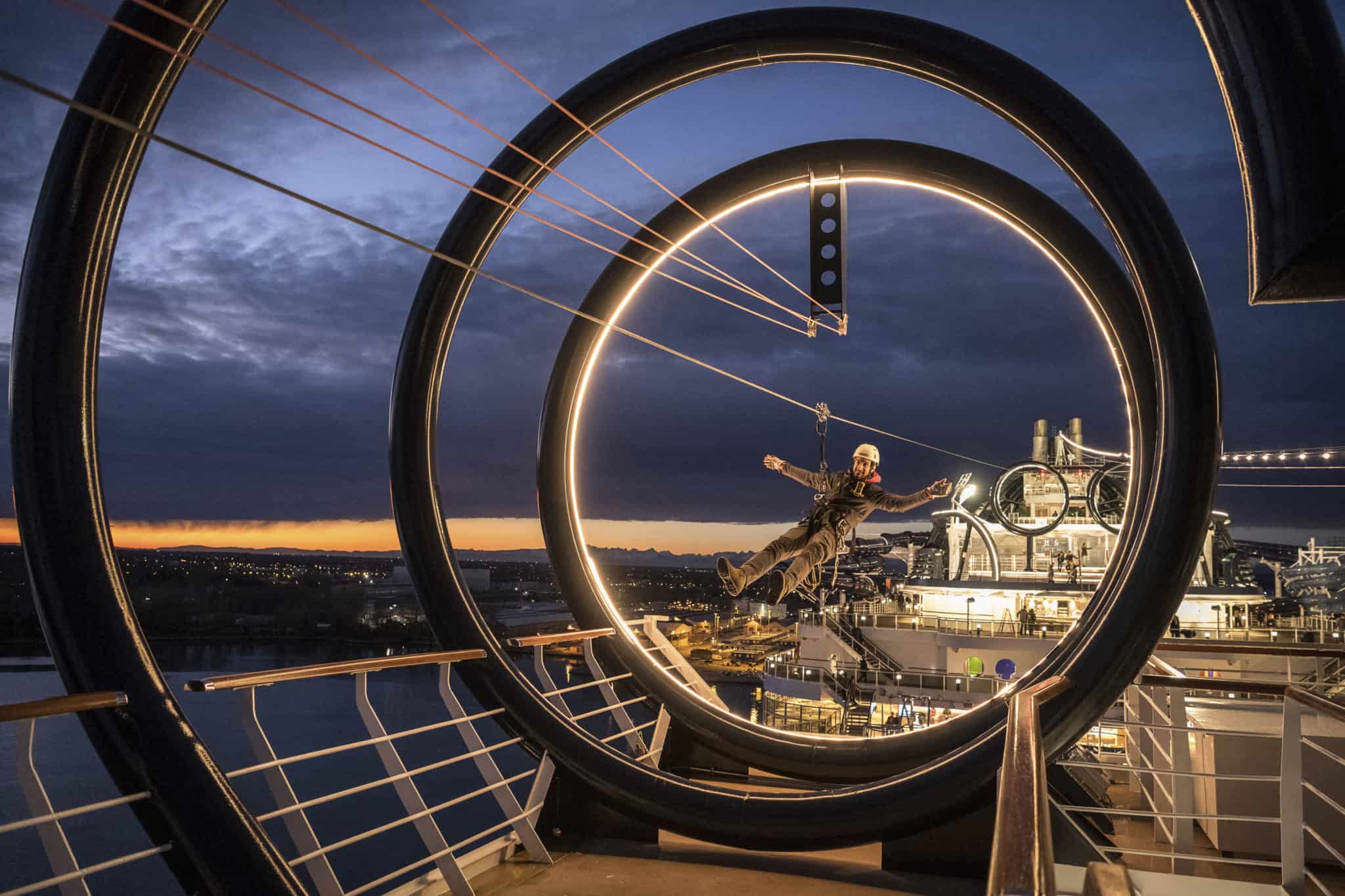 Additionally, both lines have packed daily schedules filled with trivia, bingo, movie screenings, dance lessons, port talks, shopping opportunities and live music. Further amenities -- like fitness centers, for-fee arcades and nightclubs with DJ-spun music -- allow cruisers to make their own fun without a schedule.
Further, Norwegian presents a variety of game shows, including "Battle of the Sexes," and the "Newlywed/Not So Newlywed Game." The line has also given its newest ships a heavy focus on gaming by introducing Galaxy Pavilion, an extra-fee complex that encompasses a large arcade and a series of virtual-reality rides that make you feel like you're evading dinosaurs, walking a tightrope high above city streets or hang gliding through the mountains. It has also outfitted a couple of its new ships  with go-karts that carry a surcharge.
You'll find plenty to keep yourself busy outdoors during the day, too, with both lines providing at least one pool (but usually two or more) on every ship, along with children's splash areas, mini-golf courses, jogging tracks and basketball courts on most vessels.
Both cruise lines have also included water slides on the top decks of their most recent ships. Depending on the ship, Norwegian's Aqua Park boasts as many as five slides that include a mix of two racing slides, a freefall slide, family-friendly tube slides and a slide that spits passengers out into a large bowl-shaped structure.
Meanwhile, MSC's latest ships are outfitted with up to four slides: a standard slide, two racings slides and a fourth one used for "slideboarding," which puts riders on a board that allows them to push buttons corresponding with lights that flash inside the slide as they're gliding through it (sort of like a video game).
At night, cruisers have a lot to look forward to with both lines. Over the years, Norwegian has showcased several Broadway productions -- including "Legally Blonde," "Rock of Ages," "Priscilla, Queen of the Desert" and "Six" -- on select ships. Additionally, the line's Latin-meets-ballroom dance show "Burn the Floor" has been a hit with passengers.
However, nothing beats MSC when it comes to sheer after-dinner wow factor. Although the entertainment on most of the line's North America-based ships caters to an English-speaking audience (read: you can expect more comedic performances because the dialogue doesn't present an issue with language barriers), many of the line's vessels sail in the Mediterranean, which means the passengers are more diverse, hailing from a number of countries that speak different languages.
As a result, MSC focuses largely on entertainment that requires few words: magic, acrobatics, contortion and music. Loose storylines are overshadowed by lavish costumes and scenery, especially on ships where the line's partnership with Cirque du Soleil creates a visually stunning experience for cruisers.
For children, both Norwegian and MSC have created clubs with plenty to keep the youngest cruisers busy and entertained. Both feature complimentary daytime activities like game play, story time, scavenger hunts and dance parties. MSC also features Doremi (pronounced "doh-ray-mee") and friends characters and partnerships with LEGO and Chicco.
Price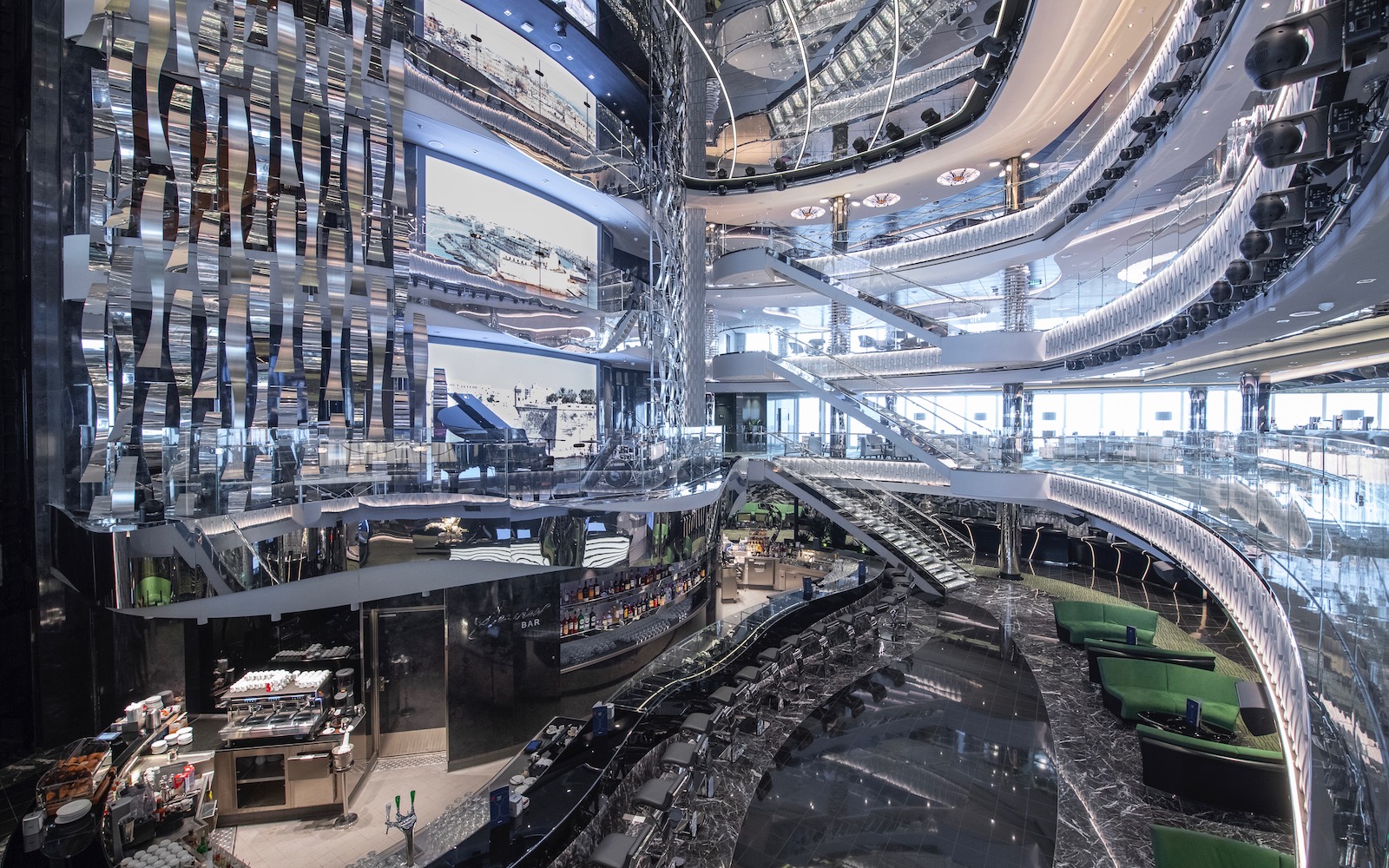 Prices for both lines vary based on several factors, including ship, destination, cruise length, cabin type and add-ons. With either line, you'll find more expensive pricing on newer ships, particularly if you book a suite.
That being said, Norwegian Cruise Line tends to be more expensive, partially because of their "Free at Sea" program. When booking, guests are given the opportunity to select up to different perks to be included in their fare: Wi-Fi, speciality dining, shore excursions, beverage packages.  While this does raise the cost of the base fare, it provides a more all-inclusive experience. 
Since MSC Cruises offers different tiers, you can often score a fantastic deal on a sailing -- if you're willing to book with certain restrictions. 
Expect to pay extra fees for the newest, flashiest bells and whistles with both lines. MSC charges for zipline use, as well as things like billiards, bowling, and the Formula One racing simulator, while NCL will levy a fee for you to try bowling, laser tag, and virtual-reality simulators.
Norwegian offers only flexible dining, and although MSC offers passengers a choice of set or flexible seating at dinner, it comes at the price of a more expensive cabin booking.