As we usher out the old year and prepare for a new one, this is the time when we're most excited about new ships that will be launching in the coming months. One of the most anticipated is, of course, Carnival Mardi Gras. 
Carnival Cruise Line took delivery of the ship on December 18, 2020, but due to a temporary halt in operations at Meyer Turku in Finland due to the coronavirus pandemic, where the vessel was built, its big debut was been delayed until April 2021.
To help you prepare to sail on Carnival's largest ship to date, here's a list of 10 fun things you can only find on Carnival Mardi Gras (at least until the launch of its two sister ships Carnival Celebration in late 2022 and Carnival Jubilee in 2023).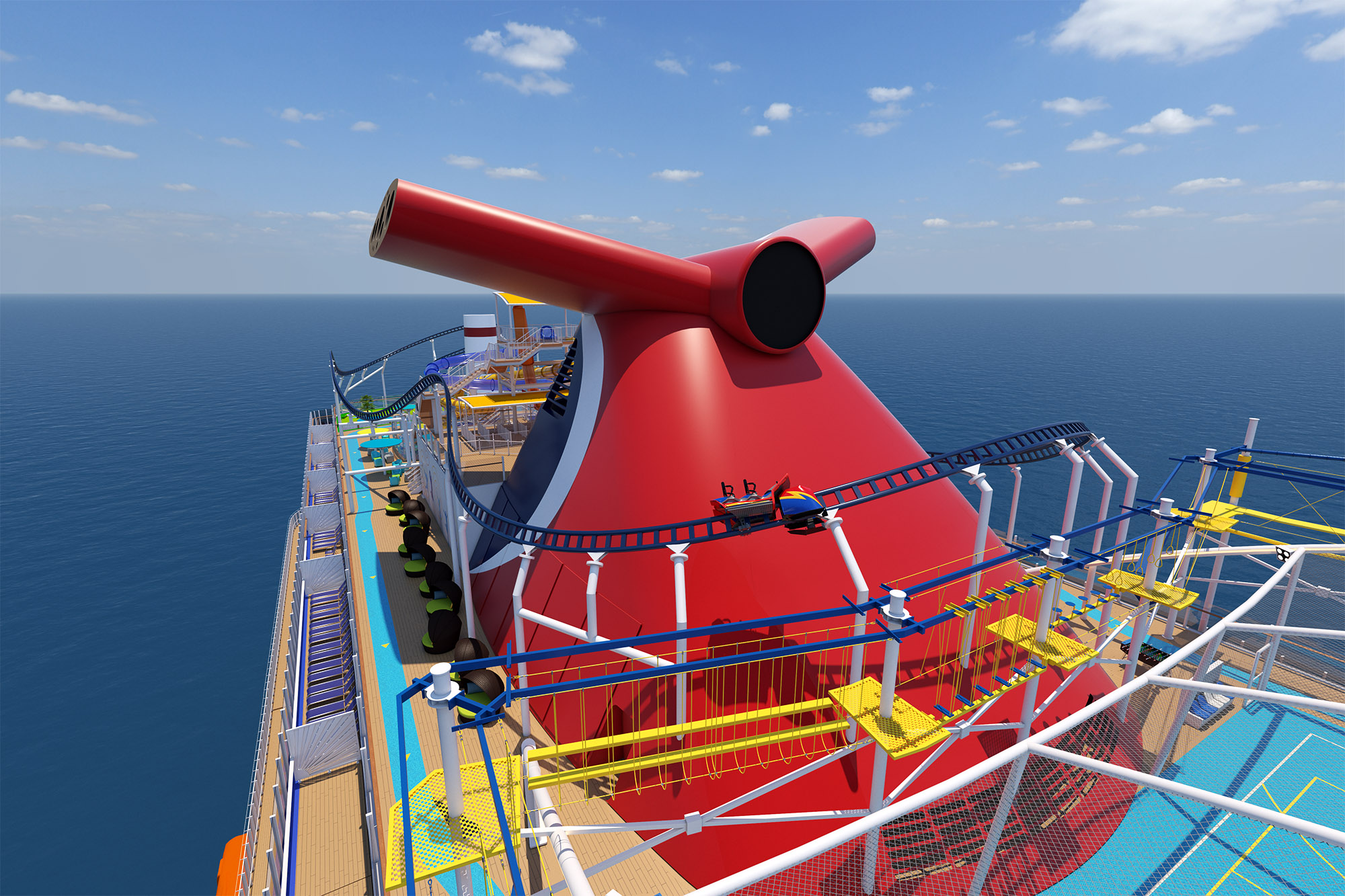 1. Bolt Roller Coaster
Always upping the ante on its top-deck offerings, Carnival has added Bolt, the first roller coaster at sea, to Mardi Gras.
Passengers will board the two-person car on Deck 18 and zip around the upper decks, reaching nearly 40 miles per hour -- or slower, as the front passenger wants is able to control the car's speed -- as they take in spectacular ocean views.
2. LNG Power
Although Mardi Gras won't be the first cruise ship to run on liquefied natural gas -- a fuel that greatly reduces sulfur, nitrogen oxide and greenhouse gas emissions, as well as particulates -- it will be the first in the Carnival fleet.
With plans to homeport in Port Canaveral, it's the first LNG vessel to sail from North America.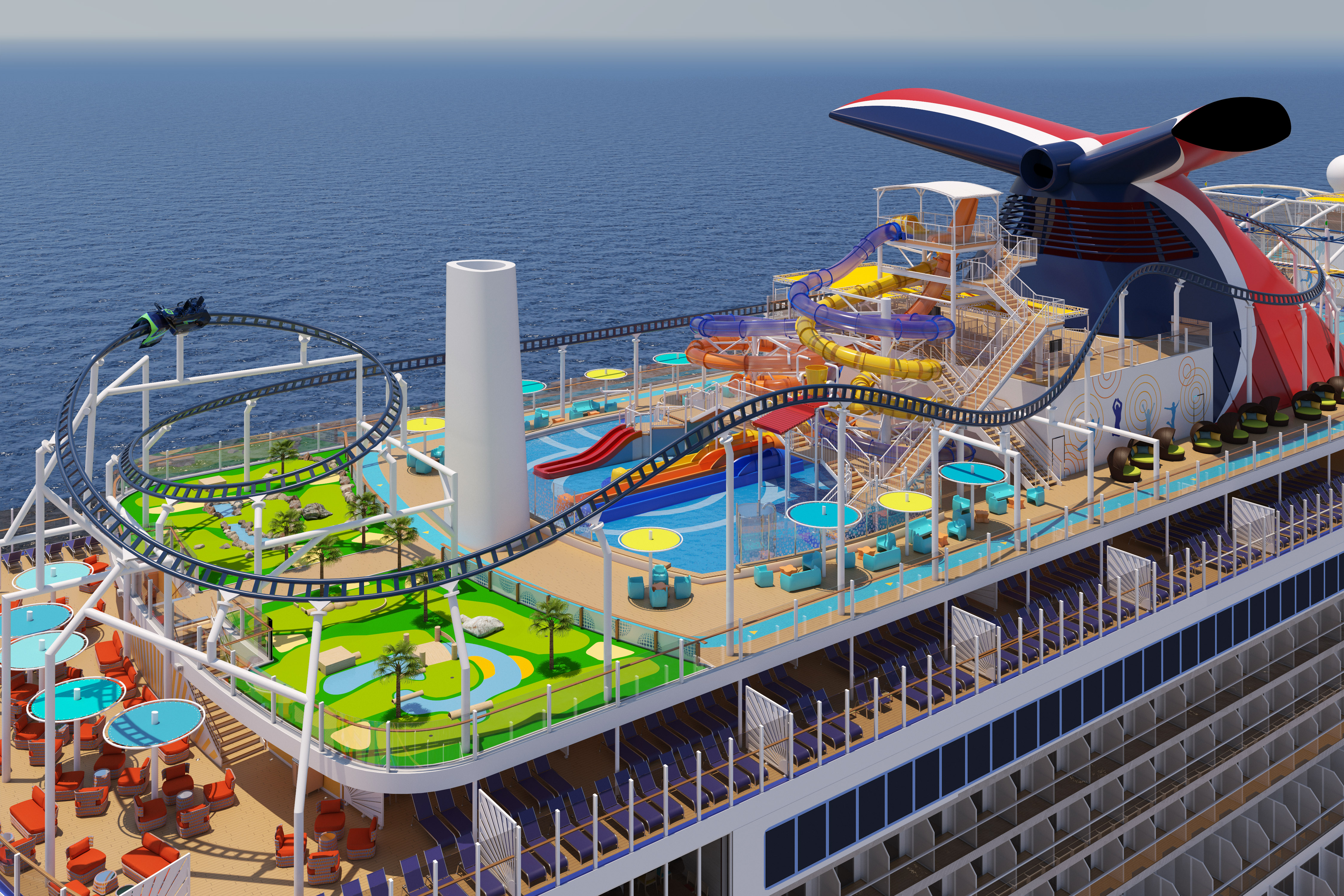 3. Six Fun Zones
With regard to Mardi Gras' layout, Carnival has designed it around six "Fun Zones": Grand Central, French Quarter, La Piazza, Summer Landing, Lido and Ultimate Playground.
Although Royal Caribbean introduced its "neighborhood" concept on Oasis of the Seas in 2009, Carnival's rendition will feature three areas that are culturally themed, so don't expect to see a Boardwalk or Central Park neighborhood onboard!
Grand Central will serve as the central atrium, evoking the bustle of New York City's Grand Central Station, while the French Quarter will include elements inspired by New Orleans, and La Piazza will boast an Italian theme.
4. Emeril's Bistro 1396
Part of the French Quarter zone, Emeril's Bistro 1396 -- 1396 is the number Mardi Gras was assigned by the shipyard during its construction -- will be Chef Emeril Lagasse's first foray into at-sea culinary offerings. The menu will feature Cajun cuisine, such as barbecue shrimp, muffuletta, and po'boys.
5. Grand Central Atrium
The Grand Central Atrium will be different from any other atrium on a ship, thanks to its side-facing design. Instead of taking up real estate in the middle of the vessel, it will face out to one side, offering expansive three-deck sea views through 3,000 square feet of windows.
It will also include a small performance space.
6. Navy Hull With Stripes
In a departure from its traditionally plain hulls, Carnival will add a navy blue wave design with red and white stripes to Mardi Gras. Carnival Celebration and Jubilee -- sister ships to Mardi Gras, scheduled to arrive in late 2022 and 2023, respectfully -- will have the same look, but for now it's unique to Mardi Gras.
Over the past two years, Carnival Cruise Line has introduced this new livery to older ships. That being said, it was first introduced on the Mardi Gras.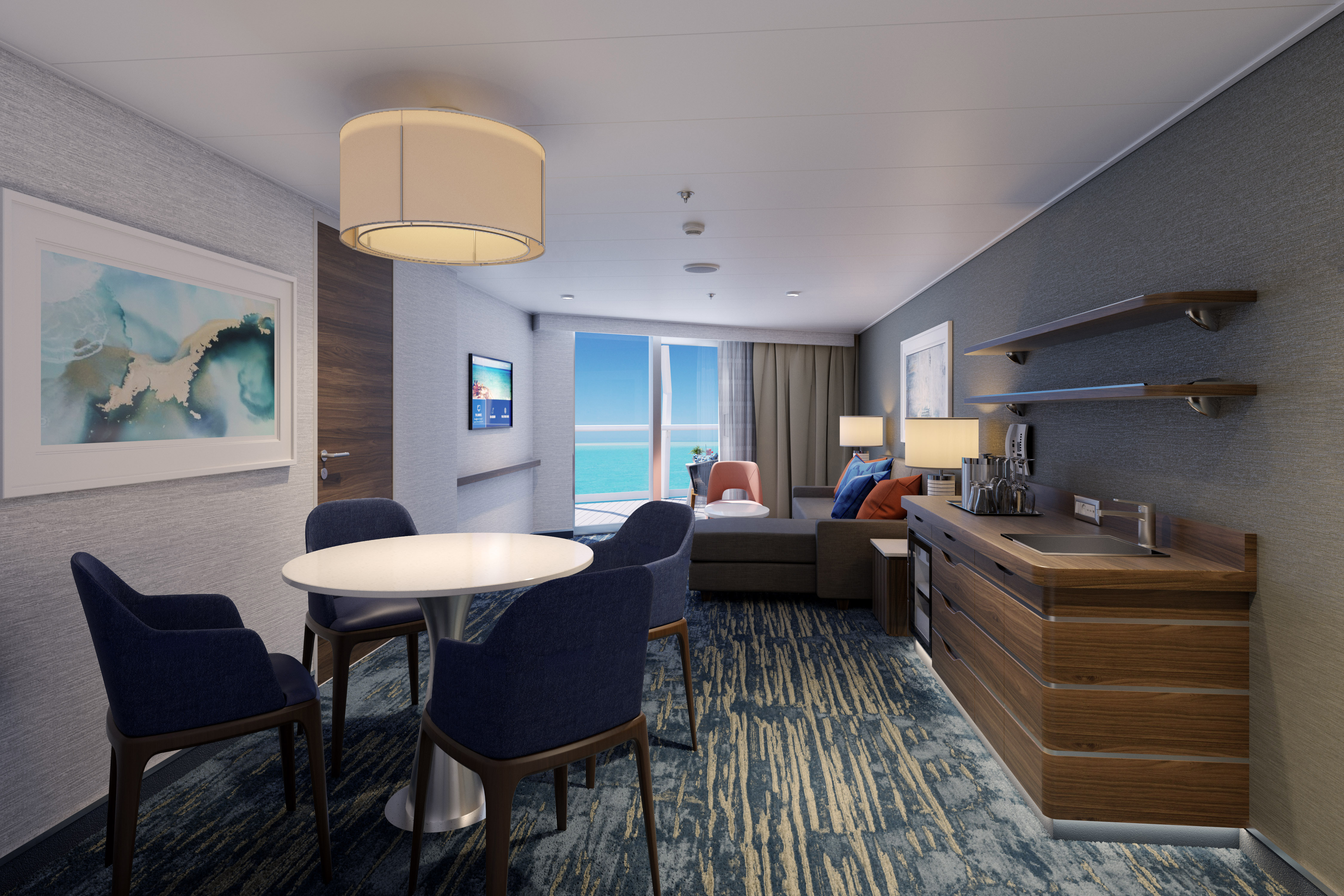 7. Loft 19
One of the most highly anticipated new additions to Mardi Gras is Carnival's first-ever "ship within a ship" luxury enclave.
Passengers who book one of a variety of new Excel Suites will benefit from a dedicated concierge phone line, complimentary laundry service, included bottomless bubbles soda package, and gain exclusive access to private pool, bar and cabana areas. 
8. Shaq's Big Chicken Restaurant
If you like chicken, Shaquille O'Neal is bringing his land-based Big Chicken Restaurant to Mardi Gras as part of the vessel's free Lido Deck offerings. The menu will include crispy chicken sandwiches and strips, fried chicken baskets and sides like jalepeno slaw.
Big Chicken will also be open for breakfast, offering items like chicken and biscuits, and omelets.
The restaurant will be found on Carnival Radiance too, but because Radiance's debut was also been delayed, Mardi Gras was the first to officially introduce it to cruisers.
9. Street Food
Although an onboard street food concept first rolled out on P&O's Oceana in a 2017 refurb, Carnival will be including something similar, dubbed Street Eats, on Mardi Gras.
The trio of open-air kiosks will feature a daily rotating menu of complimentary small plates, including fare like falafel, satay, kebabs and empanadas. A great way to venture out of your comfort zone and try something new!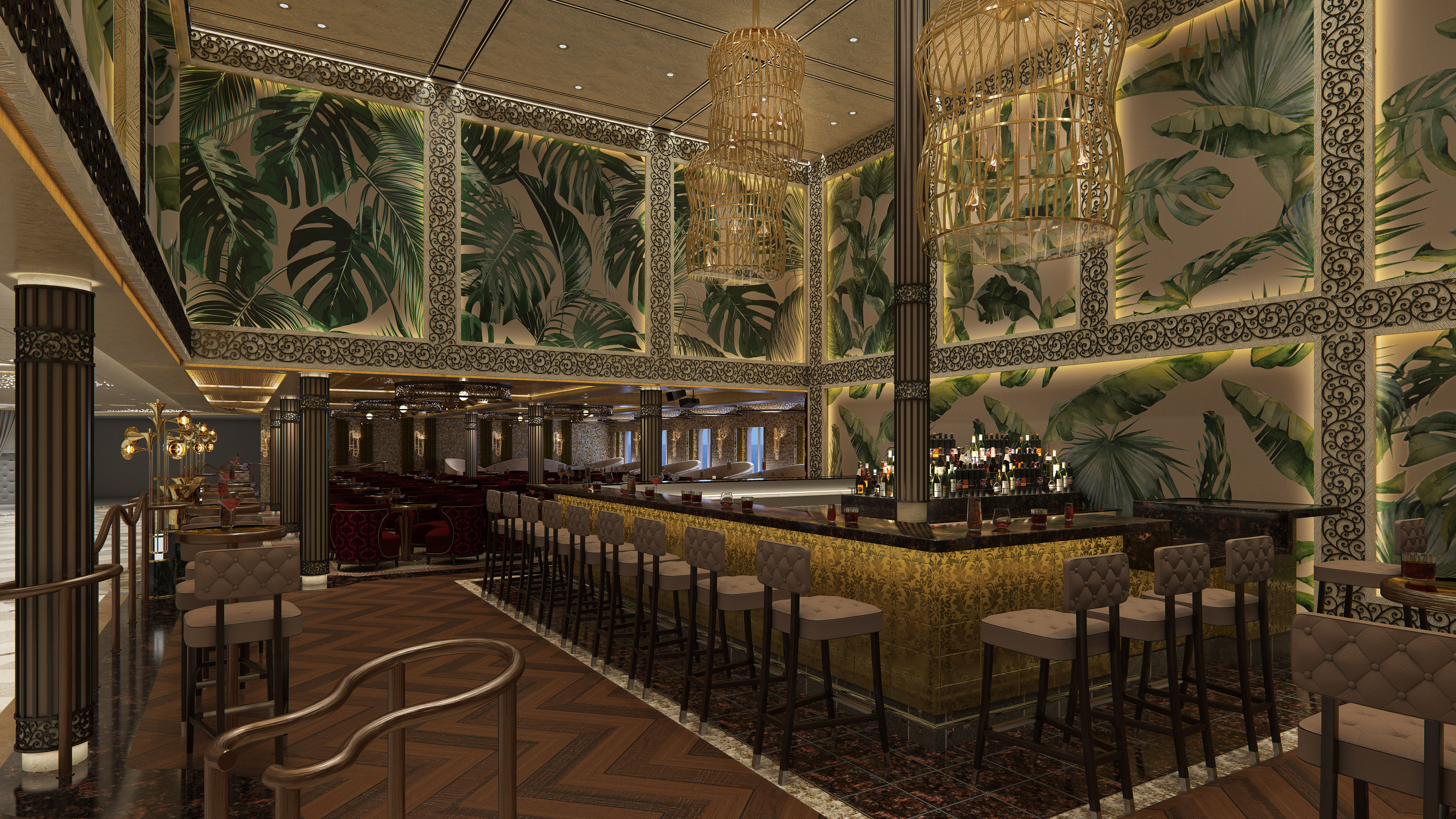 10. New Bars
Three first-at-sea bars will make their home on Mardi Gras, as well. They include the Fortune Teller Bar, the Brass Magnolia, the Watering Hole and the RedFrog Tiki Bar.
The Fortune Teller and the Brass Magnolia will both be found in the French Quarter zone, the former offering magical cocktails and the latter serving up live jazz music and classic cocktails.
Found in the Summer Landing zone, the Watering Hole will focus on a wide selection of beers, as well as fruity, beachy cocktails.
Meanwhile, the RedFrog Tiki Bar will serve as a replacement for the RedFrog Rum Bar, found on most other Carnival ships. The two-deck outpost's main drinks will be rum-based island beverages.