Today was the day I most looked forward to on my Carnival Pride cruise to the Bahamas. We would be spending nearly the entire day at Half Moon Cay, Carnival's drop-dead gorgeous private island.
Beach time at Half Moon Cay
Some cruise lines amp up their private islands with water parks, zip lines, and tricked-out luxury cabanas and over-water bungalows. Carnival lets its beautiful island speak for itself. Sure, you can book an excursion or rent a brightly colored wooden cabana for the day, but you will not be missing out if you spend the whole day enjoying the soft white sand and the crystal-clear, Tiffany blue waves.
Half Moon Cay is a tender port, meaning the ship anchors offshore and uses tender boats (Carnival calls them water shuttles now) to ferry guests back and forth between the ship and the island. The ride over takes 15 to 20 minutes, and queues can be long to get onto the shuttles.
Image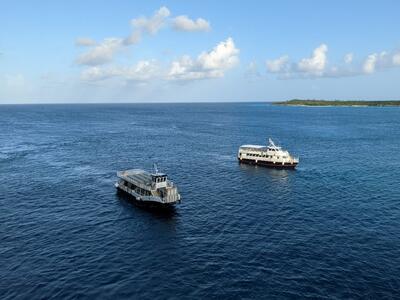 As suite guests, we were invited to jump the line and board the first tender available when we were ready. Carnival doesn't offer many perks to its suite guests on Carnival Pride, but priority tendering is a useful privilege.
If you have strong feelings about where you sit on the beach or want to make the most of your day on the island, I recommend you get on the very first water shuttle. Today, the first shuttle left at 8:15. We took a slightly later shuttle and arrived on the island by 9 or 9:15, and plenty of people were already ensconced on primo lounge chairs and playing in the water.
Otherwise, wait until 10 a.m. to skip the lines. Everyone can get a lounge chair and there's not a bad seat on the island.
On Half Moon Cay, you can choose to park yourself near the kids' water play area, by the pirate ship bar and water sports center, or farther down the beach by the cabanas. Everywhere you go on the main section of beach, you can rent clamshell covers that provide shade to two lounge chairs. These clamshells are set up in the last row of lounge chairs, by the trees and shrubs that line the beach. 
What does that mean? You cannot find natural shade on the main part of the beach unless you pay for it.
Image
I'm a fair-skinned person who burns and dehydrates easily, and I need shade. Having been to Half Moon Cay before, I knew where to find it. My friend and I hoofed it all the way down the beach, past every big and little cabana, to the far end of the beach. Here, lounge chairs are stationed under the trees and there's plenty of shade, as well as a few hammocks strung between the trees.
This area is also where crew with time off are allowed to come and hang out at the beach, and we gave some swimming pointers to members of the casino team. It was also fun to watch the hard-working crew members goofing around, taking selfies, and playing in the water. They very much deserve a break.
Image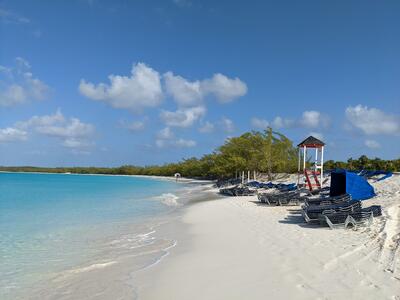 Image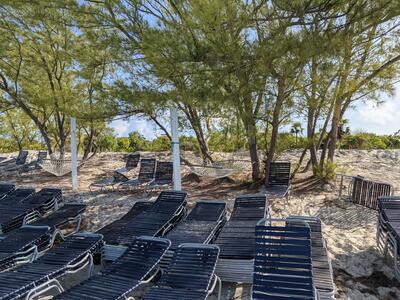 The sun was hot, but the water was cool and refreshing. We basically spent the morning alternating between floating lazily in the gently rocking waves and chatting on our lounge chairs, which we kept moving as the shade retreated farther up the beach. It was relaxing. It was blissful. I never even touched the book I brought to read while I sunbathed.
Now, for those of you who are not exhausted moms in need of doing nothing, Half Moon Cay offers plenty of activities. You can rent standup paddleboards, kayaks, small sailboats, and water bikes with giant inflatable tires. Tours include guided kayaking, biking around the island, horseback riding on trails and onto the beach, and a jet ski tour of the lagoon. You can also enhance your beach day by renting snorkel gear, inner tubes, and floating mats. But you don't have to do anything at all.
Image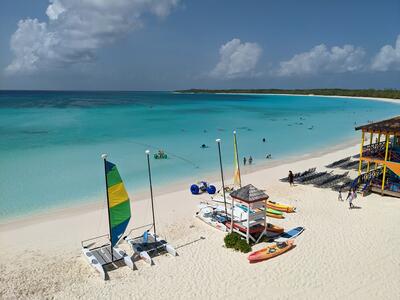 Image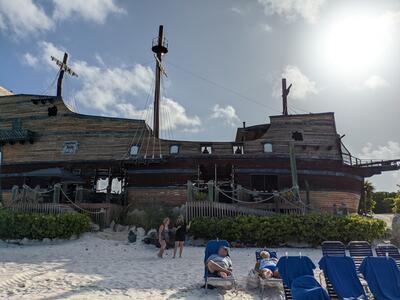 If you're thirsty, Half Moon Cay has a couple of bars, including a thatched roof bar and a mock pirate ship that looks like it suffered from a few too many cannon hits. Escape the sun and enjoy a frozen tropical drink in a twisty souvenir glass. Unfortunately, your alcohol and soda drink packages are not accepted at Half Moon Cay's bars.
The island's cabanas are popular, especially with large family groups who like the two-story cabanas as a home base for the whole gang. The smaller ones accommodate a couple or two. You do get perks, such as included floating mats and drink service, but if you plan to spend most of your time in the water or on a lounge chair in the sand, the cabanas seem unnecessary.
Image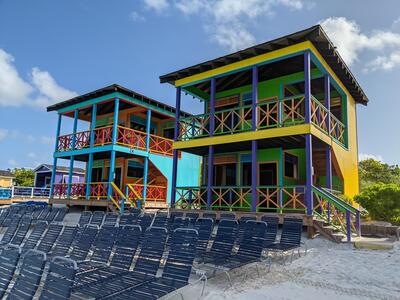 Image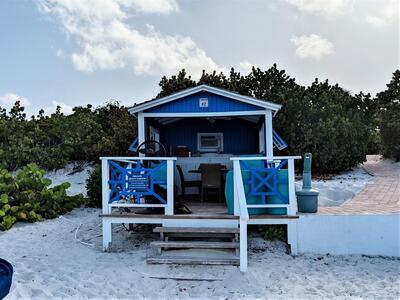 Image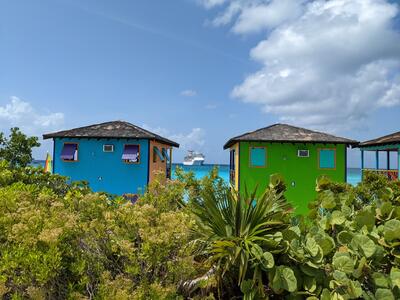 Island barbecue
Around noon, we dried off and set out in search of food. Lunch is served on the island, and the open-air barbecue is included in your cruise fare. A dedicated pavilion houses the buffet stations, where we heaped our plates with salads, fruit, and dessert. The entrees aren't self-serve, and crew members were serving hamburgers, hot dogs, and jerk chicken.
I asked for a veggie burger, and this time the servers had one at the ready, rather than having to fetch one and cook it while I waited. The buffet has a toppings station, so I could choose lettuce, pickles, and tomato to pile onto my burger. My friend got the chicken, which she'd been craving since Nassau, when we failed to find an affordable restaurant.
We decamped to one of the covered pavilions with picnic tables for alfresco communal dining. Normally, the buffet and eating area can be packed with hungry cruisers, but today there was no lines and plenty of empty tables for social distancing. For mealtime entertainment, we watched the island's chickens population run about the picnic area. We even saw a chick.
Image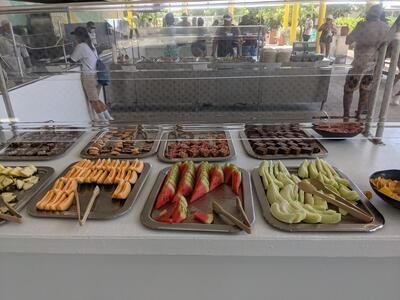 Image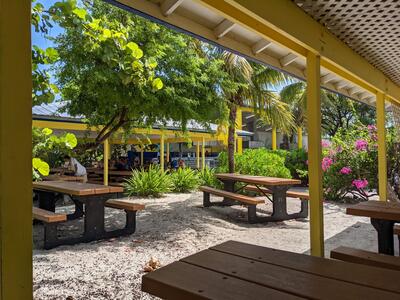 Image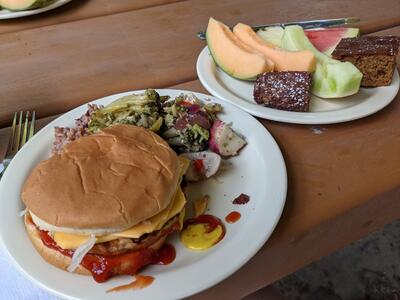 My friend was reminiscing about how good the jerk chicken was on her last cruise, but said this time the pieces weren't as hot off the grill. I enjoyed the broccoli salad, and she gave high ratings to the cole slaw that wasn't doused in mayo. The fruit tasted fresh and juicy.
Unlike the ship, Half Moon Cay does not serve round-the-clock snacks. Pay attention to open hours because if you miss the barbecue, you'll need to take a shuttle back to the ship for lunch.
The last tender was scheduled for 3:15 p.m., and we were one of the last groups to leave the beach. The goal is for the shuttle to depart at that time, so boarding starts earlier. Don't rush. Lots of people want to be on the last water shuttles, and you can end up waiting in a long line in the heat. Aim for 3 or 3:05 p.m., but please don't waltz through security at 3:15 p.m. and make everyone wait for you.
Image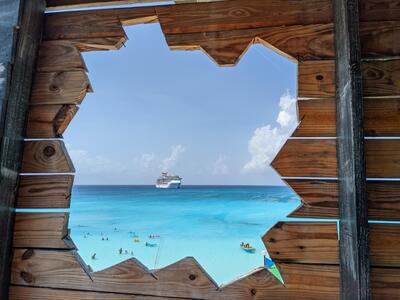 Another view of the dining room
Carnival Pride does not have an abundance of dinner venues. You can eat in the main dining room, the buffet (which offers many of the same dishes as the main dining room, plus the deli counter, pizza, and extra-fee seafood), David's Steakhouse, or Bonsai Sushi. We weren't excited about buffet dining tonight, so back to the Normandie Restaurant we went.
All the guests on the flexible Anytime Dining plan eat upstairs on Deck 3, which overlooks the larger dining space on Deck 2. Previously, we sat by a large round porthole window, which offered lovely views when we ate early, but was behind a partition. Normallly, this wouldn't matter, but Carnival is known for its mid-meal waiter-led song-and-dance numbers. We couldn't see anyone but the couple of waiters in our section.
Image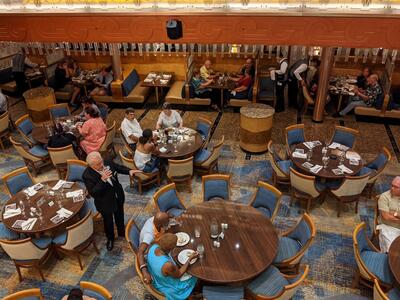 Image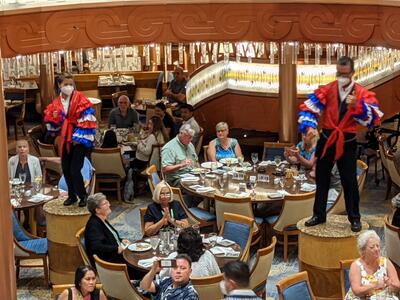 Tonight, we asked for a different table in the heart of the action, and the hostess found us one by the railing looking down onto Deck 2. When Ken, the maitre d', started crooning a la Sinatra, and the waiters donned samba dance jackets with frilly sleeves, jumped on serving stands, and rocked out to Flo Rida's "Low," we had the perfect view.
We also ate. I ordered the cinnamon pumpkin cheese pie entree as my appetizer, and decided that it should really be offered as a dessert served with ice cream. My friend ordered the alligator beignets, which she said tasted like hush puppies (not chicken).
My grilled salmon entree was not entirely dry, which is hard to do in a large cruise ship dining venue. My friend ordered the Indian food, which tonight was dal, a spicy mixed vegetable dish, and spinach with chickpeas. I put the raita on my salmon and mixed the spinach with potatoes to make saag aloo, and was pleased with my dinner hack.
Image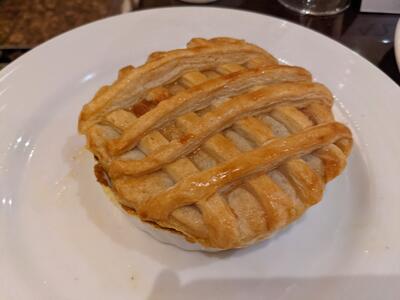 Image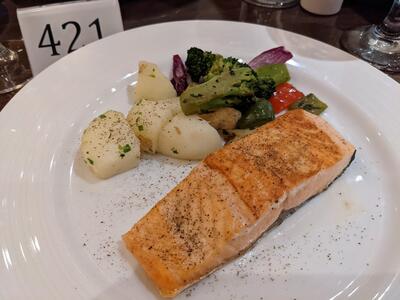 Image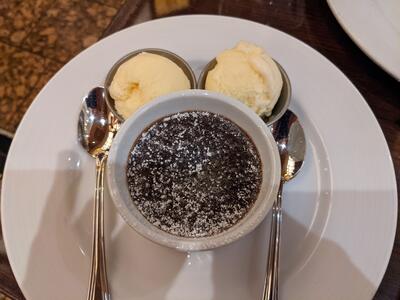 For dessert, we finished the pumpkin pie and dug into another chocolate melting cake because, well, we're on vacation.
We think today's towel animal is a dinosaur. Do you agree?
Image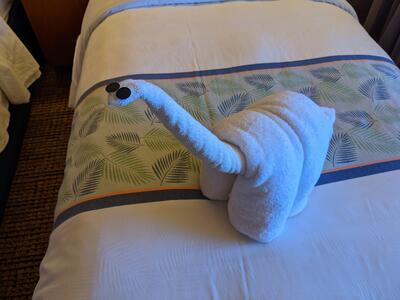 Tomorrow, we have a half day in Freeport on Grand Bahama Island, and we will be going to the beach. Again. Because that is why we're all here in the Bahamas.
Missed a day of live blogging? Catch up on previous days' trip reports:
Carnival Pride Live Blog 2021 – Day 4 – Nassau, Bahamas
Carnival Pride Live Blog 2021 – Day 3 – At Sea
Carnival Pride Live Blog 2021 - Day 2 - At Sea