Anyone who's been to Half Moon Cay knows it's a perfect beach day. On this itinerary, we have a rare two-day stop at the Carnival Corporation private island shared by Holland America and Carnival Cruise Line. That means I have the opportunity to try out a few new activities since I have extra time.
Aqua Trax Jet Skis
I never book shore excursions at Half Moon Cay because it's so easy and enjoyable to spend the day on the beach that I save my money for other ports where it's harder to do your own thing. On this cruise, I didn't end up doing much on Bimini due to the weather and there are no other port calls, so I decided to try something new on the island: the Aqua Trax Adventure.
I don't know if Aqua Trax is a brand name, but the "adventure" is a guided jet ski tour around Half Moon Cay's inner saltwater lagoon. I have never driven a jet ski before and last rode one years ago, so this excursion was going to be interesting. 
Image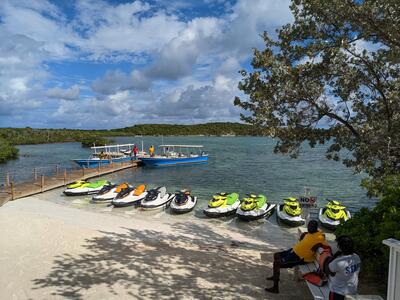 The group boarded one of the island trams, which drove us all of two minutes to the lagoon. (I walked back from the lagoon to the beach; it maybe took five minutes.) The lagoon beach is also the destination for the kayak and eco cruise tours, so there were a mix of tour participants on our ride.
At the lagoon, we stashed our shoes and other belongings and donned life jackets. Try not to bring anything with you; you don't need a mask, there's no way you could drink water or take a cellphone photo while driving the jet ski, and you don't get wet enough for a towel. If you have valuables that you don't want to leave on the beach and you don't want to pay for a locker, you can put them in a secure locker for free during the tour.
Image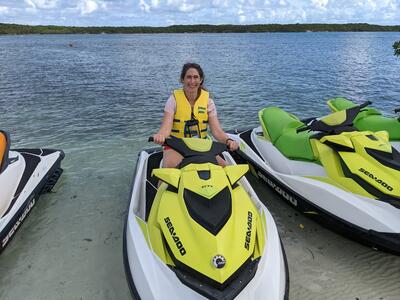 We climbed aboard our jet skis for a short instructional briefing, then the two guides sent us off into the lagoon to test out the jet skis. Driving a jet ski, I discovered within seconds, is not like driving a car. The watercraft alternately seemed slow to respond and overly sensitive to the turning of the steering column.
Once everyone was out on the water, our guide zoomed past us and we were off, following in his wake single file. I was fine going in a straight line, but had no idea how to handle choppy waves or turns. My instinct was to lay off the throttle on the turns, but then the jet ski would skid around.
Now I know why my kids always beat me in Mario Kart while I run my vehicle off the road.
Image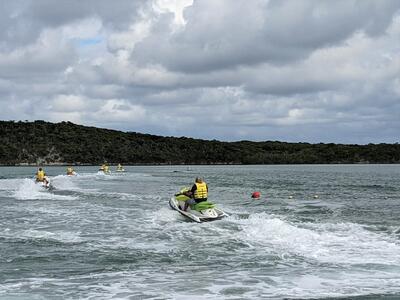 I kept getting farther and farther behind the group until the main guide instructed the second guide to become my personal escort. Welcome to remedial jet skiing! After following the patient guide around the lagoon, I figured out that I should keep my speed into the turns and not back off the gas whenever I encountered a wave. I wish that had been part of our briefing. 
I was not going to win any jet ski style awards, but I managed to keep up and not fall off. After some time zigging and zagging around the lagoon, our parade of jet skis gunned its way out into the open ocean. The water turned a gorgeous shade of aquamarine and I could see the coral formations below and Rotterdam ahead of us.
Image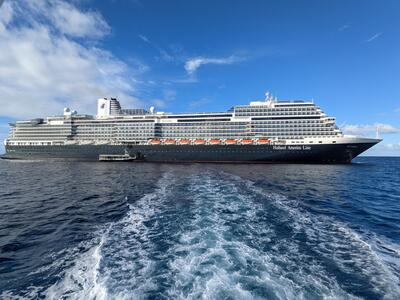 Suddenly, the water was much choppier and I was bouncing up and down on the jet ski, even getting air when I went over a particularly large wave. My body took a good pounding, but with the wind blowing in my face, it was quite the rush.
Final verdict on Aqua Trax: The ride was exhilarating, but not especially scenic, and while I'm glad I tried it, I won't be rushing off to do it again. I would recommend the tour to anyone who's looking for an adrenaline rush or to try something new.
Two kinds of island lunch
The island barbecue has long been the only lunch game in town on Half Moon Cay, but Holland America has added a for-fee seafood option called the Lobster Shack. You can order lobster rolls, lobster tails, and clam chowder, and enjoy them at the venue's deck seating or at the alfresco bar next door.
Image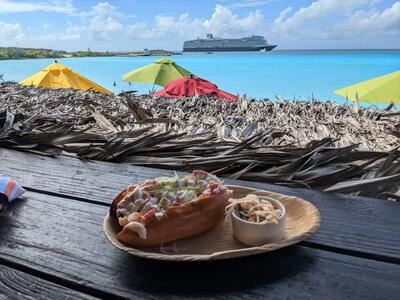 I wanted to eat at the barbecue to see whether the lunch options were different than the barbecue Carnival provided when I sailed with that line last month. It turns out that Holland America's island barbecue definitely is a step up from Carnival's.
Carnival mainly had burgers, hot dogs, and jerk chicken, with some side salads and cookies and fruit for dessert. Holland America had all of those, plus fish tacos, cobia with pineapple salsa, and beef short ribs. Sides included ceviche, fancy potato salad, mango-cabbage slaw, and fruit salad, and the dessert area was laden with chocolate and banana cupcakes. Plus, two ice cream carts served vanilla and chocolate ice cream in adorable mini-cones.
Image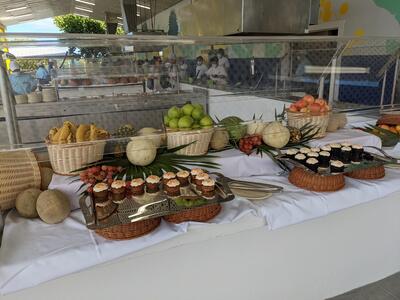 Image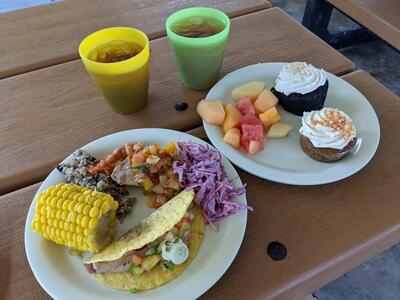 Image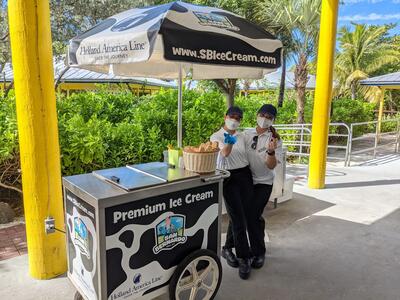 The only quibble I had was that by the time my friends who ate the lobster lunch headed to the barbecue for dessert, it was closed, even though it was not yet 2 p.m. It would be nice if Holland America kept a few snacks out longer or made a last call announcement to warn guests the barbecue was shutting down. I also heard the bars closed 90 minutes before the last tender, frustrating people who bought the island-specific beverage package.
Tamarind
Image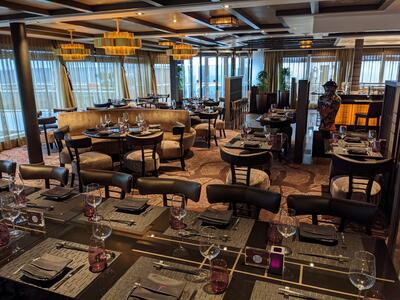 After one of the best massages of my life and a near-win at team music trivia, I headed to Deck 10 aft for dinner at Tamarind, Rotterdam's pan-Asian restaurant. This was the meal I was most looking forward to onboard and it did not disappoint.
Our group met at the Tamarind Bar. It's tucked away in a corner of the restaurant and is a hidden gem of a watering holes. Like all the bars onboard, it has a signature cocktail list. The bartender recommended the shiso sour, a mix of rye, sauvignon blanc, lime, simple syrup, mango, and bitters, with a shiso leave on top. It was neither too sweet nor too alcoholic-tasting, and the shiso leave tasted fruity at first then a little bitter and spiced. I've never tasted anything like it.
Image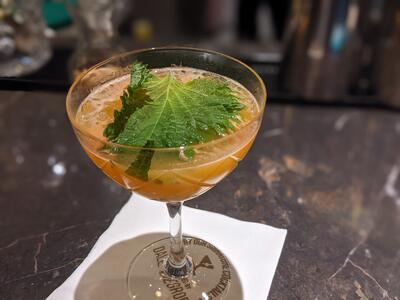 At Tamarind, everything is dark; the black tables are laid with steel-colored placemats, black plates, and black napkins, and the lights are kept low. Perhaps that's to create an atmosphere of the "exotic Orient," but it does give a sophisticated feel.
I started with the spring rolls, which were crispy with a sweet sauce. They were yummy, but still a standard spring roll. Some of my tablemates ordered sushi from Nami Sushi, the sushi bar in the opposite corner of the restaurant.
Image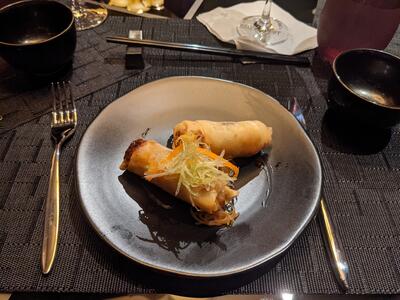 For my main meal, I ordered both the vegetable tempura and the dan dan noodles. The tempura should be an appetizer to share because that many deep-fried vegetables should never be dinner. The thick Udon noodle dish did not hold back on the spice, and I found my nose running and eyes watering just a little bit. It didn't stop me from slurping them up, and the flavors were excellent.
Image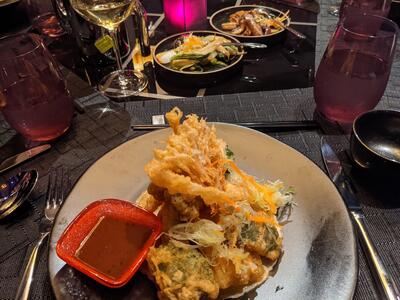 Image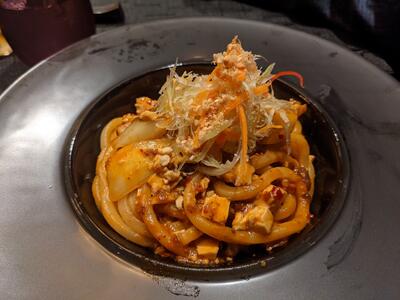 I'd like to give a shoutout to the Tamarind wait staff who take nut and shellfish allergies very seriously, as these ingredients are found in many of the dishes. They even took a little longer to bring out a friend's dish because they wanted to cook his dish separately to avoid any nut contamination.
The dessert list is a little experimental. I ordered the yuzu cheesecake, which came deconstructed, with tiny scoops of cheesecake filling on a bed of crust crumbs. The mango posset is the recommended after-dinner treat; it's mango sorbet on top of a coconut macaroon set on a bed of passion fruit jelly. I ordered just a dish of the mango sorbet, and it was my favorite part of the dessert.
Image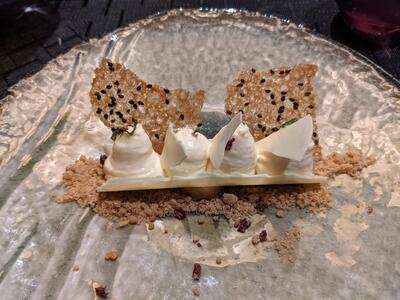 After dinner, I caught a bit of the show at B.B. King's and watched an artist paint a portrait of B.B. King in record time. But I did not want a super-late night because tomorrow is villa day at Half Moon Cay and I don't want to miss a second of VIP beach time.
If you missed a day of my live blog, catch up on all the fun here:
Rotterdam Live Blog 2021 – Day 1 - Embarkation Day
Rotterdam Live Blog 2021 – Day 2 – Bimini, Bahamas
Rotterdam Live Blog 2021 – Day 3 - Sea Day Entertainment