One of the hallmarks of Holland America is its music program, especially on its newest ships. As today was a sea day, I decided to explore more of the ship's musical offerings.
Lincoln Center Stage
Image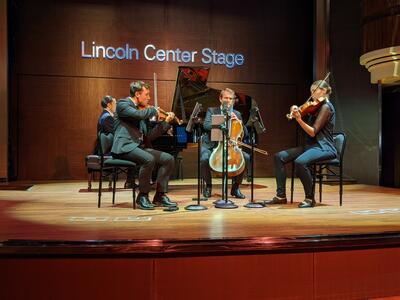 You can find classical musicians on many ships, but they're often playing instrumental versions of pop hits on electric violins or blending into the background at a bar. On Holland America, ships have a resident piano quartet, and they perform actual concerts at the Lincoln Center Stage.
The quartet performs on the occasional afternoon, usually on sea days, and in the late afternoon and early evening because the two-story concert venue turns into B.B. Kings' Blues Club at night.
I caught the midday Brahms concert, which consisted of an introductory piece followed by a full four-movement concerto. The musicians had traditional, acoustic instruments, not the electric versions found on other cruise ships (and elsewhere on Rotterdam) and were dressed formally in black.
Image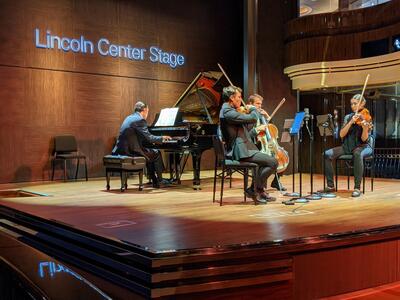 The music was fabulous, but what was more fascinating was watching the personalities of the musicians. The violinist had the most expressive eyes, often bugging them out when the music became intense, while the violist was stoic. The pianist was dynamic, his fingers flying, his mouth bum-bum-bumming along with the music, and his whole body moving. The cellist had the expressive hair toss down. You could feel their energy, and it made the concert that much more exciting to watch.
I know it's tempting to sit in the back, especially if you're not sure you can stay awake for an entire classical concert, but I do recommend a spot up front where the acoustics are better or one to the side or on the second floor where you can watch the pianist's hands. (Also, there totally were people asleep in the front during the slower movements!)
B.B. King's Blues Club
After dinner, the classical musicians give way to a full Memphis-style band. The rows of chairs are cleared away to create a dance floor for cruisers to get down to everything from "Let's Twist Again" to "Sweet Home, Alabama." The eight-piece band includes trumpet and saxophone players, plus guitar players, a drummer, and a singer.
I wasn't able to catch a full set, but the guitarist was definitely one to watch. He looked like he'd just stepped out of a time machine from the '50s, with his blue suit and slicked-back hair, but he could play a mean electric guitar. The singers were strong as well, and the male singer looked like he was having a great time dancing about on stage.
B.B. King's is where the late-night crowd goes to let loose.
Billboard Onboard
Image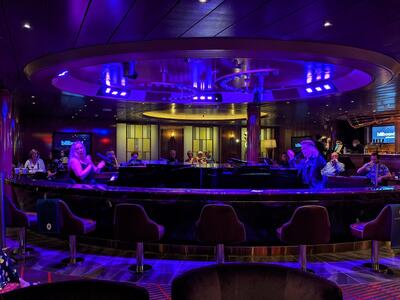 Forward on Deck 2, behind amazingly soundproof corridor doors are two side-by-side music venues. The port-side lounge is Billboard Onboard, which features a dueling pianos act. The true fans sit at the seats surrounding the pianos, but you can enjoy a drink at comfortable banquettes, as well.
I met up with friends here for pre-dinner drinks because the 7:15 show was '80s themed, and that's my jam. I ordered a Hemingway daiquiri from the Top 10 drink list (each of the music venues has its own themed cocktail menu) and got ready for some fun.
Image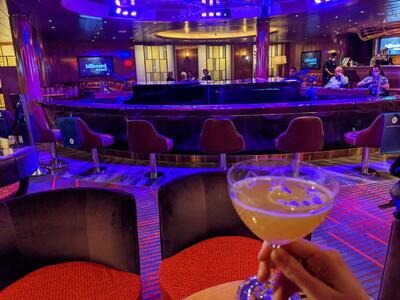 I hate to say it, but I was disappointed. Either the pianists were picking the wrong songs, or the pianos should have been replaced with '80s-style synthesizers, but most of the songs felt flat. The male singer had a great voice, and his version of Cyndi Lauper's "Time After Time" worked well, perhaps because it's a slower, simpler tune. He also was an amazing piano player; he had broken a few key notes the night before, forcing him to play around those keys and improvise on the fly, which is truly impressive.
I passed by their second show later in the evening, and the venue was dead. I felt bad for the singer-pianists because the combination of show times and a half-full ship was probably impacting their crowds. I'm curious to see them play a different type of music to see if their show works better on another night.
Rolling Stone Rock Room
Image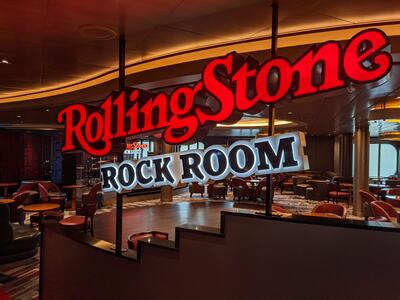 When Holland America first introduced its Music Walk concept, there were only three venues. It's now added a fourth, the Rolling Stone Rock Room. Essentially, it's a cover band busting out rock hits.
These guys, compared to their across-the-corridor neighbors, know how to draw a crowd and get them cheering. It doesn't hurt that they've got a five-piece band and plenty of amplification. The guests were eating up numbers like "Satisfaction" and "Born to Be Wild."
Image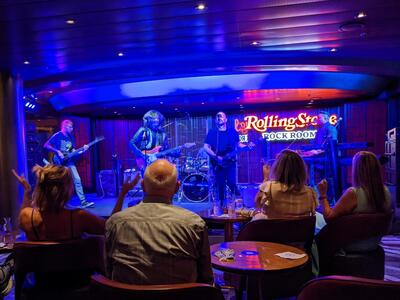 Here, too, the personalities of the musicians stand out and make the show even more fun to watch. The bassist has this crazy comb-over mullet hairstyle and he goes crazy in the corner, jumping and jamming and head-banging and doing his own energetic thing in one corner. The lead singer has the total rock star look, with a head full of thick locks that he has to brush back from his face and a "you all love me and I will love you with my music" attitude that I couldn't decide if it was serious or put on for show.
I could not watch the show without laughing at the antics on stage, and the energy by the stage was electric. Even when I grabbed a drink at the bar behind Billboard Onboard, I kept sneaking over to see what the band was up to on the other side of the staircase.
Rudi's Sel de Mer
For dinner tonight, I dined in Rudi's Sel de Mer, the French seafood restaurant by Holland America's longtime Master Chef, Rudi Sodamin. If you don't love seafood, namely shellfish, save yourself $49 and have dinner elsewhere. While you can order some fish and even a steak, the main attraction here are the lobsters, scallops, crabs, and other fruits de mer.
Image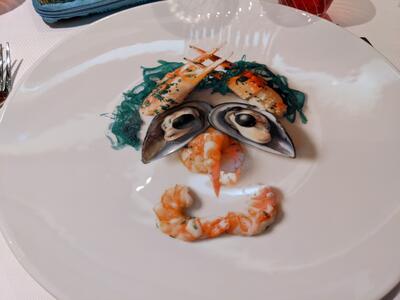 The first thing you'll notice are Rudi's signature food faces printed on the charger plates. Turn your plate over to learn the name of your design; mine was "Don't Be Crabby."
The signature dish here is the fruits de mer, but it will set you back an extra $25. It's a tower of crab legs, langoustine, shrimp, mussels, clams, and oysters. I ordered the whole Dover sole, which is de-boned at the table. One friend ordered the escargot, which came gorgeously presented with snail shells, though the meat had already been removed. You can find dishes from seafood salad to bouillabaisse to lobster tail.
Image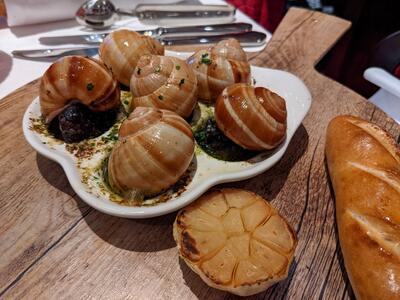 Image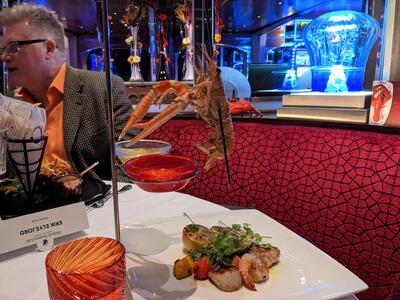 Image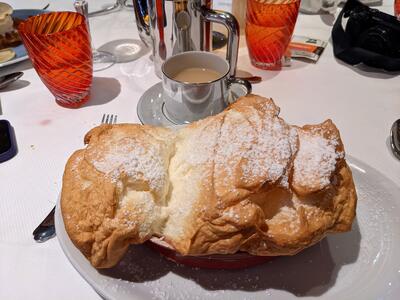 I ordered the Salzburger nockerl, an Austrian-style berry souffle, without realizing it was meant for two. Needless to say, I merely ate a fraction of the enormous dessert. My tablemates had good things to say about the crepes suzette and apple tarte.
Tomorrow is day one at Half Moon Cay. We heard the seas might be a bit rough, so fingers crossed the tenders can run.
If you missed a day of my live blog, catch up on all the fun here:
Rotterdam Live Blog 2021 – Day 1 - Embarkation Day
Rotterdam Live Blog 2021 – Day 2 – Bimini, Bahamas