The cruise ship industry reached a stunning peak of 55 billion in economic activity in the United States alone in 2015 - but there's a lot you might not know about them.
Here are some of the most interesting facts about these massive liners - including why they're registered in Libera of all places!
How big is big?
Image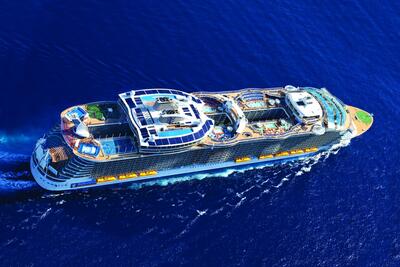 Well, we know one thing about cruise ships - they're big!
How big, exactly? The largest cruise ships, Royal Caribbean's Oasis class, are more like floating cities than they are standard ships. Not only do many people find them overwhelming - not surprising, with more than 2,700 rooms, twenty restaurants, and even an indoor park - but you'd better pack your walking shoes.
The biggest ship is almost twelve hundred feet long, longer than the largest aircraft carrier ever built and more than twice the size of the Washington Monument. But surely these aren't the largest ships ever made, right?
Image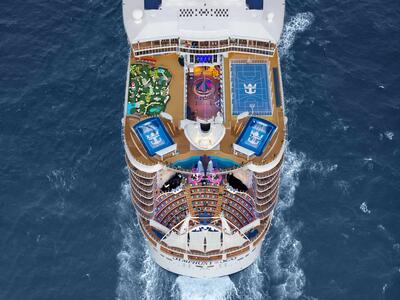 There is no more famous ship out there than the Titanic. For a ship that sank more than a hundred years ago, the Titanic still captures people's attention - winning Oscars and being the subject of museums around the country. There have even been replicas of the ship's final meals served.
But for all that, the ship is kind of a shrimp in modern terms. It could hold less than half the guests of an Oasis-class, and the modern ships are five-times as roomy. That's probably because unlike the Titanic, no one is in the belly of the ship in third-class. But no matter what cruise ship you're on, you'll probably notice some similarities.
Why are ships white?
Image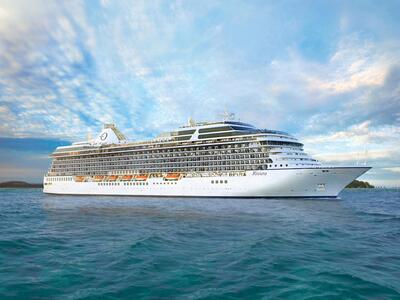 Even if you're cruising after Labor Day, you'll probably be sailing on a white ship. That's because just about every cruise ship is painted white, but that's not just an aesthetic choice.
Cruise ships spend a lot of their time in the open sea, where the sun is strong with no shelter to be found. White paint reflects sun rather than absorbing it, which helps keep the ship cool and the passengers comfortable. But it's not just the ship trying to be nice - this saves them a lot of money by letting them cut down on air conditioning costs.
How much fuel does a cruise ship need?
Image
One thing's for sure - these mega-liners take a lot of energy to get moving.
Exactly how much fuel does a cruise ship use? That depends on the size of the ship, with the largest ships using more as it takes a lot of energy to haul thousands of people across the ocean. But the largest ships can use as much as two hundred and fifty tons of fuel a day, with even normal-sized ships using around a hundred and fifty.
That means that cruise ships are burning gallons of fuel every mile they travel - a far cry from your car, where a gallon can get you a good distance. You wouldn't want to fill one of these up at the pump.
Why do ships have less funnel stacks today?
Image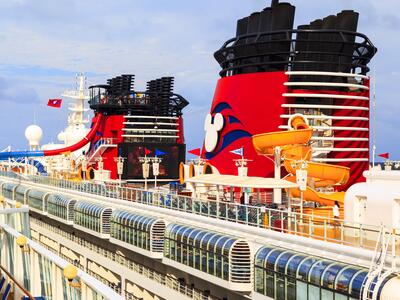 In the old days, those less-efficient ships needed up to four smokestacks to get rid of the fumes effectively, but today's cleaner-burning ships can usually get by with just one. Which raises the question - why do they still have at least two on most ships?
Turns out people like seeing those smokestacks, and some can actually be useful for attractions.
Where do crew members live on a cruise ship?
Image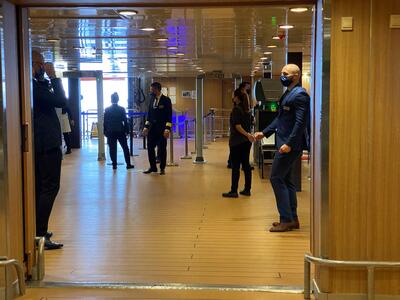 Speaking of those lower decks, there's a whole world down there. Have you ever wondered where all those cruise ship workers live?
The ship is full to capacity with paying guests, but the hundreds or thousands of workers seem to be wherever you need them. It turns out that there's a whole second living space in the cruise ship that most visitors will never see.
It's filled with small cabins designed a little like military barracks, and the crew gets access to many of the facilities of the ship during off hours. But they shouldn't be looking for a nice view - on most ships, these crew dorms are actually built below the water level.
Read more: What are the crew areas like on a cruise ship?
Innovative views
Image
Speaking of views, one cruise company has turned to technology.
It's one of the biggest compromises people make when they're trying to save money - booking an interior cabin. You get all the amenities of the cruise - but not that nice ocean view when you wake up, just a solid wall.
Not on Royal Caribbean, which has started experimenting with virtual balconies. Even interior cabins will get a wall with a visual transmitted directly from their side of the ship, giving you a real-time view of the ocean. But if you're looking for that refreshing ocean breeze, you're still out of luck.
How fast do cruise ships go?
Image
On a cruise ship, you'll be covering a lot of ground.
Cruise ships move fast, but not compared to most forms of transportation. They're geared to be more leisurely, moving about twenty-three miles an hour in normal conditions.
That's fast enough to get where they're going, but not fast enough to disrupt people's sleep or activities. But that doesn't stop them from traveling over eighty-four thousand miles in a year.
How far is that? That's roughly a third of the way to the moon - or around the earth a stunning three and a half times every turn around the sun.
Why are cruise lines registered in foreign countries?
Image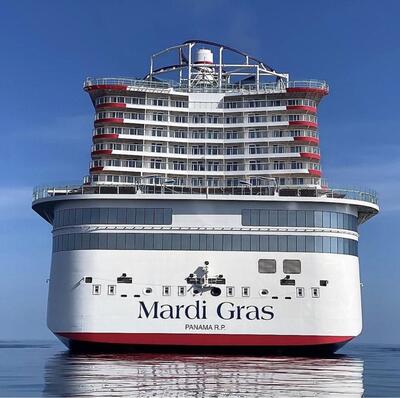 If you look into the history of your favorite American cruise line, you might find something surprising - it's not registered in America.
One of the most common places for cruise ships to register is Liberia - for a number of economic reasons. To register a ship with a nation - and fly their flag - a company has to pay them a fee to join their ship registry. And Liberia has one of the cheapest ship registries in the world depending on the type of ship, making it a popular choice.
Combined with the country's good relations with the United States and their comparably low tax rates and labor costs, it's become a favorite location - so don't be surprised when your next cruise is flying the Liberian flag.
Where does the poop go on a cruise ship?
Image
Cruise ship designers are taking care of a lot of little details - including some of the less than savory ones.
Thousands of people on a cruise ship - that's a lot of flushing toilets. So where does all that...stuff go?
The ship doesn't start stinking after a few days at sea, which is a good thing, but that's because of a complex process that starts every time you flush. The toilets use a suction system that minimizes the need for water, and the waste is then sucked down into the treatment plant. It's filtered, aerated to speed up biodegradation, and sterilized using UV lights, and only then is it eventually released into the ocean.
The cruise companies test to make sure it's safe to release.
How much food does a cruise ship need?
Image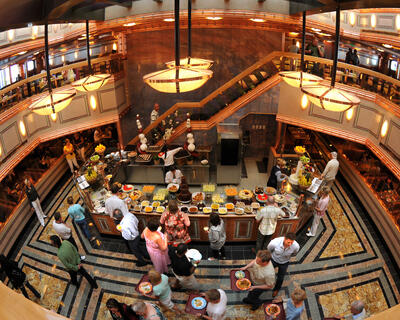 Keeping people fed on a large cruise ship is a challenging job, and the hungry cruisers go through an incredible amount of food a day.
Chefs on a cruise ship can go through fifteen hundred pounds of flour a day baking bread, and over 2,500 eggs. That's a lot of hardworking chickens, but it's also a lot more believable when you realize that the breakfast buffet is open every day.
And the ships are hoping people fill up - breakfast food is much cheaper to prepare than the more meat-heavy meals later in the day. But all that all-you-can-eat food can be a little deceiving.
Who designs the menus on cruise ships?
Image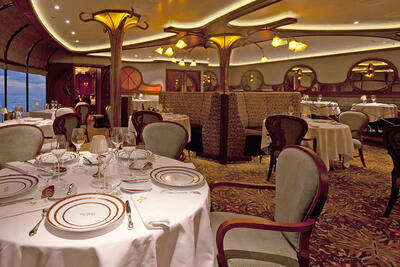 And you might see some familiar faces on the branding.
Every ship has a culinary team planning the menus, but some cruise lines have decided to head elsewhere for inspiration - the kings of the culinary world, and of the small screen.
Celebrity chefs have gotten themselves some plum gigs curating the cuisine of major cruise lines.
Health-conscious British chef Jamie Oliver runs multiple restaurants for Royal Caribbean, restaurateur Thomas Keller oversees the dining program for the high-end Seabourne cruises, and if you're looking to take a cruise to Flavortown, you probably can't take two steps without seeing a Guy Fieri restaurant on Carnival ships.
What are some fun things to do on a cruise ship?
Image
And then it's time to work off all that food with some activities. You can basically do anything on large cruises these days, with just about every ship having pools, casinos, theaters, live music, gyms, and spas.
But some ships have added some truly bizarre activities. Royal Caribbean allows guests to go skydiving - on ground level, thanks to a wind tunnel that serves as a skydiving simulator. Their biggest ships also have a Flowrider where people can take surfing lessons without the risk of getting stung by a jellyfish.
For culture lovers, Holland America ships often have an on-ship art museum, while Cunard's Queen Mary 2 has a planetarium if the night sky isn't quite exciting enough.
Image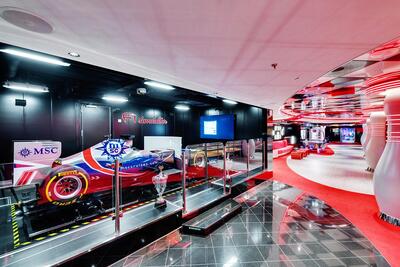 And for those adrenaline junkies, head to MSC cruises, which have a Formula One race car simulator.
But for those who want more unique thrills, the option is available - for a cost.
What are themed cruises?
Image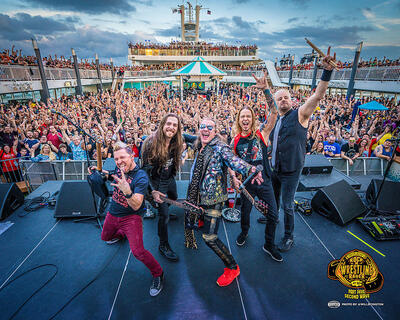 The theme of most cruise ships is...well, cruise ship. But for dedicated fans, it's possible to organize cruise sailings booked entirely by fans of a specific topic, with activities themed to those fans.
There have been some truly bizarre themed cruises over the years. A yearly cruise filled entirely with Zumba fans sets sail from Miami, in what was probably the sweatiest sailing ever.
A cruise catering to conspiracy theorists sets sail from Seattle, leading to a whole lot of arguments over whether the ship was being watched by the government or by aliens.
And for something a little fluffier, a popular Miami cruise named the Meow Meow cruise celebrates the cats everyone loves, with one ironic twist - cats aren't actually allowed on board.